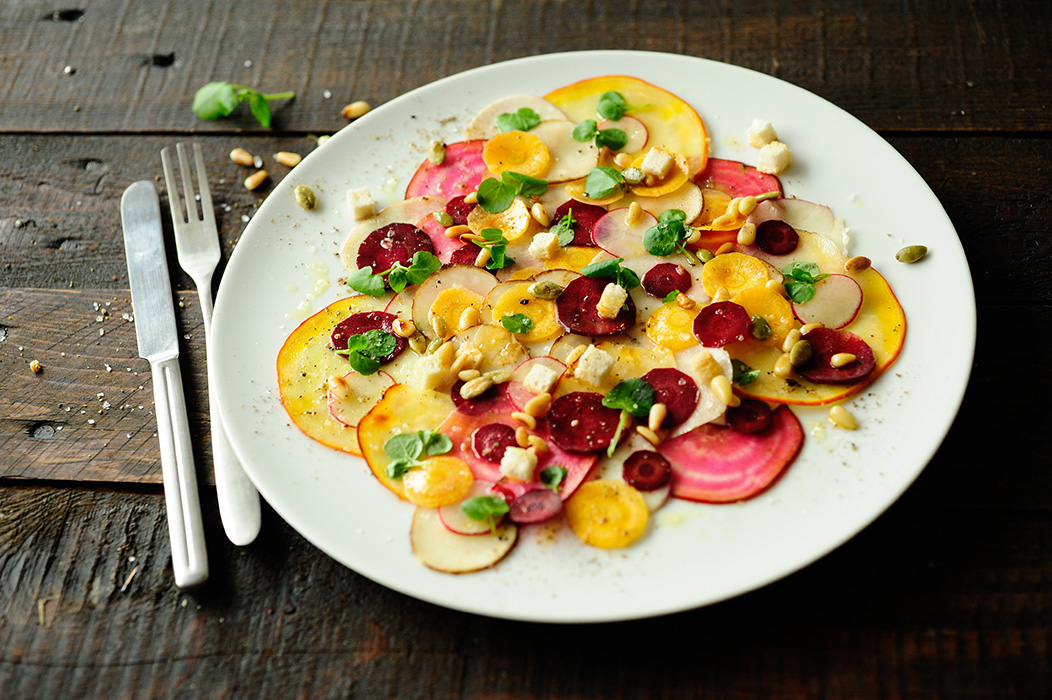 A vegetarian twist of the classic carpaccio. Full of colorful root vegetables marinated in oil and vinegar and garnished with croutons and pine nuts. You can make this one with your favorite seasonal vegetables. It tastes great as lunch or as a side salad.
Ingredients
3 beetroots in different colors; pink, yellow and white
2 carrots in different colors; yellow and purple
2 small Jerusalem artichokes
4 radishes
1 turnip
1/4 cup olive oil
4 tablespoons wine vinegar
1 thin slice bread
2 tablespoons pine nuts
1 tablespoon pumpkin seeds
2 tablespoons walnut oil
1 handful young lettuce
sea salt
freshly ground black pepper
Instructions
Wash all the vegetables. Cut into very thin slices using a mandolin. Place in a bowl, pour the vinegar and olive oil and stir gently with your fingers. Let stand for an hour.
Cut the bread into small cubes and roast with the pine nuts and pumpkin seeds in a dry frying pan, stirring constantly.
Arrange the vegetables on a plate, garnish with croutons and seeds. Sprinkle with nut oil, salt and pepper. Garnish with lettuce leaves. Enjoy!