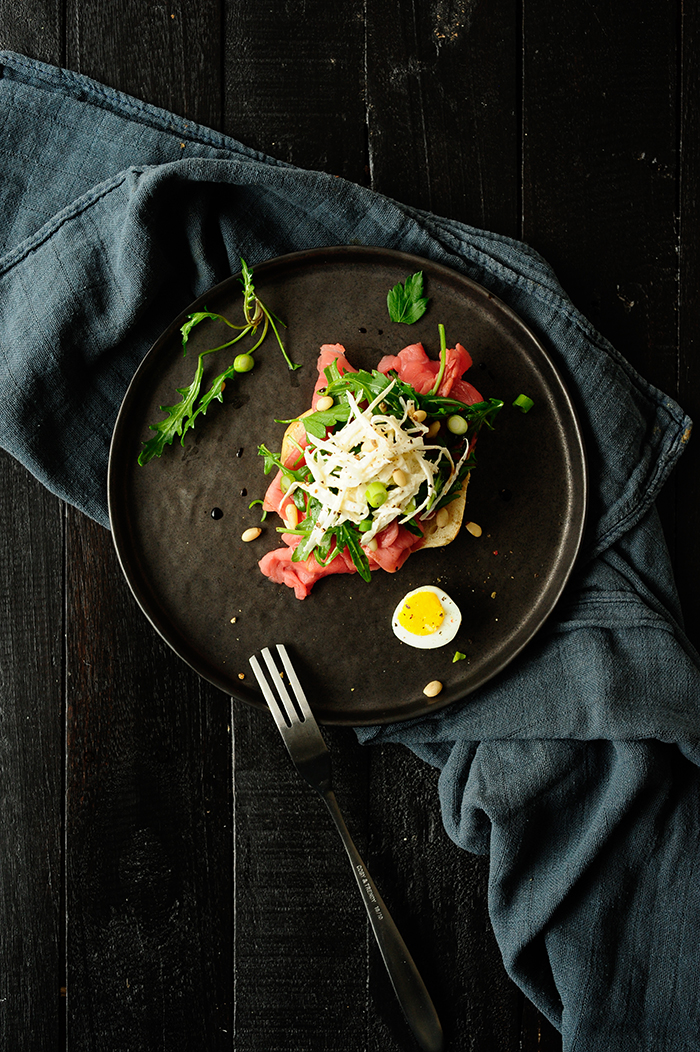 Thinly sliced beef carpaccio accompanied with an arugula salad and celeriac. Served with an egg and ciabatta. It's a very tasty and pure combination, especially the mix of grated celeriac with horseradish and greek yogurt is my favorite. 
20 minutes | serves 2 
Ingredients
2 ciabatta
200 g beef carpaccio
2 farmers eggs, hard-boiled
100 g arugula
2 tablespoons pine nuts
2 spring onions, finely chopped
3 tablespoons olive oil
2 tablespoons balsamic vinegar
salt and black pepper
horseradish celeriac
1/4 small celeriac, grated
2 tablespoons Greek yogurt
1 teaspoon horseradish
salt and black pepper
Instructions
Stir the arugula with pine nuts, spring onions, olive oil and vinegar. Season with salt and pepper.
Stir the shredded celeriac with Greek yoghurt and horseradish, season with salt and pepper.
Cut the ciabatta in half, lay the carpaccio slices on each part of the ciabatta, decorate with arugula salad and horseradish celeriac. Serve with a hard-boiled egg.
Bon Appetit!