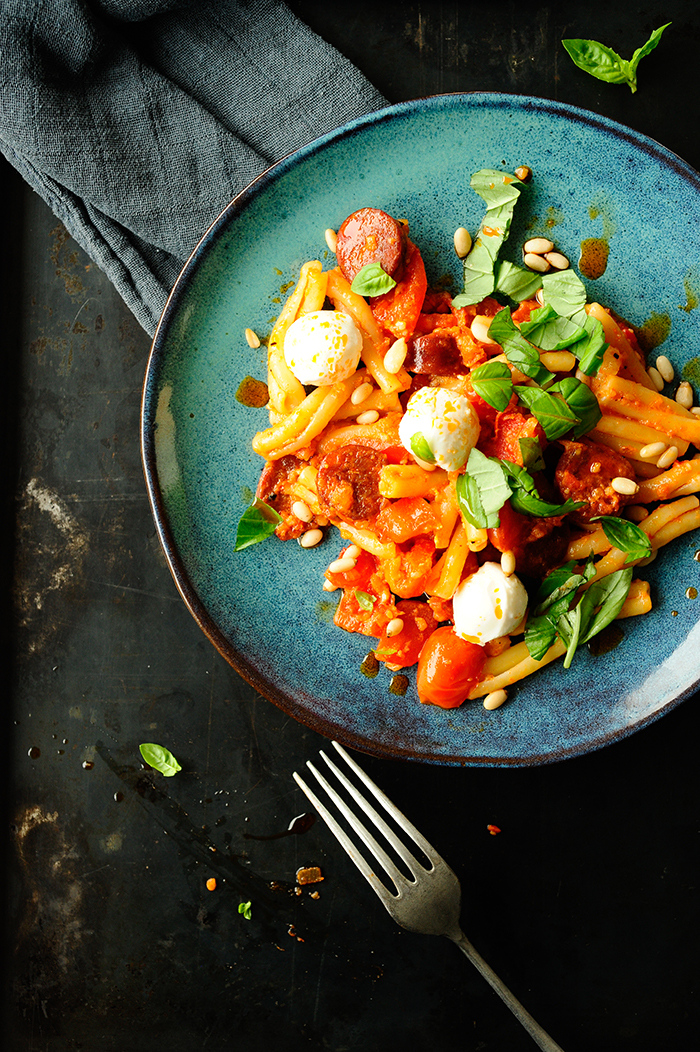 This is a perfect dish that I often prepare on a crazy evening when everything has to be done fast but still the meal needs to be nutritious and tasty. Do you recognize yourself in this situation? Then I have a great pasta with paprika sauce, sun dried tomatoes and chorizo. Original and full of flavor, simple but still an exquisite dish. You will love it:)
If you're searching for more inspiration for fast dishes, click here!
30 minutes | serves 4
Ingredients
400 g pasta
200g chorizo, cut into slices
3 red paprika's
100 g cherry tomatoes, halved
200 g sun dried tomatoes in oil
150 g little mozzarella balls
1 onion, finely chopped
2  garlic cloves, finely chopped
2 tablespoons pine nuts
2 tablespoons grated Parmesan cheese
1 tablespoon dried paprika
1 teaspoon cayenne pepper
2 tablespoons olive oil
salt and freshly ground pepper
bunch of basil
Instructions
Cook the pasta in salted water.
Peel the paprika's with a peeler, take out the seeds and cut into large pieces.
Heat the oil in a deep frying pan, fry the onion and garlic. Add the chorizo and fry for 3 minutes. Then add the paprika and simmer over medium heat for 10-15 minutes until the paprika's become tender. Season with dried paprika, cayenne pepper, salt and pepper.
Meanwhile, place the sun dried tomatoes with the oil into a foodprocessor, add the pine nuts and Parmesan cheese. Season with salt and pepper and blend.
Stir with paprika's and chorizo, then add the cherry tomatoes and mozzarella balls. Simmer for 5 minutes and mix with pasta.
Serve immediately sprinkled with chopped basil.
Enjoy!!