A hearty meat sauce with meltingly tender pumpkin chunks. Served with pasta and topped with ricotta. You may think that this pumpkin bolognese is a time consuming cooking project, but actually it's comfort food at its best. It's wonderfully easy to throw together and you only need one pan.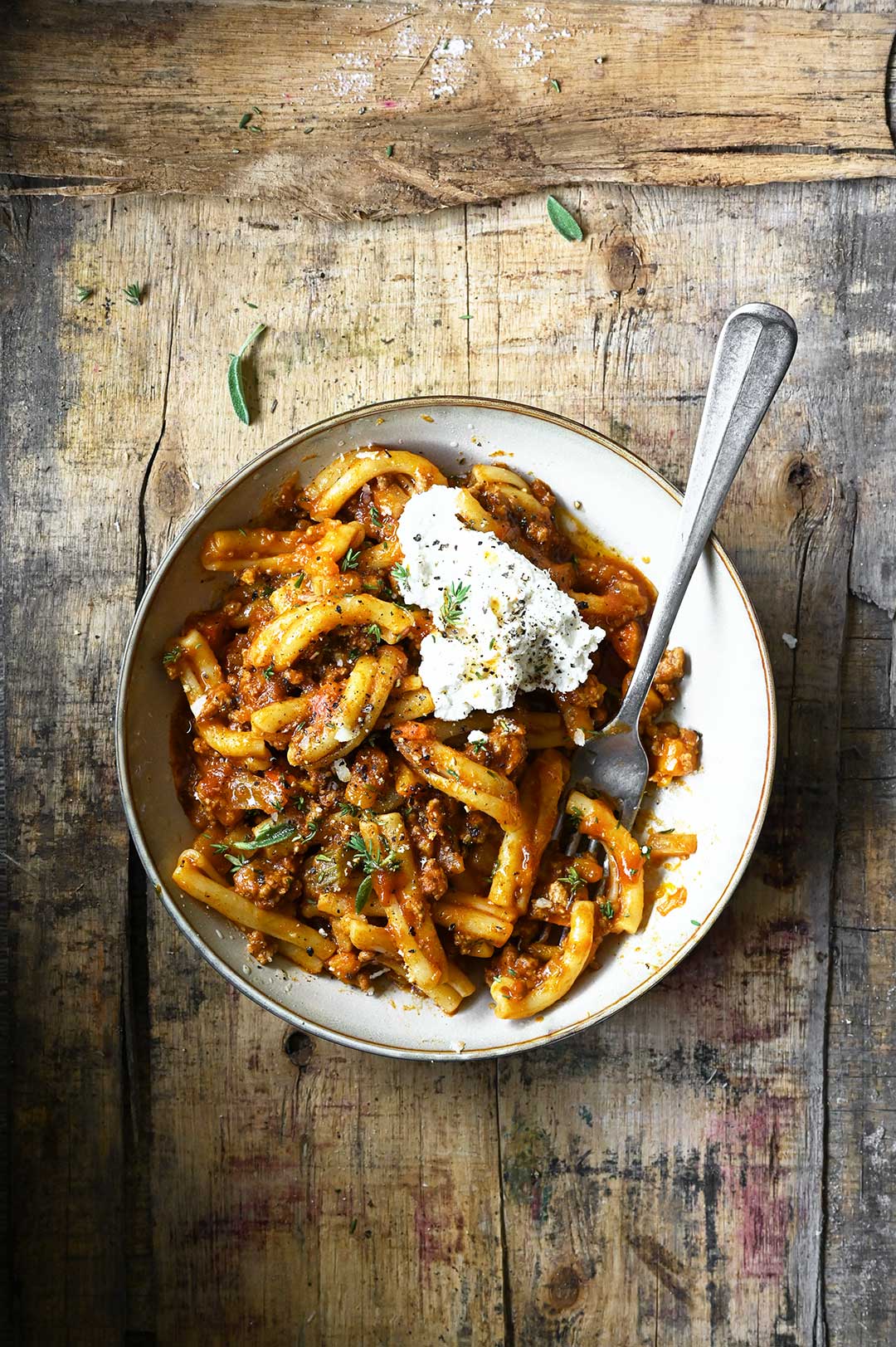 We begin with a base of finely chopped celery, onion and garlic. Then we add the pumpkin and fennel. If you've never added pumpkin to your sauce before, it's a delightful surprise. It has a mild but slightly sweet flavor and pairs really well with other veggies and meat. Fennel stands in for the more common aromatics, and it brightens the rich beef with a subtle and sophisticated undertone.
When the vegetables are tender, we add the beef and cook until browned. No beef? You can use ground pork or chicken to replace it.
Next we add some beef stock to round out the meat flavor and give the beef something to cook down in without drying out. Beef stock gives the whole dish a richer flavor, but you can use chicken or vegetable stock for a milder taste.
Finally, we add tomato sauce and allow everything to simmer. The only thing left is to stir in cooked pasta, top with ricotta, and enjoy! And if you never tried adding ricotta to your pasta, you should! A creamy blob of ricotta makes everything better. Just whip some whole milk ricotta with grated Parmesan, a drizzle of olive oil and plenty of salt and pepper for an instant dinner upgrade.
This sauce is really delicious, it's a decadent pleasure served with pasta or as part of a larger recipe like lasagna. I like to make a double batch and freeze half for a later date.
Let me guide you through the recipe with this step-by-step VIDEO.
More delicious pumpkin recipes:
Roasted Pumpkin and Sour Cream Pasta
Pearl couscous and roasted pumpkin salad with pomegranate and pecans
Potato waffles with roasted pumpkin and chanterelles
You need
400 g (4 cups) pasta
600 g (1,3 lb) ground beef
500 g (4 cups) diced pumpkin, with skin, seeded
750 ml (3 cups) tomato sauce or puree
400 ml (1 3/4 cup) beef stock (or chicken or vegetable stock)
2 shallots, finely chopped
3 garlic cloves, minced
1 small or 1/2 large fennel bulb, trimmed and diced
1 celery rib, chopped
3 tbsp olive oil
1 tsp each: dried thyme, sage, marjoram, smoked paprika, chili flakes
1 bay leaf
1 tbsp tomato paste
sea salt + black pepper
ricotta, whipped with 1 tbsp olive oil, 1 tbsp grated parmesan, salt + black pepper
thyme + chili flakes, for serving
How to
Let me guide you through the recipe with this step-by-step VIDEO.
Heat oil in a wide heavy-based saucepan and cook the onion, garlic and celery stirring occasionally, over a medium-low heat for 5 minutes. Add the pumpkin cubes, cook for about 5 minutes, stirring frequently. Add fennel, cook for 5 minutes more.
Turn the heat up to high, add the minced beef and break it up a little. Turn the heat back down to medium and cook for 10 minutes, stirring occasionally, until the meat is cooked through. Stir in the spices, season with salt and pepper. Add beef stock and bay leaf, simmer for 10minutes. Then add the tomato sauce and tomato paste. Cover, simmer for 10 minutes more or until the pumpkin is tender.
In the meantime, bring a pot of salted water to a boil and cook the pasta al dente according to the package directions.
Serve plates of pasta with the sauce and ricotta spooned over top. Add a sprinkle of chili flakes and thyme. Enjoy!