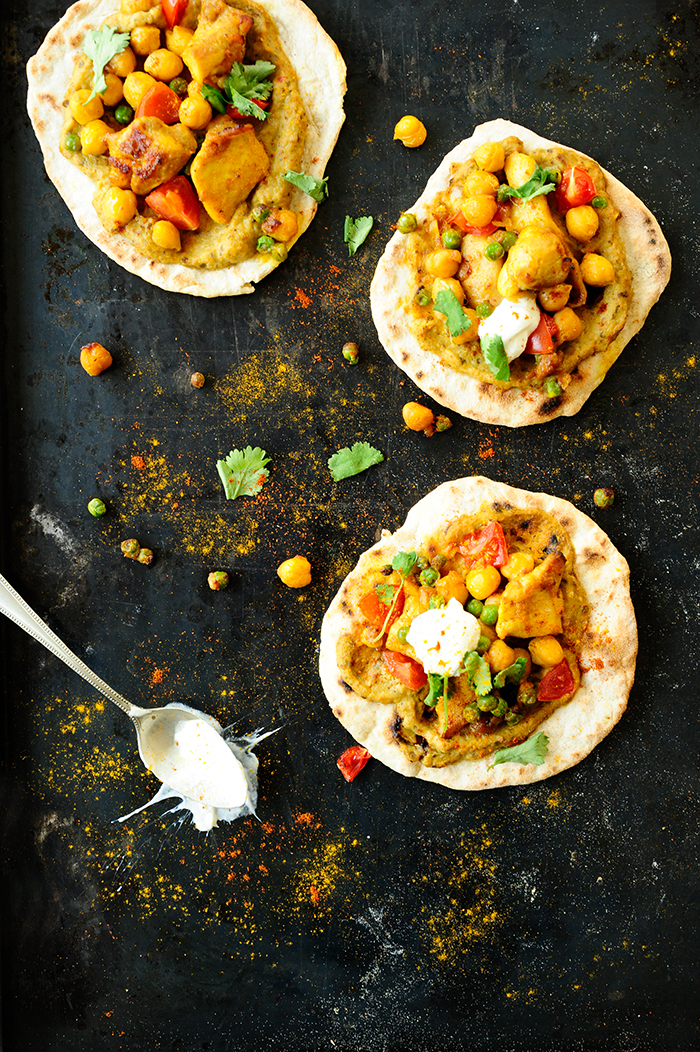 Flatbread with chicken, chickpeas and sauce made with roasted eggplants. It is a very aromatic dish with a slightly different view on the classic pita.
60 minutes | serves 4 
Ingredients
eggplant sauce
2 large eggplants
2 garlic cloves, finely chopped
1 teaspoon ground paprika
1 teaspoon ground cumin
1 teaspoon cayenne pepper
2 tablespoons olive oil
1 tablespoon lemon juice
1 tablespoon Greek yogurt
salt and black pepper
flatbreads
250 g all-purpose flour
250 g wholemeal flour
11 g dry yeast
300 ml lukewarm water
50 ml olive oil
1 teaspoon salt
1/2 teaspoon sugar
filling
2 double chicken fillets
1 small can of chickpeas
50 g green peas, frozen
250 g cherry tomatoes, finely chopped
1 onion, finely chopped
2 garlic cloves, finely chopped
2 teaspoons ground cumin
1 teaspoon turmeric
1 teaspoon ground pepper
2 teaspoons seasoning for chicken
4 tablespoons olive oil
salt and black pepper
also
Greek yoghurt
fresh coriander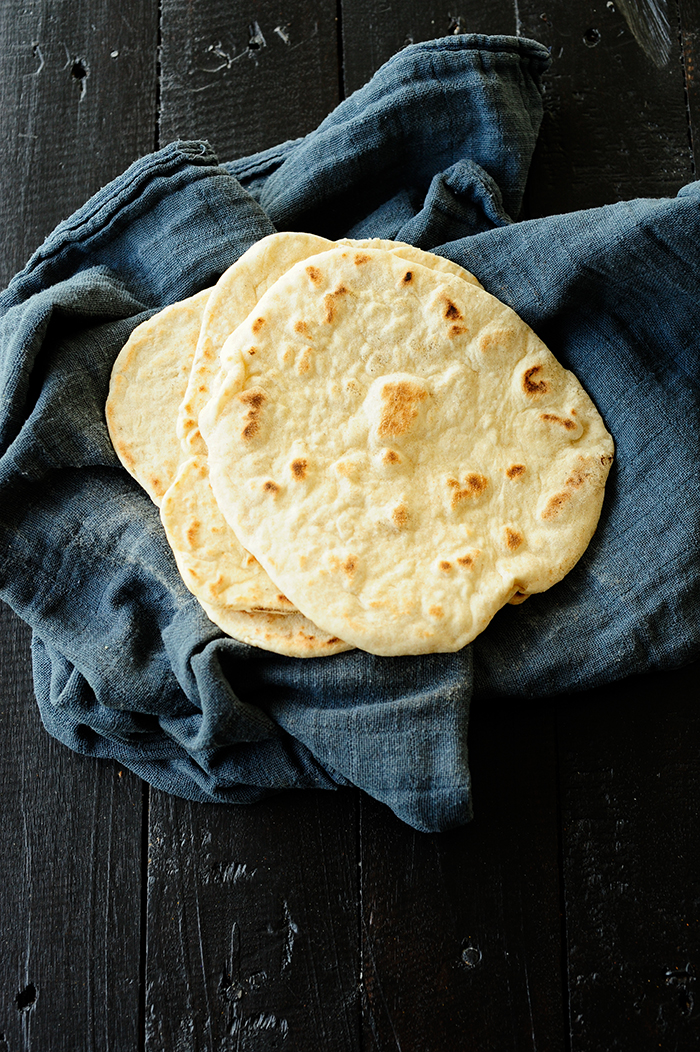 Instructions
Cut the eggplants in half, place on a baking tray lined with baking paper flesh-side down and gently prik with a knife. Put in the oven for 40 minutes at 200°C.
Remove from the oven and peel the eggplant, place in a foodprocessor. Add garlic, the spices, olive oil, lemon juice and yogurt. Blend and season with salt and pepper.
When the eggplant is roasting you can make the flatbreads. Stir the yeast with water and sugar, let stand for 5 minutes. Sift the flour into a bowl, add salt, water with yeast and olive oil. Knead to a smooth dough, cover and let stand for 20 minutes in a warm place.
Then divide the dough into 8 pieces, roll out into thin pancakes and bake in a dry frying pan until browned on both sides.
In the meantime you can also make the filling. Cut the chicken into strips and brown in a hot pan with olive oil. Add garlic, onion and peas and cook for another 5 minutes. Sprinkle with the spices, add the drained chickpeas and chopped tomatoes. Simmer for another 5 minutes. Season with salt and pepper.
Spread the eggplant sauce on top of the flatbreads, place on a baking sheet and add the chicken. Place in the oven for 5 minutes at 180°C.
Serve with Greek yogurt and freshly chopped coriander.
Enjoy!