Creamy pasta with salmon, bacon and sun-dried tomatoes. Impressive, yet a quick and easy dinner made in 25 minutes. Pan-seared flaky salmon combined with penne and salty bacon in a flavorful creamy tomato sauce. The result is an effortlessly show stopping dinner that bursts with flavor in every bite. Top with crunchy breadcrumbs, add a simple green salad and enjoy. It's just the fancy-feeling, delicious pasta dinner you might need.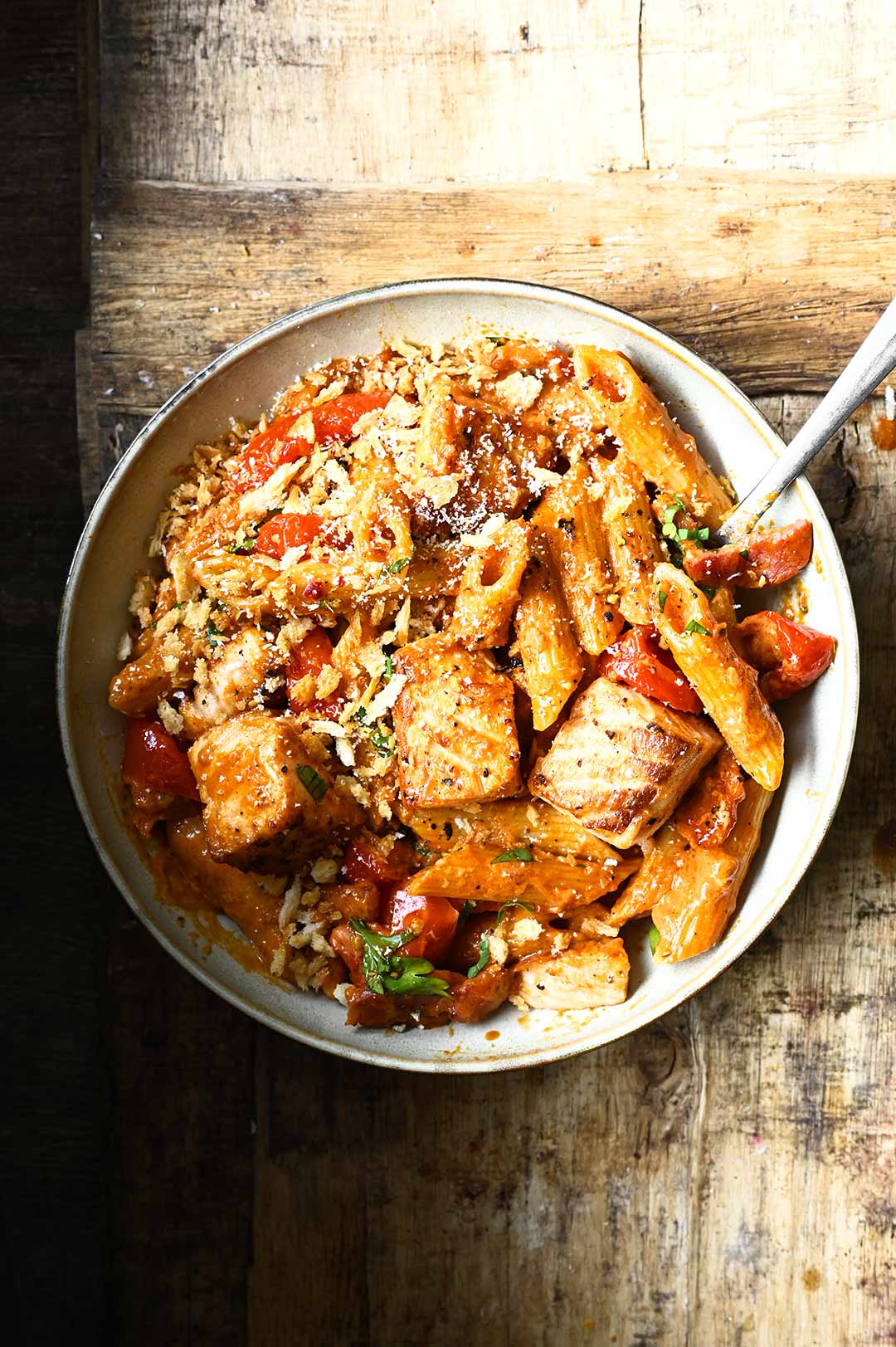 This is an easy, super flavorful and flexible recipe. It's comfort food that everyone will love, a great way to show off what a smart chef you are. Steaming pasta and creamy tomato sauce form an incredibly smooth luxurious dish.
The crispy salmon and salty bacon add flavor extravagance that's balanced by Parmesan, garlic and red pepper flakes. Perfect on a weeknight and fancy enough to serve on a dinner party.
This salmon pasta is also great for using up any leftover cooked salmon you might have. Serve with a fresh side salad drizzled with Parmesan dressing.
Let me guide you through the recipe with this step-by-step VIDEO.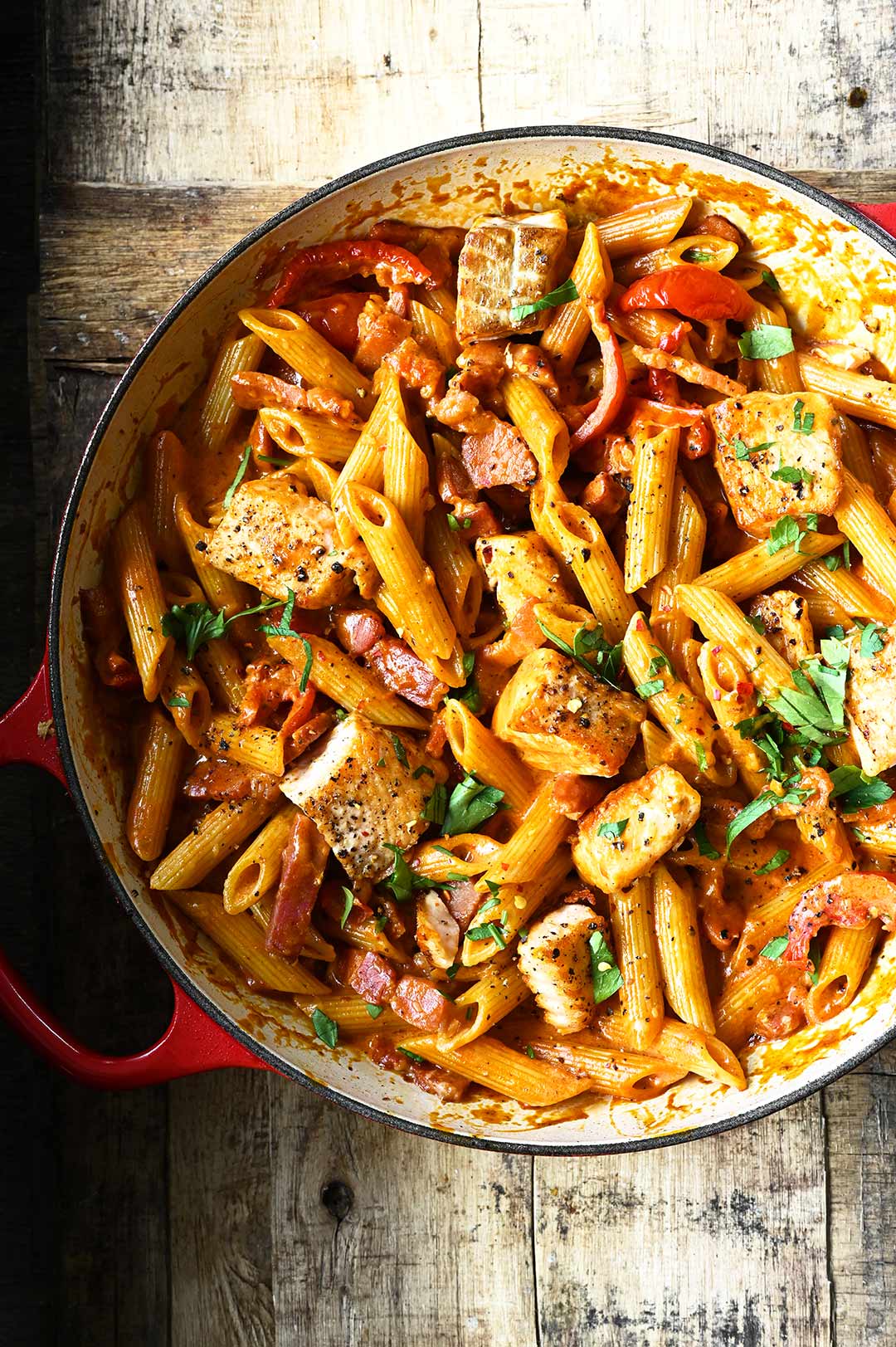 RECIPE NOTES
use any type of pasta. Short pasta, such as penne, shells or ziti will work great. Long noodles, such as spaghetti or fettuccine, will work equally well
this recipe will work great with either salmon, trout or tuna
you can add baby kale, arugula or spinach
serve with a simple green salad tossed with a Parmesan dressing
instead of breadcrumbs, serve with garlic bread or baguette
I don't recommend freezing this pasta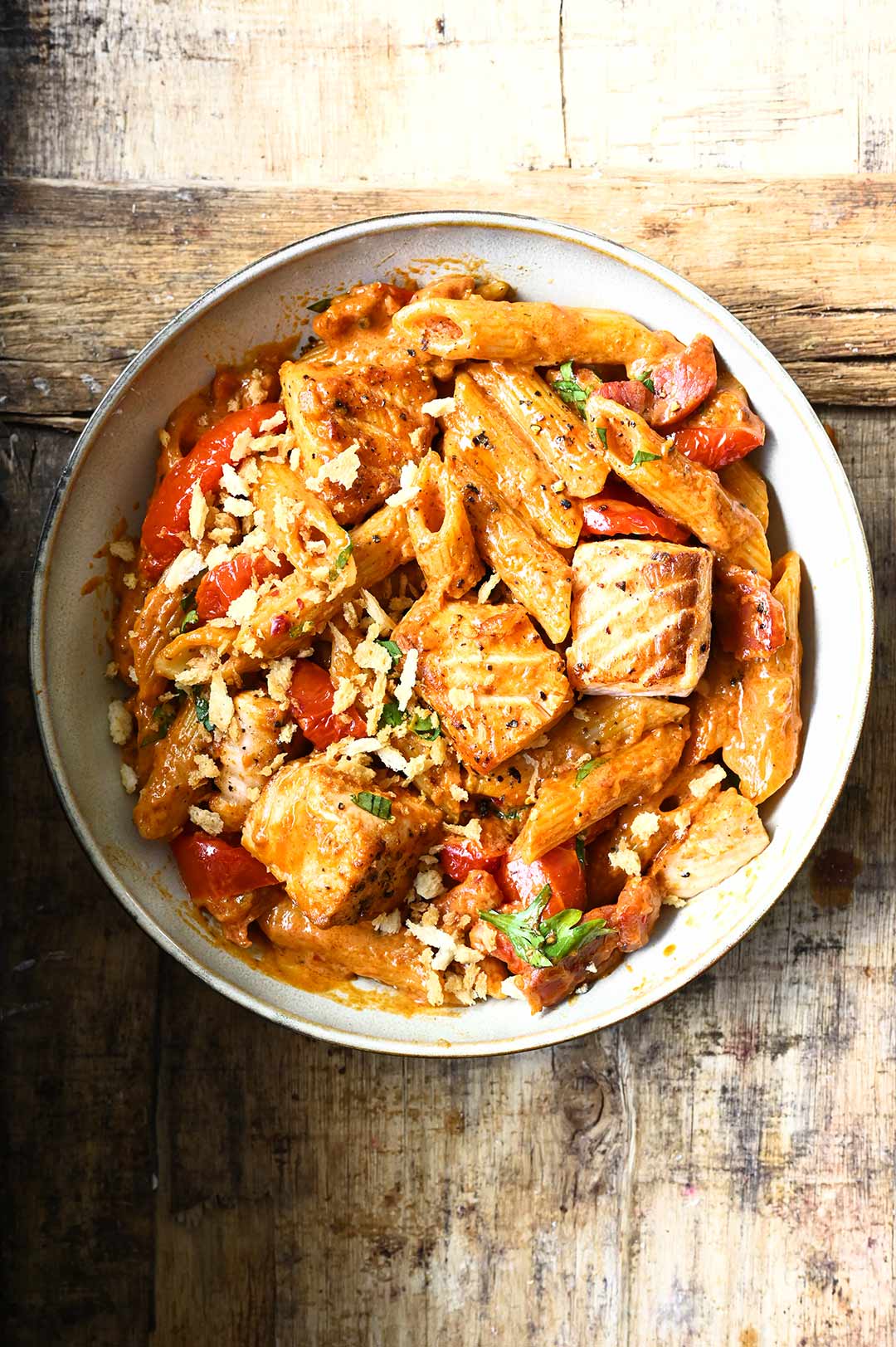 More salmon, please!
Recipe Video
Yield: serves 2
Creamy Salmon Pasta with Bacon
Prep Time 5 minutes

Cook Time 20 minutes

Total Time 25 minutes
Ingredients
150 g/5.3 oz penne
200 g/7 oz skinless salmon, cut into 2,5cm/1-inch pieces
150 g/5.3 oz salted bacon, cut into small pieces
100 g/3.5 oz semi sun-dried tomatoes, drained, oil reserved
2 garlic cloves, minced
2 tbsp oil from sun-dried tomatoes
1 tbsp unsalted butter
100 ml/1/2 cup cream 20% fat
30 g/1 oz grated Parmesan
3 tbsp tomato paste
salt +black pepper
1 tsp each: dried oregano, sweet paprika powder
1/2 tsp crushed red pepper flakes
1/2 cup panko, breadcrumbs
2 tbsp chopped parsley
Instructions
Heat 2 tbsp oil (from the sun-dried tomatoes) in a non-stick skillet. Then add panko. Cook over medium-high heat, while tossing frequently, until crunchy and golden brown, about 5 minutes. Season with a pinch of salt and black pepper. Transfer the breadcrumbs onto a plate.
In the meantime, bring a large pot of salted water to a boil. Cook the penne until al dente. Drain, reserving 1 cup cooking water.
In the same skillet, heat 2 tbsp oil and butter. Add bacon, cook over medium-high heat until golden brown and crispy, about 5 minutes. Remove from skillet, leaving as much oil as possible in the skillet.
Now add salmon chunks, season with salt, pepper and sweet paprika. Sear on both sides, about 2-3 minutes per side. Remove from skillet.
In the same skillet, add garlic. Cook over low heat, until soft and fragrant, about 2 minutes. Deglaze with 2 tbsp cooking water, stir with a wooden spoon to dissolve the browned bits from the bottom. Add tomato paste, oregano and red pepper flakes. Season with black pepper and a pinch of salt. Pour in 1/2 cup cooking water and cream, stir to combine. Toss with pasta, bacon and sun-dried tomatoes. Gradually stir in the Parmesan until it melts into the sauce. Add more cooking water to thin the sauce.
Lastly, add salmon back to the pan. Toss to combine. Taste the pasta and season with more salt if needed.
Garnish with chopped parsley, serve with breadcrumbs and some additional Parmesan. Pair with a side salad. Enjoy!
Notes
Calories Per Serving: 821 kcal
Nutritional information is only an estimate. The accuracy of the nutritional information for any recipe on this site is not guaranteed.
Nutrition Information:
Yield:
2
Serving Size:
1
Amount Per Serving: Calories: 821Total Fat: 139gSaturated Fat: 67gTrans Fat: 3gUnsaturated Fat: 62gCholesterol: 376mgSodium: 1233mgCarbohydrates: 87gFiber: 11gSugar: 31gProtein: 55g

*kcal per serving – Nutritional information is only an estimate. The accuracy of the nutritional information for any recipe on this site is not guaranteed.


DOWNLOAD PRINTABLE RECIPE PDF