Creamed corn orzo with salmon. This one-pot wonder is beyond delicious, super easy to make and ready in 30 minutes. Flaky salmon fillets paired with velvety orzo, infused with the sweetness of fresh corn and a hint of smoky goodness. I'm sure it won't take long for this comforting bowl to become a regular in your weeknight dinner rotation.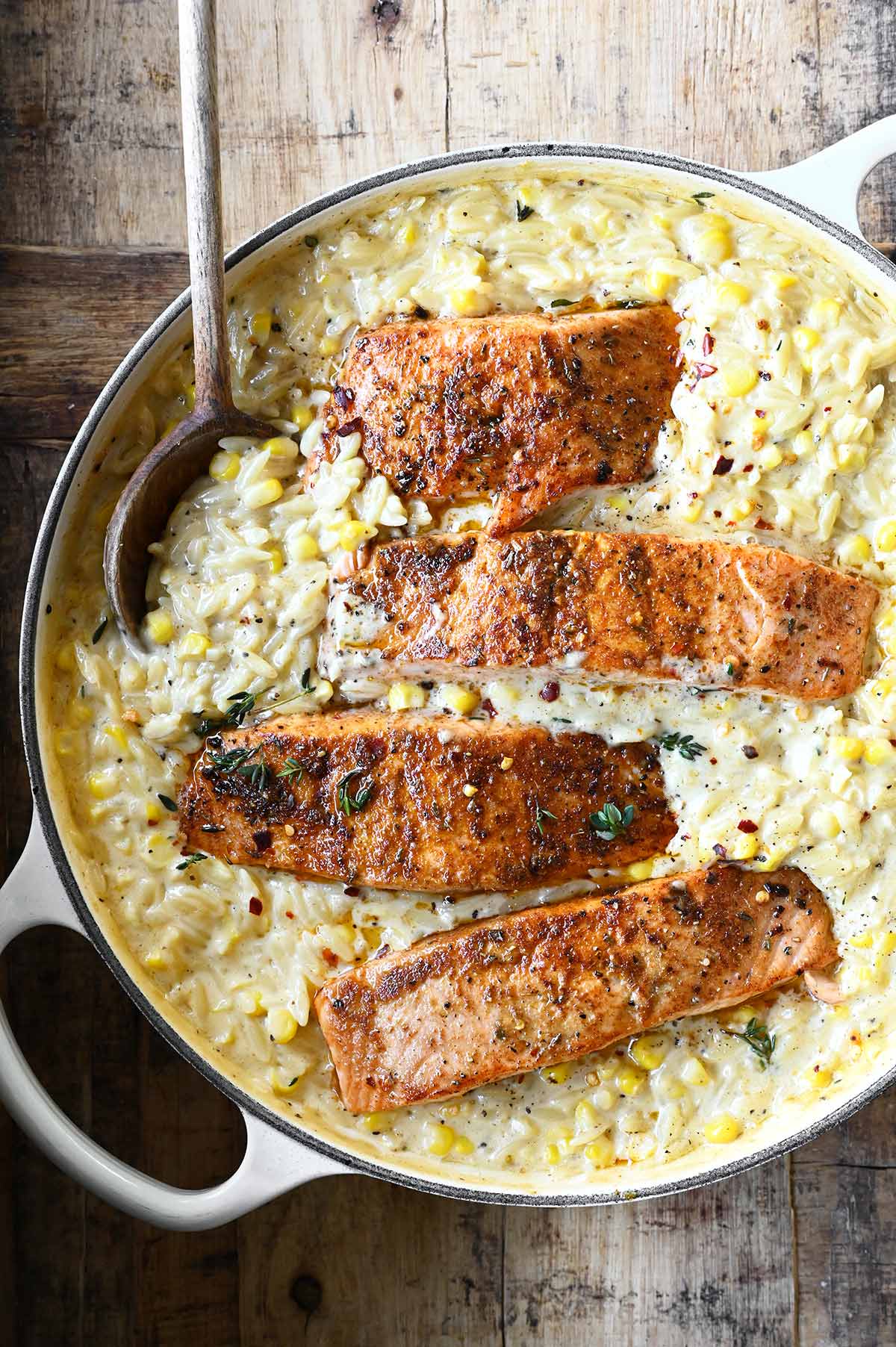 Get ready for a truly satisfying pasta experience with this humble yet decadent dish. Creamy, garlicky, and heartwarming, it showcases the power of just a few simple ingredients. The addition of flavorful salmon takes it to a whole new level!
The magic lies in the silky creamed corn sauce, complemented by Parmesan and Cajun seasoned salmon. A burst of freshness from the lemon juice and thyme, perfectly enhances the rich pasta flavors. While it's ideal during peak corn season, fear not, it still impresses with canned or frozen corn.
Inspired by the velvety goodness of creamed corn, we transform the beloved side dish into an irresistible sauce, blending it with smooth orzo and tantalizing salmon. Although orzo is the star, feel free to use any short pasta shape you have on hand.
Now, here's the secret: corn on the cob is a must! Boiling it together with the pasta infuses the dish with extra sweetness. Yes, it might get a little messy when cutting the kernels, but a sharp knife will work its magic.
Let me guide you through the recipe with this step-by-step VIDEO.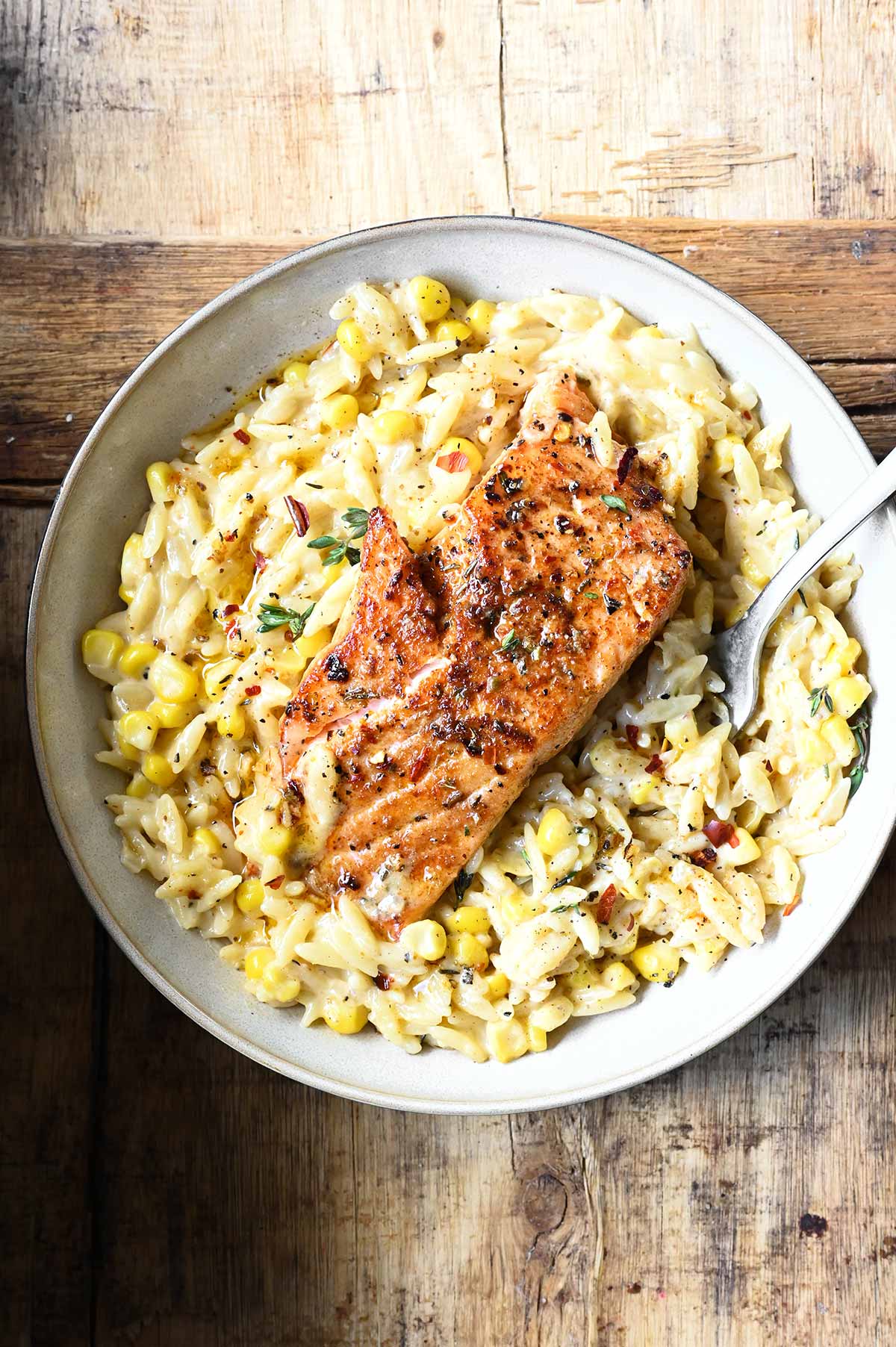 How To Make Creamed Corn Orzo with Salmon
This one-pot wonder not only satisfies your pasta cravings but also saves you from a pile of dishes to wash. And the best part? It's ready in under 30 minutes!
The secret to its lusciousness lies in cooking the orzo and corn kernels right in the sauce. This step allows the starch to blend with the liquids, creating a glossy, creamy texture. Just remember to stir the orzo occasionally to prevent sticking and unlock more of its natural starches.
Here's how it goes: start by searing the salmon, then cook the orzo and corn in the same pot, adding the finishing touches to the sauce at the end. As all the flavors blend together, the aroma from the cooked salmon elevates the creamy sauce to a whole new level.
To ensure maximum creaminess and flavor, we won't settle for just simmering the orzo and corn in water. Instead, we'll use chicken broth and cream. Don't underestimate this combination, it will make a huge difference.
So, gather your ingredients, follow these simple steps, and treat yourself to a mouthwatering pasta experience in no time!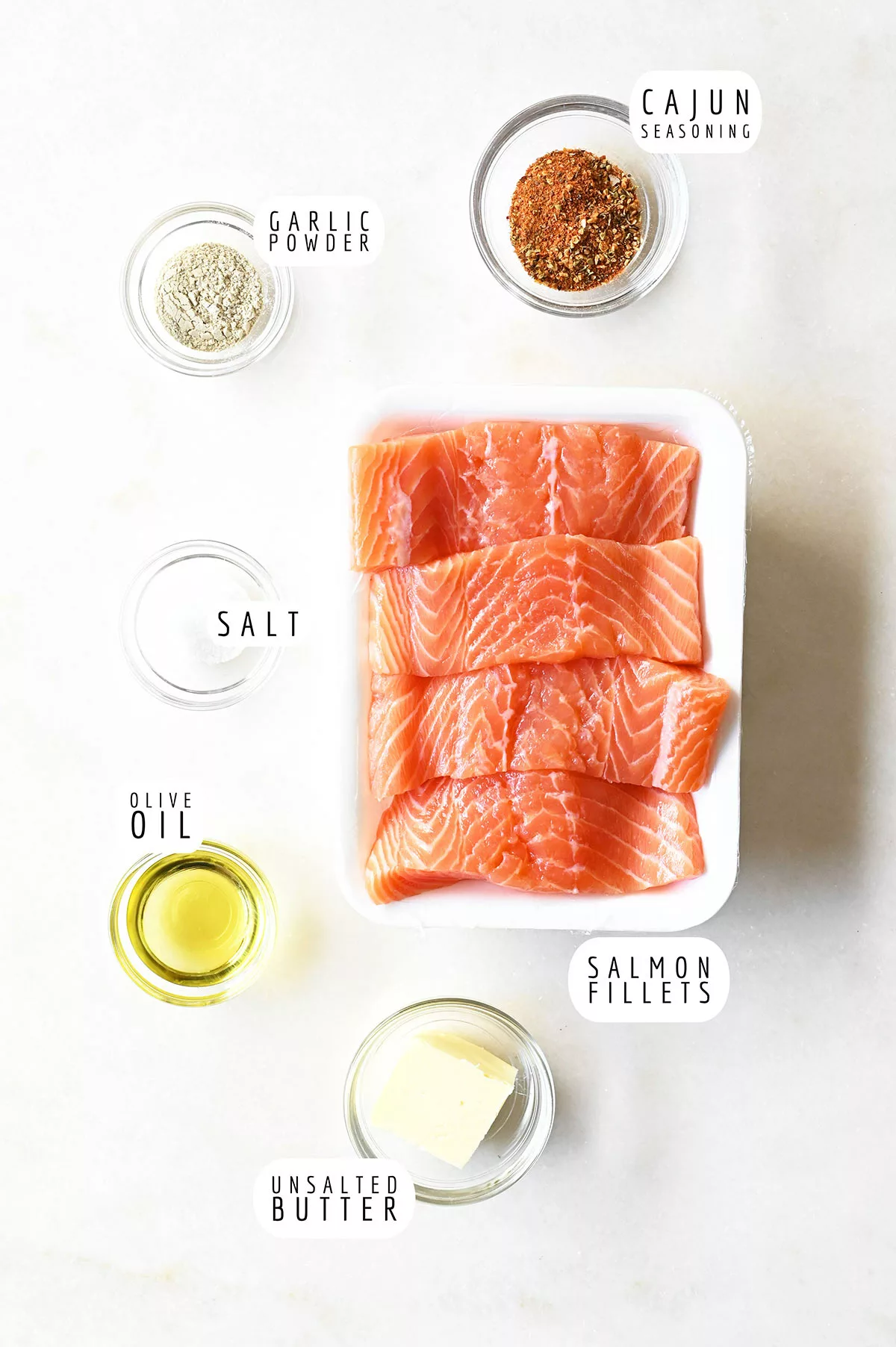 Ingredients, Tips & Substitutions
Salmon
Oil and Butter: Combine these two for a higher smoke point and extra flavor.
Salmon: Opt for evenly-sized fillets to ensure even cooking. Skin-on salmon works perfect too!
Seasoning: A delightful blend of salt, garlic powder, and Cajun seasoning.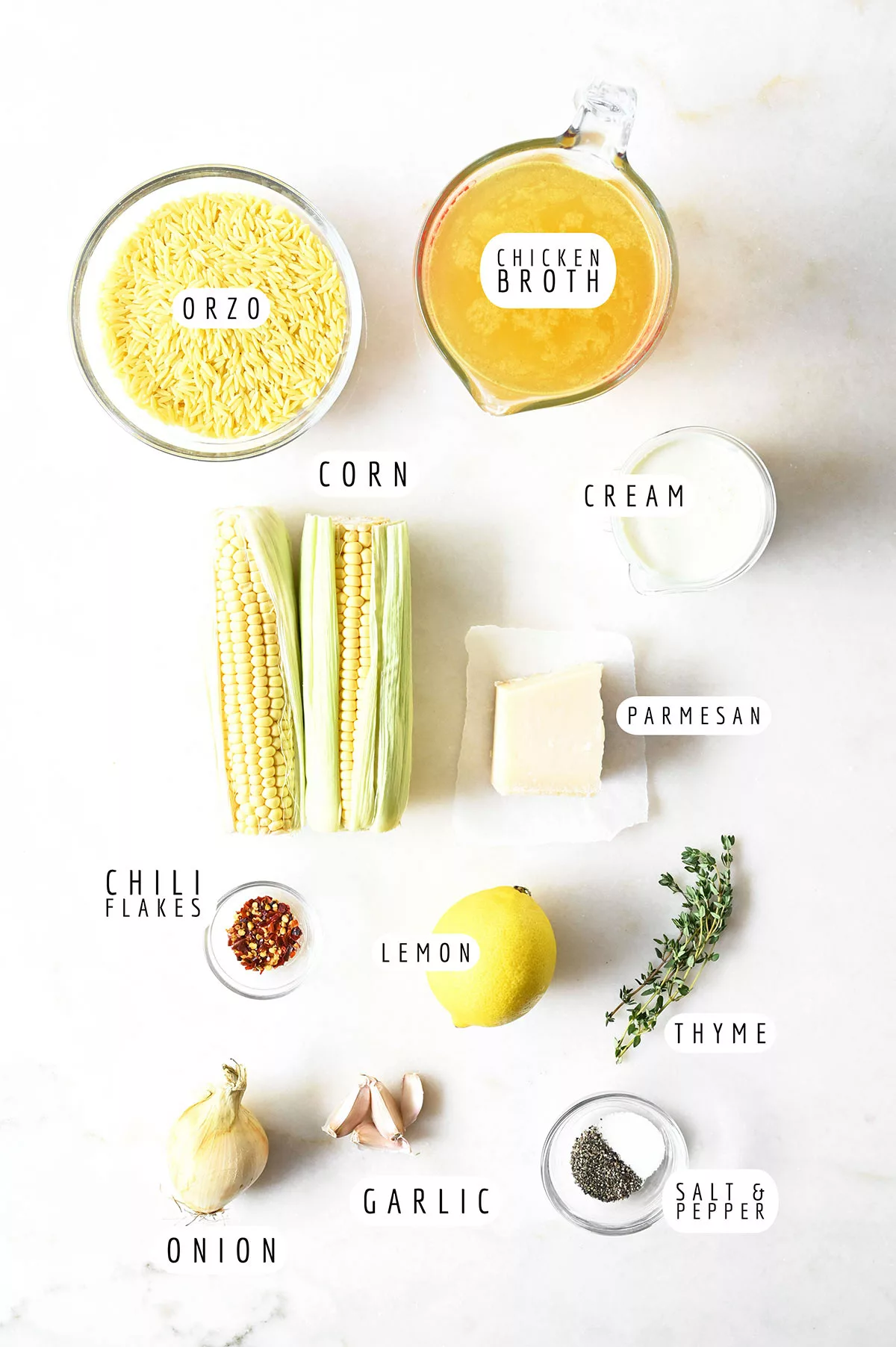 Creamed Corn Orzo
Orzo: Brings a silky texture like no other pasta. If you need a substitute, try small pasta varieties like risoni, ditali, fregula, or tiny tubes. They work well in soups, salads, and creamy dishes.
Corn on the cob: Fresh summer corn off the cob infuses a sweet flavor. If not available, frozen or canned corn will do, especially in winter.
Garlic and Onion: Aromatics to elevate the flavor.
Broth: Chicken or vegetable broth, your choice!
Heavy Cream: Use 20% fat cream for a lighter option. But try to avoid half-and-half or milk.
Parmesan: To thicken and flavor the sauce. Best to use freshly grated parmesan right of the block so your sauce isn't grainy.
Seasoning: A mix of salt and black pepper.
Lemon Juice: To add a bright touch to the sauce.
Herbs: Thyme leaves for a burst of freshness. Dried thyme (1 teaspoon) works as a substitute.
Chili flakes: If you want a spicy kick, but it's optional as a finishing touch.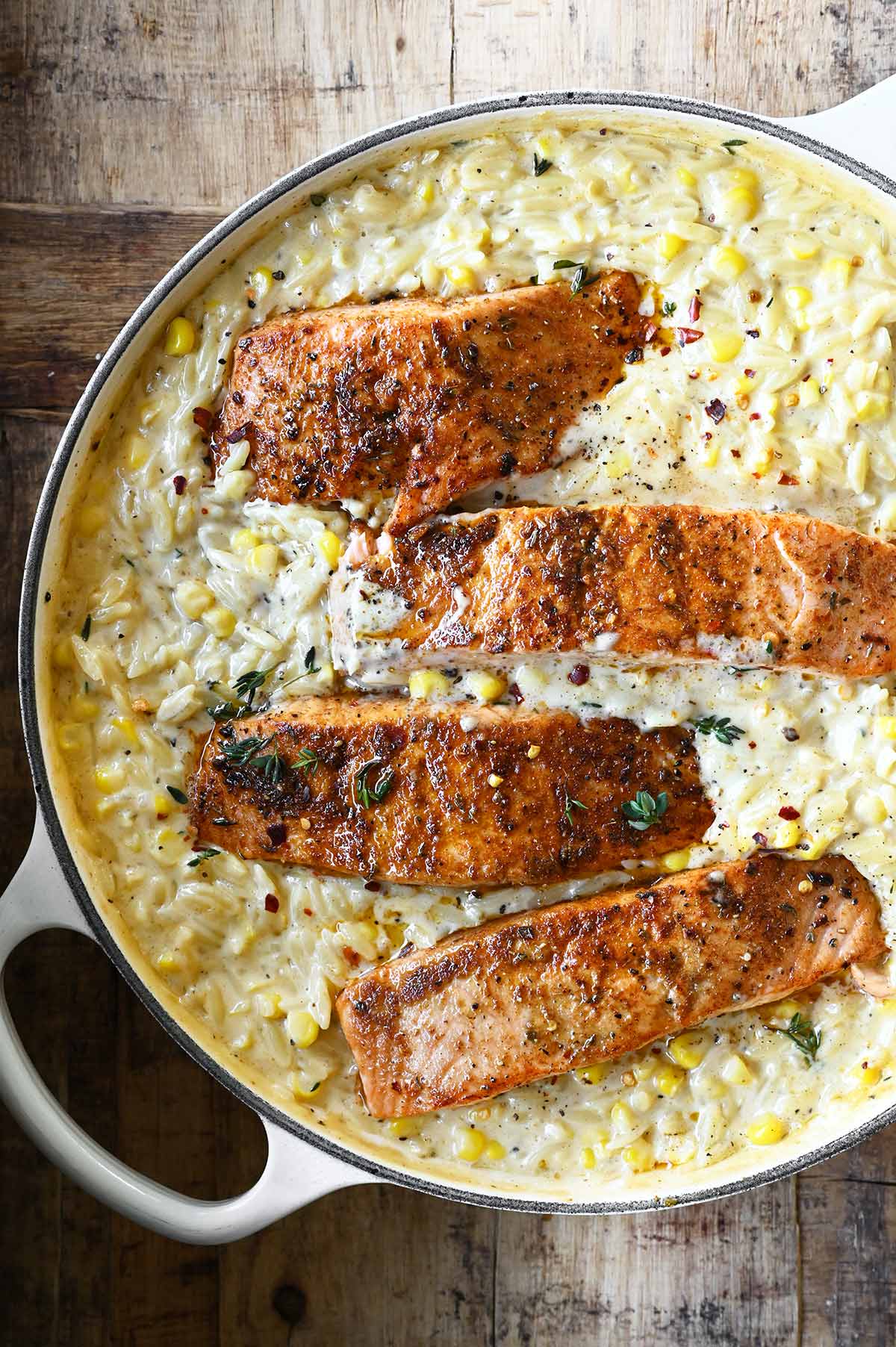 Recipe Notes
Try it with shrimp or chicken instead of salmon.
Pair with a big leafy side salad.
Storage: Store leftovers refrigerated in an airtight container for up to 1 day.
The creamed corn orzo is a delight even when enjoyed on its own, no need to add meat or fish. Any leftovers can be stored in an airtight container in the refrigerator for up to 3 days. So, you can savor the goodness again for lunch.
Try These Next
Cooking Video
Yield: serves 4
Creamed Corn Orzo with Salmon
Ingredients
Seared Salmon
1 tbsp olive oil
1 tbsp unsalted butter
4 salmon fillets, skin removed
¼ tsp salt
1 tsp garlic powde
1 tbsp Cajun seasoning
Creamed Corn Orzo
4 garlic cloves, minced
1 small yellow onion, finely chopped
½ tsp salt
1 tsp each: black pepper
leaves from 3 sprigs of thyme, more for serving
1 cup/250 g dry orzo
2-3 ears corn
2 ½ cups/600 ml chicken broth
1 cup (3 oz/90 g) grated Parmesan
1 tbsp lemon juice
1 cup/240 ml heavy cream
chili flakes for serving, optional
Instructions
Get your prep done before you start cooking. Pat the salmon fillets dry with a paper towel. Season both sides with salt, garlic powder and Cajun seasoning. Grate the Parmesan, finely chop the onion and mince the garlic.
Shuck the corn, removing the husks and silks. Cut each cob in half to get 2 equal parts. Hold a halved ear of corn upright on your cutting board, steadying the tapered end against the board. Use a large sharp knife to shave the corn kernels from the cob, working in long strips down towards the bottom. Repeat the process with the remaining ears of corn.
Heat oil and 1 tbsp butter over medium high in a large nonstick pan or skillet. Add salmon fillets and sear, 3-4 minutes per side. Remove from skillet and set aside.
Reduce heat to medium, add garlic and shallot. Cook until soft and fragrant for about 2 minutes. Stir in salt, pepper and thyme leaves. Add orzo and corn kernels, toast for 1 minute.
Pour in broth and bring to a boil. To maintain a simmer, reduce the heat to medium-low. Cook uncovered while stirring frequently to keep the orzo from sticking, until almost al dente and most of the liquid is absorbed, about 10 minutes.
Stir in Parmesan. Next add cream and lemon juice, simmer for 2 minutes. Return salmon to the skillet and simmer everything for 2-3 more minutes or until the salmon is heated through.
Top with thyme, black pepper and chili flakes. Enjoy!
Notes
Calories Per Serving: 569 kcal
Nutritional information is only an estimate. The accuracy of the nutritional information for any recipe on this site is not guaranteed.

//= __('Print recipe (no photos)', 'servingdumplings' );?> //= __('Print recipe (with photos)', 'servingdumplings' );?>