Polenta met Manchego kaas, scampi's en chorizo in een knoflook-botersaus met groene olijven en kerstomaten.  Een knock-out smaakbom klaar in 20 ongeveer minuten.
Er zullen wel  evenveel polenta recepten zijn als redenen om ervan te houden. Het is snel klaar, romig met een mooie textuur en de smaakcombinaties die je kan maken zijn eindeloos. Pikante chorizo? Check. Een botersaus? Check. Knoflook en scampi's? Double check.
Snel klaar, dus geweldig na een drukke werkdag of voor je volgend virtueel etentje met vrienden.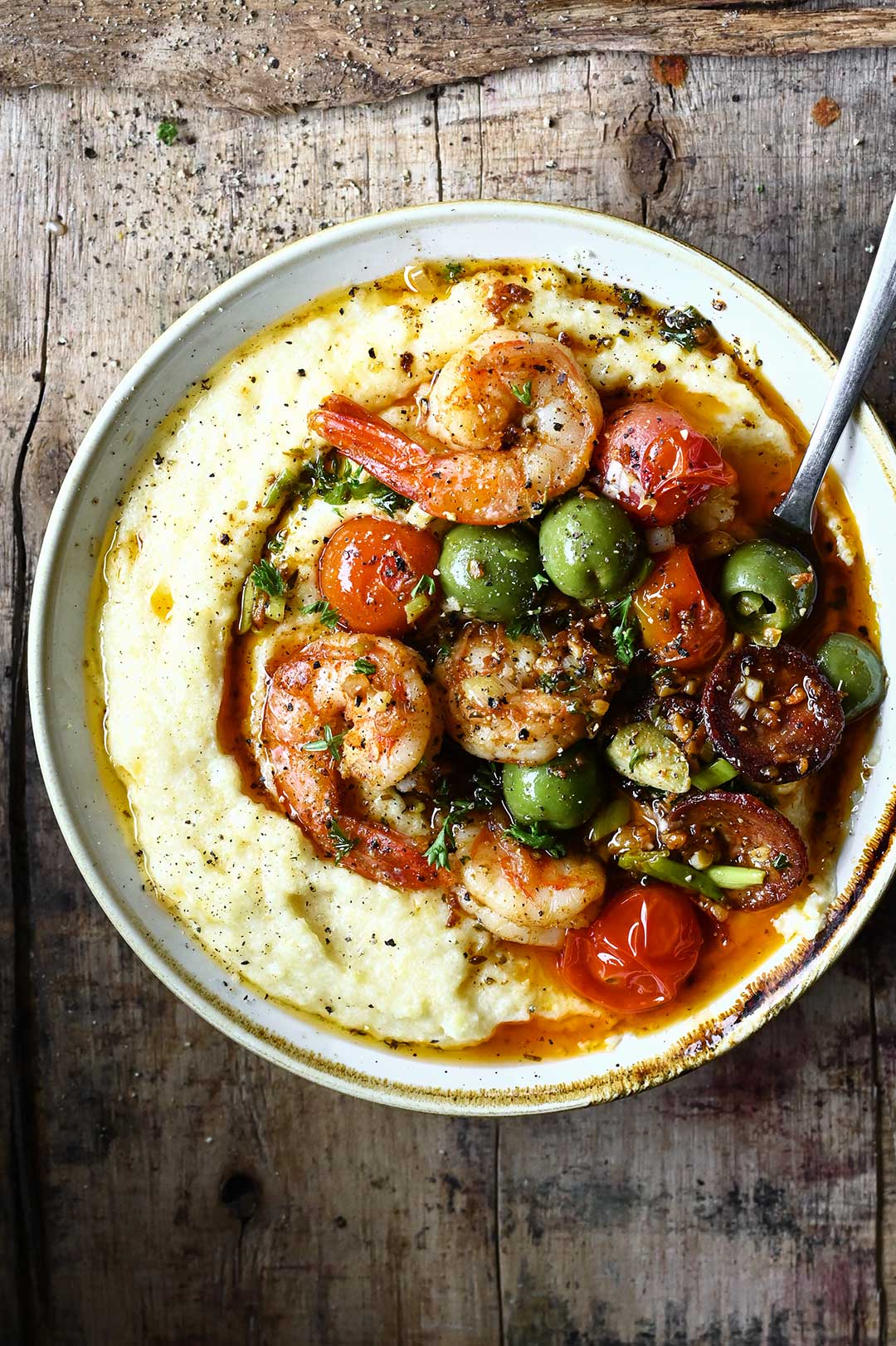 Eerst bakken we de chorizo, voegen de scampi's toe, daarna de knoflook en kruiden. Vervolgens de kerstomaatjes en olijven erin,  en koken we alles een paar minuten samen. Wanneer de tomaten beginnen te barsten, drukken we er met een houten lepel op. Hierdoor komt een groot deel van hun sap vrij en creëren we een ongelooflijk smaakvolle saus. Als laatste maken we de polenta. Hiervoor hebben maar 2 minuten nodig, nog even de Manchego kaas en wat boter erdoorheen mengen. Klaar!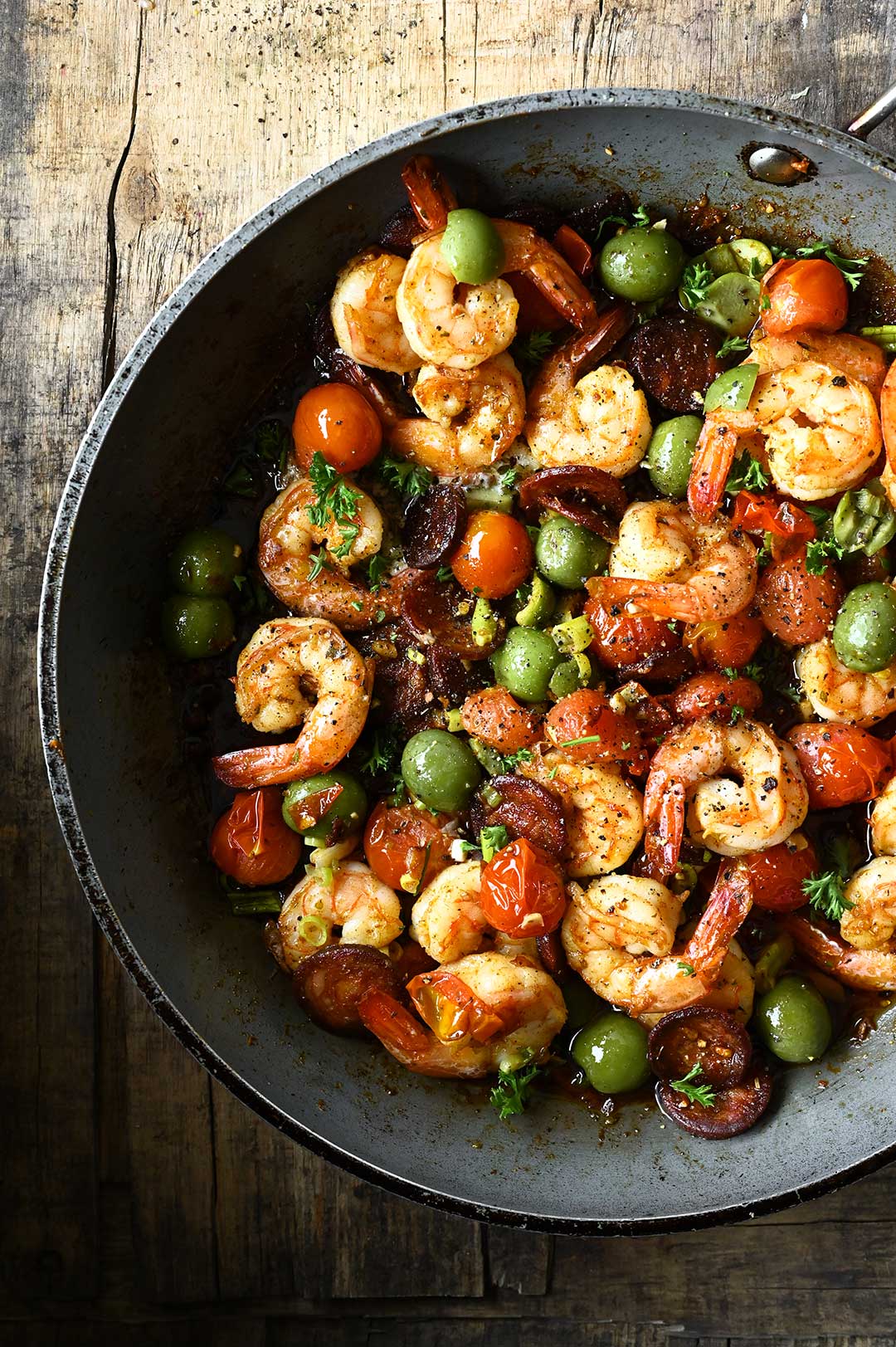 Je kan kielbasa of spek gebruiken in dit recept, maar pittige chorizo geeft de saus een extra kick.
Kan je geen Manchego kaas vinden? Gebruik fontina kaas, pecorino, mozzarella of milde cheddar.
Heb je nog wat restjes aardappelpuree? Gebruik deze in plaats van polenta en voeg gewoon wat kaas toe.
Bekijk mijn VIDEO om te zien hoe makkelijk je dit gerecht kan maken.

Meer recepten met polenta:
Romige polenta met Parmezaan en geroosterde groentjes
Polenta met miso champignons en zongedroogde tomaten
Romige polenta en paddenstoelen in een biersausje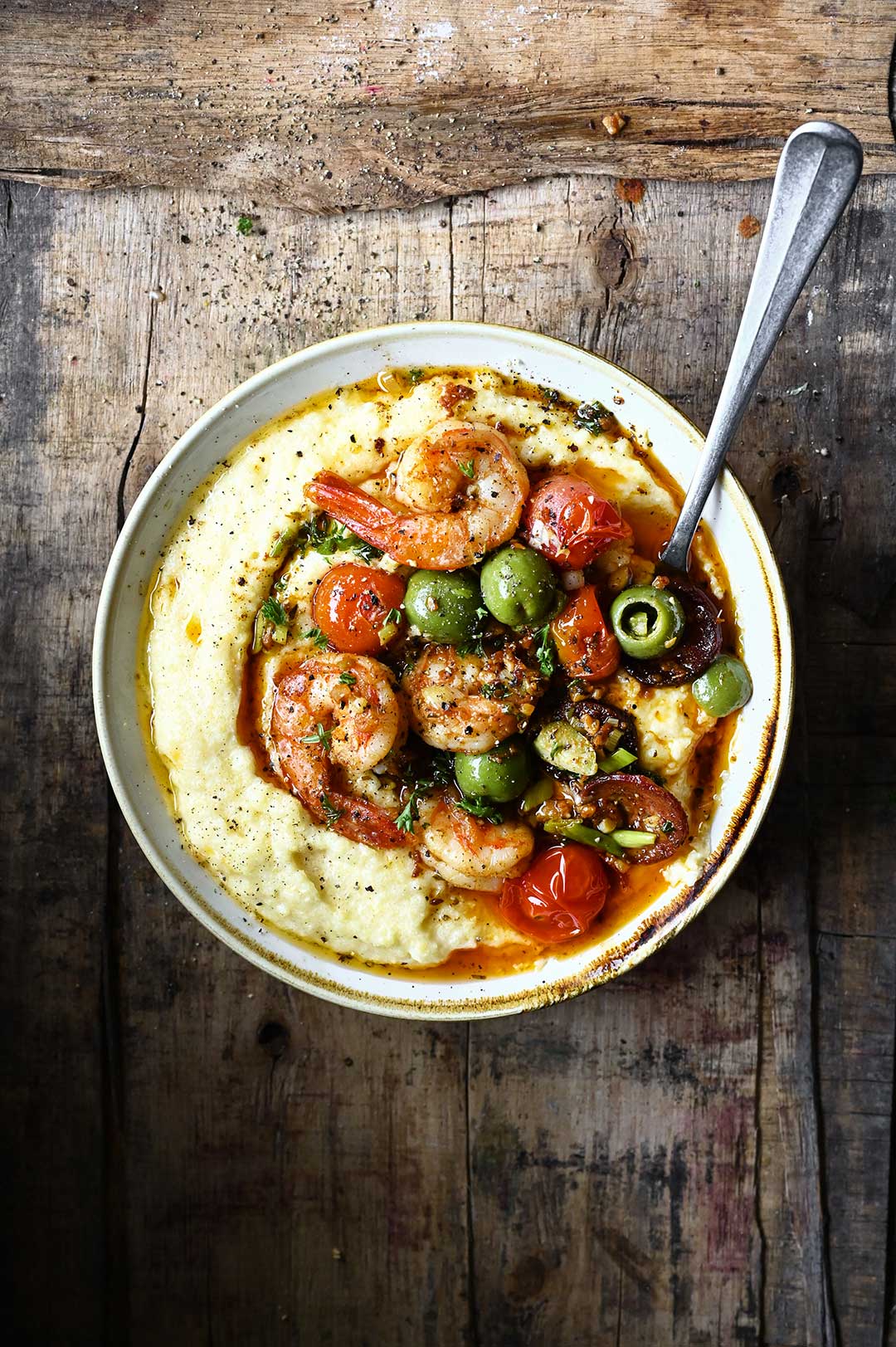 Dit heb je nodig
polenta
200 g instant polenta
400 ml melk
400 ml kippenbouillon
130 g geraspte Manchego kaas
2 el roomboter
zeezout + zwarte peper
chorizo & scampi's
450 g scampi's, gepeld
100 g pikante chorizo worst, in plakjes gesneden
150 g groene olijven, zonder pitten
200 g kerstomaten
4 tenen knoflook, fijngehakt
olijfolie
2 el roomboter
1 tl elk: gedroogde oregano, gerookte paprika, cayennepeper
1 el citroensap
4 lente-uitjes, gehakt
verse peterselie, voor de afwerking (optioneel)
Zo maak je het
Bekijk mijn VIDEO om te zien hoe makkelijk je dit gerecht kan maken.
Verhit 3 el olijfolie in een grote koekenpan. Voeg chorizo toe, bak gedurende 1 minuut op middelhoog vuur. Schuif vervolgens de chorizo een beetje opzij en doe de scampi's erbij. Bak gedurende 2 minuten. Voeg knoflook toe, bak 1 minuut mee, roer regelmatig. Voeg meer olijfolie toe, ongeveer 3 el. Roer de oregano, gerookte paprika en cayennepeper erdoor. Breng op smaak met zout en peper.
Voeg kerstomaten toe, bak ongeveer 2 minuten of tot de tomaten beginnen te barsten. Vergeet niet af en toe te roeren omdat we op een constant hoog vuur bakken. Druk op de achterkant van de tomaten met een houten lepel om de sappen eruit te duwen. Roer de olijven, lente-ui en boter eronder. Zet opzij.
Breng in een kookpot kippenbouillon en melk aan de kook. Doe de polenta erbij terwijl je blijft roeren, kook ongeveer 2 minuten op een laag vuurtje. Roer boter, Manchego kaas, zout en zwarte peper eronder. Zet het vuur uit, dek af en laat 1 minuut staan. Als de polenta te dik wordt, voeg wat extra melk of bouillon toe.
Serveer met chorizo, scampi's en de saus. Smakelijk!