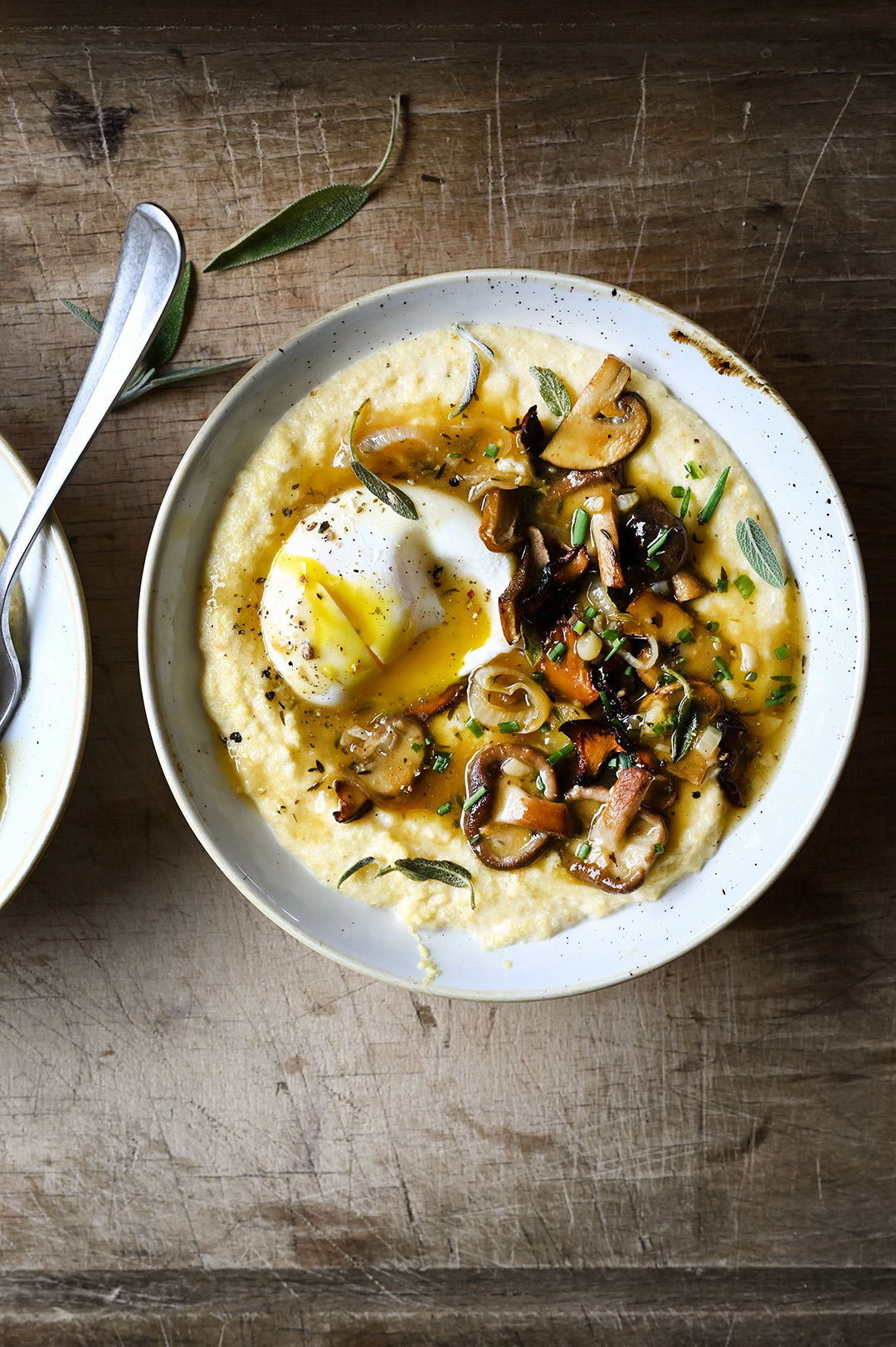 Heerlijk romige polenta met parmezaan, gebakken paddenstoelen met bruin bier en gekarameliseerde  uien, een gepocheerd ei en krokante salie. Klinkt als een heleboel, maar deze topper komt in een half uurtje op tafel.
De polenta is ongelooflijk romig, boterachtig en smaakvol op zich, maar is nog lekkerder met de gebakken paddenstoelen. Dus als je op zoek bent naar een eenvoudig en heerlijk diner, dan is dit recept zeker iets voor jou. Zoveel zalige texturen en smaken.
Een van de beste tips voor een heerlijke polenta, is dat je het best klaarmaakt net voor het opdienen. Bak eerst de paddenstoelen en laat ze op het fornuis staan. Als alles klaar is, lepel je de paddenstoelen over de romige polenta en leg je er het gepocheerd ei en de gebakken salieblaadjes op. Wedden dat je nog een keer opschept?
Dit heb je nodig
romige polenta
400 ml melk
350 ml water
250 g polenta
120 g Parmezaan
2 klontjes boter
zeezout + zwarte peper
gebakken champignon met bier
300 g gemengde paddenstoelen, grof gehakt
3 uien, in dunne plakjes gesneden
2 teentjes knoflook, fijngehakt
1 el maïszetmeel
100 ml donker bier
200 ml groentebouillon
1 el boter
2 el olijfolie
1 tl gedroogde tijm
zeezout + zwarte peper
afmaken
4 gepocheerde eieren
salieblaadjes
gehakte bieslook
zeezout + zwarte peper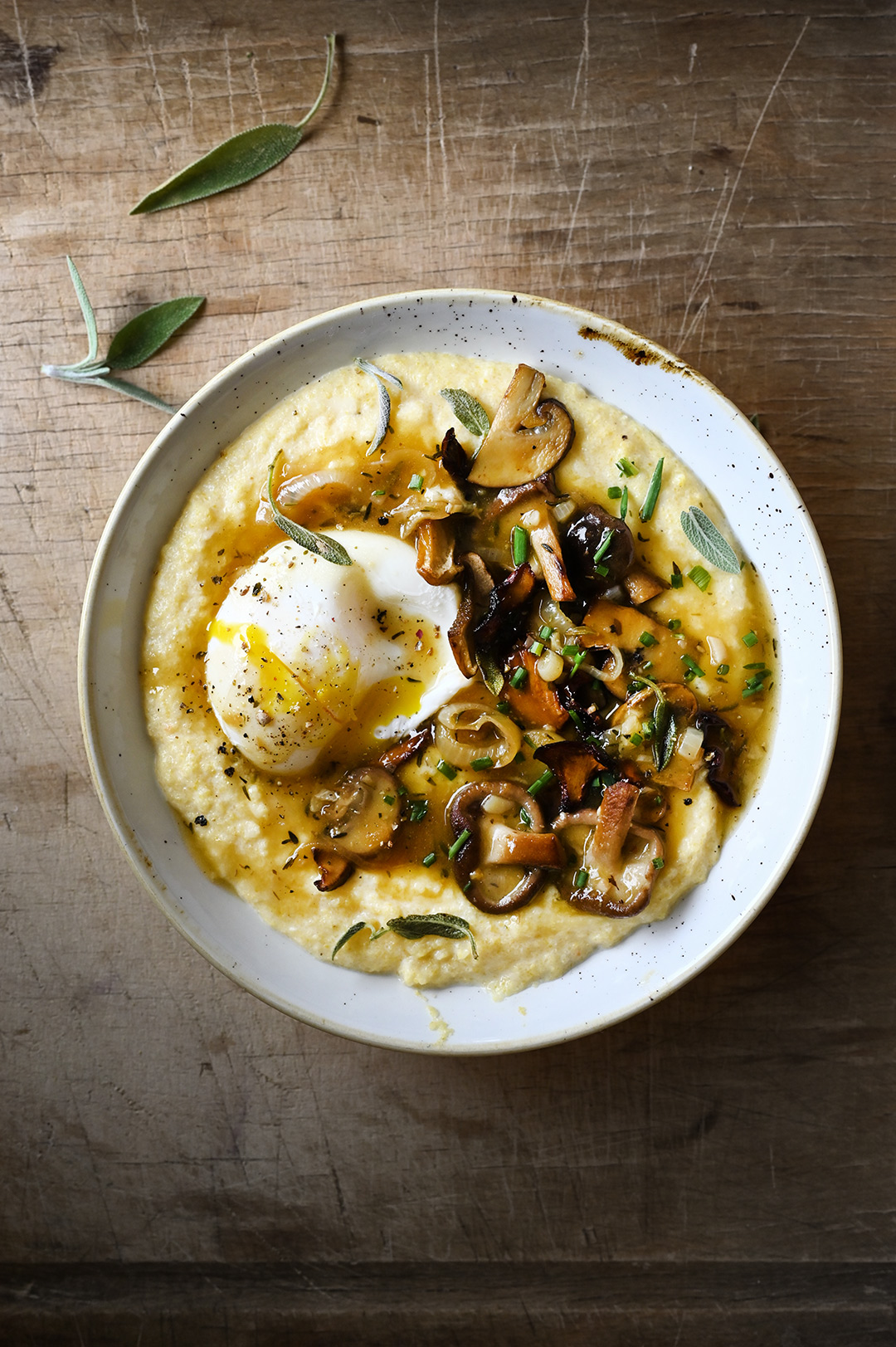 Instructions
Begin met de paddenstoelen. Verwarm de boter en olie in een koekenpan op een hoog vuur, voeg de paddenstoelen toe en bak ze lichtbruin. Voeg de uien toe en bak op een matig vuurtje tot ze zacht worden, roer af en toe. Voeg de knoflook toe en laat nog een minuutje meebakken.
Voeg maïszetmeel toe, roer tot de paddenstoelen gelijkmatig bedekt zijn. Voeg bier toe en kook 2 minuten. Doe bouillon, tijm, zout en peper erbij. Meng voortdurend tot de saus begint te koken.  Laat 5-10 minuten zachtjes pruttelen op een zacht vuurtje, roer af en toe, gedurende 5-10 minuten.  Voeg zout en peper naar smaak toe.  Als je liever de saus dunner wilt, voeg dan een beetje meer water toe.
Maak ondertussen de polenta. Breng in een middelgrote pan water en melk aan de kook. Doe de polenta erbij en kook gedurende 3-5 minuten op een zacht vuurtje, roer voortdurend. Doe de boter, parmezaanse kaas, zout en peper eronder. Zet het vuur uit, dek af en laat 2 minuten staan. Als de polenta te dik wordt, voeg dan wat extra melk toe.
Verhit intussen in een koekenpan wat olijfolie. Bak de salieblaadjes knapperig.
Verdeel de polenta over de kommen, schep de paddenstoelen, leg er de gepocheerde eieren en de gebakken salieblaadjes op. Bestrooi met bieslook, zout en zwarte peper. Smakelijk!
AND… IF YOU LOVE THESE RECIPES … please consider supporting my work for just the cost of a cup of coffee.