A whipped feta dip with spicy honey. Whether you're looking for something special to serve with a drink or a starter, everyone will love this one. It's fast, and super simple. The salty feta is whipped into a creamy, fluffy dip. The honey is swirled with chili flakes and garlic. Serve a big bowlful next to crispy pita bread, crackers or a platter of raw veggies for a funky appetizer.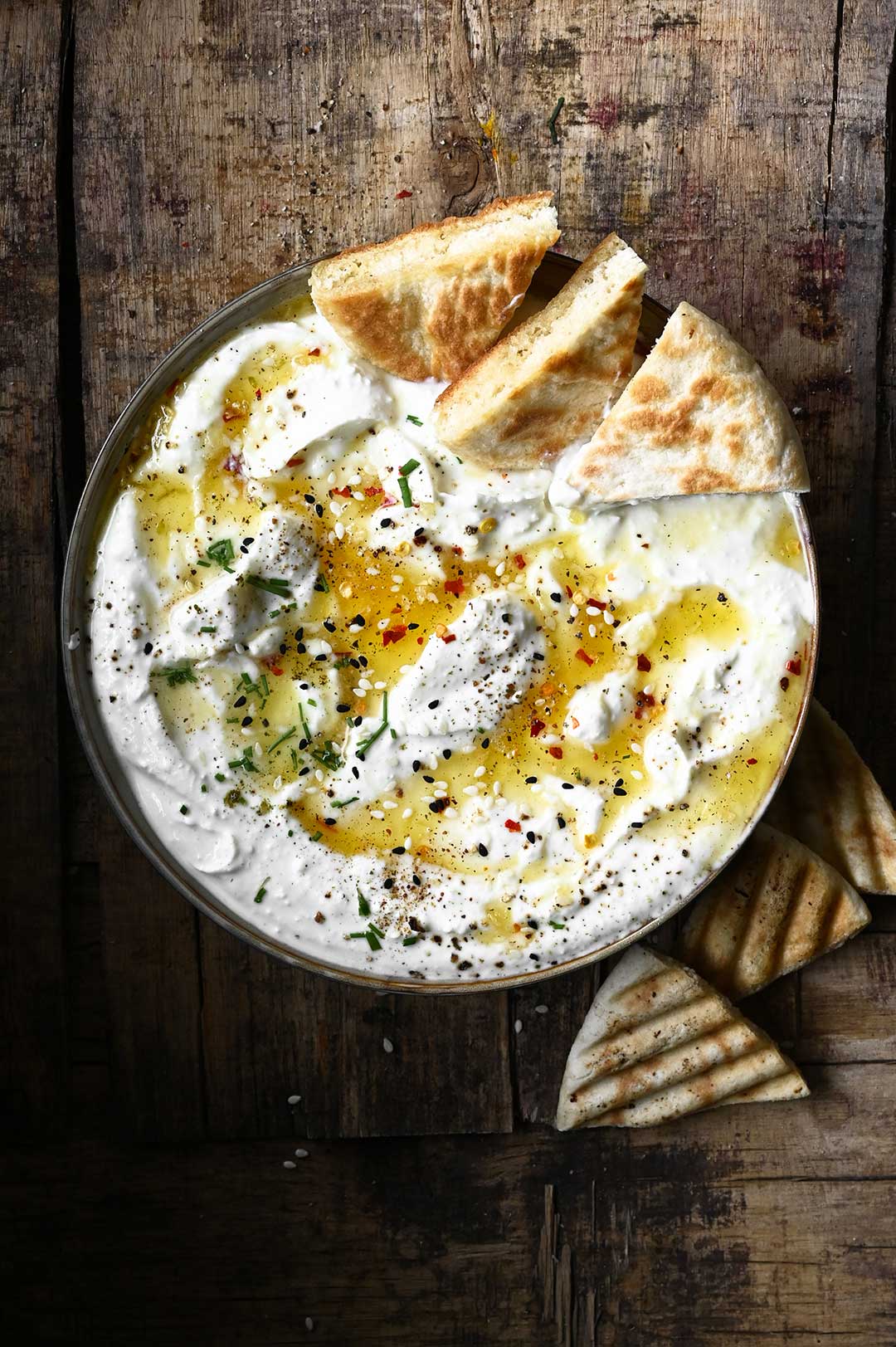 Dips shouldn't be complicated and this one surely isn't. It's nothing but feta, ricotta and sour cream blended together in a food processor, but what comes out of this combination is something truly special. Surprising and interesting enough to keep you coming back for another dip. The creamiest, dreamiest dip you've ever imagined. It's drizzled with spicy honey and sprinkled with za'atar. 
Any leftovers can be used as a sandwich spread or as a salad dressing.
Let me guide you through the recipe with this step-by-step VIDEO. 

You need
200 g (7 oz) feta
100 g (3.5 oz) ricotta
50 g (1.7 oz) sour cream
salt + black pepper
+
5 tbsp honey
1 tbsp olive oil
1 garlic clove, minced
2 tbsp lemon juice
1 tsp crushed red chili flakes
salt + black pepper
for serving
chopped chives (optional)
1 tsp za'atar
1 tsp black & white sesame seeds
pita chips, naan or raw veggies
Recipe Video
How to whip this up
Feta, ricotta and sour cream should be at room temperature.
Add feta, ricotta and sour cream to a food processor. Season with salt and pepper. Blend on high until smooth, about 2-3 minutes. Taste, add salt and pepper if needed.
In a saucepan, heat olive oil. Add garlic, sauté on very low heat until soft. Turn off the heat. Stir in honey, lemon juice and chili flakes. Season with salt and pepper.
Serve the whipped feta drizzled with spicy honey. Top with chives, za'atar, sesame seeds, some extra freshly ground black pepper and chili flakes. Enjoy with pita chips, naan or a veggie platter.
Leftovers can be used as a spread or a dressing.
PRINT RECIPE