Whipped feta dip topped with candied corn. This feta dip is the triple treat of all appetizers and dips, it's sweet, salty and savory at the same time.
Some Greek yogurt, sour cream and a quick spin in the food processor turns crumbly feta into an airy funky dip. What's the cherry on top of this delicious appetizer? Candied corn. Serve with pita chips, naan or buttery crackers.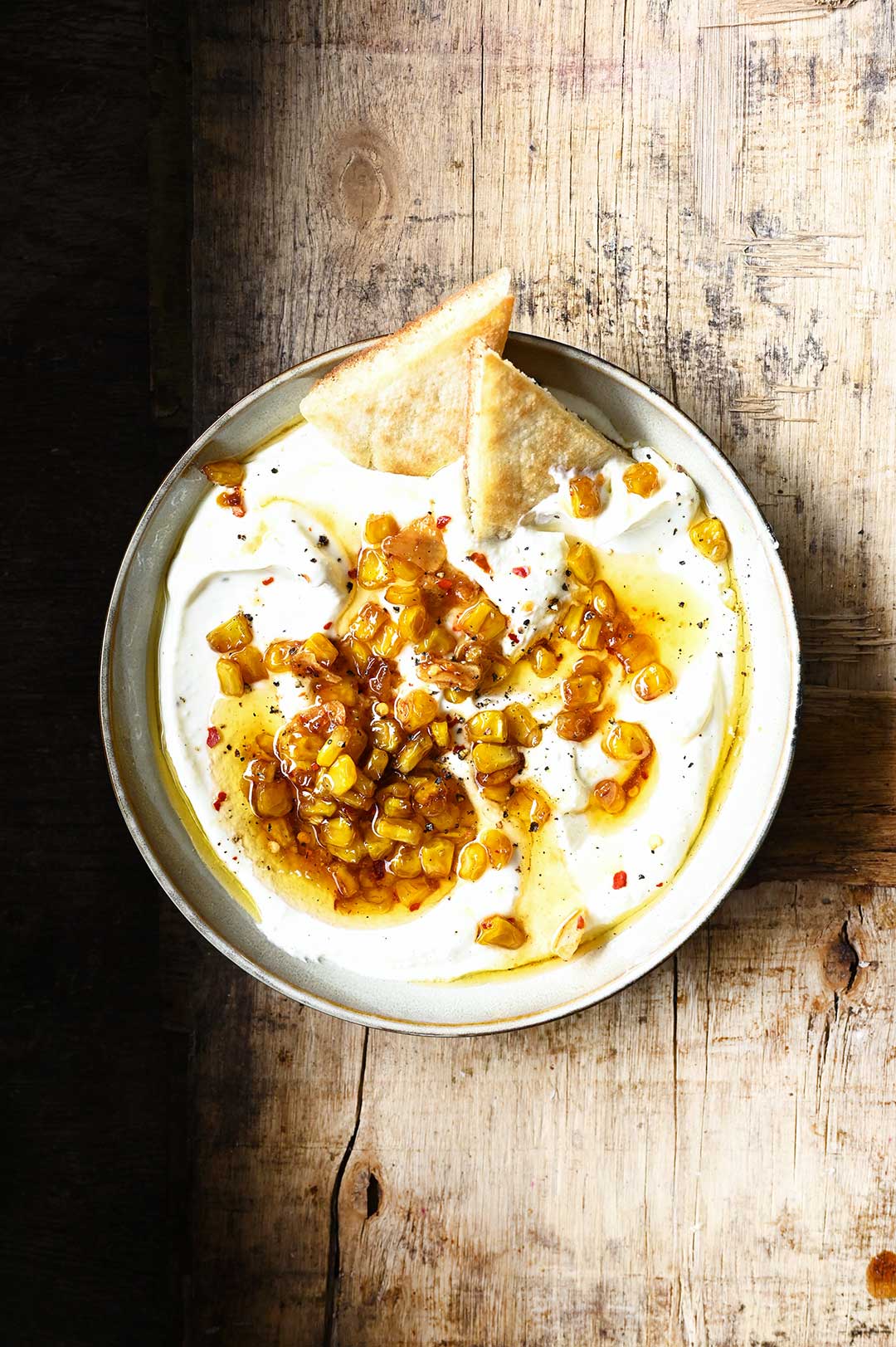 This versatile whipped feta is a revelation, it can be enjoyed as a dip with raw vegetables or toasted pita, slathered on toasts or sandwiches. Greek yogurt and sour cream are the smooth base for the feta, but also tangy enough to complement the cheese.
Feel free to adjust the ratio of yogurt to feta, adding more or less for a thicker or thinner result. Making this dip is super simple, we combine the feta with the yogurt and sour cream in a food processor and blitz it until it's smooth.
You know what else makes this so delicious? Candied corn. The kernels are crisped up in olive oil. Then, to create that funky flavor, we jazz it up with some maple syrup, crispy garlic and red pepper flakes. All that's left to do is assemble and enjoy.
Let me guide you through the recipe with this step-by-step VIDEO.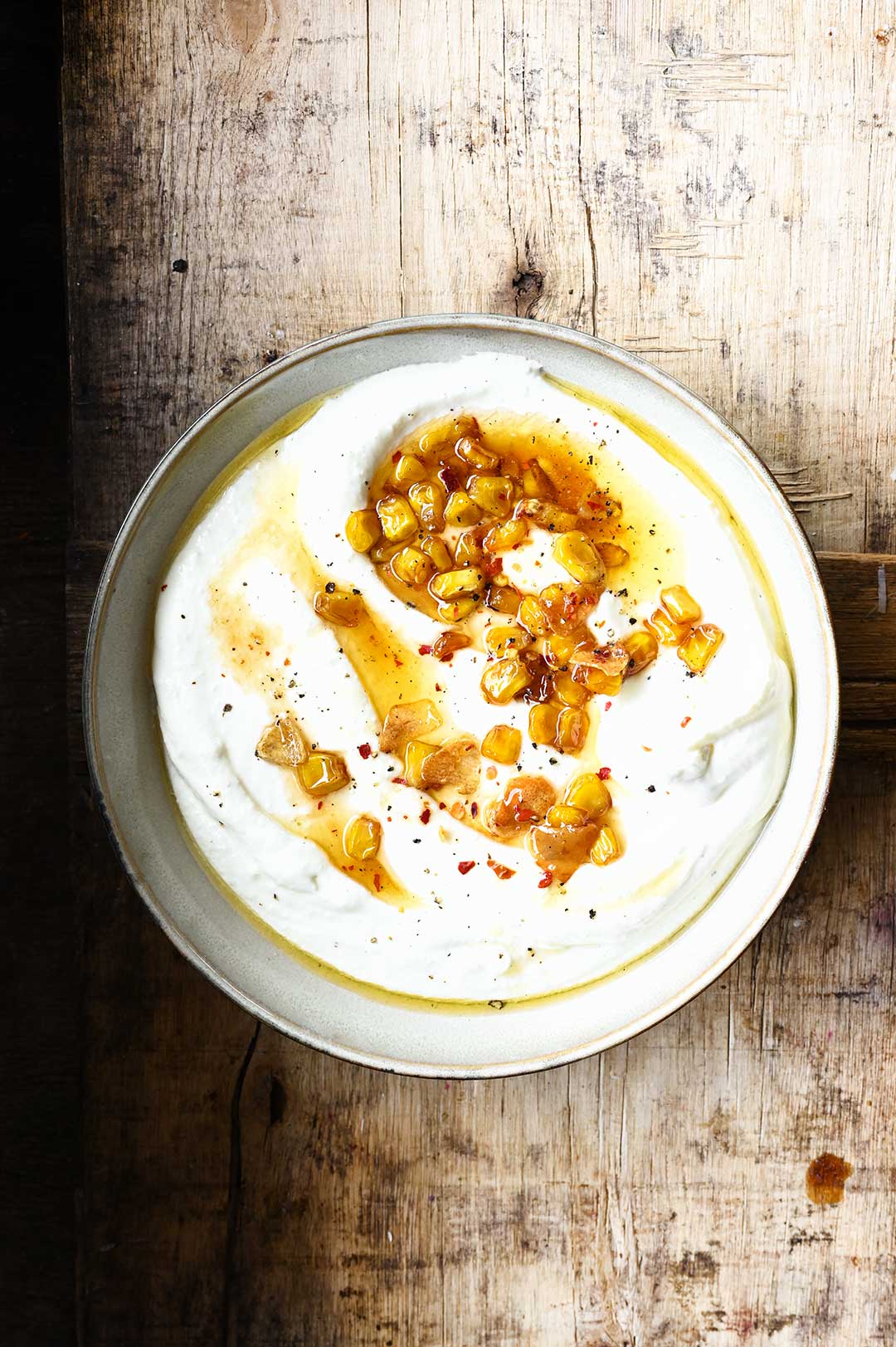 RECIPE NOTES
whip it good! Make sure to use a food processor, a stand mixer is not able to break down the feta well enough
make this recipe beforehand, but be sure to bring it to room temperature before serving. The texture will become firm when refrigerated
great as a dip, an appetizer or on crostini. Leftovers can be used as a spread
perfect with drinks, for picnics, parties, brunch, bbq, anytime, anywhere
serve with pita chips, naan, buttery crackers or a charcuterie/veggie platter
it's also great for lunch with pitta bread and raw veggies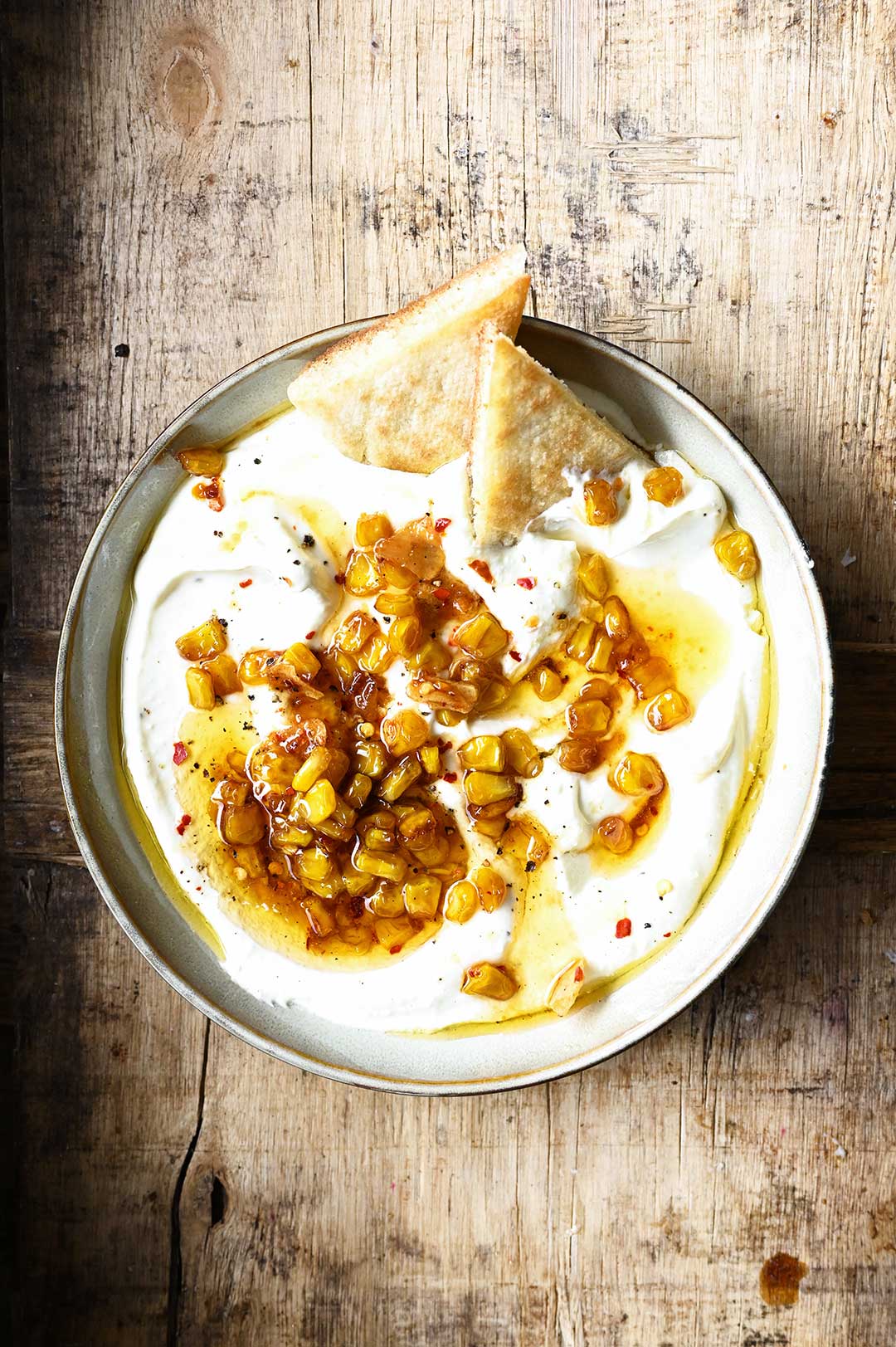 More party food, please!
Recipe Video
Yield: serves 4
Whipped Feta Dip with Candied Corn
Prep Time 10 minutes

Cook Time 5 minutes

Total Time 15 minutes
Ingredients
200 g (7 oz) feta, at room temperature
70 g (2.5 oz) full fat Greek yogurt, at room temperature
70 g (2.5 oz) sour cream 15% fat, at room temperature
3 tbsp olive oil
100 g (3.5 oz) corn kernels
3 tbsp maple syrup
1 tbsp lemon juice
1 tsp red pepper flakes
1 large garlic clove, thinly sliced
salt + black pepper
pita chips, for serving
Instructions
Heat oil in a skillet over medium high heat. Add corn kernels and cook until golden, about 3 minutes. Add garlic, cook until crispy for about 1 minute. Stir in red pepper flakes, 1/2 teaspoon black pepper and 1/4 teaspoon salt. Pour in maple syrup and add lemon juice, stir to combine. Remove from heat.
Add feta, Greek yogurt and sour cream to a food processor. Season with 1/4 teaspoon salt and 1/2 teaspoon black pepper. Blend on high until smooth, about 2-3 minutes.
Serve the whipped feta topped with candied corn. Sprinkle with some extra freshly ground black pepper and chili flakes. Enjoy with pita chips, naan or on a veggie platter.
Leftovers can be used as a spread.
Notes
Calories Per Serving: 296 kcal
Nutritional information is only an estimate. The accuracy of the nutritional information for any recipe on this site is not guaranteed.


PRINT RECIPE