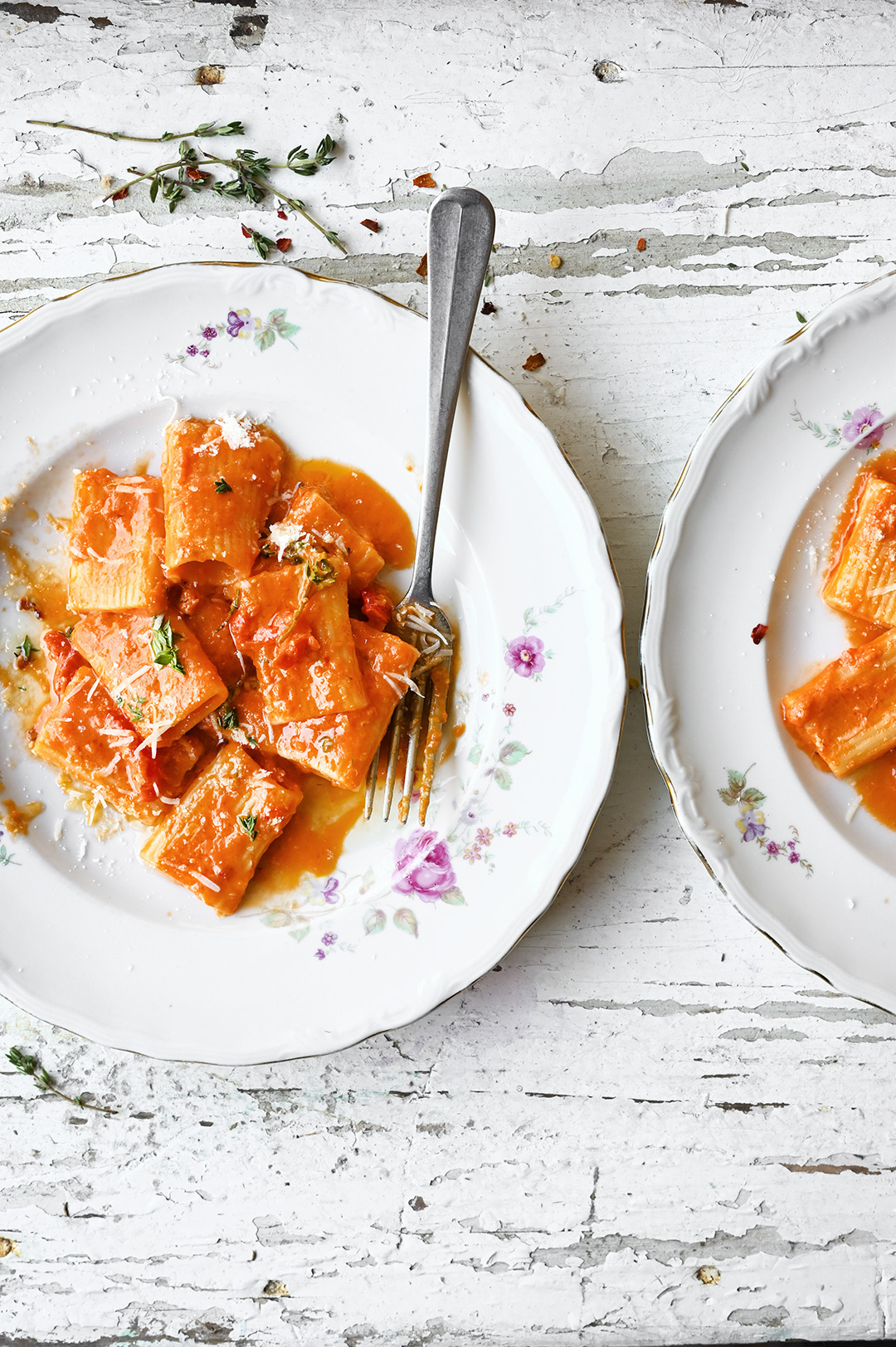 This luscious spicy rigatoni alla vodka, is one of the best homemade pastas you've ever had. Who knew that some onion, garlic, tomatoes and cream could create so much flavor in so little time? All pureed into a creamy vodka sauce that's vibrant, cheesy, a little boozy flavored, super easy and extremely delicious. 
But what makes this sauce so irresistible? First the sun-dried tomatoes add a deep layer of flavor, they really make the sauce so good and packed with more flavor than any standard tomato sauce. And than the vodka,  yes! It's such a game changer. It helps to balance out the sweetness of the tomatoes, and gives the sauce a boost and intensifies the aroma.
It's one of my favorites. Silky, smooth, velvety and creamy.
Ingredients
2 tbsp olive oil
2 shallots, chopped
4 cloves garlic, chopped
1 can San Marzano tomatoes
4 tbsp double-concentrated tomato paste
1/2 tsp chili flakes, or more to taste
100 ml vodka
100 g sun-dried tomatoes
100 ml heavy cream
sea salt + black pepper
1 tbsp chopped thyme leaves
30 g freshly grated parmesan, plus more for serving
250 g rigatoni
Instructions
Bring a large pot of salted water to a boil. Add the pasta and cook until al dente according to the package directions. Drain, reserving some of the cooking water.
While the pasta cooks, prepare the sauce. Heat the oil in a pan over medium heat. Add the shallots and garlic, cook until soft, about 3 minutes. Add vodka to deglaze the pan and stir to incorporate. Stir in the canned tomatoes and about 1/4 cup of the pasta cooking water, simmer for 15 minutes. Season with salt and pepper. Reduce the heat to low, stir in the sun-dried tomatoes, cream, chili flakes and thyme, cook 3 minutes more. Mix the sauce with your hand blender until smooth.
Add the pasta and parmesan to the sauce and toss to coat. Season with salt and pepper. If needed, you can add a splash of the pasta cooking water to thin the sauce.
Divide pasta among bowls. Top with remaining parmesan cheese and chili flakes, if desired. Enjoy.