A super easy creamy pasta recipe with roasted pumpkin, crispy sage and pumpkin seeds.
Roasting the pumpkin before adding it to this pasta dish makes this weeknight meal taste extra special. It has a delicious, sweet caramel flavor and it purees really nice into a creamy pasta sauce.
In this recipe we use both, the flesh and the skin of a pumpkin. We roast it, mix it with sour cream, then toss with pasta and there you have it, comfort in a bowl.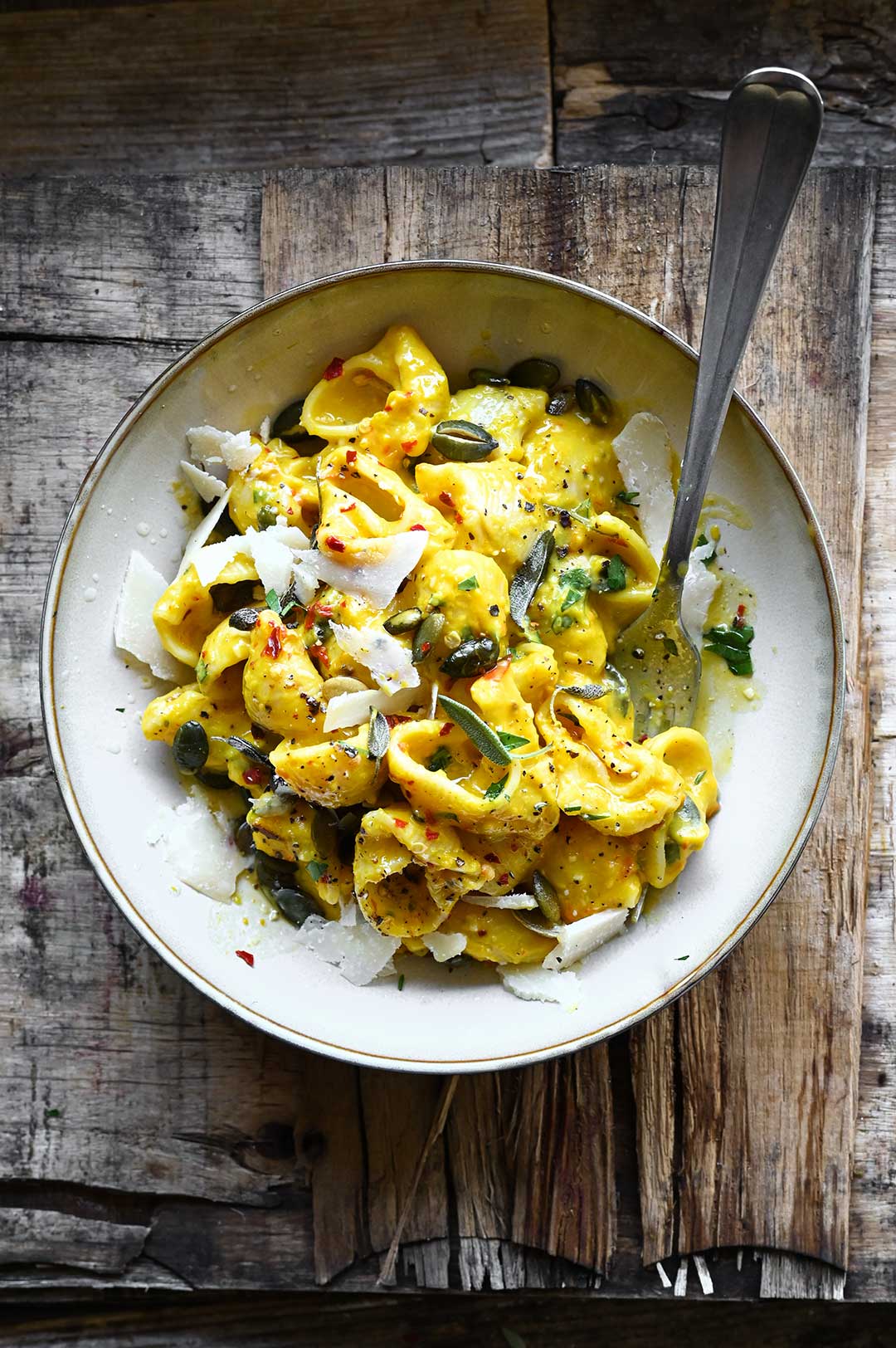 Pumpkin is the key ingredient that gives this pasta sauce signature, rich texture and subtle flavor. The sour cream pairs particularly well with the sweet pumpkin. But there's so much more to love about this dish. There's also plenty of roasted garlic and grated parmesan. And just before serving, we top each bowl with a mixture of toasted pumpkin seeds, red pepper flakes and crispy sage. And let me tell you, these additions are my favorite part of the dish. They add a little crunch, a little heat, and a lot of savory, earthy flavors. The crispy sage as the final touch makes this pumpkin pasta taste all grown up and tingles the senses. An irresistible weeknight meal.
Let me guide you through the recipe with this step-by-step VIDEO.
RECIPE NOTES
For this recipe you can use some roasted pumpkin leftovers or canned pumpkin purée, this way the whole dish will come together in less time than it takes to cook the pasta.
You could also add some crispy bacon.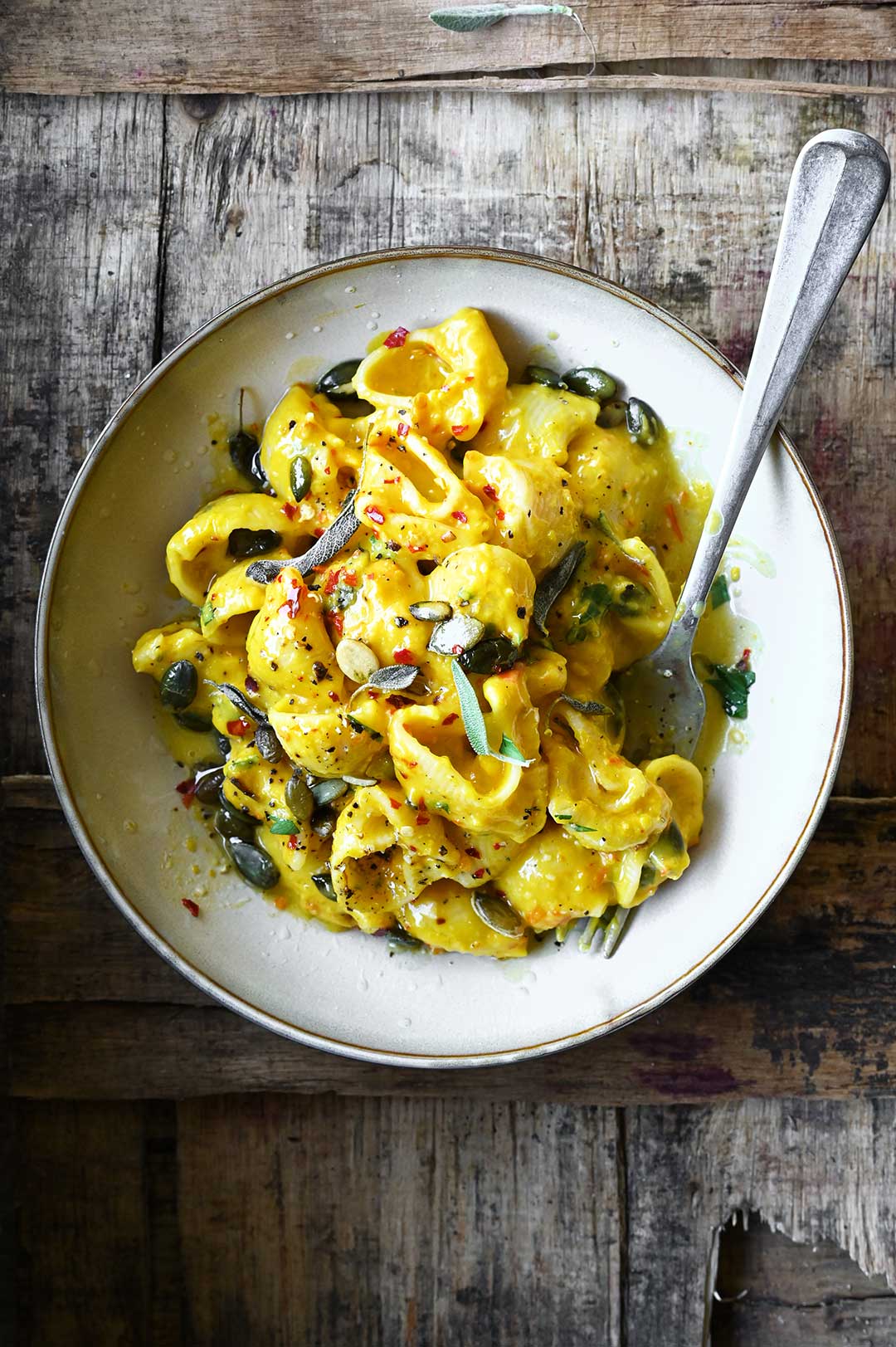 More easy pasta recipes

Recipe Video
Yield: serves 2
Roasted Pumpkin and Sour Cream Pasta
Prep Time 10 minutes

Cook Time 25 minutes

Total Time 35 minutes
Ingredients
250 g/9 oz pasta
half of a small pumpkin, +/- 500 g (18 oz), with skin, seeded
1 whole garlic head
3 tbsp olive oil
salt + black pepper
1 tsp crushed red pepper flakes, more for serving
4/4 cup/200 g sour cream
1/2 cup/125 ml hot chicken or vegetable broth
1/4 cup/40 g grated parmesan, more for serving
1 tbsp lemon juice
1 tbsp chopped parsley
4 tbsp pumpkin seeds
15 fresh sage leaves
Instructions
Preheat the oven to 200°C/400°F.
Cut the pumpkin (with skin) into small cubes. Cut the garlic head in half.
Place pumpkin on a rimmed baking sheet. Drizzle with olive oil and season with salt, pepper and red pepper flakes. Nestle garlic between pumpkin.
Roast for 20-25 minutes. You can cover the baking sheet with aluminum foil to prevent the pumpkin from turning black.
After this time, add pumpkin seeds and sage leaves. Place the baking sheet back in the oven and bake for 5-10 minutes more or until golden brown.
In the meantime, boil the pasta in salted water until al dente. Drain, reserving 1/2 cup of the cooking water.
When the pumpkin is ready, transfer (without pumpkin seeds and sage leaves) to a food processor. Add sour cream, lemon juice, parmesan and hot chicken broth. Squeeze out about 6 garlic cloves (you can store the rest in the fridge and use in any other recipe). Season with salt and pepper. Purée until smooth.
Toss with pasta, add chopped parsley and a good splash of cooking water. Add more if the sauce is too thick.
Serve with toasted pumpkin seeds, crispy sage leaves, red pepper flakes and grated parmesan. Enjoy!
Notes
Calories Per Serving: 432 kcal
Nutritional information is only an estimate. The accuracy of the nutritional information for any recipe on this site is not guaranteed.


DOWNLOAD PRINTABLE RECIPE PDF