One pot eggplant parmesan orzo. This one could very well become your new favorite stress-free weeknight dinner. There's so much to love here! Bright flavors, sweet sun-dried tomatoes, hearty sautéed eggplant and silky parmesan orzo. Quick, easy and so delicious!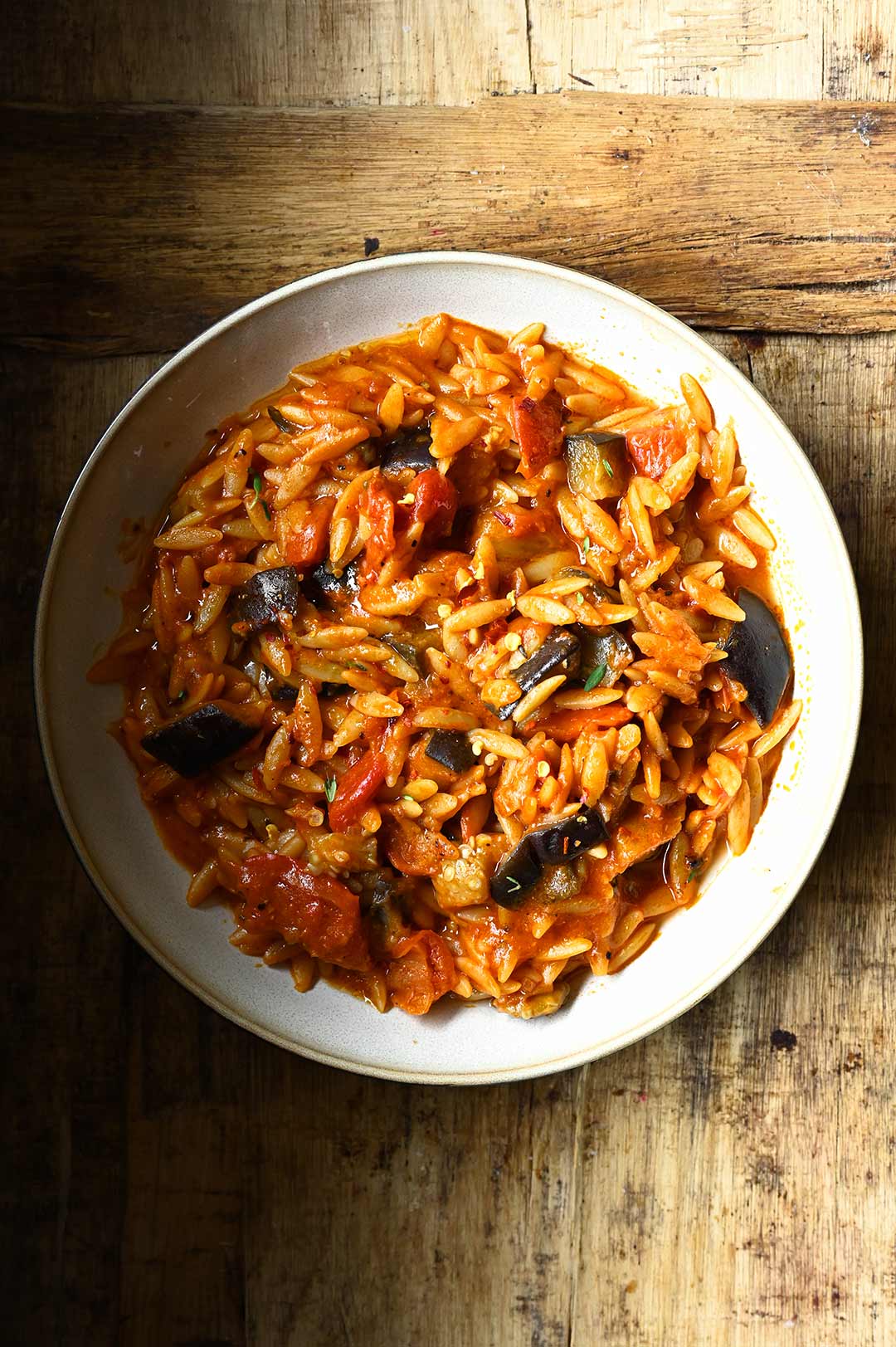 It's a fast dinner made in one pot with incredible flavor. Buttery-tender sautéed eggplant, Parmesan and silky orzo come together in this quick and easy skillet dinner that's perfectly suited for busy weeknights. Absolutely delicious, especially when paired with sun-dried tomatoes and thyme. You could easily add in some extra vegetables if you want to, or swab tomatoes for roasted peppers. Serve as a main course with a leafy salad, or serve as a side dish with fish or meat.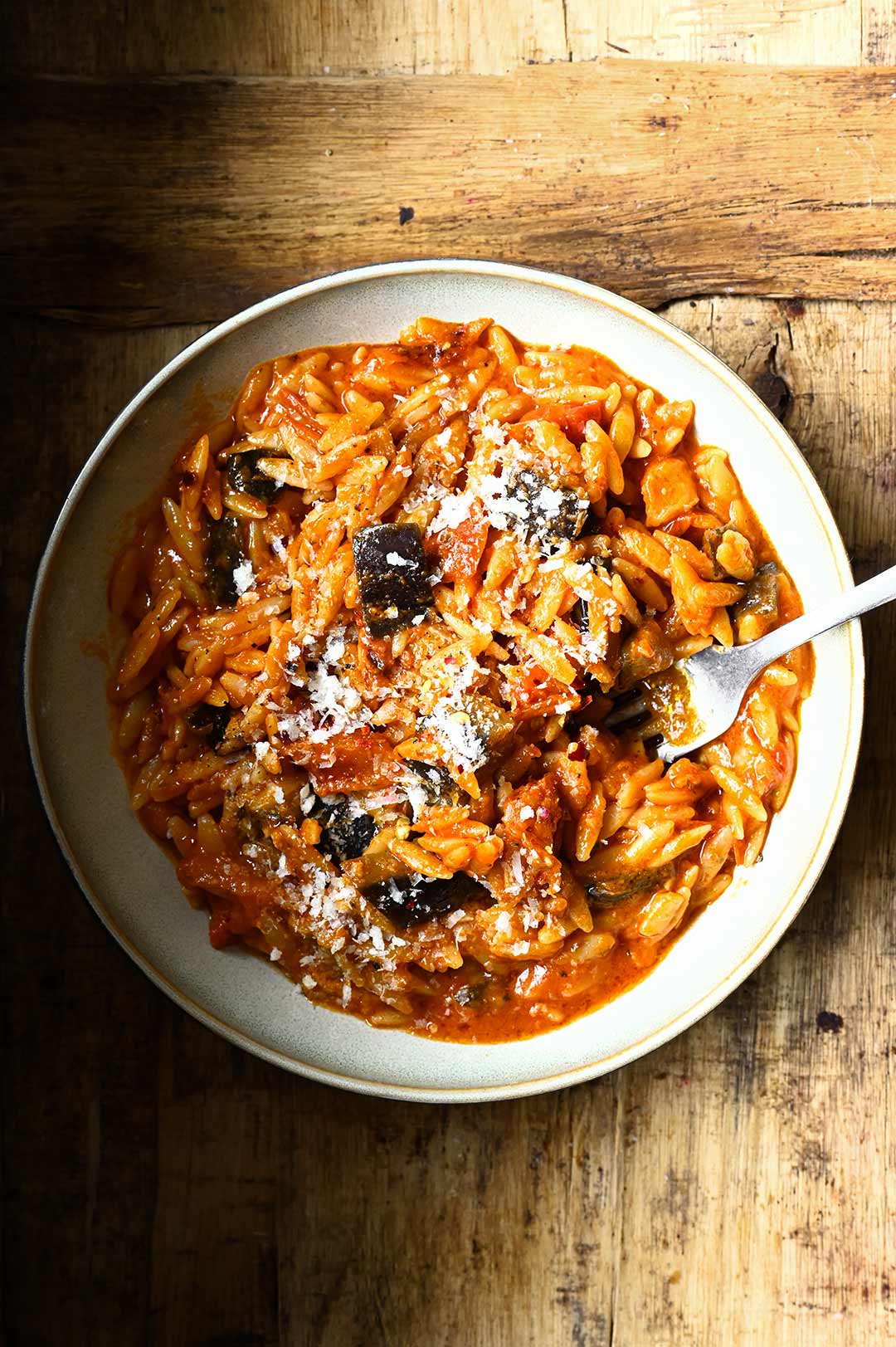 Let's get started
As you might guess, this recipe is pretty straightforward and simple. We start by heating olive oil in a skillet, then add the eggplant. When it starts to brown, we sprinkle a little more oil and cook until the eggplant starts to soften. Next, we add all the usual flavor boosters, like shallot, garlic, soy sauce and thyme. For the last one, I used fresh thyme leaves. But you can also use dried thyme.
We add orzo to the skillet, followed by some chicken broth together with tomato paste. We stir well, then add in sun-dried tomatoes and the remaining broth. I like to use sun-dried tomatoes for their sweet taste, but you could also use roasted peppers.
Let it simmer until the orzo is al dente and silky. When ready, we add Parmesan and fresh lemon juice to make this dish really delicious. Super simple yet so much flavor!
You'll love how easily it comes together.
Let me guide you through the recipe with this step-by-step VIDEO.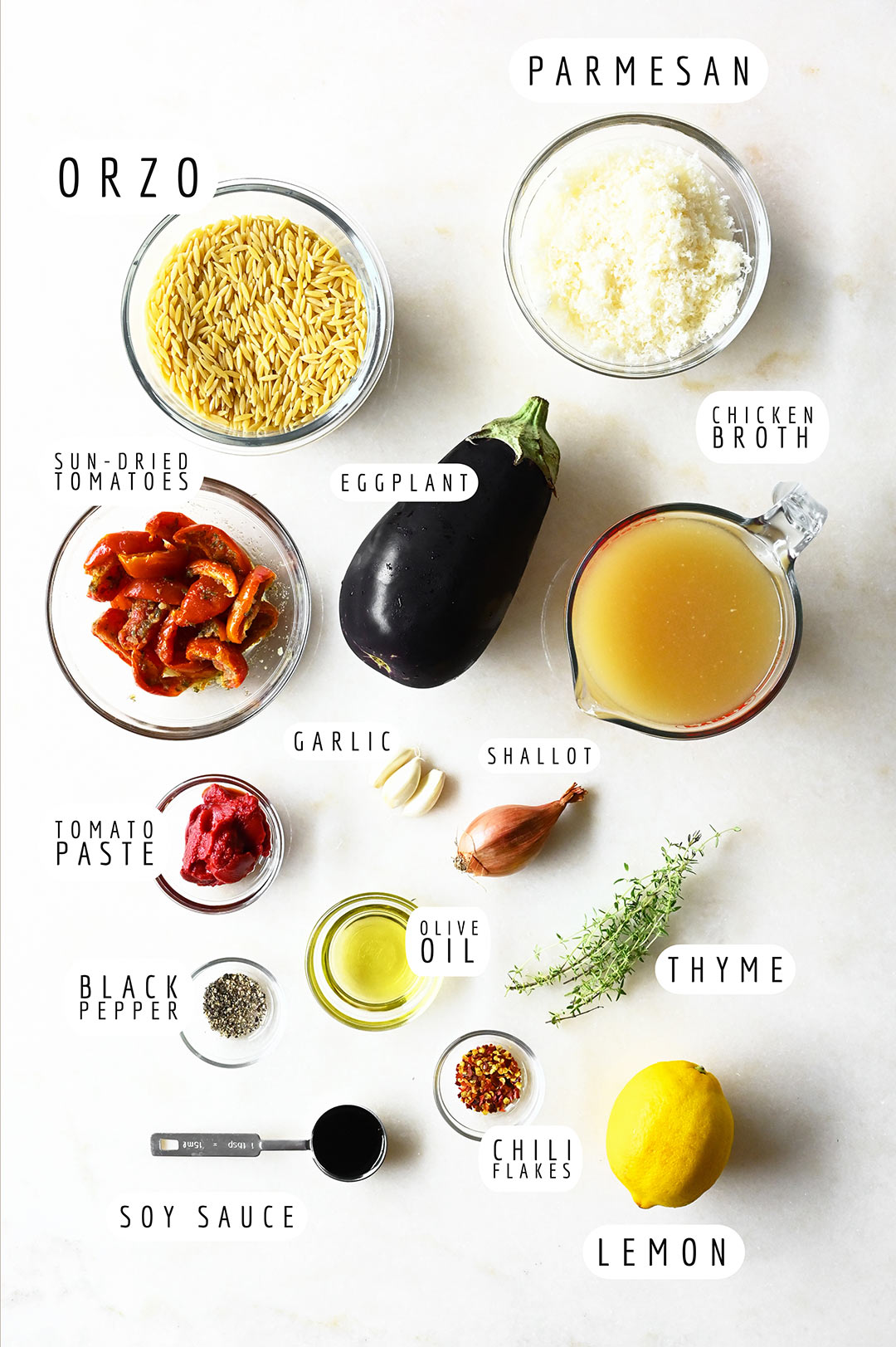 What goes in Eggplant Parmesan Orzo
Orzo: A small cut pasta that tastes heavenly in creamy one pot dishes just like this one. If you're looking to substitute, try other very small pasta, like orecchiette or tiny macaroni.
Eggplant: small to medium eggplants are best, so every piece has a bit of skin which helps them hold together when simmering with orzo, rather than turning the eggplant into eggplant purée.
Sun-dried tomatoes: I love making this with sun-dried tomatoes, because they add a big flavor punch which is right up my alley. So I always have a jar waiting in my fridge. Just a few sun dried tomatoes can make anything so much more delicious.
Olive oil: For cooking. Oil helps the eggplant to become tender and buttery.
Shallot: Adds a delicate and sweet flavor with a hint of sharpness. Sub with a smaller onion, like brown or yellow.
Garlic: Use as much or as little as you like.
Tomato paste: To create a slightly tomato-sauced-up orzo.
Soy sauce: I like to add it for a more next-level-flavor, but you can also use salt.
Chicken broth: We're using chicken broth, but vegetable broth will work great here too.
Lemon juice: A real flavor enhancer.
Parmesan: For a cheesy, savory taste. Best when freshly grated.
Seasoning: Black pepper and chili flakes.
Thyme: Finely chopped fresh leaves, but you can also use 1 tsp dried thyme. Fresh basil will also work.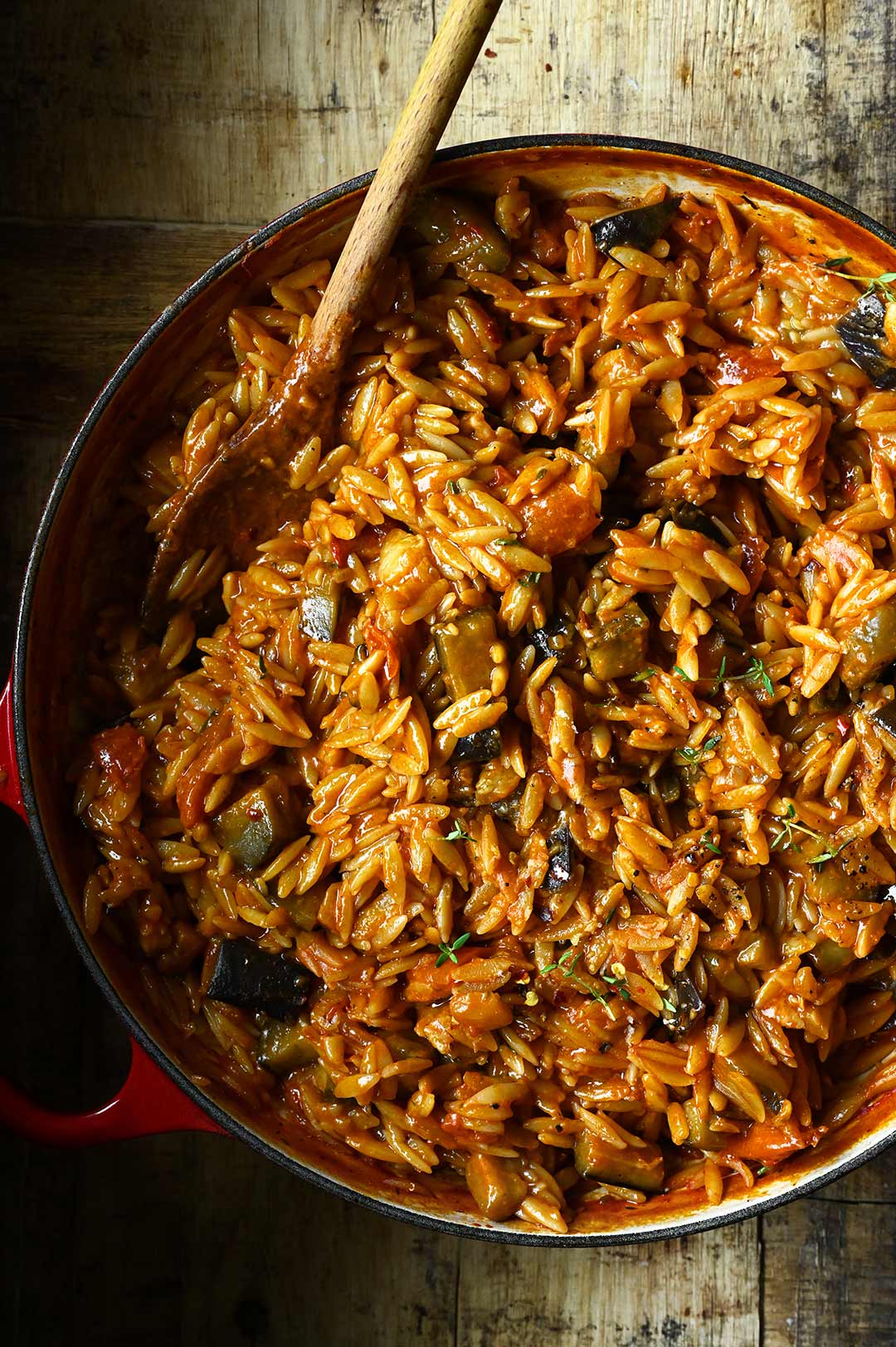 RECIPE NOTES
This recipe practically requires that you make it your own!
Serve as is with a salad, or serve as a side dish with seared shrimp, fish, roasted chicken or pork chops.
Add some chicken meatballs, Italian sausage, rotisserie chicken, bacon or kalamata olives.
Add more vegetables like spinach, kale or artichoke hearts.
Swap sun-dried tomatoes for roasted peppers.
Vegetarian: Swap chicken broth for vegetable broth.
Adding grated Parmesan is a worthy way to finish off this one pot dish, but if you'd like to keep this dish vegan or dairy-free, don't hesitate to leave it out. Even without the cheese, it will be a comforting dinner that you'll likely want to make over and over again.
Stir frequently to prevent from sticking: as the orzo cooks, it releases starch, which helps to thicken the sauce. If left undisturbed, it will stick to the bottom of your skillet. To prevent this, stir at least two/three times during the cooking process.
Make ahead: You can make this orzo ahead of time. While reheating, add a splash of broth or water.
Leftovers: leftovers reheat well and are delicious for lunch or dinner. Store in an airtight container to ensure it lasts for up to 3 days in the fridge.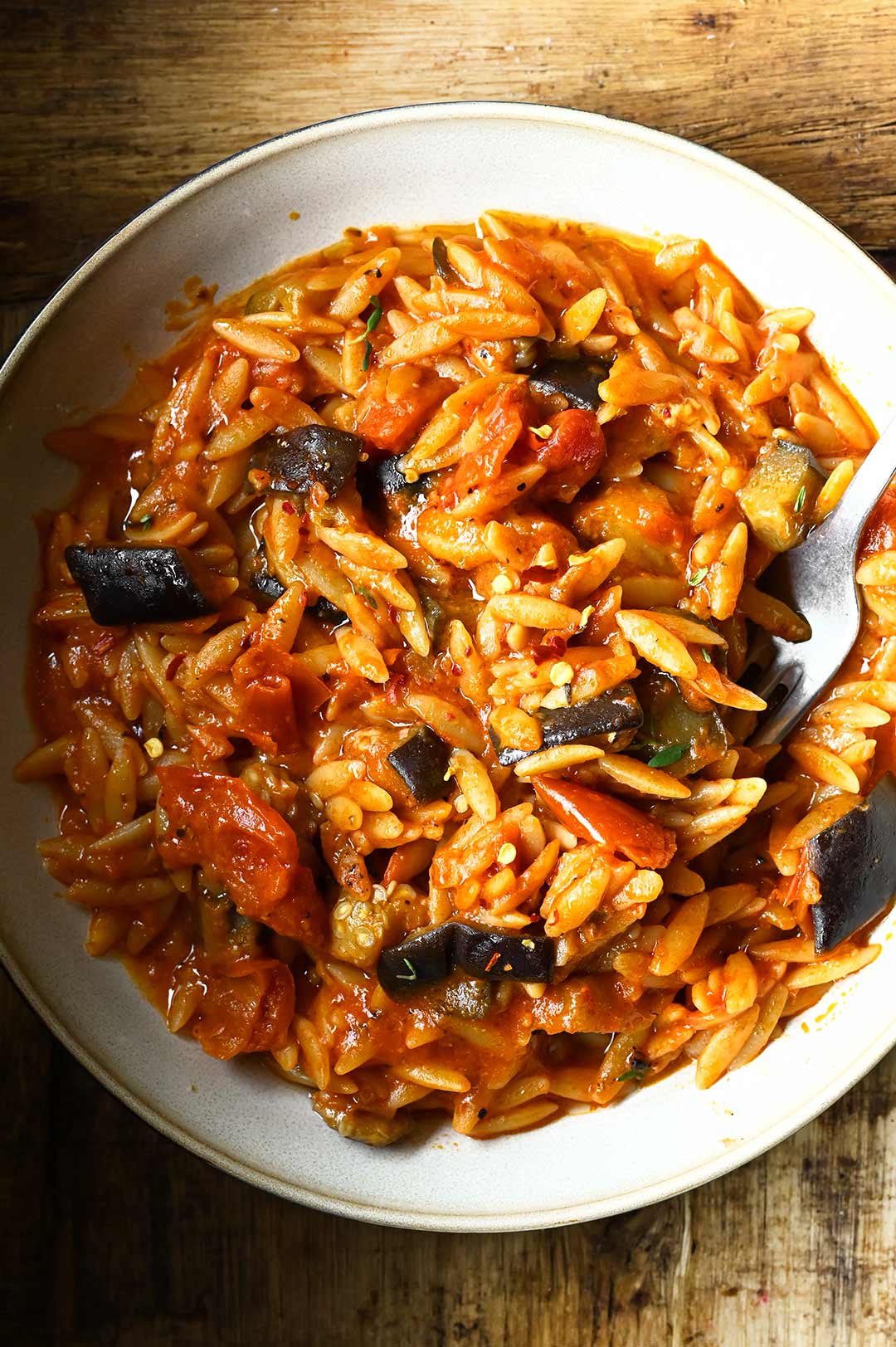 Craving More Orzo? Try These Delicious Recipes:
Orzo is such a delicious pasta! Add it to your weekly dinner rotation, trust me.
COOKING VIDEO
Yield: serves 4
One Pot Eggplant Parmesan Orzo
Prep Time 10 minutes

Cook Time 20 minutes

Total Time 30 minutes
Ingredients
3 tbsp olive oil, divided
1 medium eggplant, cut into large cubes
3 garlic cloves, minced
1 shallot, finely chopped
1 tsp black pepper, more for serving
½ tbsp chopped fresh thyme leaves, more for serving
1 tbsp low sodium soy sauce
12 ounces/350 g orzo
3 ¾ cups/900 ml chicken broth
3 tbsp tomato paste
4 ounces/120 g sun-dried tomatoes, drained
2 tbsp lemon juice
2.5 ounces/70 g grated Parmesan
chili flakes, for serving
Instructions
Get your prep done before you start cooking. Chop the thyme leaves, mince the garlic, finely chop the shallot. Cut eggplant into cubes. Chop the sun-dried tomatoes.
Add oil to a large high-sided/thick-bottomed skillet. Heat over medium, add eggplant. Cook until it starts to brown, about 2 minutes. Then add the remaining oil, cook until the eggplant starts to soften, about 3 minutes. Add garlic and shallot, sauté for 2 minutes. Stir in pepper, thyme and soy sauce. Add orzo, stir to combine.
Pour in half of the chicken broth, and add tomato paste. Stir until dissolved. Then add sun-dried tomatoes and the remaining broth. Bring to a boil.
Reduce heat to low and simmer for 10-15 minutes or until the orzo is al dente. Stir occasionally to prevent orzo from sticking to the bottom of the skillet.
When ready, add lemon juice and Parmesan. Stir until silky. Top with freshly ground black pepper, chili flakes and some extra fresh thyme. Enjoy!
Notes
Calories Per Serving: 452 kcal
Nutritional information is only an estimate. The accuracy of the nutritional information for any recipe on this site is not guaranteed.

DOWNLOAD PRINTABLE RECIPE PDF

//= __('Print recipe (no photos)', 'servingdumplings' );?> //= __('Print recipe (with photos)', 'servingdumplings' );?>