Mascarpone butternut squash pasta with pork. You'll love this one! It's super easy to make and ready in 30 minutes flat. Caramelized squash, ground pork and mascarpone join forces to form a most delicious pasta dish. Nothing less than a hug in a bowl.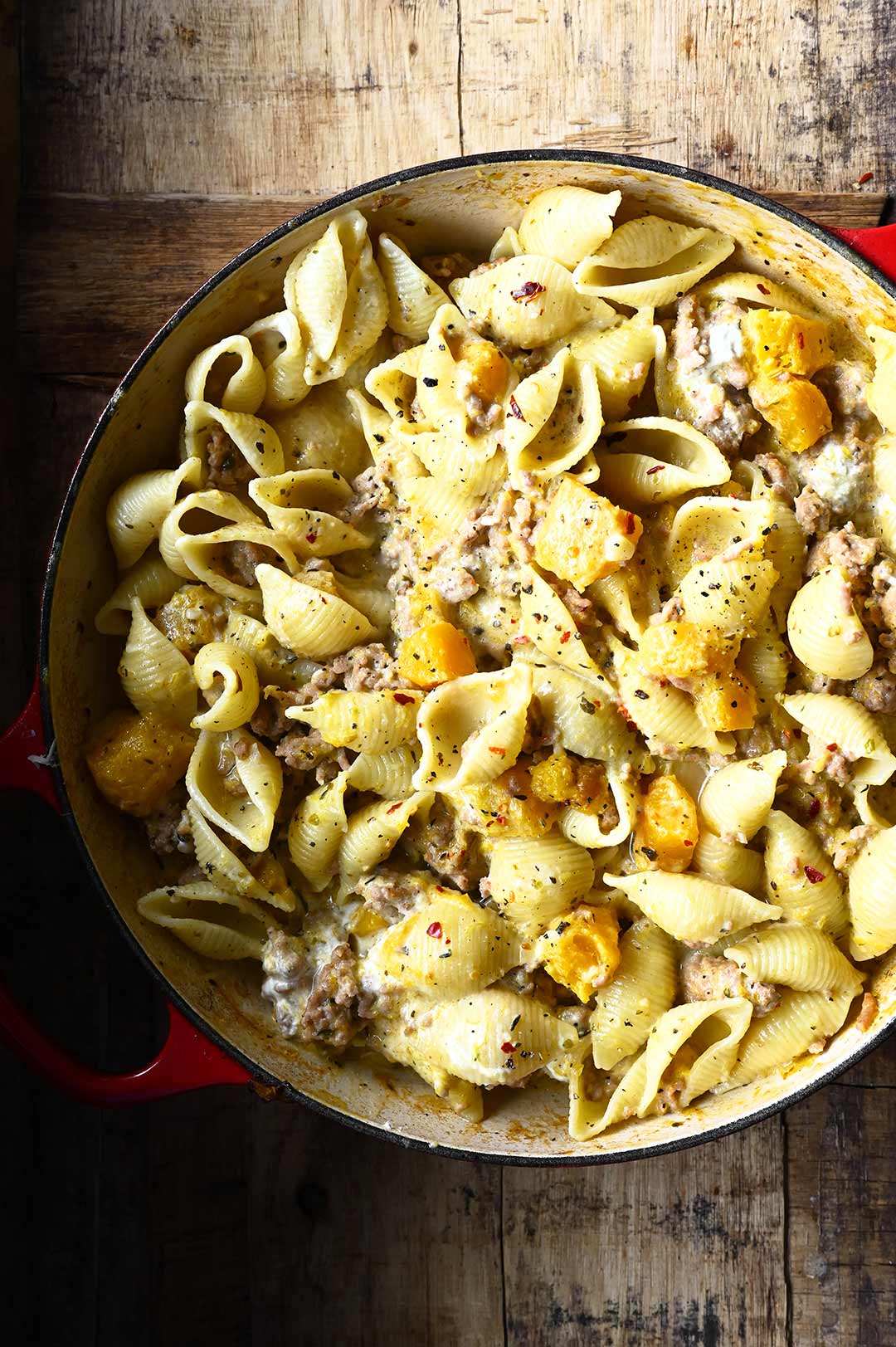 This pasta has it all! A delicious combination of sweet butternut squash, lusciously creamy mascarpone cheese and hearty pork. It's easy to make, fuss-free and the whole dish takes about 30 minutes to prepare, making it perfect for a busy weeknight.
Ground pork is an amazing addition to the taste, its hearty aroma really completes the sweet and rich flavors of the squash and mascarpone. A bowl of this pasta will leave you happy and satisfied, so make sure to add it to your list of back-pocket dinner recipe ideas.
Let me guide you through the recipe with this step-by-step VIDEO.
It's also extremely versatile. Pretty much any pasta shape will work, feel free to add some greens you have on hand, kale or spinach would be wonderful. And if you're not a fan of ground pork, just use some bacon, ground beef or chicken. This recipe works well with either one.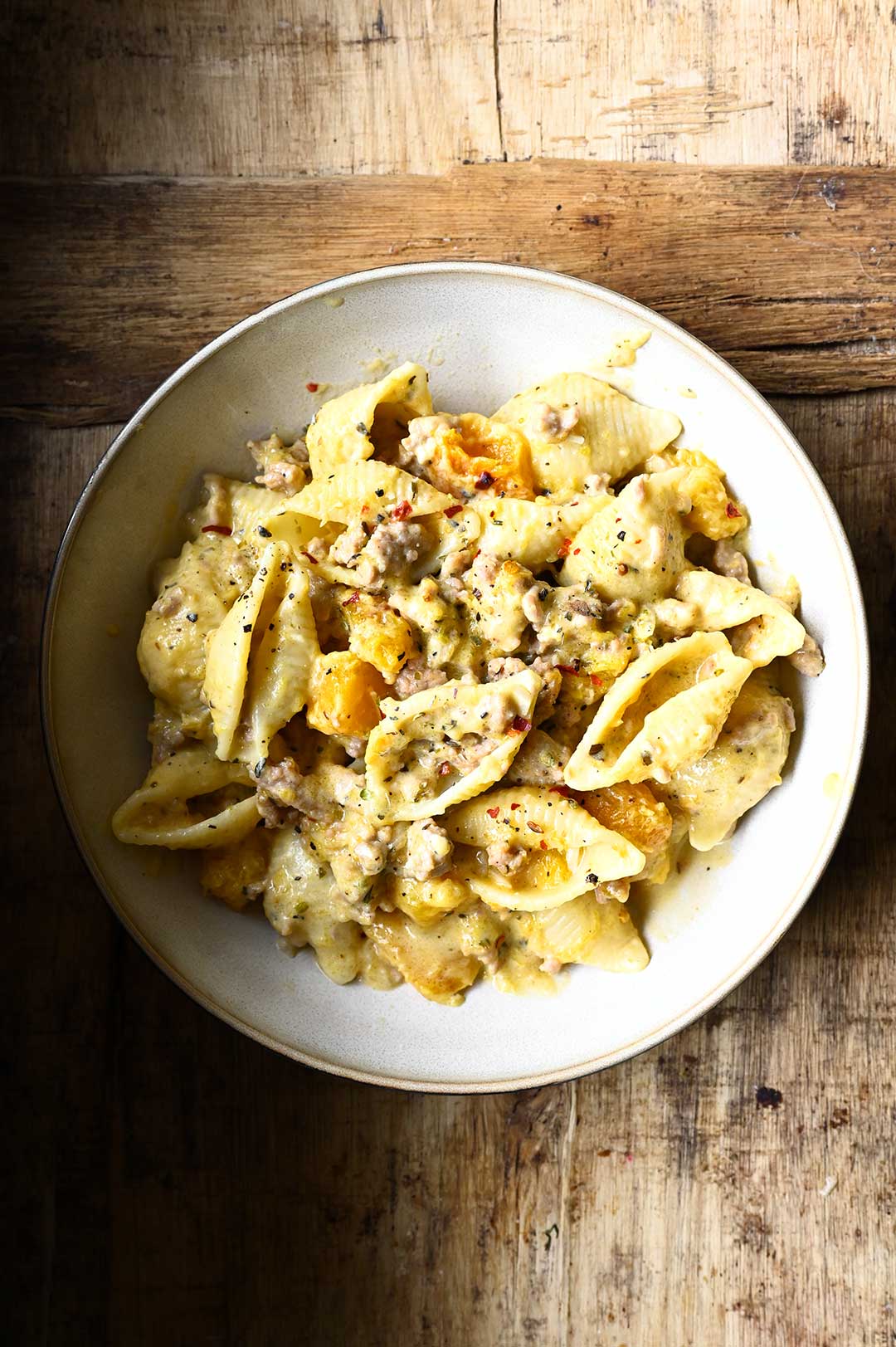 The prep for this pasta dinner couldn't be easier!
We sauté the squash until nicely browned on the edges, add ground pork, garlic and some spices. Pour in chicken broth and let it simmer while we cook the pasta.
Wait to stir in mascarpone and parmesan until the pasta is ready. If you don't like mascarpone, use softened cream cheese or heavy cream instead.
Use a large pot, to make sure there's enough room to stir in the noodles. And that's it. Dinner is ready!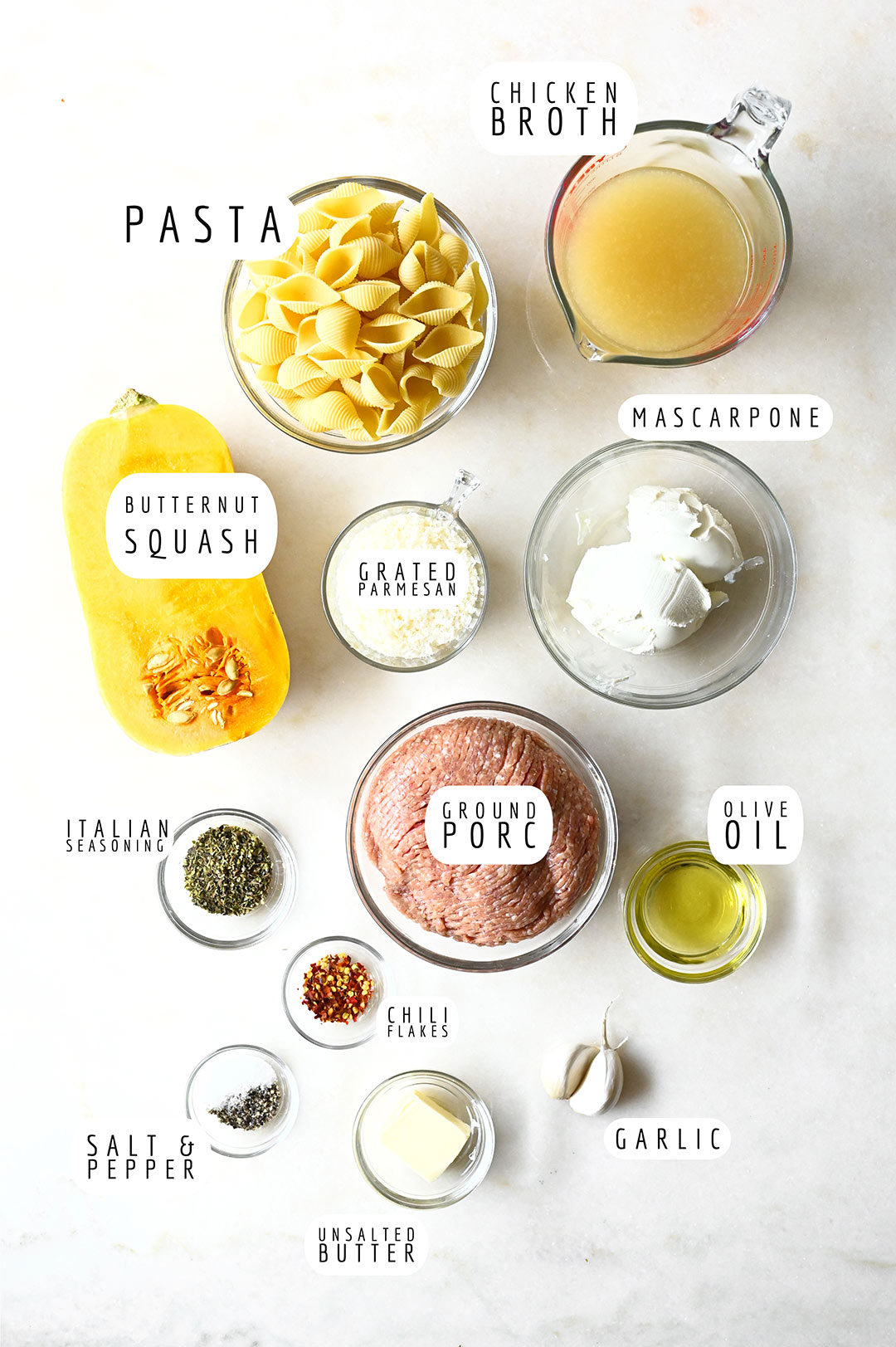 What You'll Need for Mascarpone Squash Pasta with Pork
Oil and butter: To soften the squash and give it a nice golden brown caramelized flavor.
Butternut squash: Known for its subtle sweet and nutty flavor. You can also use Kabocha squash or Red Kuri, they 'll be equally delicious.
Garlic: An essential flavor base, use more if you love garlic.
Ground pork: Adds a hearty touch, but you can swap it for ground chicken, ground beef or bacon.
Seasoning: salt, black pepper, Italian seasoning and chili flakes.
Chicken broth: To cook down the squash. Vegetable broth would work here too.
Mascarpone: For that lusciously creamy sauce. I prefer to use mascarpone for its soft, light texture and mild, milky flavor, but you can substitute it for cream cheese or heavy cream.
Parmesan: To add a deep savory note. Best when freshly grated.
Pasta: I used shells, but pretty much any pasta shape will work. You could also use gnocchi.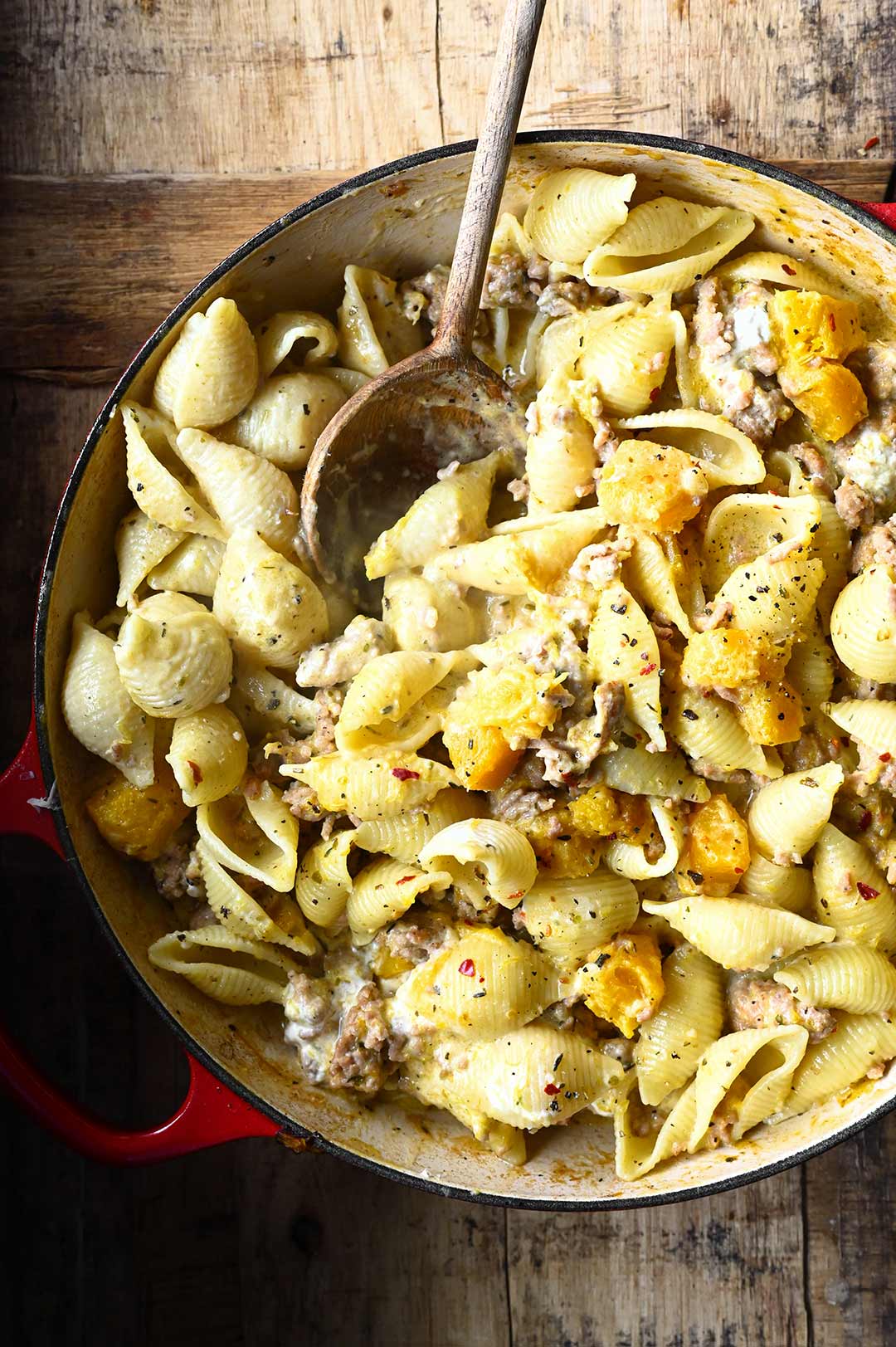 RECIPE NOTES
Add more greens! You can alway sneak in some more vegetables like zucchini, spinach or kale.
Serve with some crusty bread, a leafy salad or some steamed/roasted vegetables like broccoli.
Storage: Leftovers can be refrigerated in an airtight container up to 3 days.
Make ahead: You can make the sauce and cook the pasta 1 day beforehand, store separately in airtight containers. Reheat the sauce on the stove, then add the cooked pasta.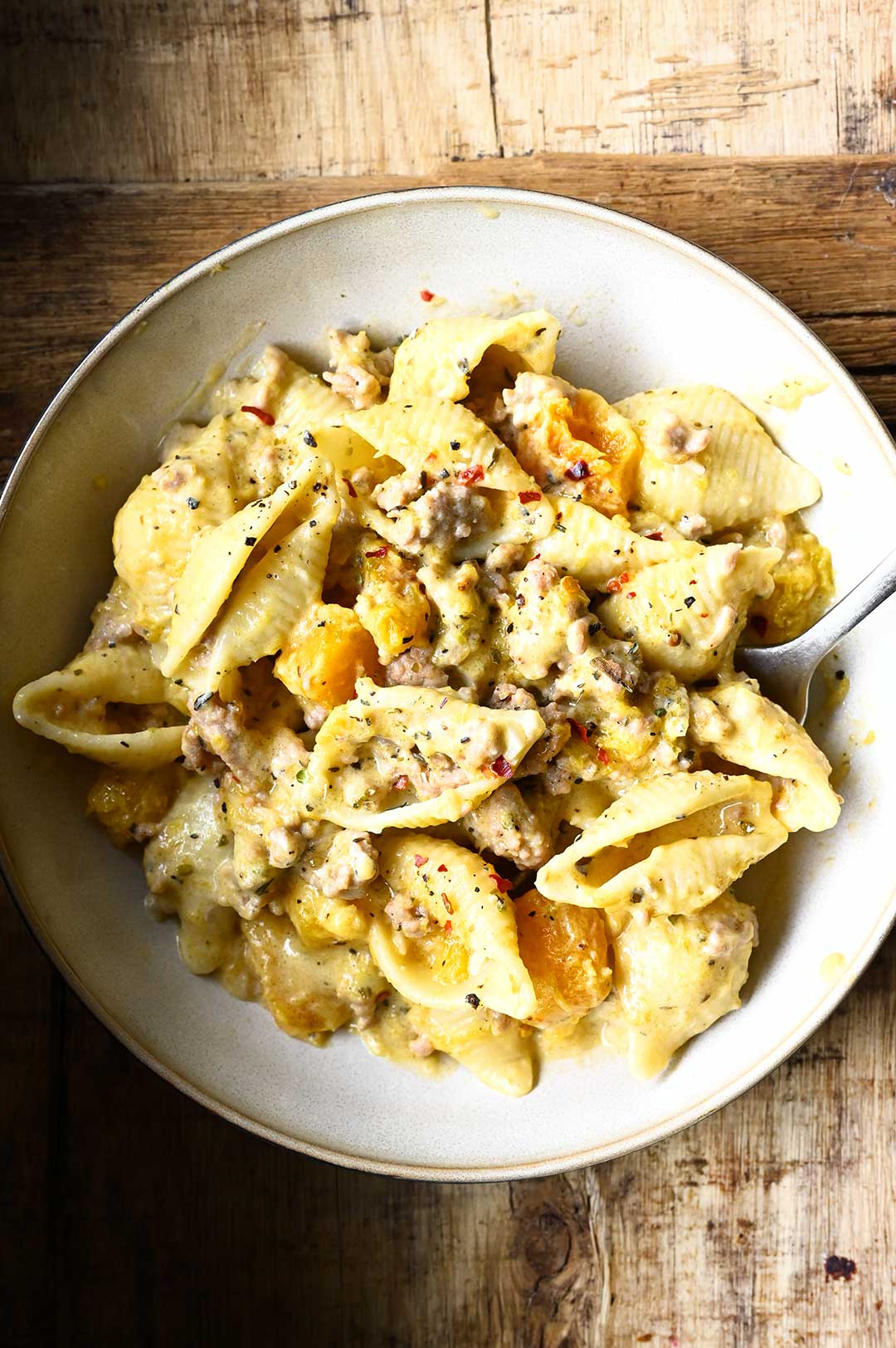 TRY THESE NEXT
COOKING VIDEO
Yield: serves 4
Mascarpone Butternut Squash Pasta with Pork
Ingredients
10.5 ounces/300 g pasta
1 tbsp olive oil
1 tbsp unsalted butter
½ butternut squash
2 garlic cloves, minced
1 pound/450 g ground pork
1 tbsp Italian seasoning
1 tsp salt, black pepper
½ tsp chili flakes
1 ¼ cups/300 ml chicken broth
7 ounces/200 g mascarpone, at room temperature
1 ounce/30 g grated Parmesan
Instructions
Peel the squash and remove the seeds. Cut into slices, then into strips, finally into cubes.
Heat oil and butter in a large skillet over medium. Add squash and cook until nicely browned, about 5 minutes.
Add ground pork and break up into pieces. Stir in garlic, salt, pepper, Italian seasoning and chili flakes. Cook for 2 minutes until fragrant.
Pour in chicken broth, bring to a boil and simmer for 10 minutes.
In the meantime, cook the pasta al dente in generously salted water. Drain, reserving ½ cup cooking water.
Add cooked pasta to squash sauce together with mascarpone and parmesan. Toss until combined. Add a splash of cooking water if needed, stir until glossy and creamy.
Taste and adjust salt and pepper. Serve!
Notes
Calories Per Serving: 679 kcal
Nutritional information is only an estimate. The accuracy of the nutritional information for any recipe on this site is not guaranteed.

//= __('Print recipe (no photos)', 'servingdumplings' );?> //= __('Print recipe (with photos)', 'servingdumplings' );?>