Cream Cheese Mashed Potatoes: Smooth, creamy, decadent, and loaded with flavor. They're incredibly easy to make and ready in just 25 minutes, making it perfect for a weeknight meal or a holiday feast. Serve them alongside your favorite meat or vegetables, and you're guaranteed to have a crowd-pleaser.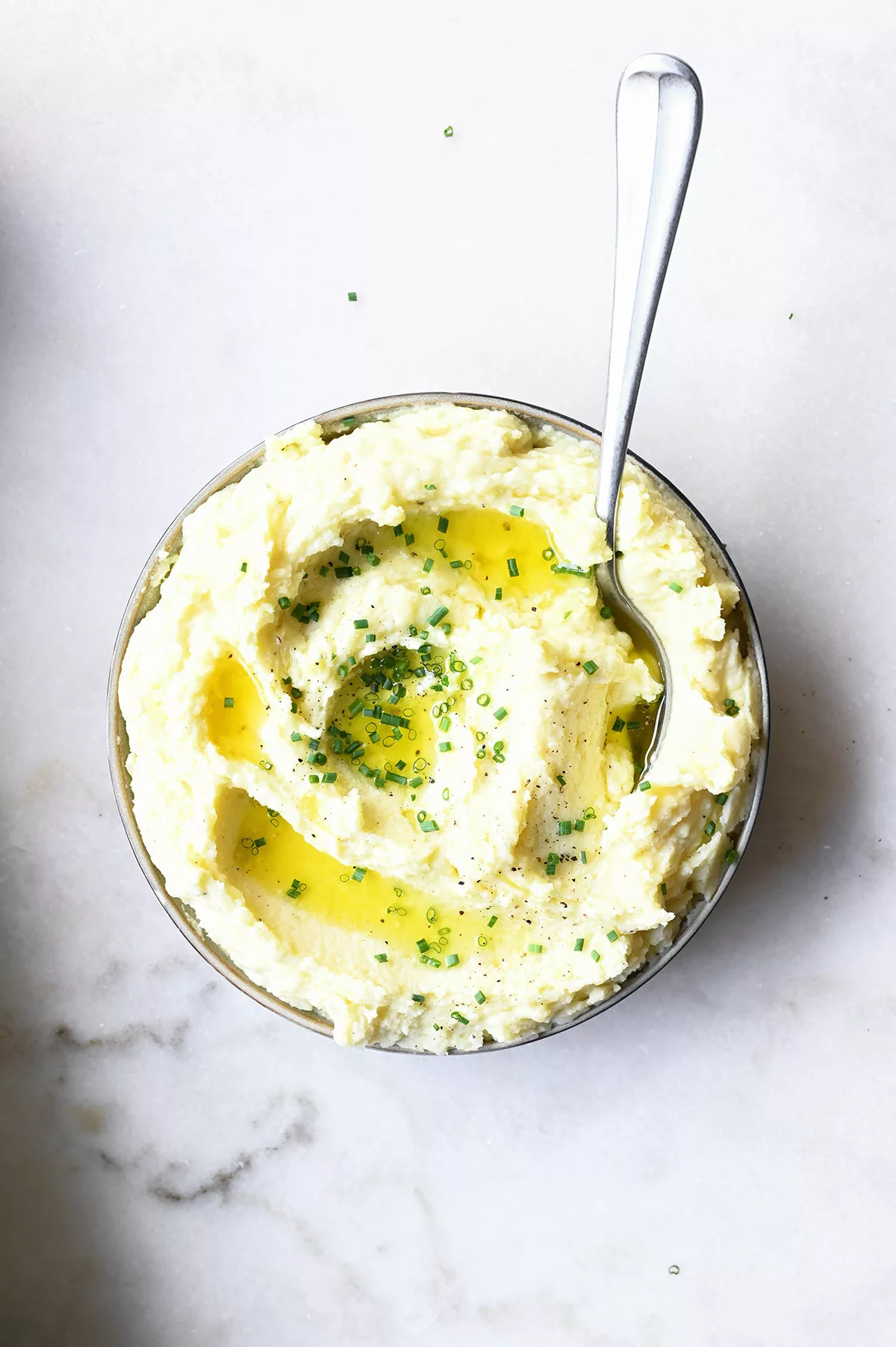 Why You'll Love this Cream Cheese Mashed Potatoes Recipe
Cream cheese is the key to taking your classic mashed potatoes to a whole new level. It turns them into a smooth, intensely flavorful dish that's both rich and savory.
These mashed potatoes are all about indulgence and comfort in every bite, making them the ideal side dish. Your guests will be thoroughly impressed.
What's even better? They're incredibly easy to prepare, making them a fantastic choice for a quick weeknight comfort meal.
Once you've tasted mashed potatoes with cream cheese, you'll never want to go back to the traditional butter and milk version. This one simple ingredient can elevate your mashed potatoes to a special occasion or holiday-worthy crowd-pleaser.
Let me guide you through the recipe with this step-by-step VIDEO.
They pair perfectly with my 'Easy Pork and Mushroom Stew', 'Hamburger Steak in Creamy Dill Sauce' or Creamy Drunken Chicken with Mushrooms'!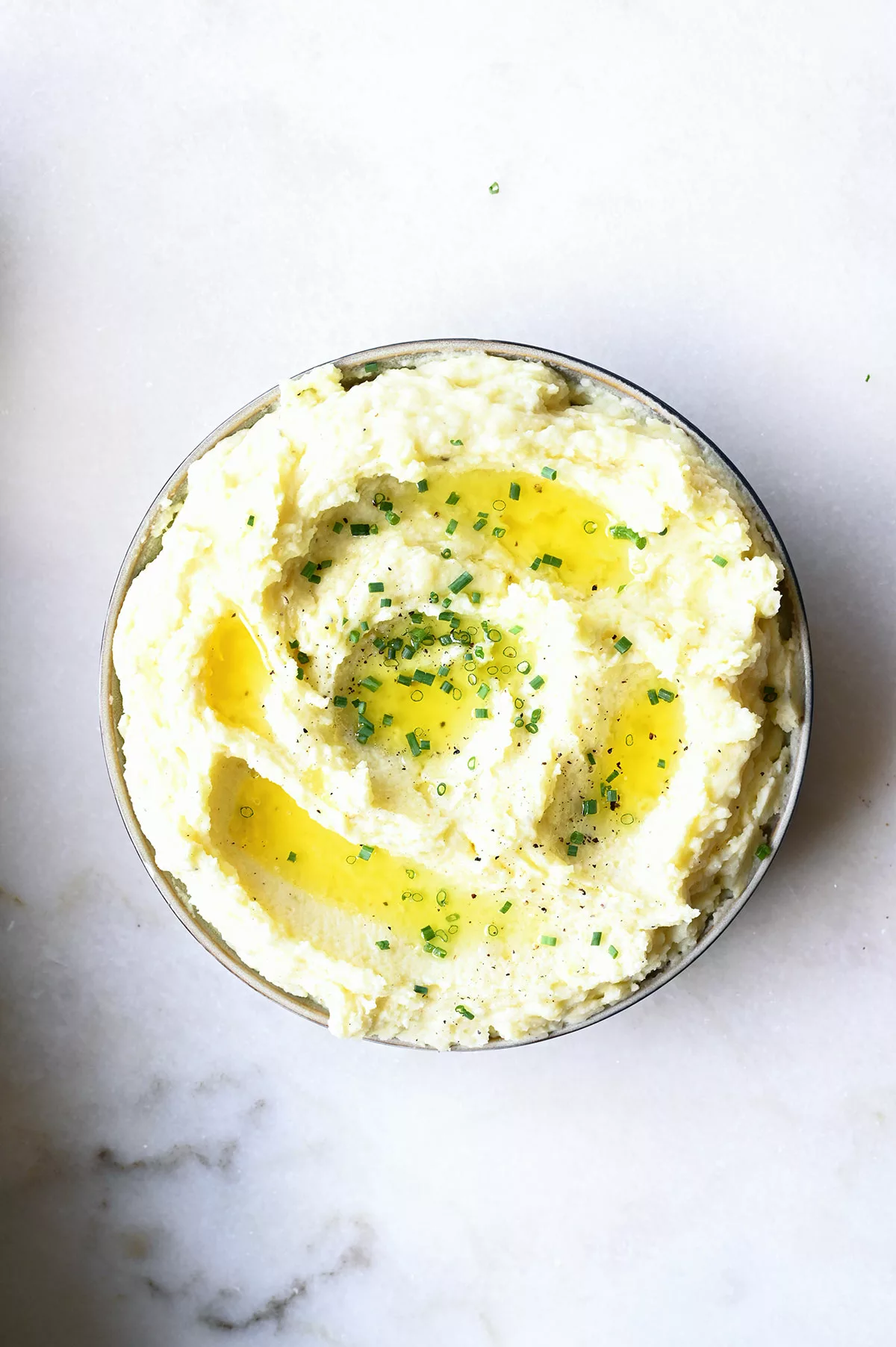 Ingredients You'll Need to Make Cream Cheese Mashed Potatoes
Potatoes: Opt for starchy varieties like Yukon Gold, russet potatoes, or waxy red potatoes.
Cream Cheese: Choose full-fat cream cheese to achieve the best texture and flavor.
Butter: An essential ingredient for that unmistakable creamy goodness in mashed potatoes.
Milk: Whole milk is the go-to, but semi-skimmed milk is a suitable alternative. Avoid cream, as it can make your mashed potatoes overly rich.
Seasonings: Elevate the flavor with a dash of salt, black pepper, grated nutmeg, and garlic powder.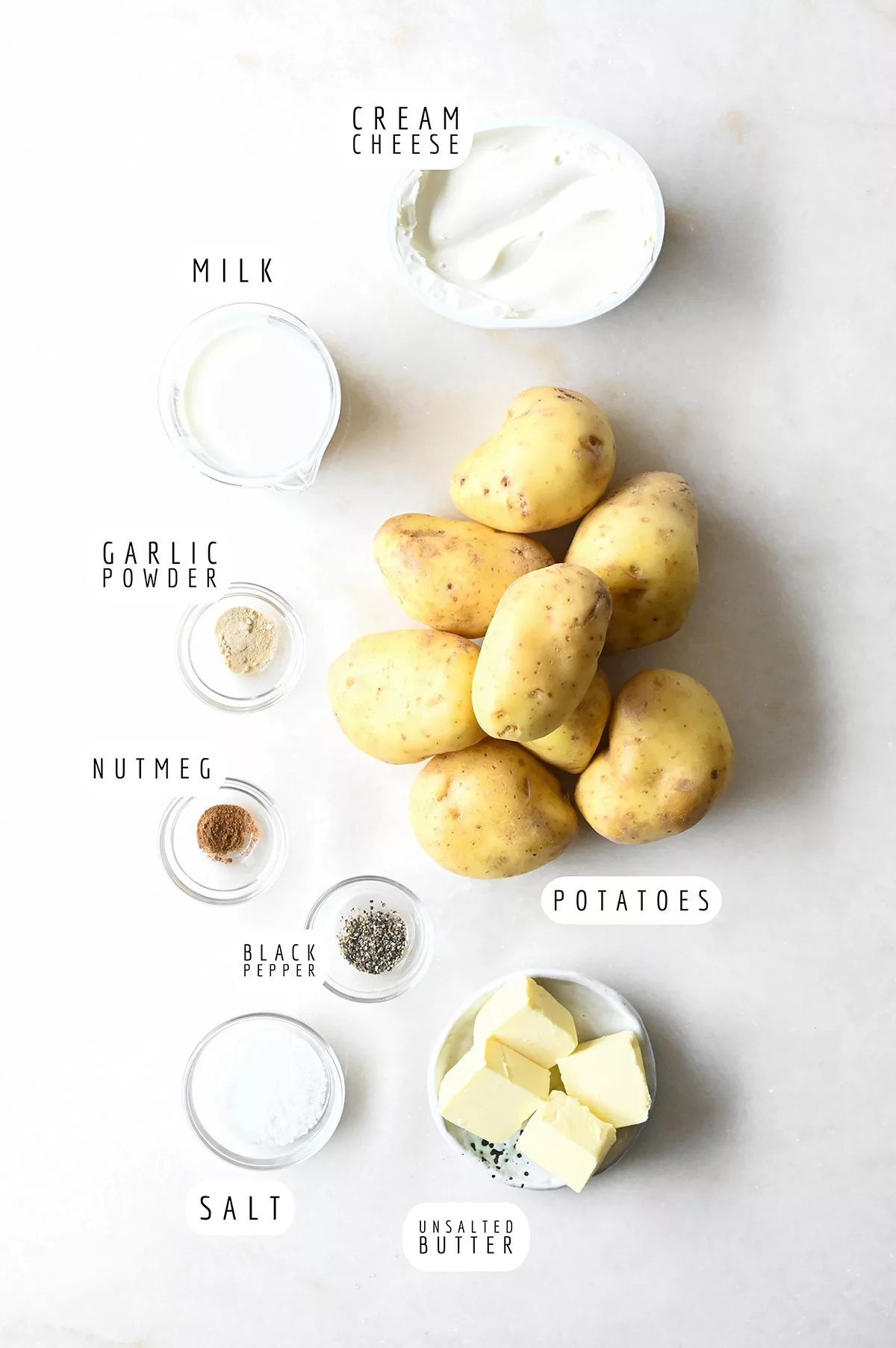 Will Cream Cheese Thicken Mashed Potatoes?
Absolutely, but it's a delicious transformation! The magic happens when the cream cheese thickens the mixture, and then we use milk to achieve that perfect, creamy consistency.
Which Cream Cheese Should I Use for My Mashed Potatoes?
You have the freedom to personalize your mashed potato recipe. Opt for full-fat cream cheese brands like Philadelphia, Boursin, Boursin with Garlic and Herbs (or other flavors), or explore a lactose-free alternative for your preference.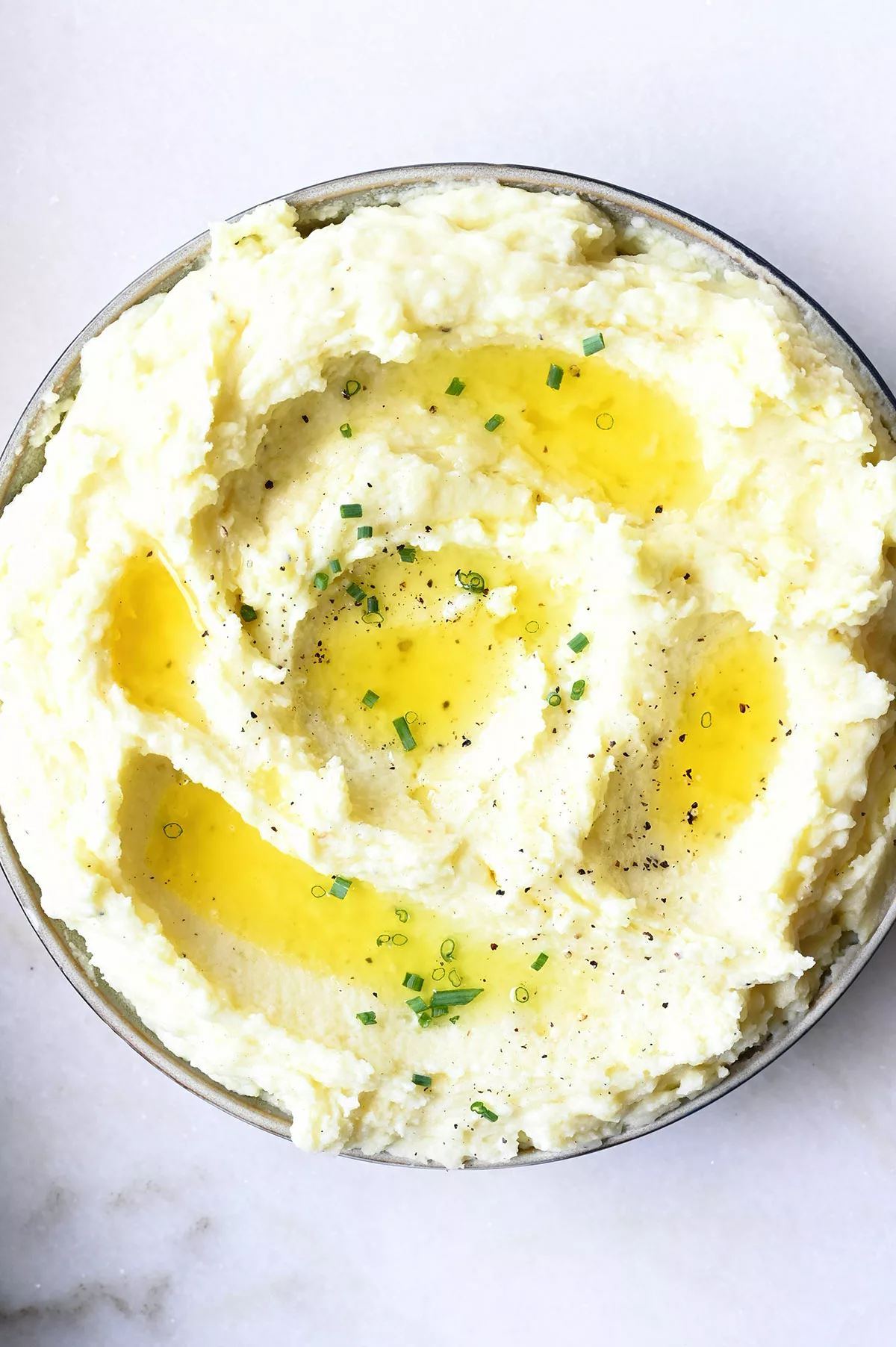 Helpful Tips for Perfect Mashed Potatoes
Get Creative with Toppings: Add a personal touch to your mashed potatoes by garnishing with your favorite toppings. Options like crispy bacon bits, chives, parsley, fresh thyme, or crispy fried sage can take your potatoes to the next level.
Uniform Potato Chopping: Ensure your potato pieces are evenly chopped to approximately 1 inch (2.5 cm) size. This uniformity allows for even cooking and quicker preparation.
Avoid Overcooking: Be mindful not to overcook your potatoes, as this can result in watery mashed potatoes. Test their readiness by checking if they can be easily pierced with a knife.
Room Temperature Ingredients: To achieve lump-free, smooth mashed potatoes, bring the butter, milk, and cream cheese to room temperature and add them to the potatoes while they're still hot.
Choose the Right Mashing Tool: Opt for a simple, easy-to-store, old-fashioned potato masher or a ricer for mashing. Avoid blenders or food processors, as they can turn your potatoes into a gluey mess.
Versatile Pairings: Mashed potatoes are a versatile companion to various dishes. They shine on your holiday dinner table, alongside meats like beef, chicken, or pork. You can also pair them with a fried egg, meatballs or a creamy mushroom gravy for a delectable combination.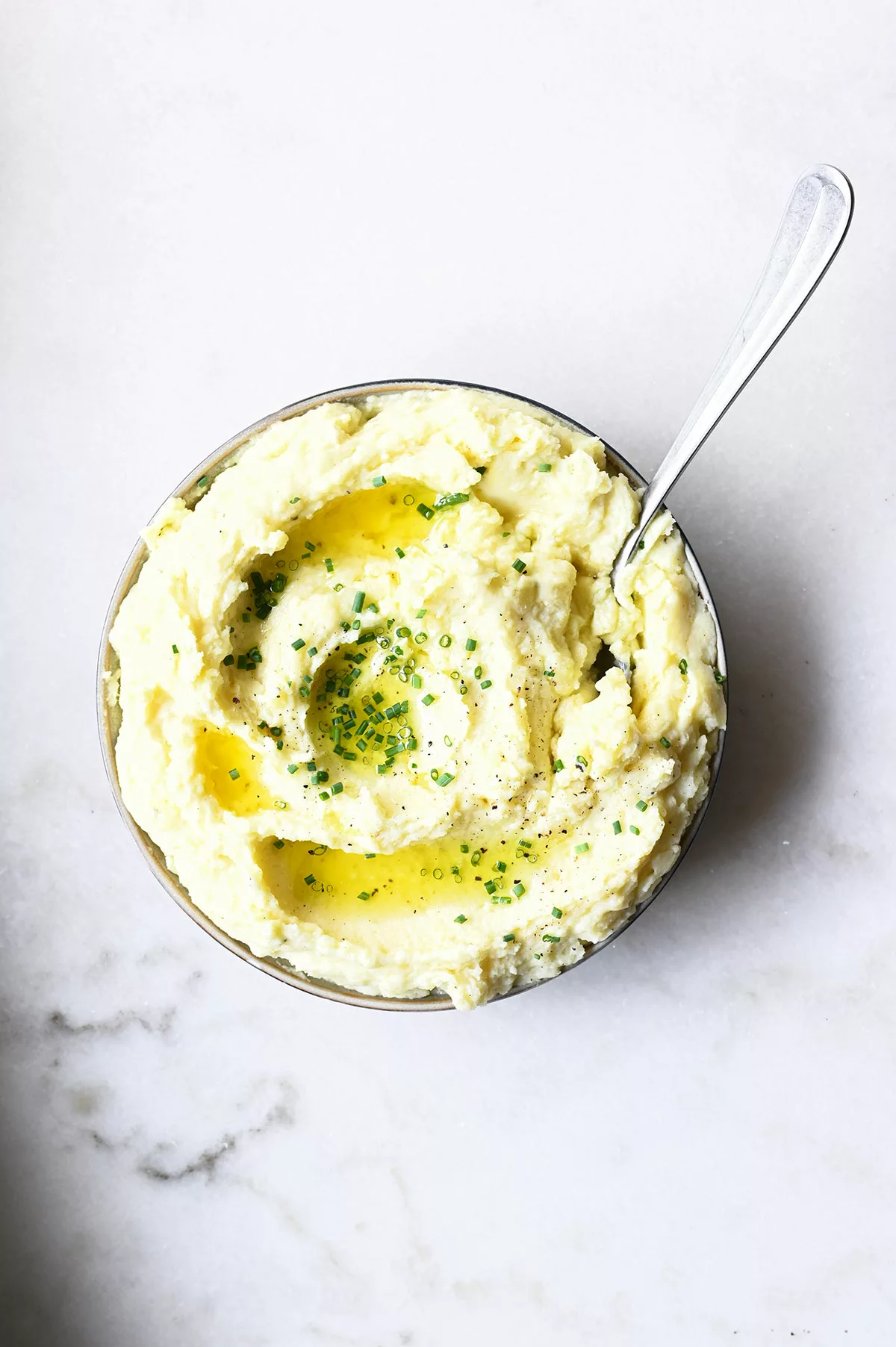 Make-Ahead and Reheating Tips
Reheat on your Stove: Prepare your mashed potatoes in advance, follow the instructions as given. Afterward, transfer them to an airtight container and refrigerate. When it's time to serve, reheat them over medium-low heat in a large saucepan until they're thoroughly heated. Add a splash of milk if necessary to restore their creamy consistency.
Keep Warm in your Crockpot: Follow the mashed potato recipe instructions, once they're ready, transfer them to a crockpot. To prevent them from drying out, stir in an additional 1/4 cup of milk. This method allows you to keep them on 'warm' for 3-4 hours.
Microwave Option: If you're short on time, prepare your mashed potatoes as directed. Place them in a microwave-safe bowl, cover with plastic wrap and refrigerate. When ready to serve, reheat in the microwave on the highest setting for about 5 minutes or until they are heated through.
Storage
Leftover cream cheese mashed potatoes will last in an airtight container in the fridge for up to 4 days.
Cooking Video: How to Make Cream Cheese Mashed Potatoes
Yield: serves 4-6
Cream Cheese Mashed Potatoes
Smooth, creamy, decadent, and loaded with flavor. They're incredibly easy to make and ready in just 25 minutes, making it perfect for a weeknight meal or a holiday feast. Serve them alongside your favorite meat or vegetables, and you're guaranteed to have a crowd-pleaser.
Additional Time
5 minutes
Ingredients
3 pounds/1400 g starchy potatoes
1 tbsp + 1 tsp salt, divided
¼ tsp each: black pepper, garlic powder
⅛ tsp grated nutmeg
4 tbsp unsalted butter, at room temperature
1 (8 oz/225) package full fat cream cheese, at room temperature
½ cup whole milk, at room temperature
For serving
additional melted butter, optional
chopped chives, or parsley
freshly grated black pepper
Instructions
Peel and chop the potatoes into 1-inch/2,5 cm pieces. Place in a large pot and add hot water to cover the potatoes. Add 1 tbsp salt, cover and bring to a boil over high heat. Reduce the heat to a simmer and cook until the potatoes are tender, about 10-15 minutes. The potatoes are done when they can be easily pierced with a knife.
When ready, drain the potatoes using a colander. Next add the potatoes back to the pot.
While the potatoes are still hot, add the remaining salt, pepper, nutmeg, garlic powder, butter, cream cheese and milk. Mash until combined and the cream cheese is absorbed. The potatoes will turn out fluffy and smooth. Taste and adjust salt, if needed.
Transfer to a serving bowl and serve garnished with chopped chives, additional butter and freshly grated black pepper. Enjoy!
Nutrition Information:
Yield:
6
Serving Size:
1
Amount Per Serving:
Calories:

308
Total Fat:

10g
Saturated Fat:

6g
Trans Fat:

0g
Unsaturated Fat:

3g
Cholesterol:

27mg
Sodium:

436mg
Carbohydrates:

50g
Fiber:

5g
Sugar:

4g
Protein:

7g
Nutritional information is only an estimate. The accuracy of the nutritional information for any recipe on this site is not guaranteed.