Hamburger steak in creamy dill sauce. So delicious, easy to make and ready in 30 minutes. Juicy ground beef patties seared until golden brown and simmered in a divine dill cream sauce. Serve with mashed potatoes for a perfect quick-yet-satisfying dinner that'll please everyone at your table. It's comfort food at its best!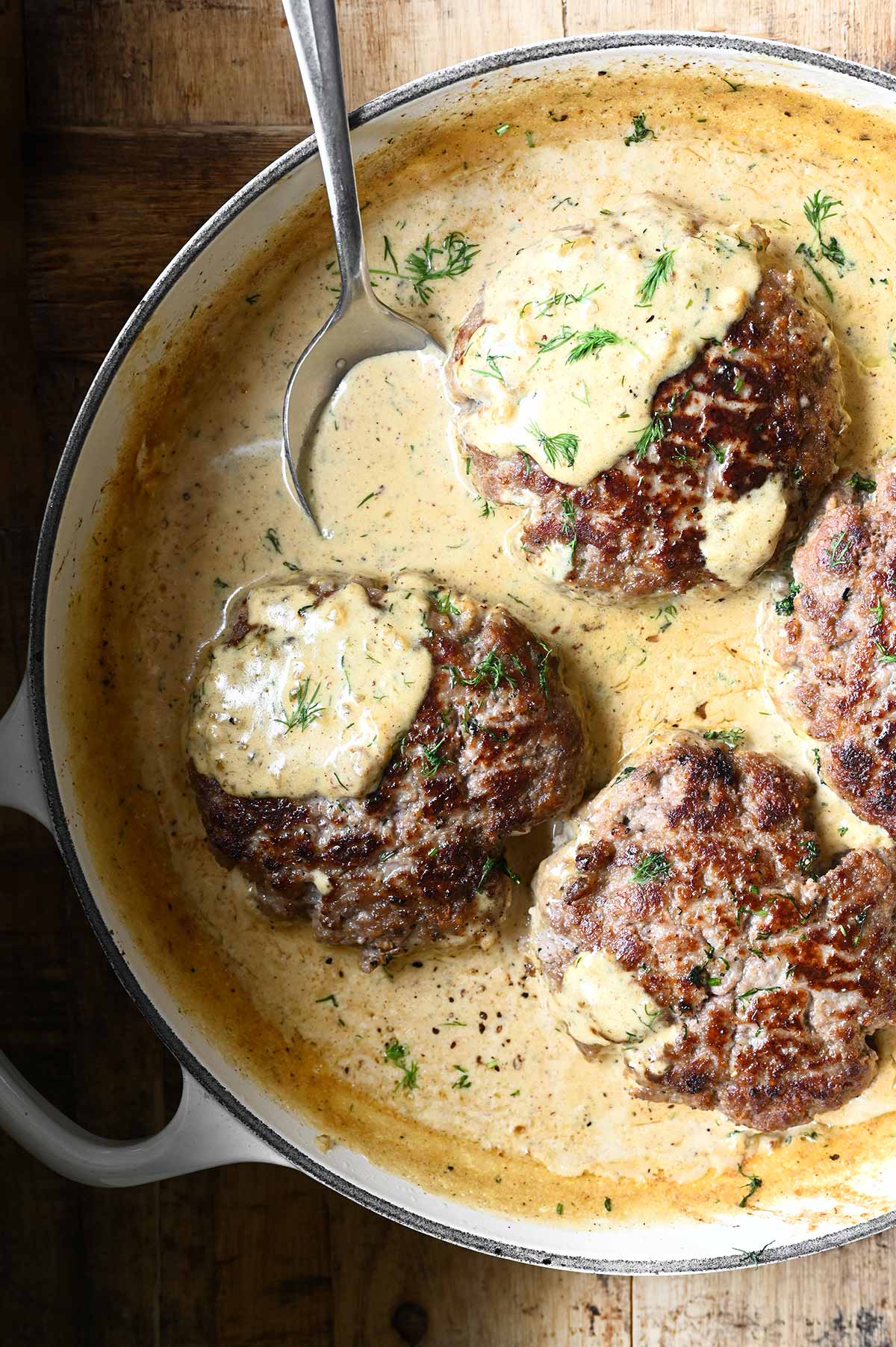 The hamburger steaks are made with a ground beef, breadcrumb and grated onion mixture. We shape the ground beef into patties and sear them until golden brown on the outside but still juicy in the center. Then simmer them in the creamy pan sauce enriched with fragrant dill. This combo is absolutely amazing! Best served with a side, like mashed potatoes, orzo or some crusty bread.
It's one of those dishes that even an extreme picky eater will enjoy. It's easy to make, but most importantly, super flavorful. The steaks are soft and juicy, yet dense enough to keep their shape. This hearty meal can be prepared in no time at all, and it's always a crowd-pleaser.
Let me guide you through the recipe with this step-by-step VIDEO.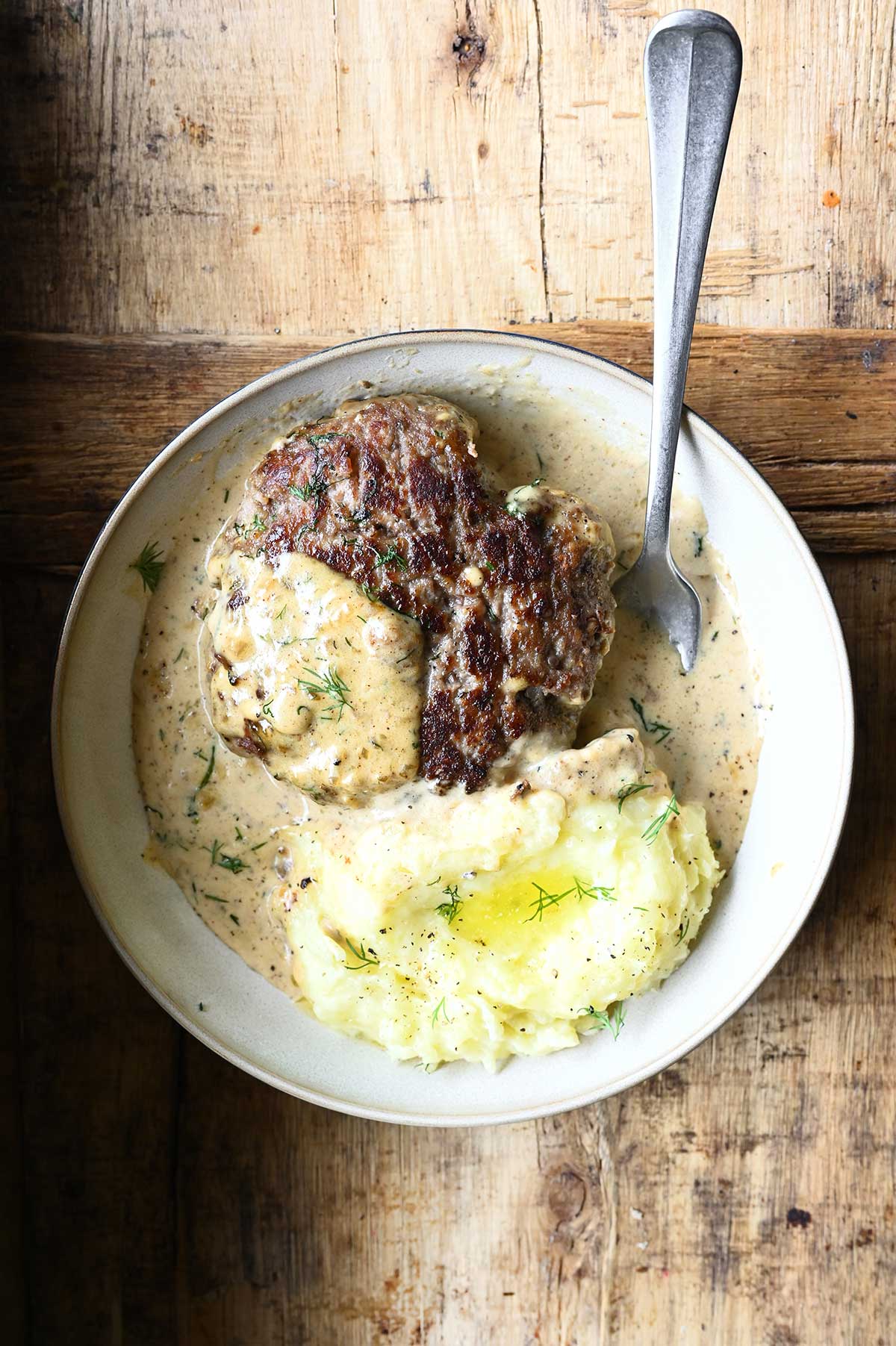 How to make hamburger steaks?
First, we combine the ingredients for the steaks in a bowl and mix them all together by using our hands just until combined. Make sure you don't over mix, the shorter you mix, the juicier the steaks will be. Then divide the beef mixture into equal portions and form balls. Again, be gentle when shaping the balls, the more tightly they're packed, the tougher the cooked meat will be. Finally, we press down the balls into patties, you can do this with the palm of your hand or with a spatula.
Last but not least, don't overcook the patties. We add them to a hot skillet and sear until a well-browned outer layer is formed, and remove them from the skillet to prepare the pan sauce. When the creamy dill sauce is ready, we return the patties to the skillet and simmer them for a couple of minutes in the sauce until warmed through, but still juicy in the middle.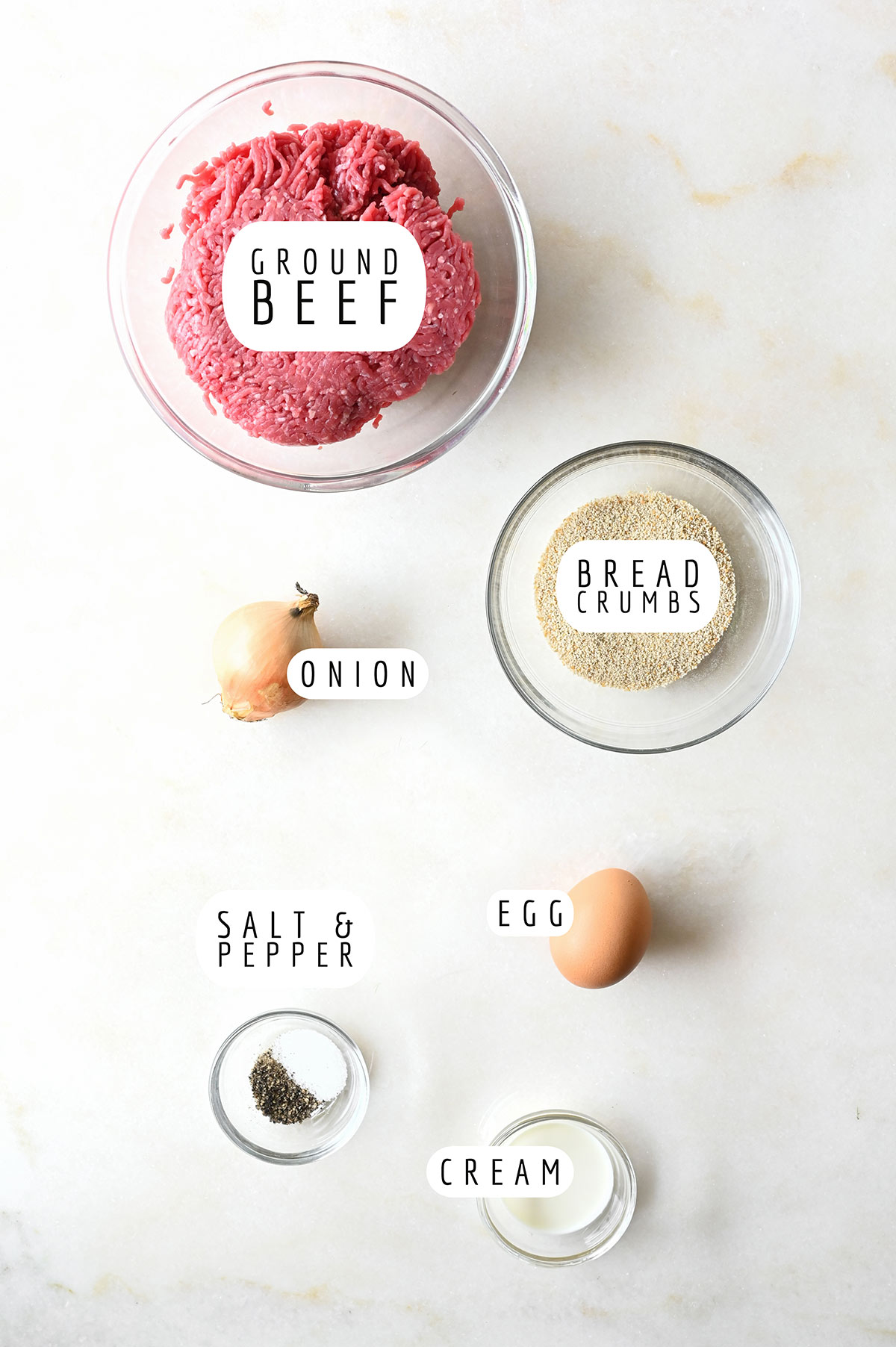 Ingredients, Tips & Substitutions
Hamburger Steaks
Ground Beef: Lean ground beef has plenty of flavor but is not overly greasy. You can also use ground chicken, pork or turkey.
Breadcrumbs: They absorb the juices from the meat as it cooks, trapping them inside the patties and preventing the steaks from becoming dry.
Onion: Freshly grated, because you don't want uncooked chunks of onion in your patties, and it's less easily detected in food by picky eaters.
Seasoning: Salt and black pepper.
Cream: To add moisture.
Egg: To bind the meat with breadcrumbs, onion and seasoning.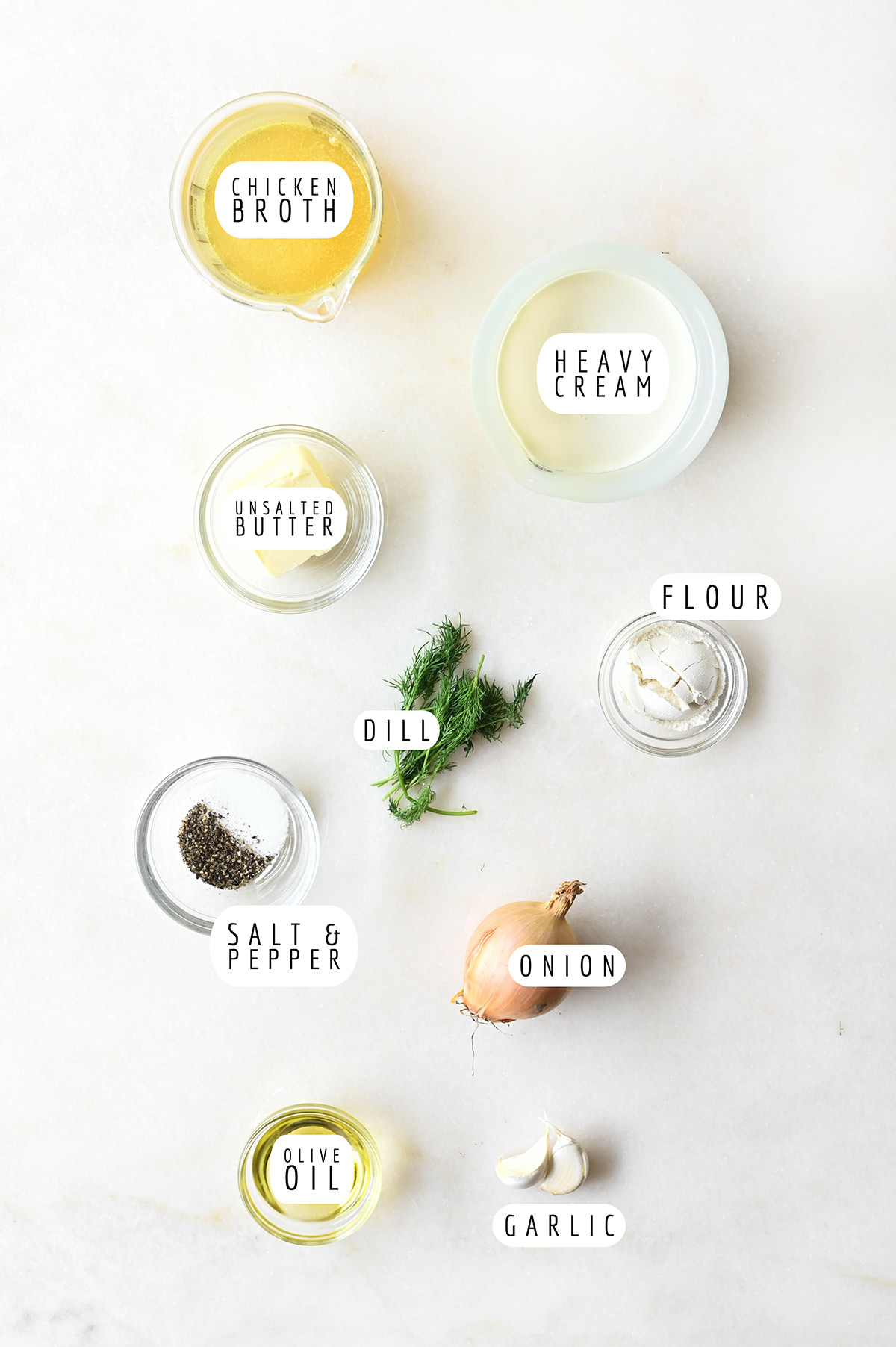 Creamy Dill Sauce
Fresh Dill: Try not to substitute fresh dill with dried, the flavors will never be the same.
Cream: You can use heavy cream, a lighter version like 20% fat, soy cream or unsweetened coconut cream.
Onion and Garlic: An incomparable flavor base.
Chicken Broth: To deglaze the skillet, it allows us to loosen the flavorful bits from the bottom of the skillet and then use those bits to add flavor to the sauce. You can also use vegetable broth.
Seasoning: Salt and black pepper.
Oil and Butter: To sear the hamburger steaks. The flavors would never be the same if you'd only use oil and butter alone would burn.
Flour: To thicken the sauce.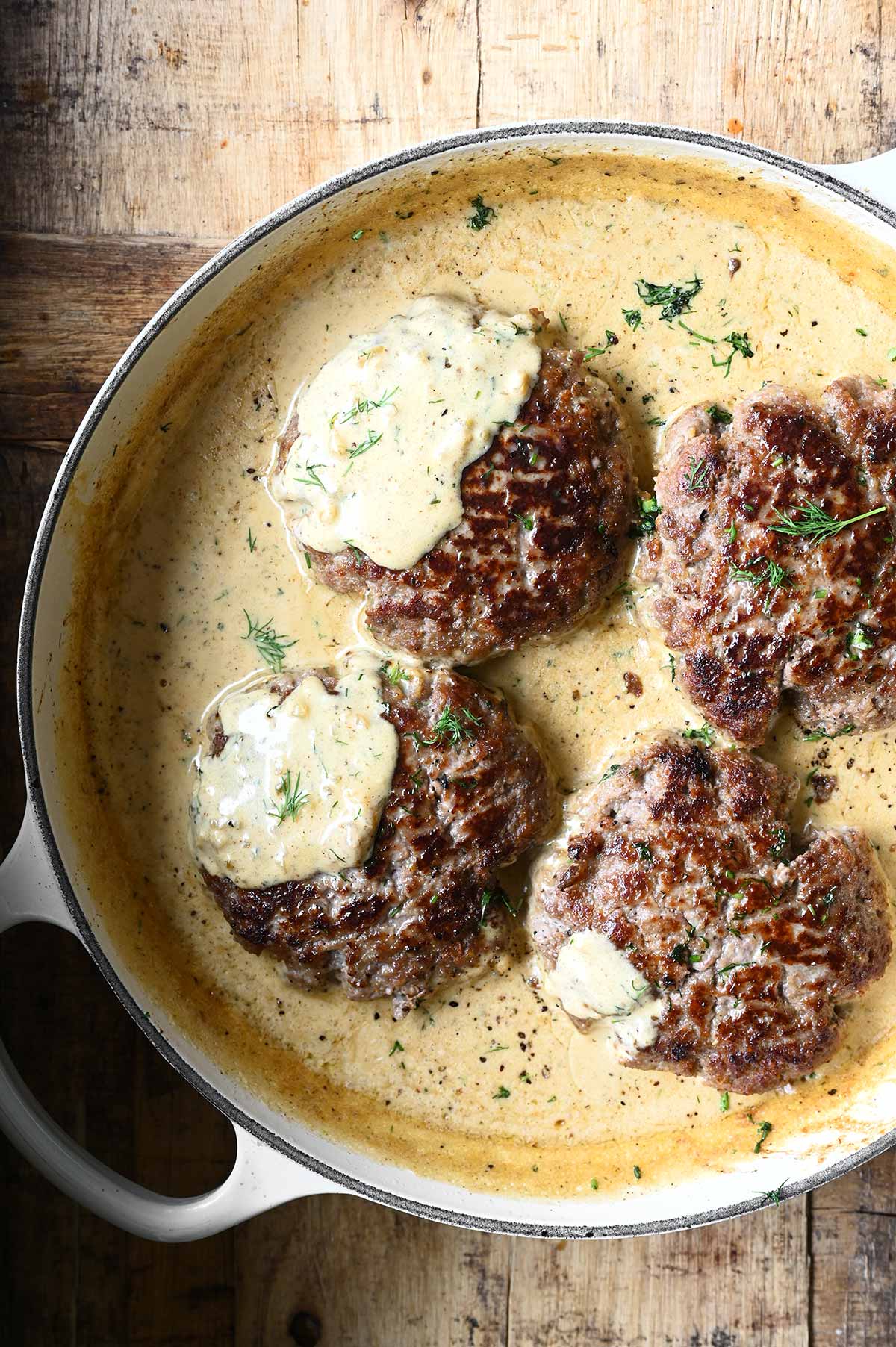 Recipe Notes
Serve with mashed potatoes, orzo, mashed cauliflower, rice, egg noodles, buttered baby potatoes or some crusty bread.
Add finely chopped carrots to the sauce. You can do this in the step where you add onion and garlic to the skillet.
Pair with veggies like steamed green beans, broccoli, coleslaw, a cucumber salad or pickled cucumbers.
The hamburger steak mixture can be mixed up to 8 hours in advance.
Make ahead: You can make this recipe until the step where you add the hamburger steaks back to the skillet. When ready to eat, simmer until the steaks are warmed through and no longer raw in the middle.
Leftovers can be stored refrigerated in an airtight container for up to 3 days.
You can freeze this dish in an airtight container for up to 3 months. Thaw overnight in the fridge, reheat in a skillet. Add a splash of cream to thin out the sauce.
Try These Next
Cooking Video
Yield: serves 4
Hamburger Steak in Creamy Dill Sauce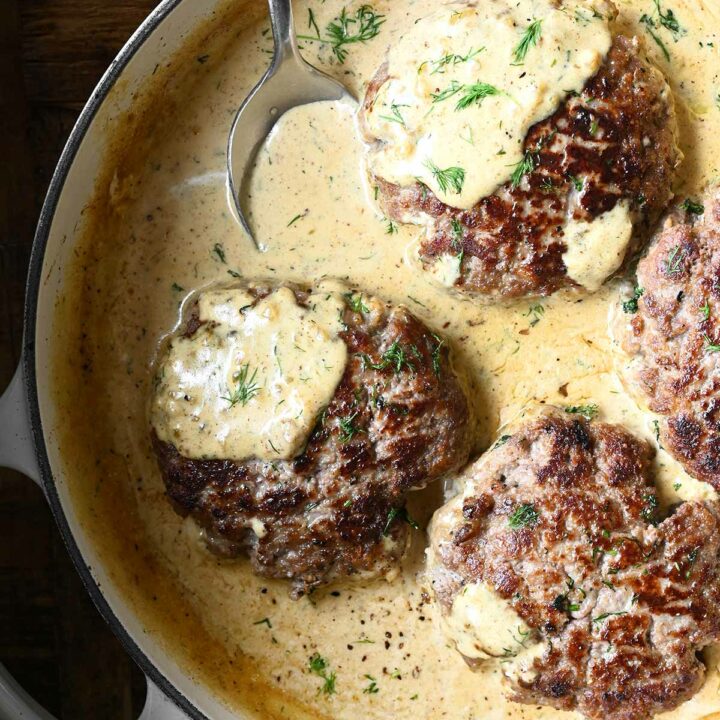 Ingredients
Hamburger Steaks
1.3 pounds/600 g ground beef
4 tbsp breadcumbs
1 medium yellow onion, grated
1 tsp each: salt, black pepper
2 tbsp heavy cream
1 egg
Creamy Dill Sauce
1 tbsp olive oil
1 tbsp unsalted butter
1 small yellow onion, finely chopped
2 garlic cloves, minced
1 tsp each: salt, black pepper
2 tbsp all-purpose flour
½ cup/120 ml low sodium chicken broth
1 cup/240 ml heavy cream
2 tbsp chopped dill, more for serving
Instructions
Start with making the hamburger steaks. Into a large bowl, grate the onion. Add ground beef, breadcrumbs, salt, pepper, cream and egg. Mix with your hands until just combined. Divide beef mixture into 4 portions, and shape each portion into a ball. Press the balls down by using the palm of your hand or a spatula until ¾ inch/2 cm thick. Set aside.
Finely chop the onion, mince the garlic and chop the dill.
Heat oil and butter over medium in a large nonstick skillet. Add hamburger steaks and cook 4-5 minutes per side. Transfer onto a clean plate.
Add garlic and onion, reduce heat to low and cook until fragrant about 2 minutes. Add salt, pepper and flour, stir until incorporated. Pour in broth and simmer for 2 minutes while scraping up the brown bits on the bottom of your skillet with a wooden spoon.
Add cream and dill, bring to a boil and simmer for 1-2 minutes until the sauce starts to thicken. Return hamburger steaks to the skillet and simmer for 5-6 minutes until heated through and no longer raw in the center. Finish off with chopped dill and freshly grated black pepper. Serve!
Notes
Calories Per Serving: 485 kcal
Nutritional information is only an estimate. The accuracy of the nutritional information for any recipe on this site is not guaranteed.