Cheesy one pot beef and potatoes. In this hearty dish, a mix of ground beef, thinly sliced potatoes and Romano peppers come together under a blanket of melted cheddar cheese. Made in one skillet and ready in about 30 minutes… so flavorful and delicious. This dish could become a new family favorite!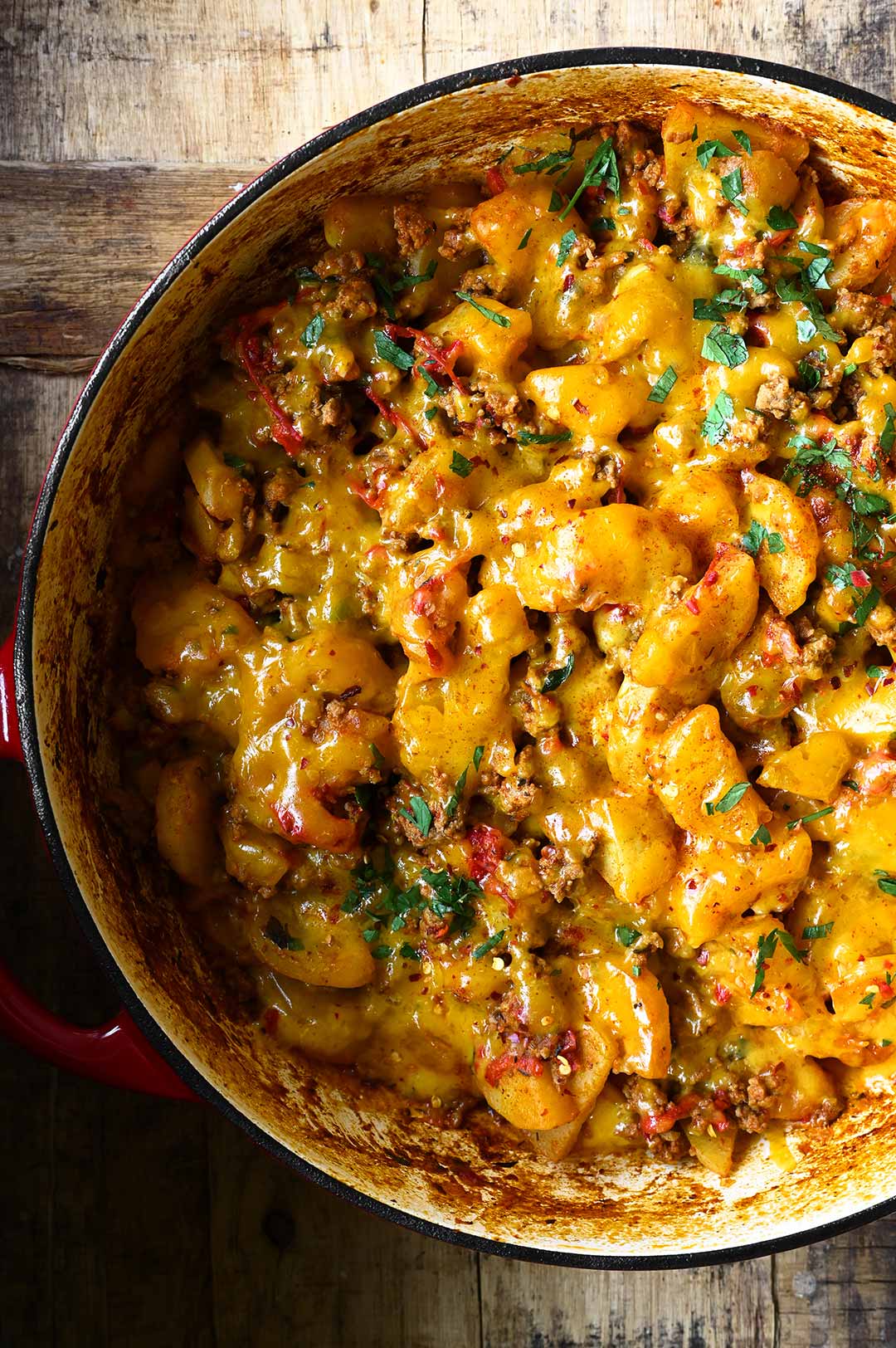 This recipe is super easy to make, hearty and utterly delicious any day of the week especially when served with a big side salad. It's sure to be your new go-to for a quick, flavorful dinner.This simple recipe is made on the stovetop in just one single skillet. We simply cook the potatoes until nicely browned and golden. Once that's done, we cook the Romano peppers with ground beef and double up on flavor by stirring in garlic, onion, spices and fresh parsley. Pour in chicken broth, cook for 10 minutes and serve with grated cheddar cheese.
Cheesy beef and potatoes are great for busy days when you want a comforting fuss-free dinner.
Let me guide you through the recipe with this step-by-step VIDEO or follow along on YouTube!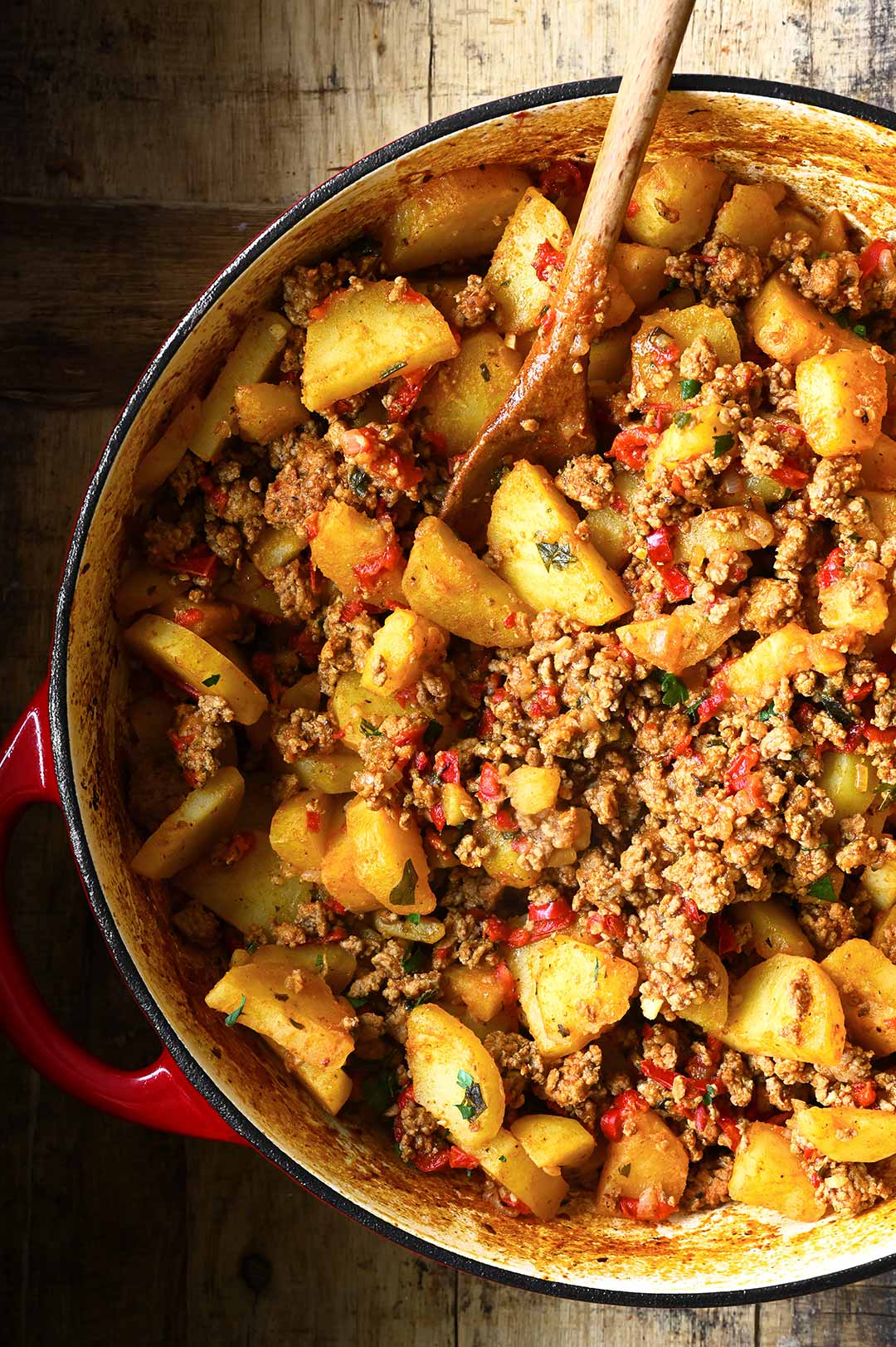 Cheesy Beef and Potato Ingredients
First, let's talk ingredients. To make this easy beef and potato recipe, you will need:
Potatoes: technically, you can make these potatoes with any type of starchy potato. But to make the best skillet potatoes, Russets are the way to go. They're dry, soft, fluffy and don't fall apart. If you don't have Russet potatoes replace them with Yukon or red potatoes. Slice them into ¼ inch/0,5 cm slices for quick cooking
Ground Beef: I typically use lean ground beef. But if you happen to have leftover shredded beef or Italian sausage on hand, it will work well in this recipe too
Romano peppers: they're longer, thinner and sweeter than bell peppers, if you can't find them, simply use regular red bell peppers or roasted peppers
Butter and olive oil: I recommend using butter together with olive oil to crisp up your potatoes and add as much flavor as possible to the whole dish
Garlic: I can't imagine a dish without it
Onion: for extra flavor and to thicken the sauce
Tomato paste: creates a base for our sauce
Seasonings: you will need chili flakes, salt, freshly-cracked black pepper and Italian seasoning to add earthy flavors
Chicken broth: to add more flavor, you can also substitute it for vegetable broth, but I recommend not to use water
Cheddar cheese: try different kinds of cheeses like Swiss cheese, gouda, Parmesan or mozzarella. They'll all taste great melted over the ground beef and potatoes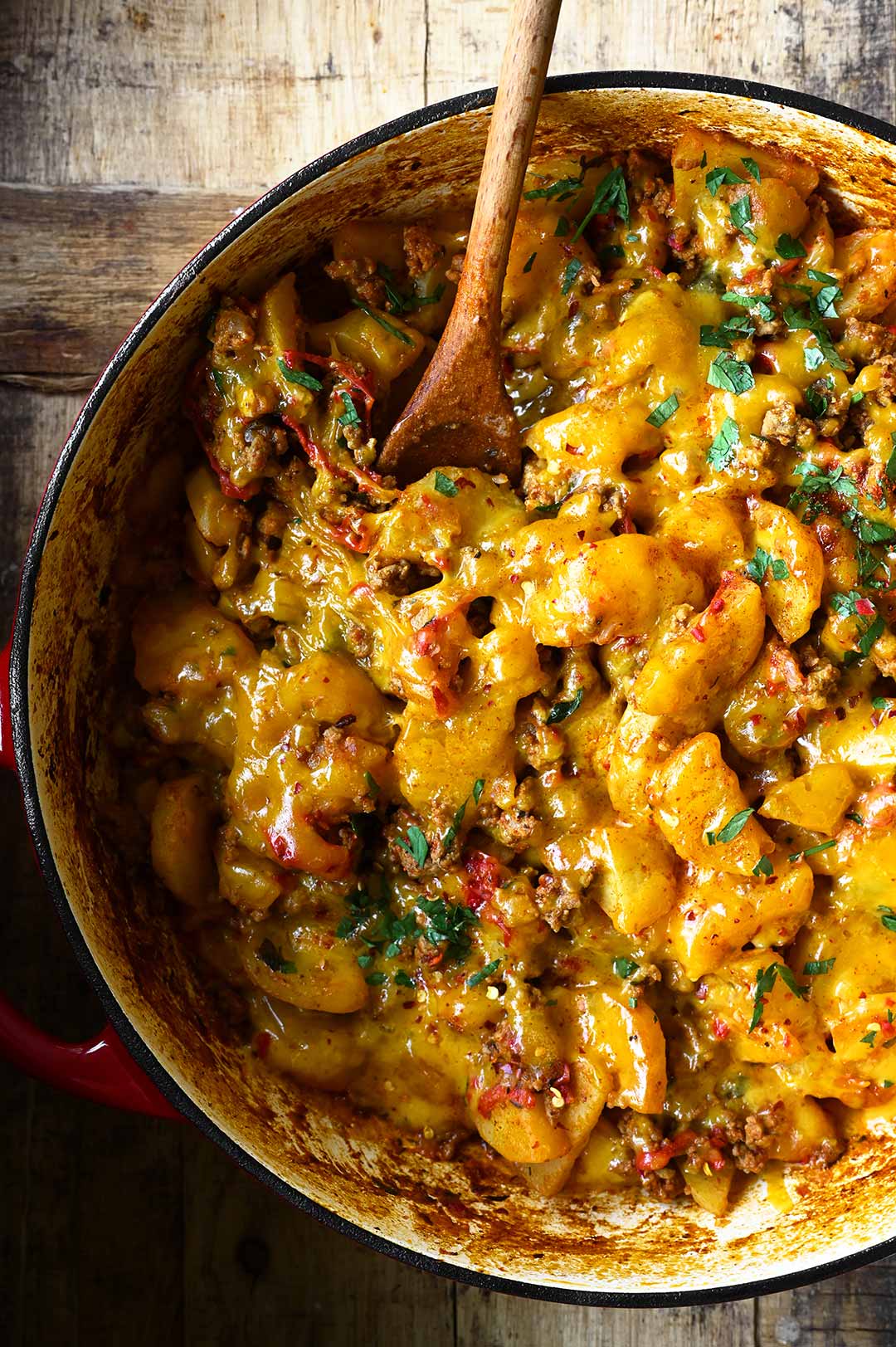 Helpful Tips
This recipe is super versatile!
Love Italian sausage? Use that instead! Or try it with ground chicken.
Add a fried egg on top or a dollop of garlicky tzatziki.
Serve with a big leafy salad drizzled with caesar dressing or with a creamy cucumber salad.
Use more veggies: I recommend to use green beans, zucchini, carrots or green peas.
Make it vegetarian or vegan: To make a vegetarian version, simply omit the meat and swap chicken broth for vegetable broth. To make a vegan version, omit cheese or use vegan cheese.
Make it spicier: Feel free to double the amount of chili flakes.
Use cheese from a block, not pre-grated. By grating it yourself you ensure that the cheese fully melts and becomes as smooth and velvety as possible.
Leftovers and Storage
Fridge: Your beef and potatoes are good to go for a satisfying encore in the fridge for up to 3 days. They'll maintain their deliciousness, ready for your next meal.
Freeze for a Future Feast: If you're planning for the long haul, you can freeze this dish in air-tight containers for up to 3 months.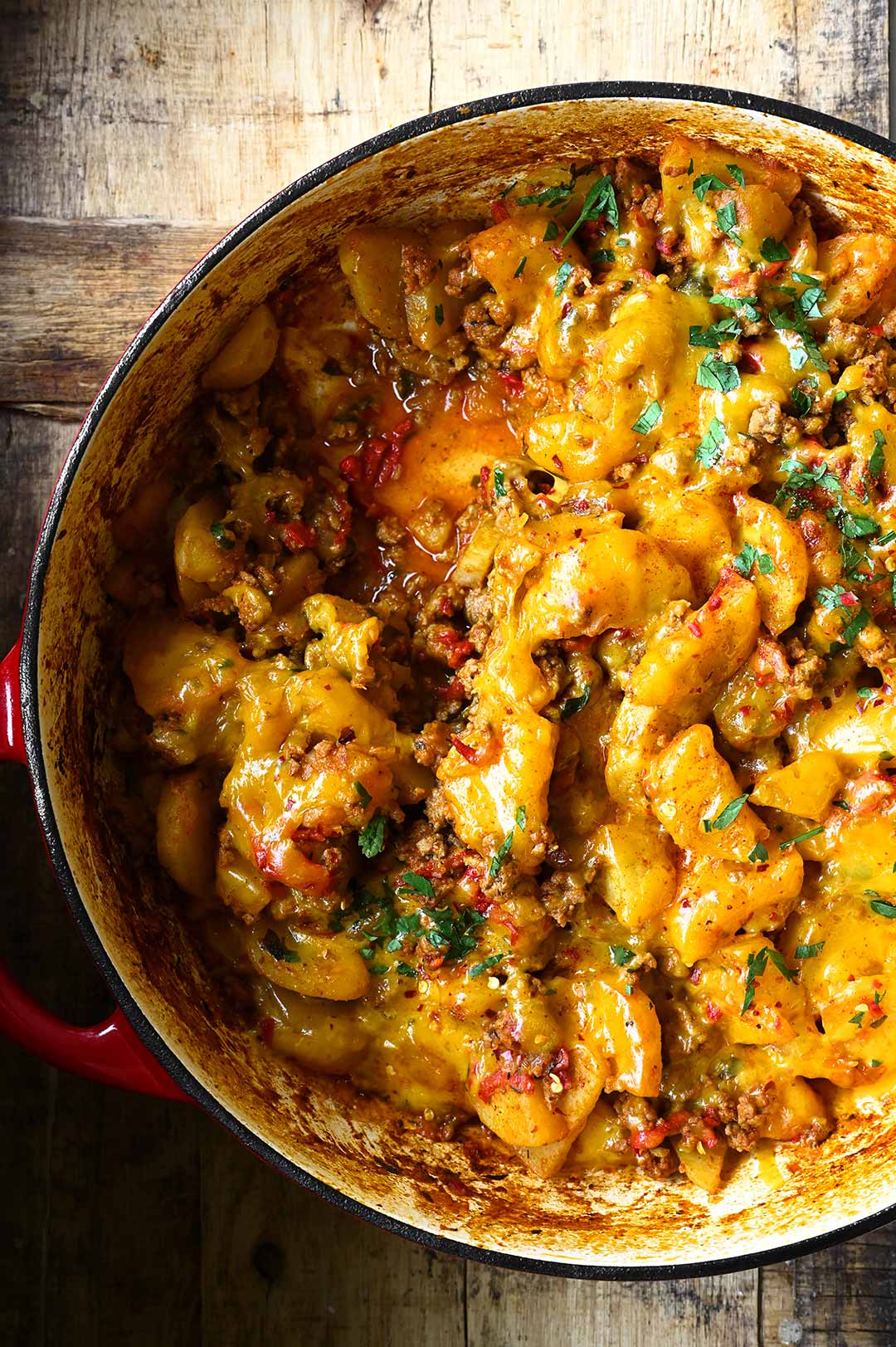 Try These Next
Cooking Video
Yield: serves 4
Cheesy One Pot Beef and Potatoes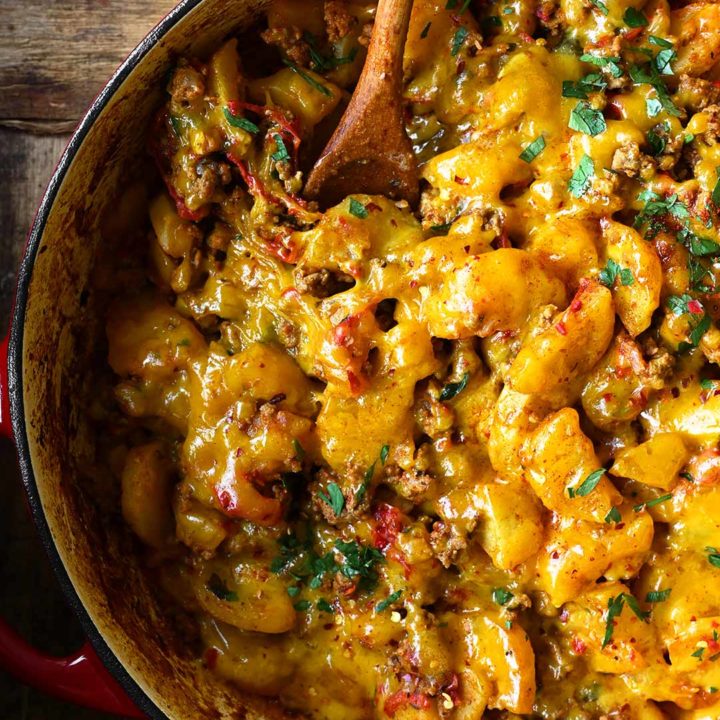 Ingredients
1 tbsp olive oil
1 tbsp unsalted butter
1.8 pounds/800 g potatoes, preferably russets
2 Romano peppers, chopped
1.1 pounds/500 g lean ground beef
1 onion, finely chopped
2 garlic cloves, minced
1 tsp each: sweet paprika, black pepper, Italian seasoning
½ tsp each; salt, chili flakes
2 tbsp dubble concentrated tomato paste
2 tbsp chopped parsley, more for serving
2 cups chicken broth
1 ½ cups/180 g grated cheddar
Instructions
Get all the prep done before you start cooking. Peel the potatoes, cut lengthwise in half and slice into ¼ inch/0,5 cm thick slices. Finely chop the onion and parsley, mince the garlic. Cut the Romano peppers lengthwise in half, deseed and slice thinly.
Heat oil and butter in a large nonstick skillet over medium high. Add potatoes and cook for about 6-8 minutes until they're golden brown on all sides. Remove from skillet.
To the same skillet, add peppers, cook for 3 minutes until they start to soften. Add ground beef, break up into pieces and cook until slightly browned, about 2 minutes.
Add garlic and onion, cook until fragrant, about 2 minutes. Add salt, chili flakes, pepper, paprika and Italian seasoning. Stir in tomato paste.
Add parsley and potatoes, stir gently until combined. Pour in chicken broth, cover with lid and cook for about 10 minutes until the potatoes are tender.
When ready, sprinkle cheddar on top, close the lid and let it melt completely.
Top with parsley and chili flakes. Serve immediately while still hot with a big side salad. Enjoy!
Notes
Calories Per Serving: 702 kcal
Nutritional information is only an estimate. The accuracy of the nutritional information for any recipe on this site is not guaranteed.

//= __('Print recipe (no photos)', 'servingdumplings' );?> //= __('Print recipe (with photos)', 'servingdumplings' );?>