I whittled down a list of my 30 best chicken recipes all of which are pretty easy to make and super delicious.

Some of my favorite chicken dishes for delicious, fuss-free weeknight ideas or to wow your guests on your next dinner party. Whether you prefer a recipe that's made in the oven, a quick pasta, knock-out Thai meatballs or an easy pan chicken breast recipe, just scroll down and find the chicken dinner of your dreams. There're tons of ways to prepare chicken the year round, there's something for everyone. Enjoy!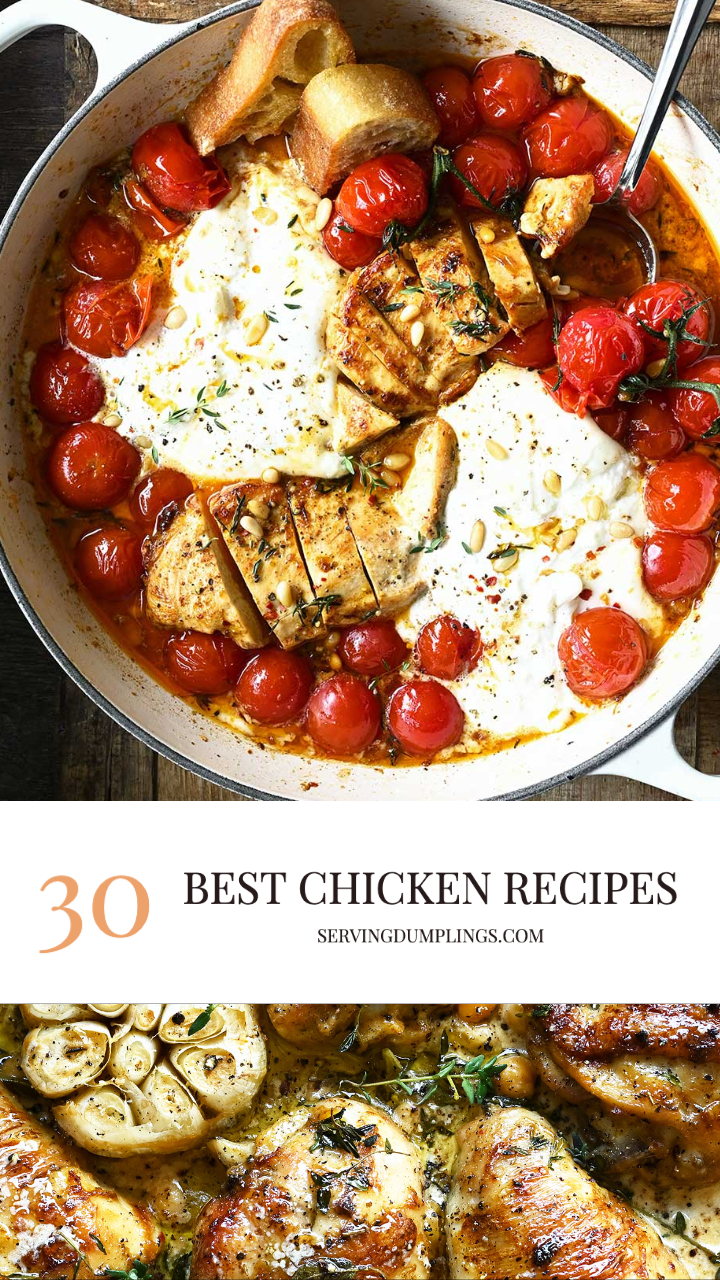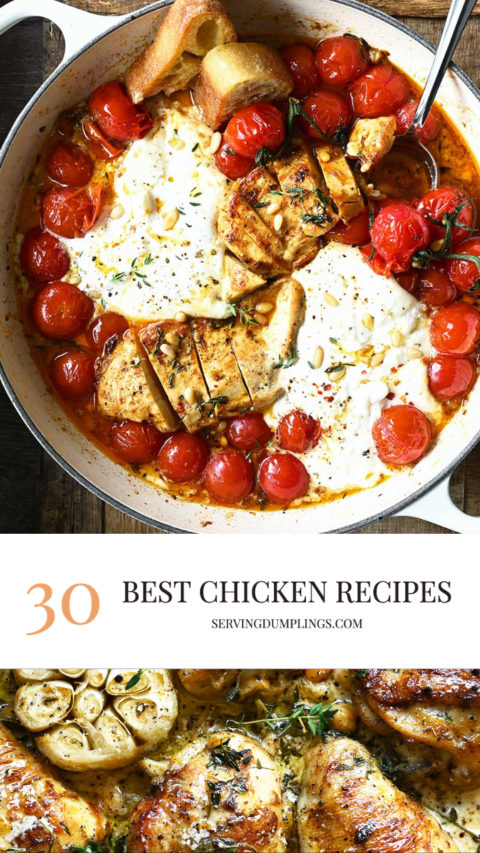 One skillet Parmesan, chicken and orzo, a perfect dinner that's quick, easy, and super flavorful. Pan seared chicken breasts, and orzo cooked together with spinach and Parmesan for a complete dinner made in just one skillet.
Truly one of those all-in-one-dinners that just about everyone will love. And Parmesan cheese makes nearly everything better, right?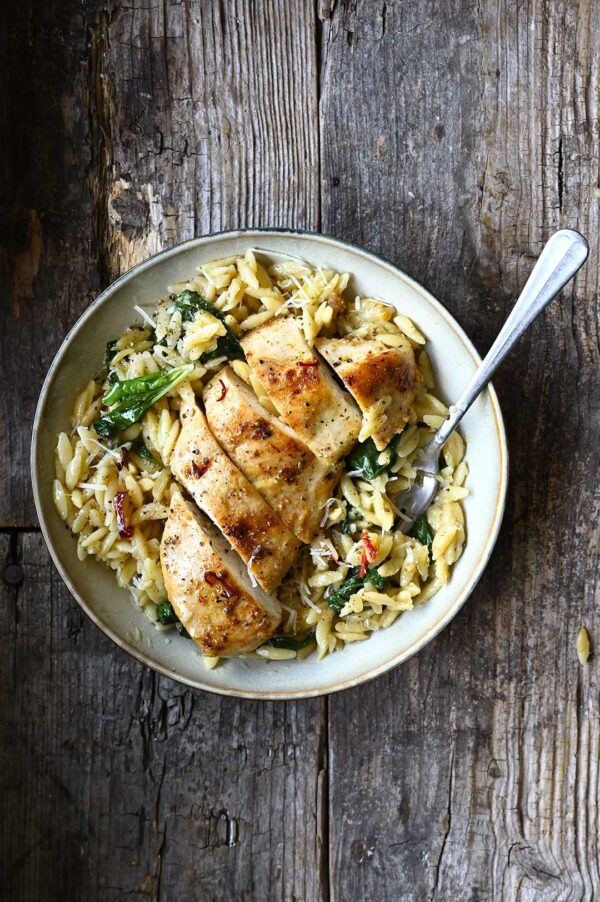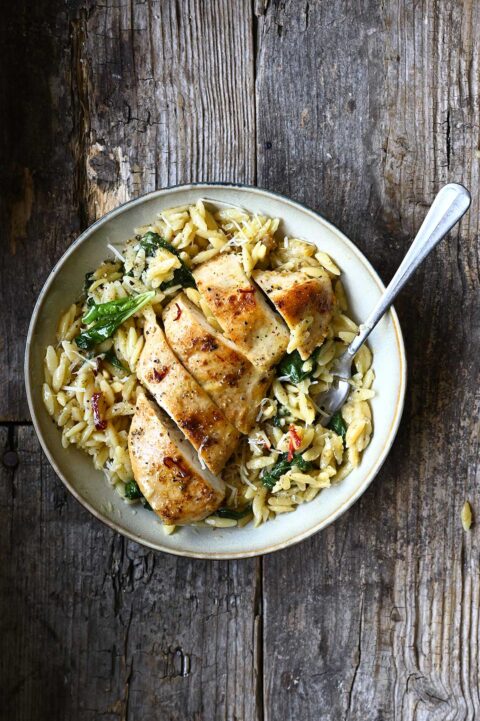 This one-skillet oven baked chicken could very well become your next favorite meal. The juicy thighs are baked together with chickpeas in a creamy sauce loaded with garlic, herbs and crushed black peppercorns.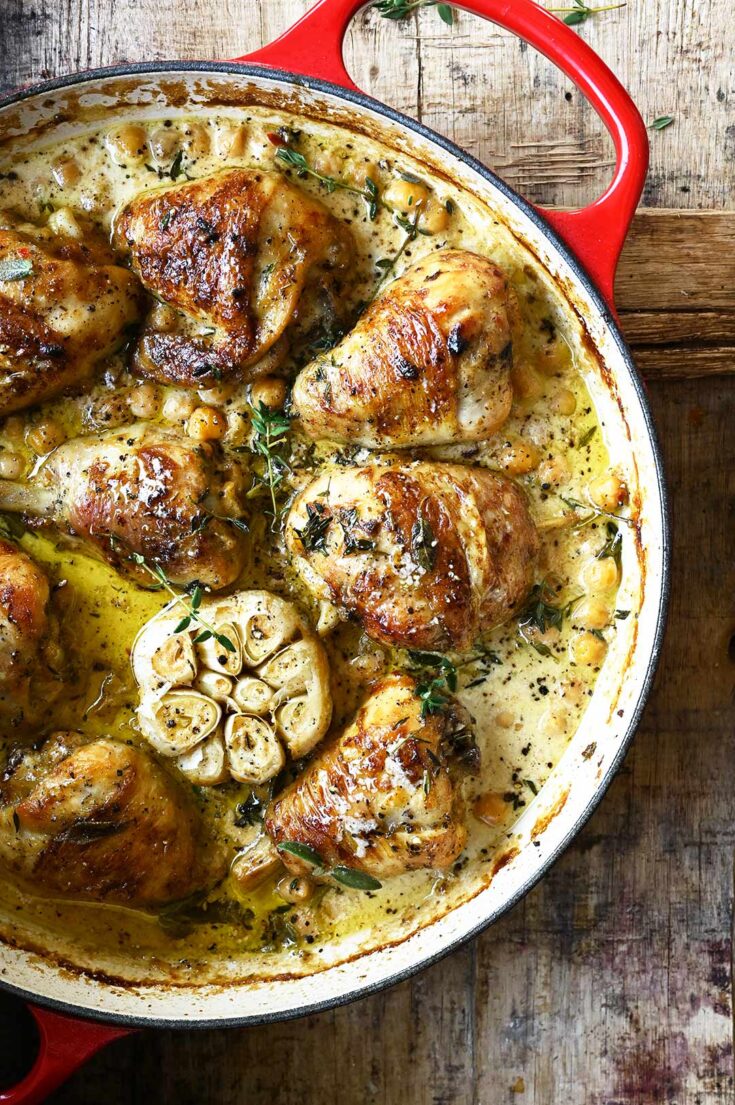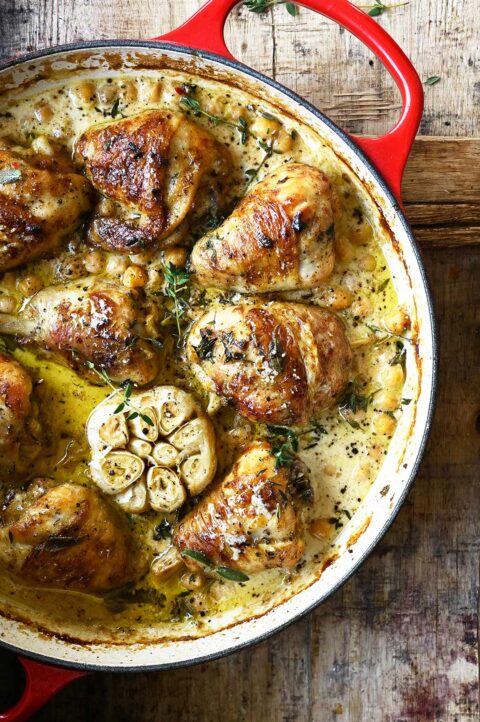 One-skillet oven baked chicken drumsticks with a creamy black pepper sauce and roasted bell peppers. It's made with extra coarse ground black peppercorns and pickled green peppercorns for a knock-out dish. A slightly decadent and more than satisfying dish, just pure joy.
Honey butter garlic chicken, with plenty of garlic, the right amount of honey and just buttery enough, this chicken recipe is an easy weeknight meal that's easy to love, and very fast to make, just 15 minutes from sauté pan to table. It's basically thin slices of chicken coated in flour, skillet-seared in butter and coated in a sweet-and-sour garlic butter sauce. What's not to love!? And let me tell you, this chicken recipe is awesome.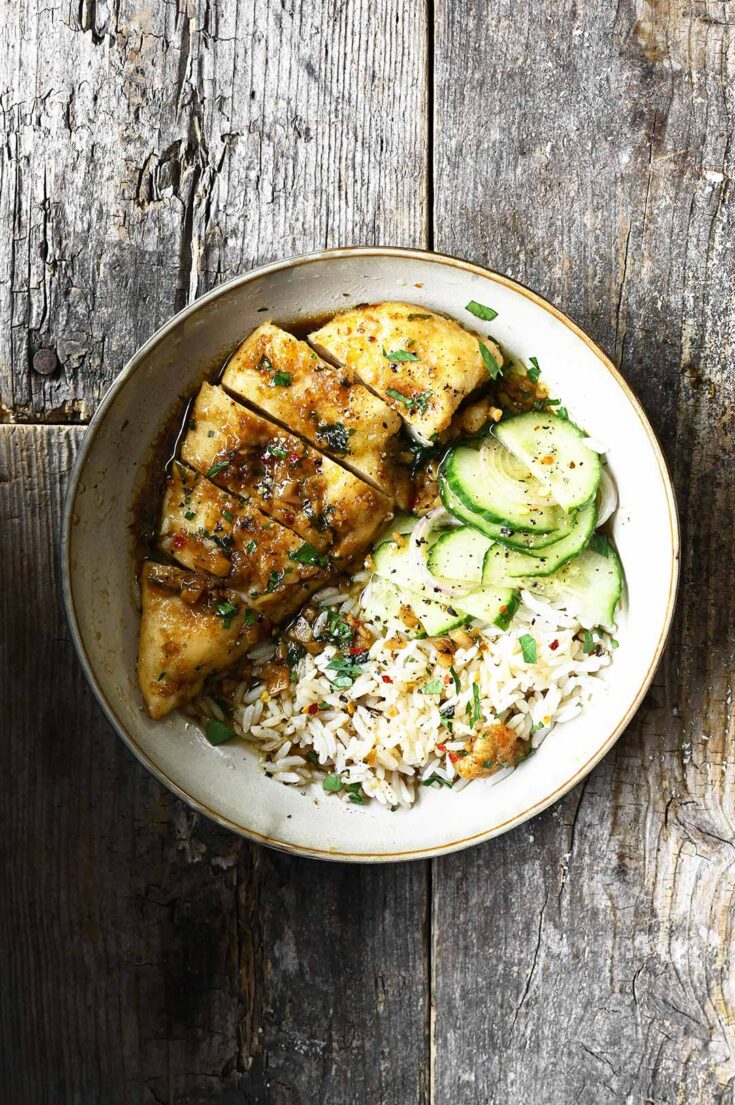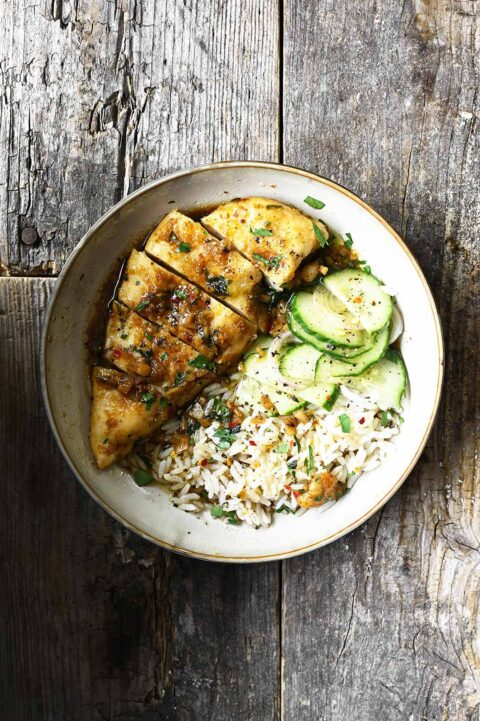 Juicy chicken fillets coated in a Thai red curry peanut sauce, served in a bowl with jasmine rice and crisp veggies. A scattering of thinly sliced scallions, fresh cilantro and chopped roasted cashews add a bright punctuation to this kicky dish.
A delicious meal you may just start making every week.
Thai style juicy chicken meatballs in a coconut curry sauce. This one-pot dish is incredibly delicious. The meatballs are tender, herby with a garlic note. Coated with a rich, spicy coconut curry sauce and topped with fresh cilantro and roasted cashew nuts.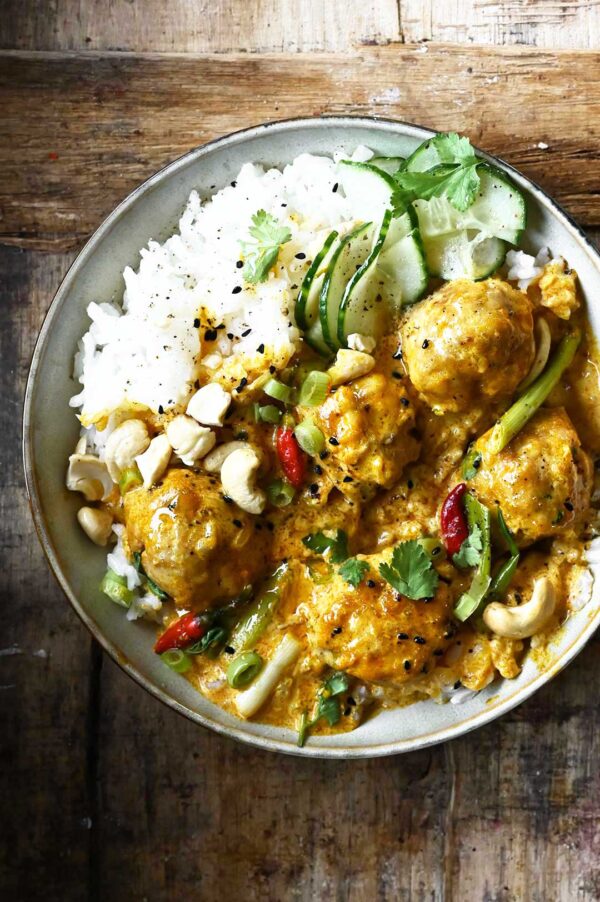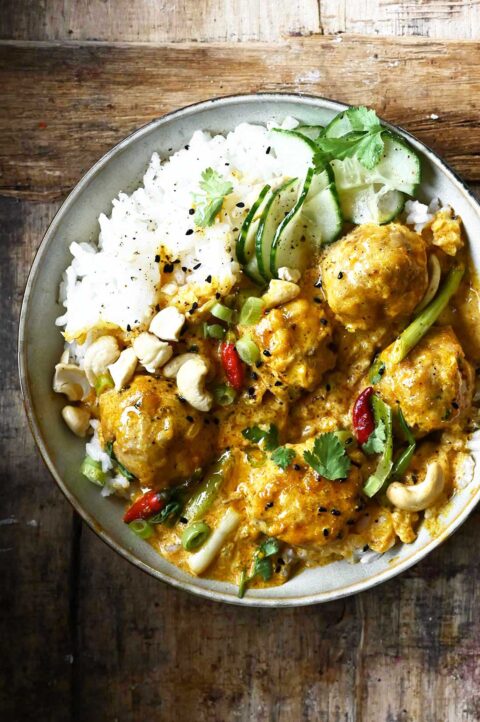 30 minute chicken with braised cherry tomatoes and burrata… all made in one skillet. It's simple but mouthwatering. The chicken fillets are seared until golden, topped with burrata and spoonfuls of garlicky, balsamic-braised cherry tomatoes.
Serve this simple skillet chicken with some crusty bread for soaking up all that delicious pan-sauce. A tasty dinner that celebrates the ease of a classic combination.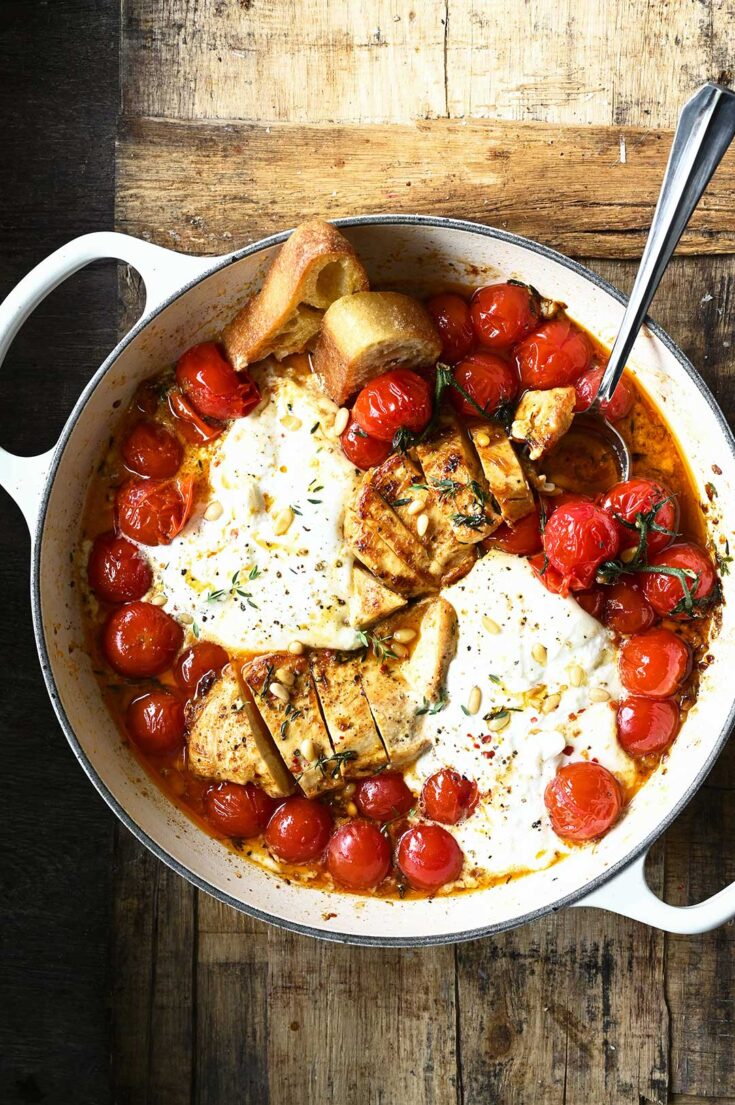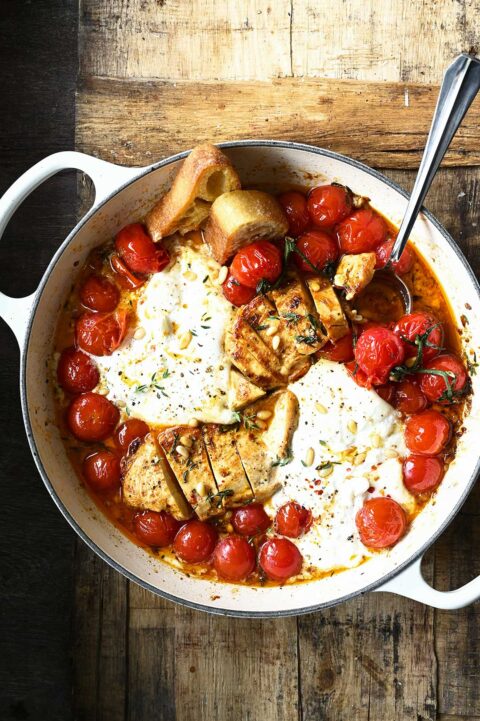 Creamy chicken with corn and chorizo. If it's possible to upstage a chicken meal, this dish comes close. An ultra flavorful white wine sauce made extra creamy with Boursin cheese, finished off with crisped corn and crunchy chorizo. Fancy looking, delicious and super easy to make. Plus, it's a complete meal made in one skillet. A 30-minute knock out dinner that everyone will love!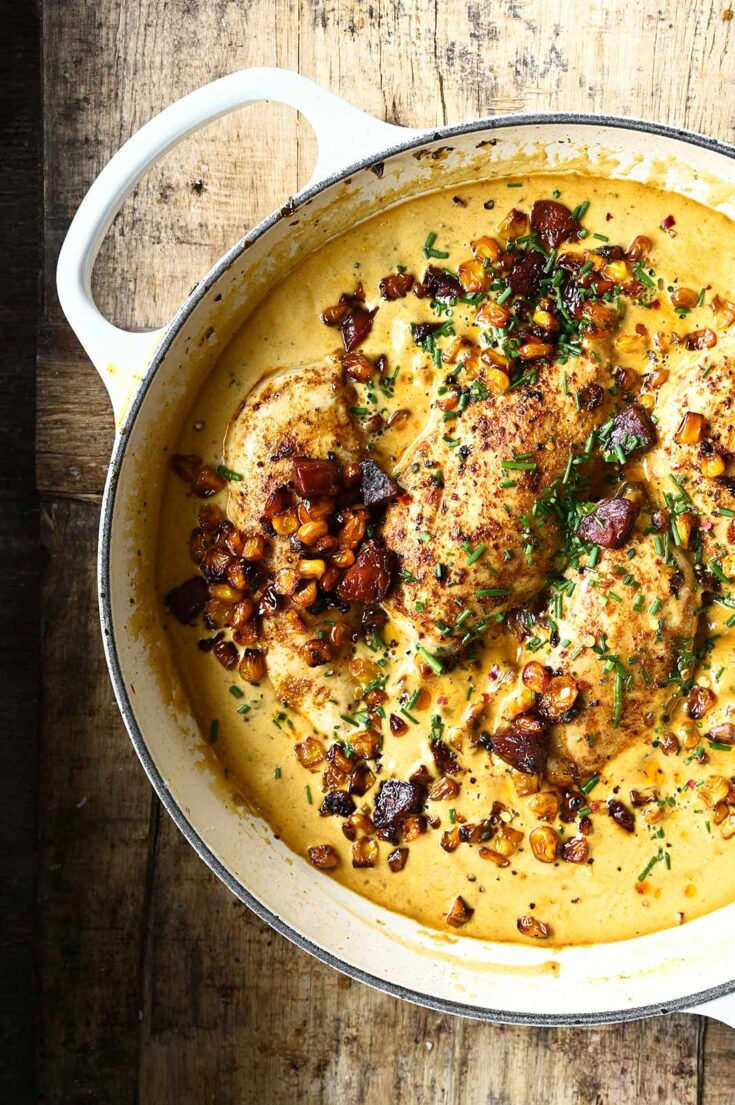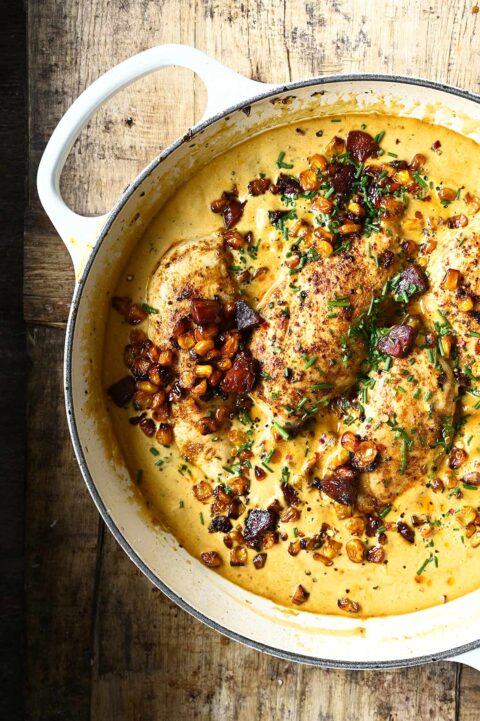 Creamy chicken all'Arrabbiata with penne. This spicy recipe is a twist on the Italian pantry staple pasta called penne all'Arrabbiata that gets its name from the generous amount of chili peppers. It's basically pasta with tomato sauce and Parmesan with a delicious kick from the red pepper flakes.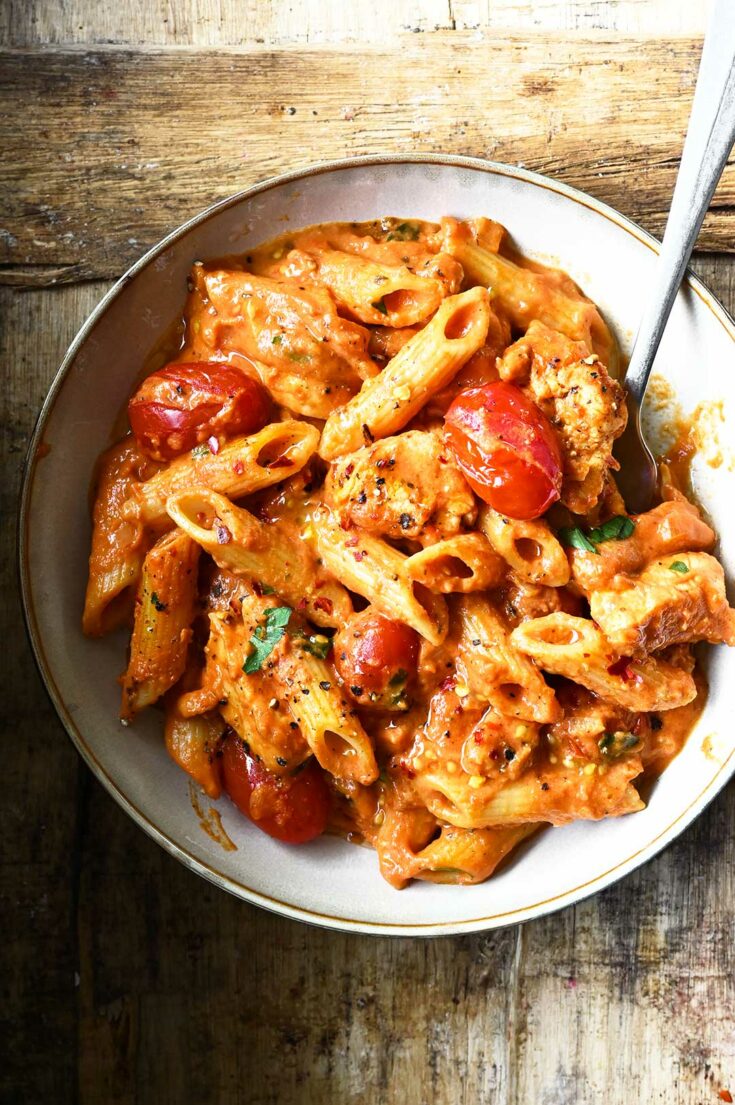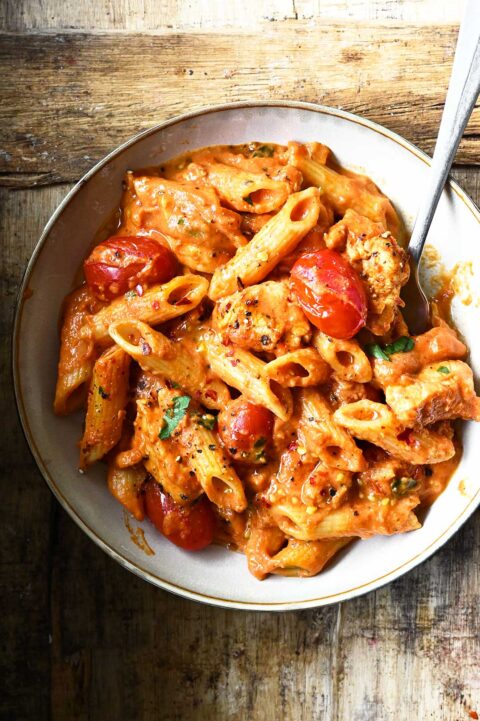 This creamy drunken chicken with balsamic mushrooms equals next-level deliciousness. The chicken breasts are simmered in a fragrant creamy wine sauce and paired with earthy mushrooms for a tasty weeknight dinner. It's easy to make, ready in about 30 minutes and you only need one skillet. If you really want to go all in, I suggest serving this dish with some bread or buttery mashed potatoes, and don't forget to throw in a side salad.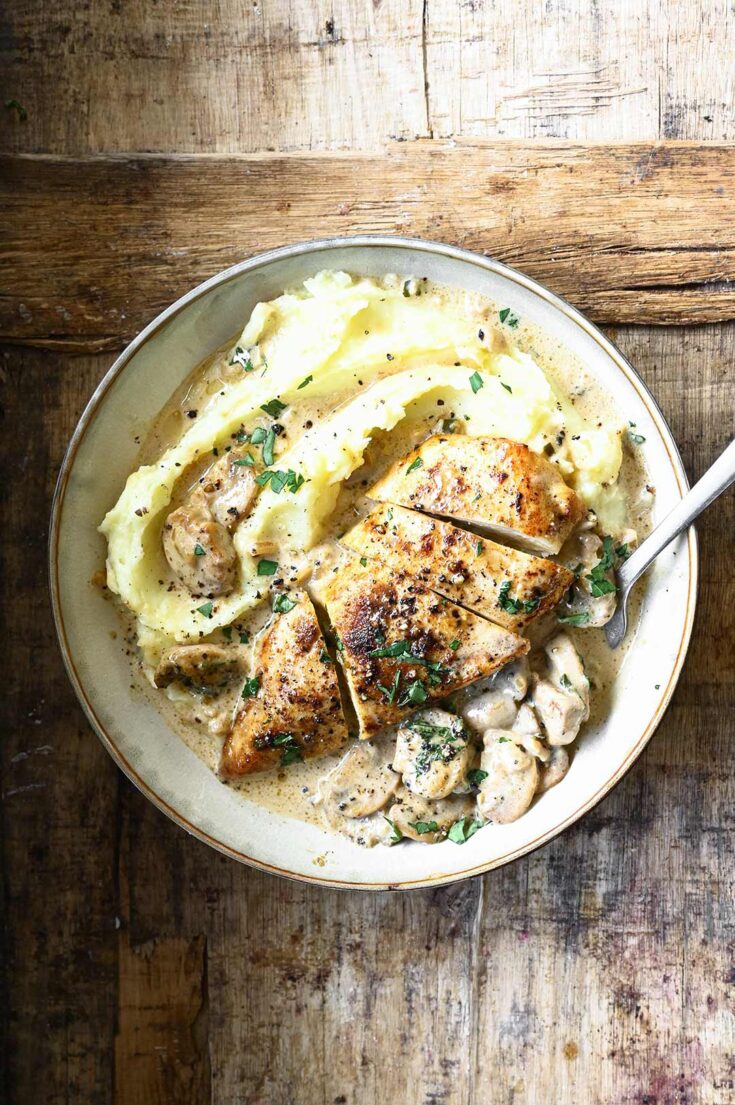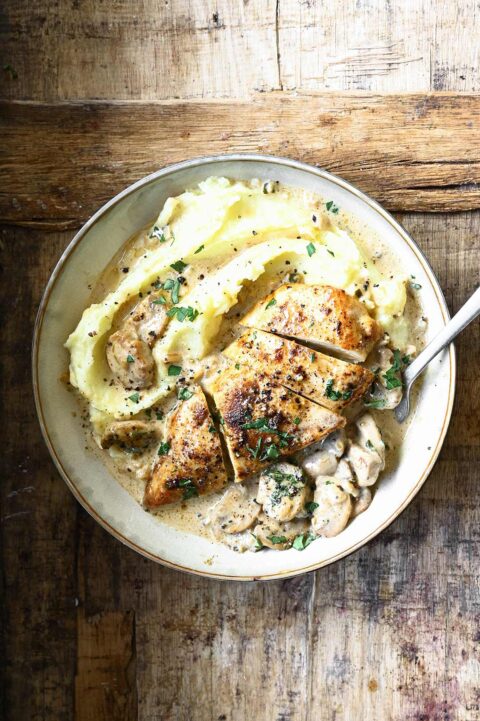 One-skillet creamy red pesto chicken with cherry tomatoes. You're in for a dinner that's pure comfort. This chicken with sun-dried tomato pesto in a creamy garlic sauce is simply amazing, it infuses every single bite of this fail-proof dinner.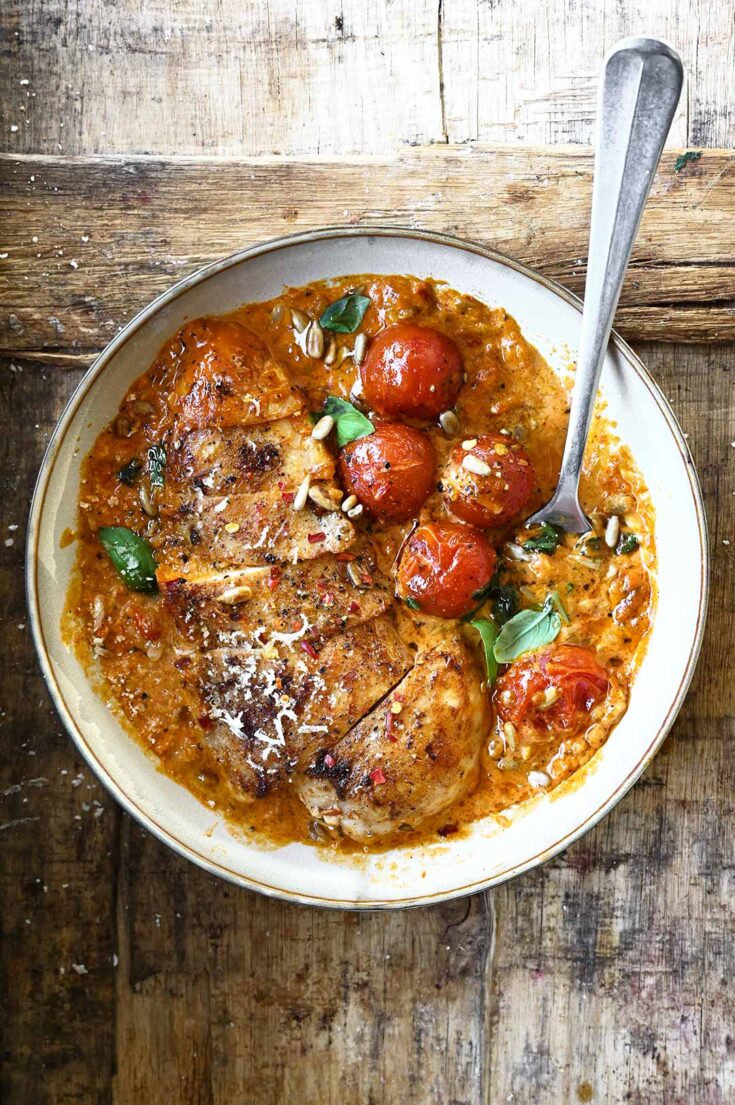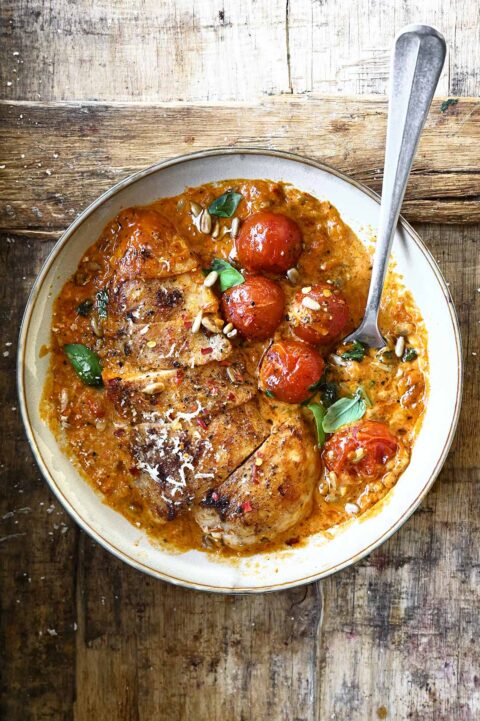 These chicken fillets in a creamy tomato sauce look fancy but are super easy to make. This dish is as simple as it is satisfying and delicious. The sauce is ultra creamy and loaded with tomatoes, jazzed up with feta and crispy pancetta.
Serve over orzo or with some crusty bread and a side salad. Extra bonus? It's ready in about 30 minutes and made in only one skillet.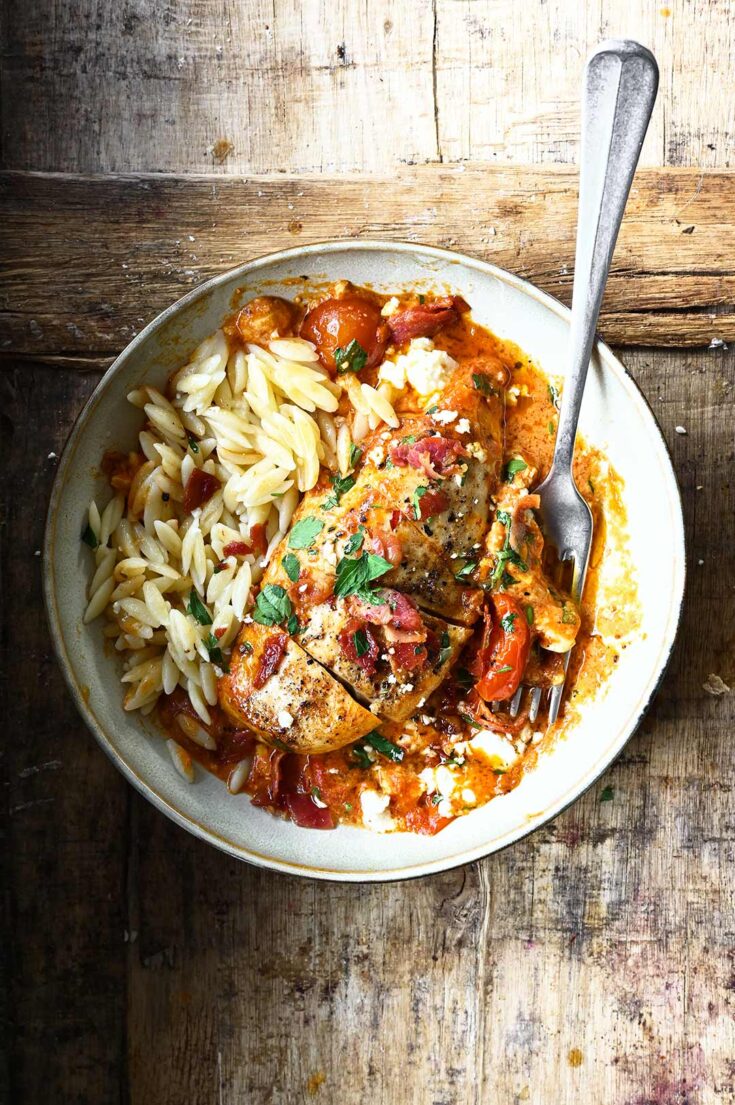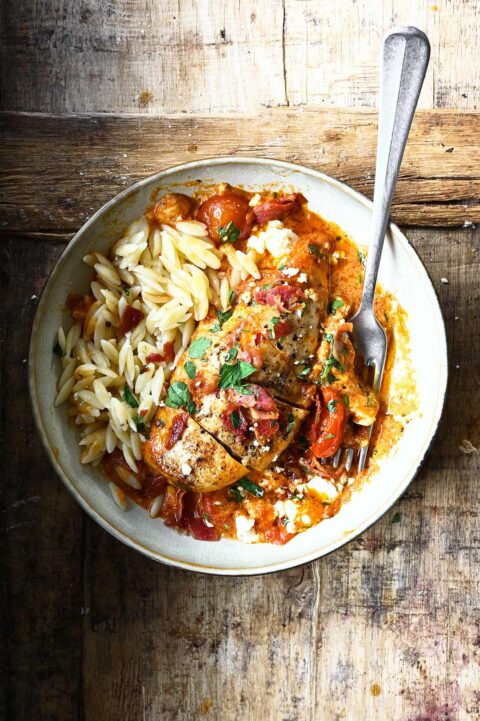 30 minute easy butter chicken-style curry. A delicious mix of deep flavors and a variety of textures. It's funky, quick and delicious, especially when topped with scallions and pistachios. Serve with basmati rice or buttered naan. This spicy creamy dish is great for any weeknight.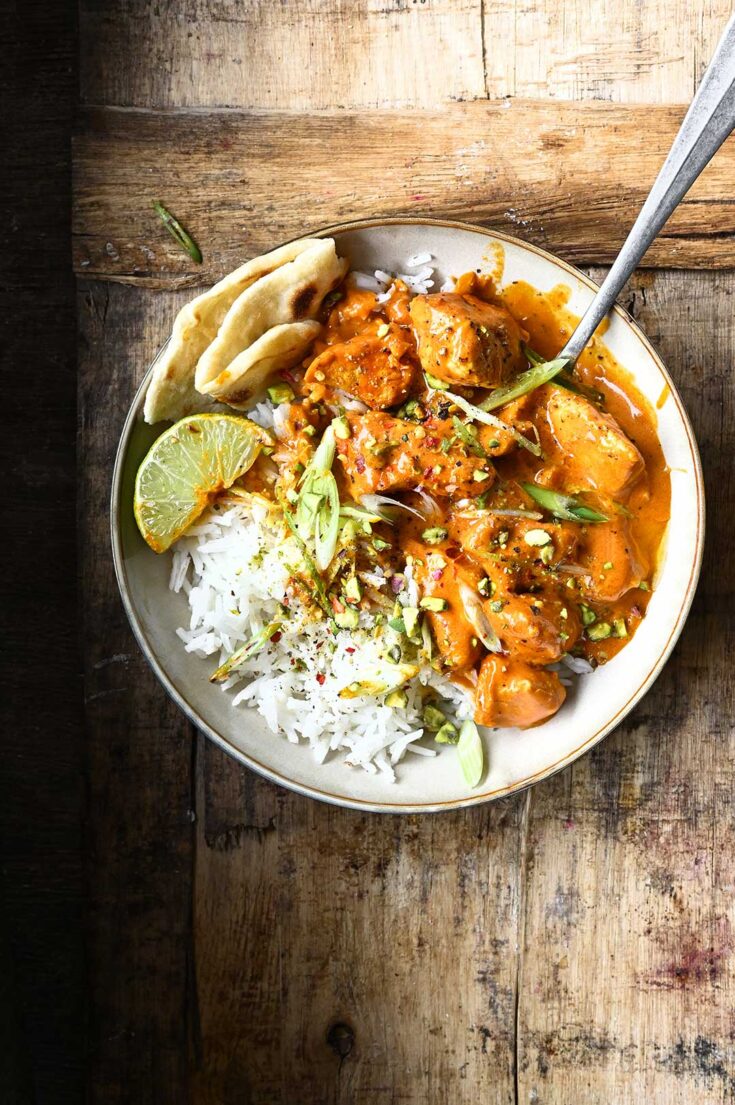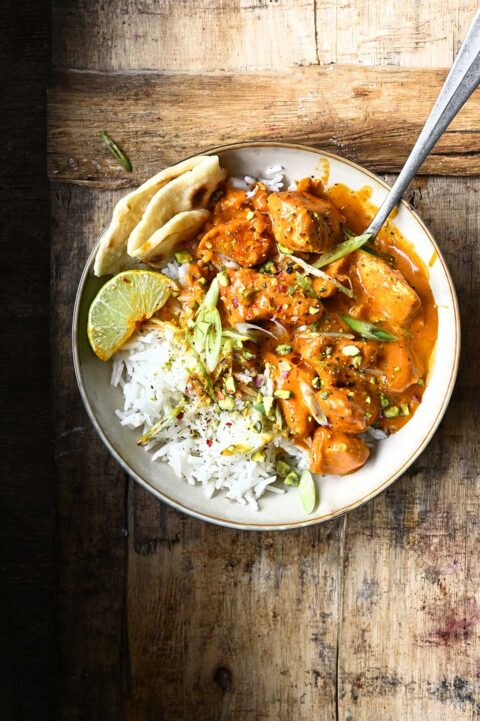 Chicken in butternut squash and mushroom cream sauce. Imagine juicy chicken breasts seared until golden and served in a delicious butternut squash sauce. This chicken is made in one skillet with mushrooms, fresh sage and a handful of Parmesan. Rich, creamy and super hearty, this truly is a winning dinner. Serve with some crusty bread, mashed potatoes or polenta…and don't forget that big side salad. A no-fuss weeknight dinner that everyone will love.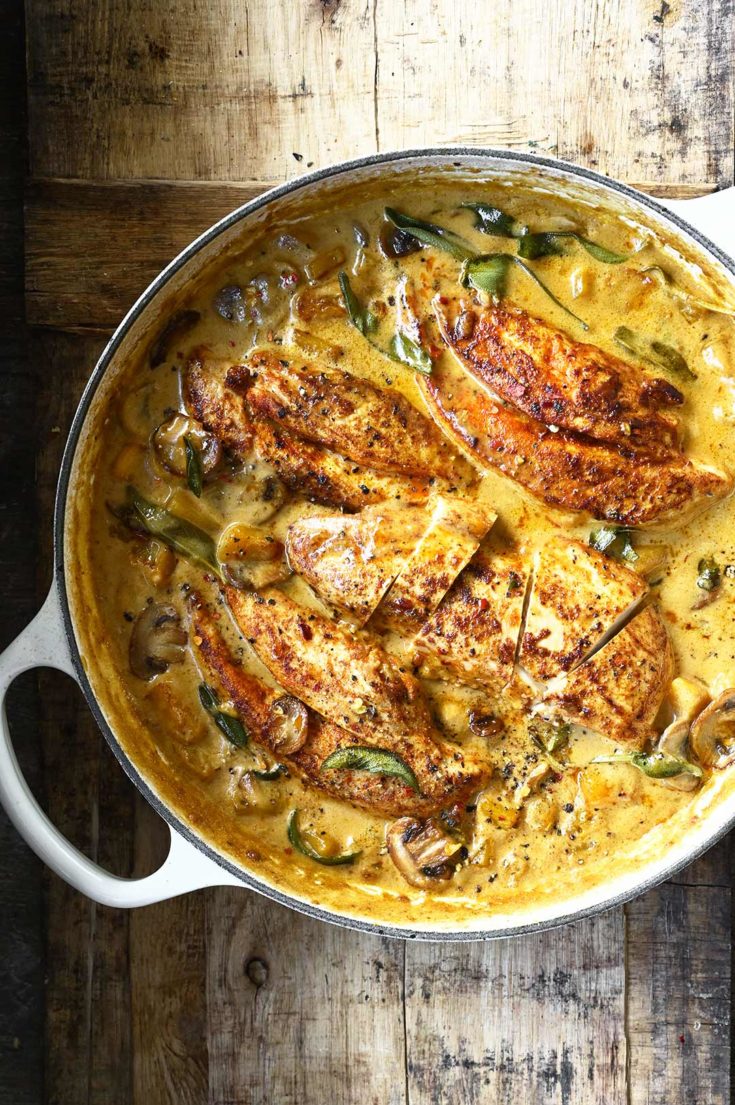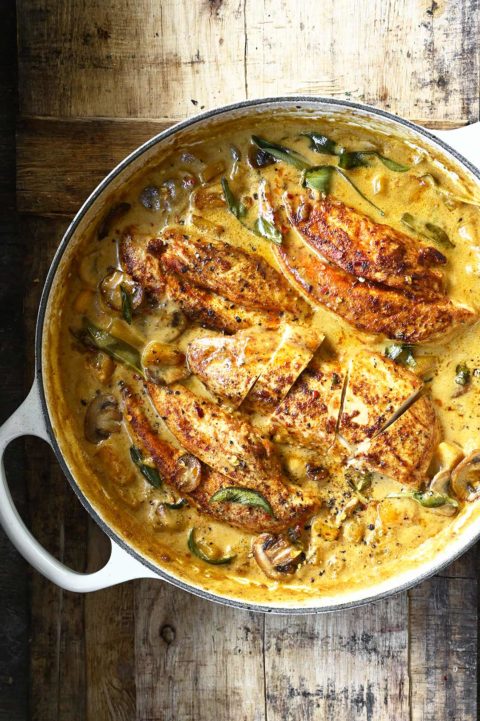 One-skillet creamy garlic red pepper chicken. This juicy pan-fried chicken with sun-dried tomatoes and bell peppers in a creamy garlic sauce is simply amazing.
The flavorful sauce infuses every single bite of this fail-proof dinner. It's made ultra creamy with Parmesan and jazzed up with crispy pancetta. All ingredients match perfectly with each other, it's finger-licking good.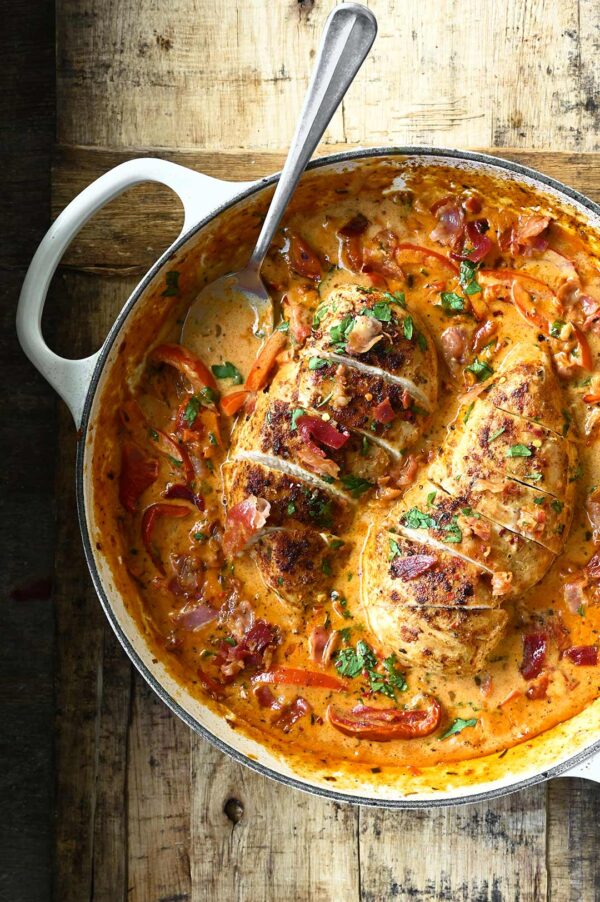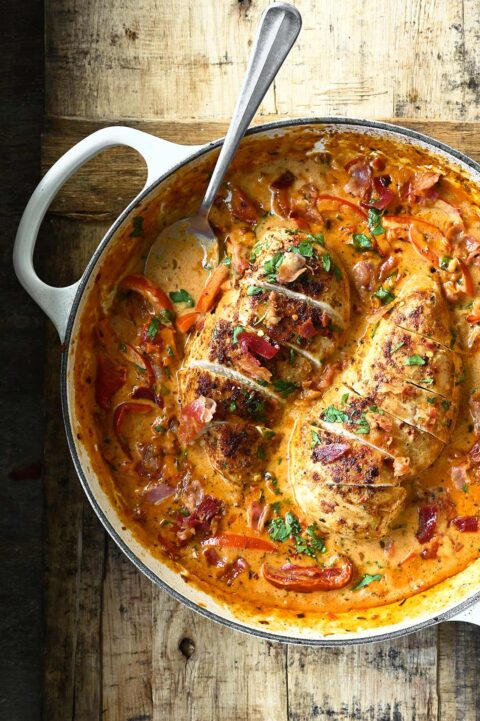 Lemon garlic chicken. Imagine juicy, pan-fried chicken thighs with green olives and lemon, served in a honey-garlic-butter sauce. It's bright, fresh, delicious, and ready in less than 30 minutes. It's sure to become a new favorite.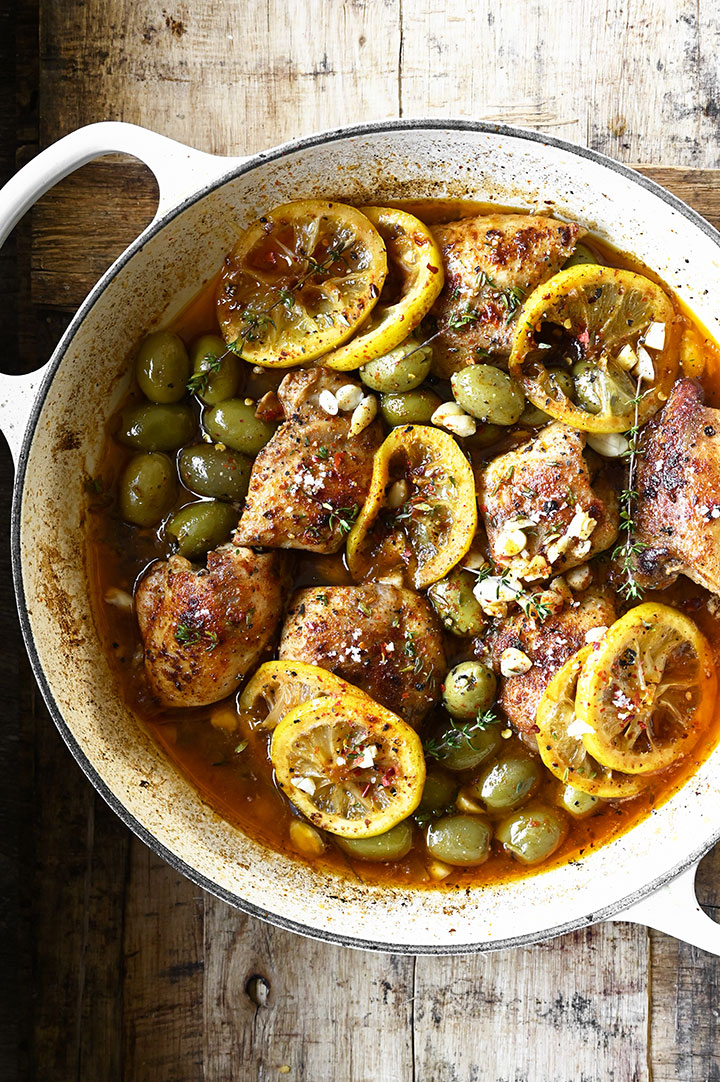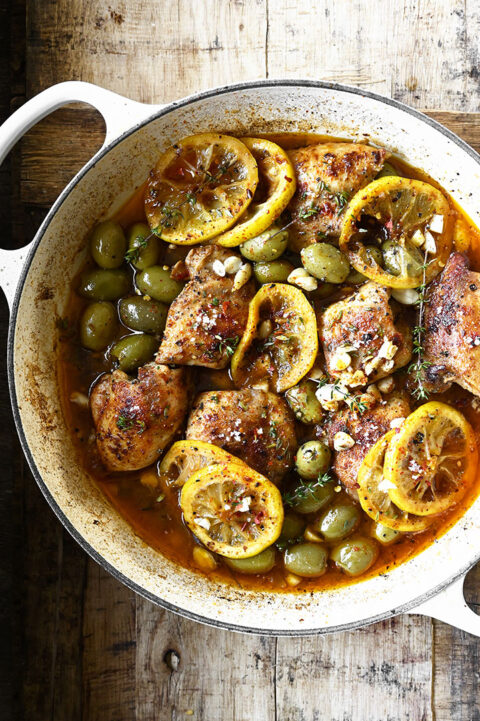 Coconut gochujang chicken meatballs curry with broccoli. This 30-minute dish is an easy to make yet most flavorful weeknight dinner. Made with melt-in-your-mouth tender meatballs and spicy gochujang paste combined with coconut milk, which mellows the spicy paste into a funky-spicy-sweet cream sauce. Serve over rice for a surprising result.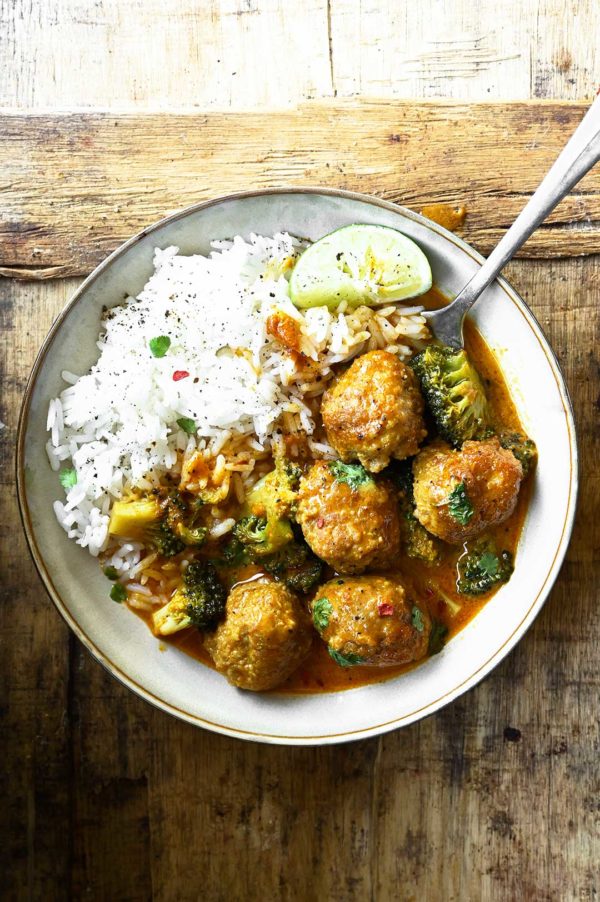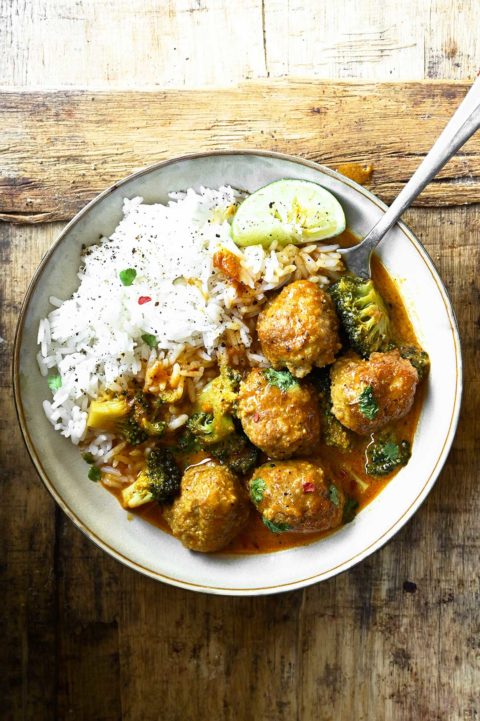 18.Garlic Tomato Chicken with Mozzarella
Garlic tomato chicken with mozzarella. Imagine perfectly tender chicken, cherry tomato sauce, fresh basil, and lots of cheese. This utterly delicious combo is super easy to make and ready in about 30 minutes. It's the perfect comfort food for the whole family but will easily impress the fussiest guests. Serve with pasta or some toasted ciabatta and a big side salad.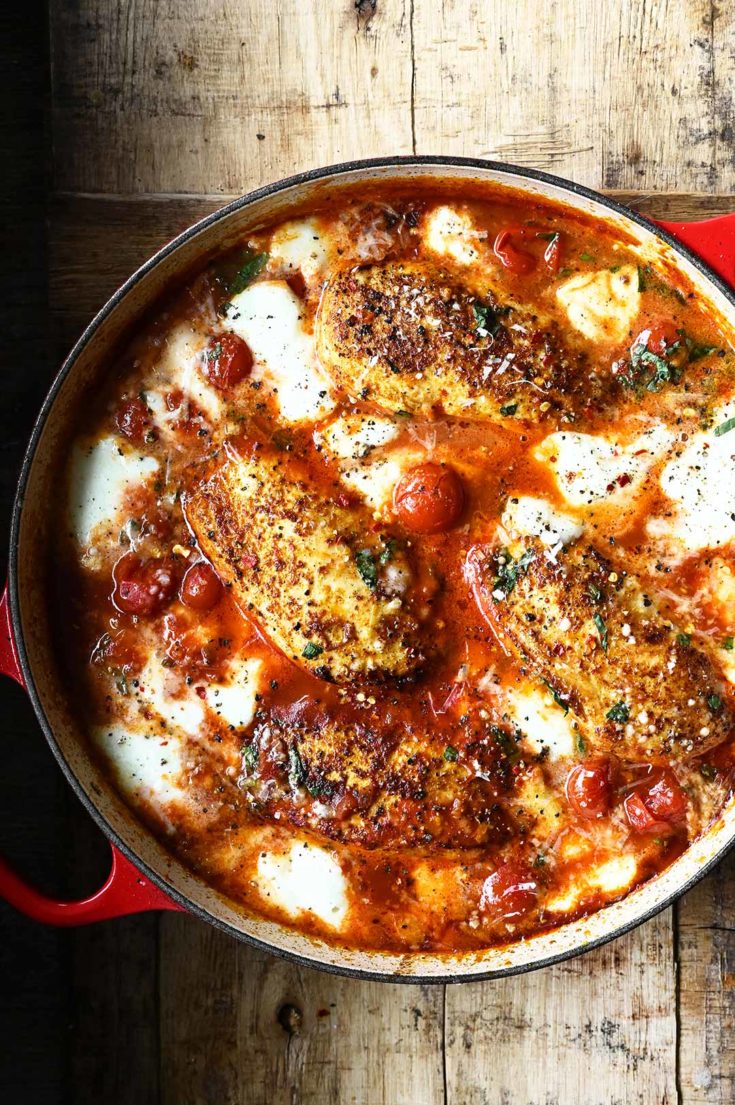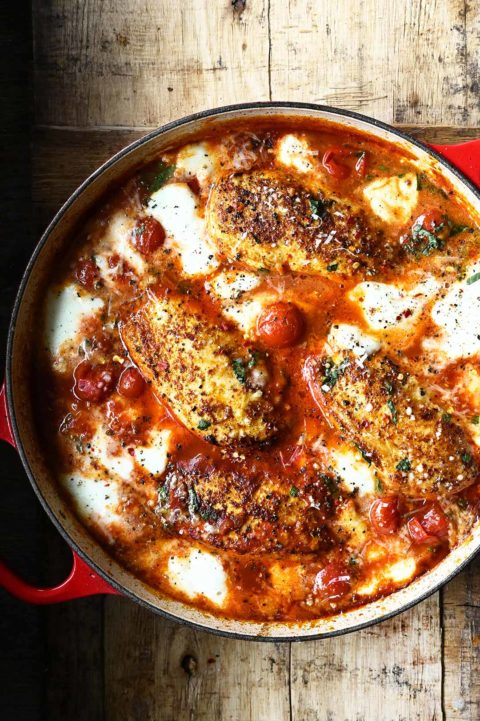 Creamy pesto chicken with bell peppers. A flavor-packed dish made in just one skillet. Imagine classic basil pesto with some garlicky flavors and lots of tender sautéed bell peppers in a fragrant cream sauce. An easy to make, delicious, family-friendly dinner… but perfect for date night too.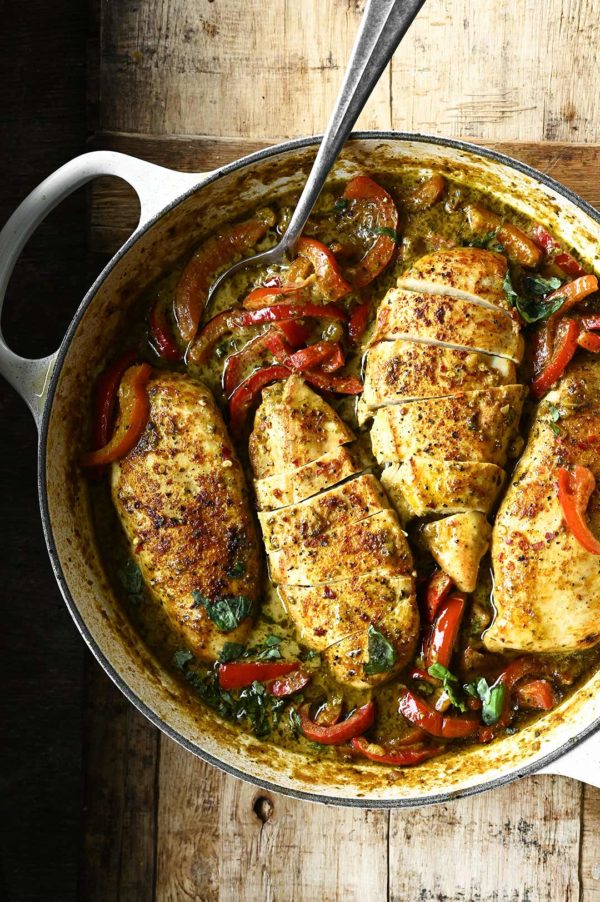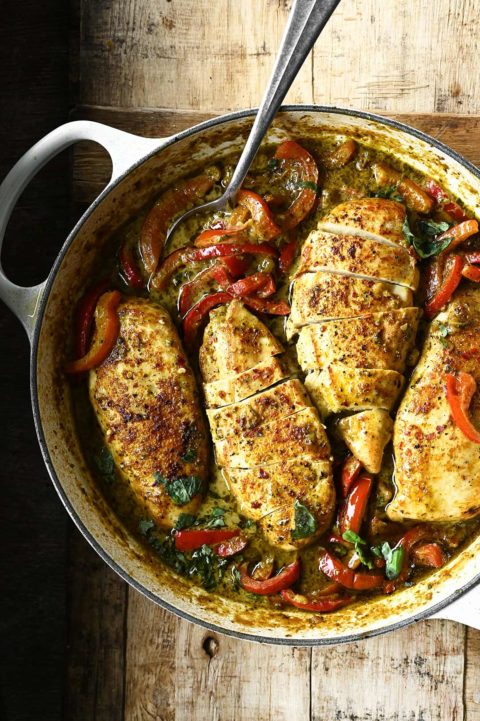 Beer braised chicken thighs. Crisp-skinned on the outside and tender underneath, simmered together with sautéed mushrooms in a rich, brown beer sauce that will have everyone coming back for more. Super delicious and very easy to make. Plus, it's made in one skillet. Serve with a lettuce salad and lots of crusty bread to mop up all of that tasty sauce.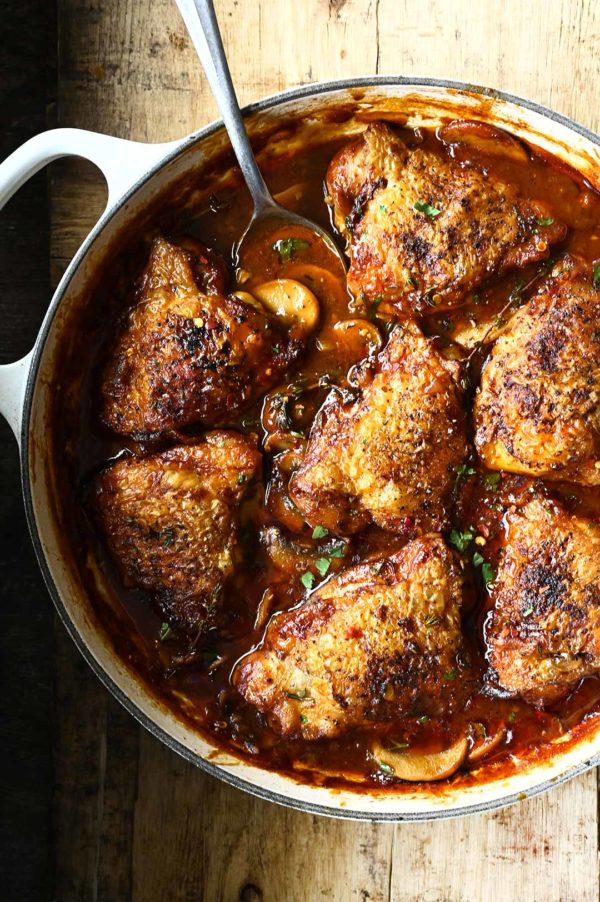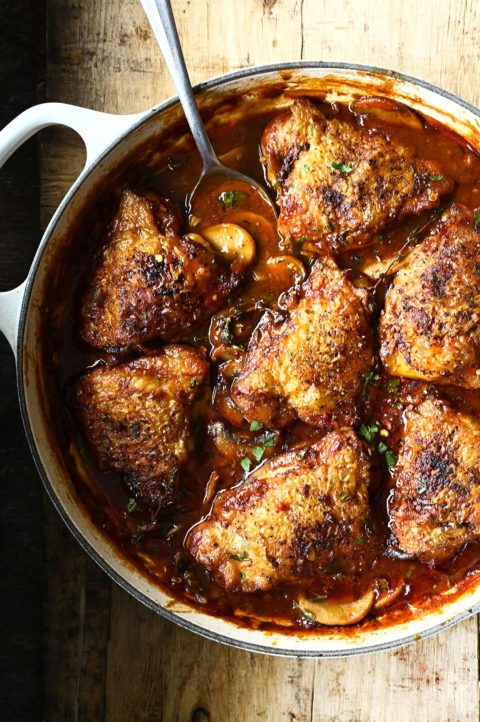 Chicken teriyaki pineapple bowls. Sticky, spicy and sweet. So delicious…and super easy to make. Juicy chicken with lots of garlic, sriracha, caramelized pineapple and delicate rice, all pulled together with teriyaki sauce. You'll keep coming back for more… promised!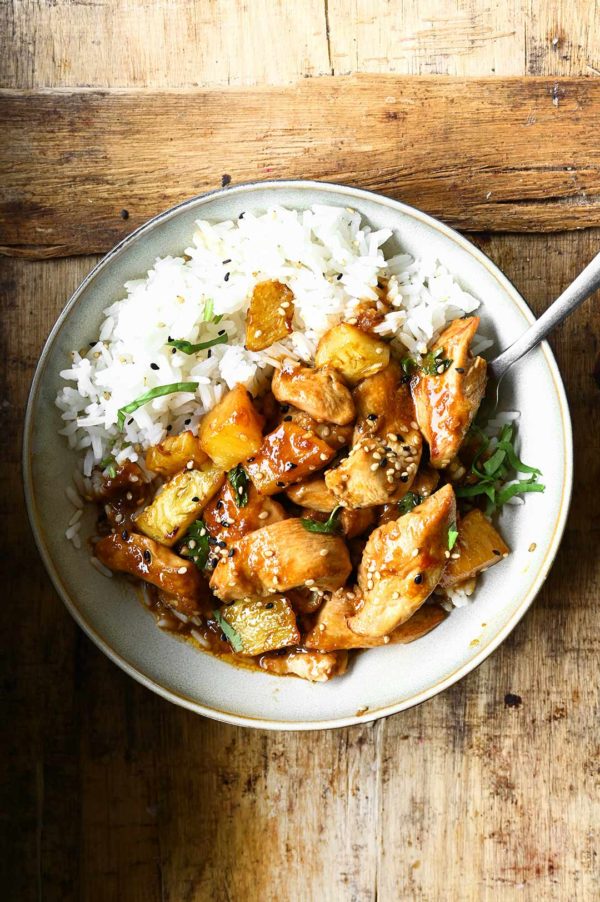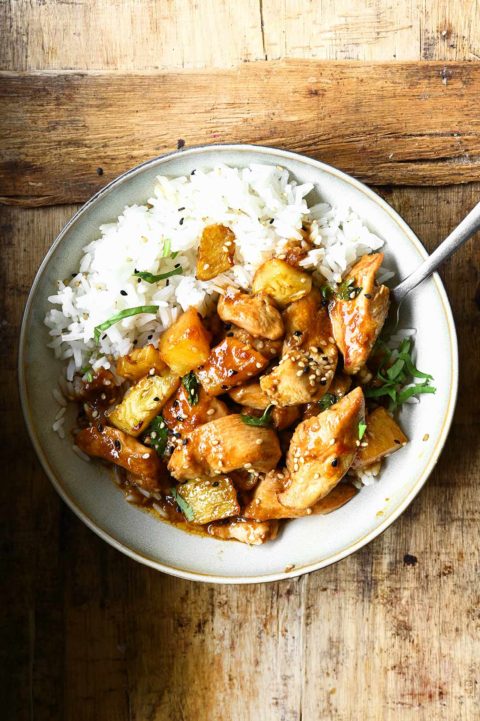 Chimichurri chicken. This delicious dish is literally bursting with flavor. Seasoned, tender chicken served with homemade chimichurri for an easy and vibrant dinner. It's a zesty fest and a feast for the senses. You'll love it!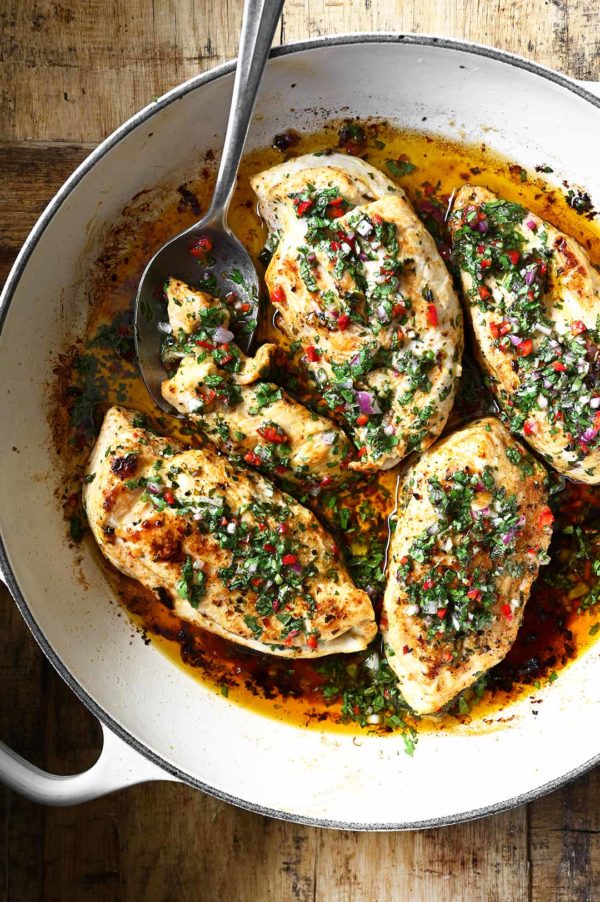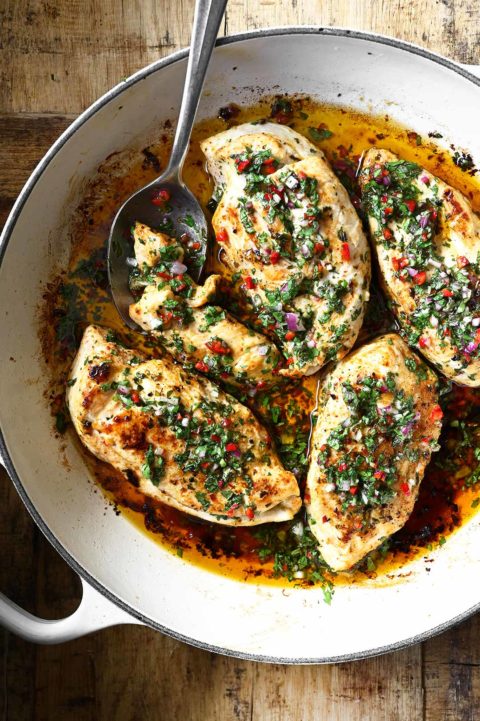 Creamy Tuscan chicken. Loaded with garlic, Parmesan, as well as sun-dried tomatoes and plenty of wilted spinach for a feel-good hit of green. But have you ever tried it with Cajun seasoning? So delicious! Plus, in 30 minutes you've got an easy, quick meal that everyone will enjoy.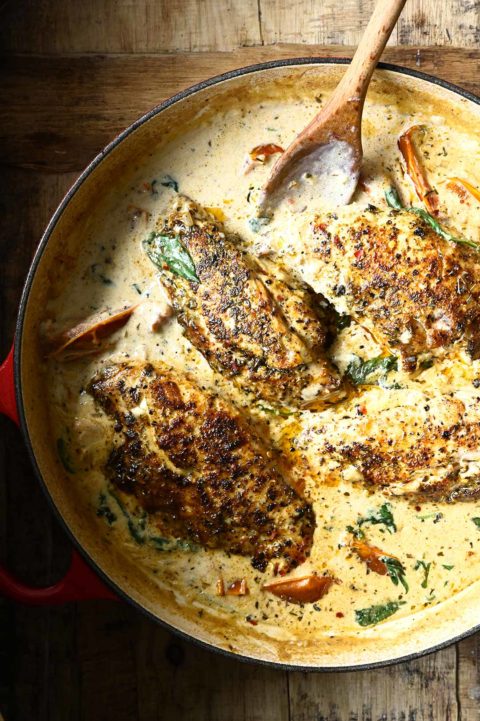 Greek chicken bowl with ranch tzatziki. Imagine juicy oregano chicken with tender bell pepper served bowl-style with rice for a delicious next-level weeknight dinner. Finished with crumbled feta and an ultra creamy tzatziki ranch dressing. It's simple, mouthwatering and ready in 25 minutes. Serve with warm pita bread and a crunchy salad.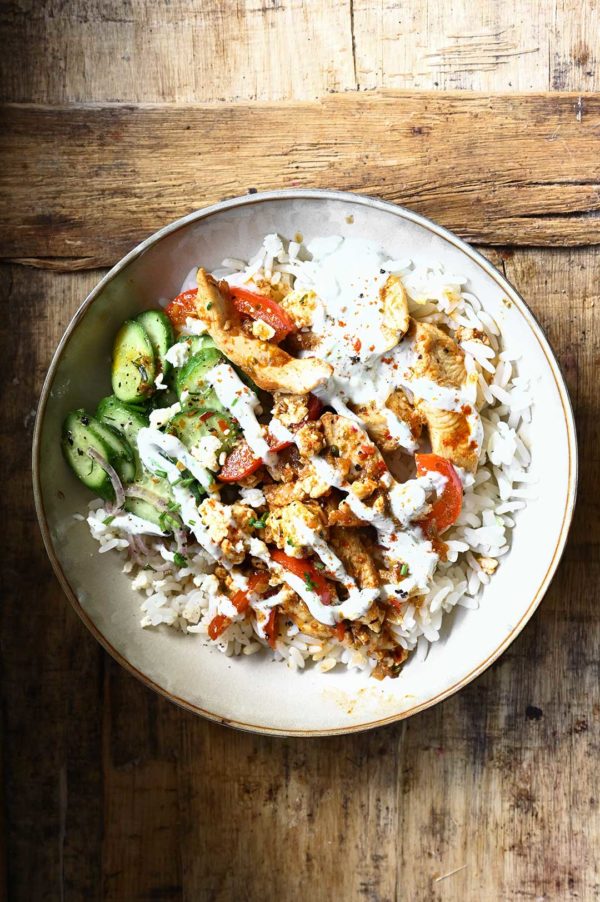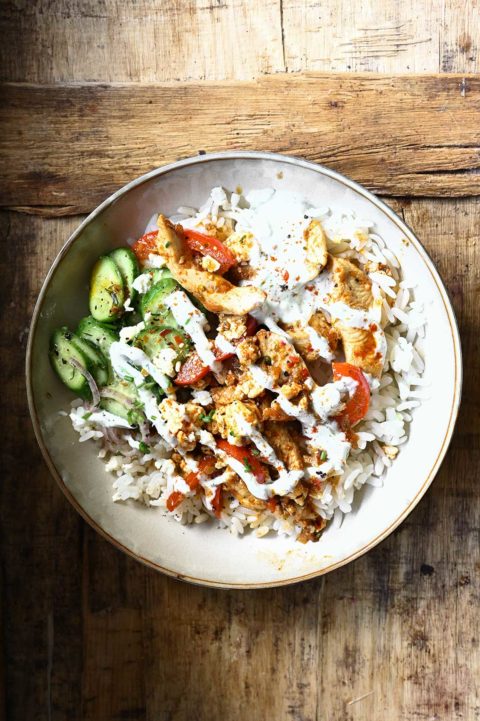 Thai chicken meatballs in peanut sauce. Tender, juicy meatballs simmered in a rich, ultra creamy peanut butter sauce enlivened with ginger, garlic and red curry paste. This easy weeknight dinner is loaded with sautéed bok choy and served over creamy coconut rice. Top with fresh cilantro and toasted peanuts for a crowd-pleasing dinner.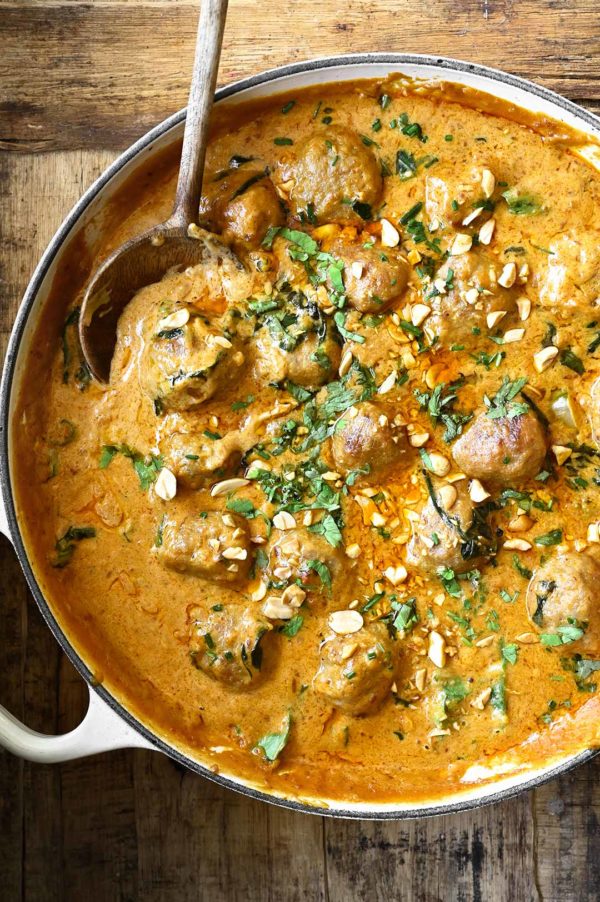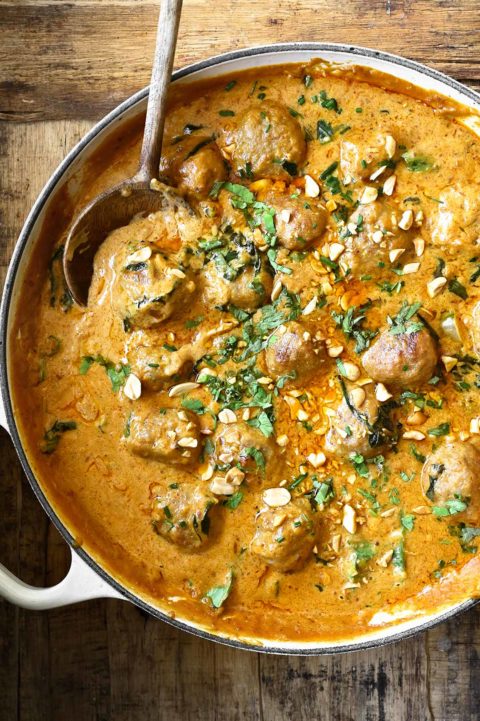 Chicken piccata is a delicious dinner idea that's super easy to make and ready in just 25 minutes. Juicy, flavorful chicken cutlets in a luxurious lemony sauce enriched with capers and white miso paste. The result is an absolute flavor festival that's rich, buttery and tart at the same time. What's not to love? Serve alongside your favorite pasta and don't forget that big fresh side salad.
Yellow coconut chicken curry packed with mushrooms and asparagus. It's super creamy, rich and surprisingly easy to make. Level the spice, scoop over a bed of steamy rice and let your curry dreams come true. Seriously, you'll want to mop up every last drop. Extra bonus? Ready in 30 minutes and made in one skillet.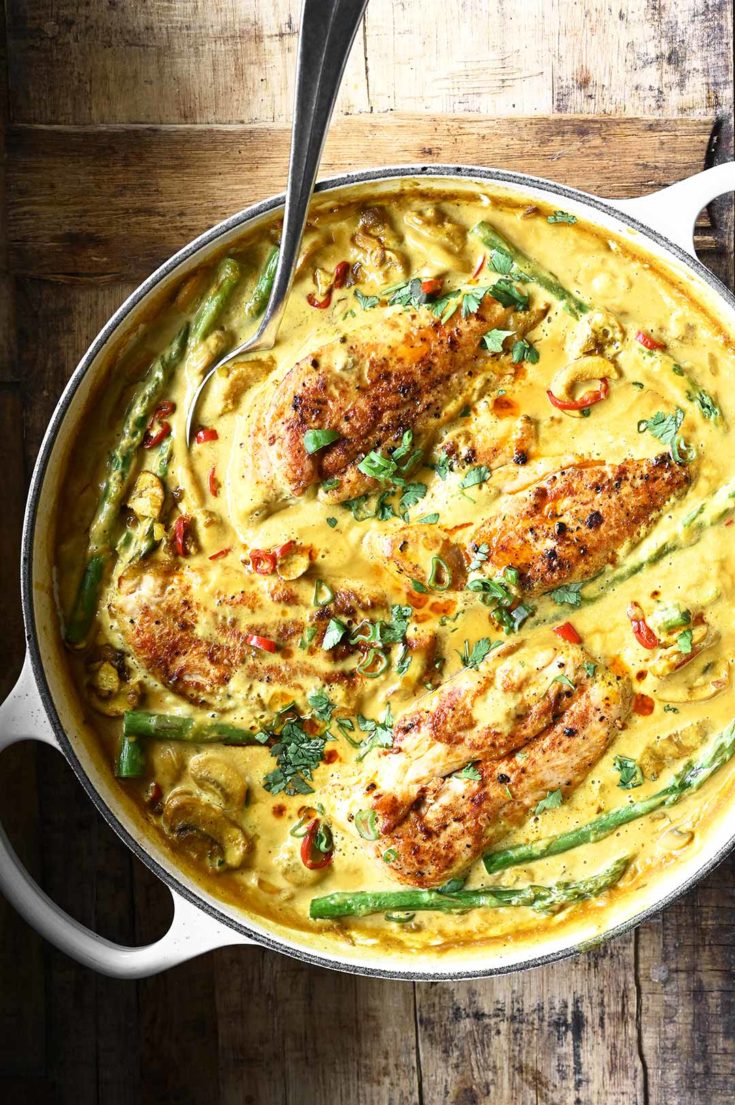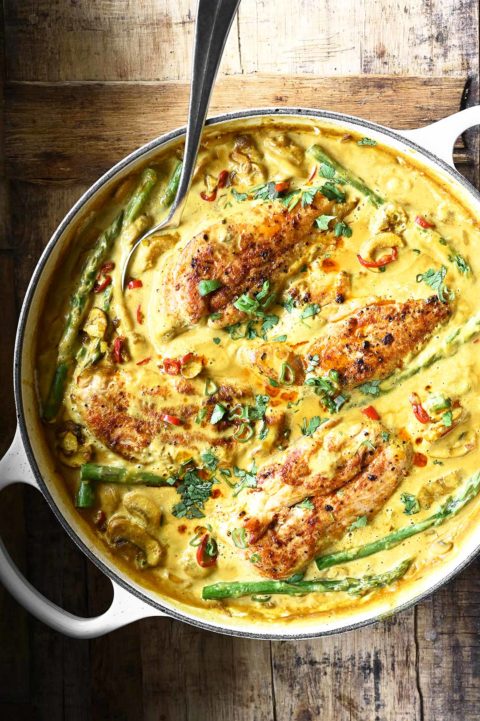 Firecracker chicken meatballs. Tender meatballs coated in a sticky sweet and spicy sauce make for an exciting weeknight dinner. Super delicious, full of flavor and easy to make. Plus, ready in just 30 minutes. Serve with steamed rice and a crunchy cucumber salad for a dinner that will rock your world.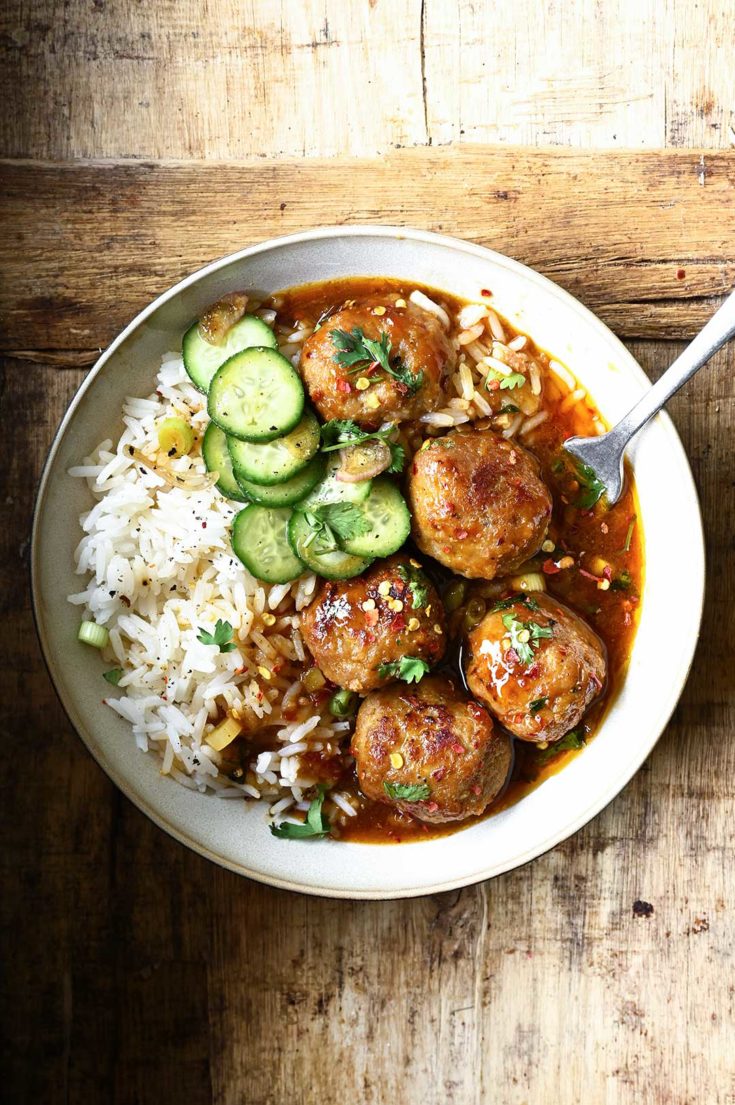 White chicken chili with cream cheese. This mildly spicy, weeknight-friendly white bean chili is as hearty, bright and comforting as it sounds. Imagine tender beans, juicy chicken and crispy corn kernels in a rich, ultra-creamy broth, layered with spices, a hint of lime and green chilis. Don't forget to sprinkle with plenty of punchy toppings and serve with some crusty bread.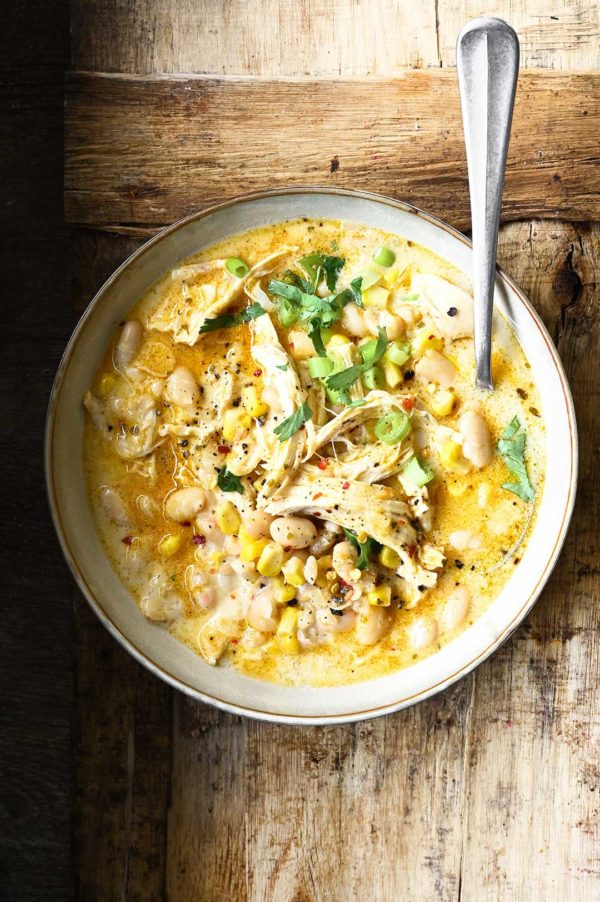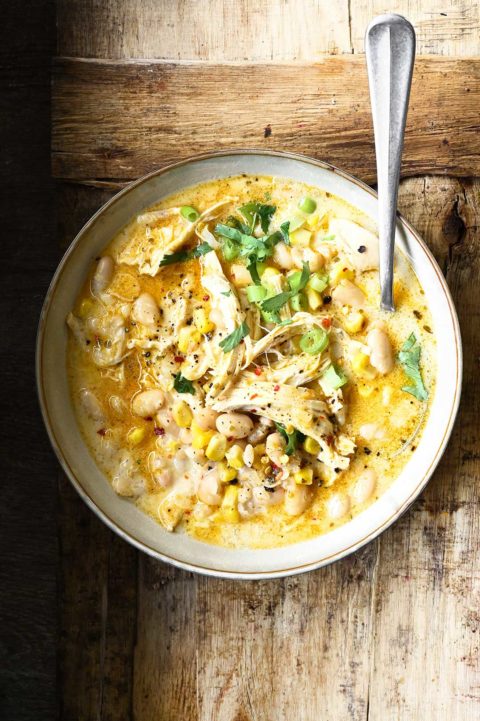 Creamy sun-dried tomato chicken pasta. Crisp-tender chicken in a most amazing creamy sauce with black peppercorn cream cheese. It's garlicky, super hearty and will totally rock your world. This 30-minute pasta dish is easy enough to throw together on any busy weeknight, yet impressive enough to wow your guests and become a go-to dish for special occasions.