My favorite 15 salmon recipes for tasty, no-stress weeknight meals.
There are so many reasons to love salmon, it's delicious and incredibly versatile. It also cooks in minutes, making it the perfect choice for busy weeknights or to wow everyone at your next dinner party. Whether you prefer the never-fail Thai salmon curry, a quick pasta, a knock-out appetizer or an easy pan-fried salmon, you'll probably find your new favorite in the list below. Seared, roasted or crudo, these salmon dishes offer tons of ways to prepare this flavorful fish and have you covered the year round, there's something for everyone. Enjoy!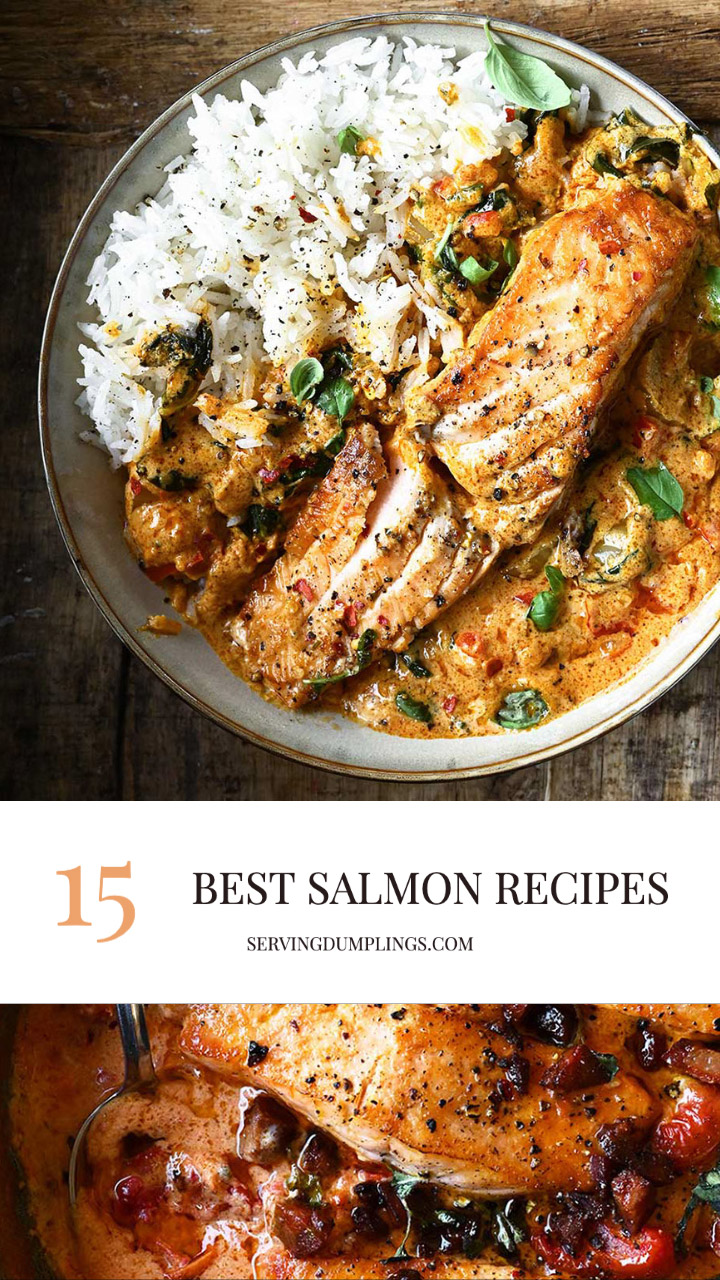 One-pan creamy tomato salmon with chorizo. In this recipe, the salmon is pan seared for a crispy exterior, then cooked in a delicious creamy tomato sauce and sprinkled with crunchy chorizo. So comforting and super easy to make! This 30-minute dish is the perfect solution for an easy dinner. It's hearty and begs to be served with crusty bread or a side salad. What's even better is that it comes together in one single skillet.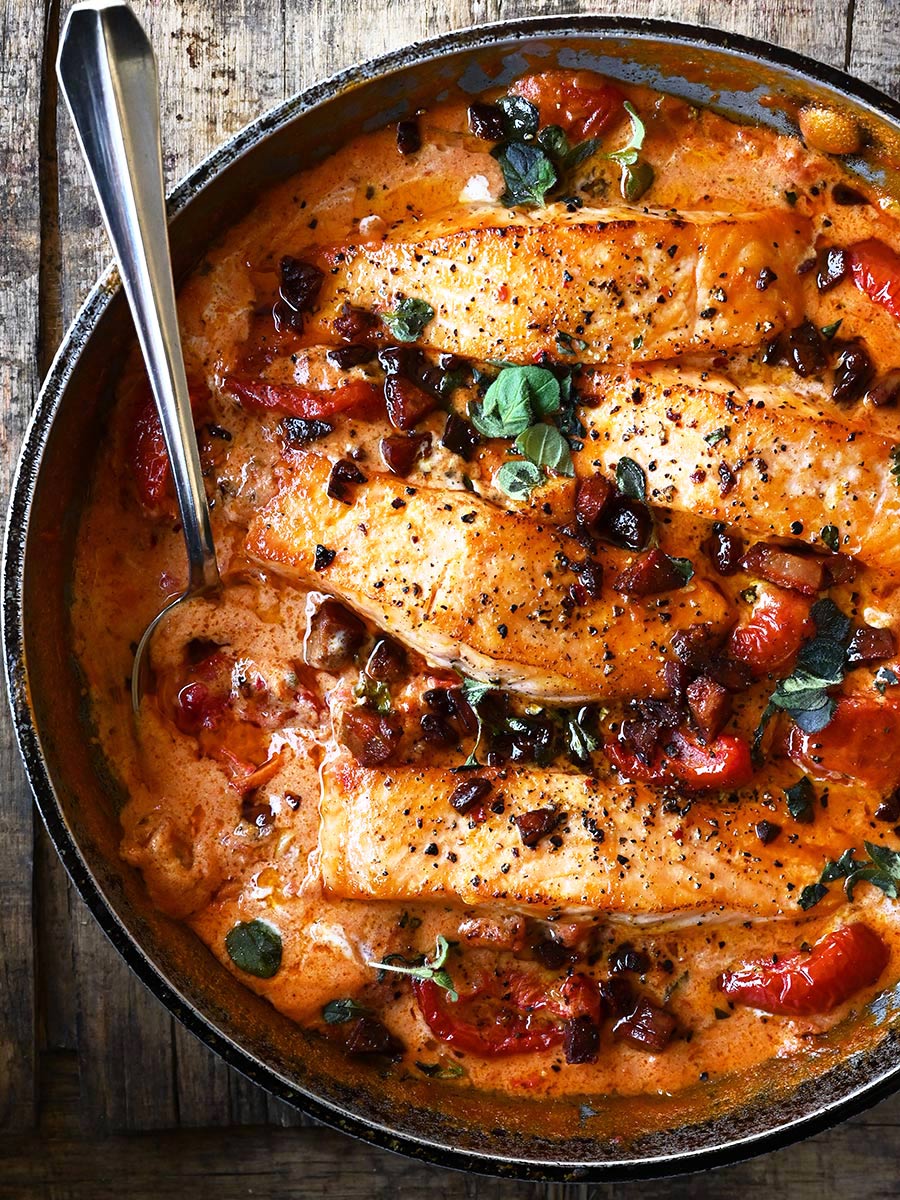 This one-pan Thai coconut salmon curry is not only a show-stopper to look at, it's also seriously delicious, easy to make and ready in 30 minutes.
Crispy seared salmon simmered in a rich, slightly spicy, creamy coconut sauce. Loaded with veggies and sprinkled with some fresh basil. You'll love it.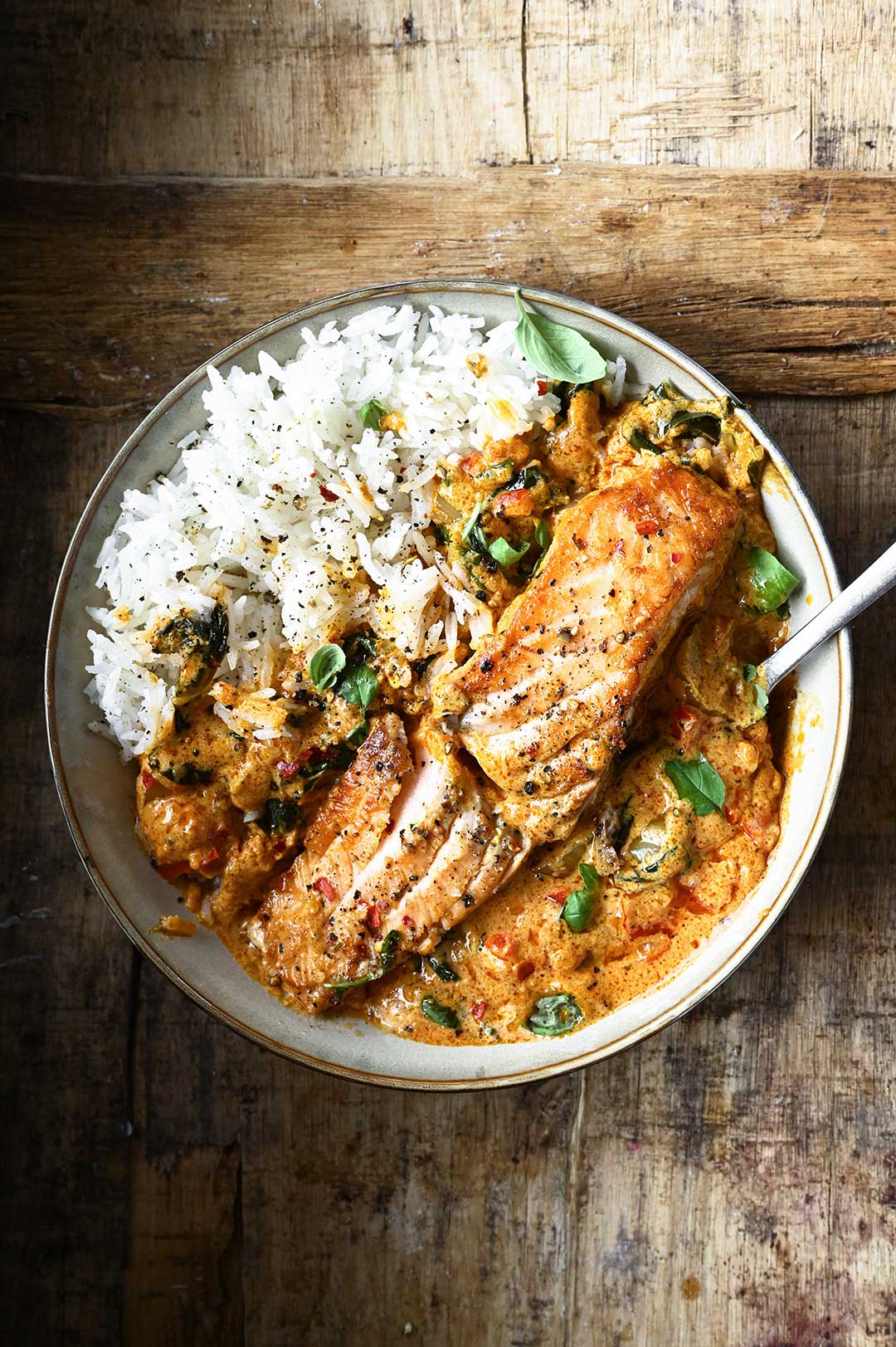 Creamy pasta with salmon, bacon and sun-dried tomatoes. Impressive, yet a quick and easy dinner made in 25 minutes. Pan-seared flaky salmon combined with penne and salty bacon in a flavorful creamy tomato sauce. The result is an effortlessly show stopping dinner that bursts with flavor in every bite. Top with crunchy breadcrumbs, add a simple green salad and enjoy. It's just the fancy-feeling, delicious pasta dinner you might need.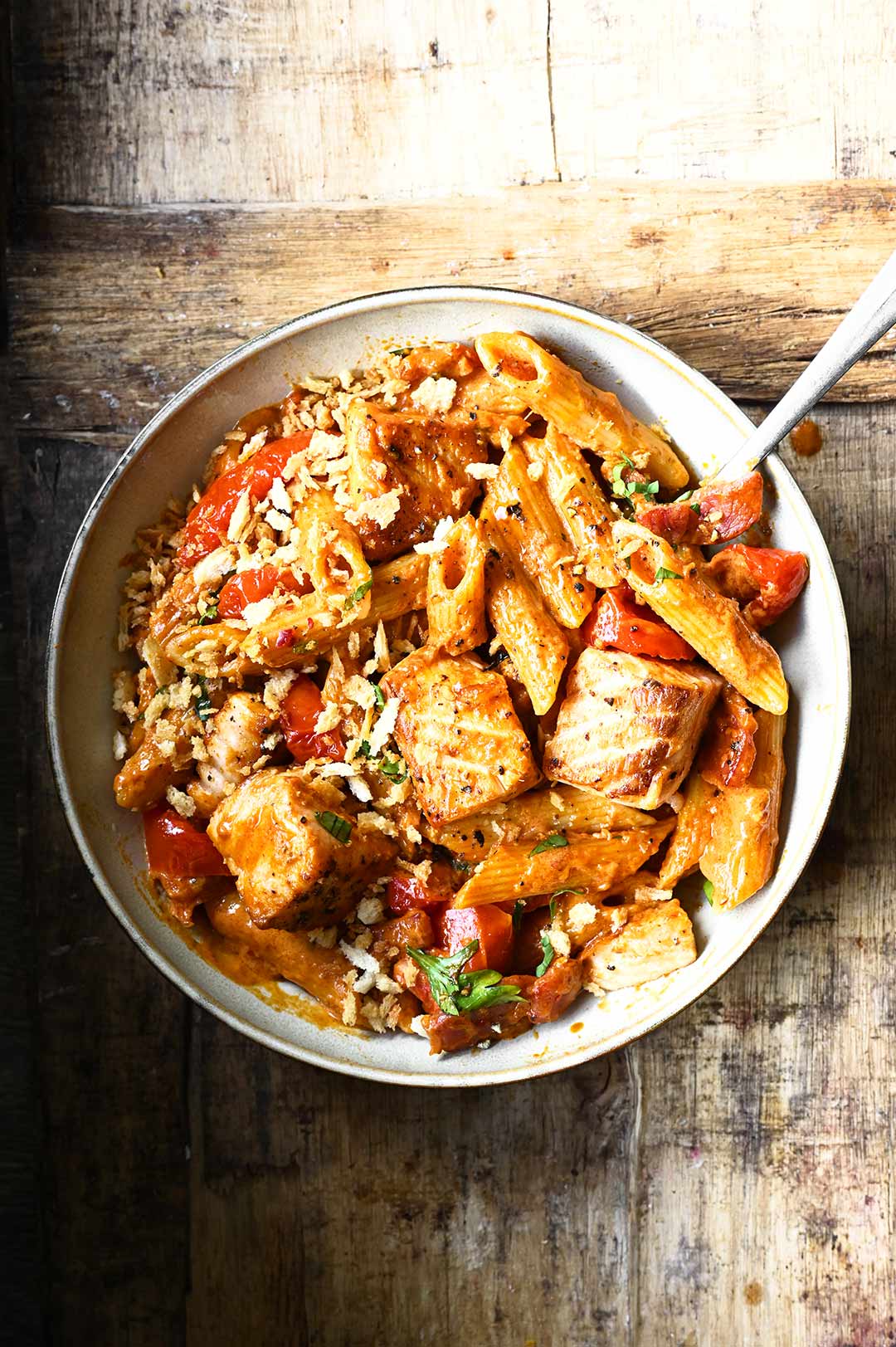 Salmon with shrimp in a miso coconut sauce. This recipe will satisfy your comfort food cravings with its brothy miso coconut sauce. It's light, delicate, comes together in less than 30 minutes and we cook everything in only one pan. An amazingly delicious dish with just the right amount of spiciness. Try it and you won't regret it.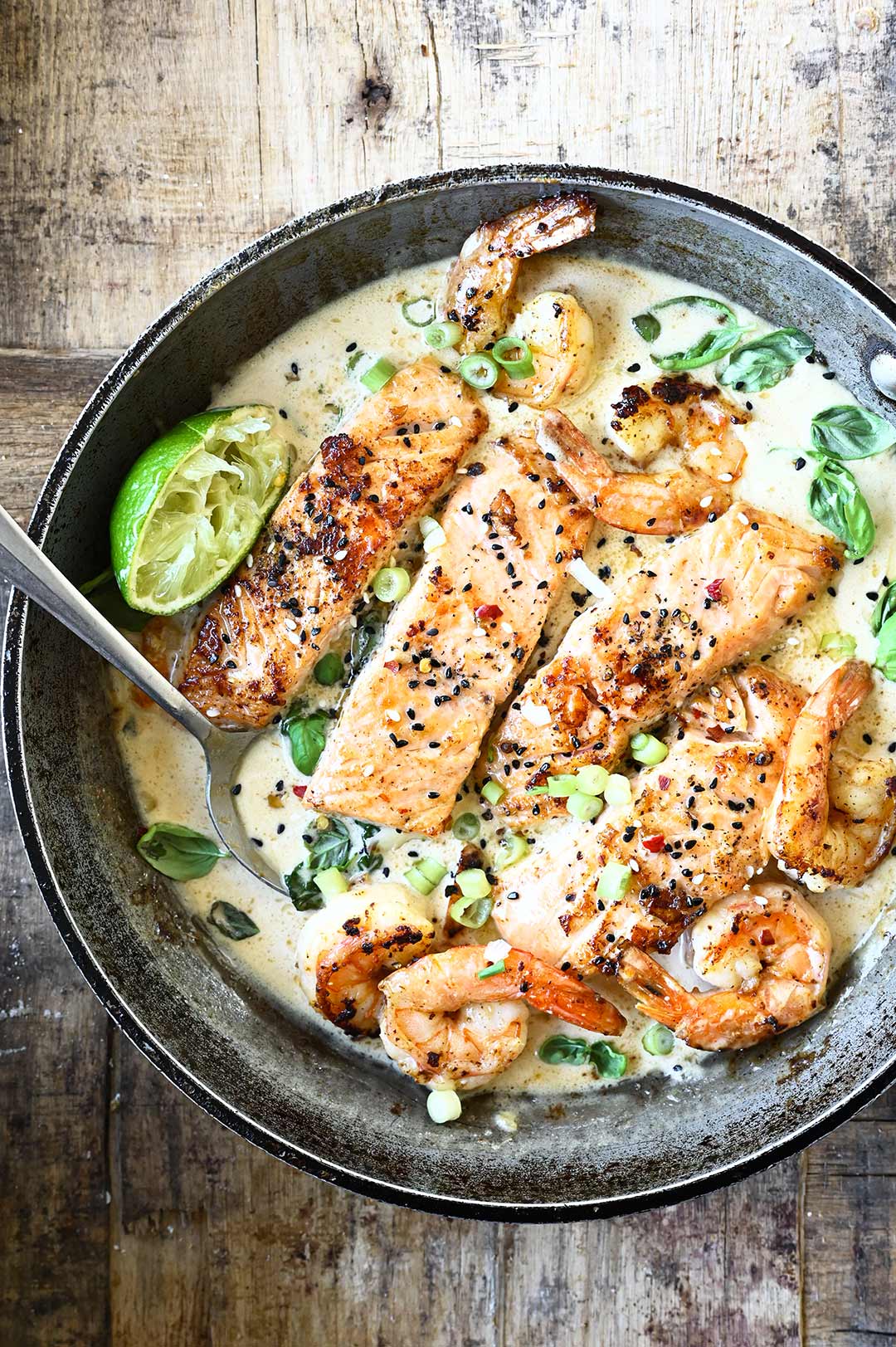 This one-pan creamy salmon is as simple as it is satisfying. An ultra creamy mascarpone sauce made with copious amounts of garlic, sun-dried tomatoes and roasted bell peppers, coupled with pan-seared salmon and jazzed up with parmesan, lemon and basil. It's tasty, especially with a sprinkle of almonds and chives on top. Super easy, yet seriously delicious. Best served with some type of crusty bread, because that sauce is to die for.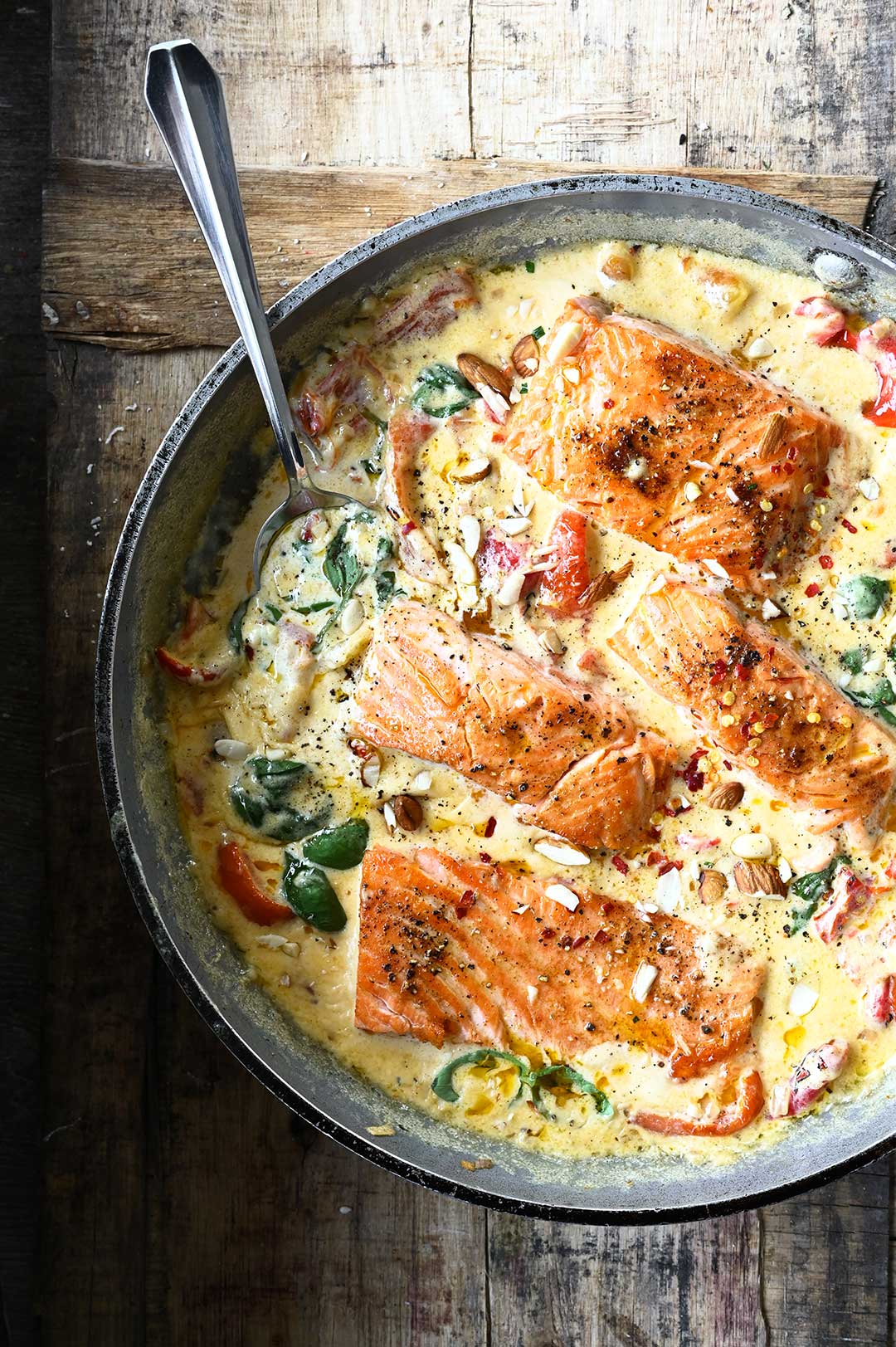 This miso salmon sashimi isn't only big on flavor and irresistible, it's also foolproof and ready in about 15 minutes. A great appetizer or a snack to enjoy on a warm summer evening. Or served it over sushi rice for a quick lunch. Yup! So versatile, only one recipe but lots of ways to combine, double win!
Thinly sliced salmon, miso soy dressing, lemon juice, capers and fresh cucumber. Together, they make a perfect balance of the mild, acidic and salty flavors.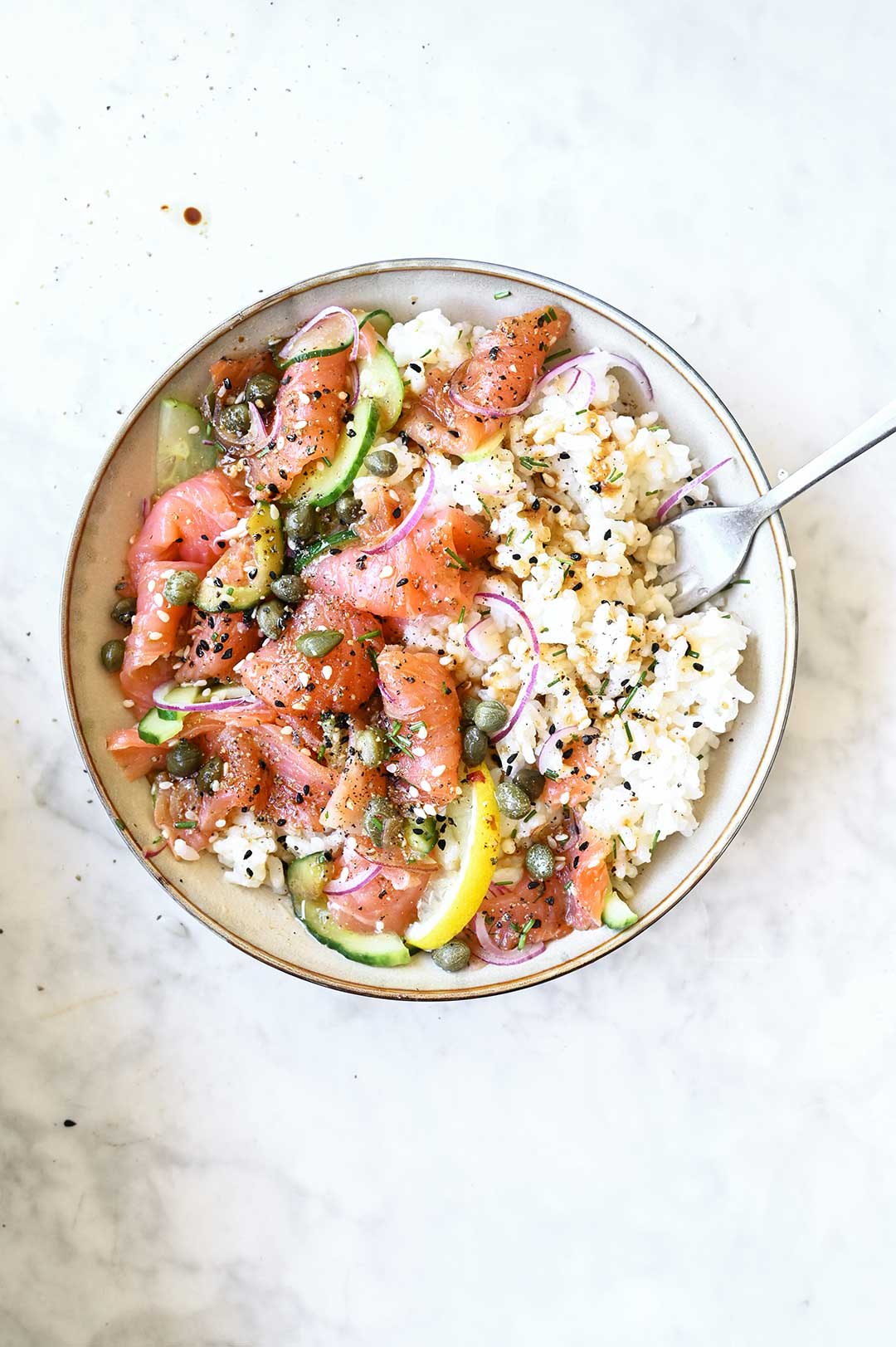 30 minute easy butter salmon curry. This one-pan dish has tons of flavor and a variety of spices and textures. Crispy seared salmon simmered in a rich, slightly spicy, creamy tomato sauce.
It's funky, easy to make and seriously delicious, especially when topped with fresh cilantro and toasted cashews for a bit of crunch. Serve with jasmine rice or naan. This creamy dish is great for any weeknight. You'll love it.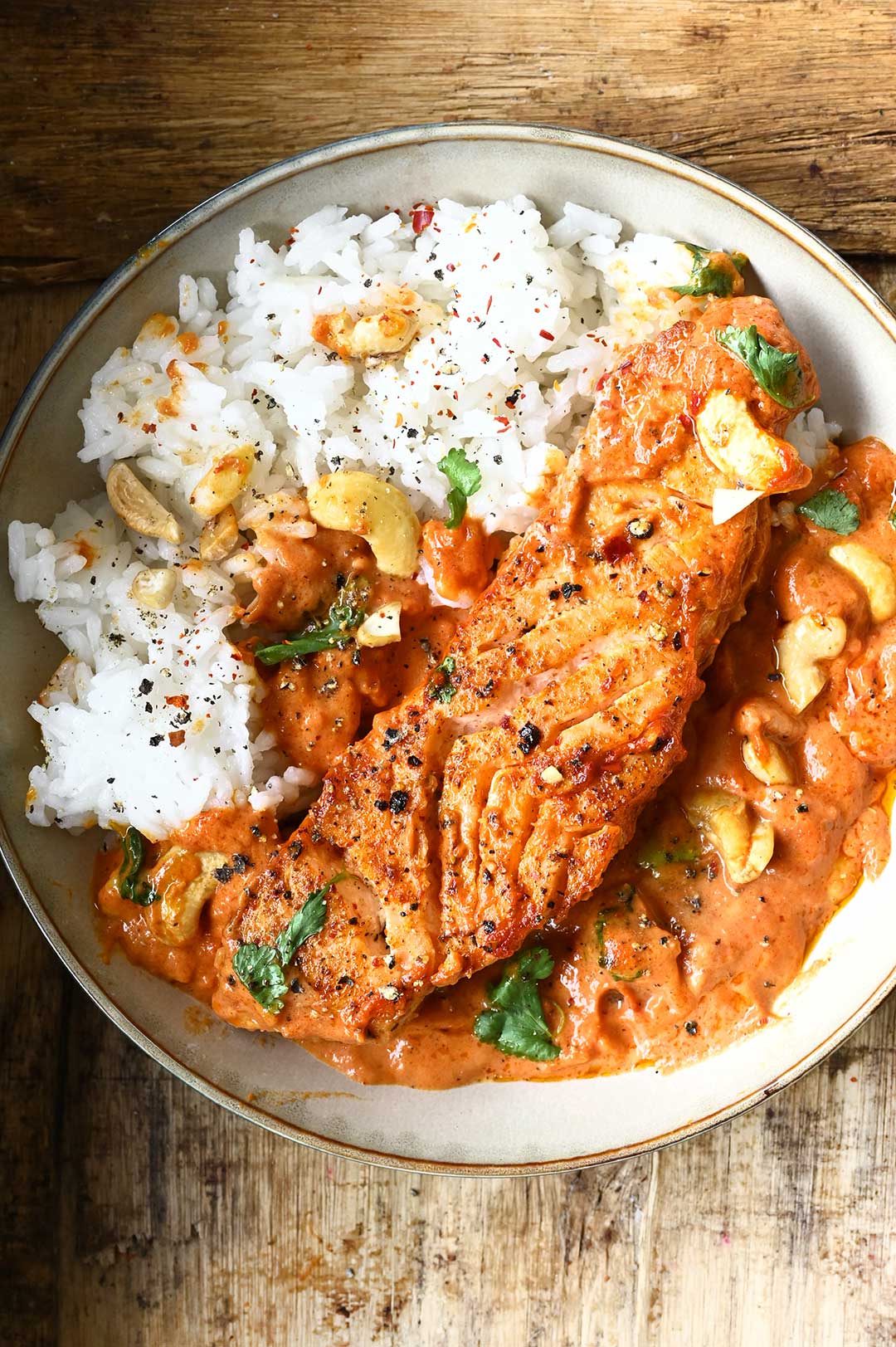 One-skillet salmon all'Arrabbiata. The recipe combines the beloved arrabbiata sauce with pan-seared salmon. This version has all of the traditional essentials as well as some additions, including salty anchovies and plenty of wilted spinach for a feel-good hit of green. So delicious. Plus, it's ready in about 30 minutes.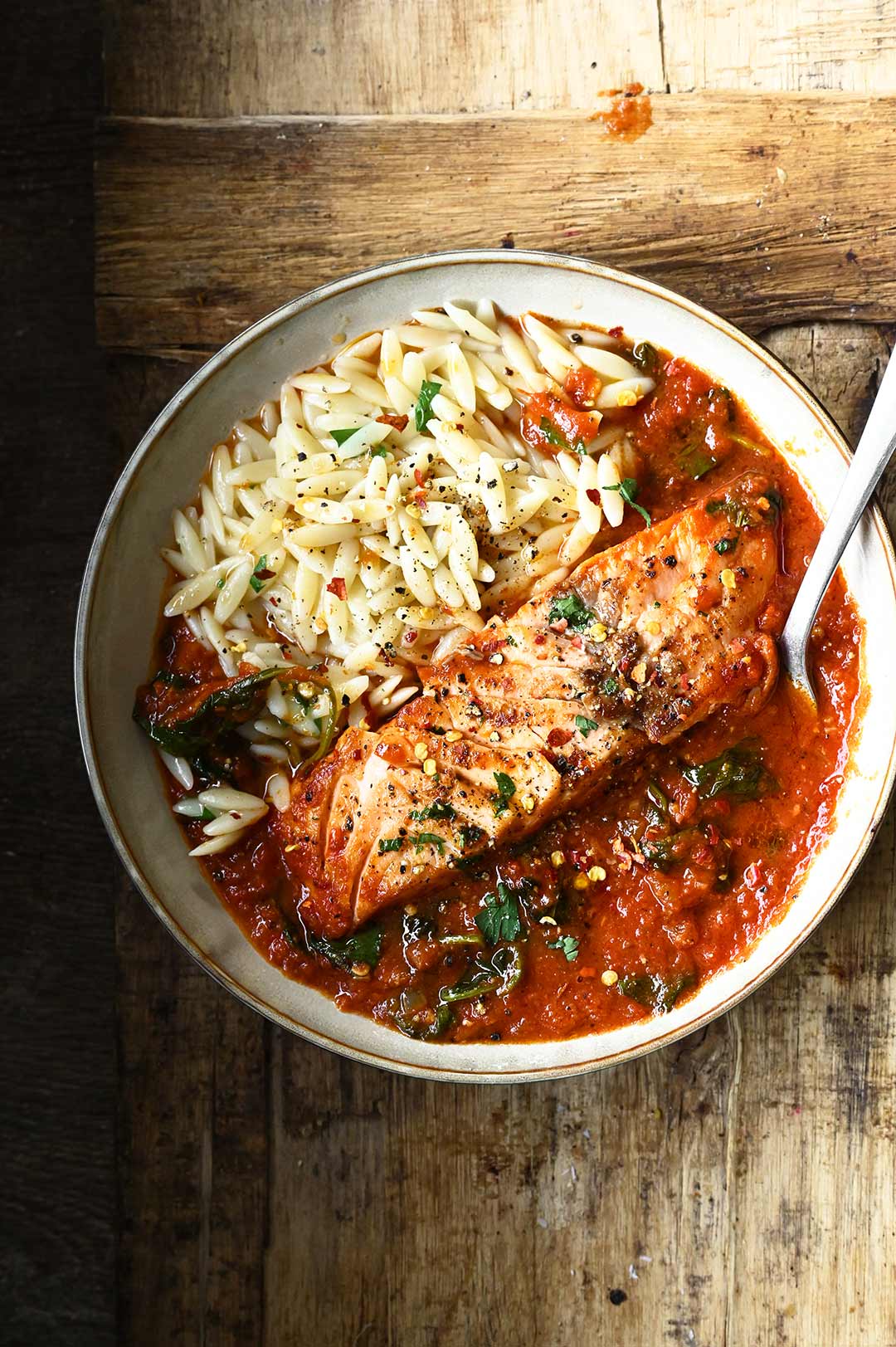 Smoked salmon and bell pepper spaghetti. Salty smoked salmon, sautéed red bell peppers and cherry tomatoes tossed with creamy mascarpone and perfectly al dente spaghetti. This salmon pasta is nothing short of luxurious and surprisingly delicious. A 30 minute one-bowl dinner you and everyone at your table will love.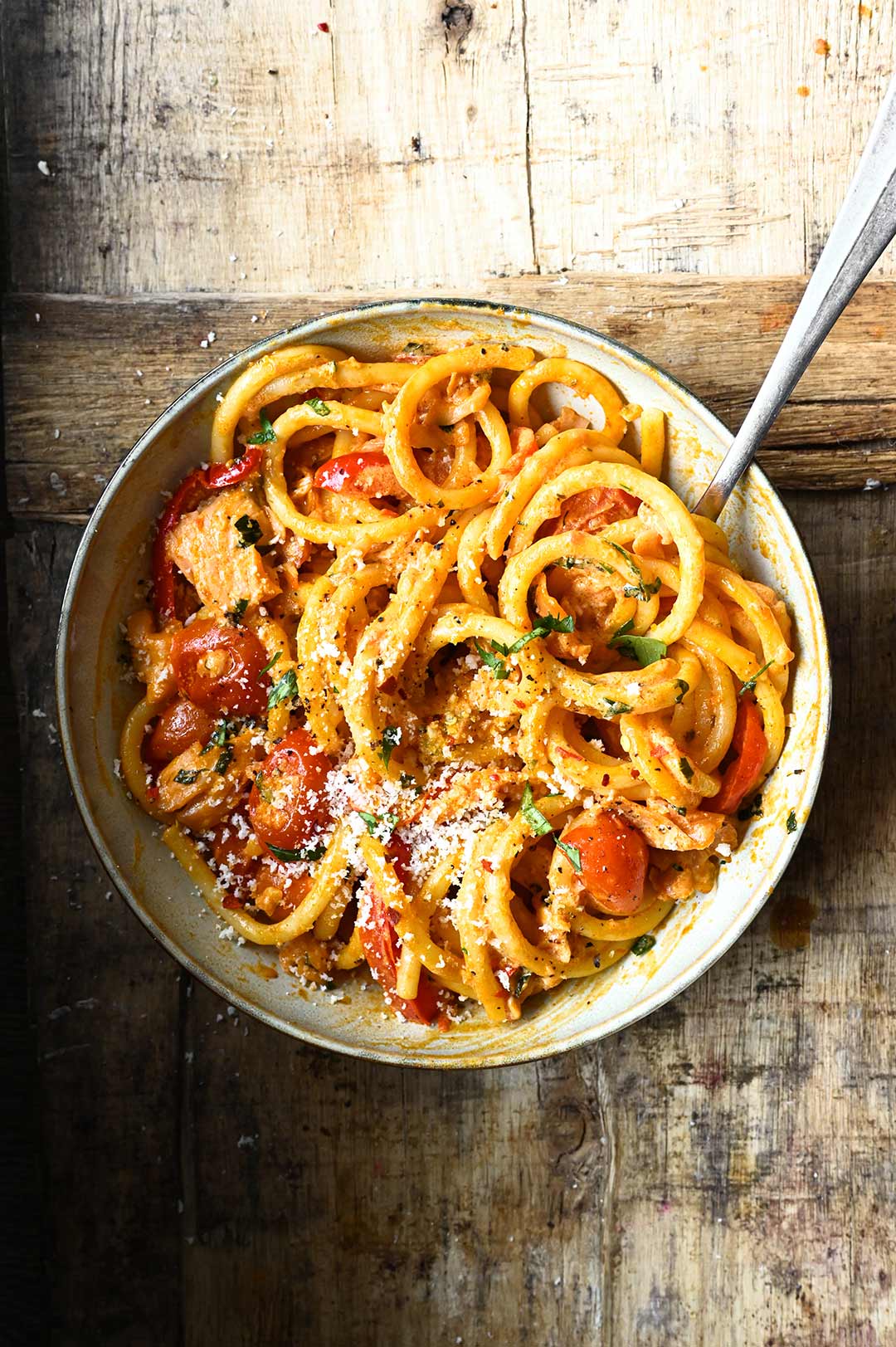 This creamy cajun pepper salmon is an incredibly delicious, easy 30 minute meal. Pan seared salmon and sautéed bell peppers simmered in a lush, creamy and absolutely irresistible garlic-kissed Cajun sauce. It's a comforting dinner that you can serve over pasta, rice, mashed potatoes, or on its own with some crusty bread for some major dipping. Pure joy, you'll love it!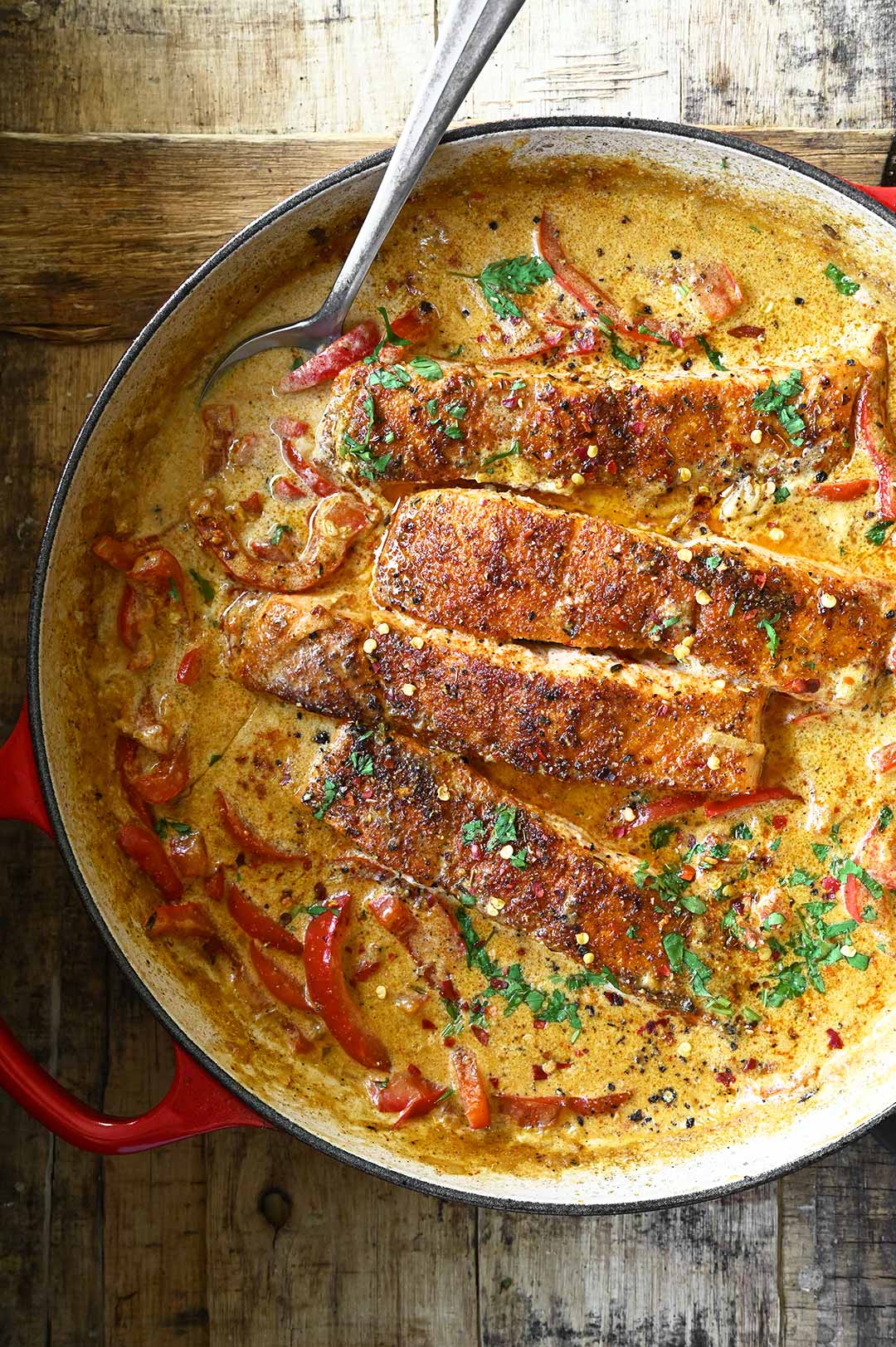 Cajun honey garlic butter salmon. This 15 minute recipe combines sweet and spicy flavors. The pan-seared salmon is simmered in a can't-stop-eating-delicious garlic butter that bursts with flavor. It's easy to pull off on a busy weeknight, but taking it a tiny step further with some Cajun spices and hot honey makes it fancy enough to serve at a dinner party.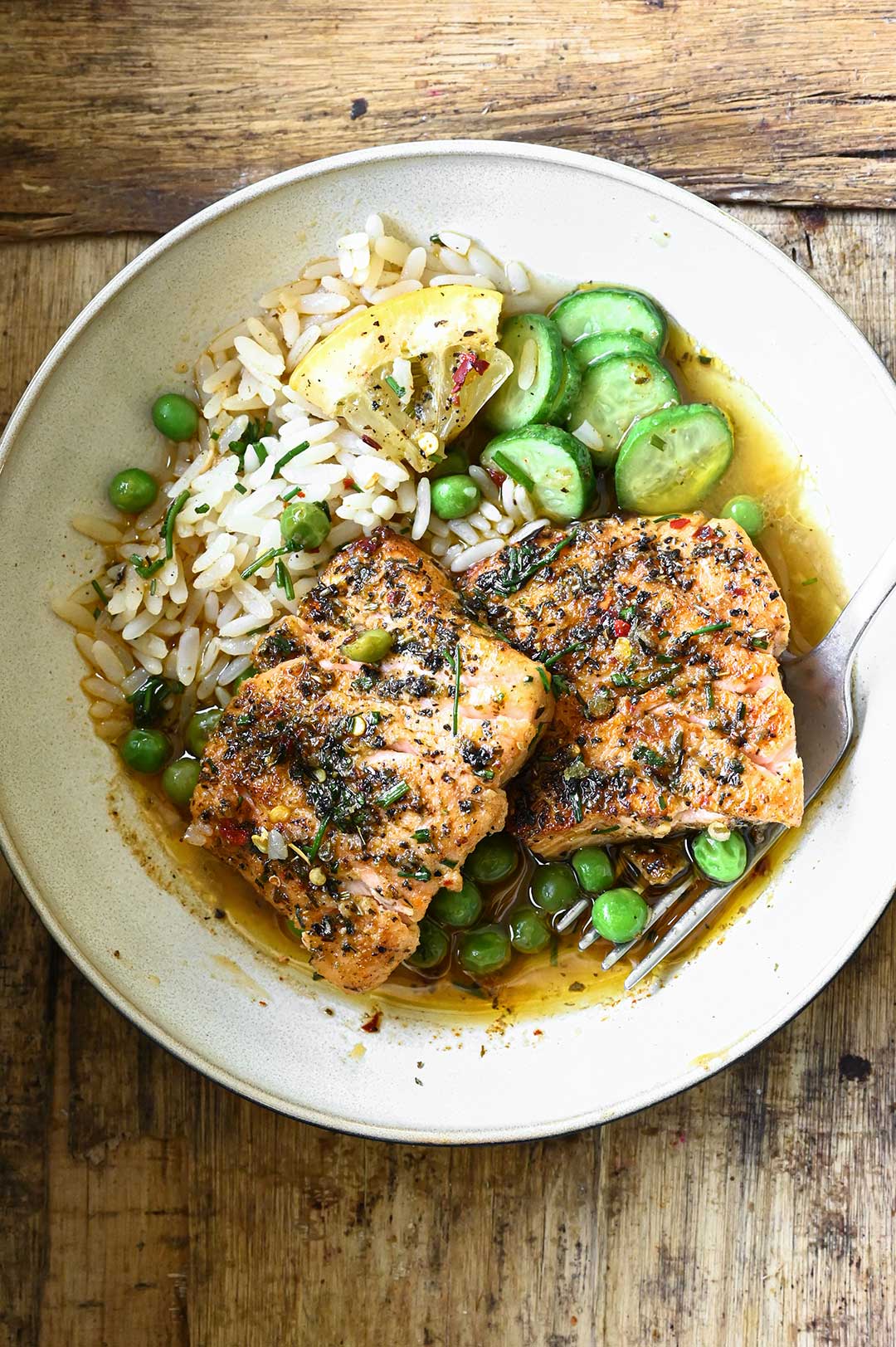 Spicy moroccan-style salmon with pistachio couscous. Flaky, pan-fried salmon fillets with green olives and lemon, served in a fragrant tomato sauce. It's bright, fresh, delicious and ready in less than 30 minutes. A flavorful one-skillet dish that pairs perfectly with pearl couscous, rice or some crusty bread to mop up every last bit of this saucy goodness.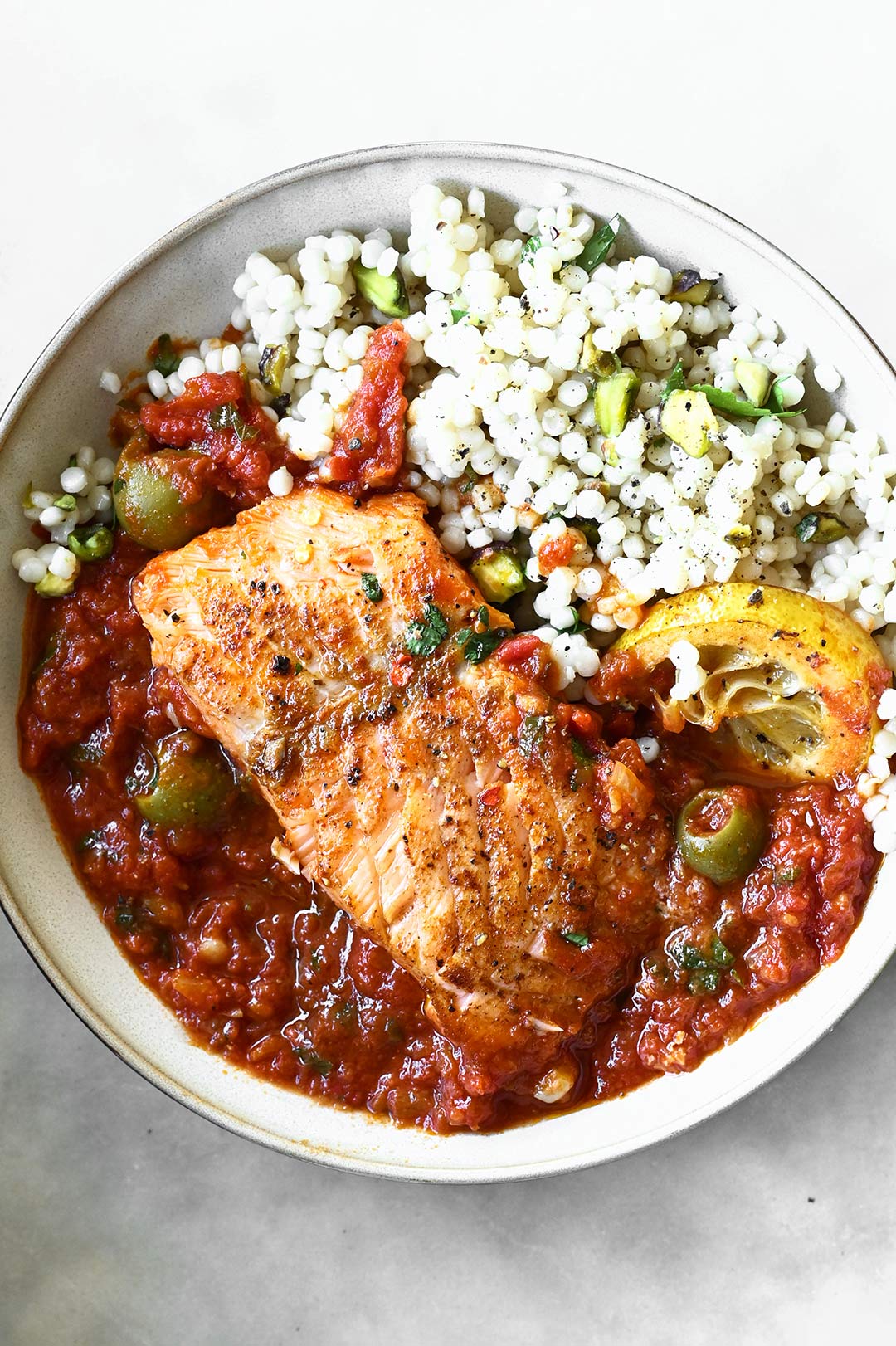 A quick salmon crudo with soy-sesame dressing. Tender fresh slices of salmon bathing in a slightly spicy dressing with citrus notes, a touch of garlic and some fresh ginger make this dish hit all the right notes. A perfect balance of bright, punchy, and downright delicious flavors.
Just add some shallots and you'll have a perfect appetizer with a luxurious texture and fragrance. This one will wow your dinner guests. What's even better? It takes only 10 minutes to throw together. Oh, and did I mention there is no cooking involved!?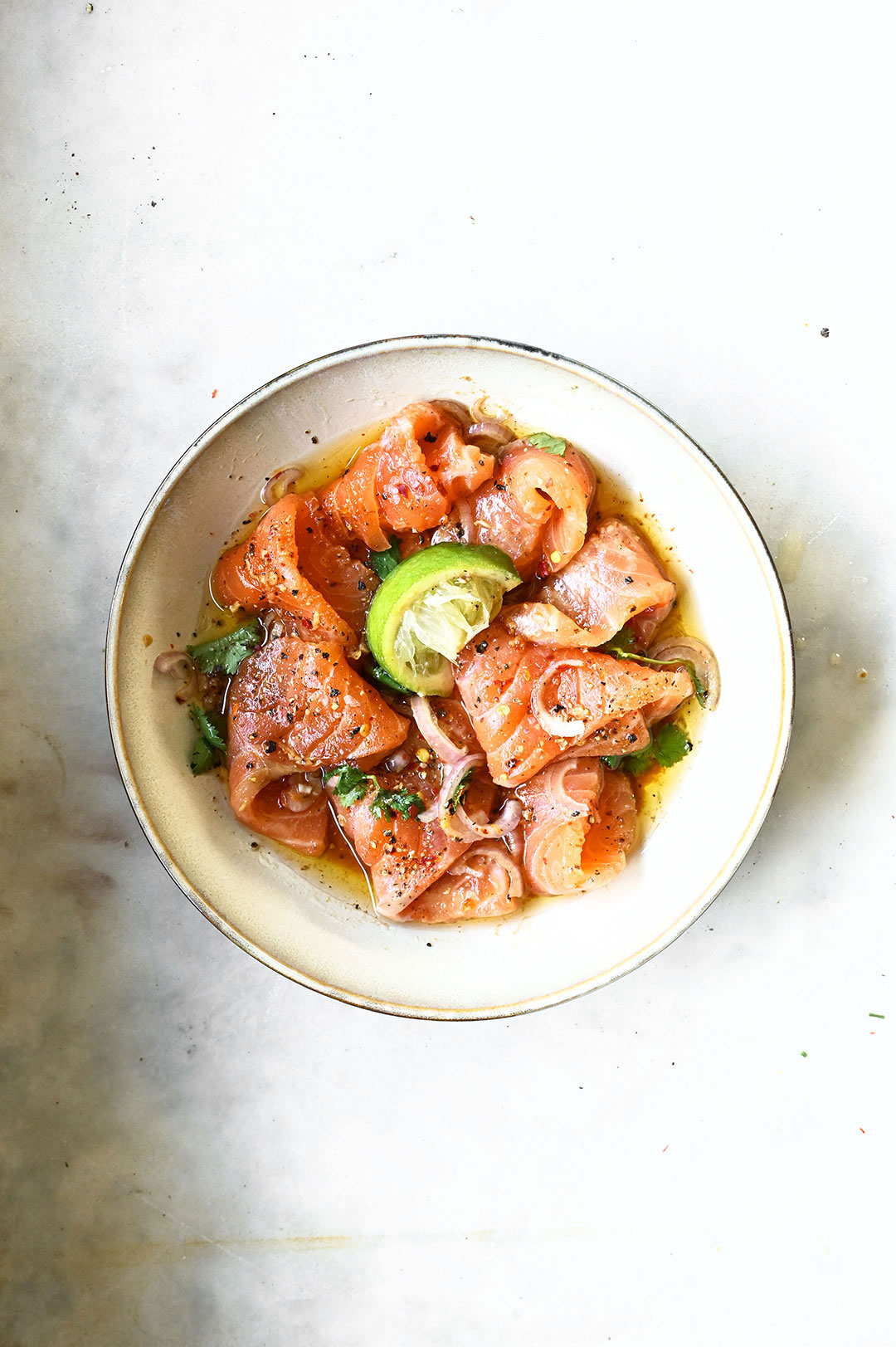 Pasta with mascarpone, smoked salmon, sun-dried tomatoes and garlic sautéed spinach. Super easy, creamy and a true flavor bomb. This pasta can be prepared as a quick weeknight dinner or served at a fancy dinner party.⁠ Bonus? The entire dish takes about 15 minutes to throw together.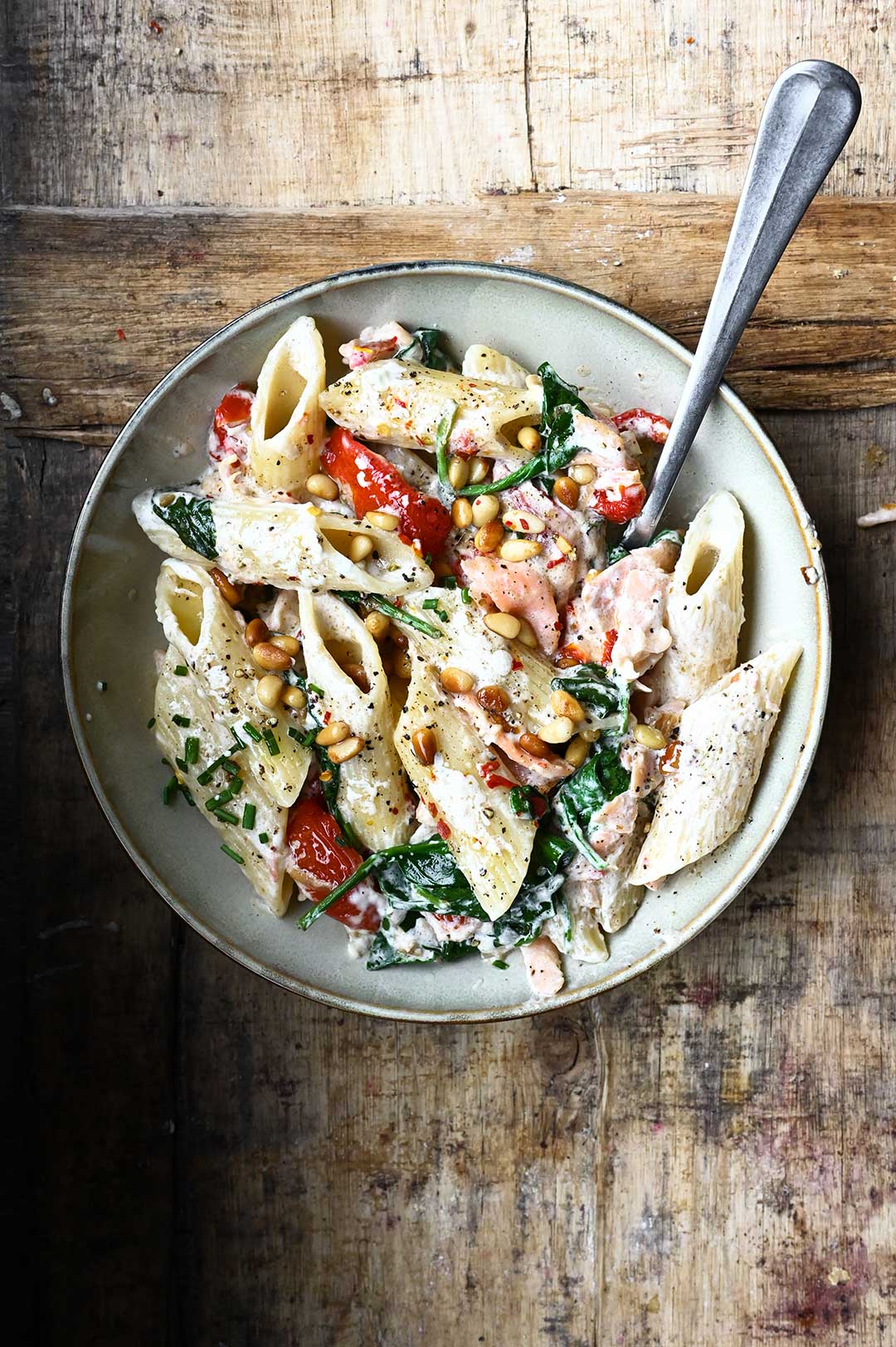 Do you want to impress your next dinner guests or are you looking for a quick and healthy dish that comes together in 20 minutes? Then this roasted salmon is going to be your dream dinner.