A collection of my best meatball recipes for tasty, no-stress weeknight dinners.
Those bite-sized little pillows might be the ultimate comfort food. They also cook pretty quick, making them the perfect choice for busy weeknights or to wow everyone at your dinner table.
Somehow, the idea to make little balls of ground meat has found its way into diverse cultures around the world. That's why you'll find endless possibilities in this post, from the classic spaghetti with meatballs you grew up with, funky chicken meatballs to satisfy even the pickiest taste buds, one-pot wonders for busy nights, to spicy Thai-inspired meatballs or cozy soups for the whole family.
There's something for everyone. Enjoy!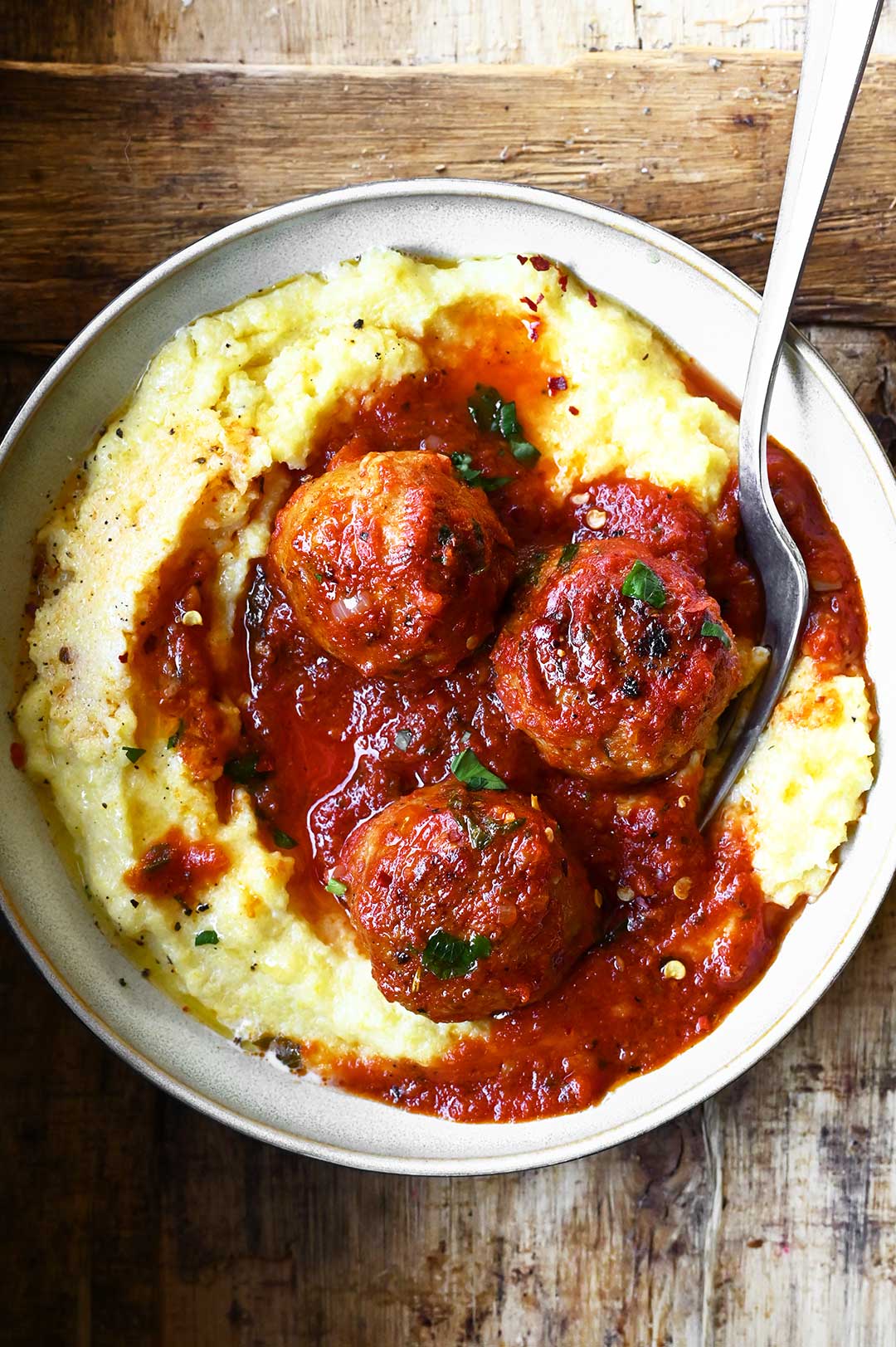 Chicken meatballs all'arrabbiata with Parmesan polenta. It's the best combo! Fancy looking, super delicious and easy to throw together. Imagine pan-seared tender chicken meatballs, spicy arrabbiata sauce and a creamy pile of hot polenta. Great for simple family dinners any night of the week.
GO TO RECIPE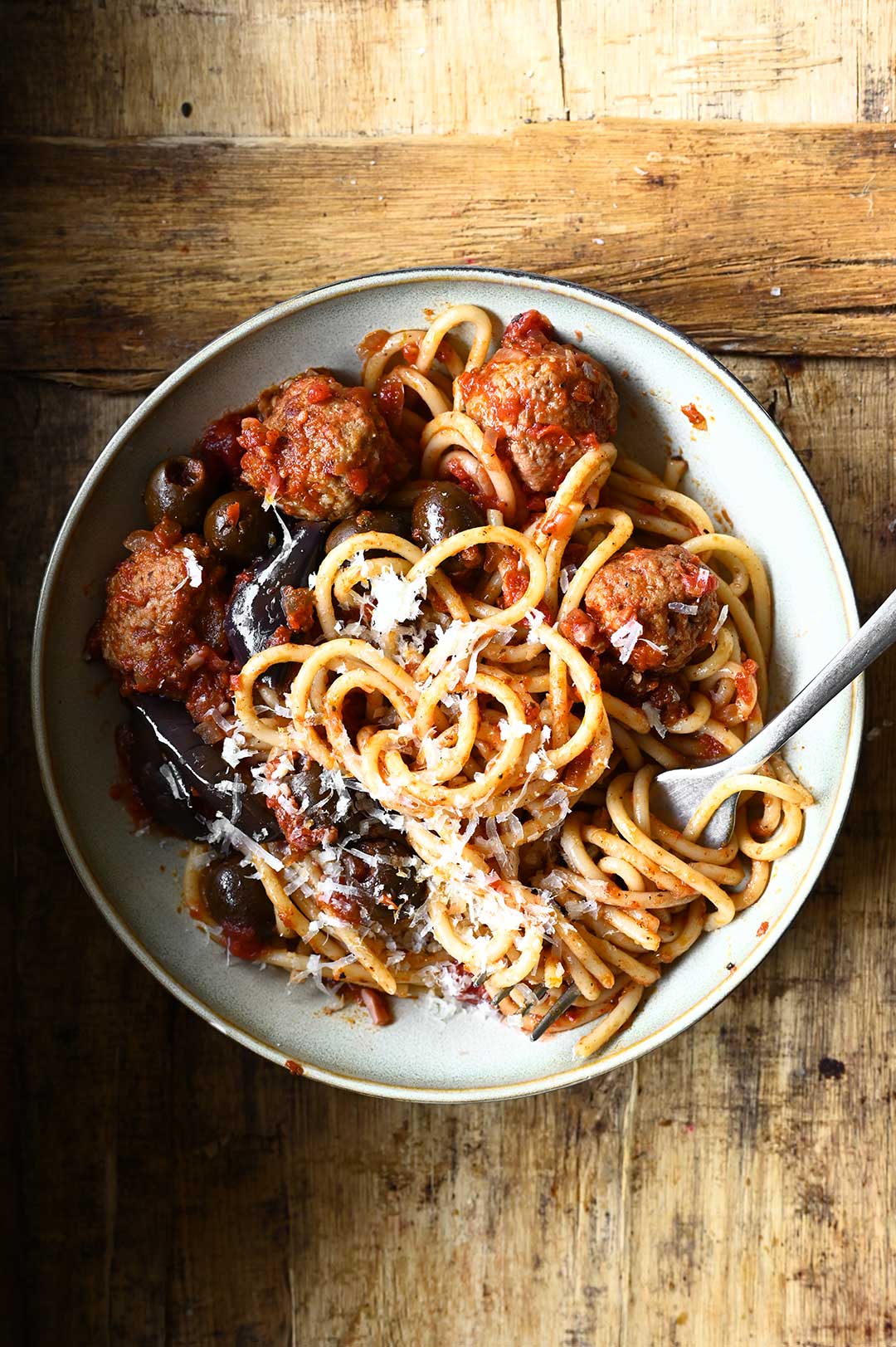 Spaghetti and meatballs in tomato sauce combined with tender sautéed eggplant and buttery black olives for a next-level satisfying dinner. It's comfort food at its very best!
GO TO RECIPE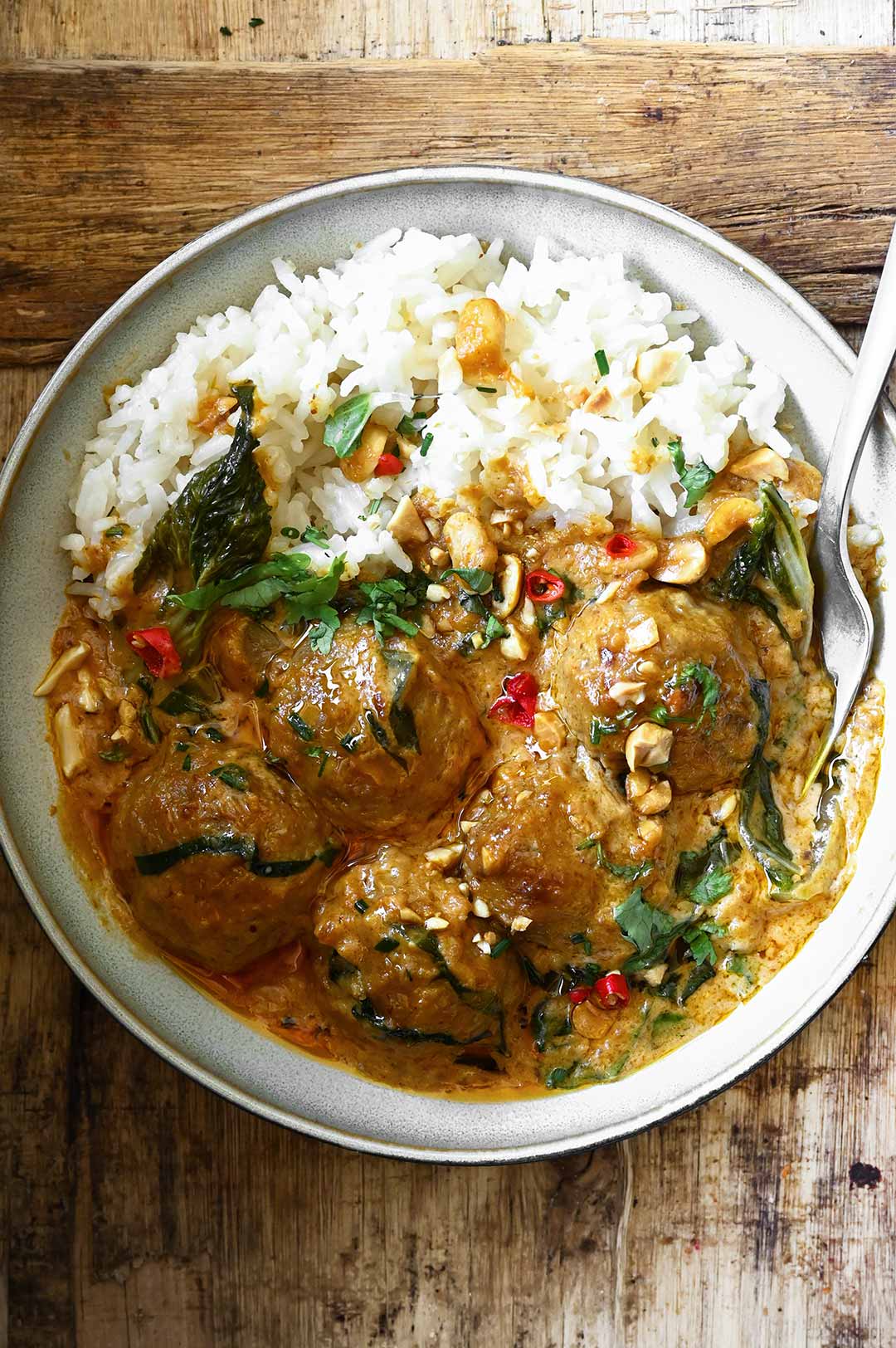 Thai chicken meatballs in peanut sauce. Tender, juicy meatballs simmered in a rich, ultra creamy peanut butter sauce enlivened with ginger, garlic and red curry paste. This easy weeknight dinner is loaded with sautéed bok choy and served over creamy coconut rice. Top with fresh cilantro and toasted peanuts for a crowd-pleasing dinner.
GO TO RECIPE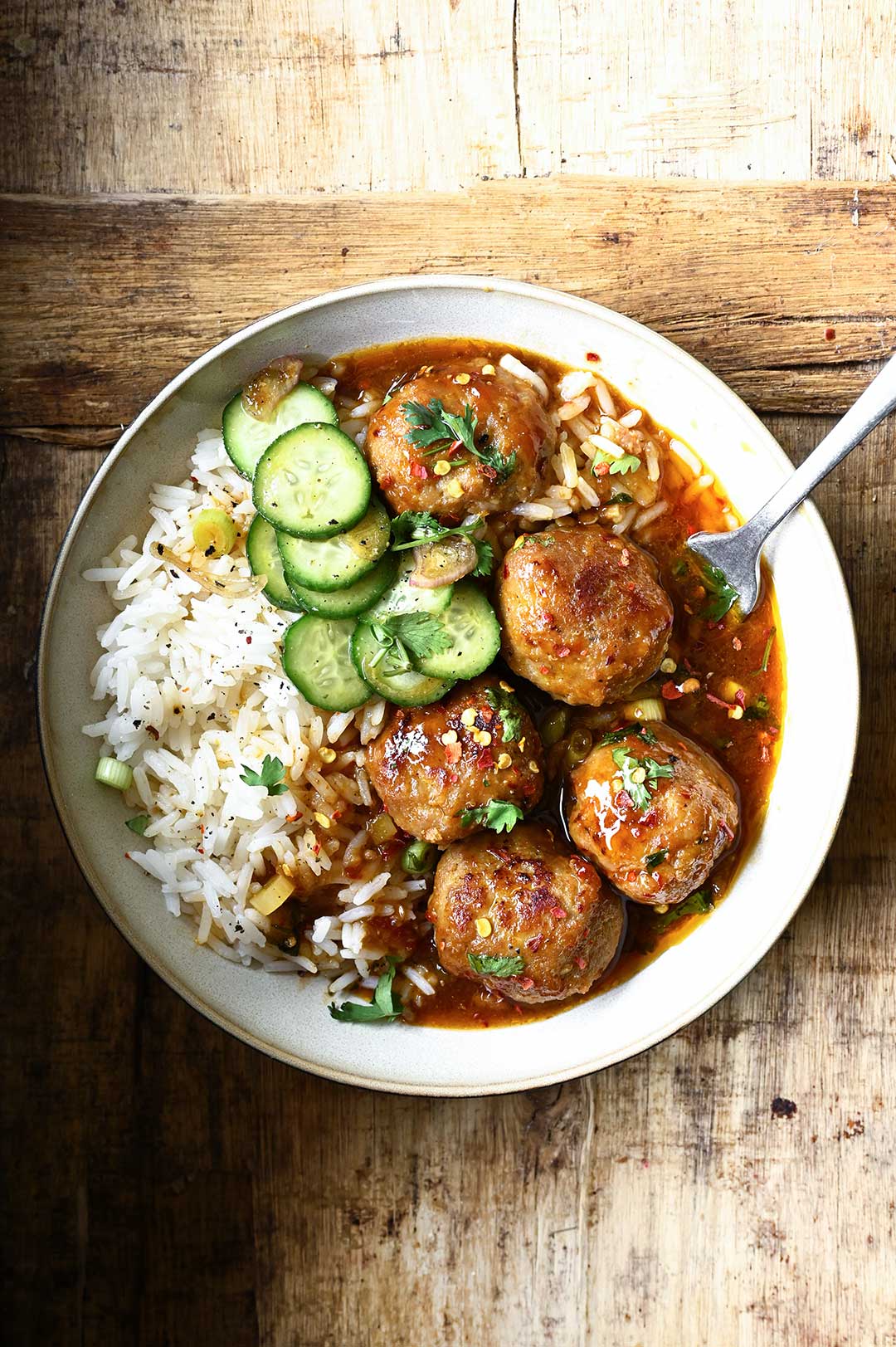 Firecracker chicken meatballs. Tender meatballs coated in a sticky sweet and spicy sauce make for an exciting weeknight dinner. Super delicious, full of flavor and easy to make. Plus, ready in just 30 minutes. Serve with steamed rice and a crunchy cucumber salad for a dinner that will rock your world.
GO TO RECIPE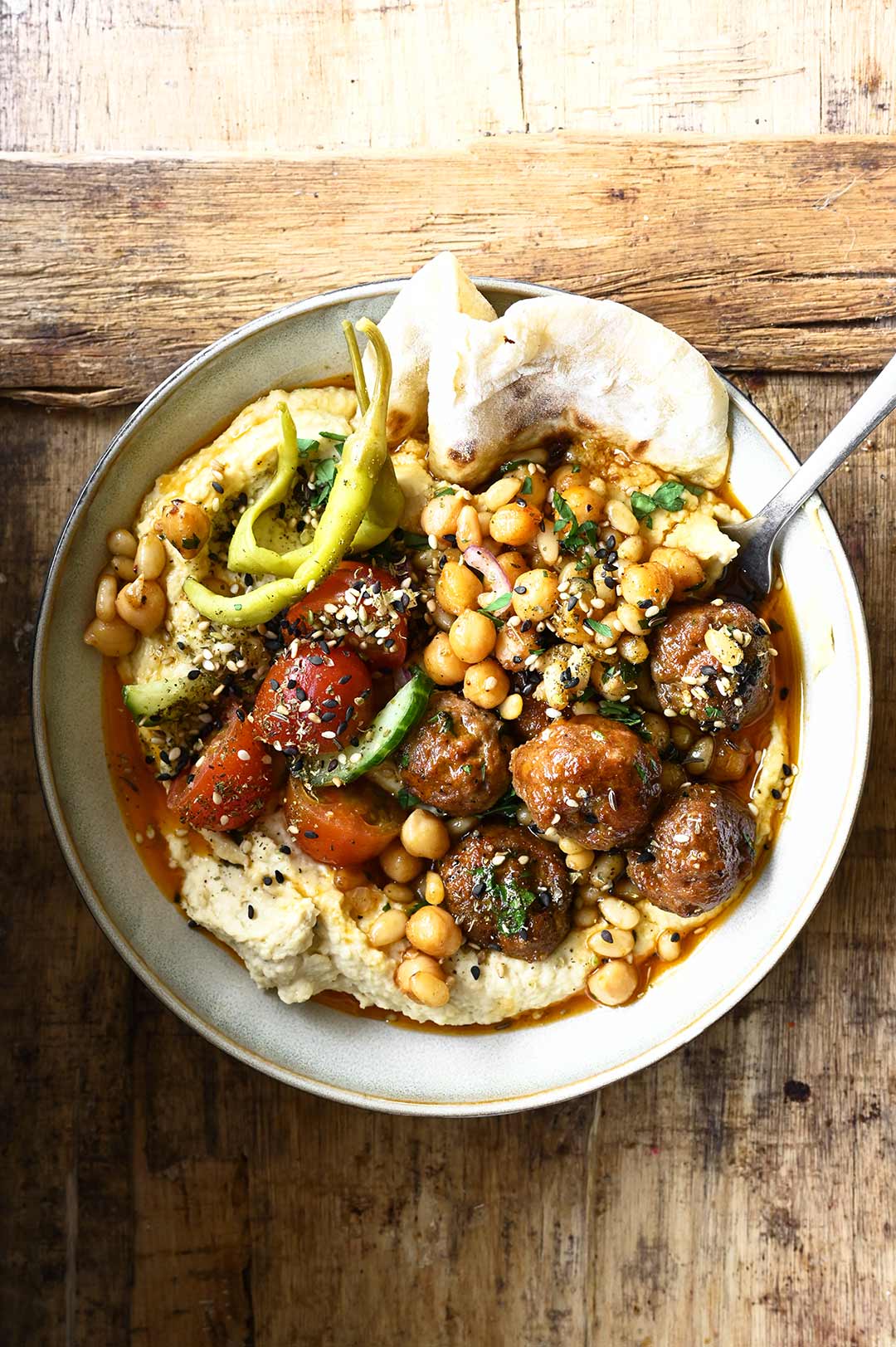 Loaded hummus bowl with merguez meatballs. Tender and super flavorful meatballs together with a crunchy salad, crispy chickpeas and even some pine nuts too. Served up bowl-style with some fresh naan. This next-level dinner is super easy to make and beyond delicious. Add this into your weekly dinner rotation, serve as an appetizer at your next dinner party, or prep ahead of time and enjoy for lunch.
GO TO RECIPE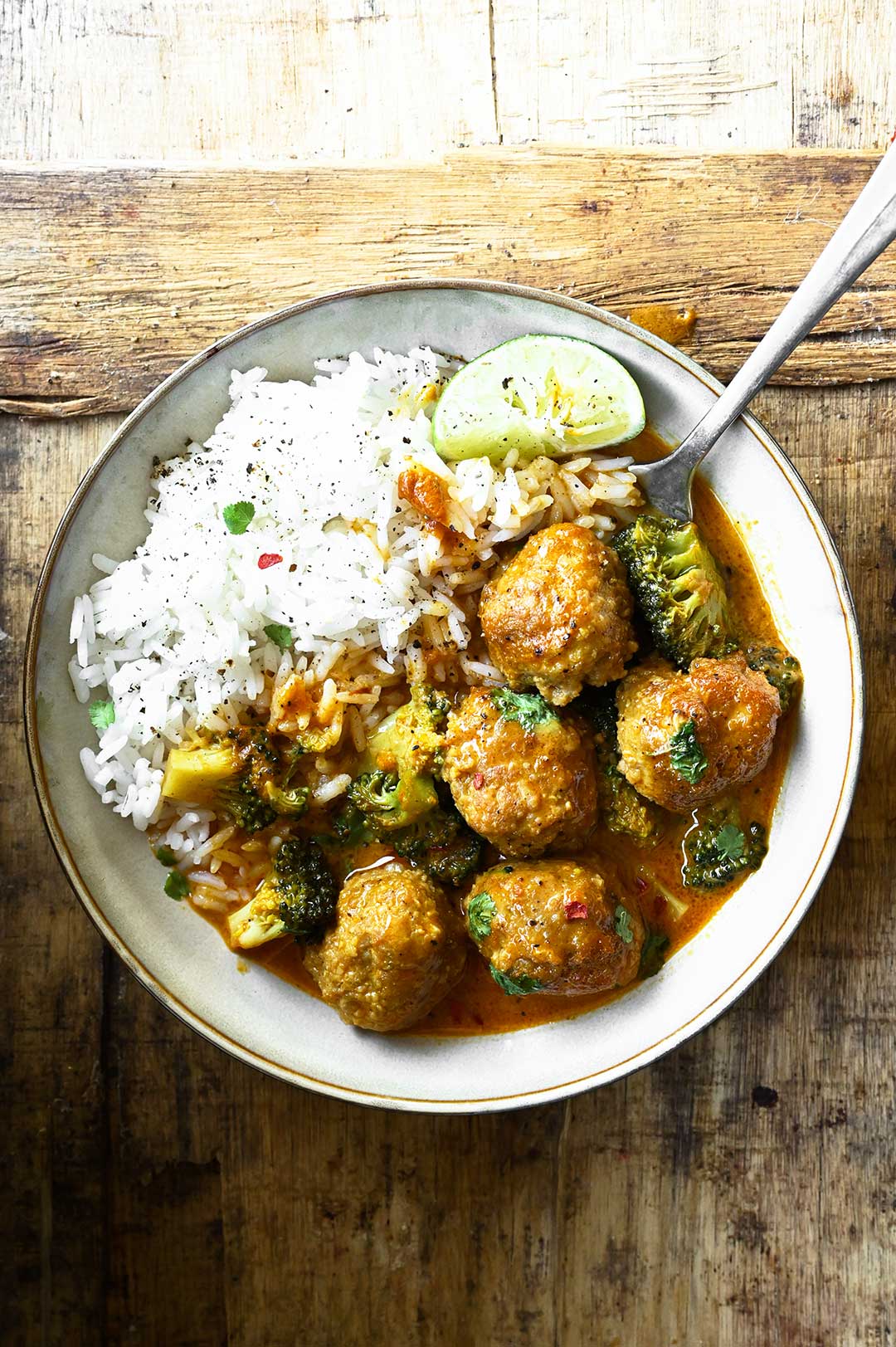 Coconut gochujang chicken meatballs curry with broccoli. This 30-minute dish is an easy to make yet most flavorful weeknight dinner. Made with melt-in-your-mouth tender meatballs and spicy gochujang paste combined with coconut milk, which mellows the spicy paste into a funky-spicy-sweet cream sauce. Serve over rice for a surprising result.
GO TO RECIPE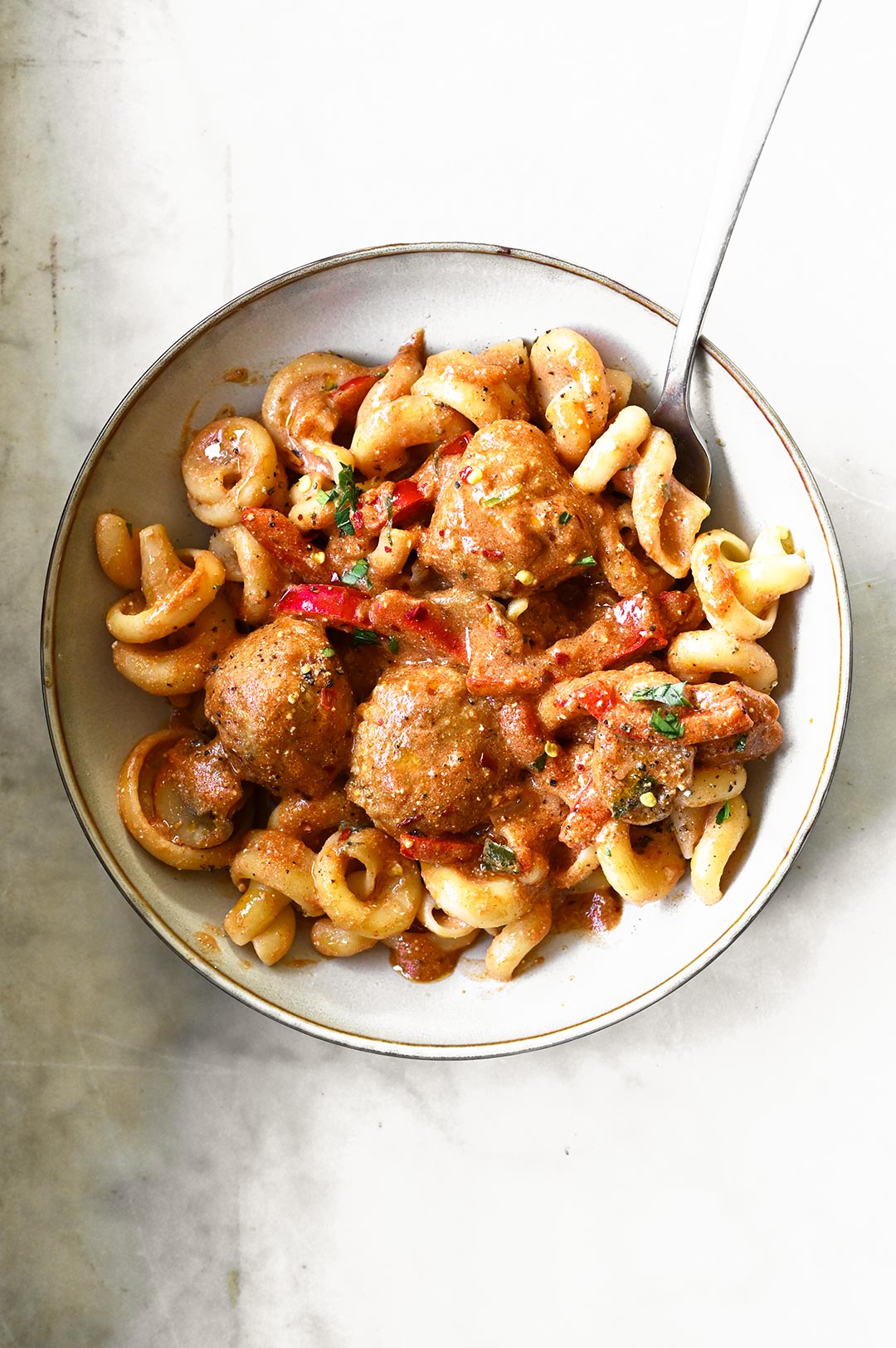 Chicken paprikash meatballs. Give your paprikash a makeover with this chicken meatball version that's packed with earthy mushrooms and tender bell pepper. Simmered in an amazingly rich and flavorful paprika -infused tomato sauce with sour cream. Serve over buttered noodles for an all time favorite that everyone at your table will love. It's pure heaven!
GO TO RECIPE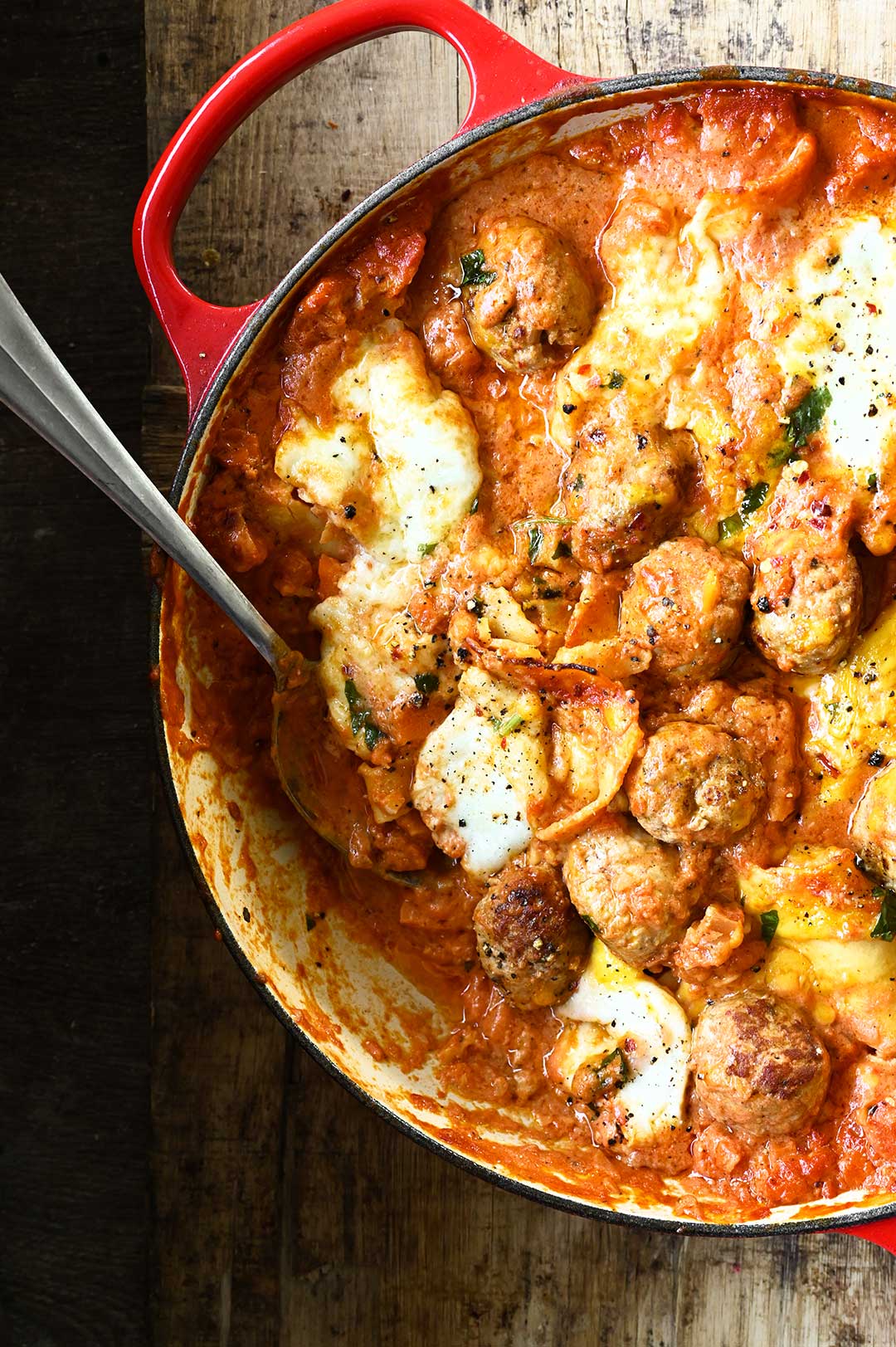 A super easy one pot lasagna with meatballs. This stovetop lasagna is a true game changer. It has everything we love about lasagna, it's fuss-free, saucy and takes this beloved dish to the next level by using sausage meatballs. Loaded with tender noodles that are cooked right in the sauce, and three kinds of cheese. Serve with a salad and some garlic bread for a real treat.
GO TO RECIPE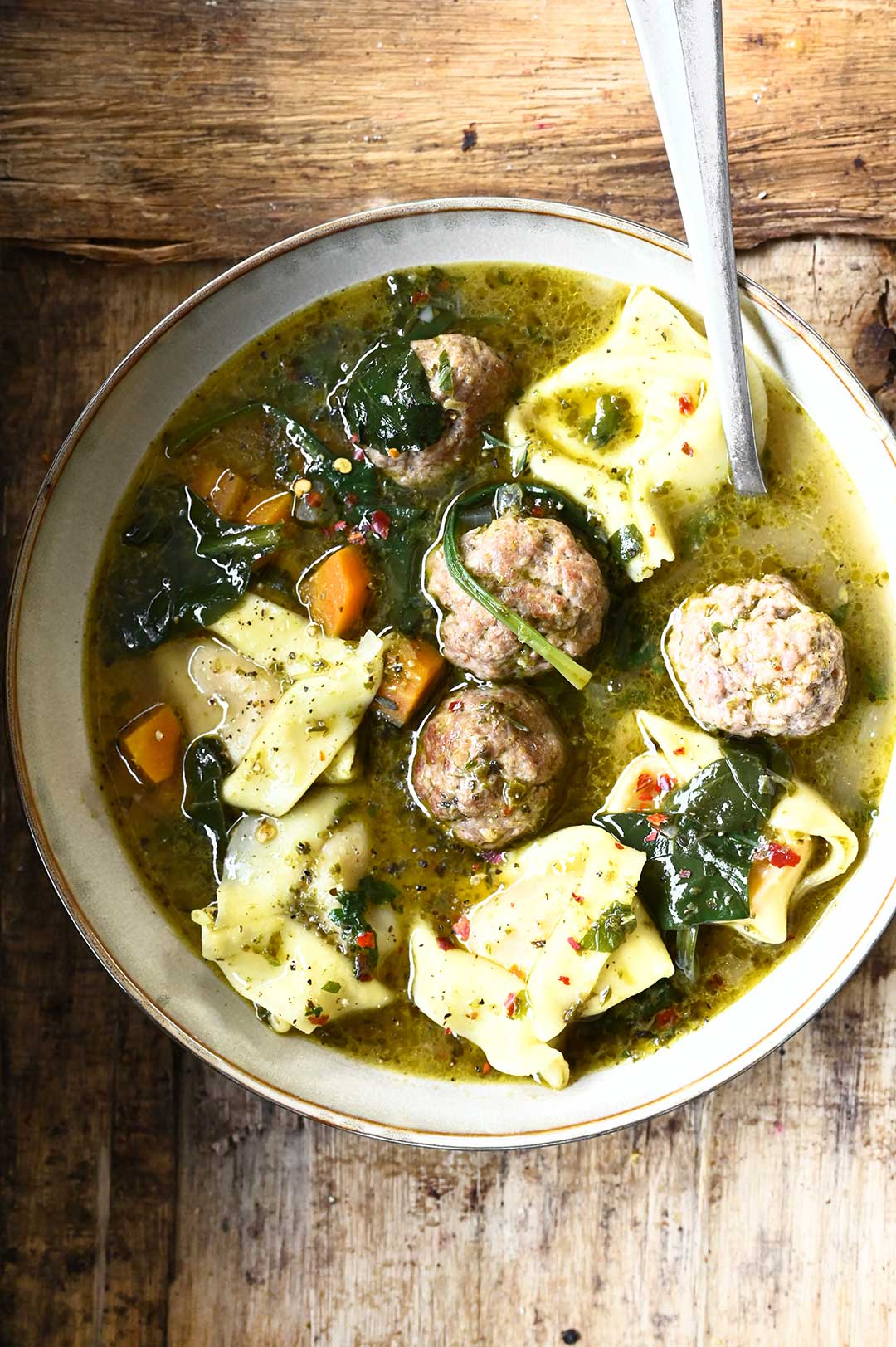 Meatball tortellini soup. This Italian wedding-inspired soup is pure comfort, super delicious, easy to prepare and perfect for any weeknight. Made with a brothy base and filled with cheesy tortellni, wilted spinach, and bite-sized herby meatballs. Finished off with green pesto to make it extra special. A great way to start any meal or simply serve with some crusty bread and you've got a delicious healthy light dinner.
GO TO RECIPE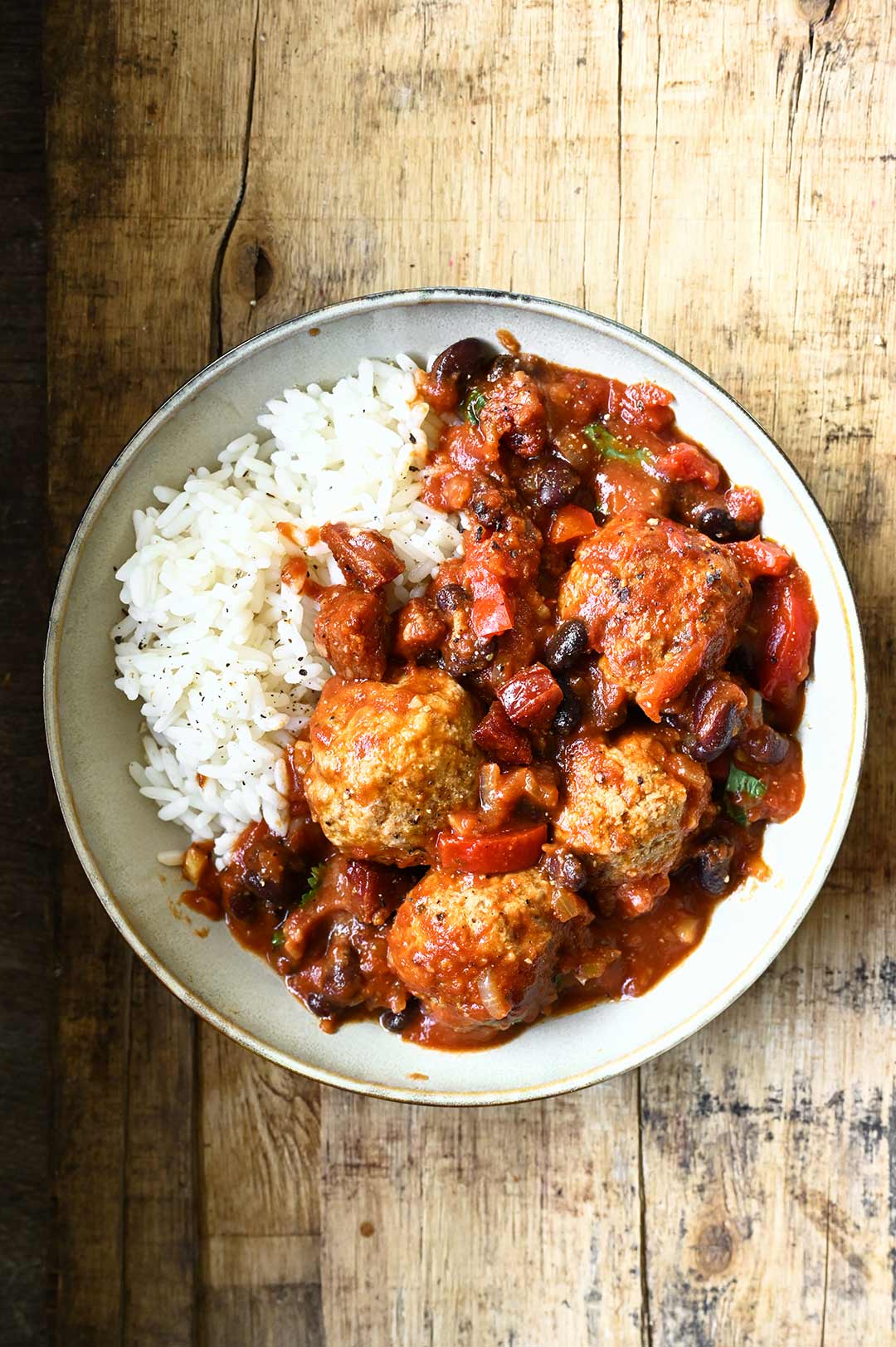 Meatballs in smoky tomato sauce. Imagine deliciously tender plump meatballs, smothered in a slightly spicy tomato sauce that's jazzed up with black beans and topped with crispy chorizo. It's super hearty and made in only one-pan. These pan-seared pork and beef beauties are everything you probably love about meatballs. Serve with lots of warm tortillas for mopping it all up.
GO TO RECIPE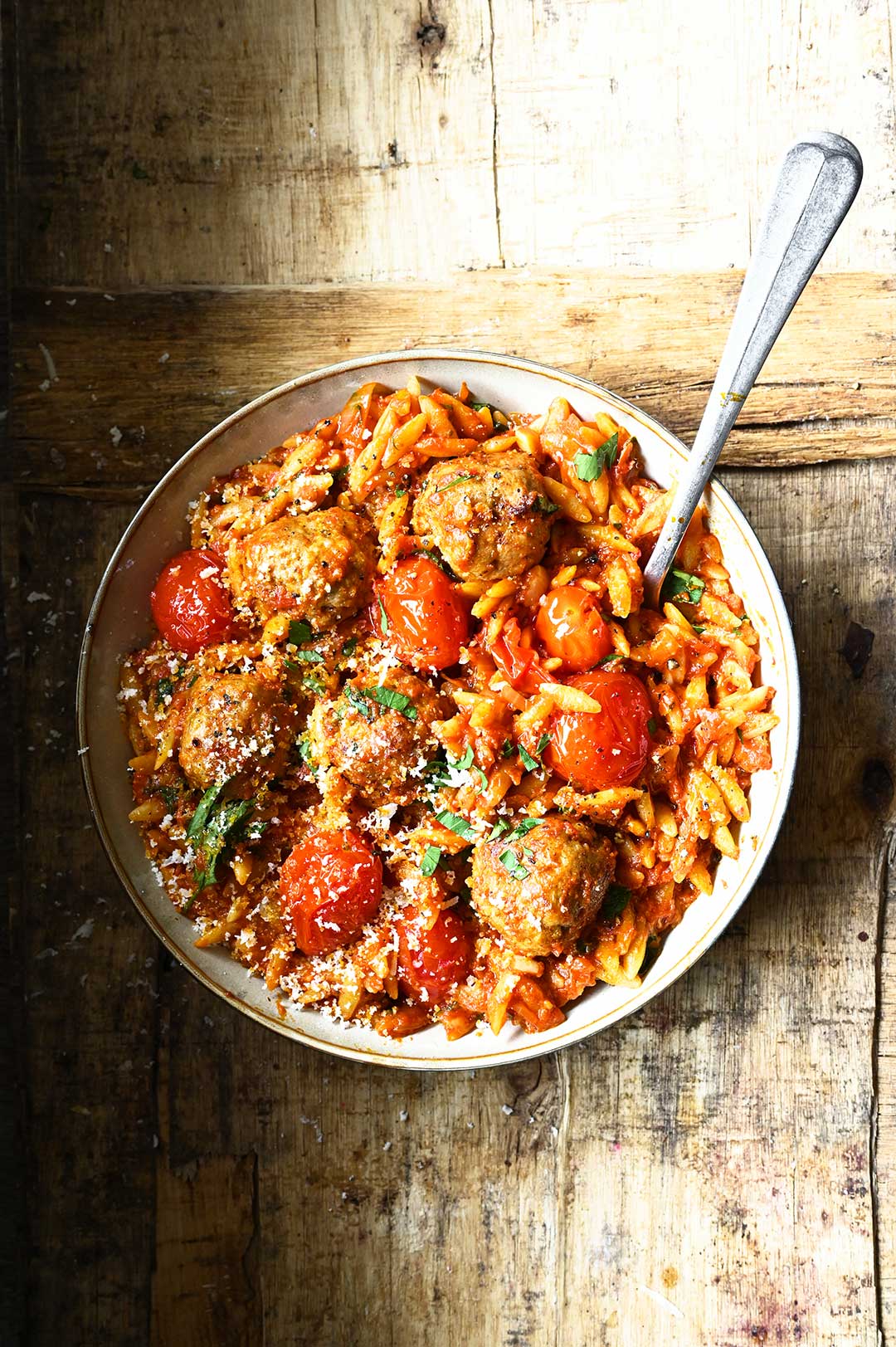 Meatballs and orzo cooked in a rich and delicious tomato sauce. It's easy to make and loaded with flavour. This one-pot dinner will blow you away big time. It hits all the notes, it's fun to make, intriguing and it tastes freaking delicious.
GO TO RECIPE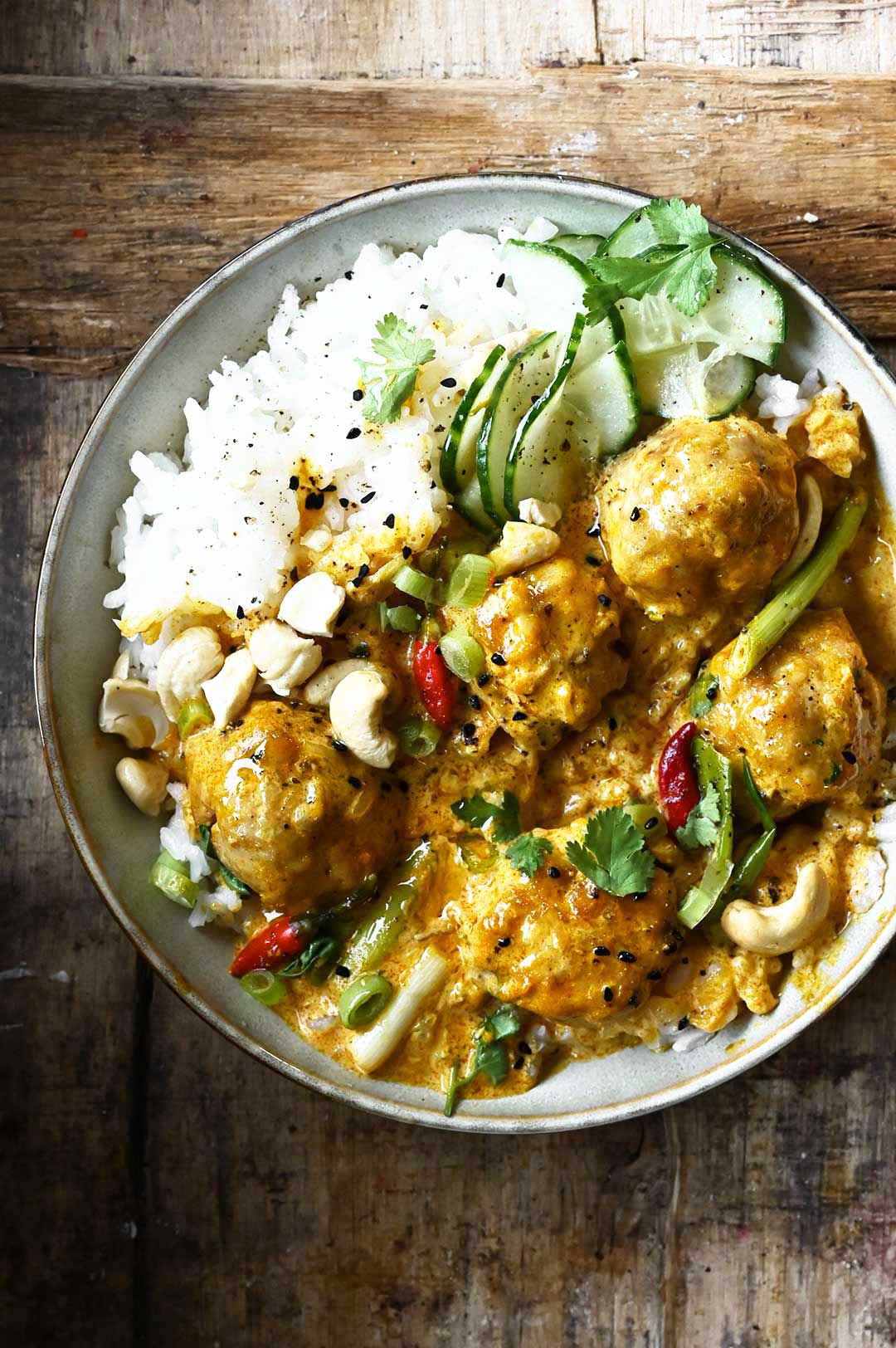 Thai style juicy chicken meatballs in a coconut curry sauce. This one-pot dish is incredibly delicious. The meatballs are tender, herby with a garlic note. Coated with a rich, spicy coconut curry sauce and topped with fresh cilantro and roasted cashew nuts.
GO TO RECIPE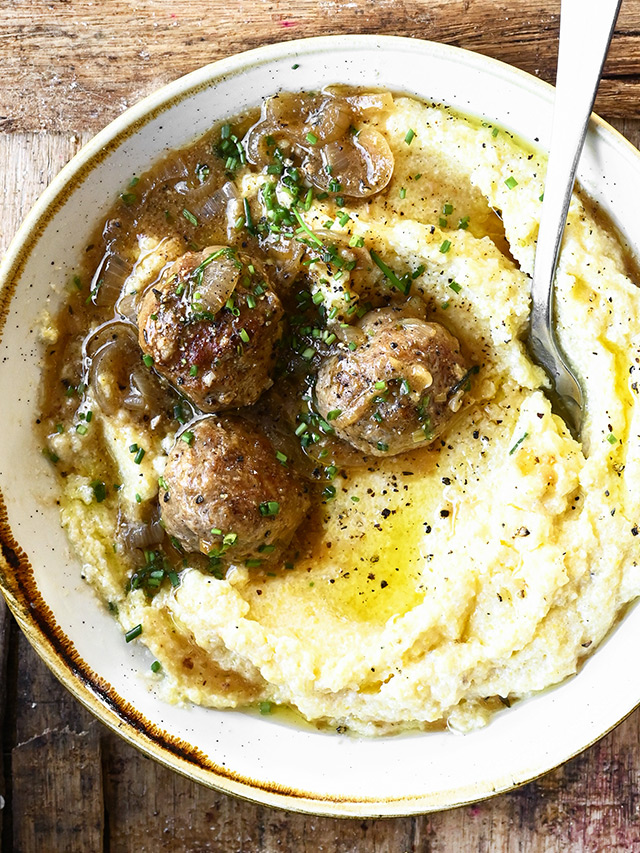 Ricotta Polenta with Drunken Meatballs. Mouthwatering classic meatballs simmered in a hearty brown beer gravy with caramelized onions and served over creamy ricotta polenta. This 30-minute meal will knock your socks off.
GO TO RECIPE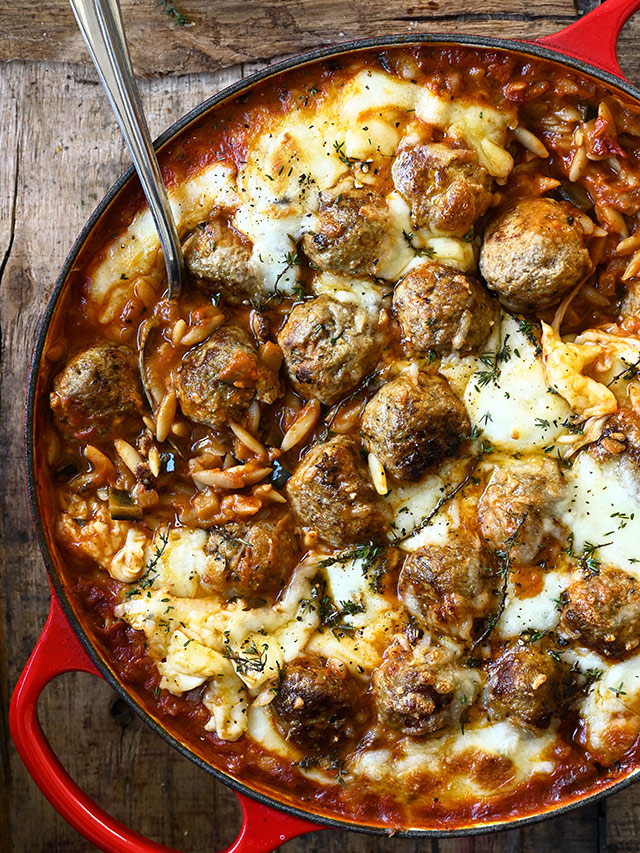 Baked Meatballs with Orzo in Roasted Pepper Sauce. These could probably be the best meatballs & pasta you'll ever make. There're so many hidden layers of flavors in this dish. The meatballs are tender but firm, made with ground beef and ricotta. Then drenched in a rich eggplant & roasted bell pepper tomato sauce together with the orzo. Good news! You only need one pan to cook the entire dish.
GO TO RECIPE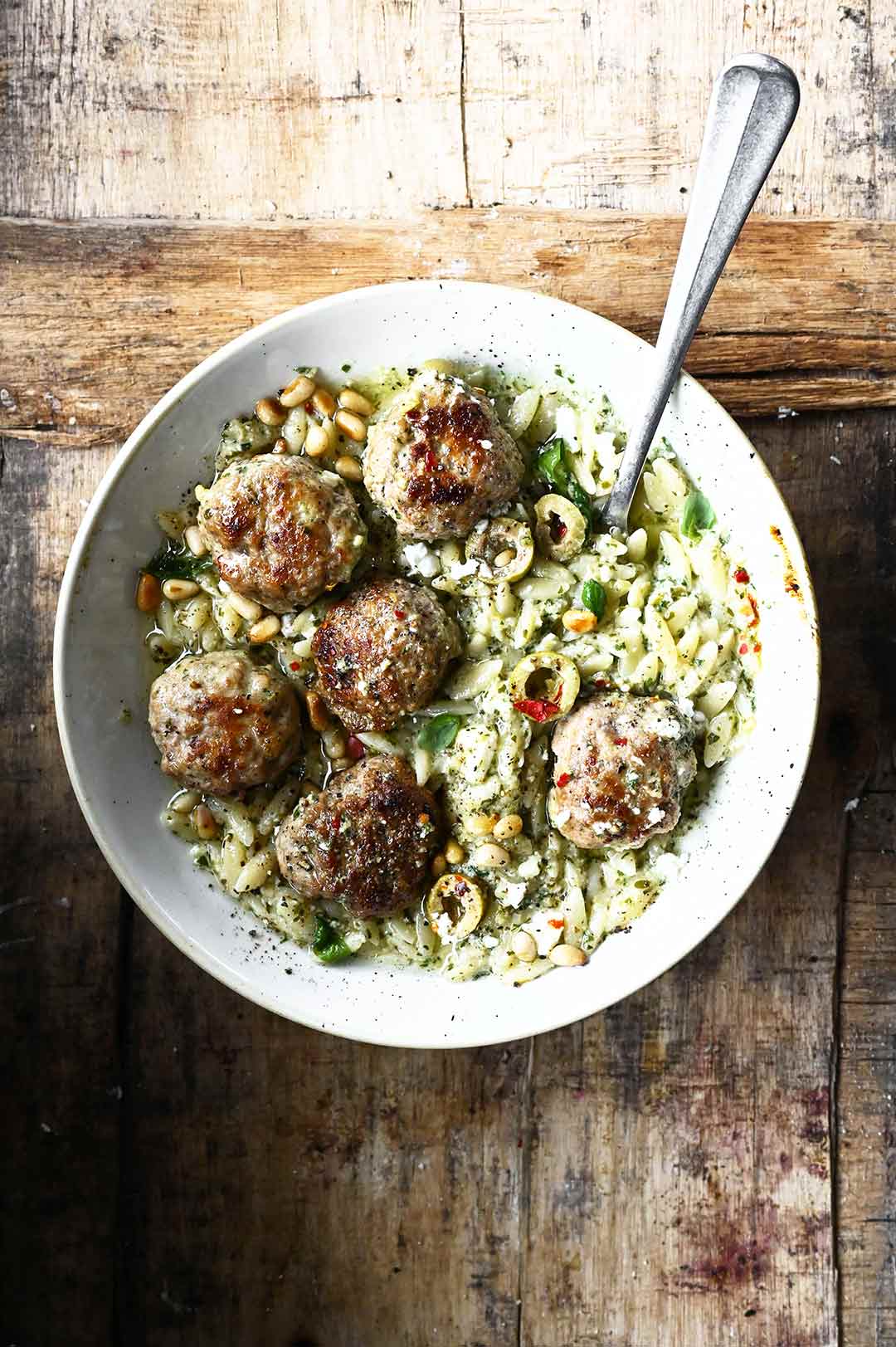 One skillet meatballs with orzo and Greek-style feta pesto. A perfect weeknight dinner… easy, hearty, and delicious with a tempting garlic aroma. Pan-seared beef meatballs, cooked together with orzo pasta for a complete dinner made in just one skillet. Swirled with creamy, salty feta pesto. The bright flavors of olives and punchy feta make an irresistible companion to the meatballs. Truly one of those dinners that everyone at the table will love. Great for a weeknight, but fancy and unique enough to serve at a dinner party.
GO TO RECIPE