Easy tuna tomato rigatoni. Canned tuna sparked with capers and tomatoes creates a superb sauce that complements many pasta shapes. Tuna tomato pasta is one of my favorite recipes and it's also a pantry-based super flavorful dinner that you can put on the table in just about 20 minutes. Boom, it doesn't get much simpler than that. ​Italians would never serve cheese with fish, but you have my permission to break those rules.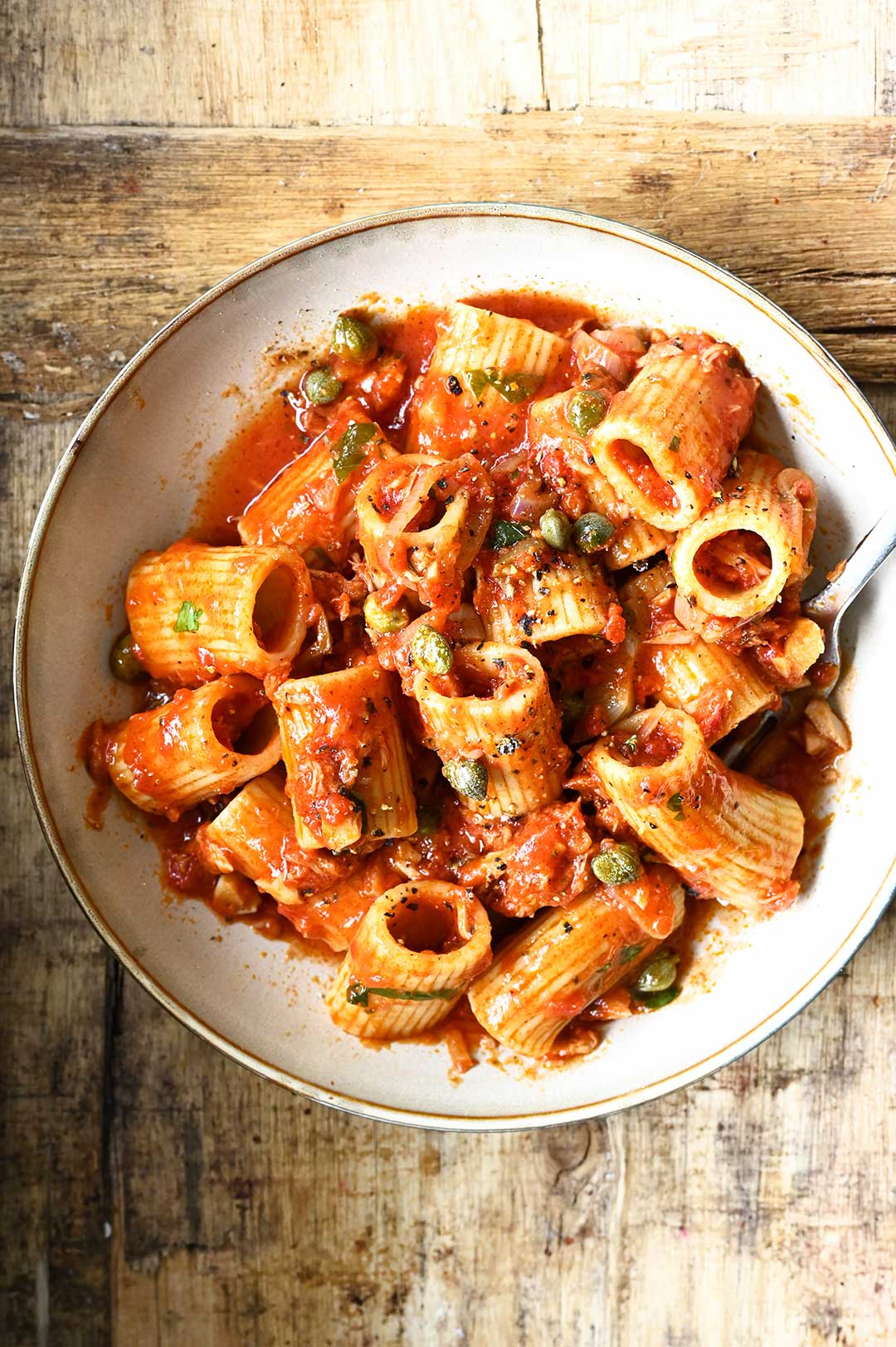 We cook down the shallots and garlic in a bath of olive oil and butter until soft and jammy. The anchovies are there for saltiness, but they serve more as a background flavor to compliment the luscious garlicky marinara.
It's so good and so mind-blowingly simple. Not only will it make the entire kitchen smell like a dream, but the sauce is also an effortless balance of acidity, saltiness, and brightness.
Let me guide you through the recipe with this step-by-step VIDEO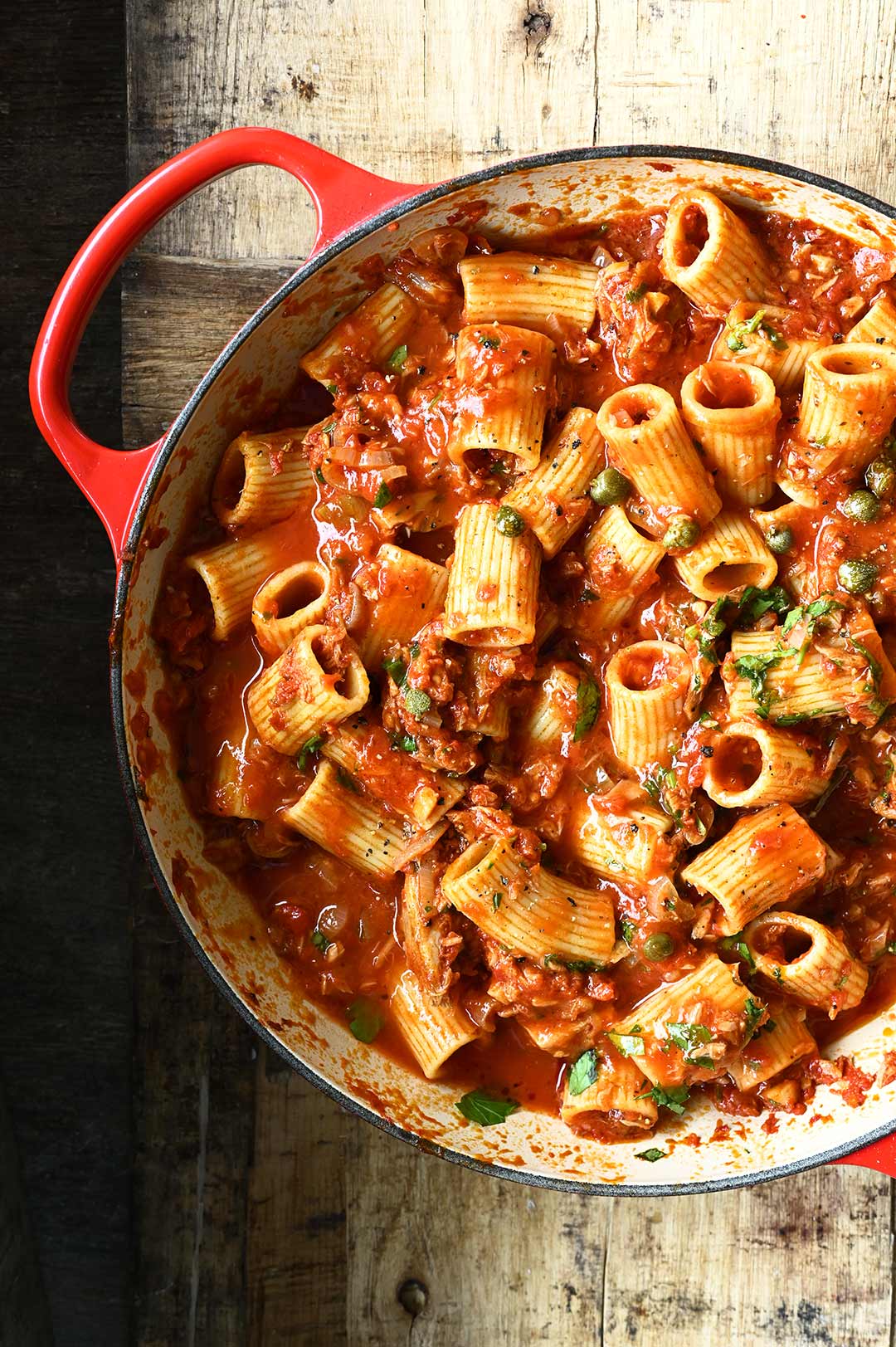 RECIPE NOTES
any type of pasta will work, like penne, shells, or linguine, to name only a few
anchovies: these little fish fillets round out the flavors. If you're in doubt to cook with them, I can assure you that the final dish will not have a fishy flavor, instead, it adds a subtle umami flavor
crushed red pepper flakes: you can substitute them with fresh chili, or leave it out entirely if you'd like to keep the sauce completely mild. Even a dash of your favorite hot sauce will work, and if you're doing that, I recommend adding it gradually to taste after cooking
tomato sauce: you can use crushed tomatoes, a jar of marinara sauce or pureed tomatoes
canned tuna: since we're using a lot of oil to prepare the sauce, tuna packed in water will be the best choice for this recipe. You can even use 2 tins for a more meaty sauce
serve with a big rucola salad drizzled with balsamic vinegar and olive oil
you can add some courgette and a little less pasta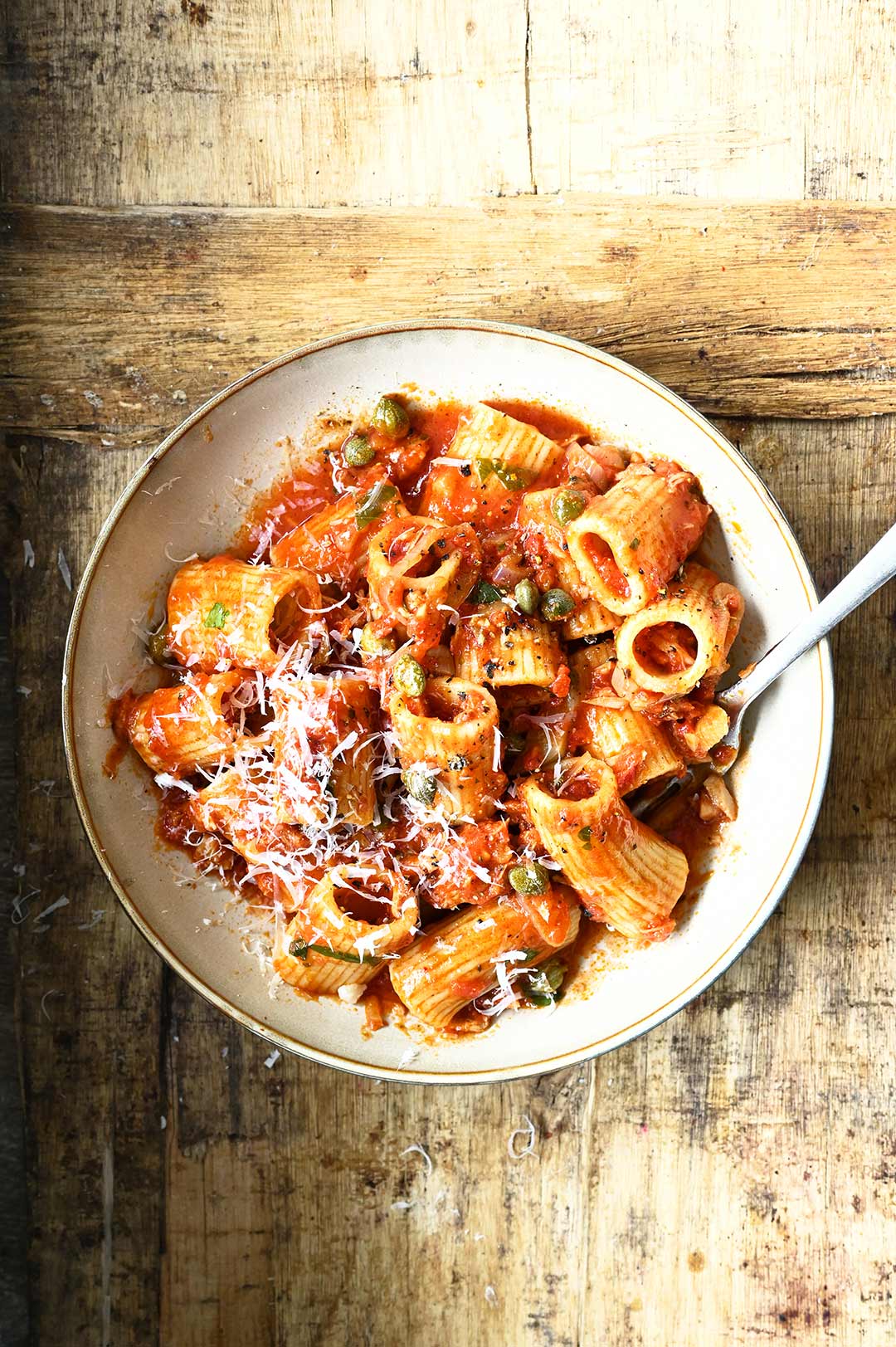 More easy pasta recipes, please!
Cooking Video
Yield: serves 4
20 minute Tuna Tomato Rigatoni
Ingredients
300 g/11 ounces rigatoni
1 can (160g/6 ounces) tuna in water, drained
4 tbsp olive oil
2 tbsp unsalted butter
1 can (400 g/14 ounces) crushed tomatoes
6 garlic cloves, minced
2 shallots, thinly sliced
1 tsp each: red pepper flakes, salt, black pepper, dried oregano
3 anchovy fillets
2 tbsp tomato paste
2 tbsp chopped parsley
1 tbsp balsamic vinegar
2 tbsp capers
Instructions
Heat olive oil and butter in a large skillet over medium low heat. Add shallots and garlic, cook, stirring occasionally, until the shallots become totally soft, about 10 minutes.
Bring a large pot of salted water to a boil and cook rigatoni al dente. Scoop up ½ cup cooking water, then drain the rigatoni.
In the meantime, add anchovies and spices to the skillet. Stir to melt the anchovies into the shallots, about 1 minute. Stir in tomato paste, capers and balsamic vinegar.
Pour in crushed tomatoes and bring to a boil. Next add tuna and parsley. Then toss with rigatoni and add 1/4 cup cooking water.
Toss gently to distribute the tuna without breaking up the chunks too much.
Adjust salt and add more cooking water, if needed. Serve!
Notes
Calories Per Serving: 338 kcal
Nutritional information is only an estimate. The accuracy of the nutritional information for any recipe on this site is not guaranteed.