Thai coconut shrimp curry. An amazingly quick and easy curry filled with plump shrimp and juicy bell pepper. The coconut sauce is ultra creamy, slightly spicy and can't-stop-eating-delicious. Turn the spice level up or down, serve over rice, then top with lots of herbs and a splash of lime juice. Super satisfying any night of the week. You'll love it!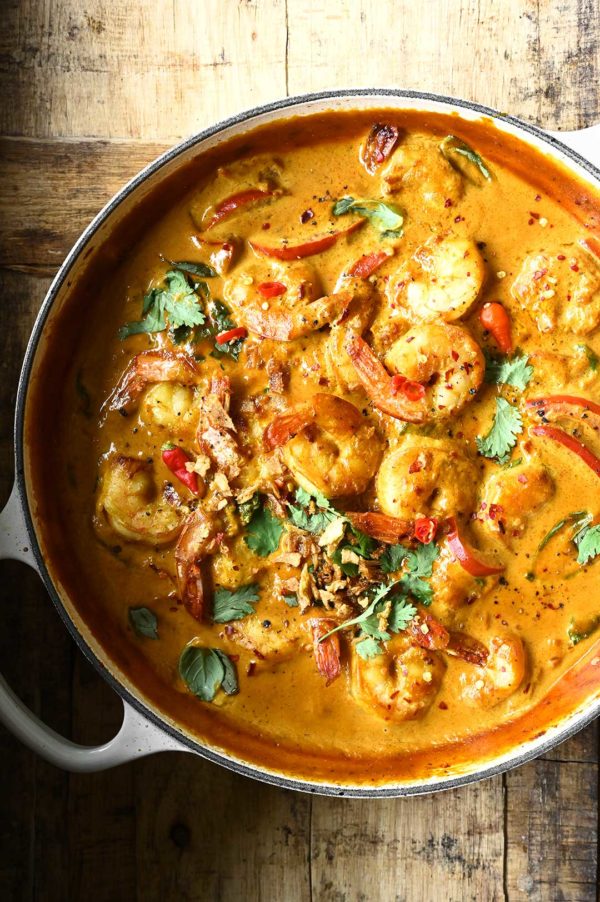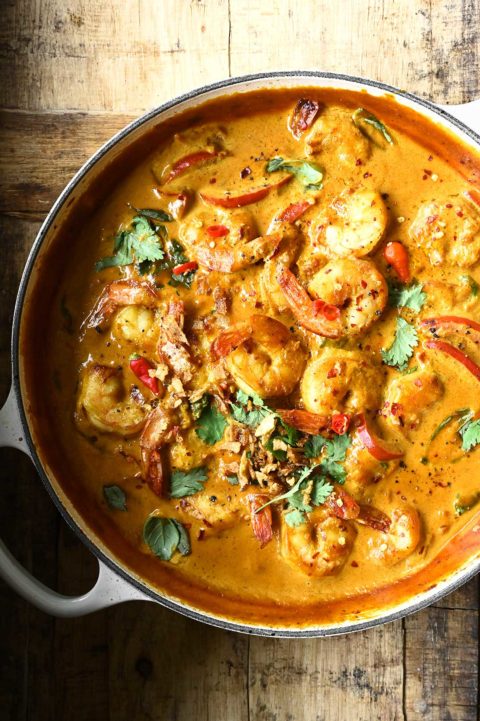 A simple Thai-inspired curry with easy to find ingredients, loaded with shrimp and a variety of toppings. It's full of warm spices, fresh herbs and is oh-so comforting. You can adapt this curry depending on which veggies you have on hand, my current favorite is bell pepper, but you can try adding zucchini or crisp baby bok choy.
This is a super flavorful one-skillet, fast weeknight-worthy dinner, but it's also fancy enough to serve on a dinner party. Plus, it's super easy to make.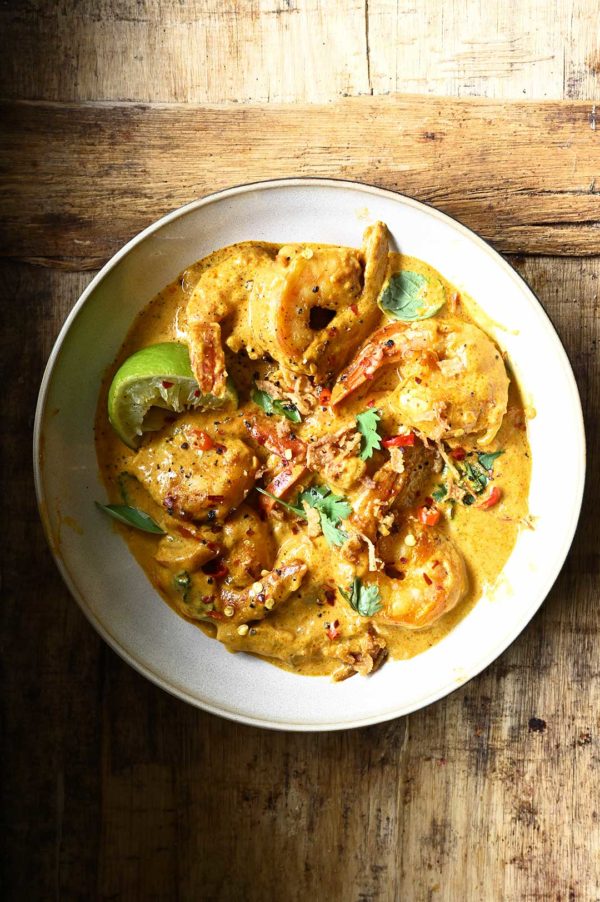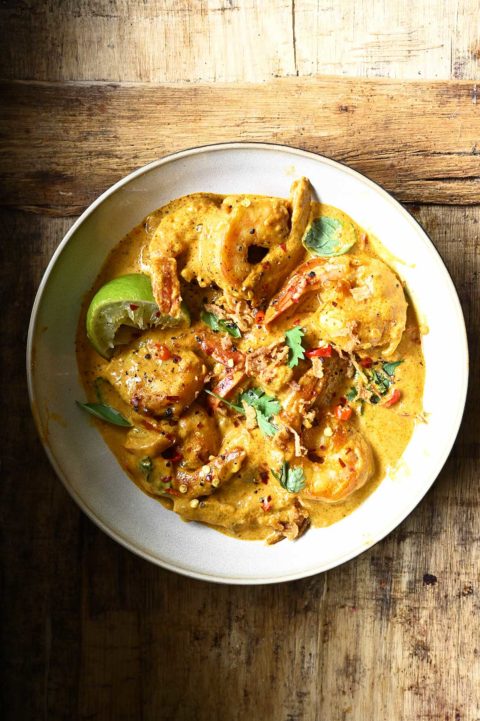 And this is how we do it. We sear the shrimp, add bell pepper and coconut milk for a dish that rivals your favorite takeout in next to no time. We bump up the flavor of store-bought red curry paste with garlic, shallot and freshly grated ginger. Before adding the coconut milk, we brown the curry paste paired with some aromatics like brown sugar, soy and fish sauce to develop an even richer flavor. When it bubbles, the smell is outrageous!
With all the aromatics from the above, we just need a little hit of flavor from turmeric, cumin and coriander to finish off our quick coconut sauce. At the very end, we add a big burst of freshness with lime juice, a handful of thai basil and cilantro to balance the richness of the coconut milk. It just makes all the difference, and is a must.
Let me guide you through the recipe with thisstep-by-step VIDEO.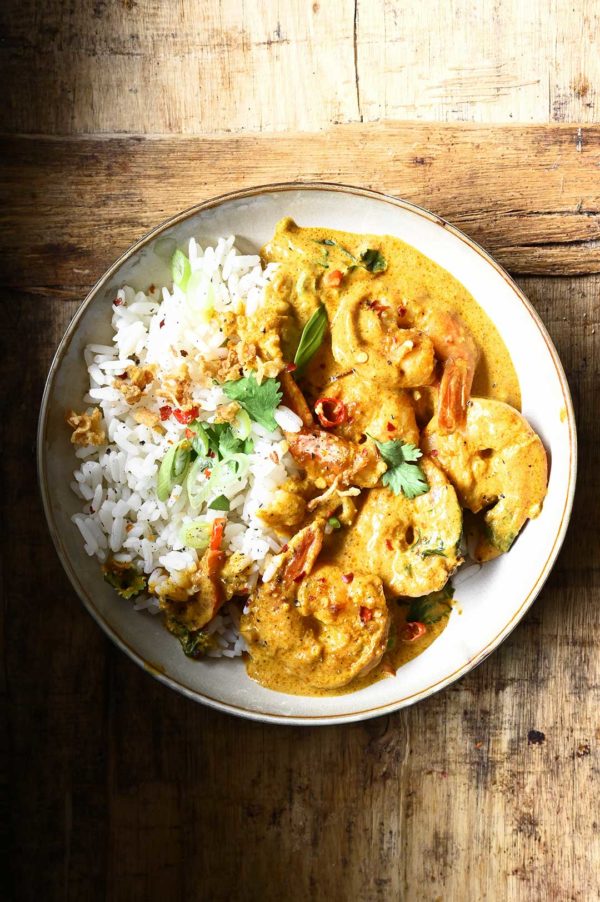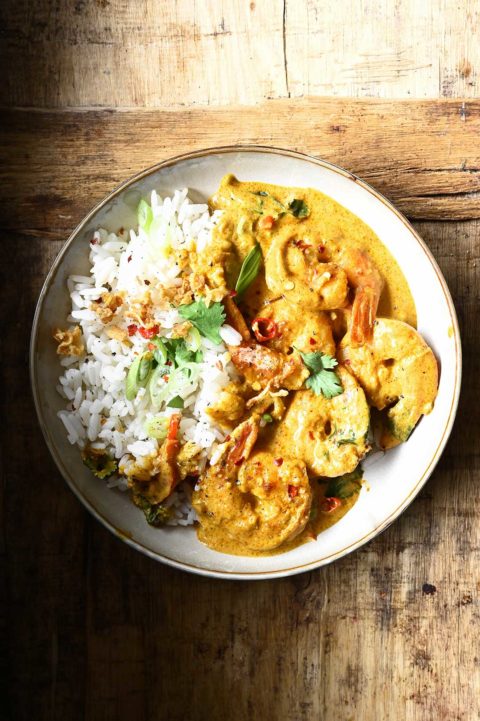 RECIPE NOTES
This coconut curry shrimp lends itself to all sorts of variations. So many possibilities!
try adding other vegetables like zucchini, spinach, crisp baby bok choy, green bell pepper, cabbage, sugar snaps, green beans,…
make it milder or spicier with sriracha, sambal oelek or fresh chili peppers. Try to look for a mild red curry paste
serve with a crunchy cucumber salad, my favorite is: sliced cucumber, 1 red onion, 2 scallions, fresh cilantro leaves, 2 tbsp low sodium soy sauce, 1 tbsp lime juice, 2 tbsp sesame oil and 1 tsp brown sugar. Toss. Done. It's really delicious and refreshing
serve over steamed rice, cauliflower rice or noodles. Or with broccoli and
for toppings, you can use fried onions, cilantro, basil, mint, lime zest, beansprouts, fresh chili pepper,…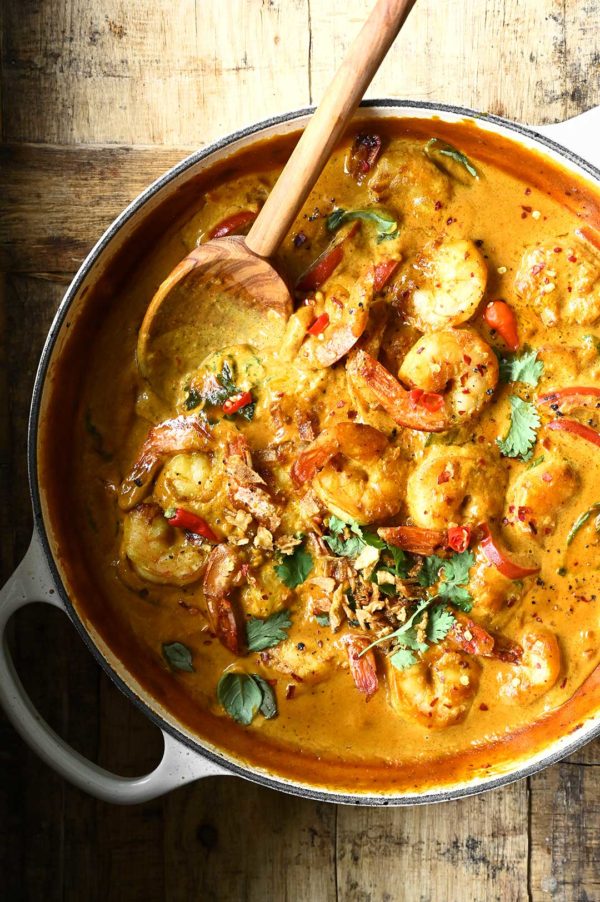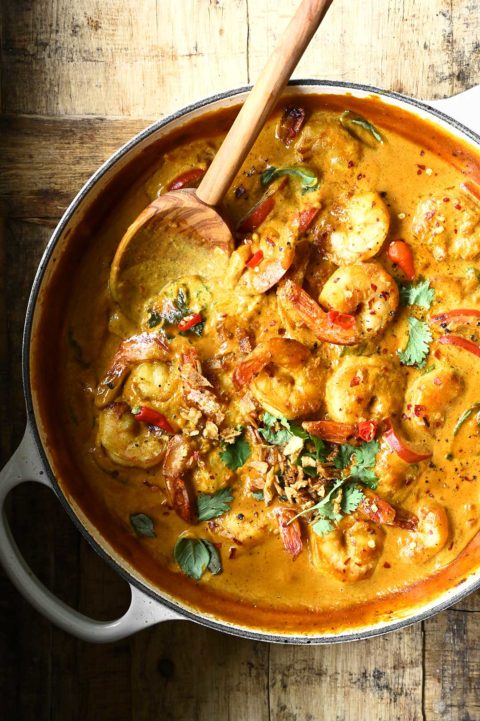 Try These Next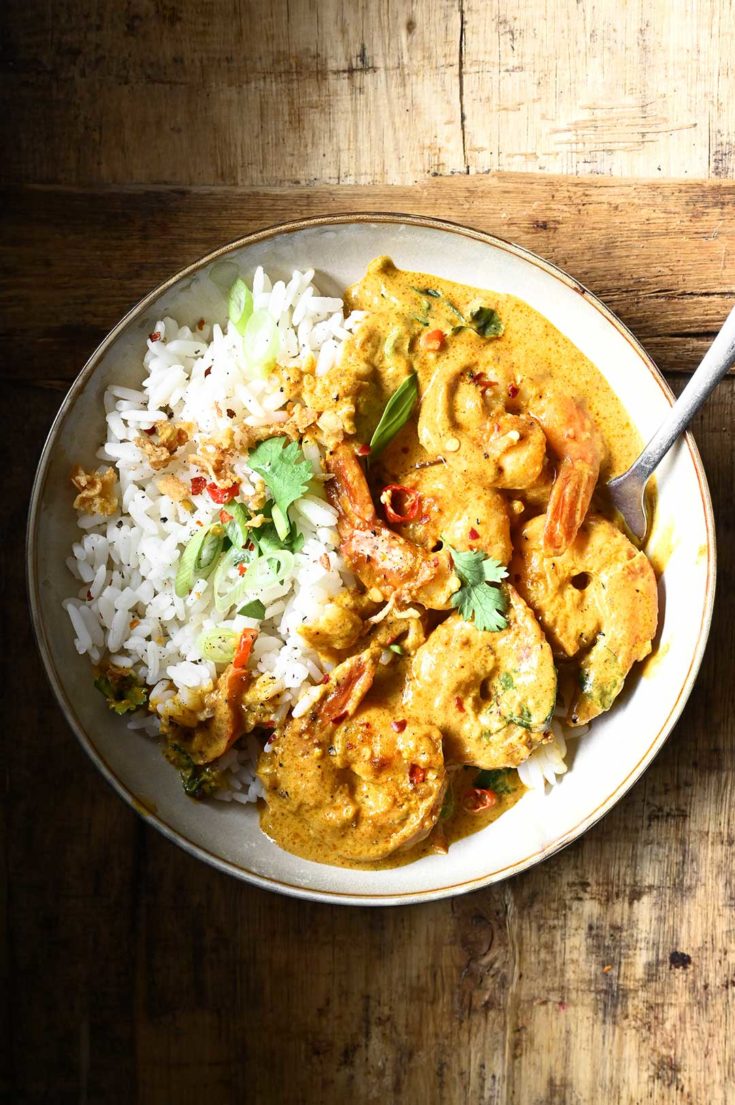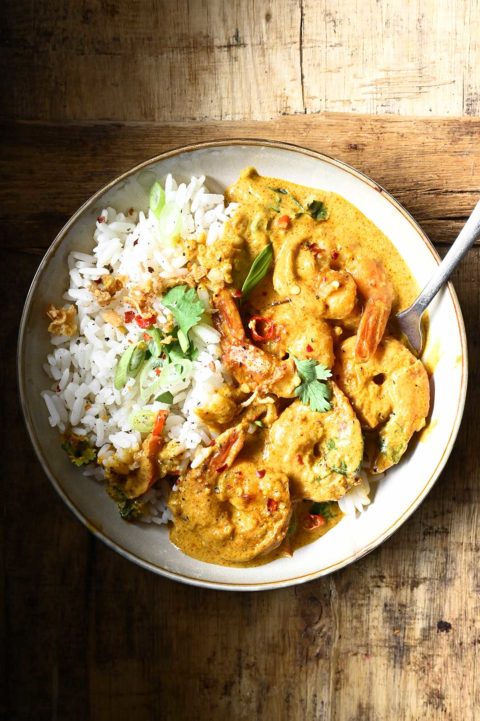 Cooking Video
Yield: serves 4
Thai Coconut Shrimp Curry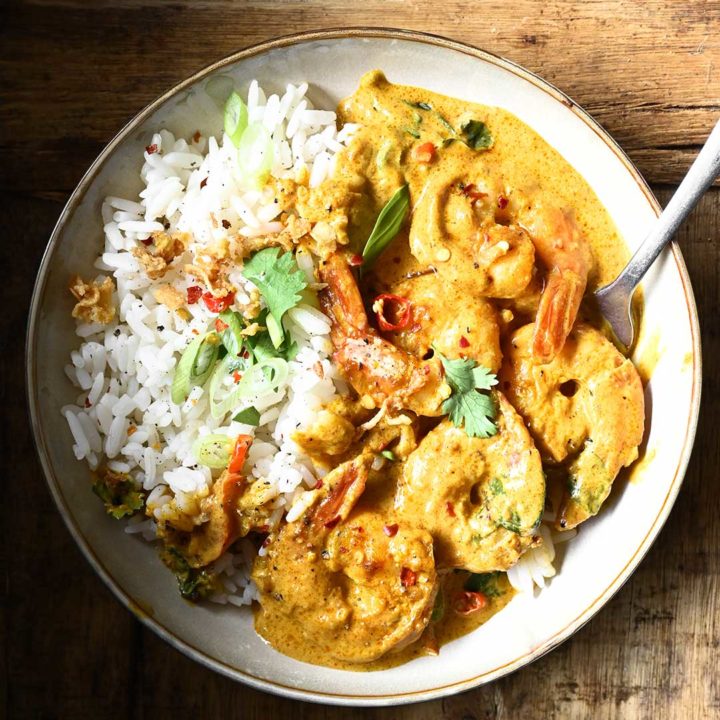 Ingredients
Shrimp
1 pound/450 g shrimp, peeled and deveined
1 tsp low sodium soy sauce
½ tsp red pepper flakes + turmeric
1 tsp garlic powder
¼ tsp white pepper
Coconut Curry
1 tbsp vegetable oil
1 tbsp unsalted butter
1 bell pepper, sliced
4 garlic cloves, grated
1 tbsp freshly grated ginger
1 shallot, finely chopped
½ cup/120 ml chicken or vegetable broth
3 tbsp mild red curry paste
2 tsp brown sugar
½ tsp turmeric, ground cumin, ground coriander
¼ tsp white pepper
2 tbsp low sodium soy sauce
1 tbsp fish sauce
1 can (14 oz/400 m) coconut milk, full fat
juice from ½ lime
1 tsp sriracha, optional
handful of torn thai basil
topping: scallions, cilantro, fried onions, chili pepper
Instructions
Get all the prep done before you start cooking. Add shrimp, soy sauce, red pepper flakes, turmeric, garlic powder and white pepper to a bowl. Stir to combine, set aside.
Grate the ginger and garlic cloves. Finely chop the shallot and slice the bell pepper.
Heat oil and butter in a large skillet over high. Place shrimp in a single layer. Sear, 1 minute per side. Remove from skillet.
In the same skillet, add bell pepper. Sauté for 5 minutes, or until it starts to soften. Add garlic, ginger and shallot. Cook until soft and fragrant, about 2 minutes. Deglaze with chicken broth, simmer for 2 minutes while stirring and scraping up the brown bits on the bottom of the skillet with a wooden spoon.
Stir in red curry paste. Add brown sugar, turmeric, cumin, coriander, white pepper, soy and fish sauce. Cook for 1 minute, stir frequently. Pour in coconut milk and bring to a boil. Simmer for 5 minutes or until the sauce starts to thicken.
Add lime juice, sriracha and Thai basil. Stir to combine. Toss in shrimp, simmer for no longer than 1 minute. Top with cilantro leaves, fried onions and chili pepper. Serve with a crunchy cucumber salad and steamed rice. Enjoy!
Notes
Calories Per Serving: 442 kcal
Nutritional information is only an estimate. The accuracy of the nutritional information for any recipe on this site is not guaranteed.