Thai style juicy chicken meatballs in a coconut curry sauce. This one-pot dish is incredibly delicious. The meatballs are tender, herby with a garlic note. Coated with a rich, spicy coconut curry sauce and topped with fresh cilantro and roasted cashew nuts.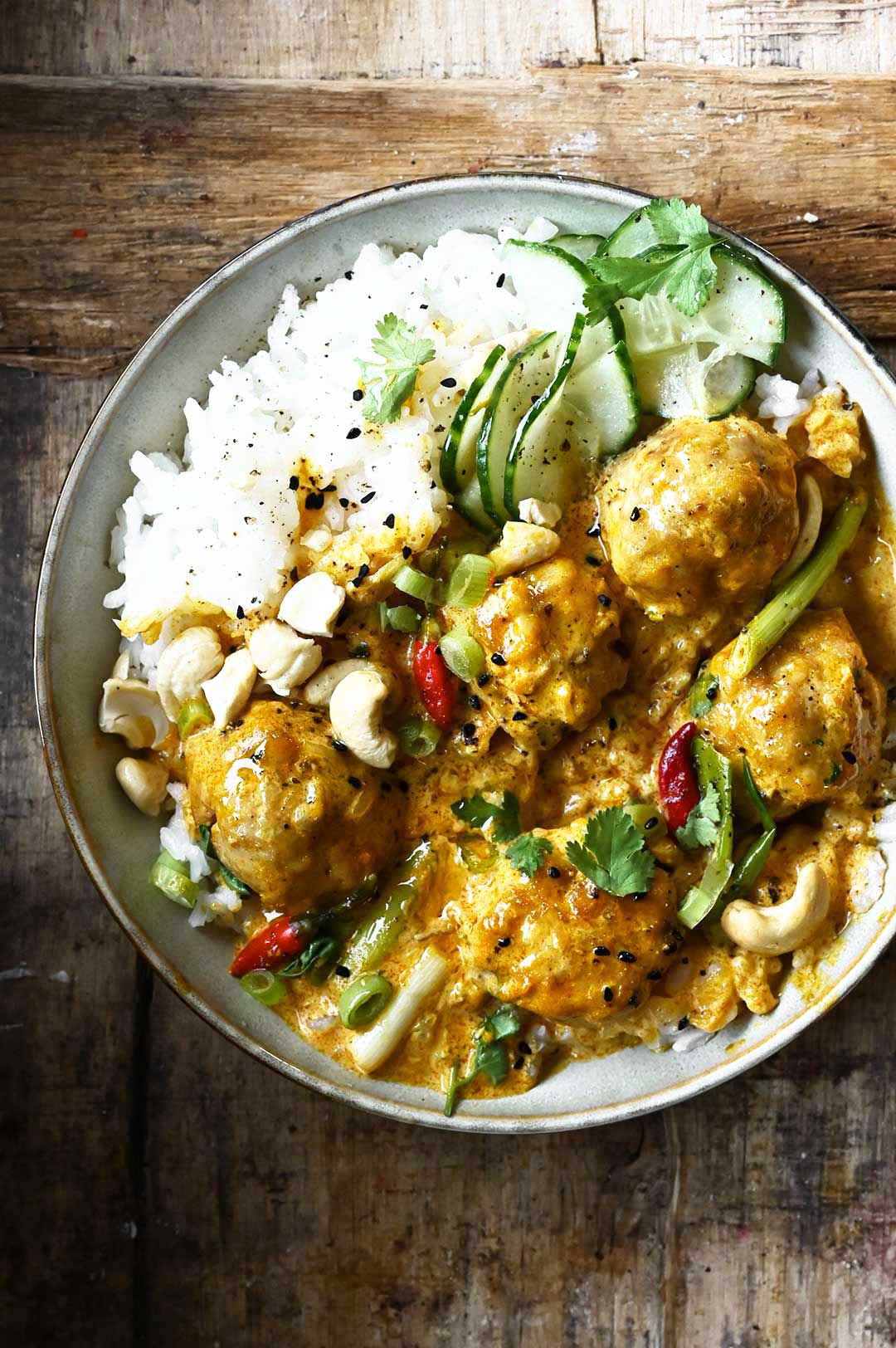 Made with ground chicken or pork, the irresistible Thai flavor of this dish will have everyone convinced you picked it in a Thai restaurant. These are seriously tasty… and so easy to make, with familiar pantry friendly ingredients!
Let's get into the details first! We start by making the meatballs, therefor we mix ground chicken among others with cilantro, garlic, scallions and a splash of soy sauce for some truly delicious meatballs.
Next, we pan-fry the meatballs, make the coconut sauce and cook everything in one pot to create a super flavorful meal. Enjoy served with naan, noodles, rice or cauliflower rice.
Let me guide you through the recipe with this step-by-step VIDEO.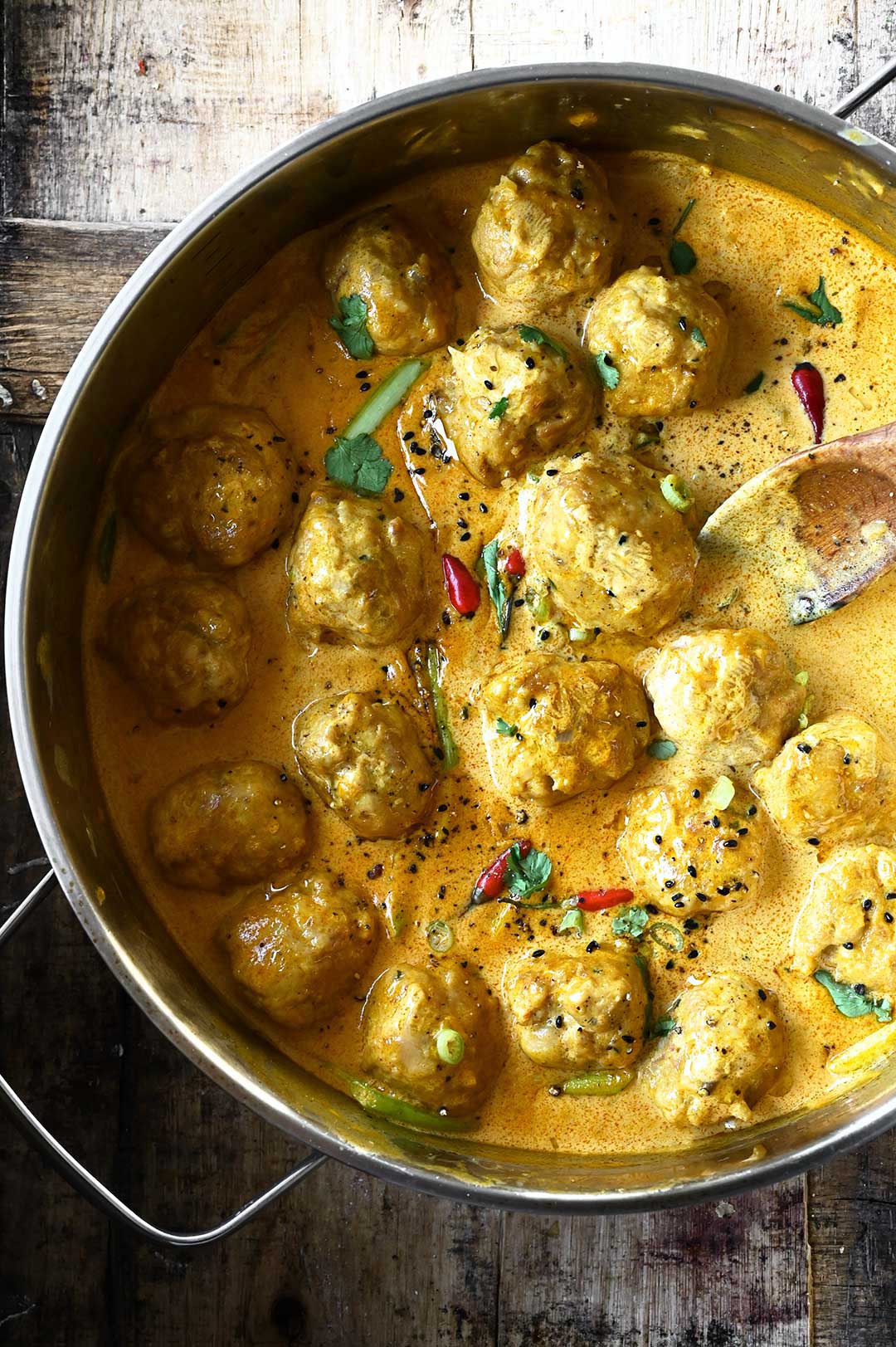 RECIPE NOTES
you can use chicken thighs and ground them in your food processor to make the meatballs from scratch. If you don't have a food processor, you can ask your butcher to grind chicken thighs for your meatballs, or just buy ground chicken
want more veggies? add broccoli, spinach, or cauliflower, and cook together with the sauce
swap cashews for peanuts
add more sambal oelek to make it as spicy as you can handle
instead of frying the meatballs in the skillet, you can also bake them in the oven
serve with steamed rice, warm naan, rice noodles, a crunchy asian-style coleslaw or a cucumber salad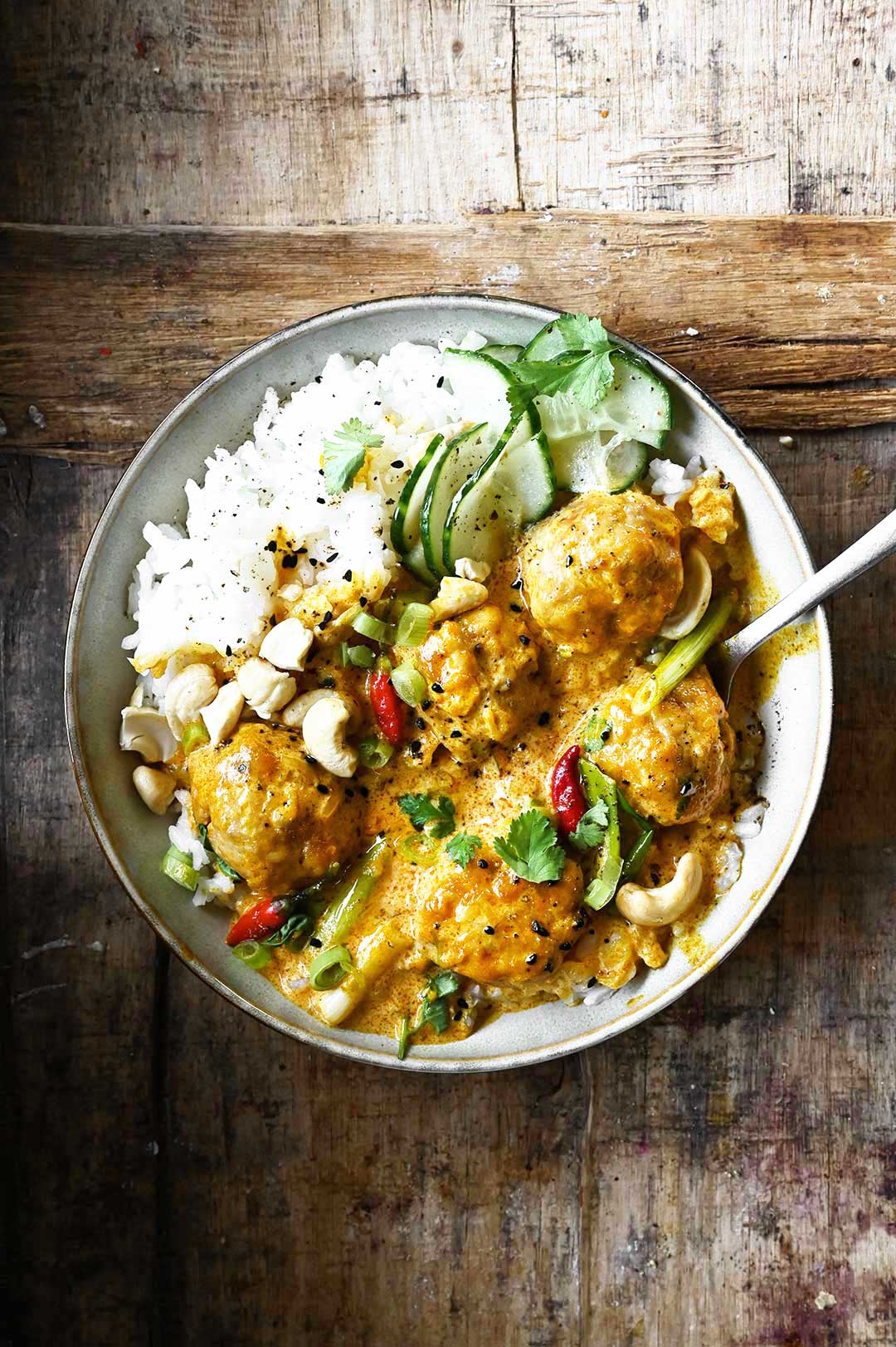 More meatballs, please!
COOKING VIDEO
Yield: serves 4
Thai Coconut Curry Chicken Meatballs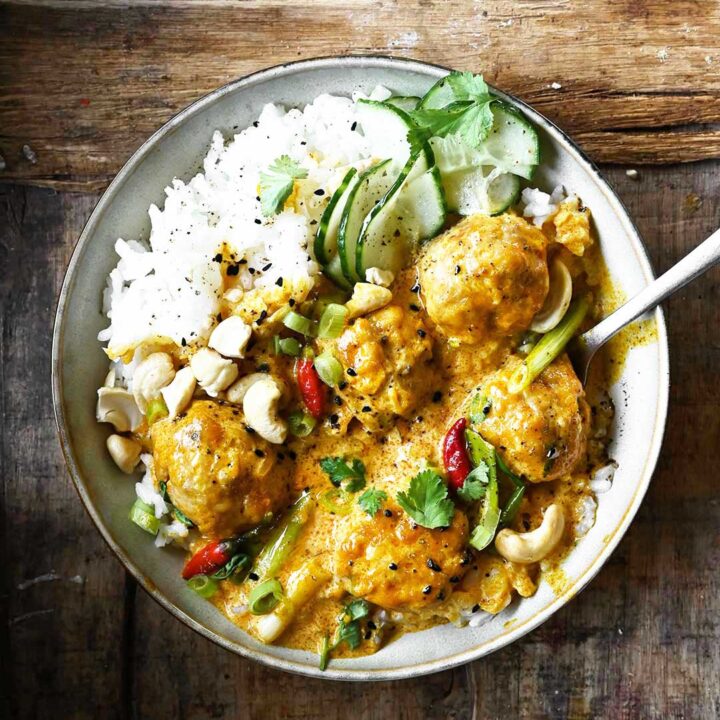 Ingredients
chicken meatballs
500 g /1.1 pounds ground chicken thighs
2 tbsp corn starch
1 egg yolk
1 tbsp chopped cilantro
1/2 tsp each: crushed red pepper flakes, garlic powder
1/4 tsp white pepper
1 tbsp scallions, chopped
1 tbsp soy sauce
Coconut Sauce
2 tbsp coconut oil
2 tbsp red curry paste
2 tsp honey, or brown sugar
2 tbsp low sodium soy sauce
1 tbsp fish sauce
1/2 tsp turmeric
1/4 tsp white pepper
1 lemon grass
2 garlic cloves, minced
1 shallot, finely chopped
1 tbsp grated ginger
1 tsp sambal
1 can (400 ml/14 oz) coconut milk
1/2 cup low sodium chicken broth
4 scallions, thinly sliced
for serving
sesame oil
chili peppers, optional
steamed rice
black sesame and cashews
Instructions
Add ground chicken to a bowl. Add corn starch, egg yolk, cilantro, chili flakes, scallions, garlic powder, white pepper and soy sauce. Mix until just combined. Coat your hands with olive oil or water. Roll into 2 tablespoon-size balls.
Heat a large skillet over medium heat and add coconut oil. Add the meatballs and sear until golden brown, about 5 minutes, turning them 2-3 times. Add garlic, ginger and shallot. Cook until fragrant, about 2 minutes. Stir in the red curry paste and turmeric. Add coconut milk, chicken broth, soy sauce, fish sauce, sambal oelek, honey, lemon grass and white pepper. Simmer over medium until the meatballs are cooked through, 10-15 minutes. Stir in the scallions.
Meanwhile, cook rice or noodles in salted water, according to package directions.
Divide rice among bowls, top with meatballs and sauce. Sprinkle with sesame seeds, toasted cashews and scallions. Add some chili peppers if you like the extra heat. Drizzle with some sesame oil. Enjoy!
Notes
Calories Per Serving: 528 kcal
Nutritional information is only an estimate. The accuracy of the nutritional information for any recipe on this site is not guaranteed.

//= __('Print recipe (no photos)', 'servingdumplings' );?> //= __('Print recipe (with photos)', 'servingdumplings' );?>