A creamy pasta with sautéed spinach, crispy bacon and ricotta. This pasta could very well be your next obsession. It's flavor packed with a hearty ricotta sauce that might make you crave for pasta night. It's light, satisfying and it can be thrown together in about 20 minutes. Made with only a few ingredients, this pasta fits the bill perfectly.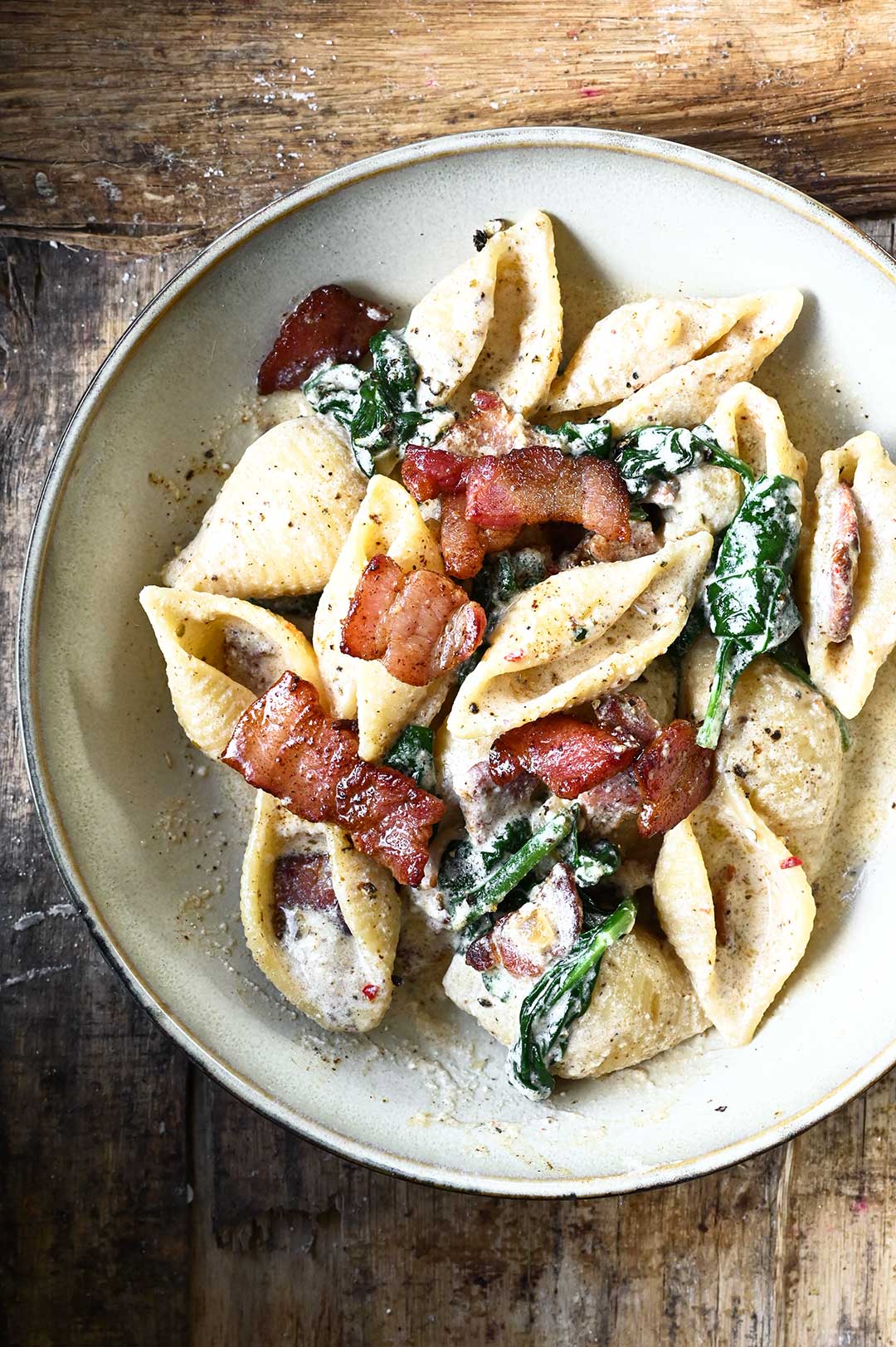 To make this pasta creamy, we add cream of course, but the secret is the ricotta. We add a few big spoonfuls to the pot, it blends with the cooking water and coats the pasta in a rich and velvety sauce. Just be sure to reach for whole-milk ricotta and not part-skim, which can make the sauce grainy.
This is how we do it. Not counting the seasoning, there are only five main ingredients in this dish. And they're all important, especially the two that form the sauce. To make it, first we cook the bacon until crisp, then add garlic and onion. Next, we add spinach and stir briefly just until wilted. If you're not a spinach person, swap in cooked broccoli, peas or arugula. We finish off with some cream and ricotta. Toss in pasta and add a final splash of starchy pasta water that allows you to control just how thick you'd prefer the sauce to be. Serve with some extra red pepper flakes to cut through the creaminess.
Let me guide you through the recipe with this step-by-step VIDEO.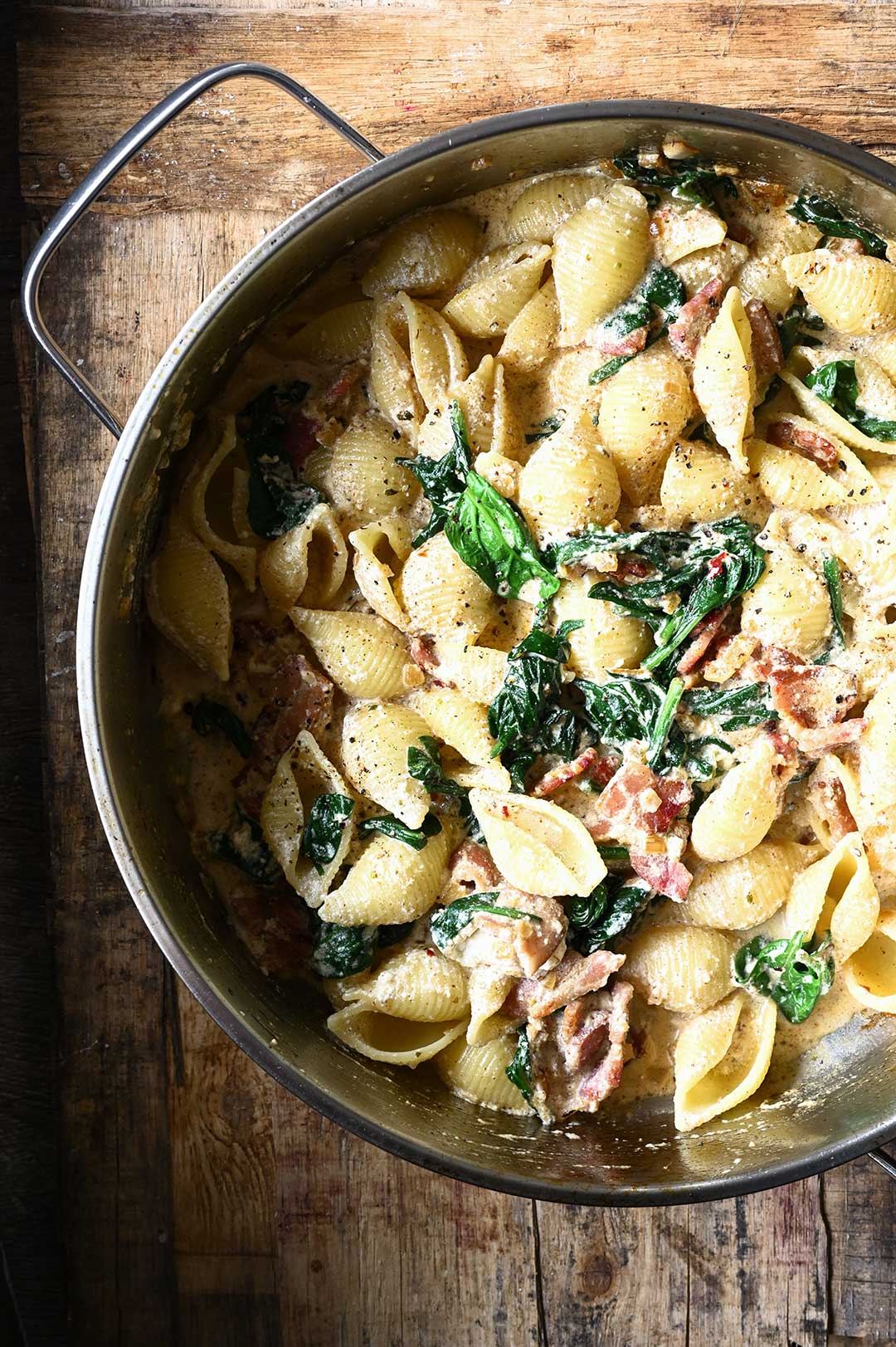 RECIPE NOTES
– the pasta shapes that best complement this sauce are small-shaped pieces, like shells, orecchiette, penne, or fusilli, these shapes hold the sauce
– it's important to use whole milk ricotta, lower-fat versions or versions with lots of stabilizers, can result in a grainy sauce
– swap spinach for cooked broccoli, baby kale or green peas
More creamy ricotta, please! 
Turkish style eggs with whipped ricotta and browned butter
Eggplant and sun dried tomato pasta with ricotta
Ricotta Polenta with Drunken Meatballs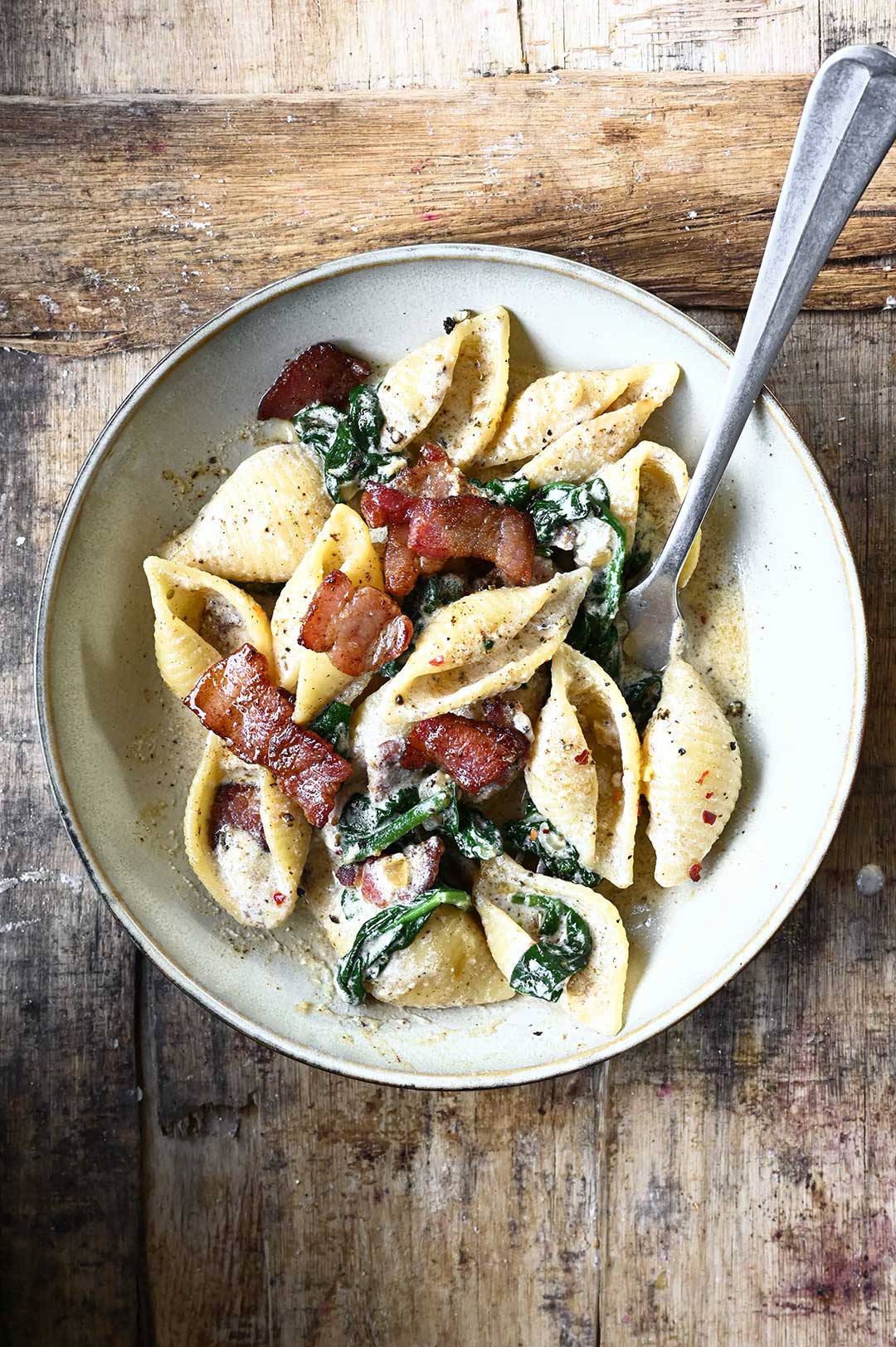 You need
150 g (7 oz) pasta, like shells or orecchiette
150 g (5.3 oz) spinach
200 g (8.8 oz) salted bacon bits
150 g (5.3 oz) ricotta
100 ml (1/4 cup) cooking cream
2 tbsp olive oil
2 garlic cloves, minced
1 small onion, finely chopped
seasoning: 1 tsp each: salt, black pepper, dried oregano, sweet paprika, red pepper flakes
Recipe Video
How to
Cook the pasta in a large pot of generously salted boiling water, until al dente. Drain, reserving 1/4 cup cooking water.
Heat oil in a large skillet over medium high heat. Add bacon, cook until crispy and golden brown, stirring occasionally, for about 5 minutes. Add garlic and onion, cook until fragrant, about 2 minutes. Stir in the seasoning.
Add spinach and stir until slightly wilted. Pour cream and bring to a boil. Then add ricotta and stir until combined. Toss with pasta and add a splash of cooking water. Stir and add more water if needed, to create a glossy sauce. Season with  more salt or pepper if needed.  Serve immediately with an extra sprinkle of red pepper flakes. Enjoy!
PRINT RECIPE