Spicy Miso Brown Butter Pasta. Shells tossed with browned butter and olive oil sauce. A simple dish but we elevate it by finishing it with miso, garlic and crushed peppers. We serve it with a handful of chopped walnuts, sage breadcrumbs and Pecorino Romano. The result is just out of this world in terms of flavor. And if you think you don't like miso, you may be surprised. Once it breaks down into the warm oil, its flavor mellows and changes into toasted, salty nuts. It's rich and packed with flavor. Unique and beyond delicious.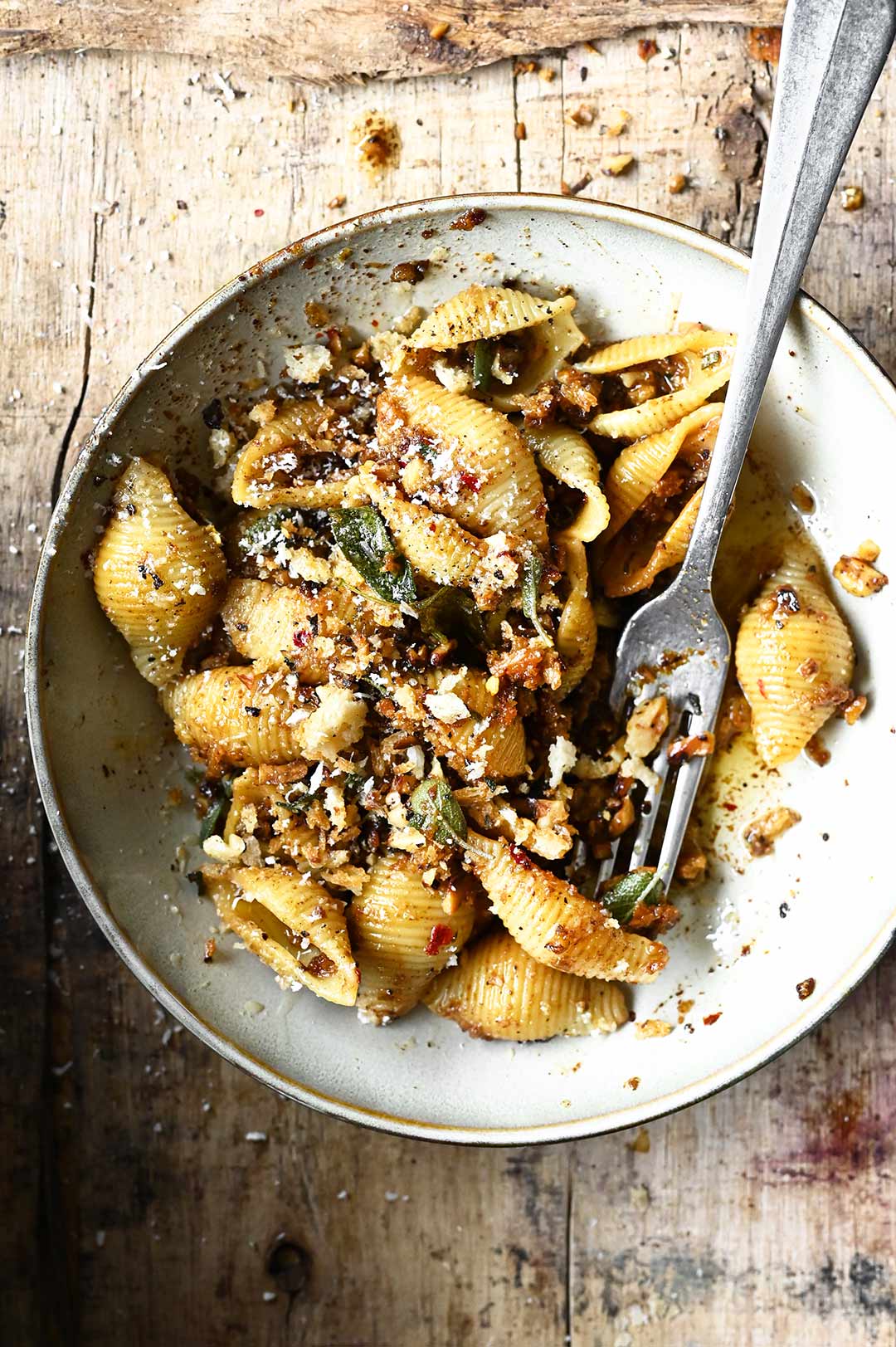 This is comfort-food at its best, maximum flavor with minimum effort. You'll find crunch of nuts and breadcrumbs, softness of the pasta, melting savory miso sauce, earthy herbs and a spicy kick from the crushed chili flakes. Layer upon layer of umami. It's tasty and there's so much going on, no two bites are the same. And the grated pecorino just seals the deal.
This spicy sauce comes together in no-time, actually we prepare it while the pasta is boiling. And you can throw in as many chili flakes as you want.
As for the pasta, use pasta like orecchiette or shells, because of the tiny little indentations that are capable to catch so much sauce.
Let me guide you through the recipe with this step-by-step VIDEO.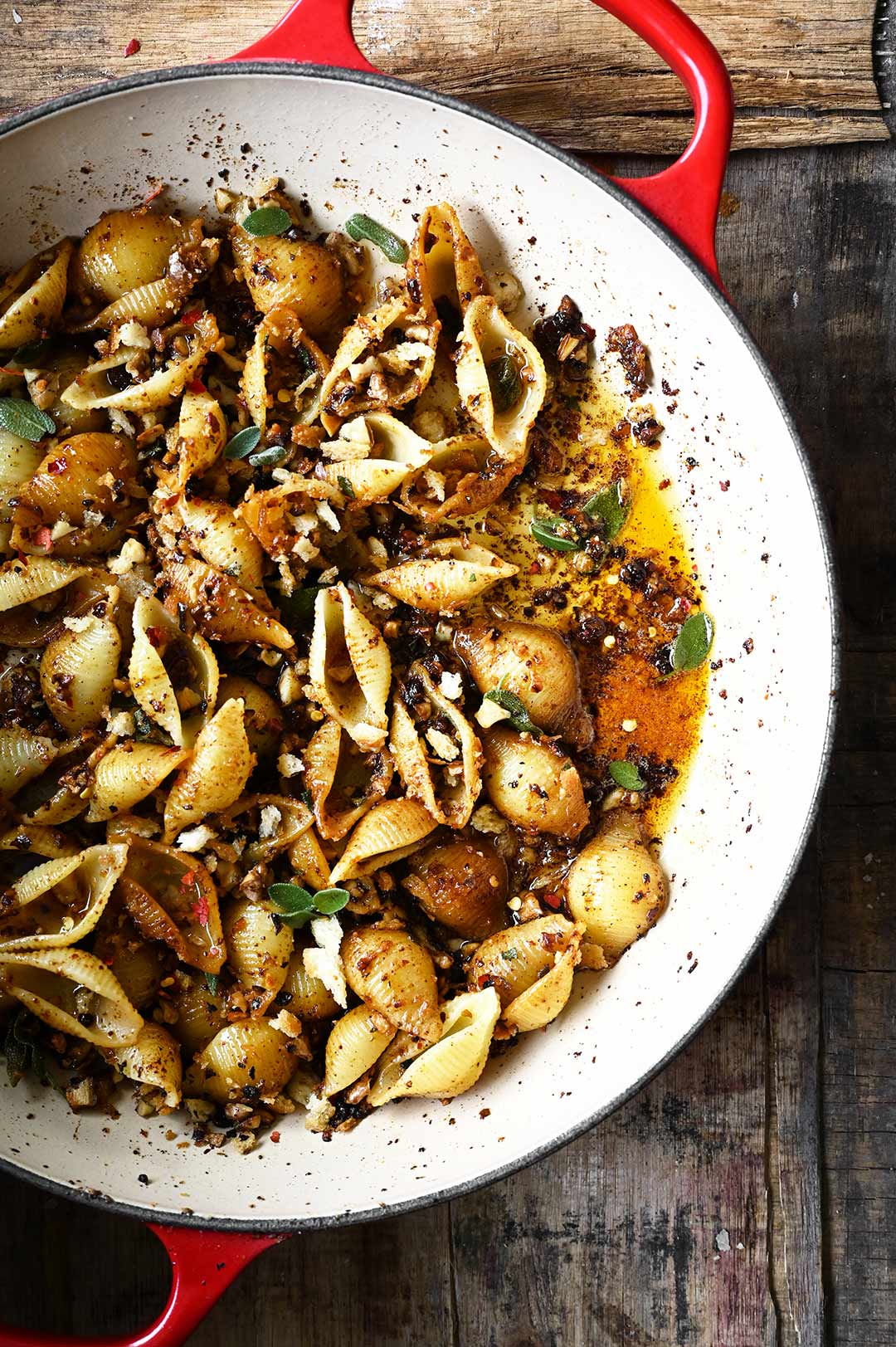 More easy recipes:

Recipe Video
Yield: serves 2
Spicy Miso Brown Butter Pasta
Prep Time 5 minutes

Cook Time 10 minutes

Total Time 15 minutes
Ingredients
250 g/20 oz short pasta, shells or orecchiette
2 tbsp unsalted butter
1/4 cup/50 ml olive oil
4 garlic cloves, minced
1/2 tbsp white miso paste
1 tsp crushed chili flakes, extra for serving
1/2 tsp each: cumin, smoked paprika, sweet paprika, cayenne pepper
20 sage leaves
sea salt + black pepper
grated pecorino or parmesan, for serving
breadcrumbs
1/2 cup/30 g panko breadcrumbs
1/4 cup/40 g walnuts, chopped
1 tbsp chopped fresh sage leaves
3 tbsp olive oil
salt + black pepper
Instructions
Cook the pasta in salted water until al dente. Drain, reserving 1/2 cup of the cooking water.

For the breadcrumbs. Heat a large skillet over medium heat and add the olive oil. Once hot, add panko and walnuts, cook, stirring for 4 minutes until toasted and golden brown. Add chopped sage and cook for 1-2 minutes more. Season with salt and pepper. Remove from skillet onto a plate.

Heat the same skillet over medium heat, add butter. Lower the heat and cook for 2-3 minutes or until butter foams and starts to brown. Add garlic and olive oil, cook for 2 minutes until soft. Stir in miso paste, lower the heat to minimum trying not to burn miso or garlic. Add chili flakes, sage leaves and the seasoning.

Toss with pasta and add 1/4 cup of the reserved cooking water. Now taste and adjust salt and pepper. Add extra cooking water to make more sauce, as the pasta will absorb it.
Serve immediately with crunchy breadcrumbs, pecorino and some extra chili flakes. Enjoy!
Notes
Calories Per Serving: 613 kcal
Nutritional information is only an estimate. The accuracy of the nutritional information for any recipe on this site is not guaranteed.


DOWNLOAD PRINTABLE RECIPE PDF