Spicy Cajun shrimp pasta with sausage. An easy to make super comforting dish. Imagine a hearty tomato sauce, fiery chili flakes, smoked sausage and plump shrimp transformed within 30 minutes into a seriously luxurious meal. Delicious any night of the week but special enough to serve on your next dinner party.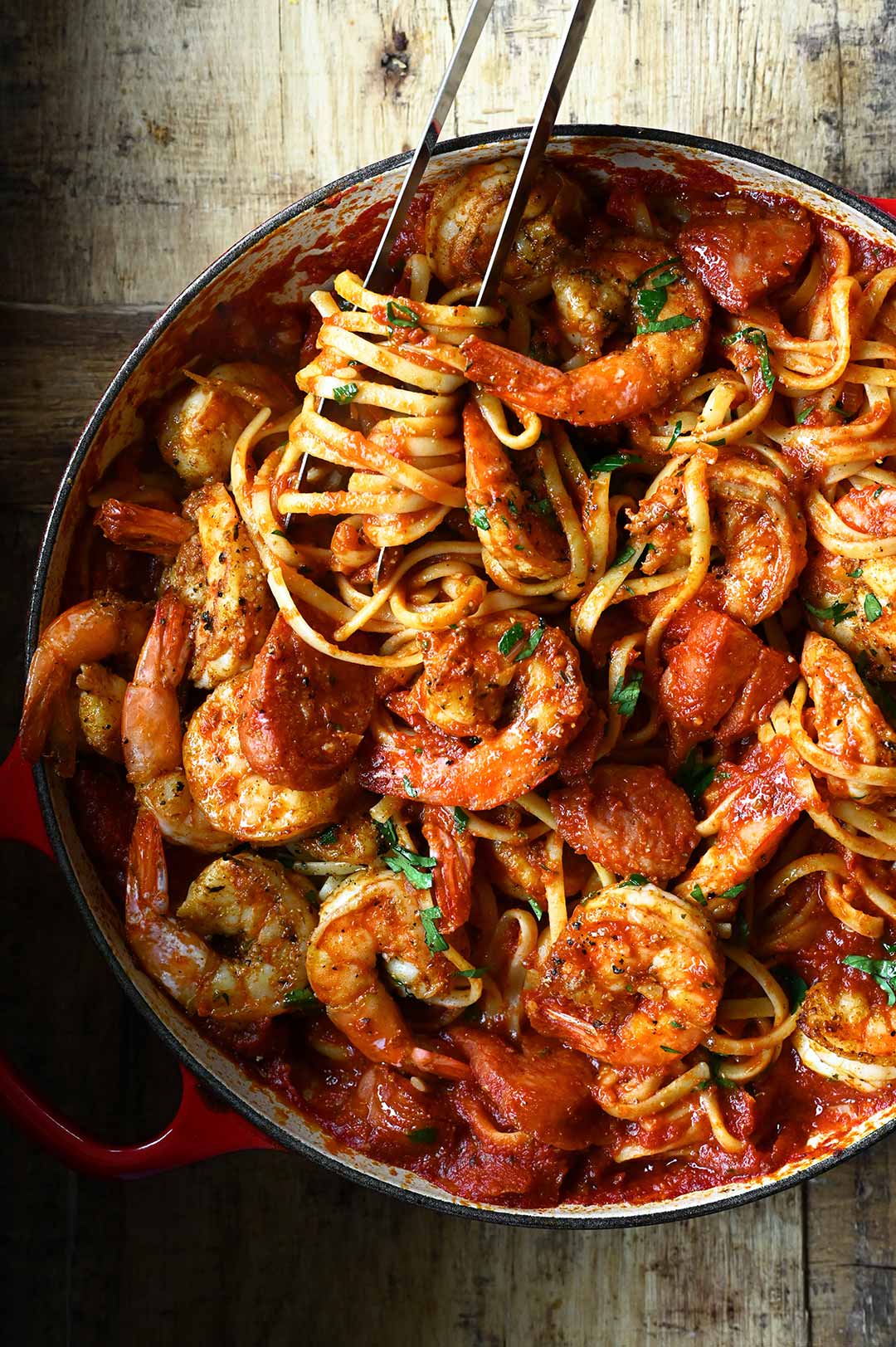 A bag of frozen shrimp is one of the very best ways to get your dinner super fast to the table. Shrimp are also often sold already cleaned, which saves a lot of preparation time.
This recipe is incredibly fragrant and flavorful. Tender shrimp are quickly marinated in a spicy, earthy mix of Cajun seasoning. Then seared and combined with sautéed smoked sausage and a spicy tomato sauce. And just like that, dinner is ready.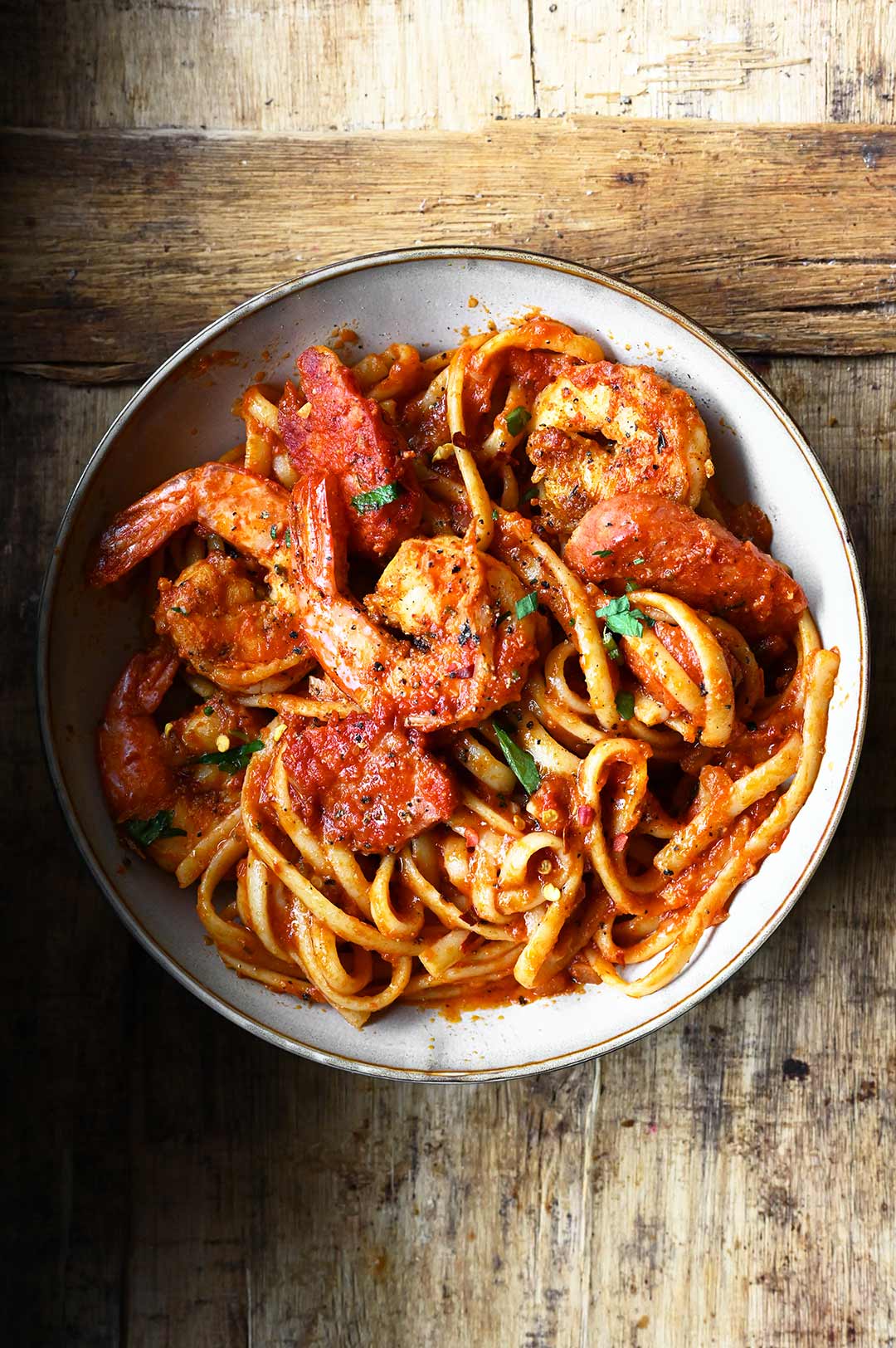 It's bright and garlicky with a touch of parsley which adds its signature pop of green. I love it served with pasta and some bread on the side for swiping up ever last bit of saucy goodness.
Let me guide you through the recipe with this step-by-step VIDEO.
This luscious recipe is a great option for nights when you're craving a light pasta dish. Full of bold and mouthwatering flavors, simple and quick to throw together. It's definitely one of those recipes the whole family will enjoy!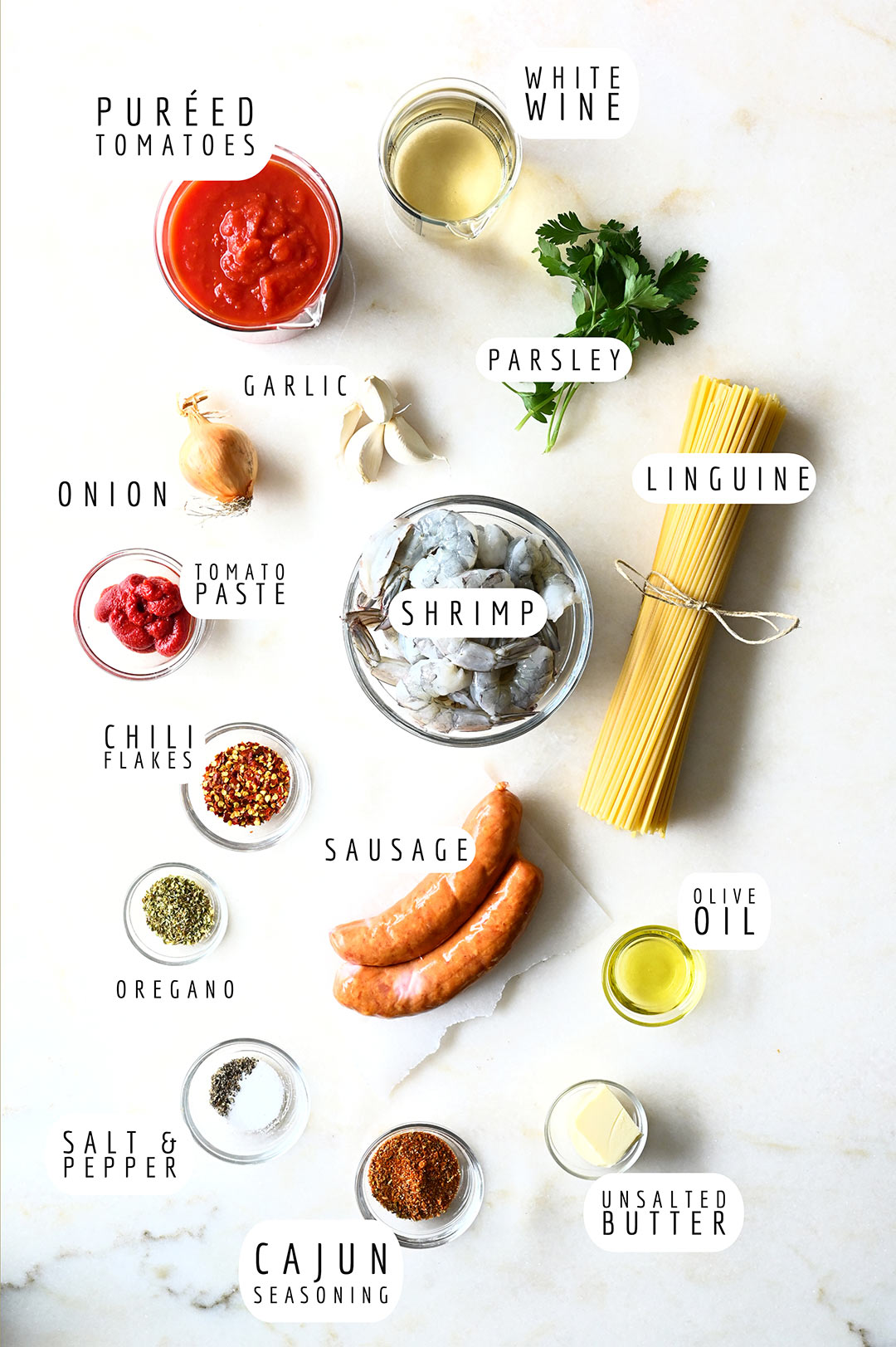 INGREDIENTS
Pasta: I used linguine, but any pasta variety will do.
Shrimp: Peeled and deveined. Look for medium or large shrimp. You can cook shrimp with the tail on or off. However, the shell and tail of the shrimp contain much flavor which adds to the overall taste of the dish.
Smoked Sausage: You can use any variety you can find, like Andouille, Polish sausage or spicy Sicilian smoked sausage.
Onion and garlic: Both are big on flavor. Use fresh garlic cloves, not pre-minced. As for the onion, use yellow onion, red onion or shallot.
Cajun seasoning: Any cajun seasoning blend will work, please check the salt content before and adjust as needed. I like to make my own blend to get the right balance of flavors. You can find my favorite blend in the recipe notes.
Chili flakes: For that extra kick, but you can simply omit them.
Seasoning: Salt, black pepper and dried oregano.
White wine: Use Chardonnay, Sauvignon Blanc or Pinot Grigio. You can always substitute it with chicken broth.
Tomatoes: We use tomato paste and puréed tomatoes. This is our base for the sauce. You can swap puréed tomatoes for crushed tomatoes.
Herbs: Fresh parsley. You can also use dried or an alternative herb of your choice like oregano or thyme.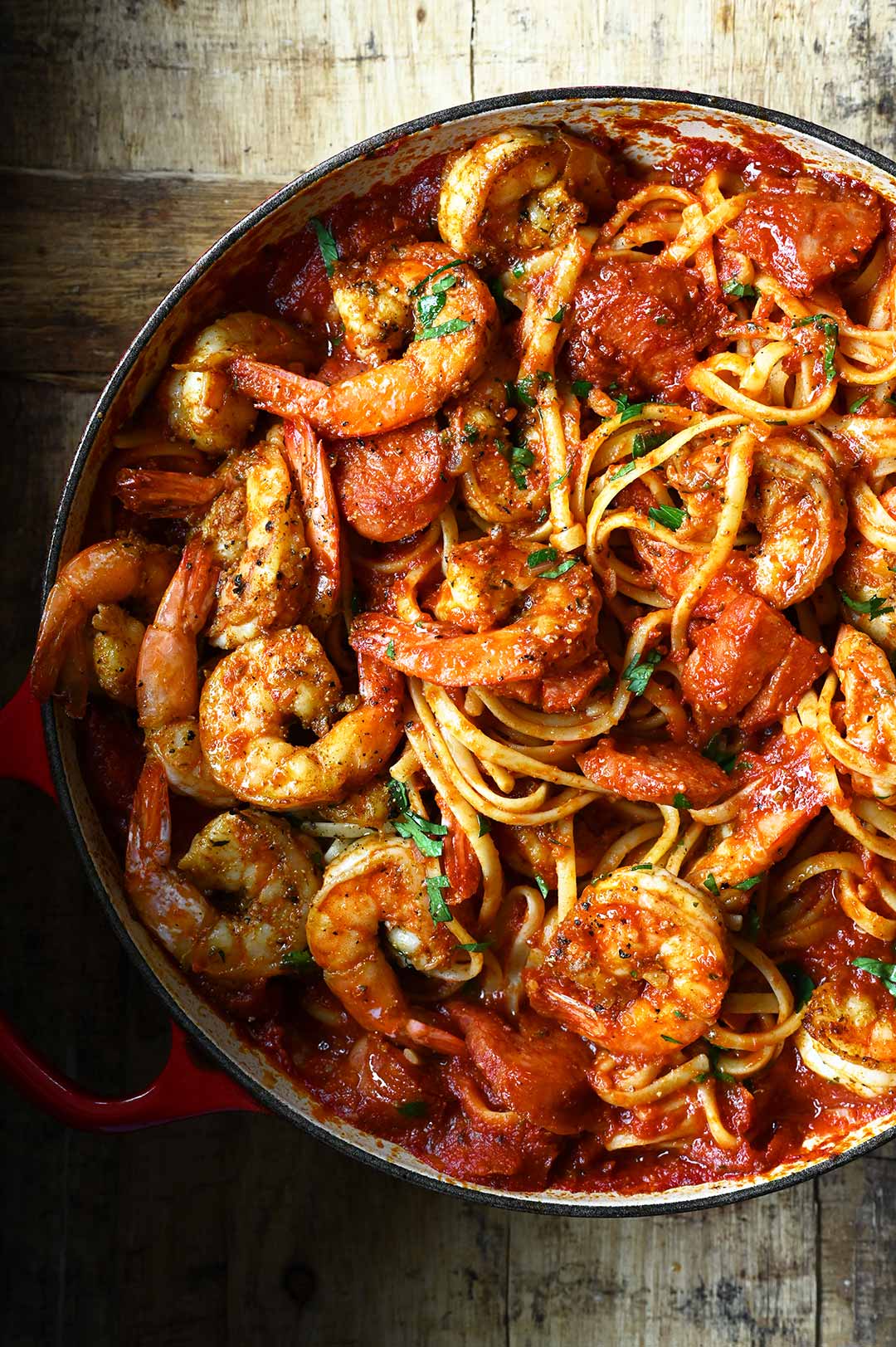 RECIPE NOTES
Although this recipe calls for shrimp and sausage, feel free to make this recipe your own. Use chicken or go vegetarian and opt for mushrooms.
Make your own Cajun spices: 2 tbsp smoked paprika, 2 tsp each onion powder + garlic powder, 1 tsp each dried thyme + dried oregano + salt + black pepper + cayenne pepper + chili powder + ground cumin. Omit cayenne pepper or chili powder for a milder version.
Heat Level: medium. You can really spice this pasta dish up by adding extra chili flakes. For a milder version, omit the chili flakes.
Storage: Leftovers can be refrigerated in an airtight container for up to 2 days.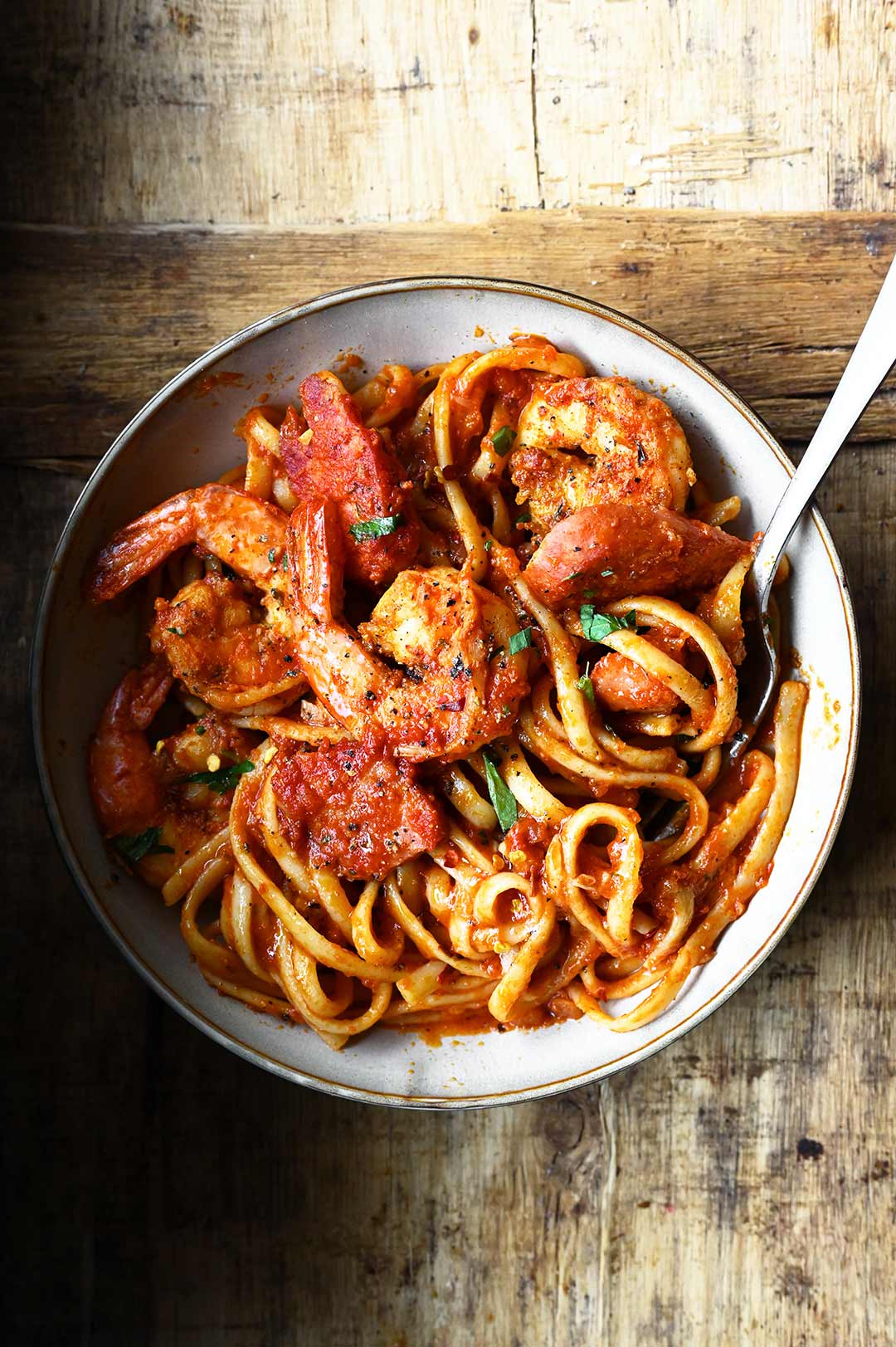 TRY THESE NEXT
COOKING VIDEO
Yield: serves 4
Spicy Cajun Shrimp Pasta with Sausage
Ingredients
14 ounces/400 g dry linguine
1 tbsp olive oil
1 tbsp unsalted butter
1 pound/450 g shrimp, peeled and deveined
7 ounces/200 g smoked sausage
1 small yellow onion, finely chopped
4 garlic cloves, minced
3 tbsp Cajun seasoning, divided
½ tsp chili flakes, more to taste
1 tsp each: salt, black pepper, dried oregano
½ cup/120 ml dry white wine
3 tbsp double concentrated tomato paste
2 cups/500 ml puréed tomatoes
2 tbsp chopped parsley, more for serving
Instructions
Bring a large pot with generously salted water to a boil.
Combine shrimp with 2 tablespoons Cajun seasoning. Toss and set aside while you prepare the other ingredients. If you want to marinate them longer, no problem, transfer the shrimp to the fridge and chill for 30 minutes or up to 8 hours.
Mince the garlic, roughly chop the parsley and finely chop the onion. Remove casings from sausages, cut into thin slices.
Heat oil and butter over medium-high in a large nonstick skillet or pan. Place shrimp in a single layer. Sear, 1 minute per side. Then remove from skillet.
To the same skillet. Add sausage and cook until golden brown.
In the meantime, add linguine to the pot with boiling water and cook according to package instructions.
Add garlic and onion to the sausage, cook until fragrant. Stir in salt, pepper, oregano, chili flakes and the remaining Cajun seasoning. Deglaze with white wine and simmer for 2 minutes while scraping up the brown bits on the bottom of your skillet with a wooden spoon.
Stir in tomato paste and add puréed tomatoes. Simmer for about 5 minutes, or until the linguine is ready.
Drain the linguine and toss with sauce. Add parsley and shrimp, Stir to combine. Serve!
Notes
Calories Per Serving: 427 kcal
Nutritional information is only an estimate. The accuracy of the nutritional information for any recipe on this site is not guaranteed.