Garlic shrimp in coconut milk. This fragrant 20-minute meal is a seafood-lover's dream. Seared shrimp simmered in a creamy garlic coconut sauce enhanced with lime juice and just the right amount of honey. It's light, delicate and super flavorful. This recipe is most definitely going to kick your dinner game into high gear!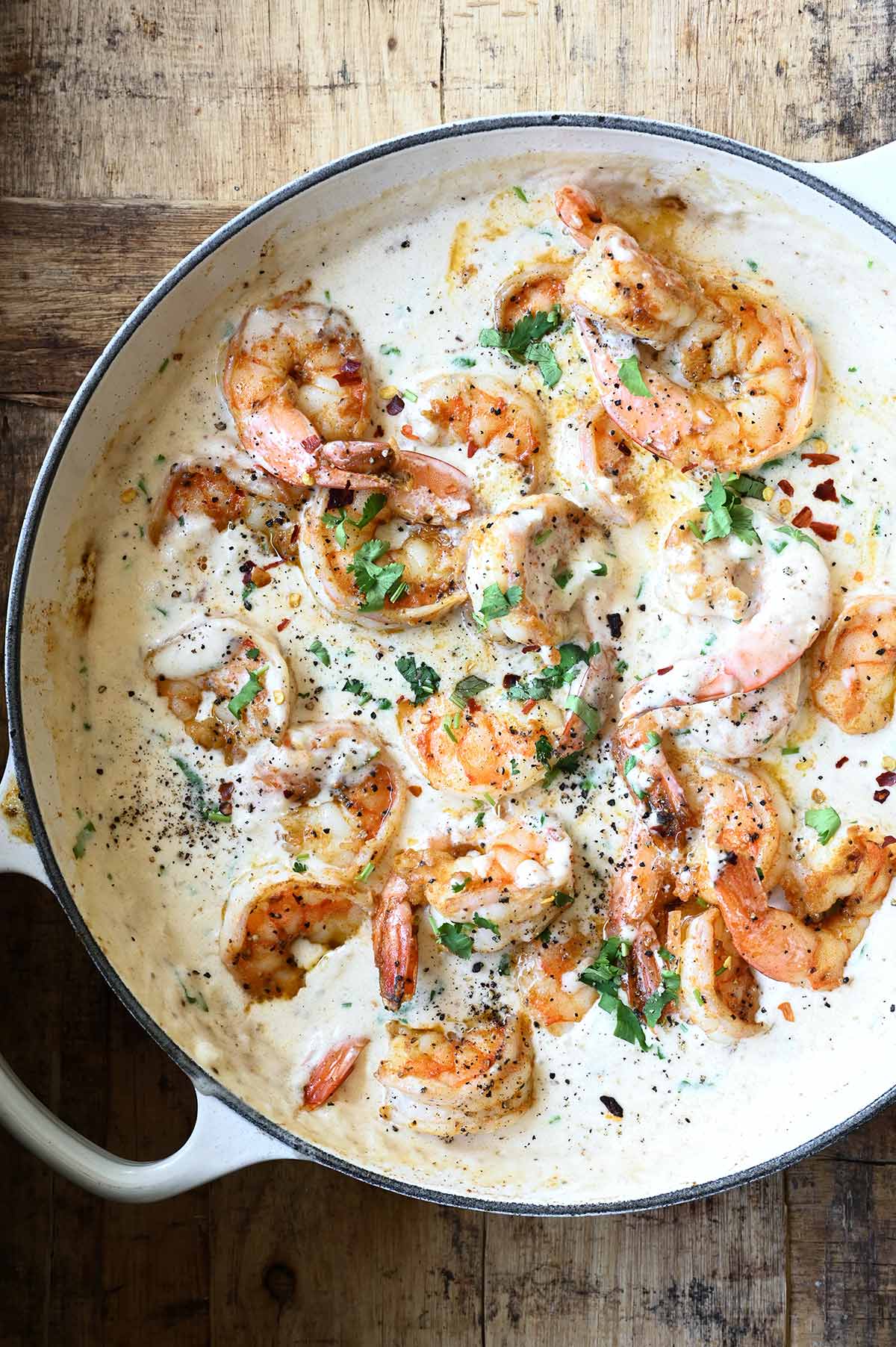 This dish will tempt people into the kitchen, wondering what smells so good. The shrimp are coated in garlic and paprika, then seared and simmered in a combination of coconut milk, lime juice and fish sauce. You can stir in a bit of green like spinach, or use your favorite quick-cooking greens like bok choy or kale and adjust cooking time if needed. Swap the shrimp for scallops or white fish, if you like.
Since there's lots of sauce that deserves to be soaked up, serve it with rice, noodles or bread. It's such a treat, one of the easiest, nicest meals you can eat at home.
Let me guide you through the recipe with this step-by-step VIDEO.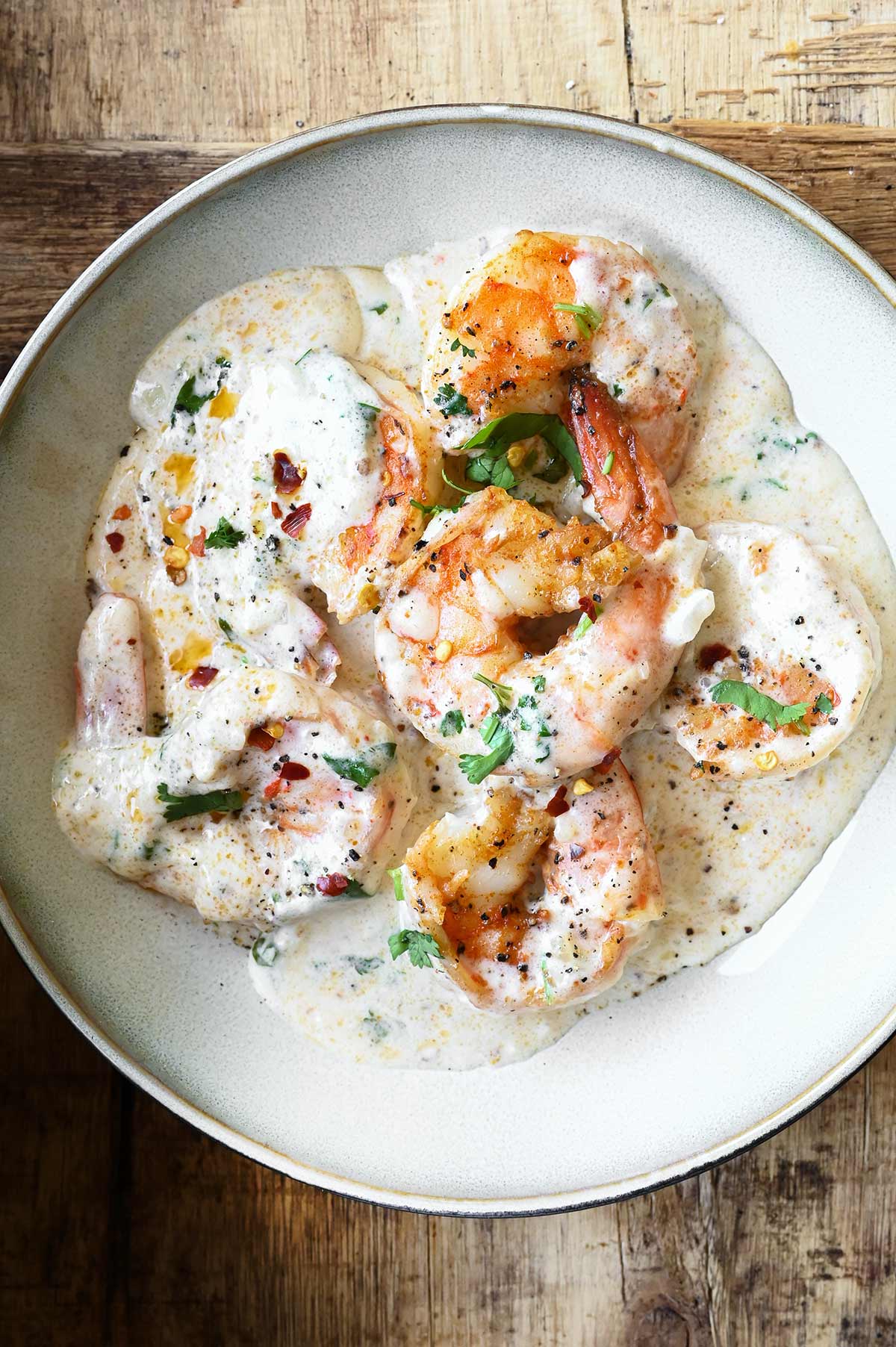 We shortly sear the shrimp first before simmering in the sauce, to prevent them from becoming tough. While it adds an extra step, this makes the shrimp taste buttery and moist with a tender texture.
To create a rich sauce that goes really well with seafood, we use coconut milk combined with garlic. At the end we whisk in fish sauce, add a twist of lime juice and fresh cilantro to keep this dish bright and citrusy. Just a few ingredients, but the result is out of this world delicious.
To spice things up, we add a pinch chili flakes. Adjust the heat to your liking, use one teaspoon for medium heat, and two if you don't mind some sweat beading on your forehead.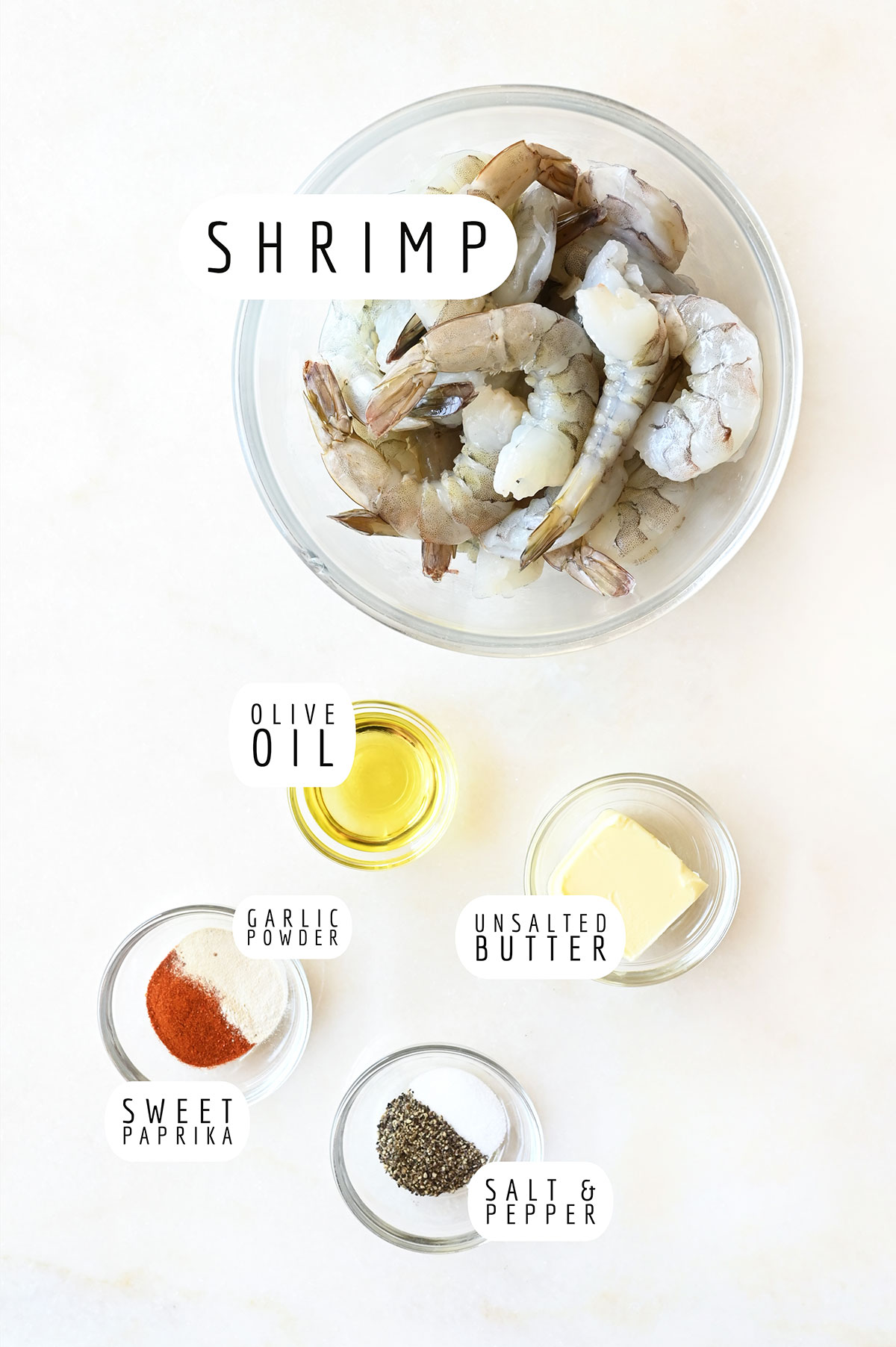 Ingredients, Tips & Substitutions
Shrimp
Shrimp: I typically use frozen (just be sure to thaw first), and prefer a large size (16-20 per pound).
Seasoning: Salt, black pepper, garlic powder and sweet paprika.
Butter and Oil: For searing the shrimp.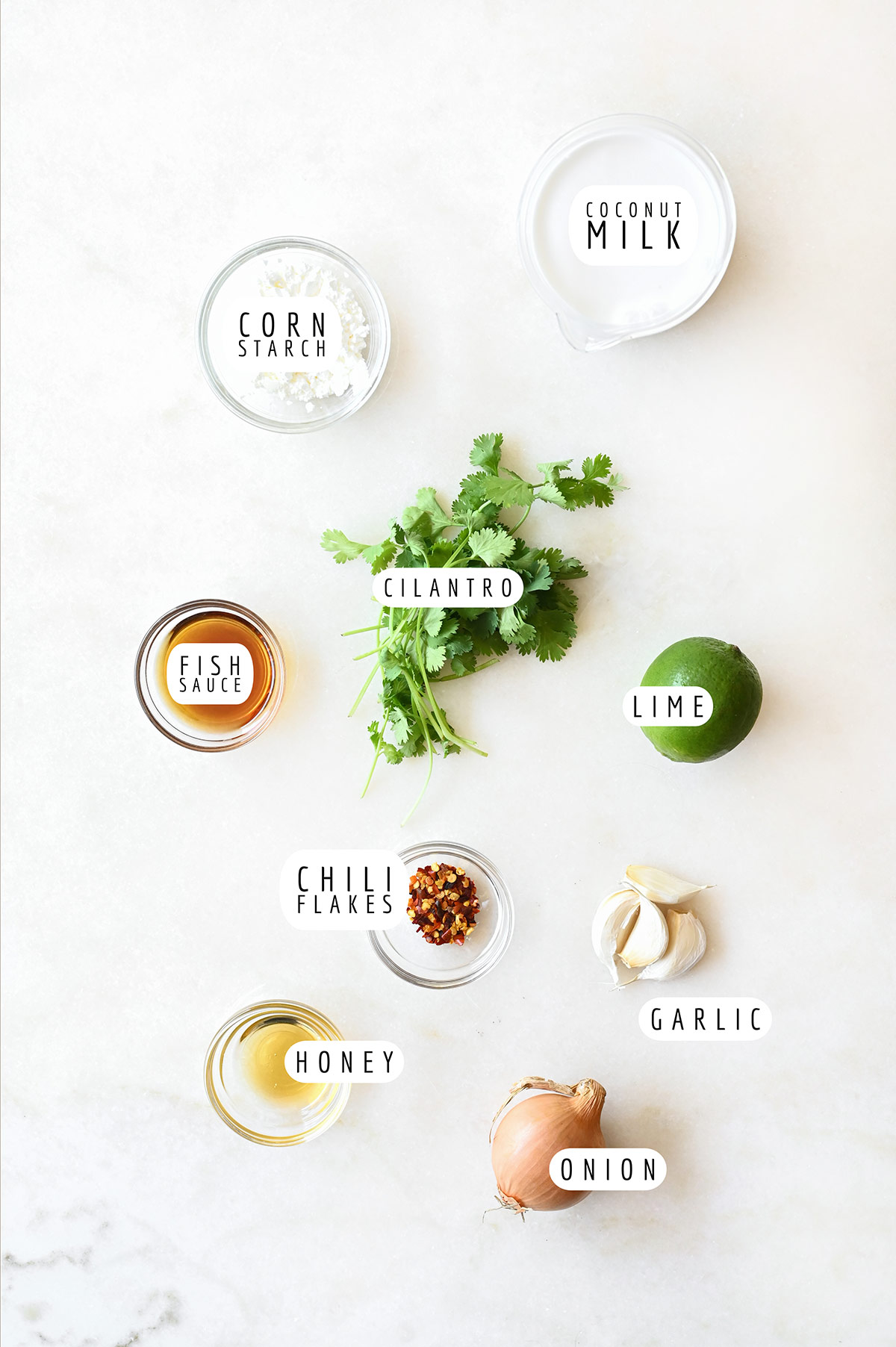 Garlic Coconut Milk Sauce
Garlic: Our flavor base. Try not to use store-bought pre-chopped garlic, it will never add as many flavor as freshly minced.
Coconut Milk: Use full fat coconut milk for best creamy result.
Onion: Extra flavor, you can also use a shallot.
Lime Juice: To add some acidity.
Cornstarch: To thicken the sauce.
Fish Sauce: To boost the salty, savory flavor.
Honey: To jazz up the coconut flavor. Honey can be substituted for brown sugar.
Cilantro: If you're not a fan of cilantro, try it with Thai basil or parsley.
Chili flakes: Add a nice spicy kick without overpowering the overall taste.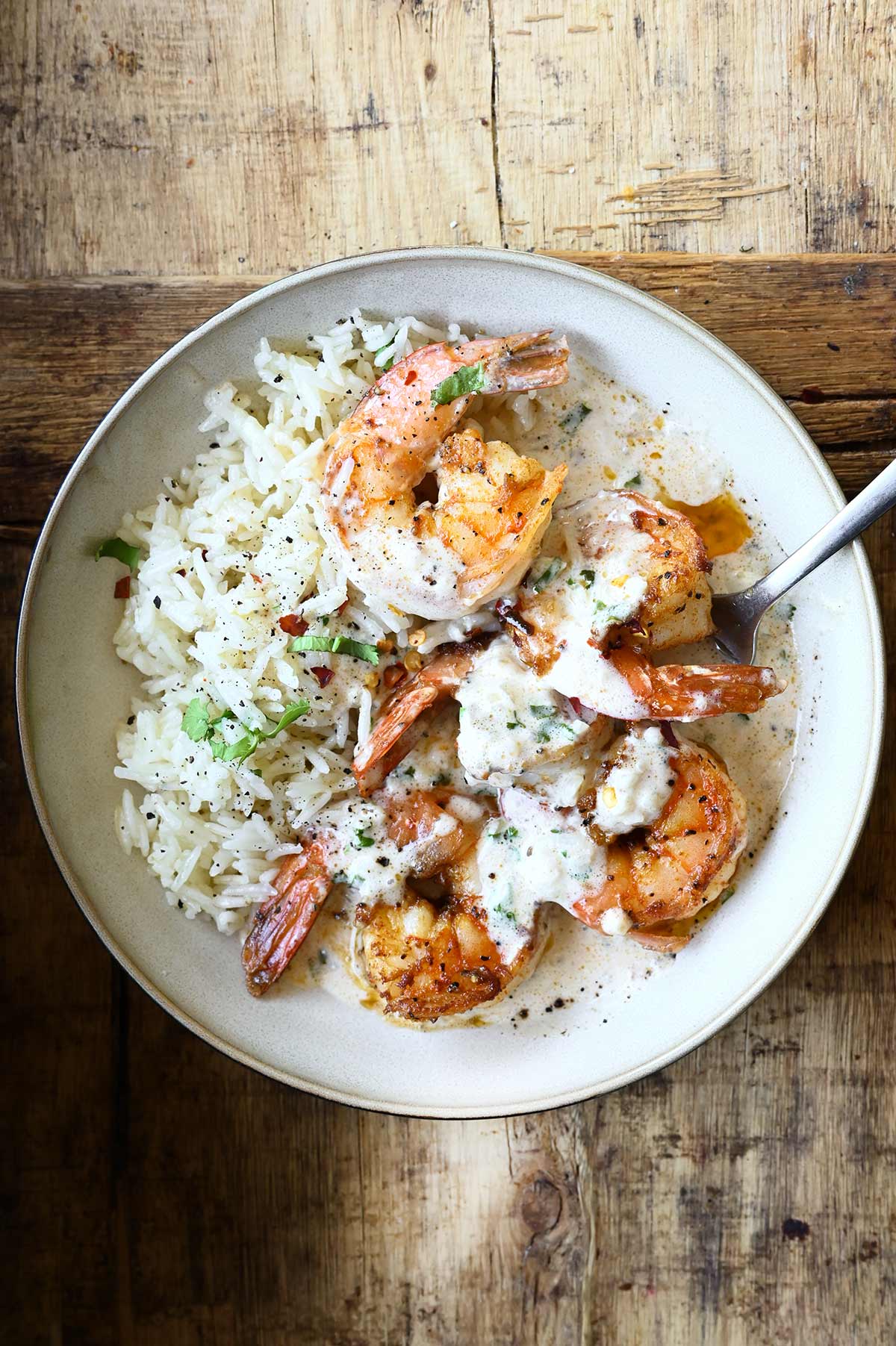 Recipe Notes
Pair with an Asian cucumber salad, green beans or steamed broccoli.
Serve with basmati rice, noodles, bread or naan.
Stir in some veggies into the sauce, like spinach, sugar snaps, bell pepper, bok choy or kale. Adjust cooking time as needed.
Storage: Store leftovers refrigerated in an airtight container for up to 2 days.
Try These Next
Cooking Video
Yield: serves 4
Garlic Shrimp in Coconut Milk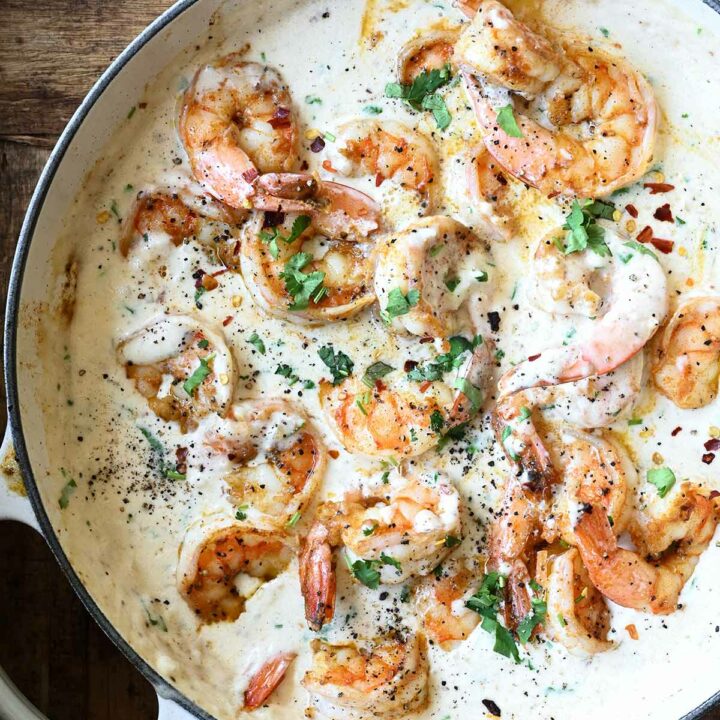 Ingredients
1.1 pounds/500 g shrimp, peeled and deveined
1 tsp each: salat, black pepper, sweet paprika, garlic powder
1 tbsp unsalted butter
1 tbsp olive oil, or vegetable oil
4 garlic cloves, minced
1 small brown onion, finely chopped
1 can (14 oz/400 ml) coconut milk, full fat
2 tsp cornstarch
1 tbsp fish sauce
1 tsp honey
2 tbsp lime juice
2 tbsp chopped cilantro, more for serving
chili flakes, for serving
freshly cracked black pepper, for serving
Instructions
Get all the prep done before you start cooking. Add shrimp, salt, pepper, paprika and garlic powder to a bowl. Stir to combine, set aside.
Mince the garlic. Finely chop the onion and chop the cilantro.
Heat oil and butter in a large skillet over high. Place shrimp in a single layer. Sear, 1 minute per side. Remove from skillet.
Reduce heat to low, add garlic and onion. Sauté until soft and fragrant for about 3 minutes. Pour in ¾ of the coconut milk. Combine the remaining coconut milk with cornstarch and add to the skillet. Stir in fish sauce, honey and lime juice. Simmer for 2 minutes. Stir in cilantro and return shrimp to the skillet. Toss to coat and simmer for 1 minute or until heated through.
Top with cilantro, chili flakes and freshly cracked black pepper. Serve immediately. Enjoy!
Notes
Calories Per Serving: 297 kcal
Nutritional information is only an estimate. The accuracy of the nutritional information for any recipe on this site is not guaranteed.

//= __('Print recipe (no photos)', 'servingdumplings' );?> //= __('Print recipe (with photos)', 'servingdumplings' );?>