Eggplant tomato pasta with bacon. A straightforward pasta dish with sautéed eggplant, smoked bacon and tomato sauce. Topped with halloumi breadcrumbs to wow it up. It might seem trivial, but don't skip them, they add a crunchy texture and transform this weeknight meal into a real treat. So grab your knife, this pasta is dead-simple and can be thrown together in about 40 minutes.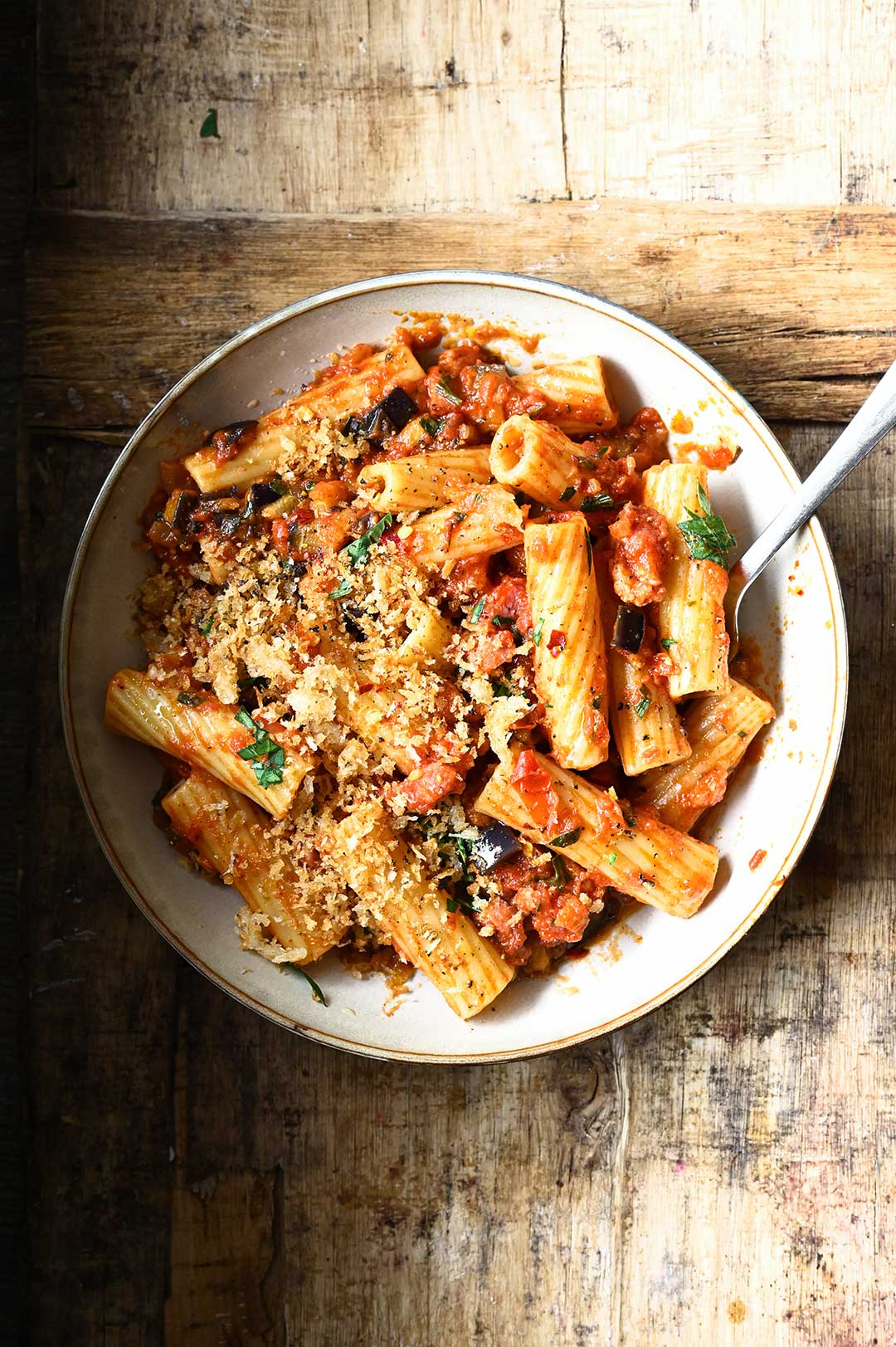 This is how we do it. First we make the halloumi breadcrumbs, then we fry the bacon until golden. We use its rendered fat to start the dish and create a rich, smoky flavor. Next we sauté the eggplant and make the sauce with crushed tomatoes, onion, garlic and smoked paprika. Let everything simmer for no more than 10 minutes, while we cook the pasta.
Just before serving, the pasta and Parmesan are tossed together with some cooking water until melty and delicious. It's relaxed, easy cooking, but the result is flavorful, hearty, and exactly what you want to cook mid-week.
Let me guide you through the recipe with this step-by-step VIDEO.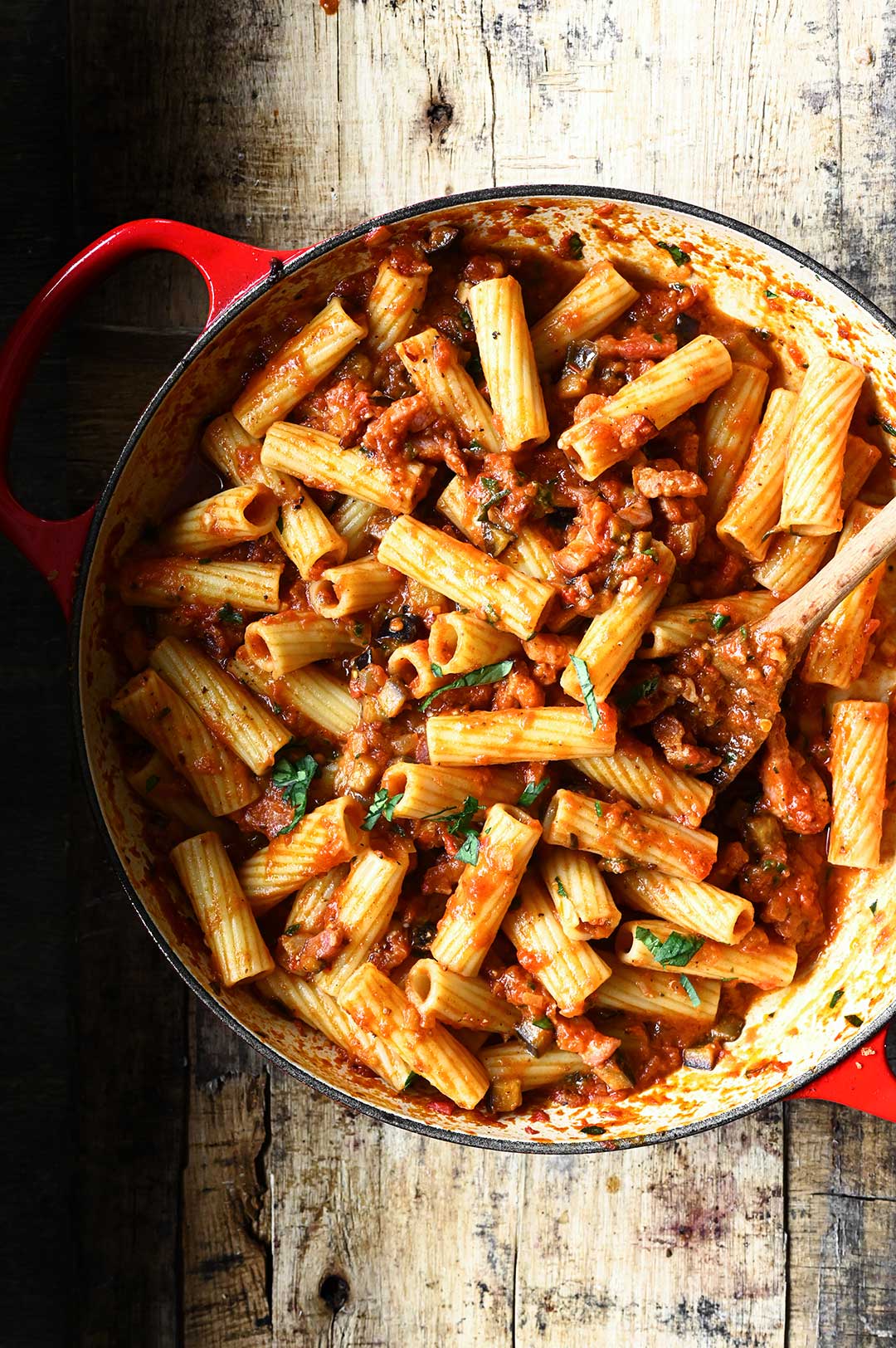 RECIPE NOTES
for the pasta, you can use tortiglioni, gemelli, penne, rigatoni or any other pasta that will hold the sauce
if you want to make this sauce vegetarian, just leave out the bacon
you can leave out the halloumi breadcrumbs, the pasta will still be delicious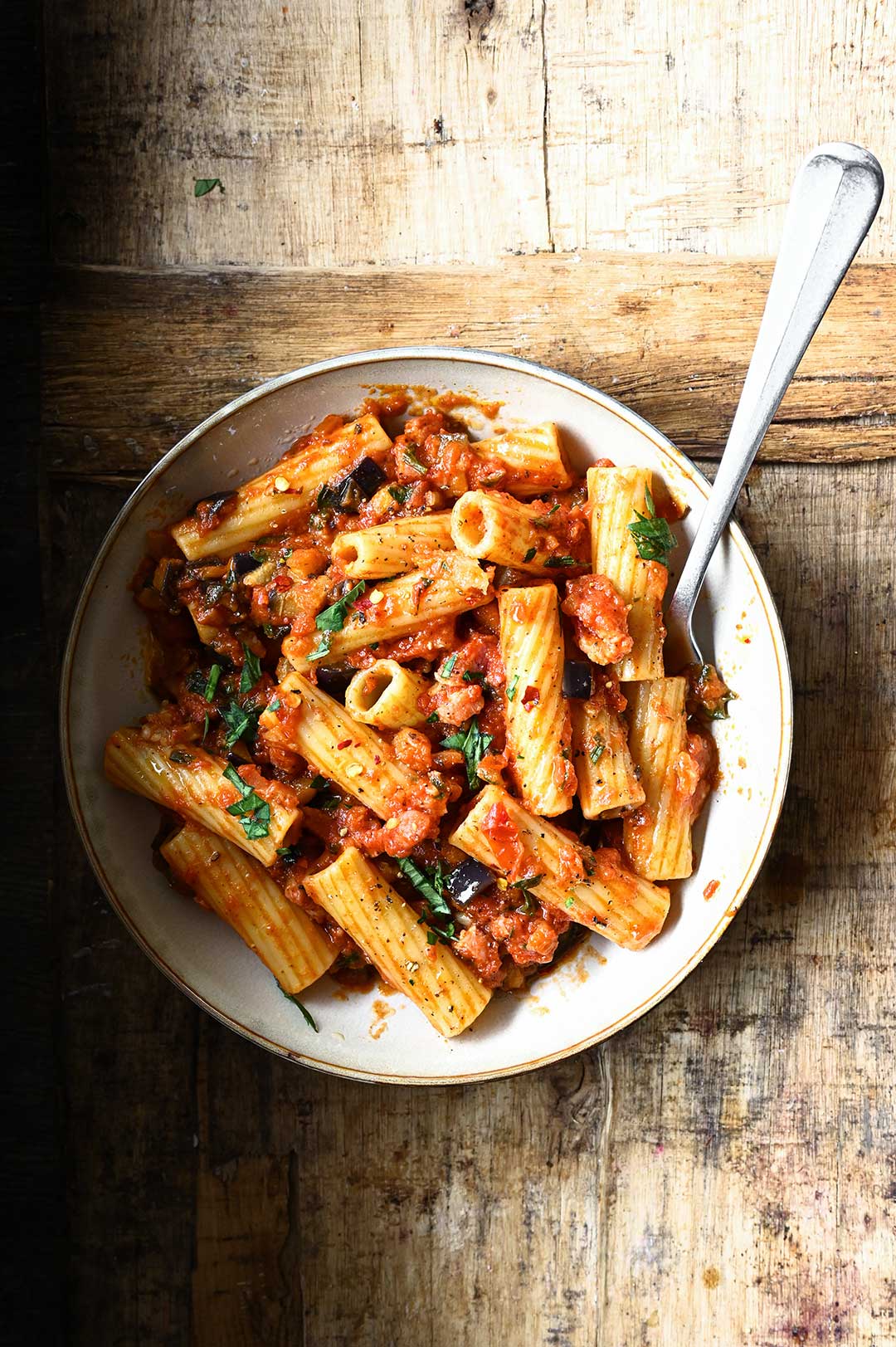 More pasta, please!
Cooking Video
Yield: serves 2
Eggplant Tomato Pasta with Bacon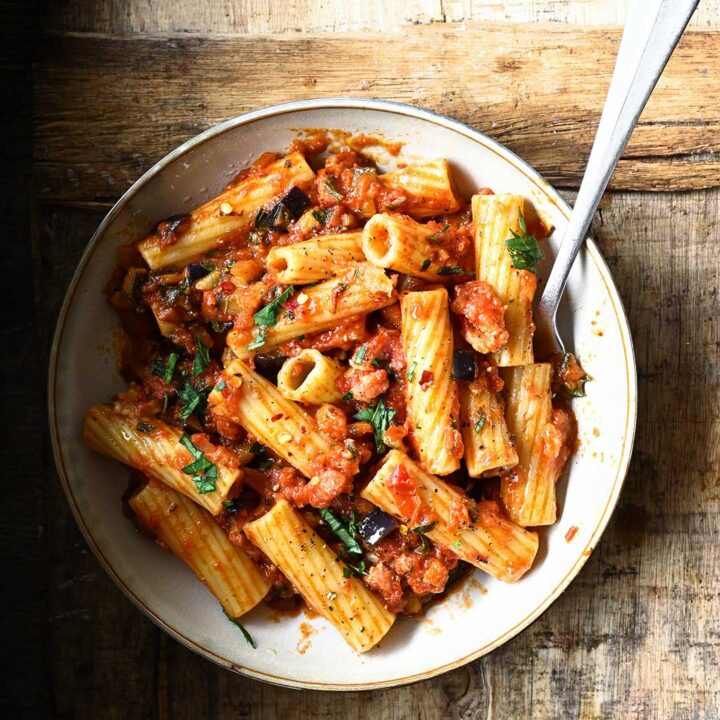 Ingredients
200 g/7 oz tortiglioni or rigatoni
200 g/7 oz smoked bakon bits
1 small eggplant, finely chopped
olive oil
1 small onion, finely chopped
3 garlic cloves, minced
1 can (400g/15 oz) crushed tomatoes
2 tbsp tomato paste
2 tbsp chopped parsley
30 g/1 oz grated Parmesan
1 tsp each: red pepper flakes, oregano, smoked paprika
salt + black pepper
30 g/1 oz grated halloumi
30 g/1 oz panko breadcrumbs
Instructions
Cook the pasta in a large pot of boiling generously salted water, until al dente. Drain, reserving ½ cup cooking water.
Heat 2 tbsp olive oil in a non-stick frying pan. Then the panko. Cook, stirring occasionally until the breadcrumbs are toasted, about 3 minutes. Stir in halloumi and cook for 2 minutes more. Season with salt and black pepper. Transfer the breadcrumbs onto a plate.
In the same pan, heat 3 tbsp olive oil. Add bacon, cook until crispy and golden brown, stirring occasionally, for about 5 minutes. Transfer to a plate, leaving as much oil as possible in the pan.
Add eggplant, cook until golden and tender, about 5 minutes. Lower the heat if the eggplant starts to get dark brown and add 2 tbsp oil. Stir in garlic and onion, cook for 3 minutes until fragrant. Stir in tomato paste.
Add crushed tomatoes and stir in spices. Season with salt and black pepper. Add parsley, simmer for 10 minutes.
When the sauce is ready, stir in bacon and parmesan. Toss with pasta and add ¼ cup cooking water. Taste and adjust the seasoning.
Serve topped with halloumi breadcrumbs and a sprinkle of red pepper flakes. Enjoy!
Notes
Calories Per Serving: 353 kcal
Nutritional information is only an estimate. The accuracy of the nutritional information for any recipe on this site is not guaranteed.

//= __('Print recipe (no photos)', 'servingdumplings' );?> //= __('Print recipe (with photos)', 'servingdumplings' );?>