Chewy halloumi and creamy eggplant stir-fried in a hearty umami soy-ginger sauce.
Summer is peak eggplant season, so look for some fresh eggplants, they'll become creamy-tender with minimal cooking.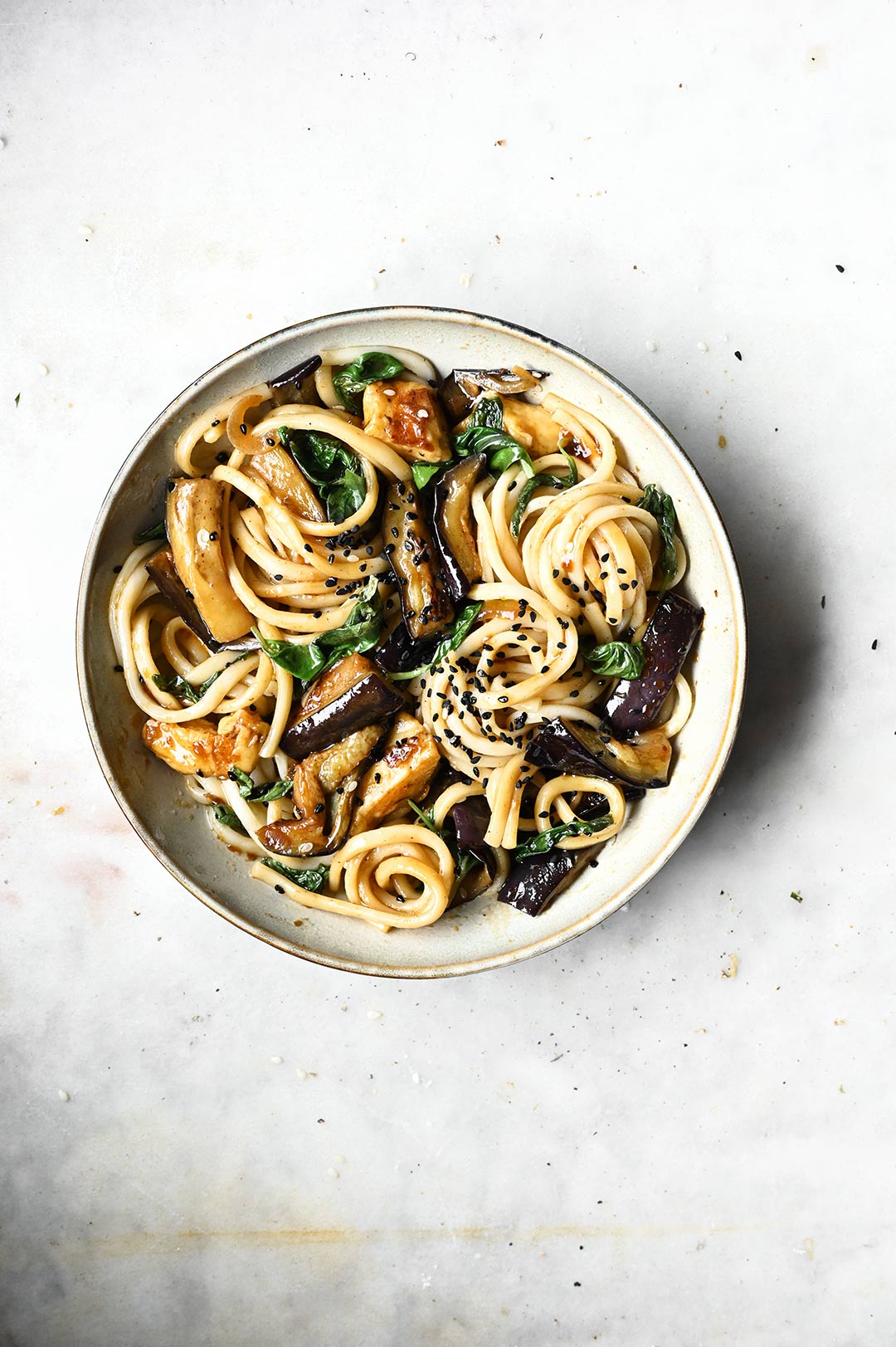 This stir-fried eggplant with basil gets a boost from the savory ginger and garlic flavors in the most mouth-watering way combined with halloumi. A dish far beyond words.
And since the stir fry itself is already very flavorful, just serve it with noodles. It would definitely also be delicious with some steamed rice.
Like all stir-fry recipes, you need to be sure you have all ingredients ready in advance, before you start actually stir-frying. It's certainly worth it, because it comes together in no-time.
Each time an ingredient hits the smoking-hot wok, the scent unfolds in an intense bouquet. You just know it's going to be good.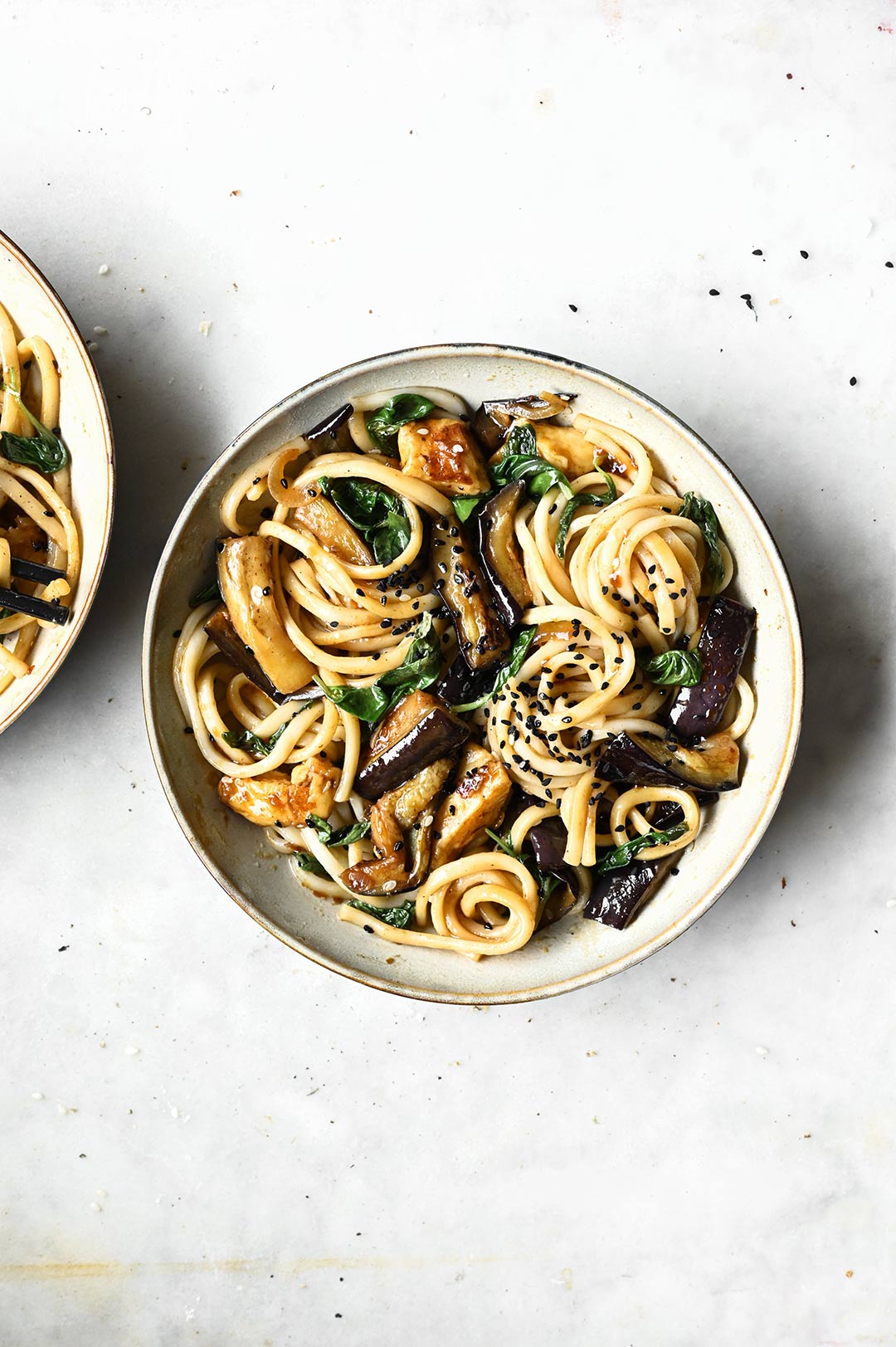 Eggplant and halloumi form the base of this dish, but there is quite a lot going on beyond that. You get a bite of tang from the lemon juice, some heat from the cayenne pepper and fresh ginger, basil cool things down, and a touch of oyster sauce gives you just enough sweetness to balance it all out.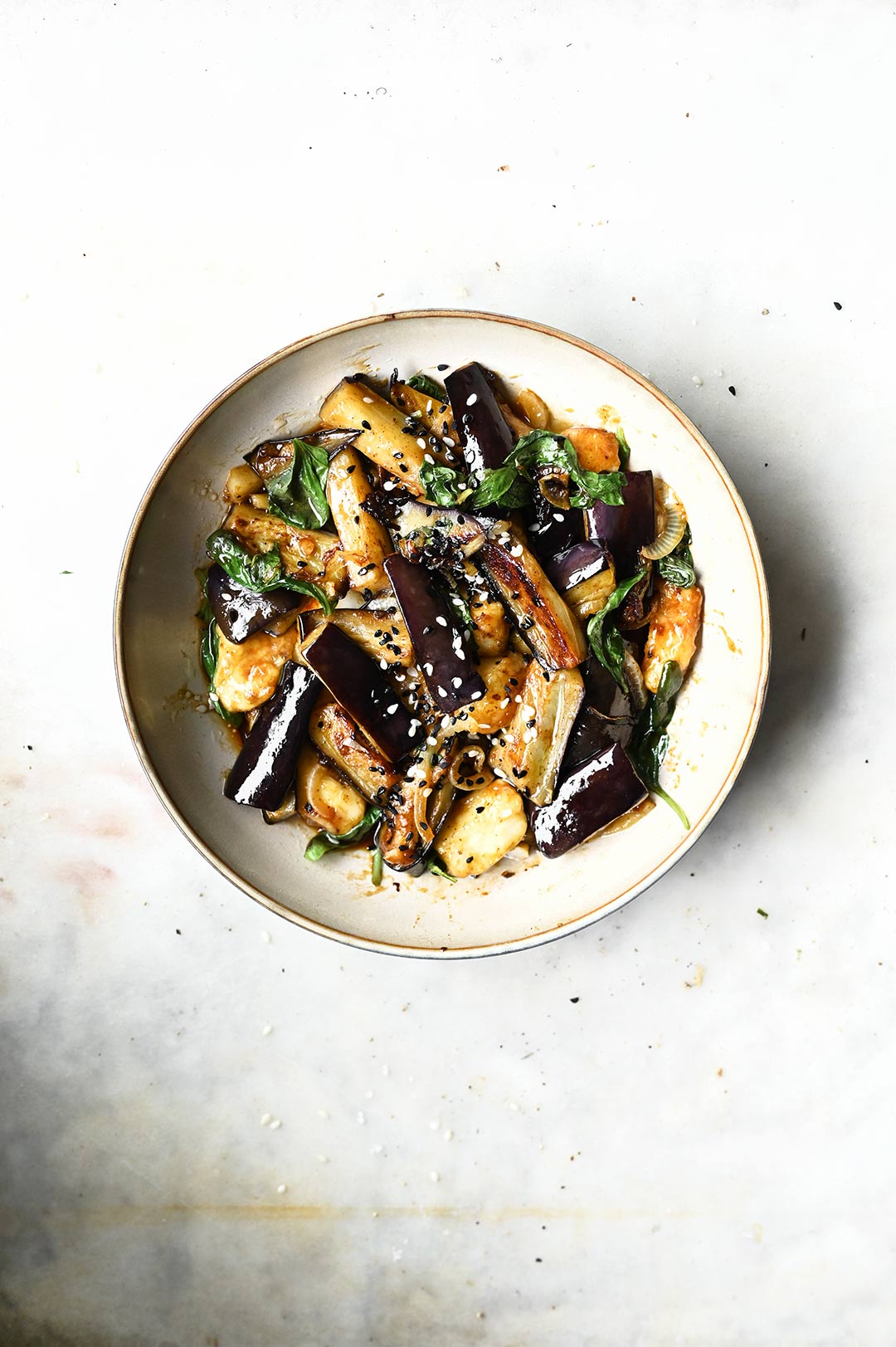 RECIPE NOTES
serve with udon noodles, rice noodles or steamed rice
no halloumi? use tofu
not a fan of eggplant? try zucchini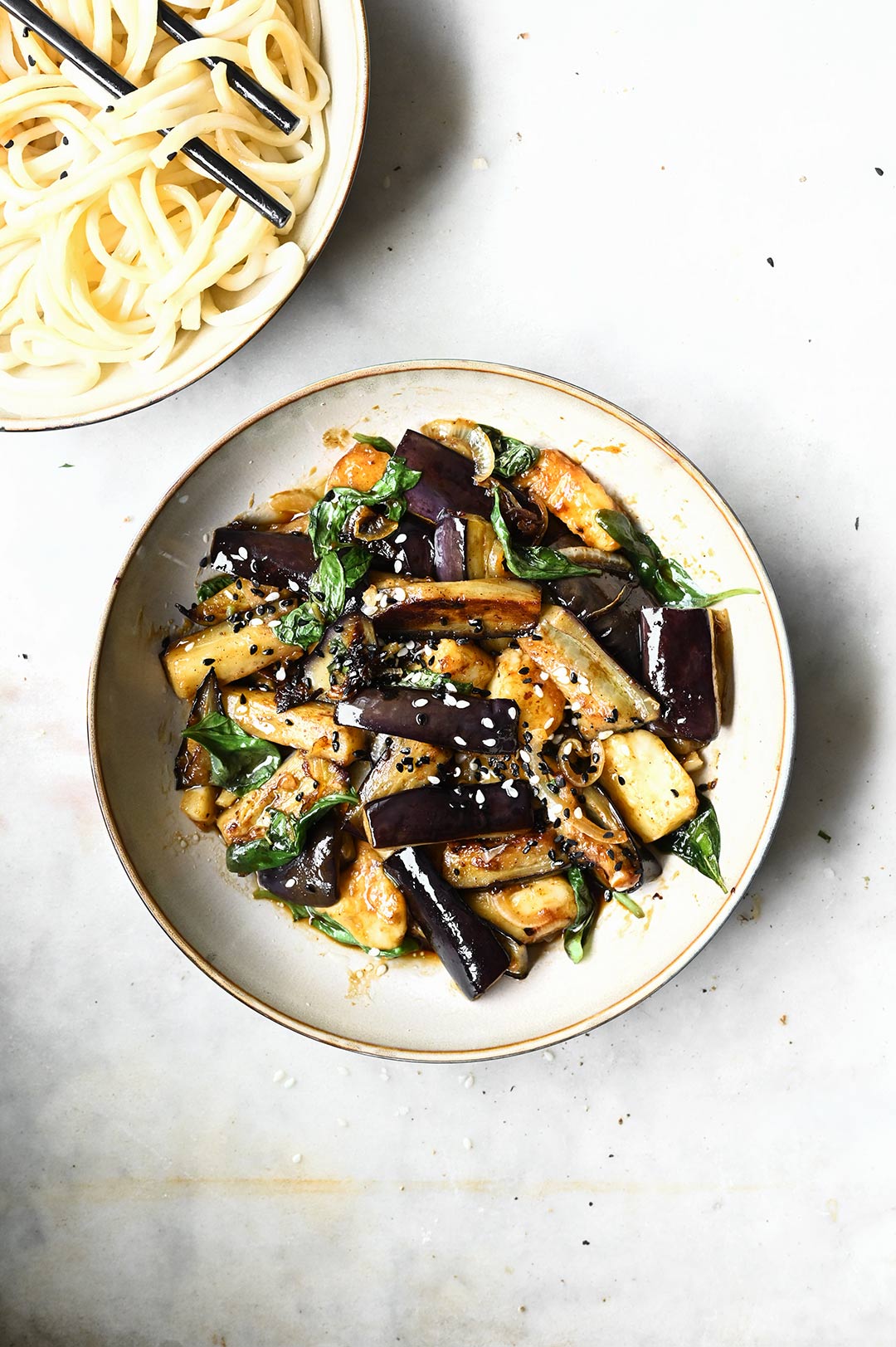 Hungry for more?

Yield: serves 4
Eggplant and Halloumi Stir-Fry
Prep Time 10 minutes

Cook Time 15 minutes

Total Time 25 minutes
Ingredients
400 g/14 oz udon noodles
225 g/8 oz halloumi, cut into cubes
2 eggplants, cut into pieces
6 tbsp vegetable oil
1 small onion, thinly sliced
4 garlic cloves, finely chopped
1 tbsp grated ginger
1 tsp sesame seeds
basil leaves from 6 sprigs
Sauce
2 tbsp cornstarch
6 tbsp soy sauce
2 tbsp oyster sauce
1 tbsp rice vinegar
1 tbsp lemon juice
3 tbsp water
1 tsp brown sugar
2 tbsp sesame oil
1 tsp cayenne pepper
1 tsp red pepper flakes
Instructions
Cook the noodles according to package directions.
Make sure you have all your ingredients prepared, sliced and chopped. Combine the ingredients for the sauce in a small bowl.
Heat 3 tbsp oil in a wok or skillet over high heat until smoking-hot. Stir fry the eggplant, until browned and crisp-tender, about 6 minutes. Transfer to a plate.
Heat the remaining oil in the same wok. Stir fry halloumi, until browned, about 2 minutes. Add garlic, onion, ginger and sesame seeds and fry, until very fragrant, about 1 minute. Return the eggplant to the wok and add the sauce. Cook, tossing often, for 1–2 minutes more. Season with salt if needed. Add the basil leaves and toss until wilted, for 30 seconds.
Stir in noodles, serve immediately. Eat!
DOWNLOAD PRINTABLE RECIPE PDF