Easy cod and braised cherry tomatoes. A comforting one-pot dinner that comes together in just 25 minutes. The cherry tomatoes are cooked until saucy and jammy, while the cod is pan-fried and simmered in that garlicky tomato sauce until perfectly flaky. Pair it with capellini or crusty bread to soak up every drop of the delightful pan-sauce. A tasty dinner that celebrates the ease of a classic combination.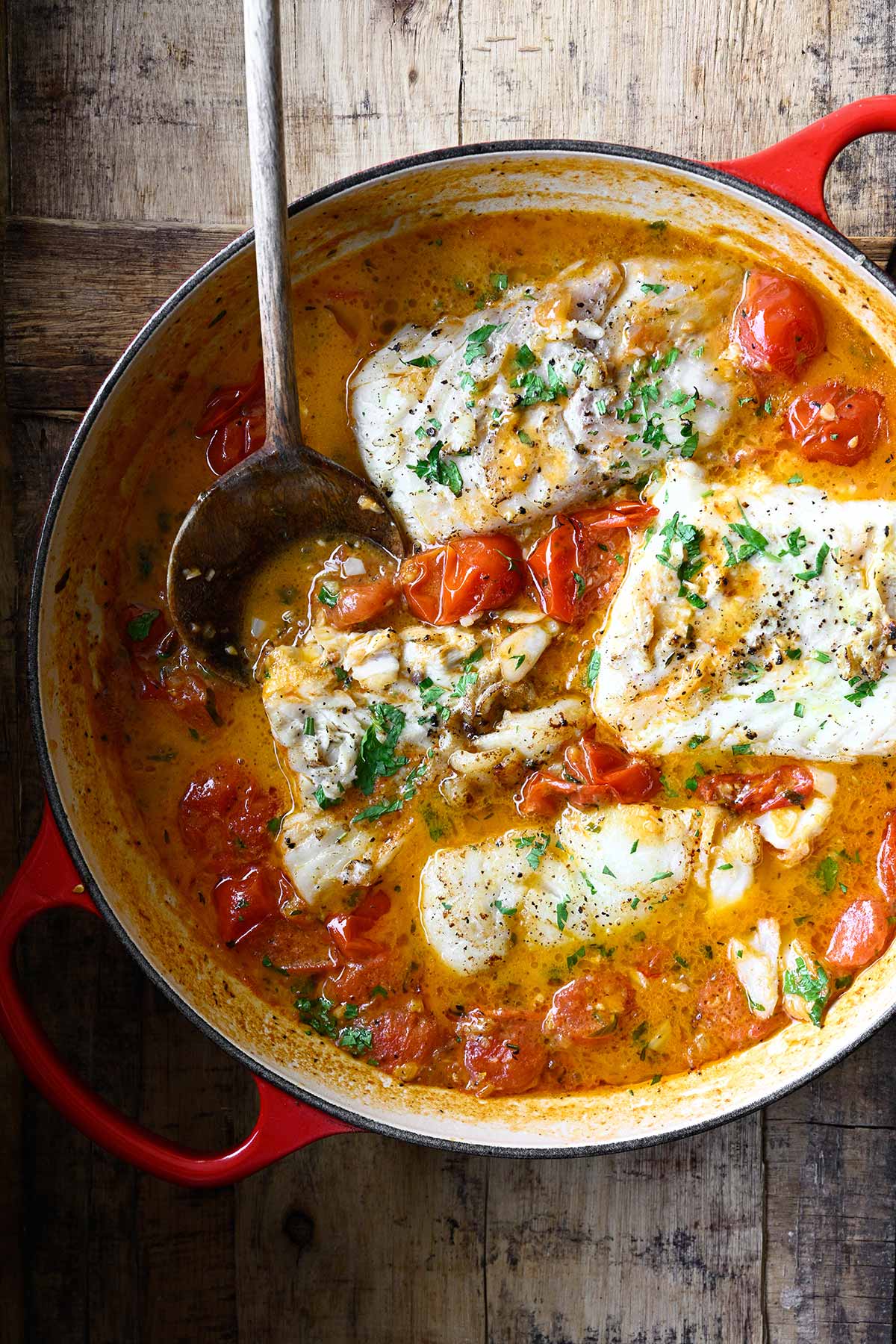 Why this Easy Cod Recipe with Braised Cherry Tomatoes Works
Packed with fresh flavors, effortless and mouthwatering, this simple cod recipe is a breeze to make! This dish may be easy, but it boasts an impressive blend of umami richness and juicy sweetness. We braise cherry tomatoes with garlic, shallot, and dried thyme. Pair them with pan-fried cod for a weeknight dinner that truly steals the spotlight.
The generous amount of the sauce ensures you can enjoy it with plenty of bread or over capellini. Don't forget to pair it with a big side salad for a delightful weeknight meal. For special occasions, serve it at a dinner gathering alongside chilled white wine and savor the culinary triumph.
This cod with with braised tomatoes recipe delivers a straightforward and delicious dinner perfect for any evening of the week.
Let me guide you through the recipe with this step-by-step VIDEO or follow along on YouTube.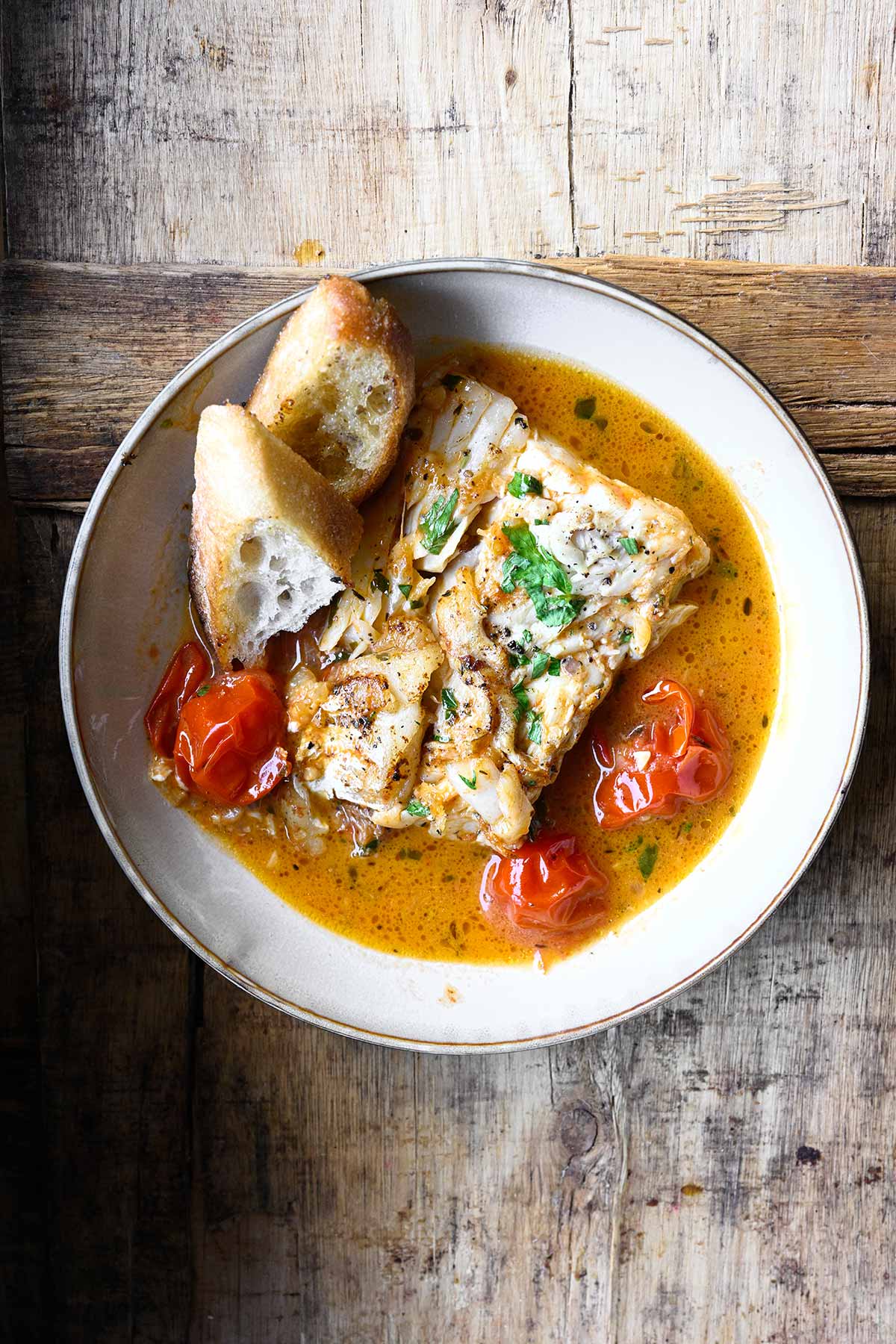 Some Details
Tomatoes and cod, a match made in culinary heaven. In this recipe, we kick things off by giving the cod fillets a brief pan-fry, then we braise the cherry tomatoes, infusing them with garlic, thyme, and shallot for an effortless burst of flavor.
Let's talk about those cherry tomatoes. I adore 'pan-frying' these sweet gems until they burst, releasing their luscious juices. For an extra layer of flavor, we opt for dried thyme, but feel free to experiment with your favorite herb blend, like Italian seasoning for a delightful twist.
The tomato cooking process is a breeze and takes just a few minutes. Once they start popping, we gently press them with a fork to release their flavorful juices, creating the easiest and most delectable sauce.
Now, it's time to crown the dish with the cod fillets. A gentle simmer for 5 minutes ensures the fish reaches the peak of tenderness. To top it all off, a sprinkle of lemon juice and a garnish of fresh parsley elevates this dish to a whole new level.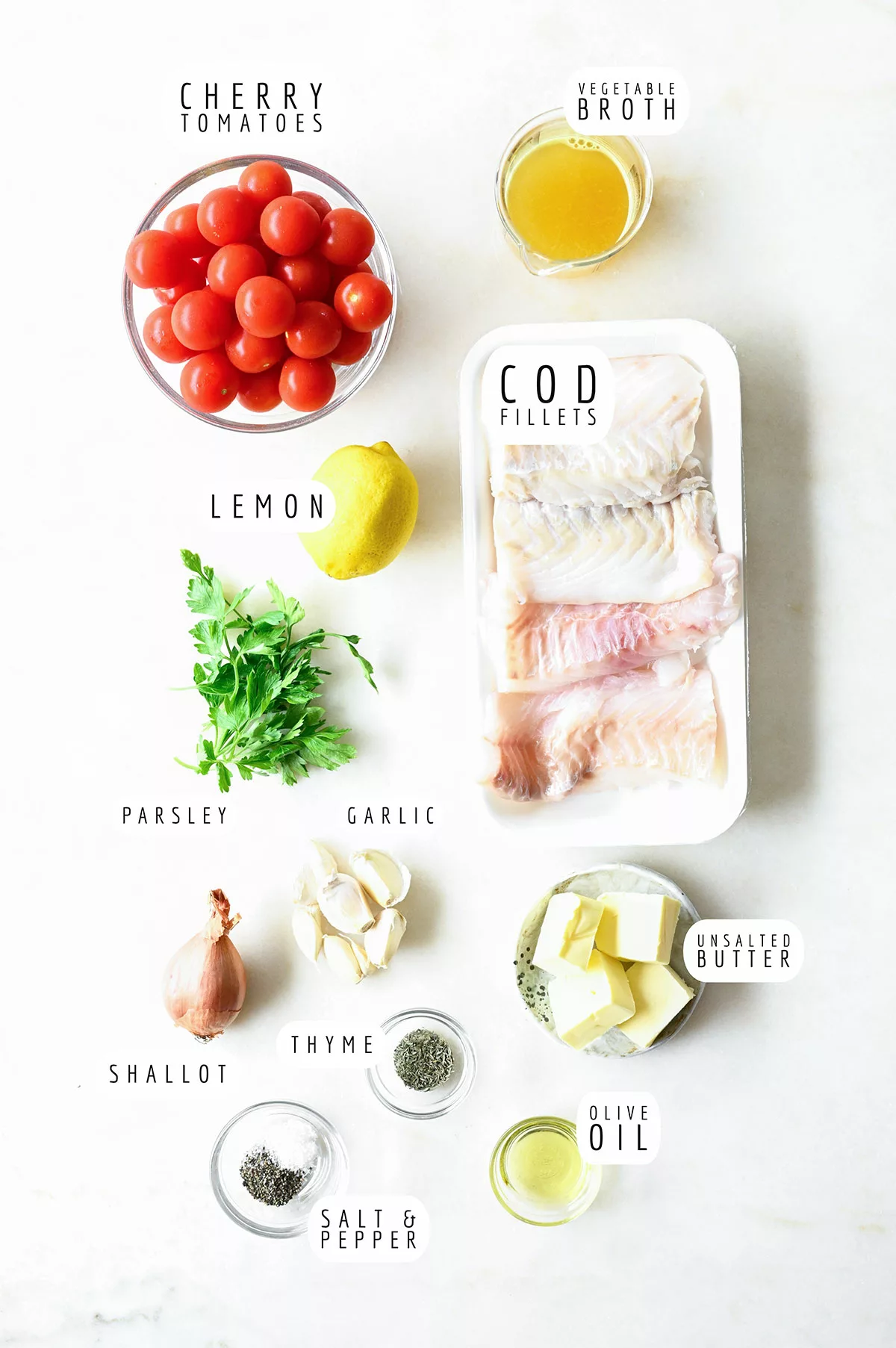 Ingredients and Substitutions
Cod: Meaty, mild-flavored, firm-fleshed fillets, but you could also try this recipe with other white fish like haddock, pollack, halibut or heek.
Cherry tomatoes: These could be substituted for grape tomatoes.
Olive oil and Unsalted Butter: We use both, for a rich result that cuts through the acidity of the tomatoes resulting in a sauce that's almost creamy and velvety.
Broth: Opt for vegetable, chicken, or fish broth to create the delectable pan-sauce.
Shallot and Garlic: To add lots of flavor without a ton of effort.
Lemon Juice: To elevate the overall taste.
Seasonings: Season with salt, black pepper, and dried thyme, or consider using dried oregano or Italian seasoning.
Herbs: Finish with fresh parsley, or experiment with rosemary, thyme, or oregano for a delightful twist.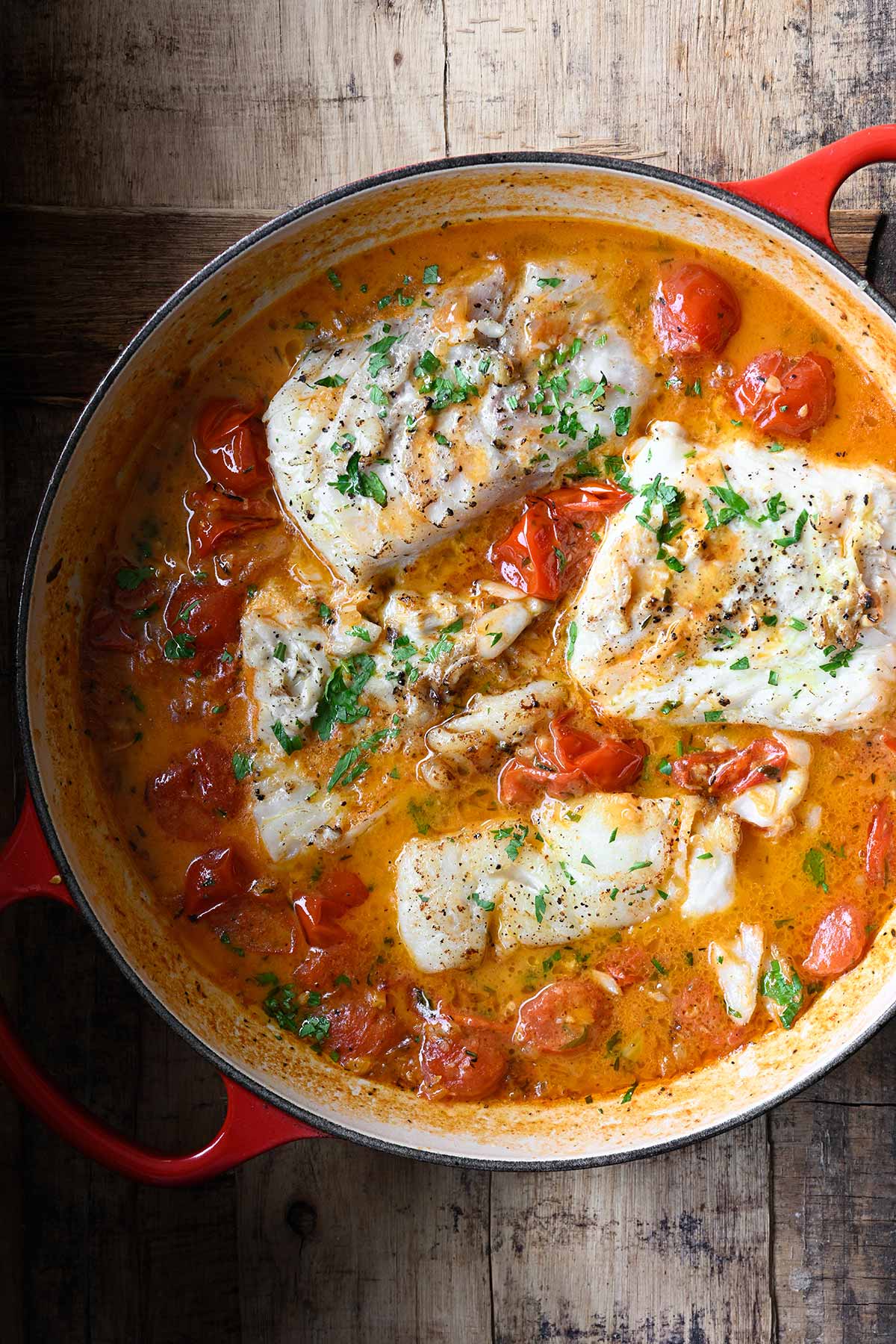 Helpful Tips
Enhance Flavor: To elevate the flavor profile, consider deglazing the skillet with dry white wine. This adds complexity to your dish.
Perfectly Cooked Cod: Avoid overcooking the fish. It should take approximately 2 minutes per side for pan-frying and about 5 minutes of gentle simmering to cook through. Test for doneness by checking with a fork, the flesh should easily flake when it's cooked to perfection.
Fresh vs. Frozen Fish: Whether you opt for fresh or frozen cod fillets, both work splendidly in this recipe. If using frozen fillets, ensure proper thawing before use.
Sides That Complement: Wondering what to pair with white fish? Consider serving it with al dente capellini, crusty bread, quinoa, rice, fried potatoes, or mashed potatoes, as they beautifully absorb the flavorful sauce.
Add Veggies: Don't forget the vegetables! A generous leafy side salad or steamed vegetables like broccoli, cauliflower, and green peas make excellent accompaniments.
Storage
Make-Ahead Sauce: Prepare the sauce up to 1 day in advance. Store it in the fridge and simply reheat it when you're ready to enjoy, then fry the fish separately.
Leftovers: If you have leftovers, store them refrigerated in an airtight container for maximum 1 day. However, for the best taste and texture, it's recommended to consume this dish the same day the fish is cooked.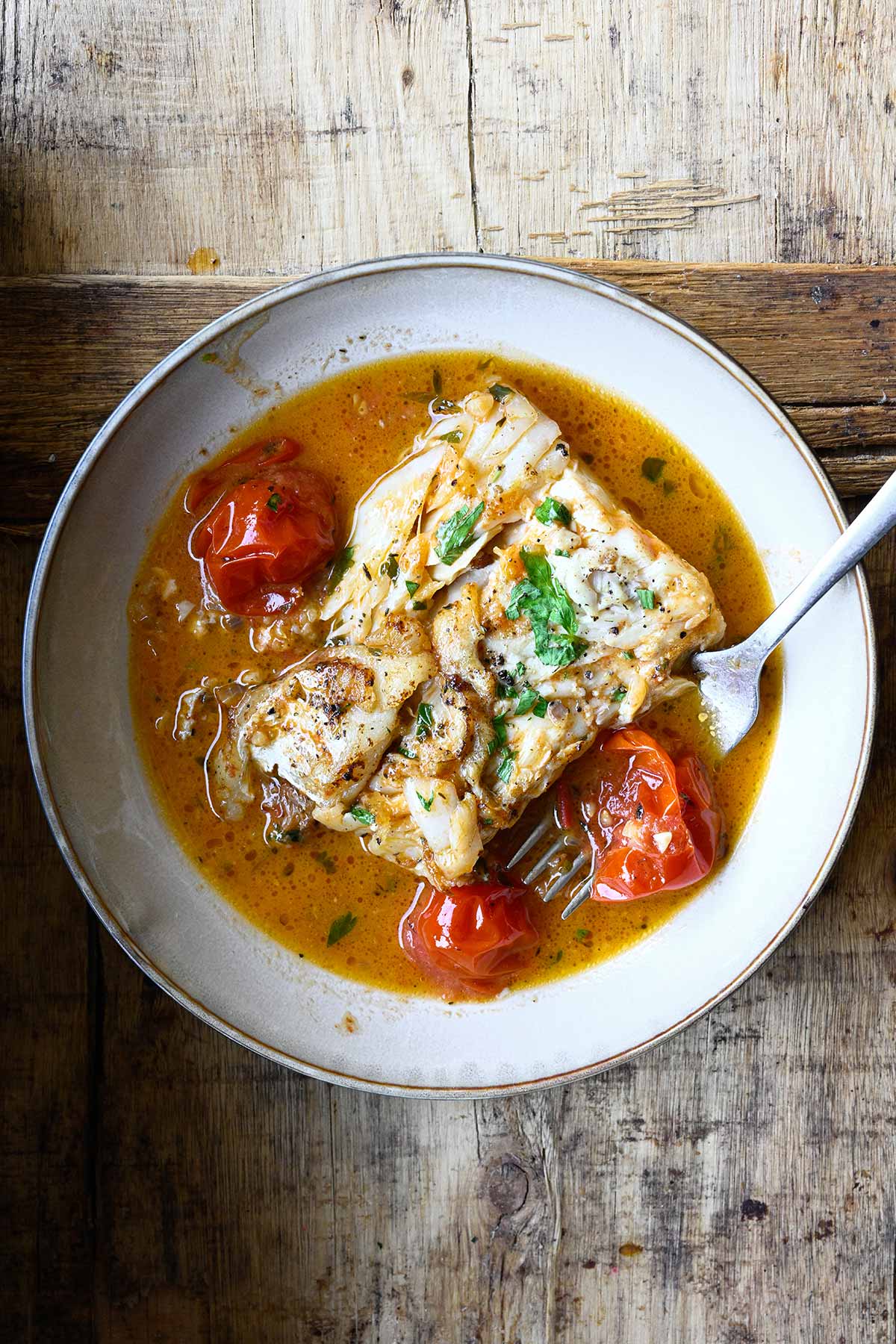 Try These Next
Cooking Video
Yield: serves 4
Easy Cod with Braised Tomatoes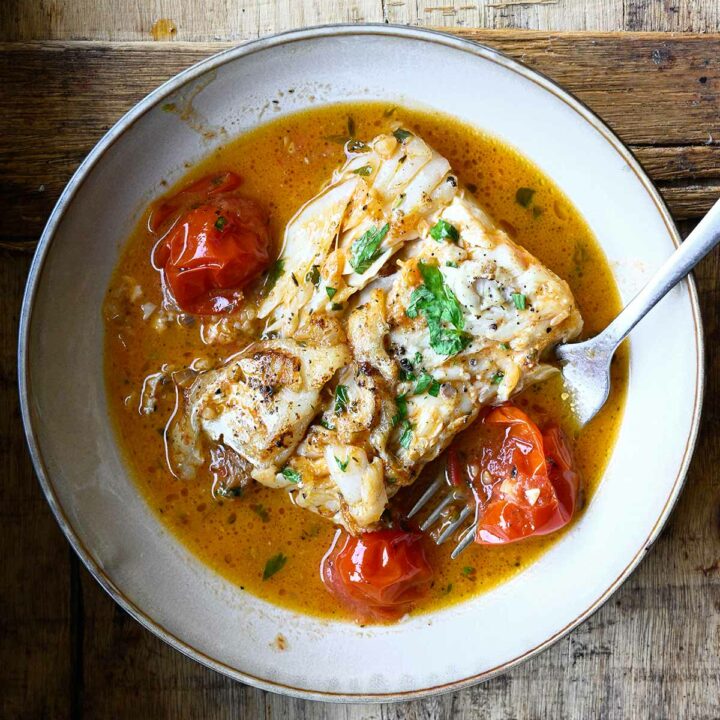 Enjoy a speedy 25-minute dinner with cod and braised cherry tomatoes. The saucy, jammy tomatoes and pan-fried cod in garlicky tomato sauce make a classic, easy meal. Serve with capellini or crusty bread for a delectable one-pot dinner.
Ingredients
1 tbsp olive oil
4 tbsp unsalted butter, divided
4 cod fillets
1 tsp each: salt, black pepper, divided
14 ounces/400 g cherry tomatoes
6 garlic cloves, minced
1 shallot, finely chopped
1 tsp dried thyme
½ cup/120 ml vegetable broth
1 tbsp chopped parsley, more for serving
1 tbsp lemon juice
Instructions
Get your prep done before you start cooking. Pat the cod fillets dry with paper towels. Season both sides with ½ teaspoon salt and ½ teaspoon pepper.
Finely chop the shallot, mince the garlic cloves and chop the parsley.
Heat oil and 1 tablespoon butter over medium high in a nonstick skillet. Add cod fillets and sear for 1-2 minutes per side, the cooking time depends on the thickness of your fillets. They don't need to be cooked through, we'll finish cooking them later in the sauce. Remove the cod onto a clean plate.
Add cherry tomatoes, cover and braise for 5 minutes. Next, press down with a fork to release the juices. Add shallot, garlic, dried thyme, the remaining salt and pepper. Cover, and braise for 5 minutes more over medium.
Pour in vegetable broth and bring to a boil. Add the remaining butter and parsley, stir until the butter is completely melted. Reduce heat to medium low, add cod fillets and simmer for about 5 minutes or until the fillets are just cooked through. Sprinkle with lemon juice and garnish with parsley. Enjoy!
Nutrition Information:
Yield:
4
Serving Size:
1
Amount Per Serving:
Calories:

358
Total Fat:

17g
Saturated Fat:

8g
Trans Fat:

0g
Unsaturated Fat:

7g
Cholesterol:

130mg
Sodium:

817mg
Carbohydrates:

8g
Fiber:

2g
Sugar:

4g
Protein:

43g
Nutritional information is only an estimate. The accuracy of the nutritional information for any recipe on this site is not guaranteed.