25 minutes. This is how long it takes to make this delicious dish.
Chicken asparagus pasta with a creamy black pepper sauce. Fast and easy, rich in taste. It might look plain but there are sooo many good flavors hiding in this neutral colored sauce.
I'm a huge black pepper fan. I add it generously and freshly ground to everything I eat. It's just one reason why this super simple pasta recipe is one of my favorites. Another reason is how incredibly easy it is to make.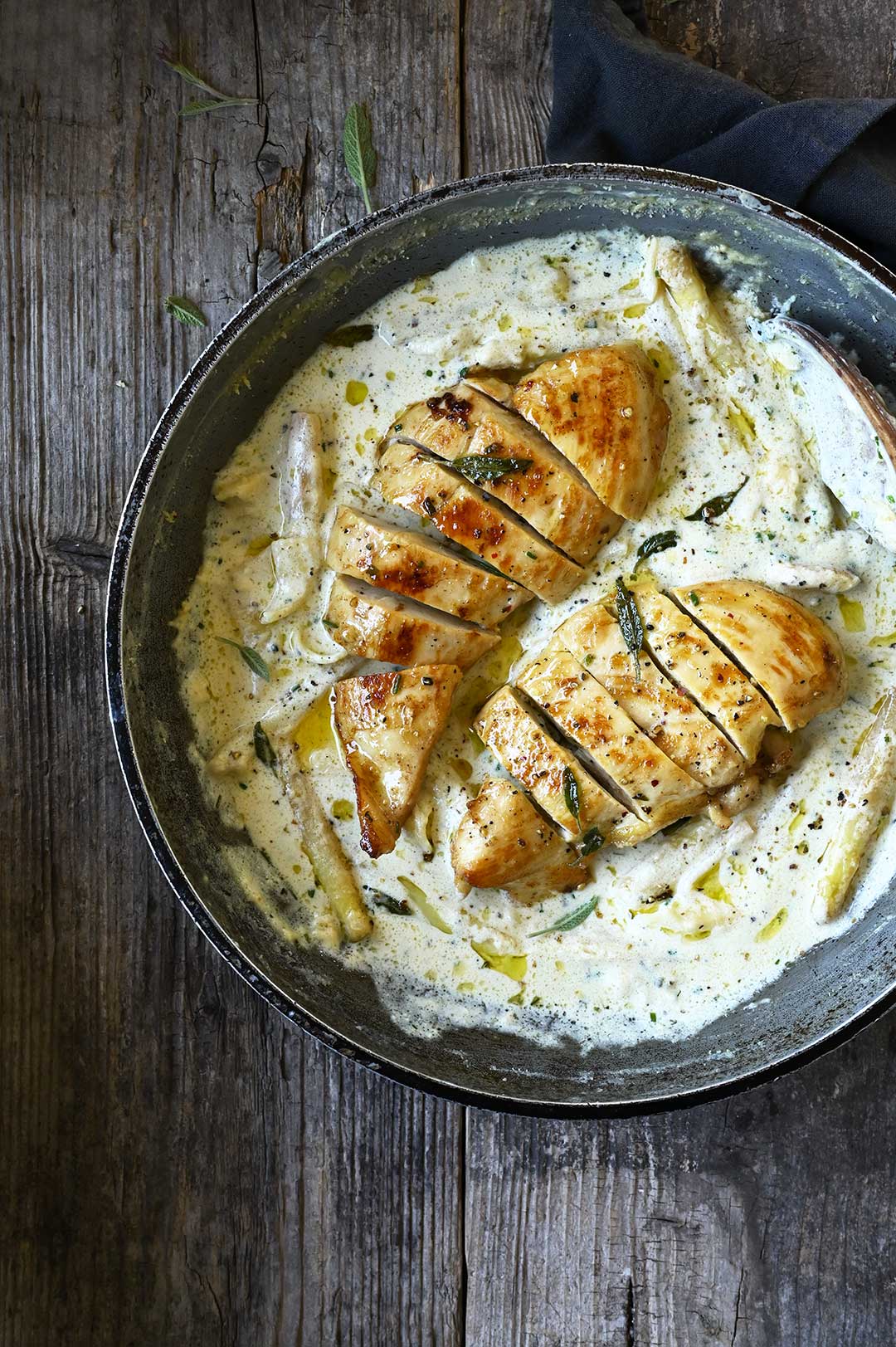 The chicken is cooked until golden brown together with the asparagus. Then a splash of milk and chicken broth, some black peppercorn cream cheese and extra coarse ground black pepper. All stirred together for a creamy sauce. So much pure dairy-on-carbs joy. Creamy and satisfying.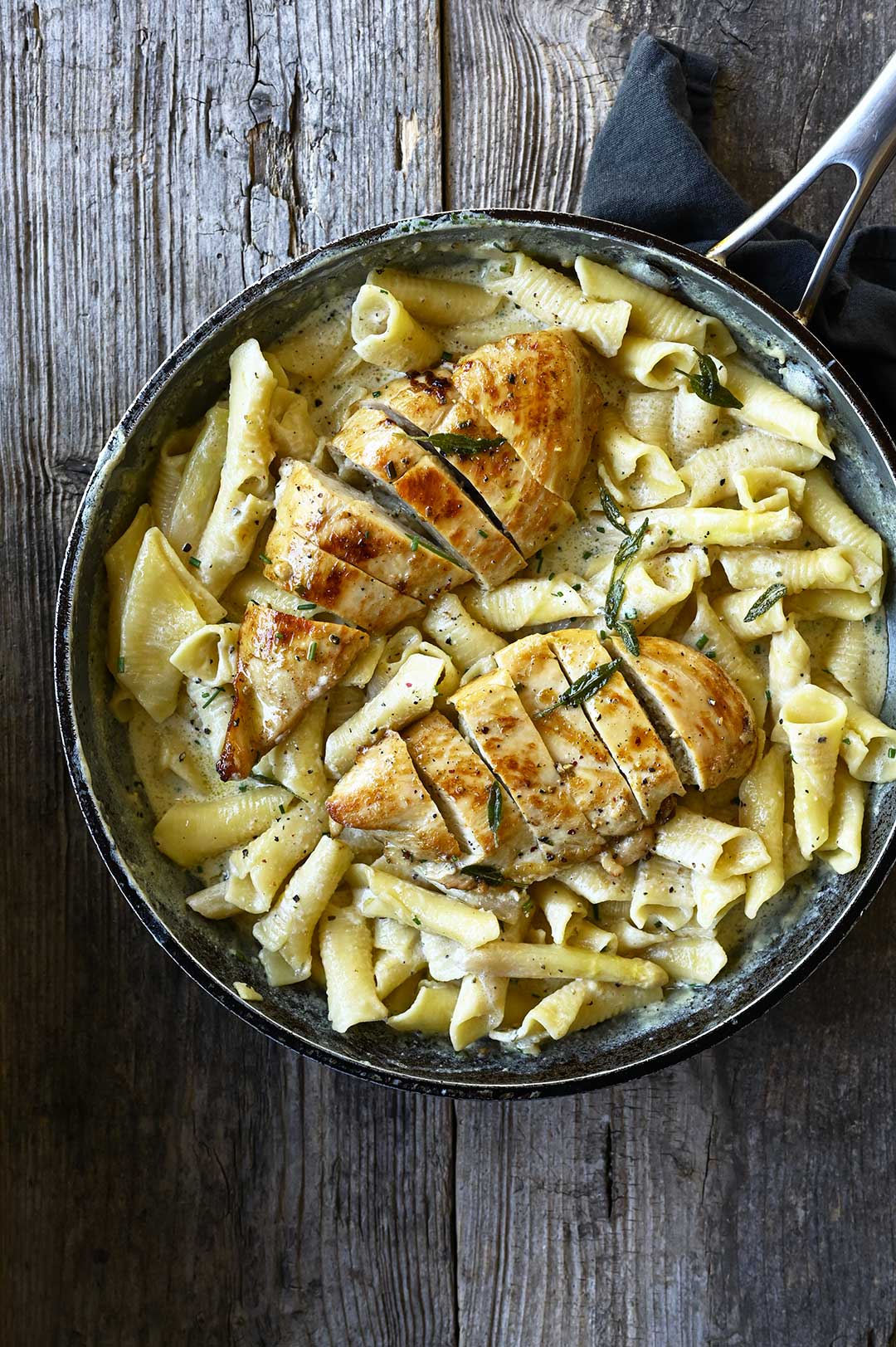 Let's stay connected! Sign up for my NEWSLETTER to receive the latest recipes.
You need
250 g short cut pasta
1 double chicken breast fillet (500 g)
200 g asparagus
150 g black peppercorns cream cheese (I used Boursin)
2 garlic cloves, thinly sliced
2 tbsp olive oil
250 ml chicken stock
50 ml milk
1 tsp lemon juice
1 tsp chopped sage leaves
smoked paprika
sea salt
+
extra coarse ground black pepper and chopped chives for serving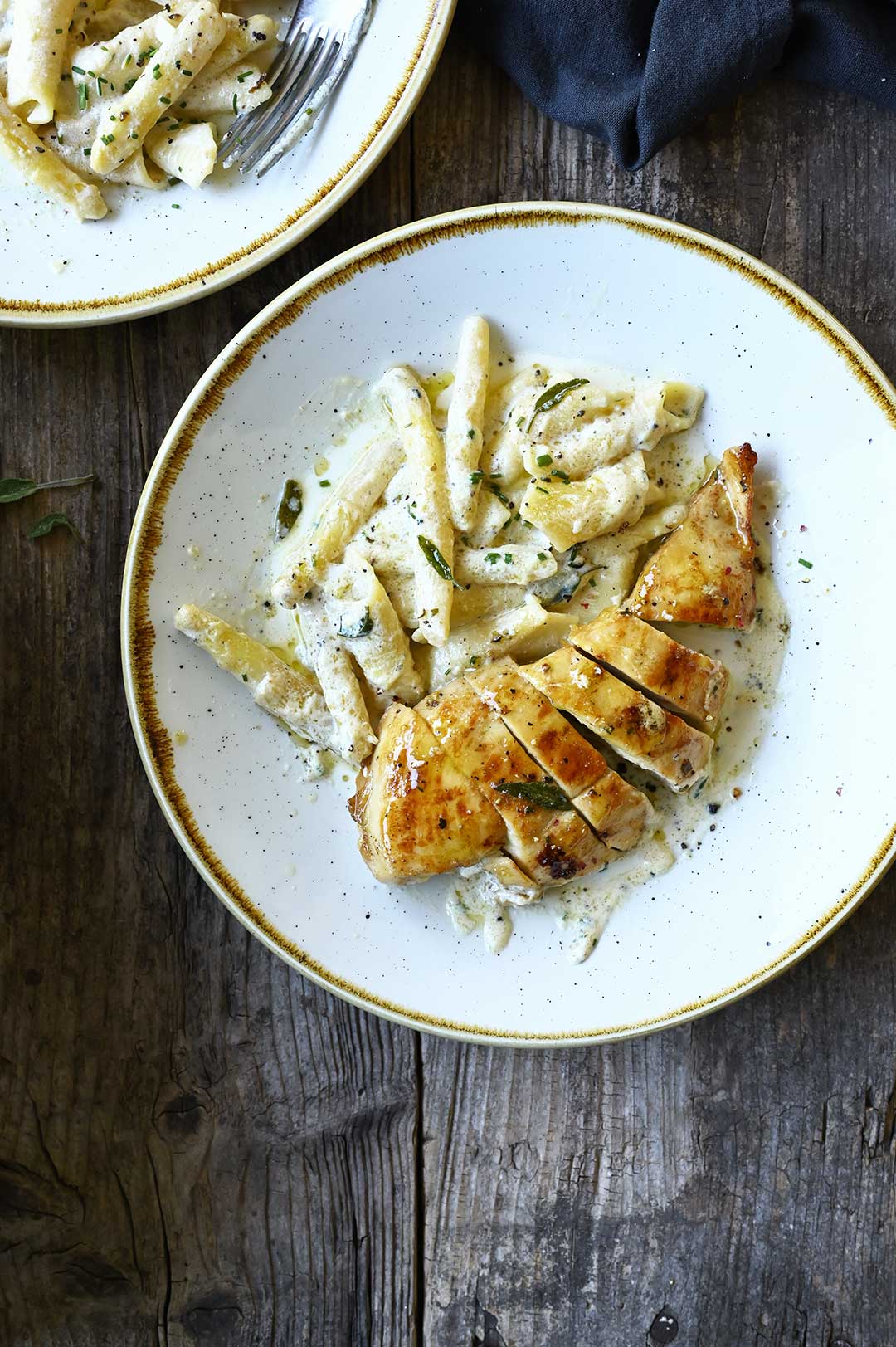 How to
Bring a pot of salted water to a boil and cook the pasta al dente.
Season the chicken fillets with salt, pepper and smoked paprika on both sides. Heat the olive oil n a large skillet over medium-high heat. Add the fillets and cook the chicken for 8 minutes, then flip and cook 5 minutes more or until both sides are lightly browned.
In the meantime peel the asparagus and cut into 4 cm pieces.
Add the asparagus and garlic to the chicken, cook for 5 minutes. Pour the broth and bring to a boil, reduce the heat and simmer for 5 minutes. Remove the chicken and set aside.
To make the sauce. Add milk, cream cheese, lemon juice, chopped sage leaves. Bring to a simmer and allow to cook for 5 minutes. Season with salt to taste. Slice the chicken into strips then add back to the sauce.
Toss with cooked pasta, serve with some extra black pepper and chopped chives. Enjoy!
If you give this recipe a try, leave a comment or mention me on Instagram @anna_s_table. I'd love to see what you come up with.