Salmon with shrimps in a miso coconut sauce. This recipe will satisfy your comfort food cravings with its brothy miso coconut sauce. It's light, delicate, comes together in less than 30 minutes and we cook everything in only one pan. An amazingly delicious dish with just the right amount of spiciness. Try it and you won't regret it.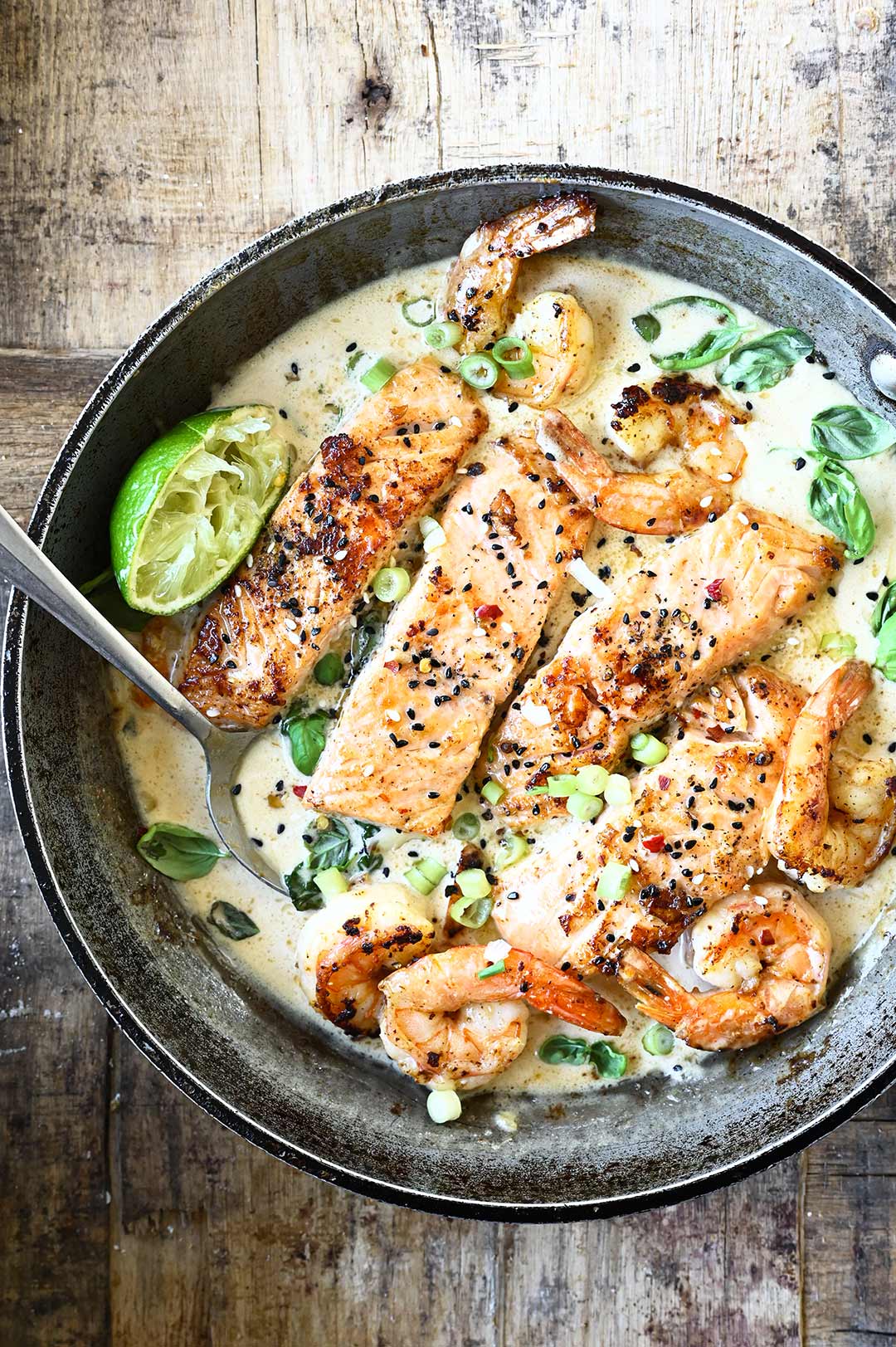 We cook the shrimp and salmon separately before adding them together to the sauce, because of theirs different cooking times. While it adds an extra step, this keeps both the shrimp and the salmon moist.
We use coconut milk to create a rich sauce that goes really well with seafood. At the end we whisk in miso, add a twist of lime juice and some fresh herbs to keep this dish bright and citrusy. We finish it off with a splash of sesame oil and some chili flakes.
To spice it up, we add a teaspoon of sriracha. Adjust the heat to your liking—use one teaspoon for mild heat, two for medium, and four if you don't mind some sweat beading on your forehead.
Let me guide you through the recipe with this step-by-step VIDEO.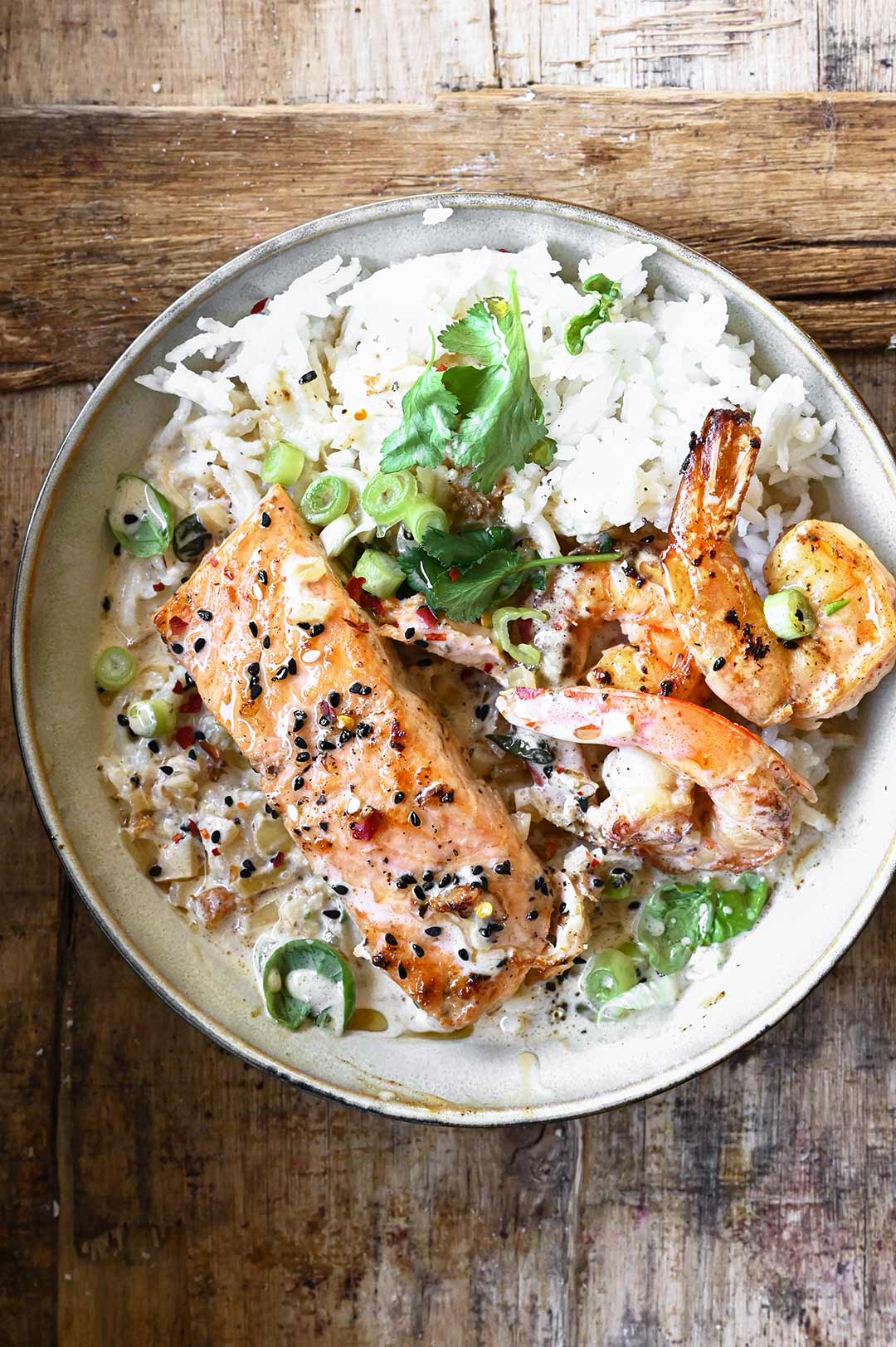 RECIPE NOTES 
– you can add spinach or broccoli to the sauce
– serve with rice, or just with a fresh cucumber salad
– you can use white fish instead of salmon
More salmon, please! 
Miso Soy Salmon Sashimi Bowl
One-Pan Creamy Tomato Salmon with Chorizo
Penne with smoked salmon and mascarpone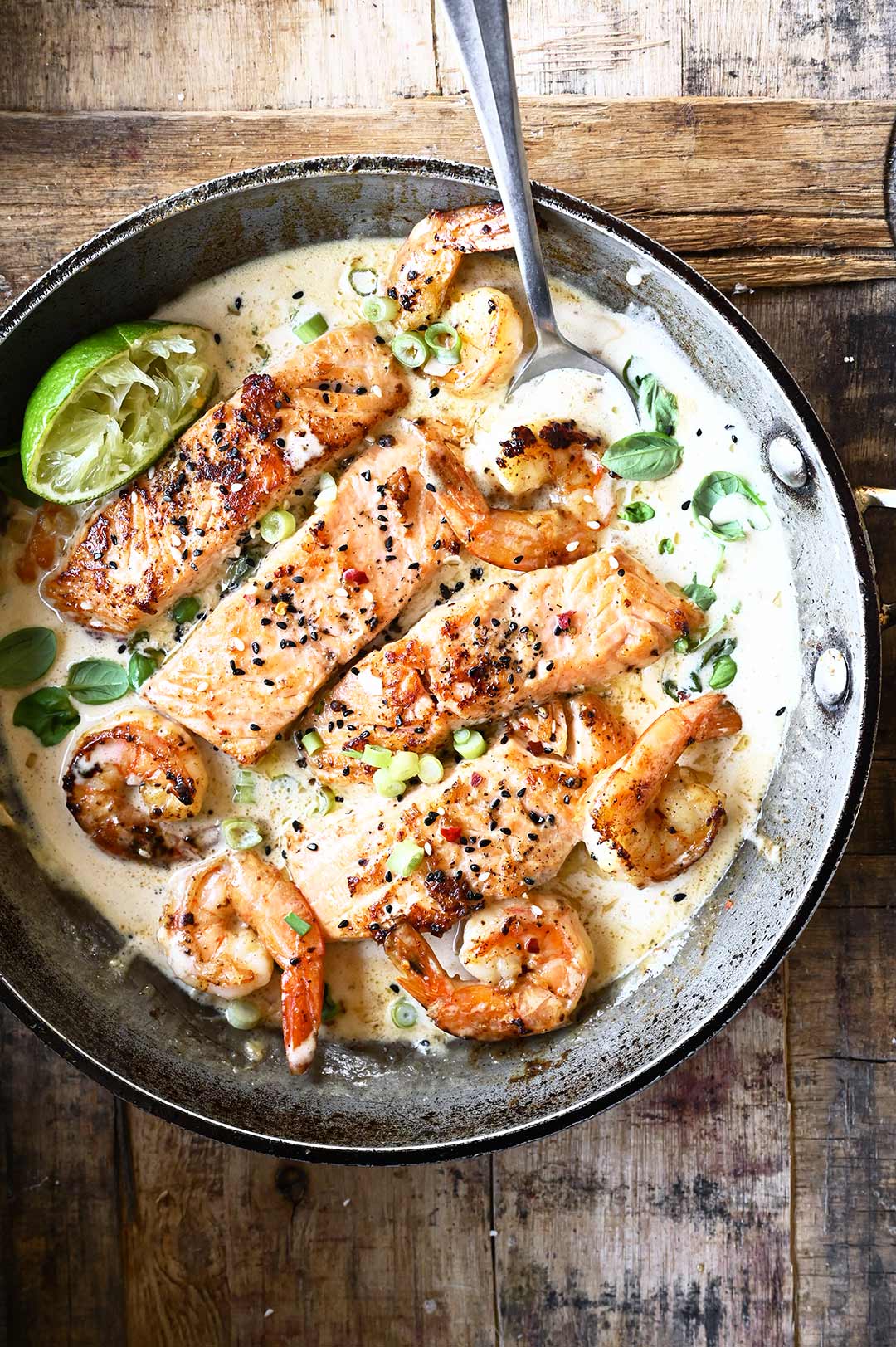 You need
4 small salmon fillets, skin removed
12 shrimps, peeled and deveined
3 tbsp coconut oil, or vegetable oil
50 ml white wine
1 small onion, finely chopped
4 garlic cloves, minced
2 tbsp grated ginger
1 tbsp white miso paste
1 tsp fish sauce
1 tbsp low sodium soy sauce
1/2 tsp white pepper
1 tsp sriracha, add more to your liking
1 can (400 ml/14 oz) unsweetened coconut milk
200 ml (3/4 cup) water
juice from 1/2 lime
20 basil leaves
salt + black pepper
+
cilantro, for serving
scallions, for serving
black sesame for serving, optional
toasted sesame oil
red pepper flakes, for serving
jasmin rice, for serving
How to
Let me guide you through the recipe with this step-by-step in this VIDEO.
Pat the salmon fillets dry with a paper towel and season both sides with salt and pepper. Heat a non-stick skillet over medium heat, melt coconut oil. Add salmon fillets and sear, about 3-4 minutes on each side. Remove from pan and set aside.
In the same skillet, place the shrimps in a single layer, sear for 1 minute. Season with salt and pepper. Flip and sear the other side, 1 minute. Transfer to a plate.
Now add garlic, onion and ginger to the skillet. Cook for 5 minutes over low heat. Pour white wine, cook for 1 minute. Add coconut milk and bring to a boil. Stir in miso until completely dissolved. Add fish sauce, soy sauce and white pepper. Then add water and sriracha.
Add salmon back into the skillet. Allow to cook for 2 minutes. Add shrimps and basil leaves, cook for 1 minute more. Sprinkle with lime juice and serve.
Divide rice among bowls. Top with salmon, shrimps and coconut sauce. Serve with cilantro, scallions, a sprinkle of red pepper flakes and sesame seeds. Finish off with a little sesame oil. Enjoy!