Indulge in a hot bowl of Coconut Gochujang noodle soup that's ready in just 15 minutes. Picture a rich, creamy, and spicy broth paired with quick-cooking ramen noodles, all infused with the irresistible tastes of Asian cuisine. This easy recipe offers endless possibilities, toss in oyster mushrooms or sautéed veggies, go all-in with rotisserie chicken or shrimp for a fully-loaded ramen experience. It's the perfect quick and hearty weeknight meal.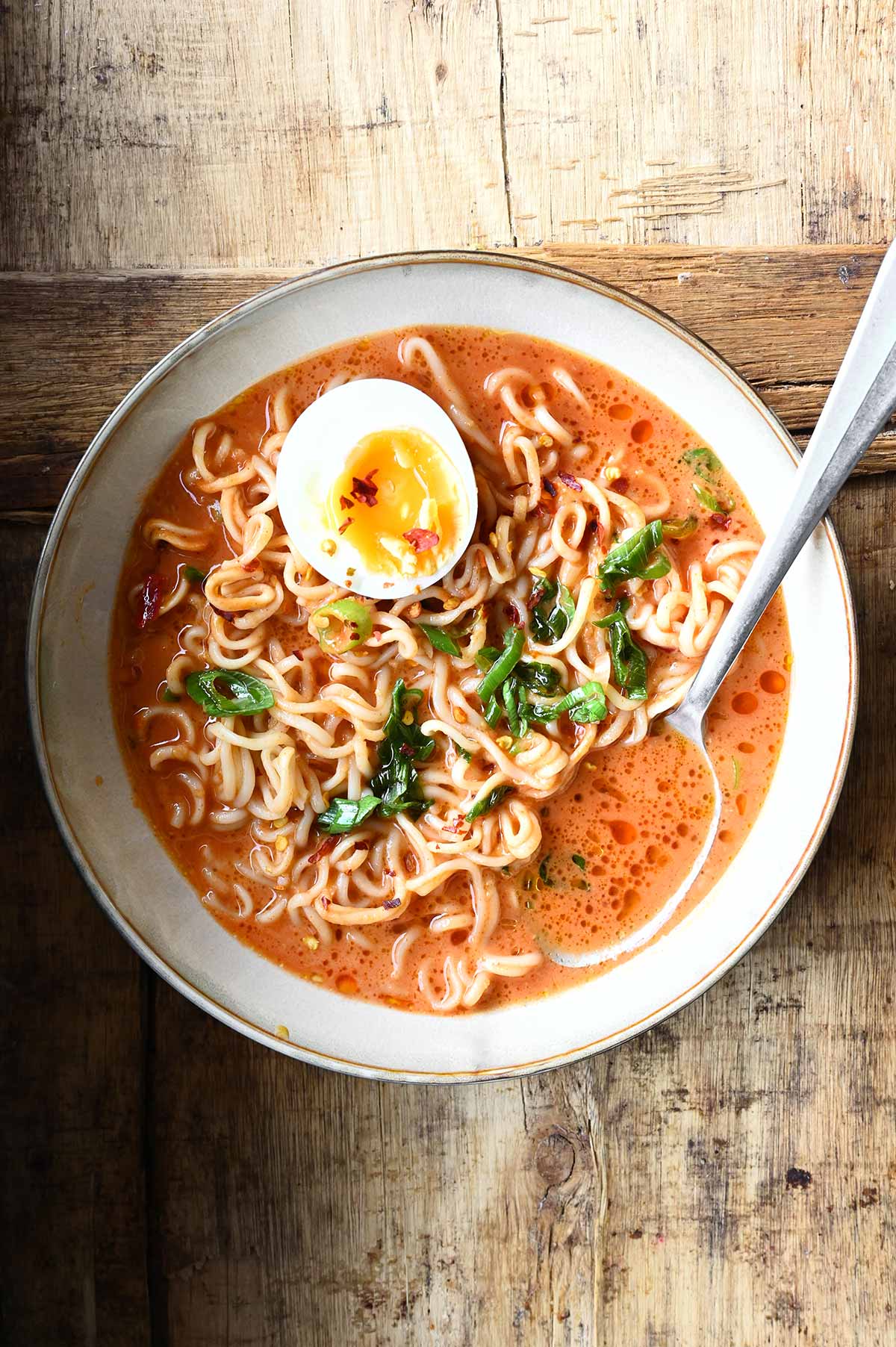 Get ready to whip up a delightful coconut Gochujang ramen that's perfect for those busy weeknights. This spicy yet creamy bowl of goodness is guaranteed to be a hit. To achieve the ultimate flavor punch, we combine coconut milk, lime juice, and Gochujang paste with Asian-inspired ingredients. The result is a rich soup with a sweet-spicy aftertaste that will have your taste buds dancing. And the best part? We use quick-cooking instant ramen noodles for a lightning-fast meal.
The star of this recipe is the Korean Gochujang, a sticky and thick red chili paste made with fermented soybeans. When mixed with coconut milk, it creates an exciting taste that's hard to resist.
And to take this soup to the next level, we're topping it off with a soft-boiled egg. The yolk's silky texture blends with the spicy coconut base, creating a luxurious and indulgent experience with every spoon.
Now, let's talk about the spice level. This dish brings the heat, but it's not going to leave you sweating bullets. However, if you're a spice enthusiast, feel free to kick it up a notch by adding more Gochujang paste. And if you prefer just a hint of heat, start with one tablespoon.
With such a scrumptious combination of flavors, this coconut Gochujang noodle soup is sure to become a weeknight favorite in no time!
Let me guide you through the recipe with this easy to follow step-by-step VIDEO.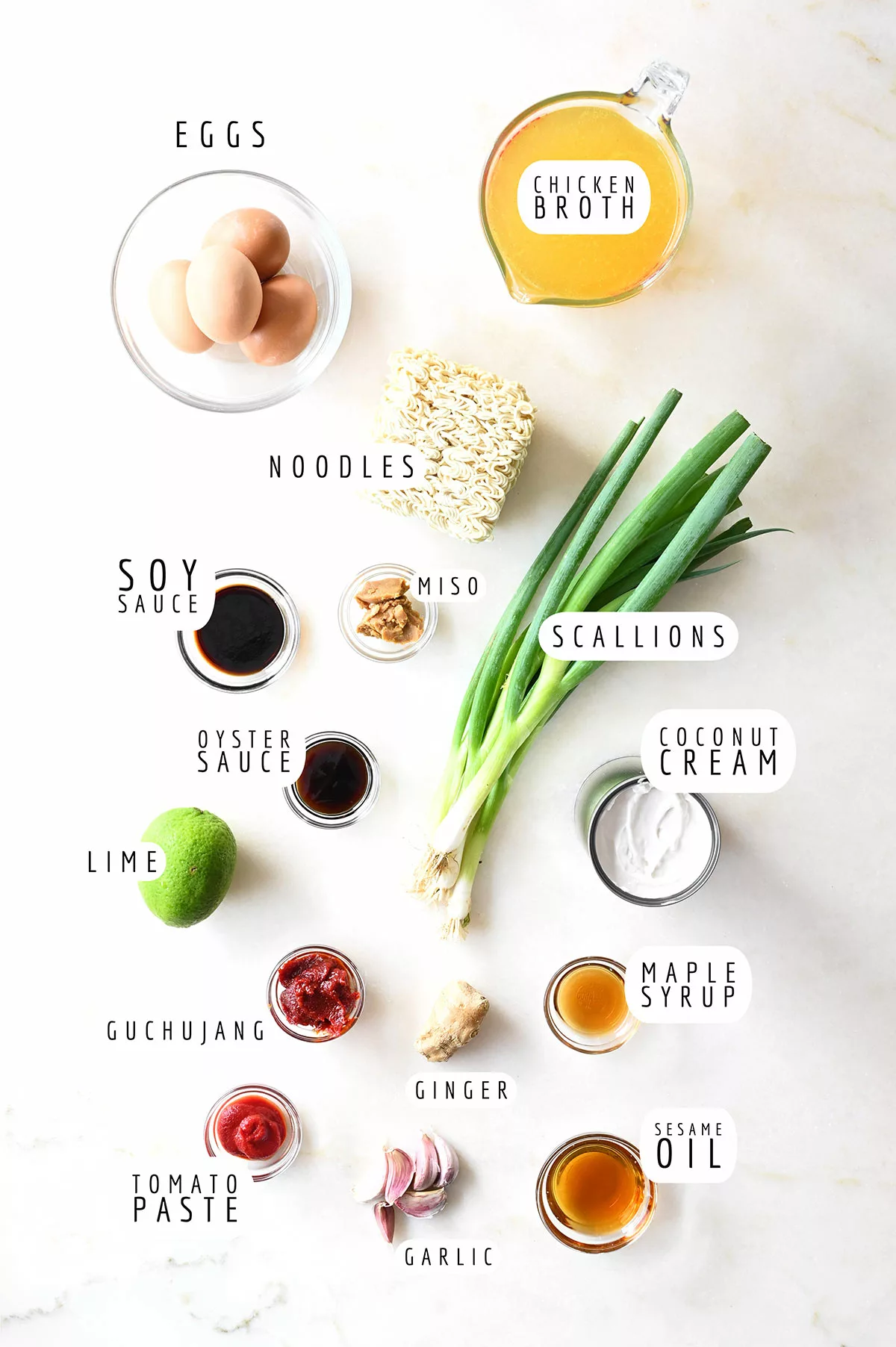 Ingredients, Tips & Substitutions
Sesame Oil: Infuses the dish with a wonderful toasted nutty flavor.
Garlic: An essential player in enhancing the taste, bringing a pungent and aromatic touch.
Scallions: A must-have ingredient, contributing a fresh and mild onion essence to the soup. If you prefer, you can also use a small yellow onion for the broth, then top it with chives.
Ginger: Offers a warm and slightly spicy note that pairs beautifully with the other ingredients. For the best taste, use freshly grated ginger.
Gochujang: This Korean chili paste brings a delightful kick and depth of flavor. If you can't find it, sambal oelek makes a great alternative. Customize the spice level by adjusting the amount of Gochujang paste.
Tomato Paste: Adds an umami-like taste and imparts a rich color.
Maple Syrup: Balances out the spiciness and tanginess, though you can also use brown sugar or honey.
Oyster Sauce: A full-bodied sauce, lending a thick glaze-like texture and a salty-sweet flavor.
Soy Sauce: Opt for low-sodium soy sauce to achieve the perfect amount of saltiness.
White Miso Paste: A delightful addition that brings a subtle umami flavor and a touch of sweetness. With the white miso paste in the mix, your broth will gain an extra layer of complexity, making it more satisfying and flavorful. You can use yellow or red miso as a substitute.
Chicken Broth: Serves as the flavor base for our soup. Alternatively, you can use vegetable broth or dashi.
Coconut Milk: Choose full-fat coconut milk for the creamiest result.
Lime Juice: Provides a tangy and citrusy kick, balancing the flavors and adding a refreshing zing to the mix.
Instant ramen noodles: The quick and convenient choice for this recipe. Feel free to try different noodle varieties for added texture and taste. Like udon, soba, or rice noodles for exciting variations.
Eggs (soft-boiled): A must-try addition, providing a luxurious creaminess to the dish. Adjust the boiling time for your preferred yolk consistency.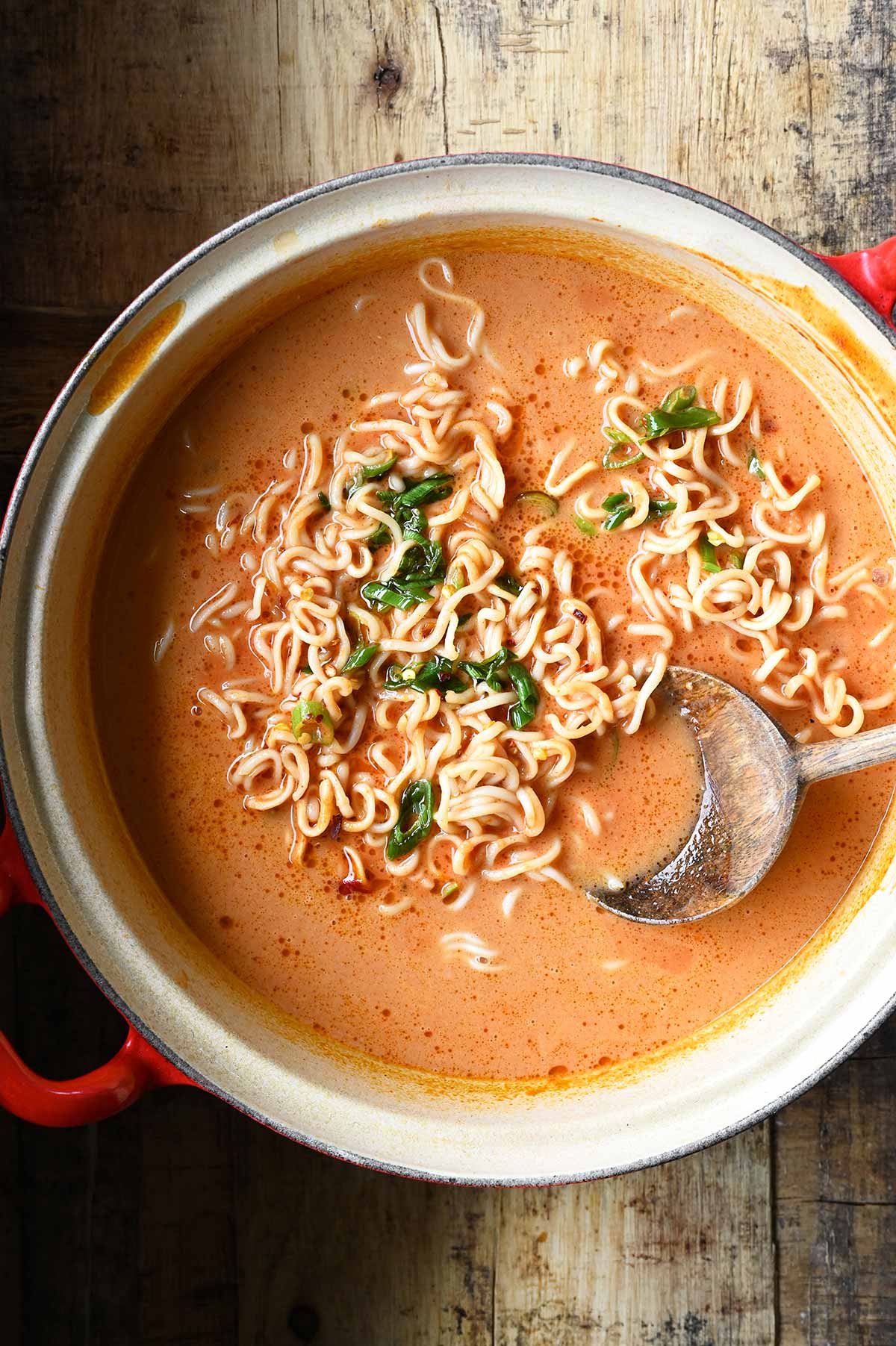 Recipe Notes
This coconut Gochujang ramen is super versatile, so make it your own!
Load up on veggies: Elevate the flavor by adding oyster mushrooms, shiitakes, eggplant, spinach, bok choy, edamame, broccoli rabe, sugar snaps, zucchini, green beans, or baby corn.
Amp up the protein: Toss in some rotisserie chicken, seared shrimp, ground beef or pork.
Spice it up: If you crave a fiery kick, go ahead and add more gochujang paste. For a milder touch of heat, begin with just 1 tablespoon.
For a more creamy result, add 2 tbsp peanut butter or tahini.
Get creative with toppings: Try sesame seeds, nori strips, cilantro, or a dash of chili oil to elevate the presentation and taste.
Add the miso paste towards the end of cooking to preserve its delicate flavors. Miso is a fermented product, so it's essential not to boil it vigorously to maintain its probiotic benefits.
Leftovers made easy: Store the soup and noodles separately in an airtight container in the fridge for up to 3 days. Simply reheat and combine when you're ready for a quick and delicious meal.
Vegetarian-friendly option: Swap the protein with tofu and use vegetable broth for a delightful alternative.
Try These Next
Cooking Video
Yield: serves 4
Coconut Gochujang Noodle Soup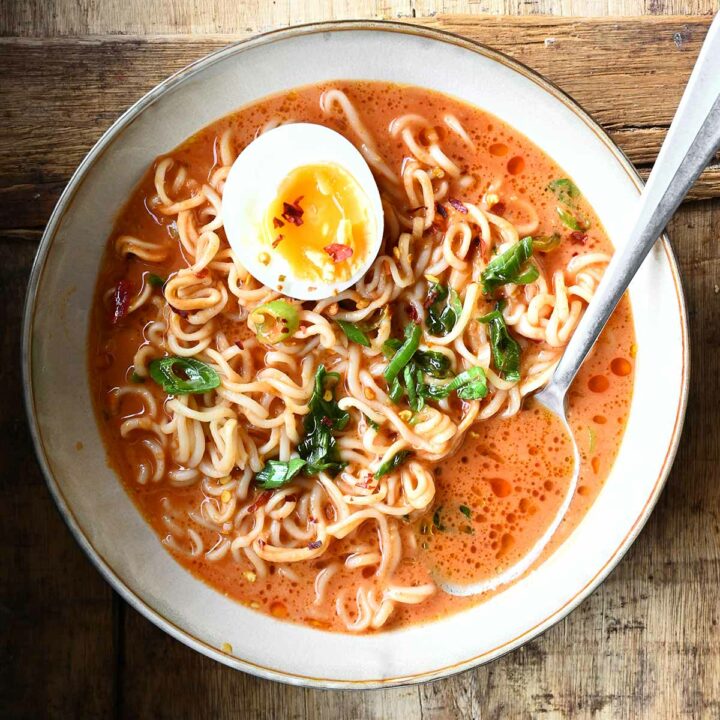 Ingredients
2 tbsp toasted sesame oil
4 scallions, finely chopped, white and green parts separated
6 garlic cloves, grated or pressed
1 tbsp grated ginger
4 cups/1 L low sodium chicken broth
1 tsp maple syrup
1 tbsp oyster sauce
1 tbsp low sodium soy sauce
2 tbsp lime juice
2 tbsp tomato paste
1-2 tbsp Gochujang paste, more or less to taste
1 can (14 oz/400 ml) coconut milk
1 tbsp white miso paste, dissolved in 2 tbsp hot water
9 oz/250 g instant ramen noodles
4 eggs
Instructions
Get your prep done before you start cooking. Set a large pot with water over medium high for the noodles. And set a small sauce pan over medium high to boil the eggs.
Finely chop the scallions, grate the ginger and garlic cloves.
Combine chicken broth with soy sauce, maple syrup, oyster sauce and lime juice. Set aside.
Heat sesame oil over medium low in a pot. Add the white parts of the scallions and cook for 30 seconds. Add garlic and ginger, cook for another 30 seconds. Pour in chicken broth and bring to a boil.
Stir in Gochujang paste and tomato paste. Add coconut milk, bring to a boil and simmer for 10 minutes.
In the meantime, boil the eggs for 6 minutes in the small sauce pan, then rinse under cold water. Add noodles to the large pot with boiling water, cook for 2 minutes, then drain and run under cold water to prevent from further cooking.
Dissolve the miso paste in hot water. Remove soup from heat and add miso. Serve with noodles and soft-boiled eggs, garnish with remaining scallions. Add toppings of your choice. Enjoy!
Notes
Calories Per Serving: 302 kcal
Nutritional information is only an estimate. The accuracy of the nutritional information for any recipe on this site is not guaranteed.

//= __('Print recipe (no photos)', 'servingdumplings' );?> //= __('Print recipe (with photos)', 'servingdumplings' );?>