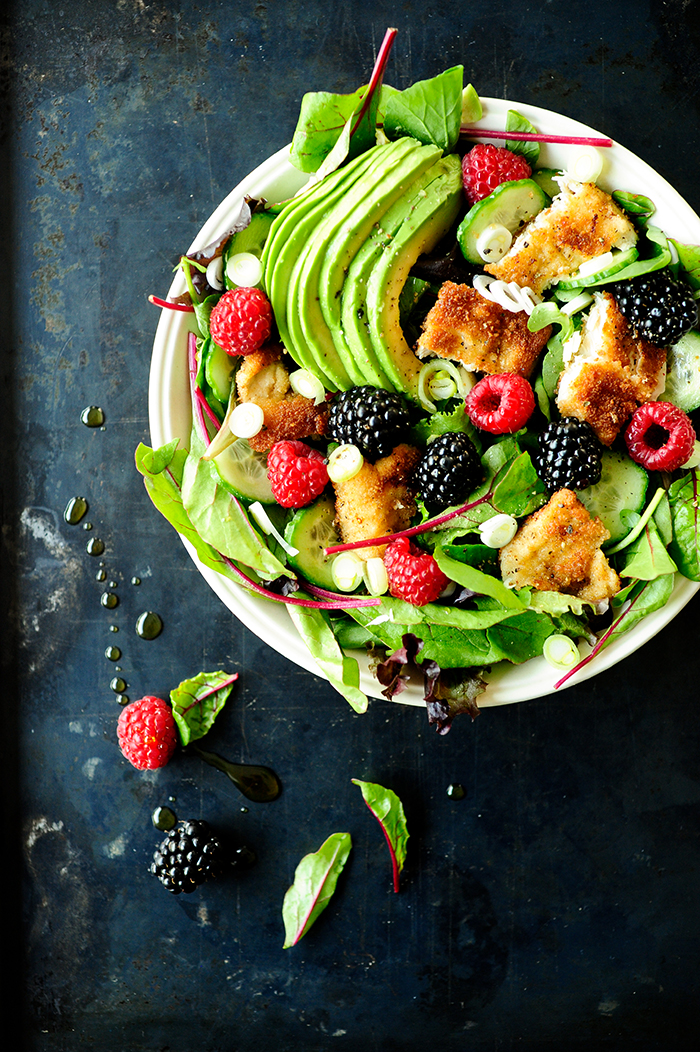 Light, nutritious salad with crispy chicken, avocado and seasonal fruit. The combination of raspberries and blackberries with the breaded chicken is terrific.
TIP: You can add some mozzarella and cherry tomatoes. Enjoy!
Ingredients
100 g of mixed salad greens
1 avocado, cut into strips
1 cucumber, cut into slices
50 g raspberries
50 g blackberries
4 spring onions, sliced into rings
1 double chicken breast
flour
1 egg
bread crumbs
salt and pepper
vegetable oil
vinaigrette
5 tablespoons extra virgin olive oil
3 tablespoons maple syrup
1 tablespoon lemon juice
1 clove garlic, chopped
Instructions
Place the chicken breasts on a chopping board, cover with greaseproof paper, and beat out without making holes in it. Season with salt and pepper.
Prepare three plates. Add some flour in the first, beat the egg lightly in the second plate and tip the breadcrumbs on to third plate. Dip the breasts in turn in the flour, egg and lastly the breadcrumbs . Heat the oil in a frying pan and cook the chicken for 5 minutes on both sides until golden brown. Then cut into strips.
Combine the ingredients for the vinaigrette in a bowl.
Arrange the salad on plates. Add the cucumber and avocado. Put the chicken on top, decorate with raspberries, blackberries and scallions. Pour the vinaigrette before serving. Enjoy!