Chicken and corn chowder. Slightly sweet and ultra creamy with a little heat from the chili pepper. Made with crisp sweet corn, tender chicken sausage and sharp cheddar. It's super easy to make and ready in about 40 minutes! Just add your favorite toppings and dig in.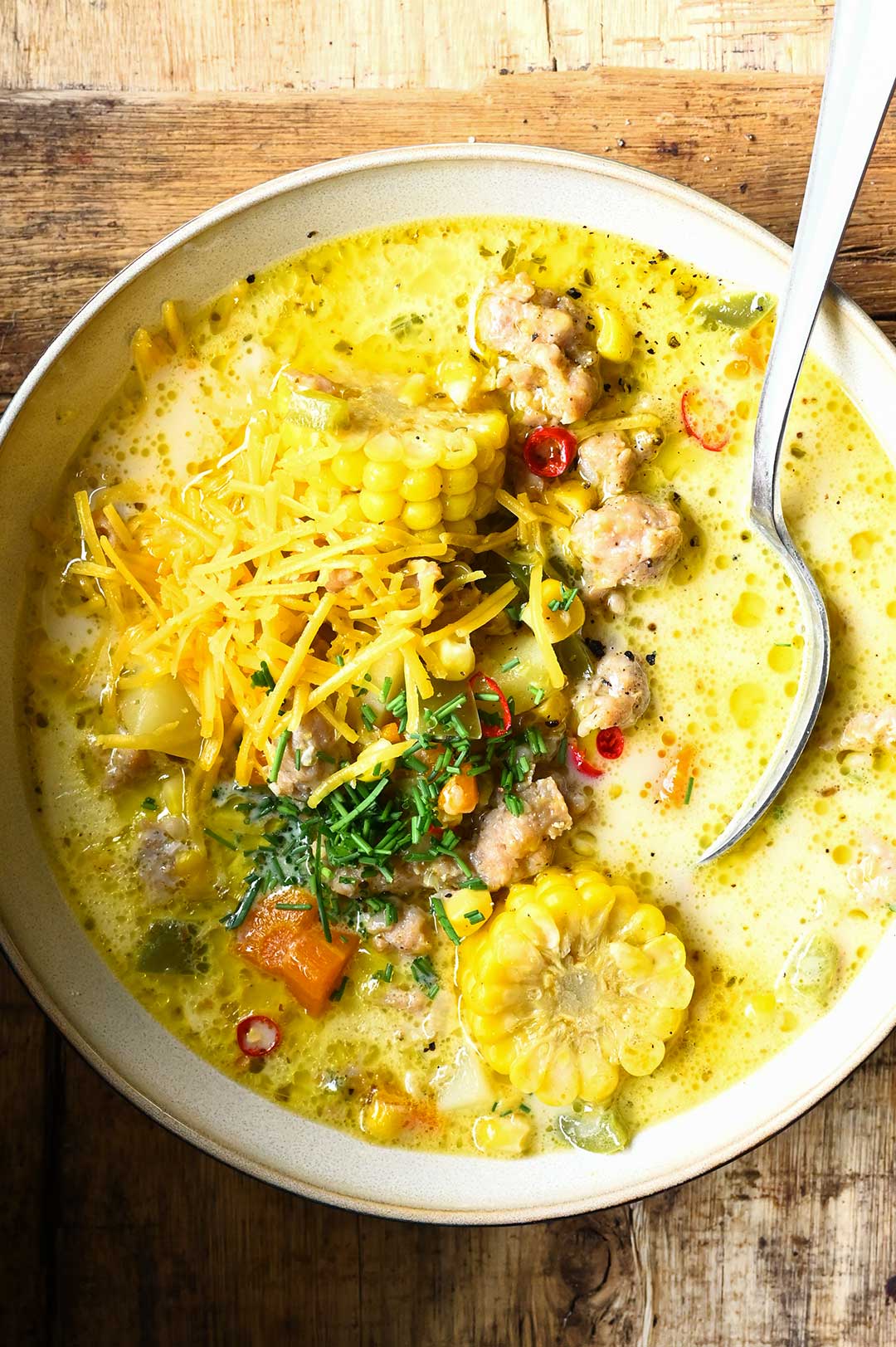 Imagine sautéed chicken sausage in a creamy broth packed with sweet pops of corn kernels, green bell pepper, potatoes and carrots. Trust me when I say the flavor is amazing! Right before serving, we stir in heavy cream and cheddar, which gives it a luxurious thick texture without making it too rich. Garnish with chopped chives, cilantro, some extra cheddar or sour cream for a satisfying taste.
This comforting recipe is the perfect weeknight dinner… and if you love hearty soups, prepare to be wowed by this one!
Let me guide you through the recipe with this step-by-step VIDEO.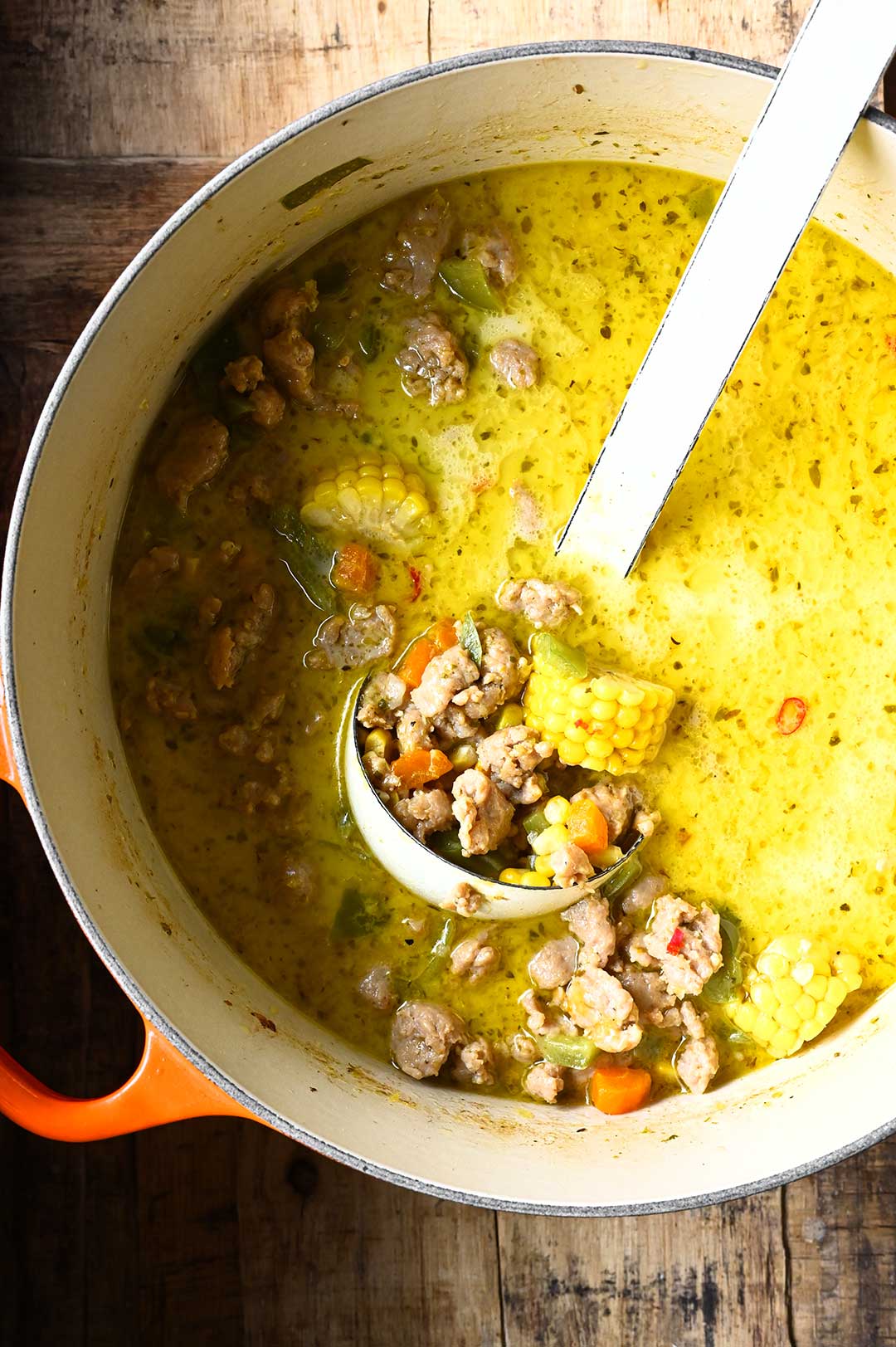 How We Make Chicken Corn Chowder
We grab a large heavy bottomed pot. First, we sweat the onion, garlic and carrot. Then add the spices and chicken sausage. Add in bell pepper, followed by potatoes, corn and chili pepper. Pour in chicken broth and simmer until the potatoes are tender, about 15 minutes. As a final touch, we stir in a splash of lime juice, cream and freshly grated cheddar… and done!
In just about 40 minutes (chopping counted in) you'll have a seriously tasty chicken corn chowder. You're going to love how creamy this chowder is, with wonderful spices, delicious flavors and amazing textures.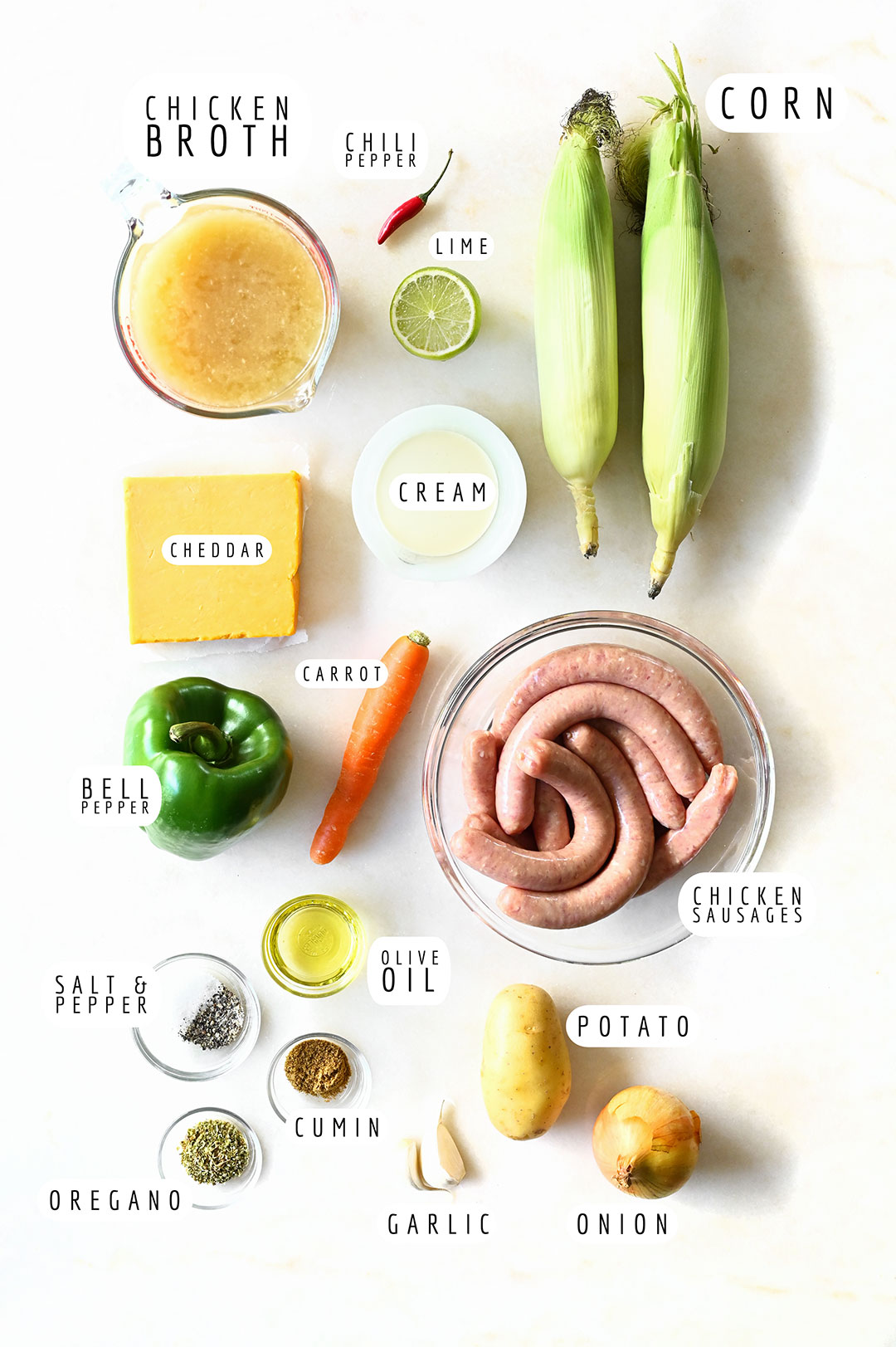 Everything You'll Need to Make Chicken Corn Chowder
Chicken sausage: I used chicken sausage, but you can also go for boneless/skinless chicken thighs.
Corn: We're using 2 different ways to cut the corn. We remove the kernels from one corn, to add sweet flavor pops to the chowder. We cut the other one in large pieces, this way it will add more flavor to the broth.
Veggies: Green bell pepper and carrot go in.
Potato: Releases starch and helps thicken the chowder.
Garlic and onion: For extra flavor.
Chili pepper: for that extra kick. Add more or less to taste. You can also use crushed chili flakes.
Spices: we're using a mix of ground cumin, dried oregano, salt and pepper.
Chicken broth: For a tastier chowder, don't skip the broth!
Lime juice: To balance out the flavor.
Cream: For a creamy richness.
Cheddar: For richness and to help thicken the chowder. Best when freshly grated.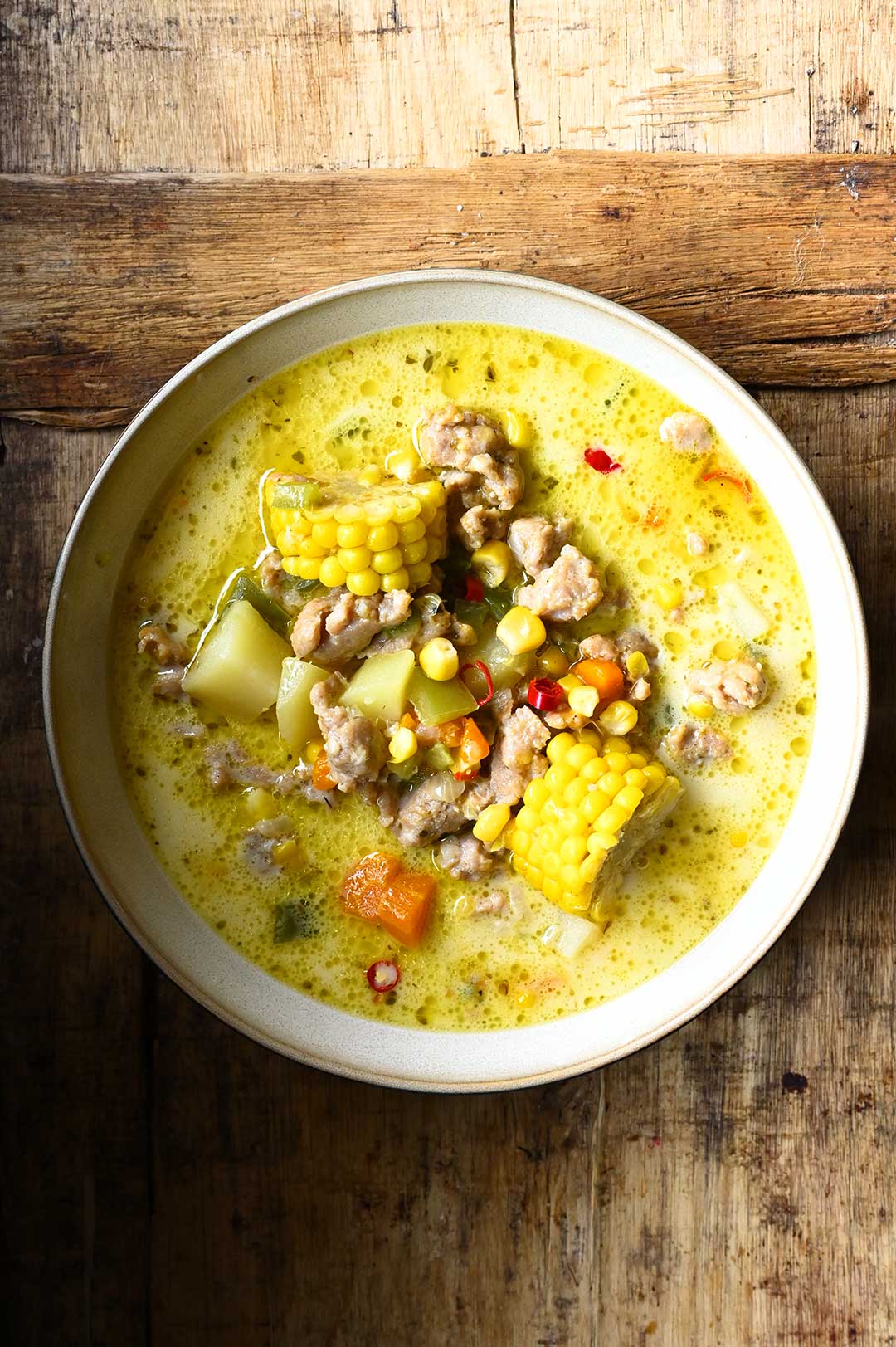 RECIPE NOTES
Add-ins: black beans, white beans, poblano peppers, red bell pepper, jalapeños,
Add your favorite toppings: chopped chives, sliced scallion greens, ground black pepper, oyster crackers, chili flakes, extra grated cheddar, sour cream, cilantro, bacon,…
You can use frozen sweet corn. For canned corn, drain before adding to the chowder.
Instead of heavy cream, use half-and-half.
Go vegetarian: feel free to omit the chicken, and add in a can of white beans for an extra boost of protein.
Make ahead: The chowder can be made 1 day ahead.
Storage: Refrigerate leftovers in an airtight container for up to 2 days.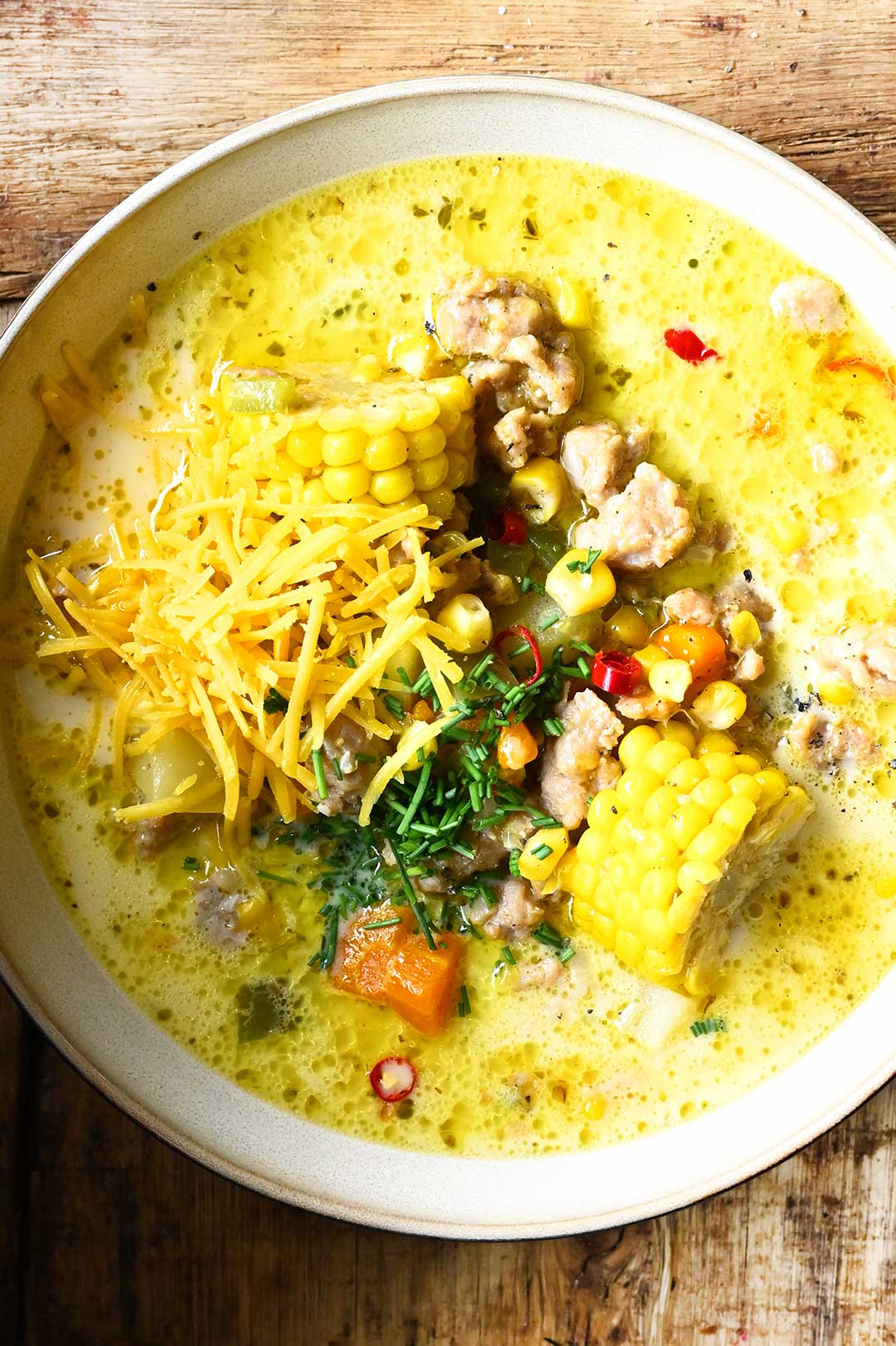 More Tasty Recipes
COOKING VIDEO
Yield: serves 4
Chicken Corn Chowder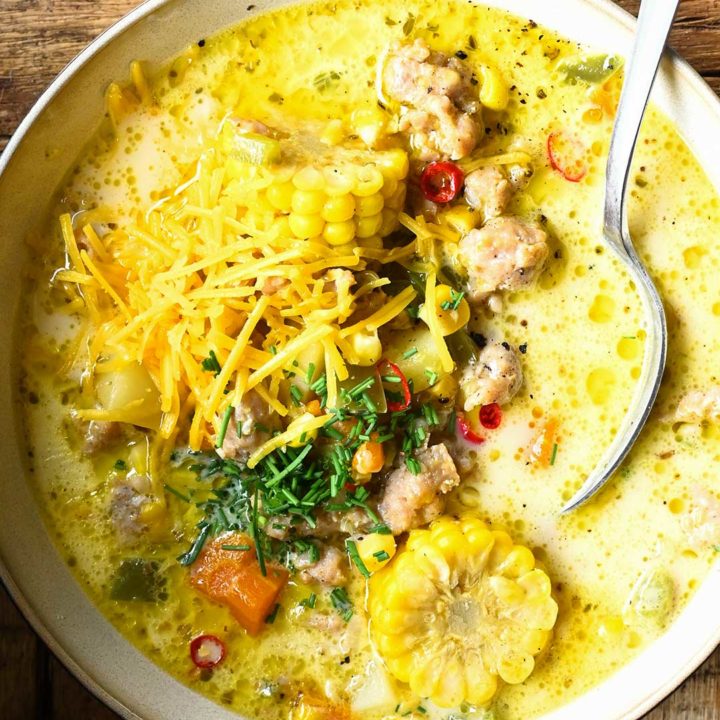 Ingredients
2 tbsp olive oil
1 yellow onion, finely chopped
2 garlic cloves, minced
1 large carrot, chopped into large pieces
1 tsp each: salt, black pepper, ground cumin, dried oregano
1.1 pounds/500 g chicken sausage, casing removed
1 green bell pepper, chopped
2 ears of corn
1 large potato, chopped into large pieces
6 cups/1,5 L chicken broth
1 chili pepper, chopped
1 tbsp lime juice
½ cup/120 ml heavy cream
3.5 oz/100 g grated cheddar
Instructions
Get all your prep done before you start cooking. Remove casings from sausages, cut into smaller pieces. Chop the bell pepper, carrot, potato, chili and onion. Mince the garlic. Cut one corn into 1 inch/3 cm pieces, remove the kernels from the second one.
Heat oil in a large heavy bottomed pot over medium. Add garlic, onion and carrot. Cook for 3 minutes, stirring frequently. Season with salt, pepper, oregano and cumin.
Add sausage, cook until it starts to brown. Add bell pepper and cook for 2 minutes. Then add potato and corn.
Pour in broth, bring to a boil. Add chili pepper, cover and let simmer for 15 minutes or until the potato and carrot are tender.
In the meantime, grate the cheddar and prepare your favorite toppings.
When ready, turn off the heat, add lime juice, cream and grated cheddar. Stir until dissolved. Taste and adjust salt.
Serve with your favorite toppings. Enjoy!
Notes
Calories Per Serving: 584 kcal
Nutritional information is only an estimate. The accuracy of the nutritional information for any recipe on this site is not guaranteed.

//= __('Print recipe (no photos)', 'servingdumplings' );?> //= __('Print recipe (with photos)', 'servingdumplings' );?>