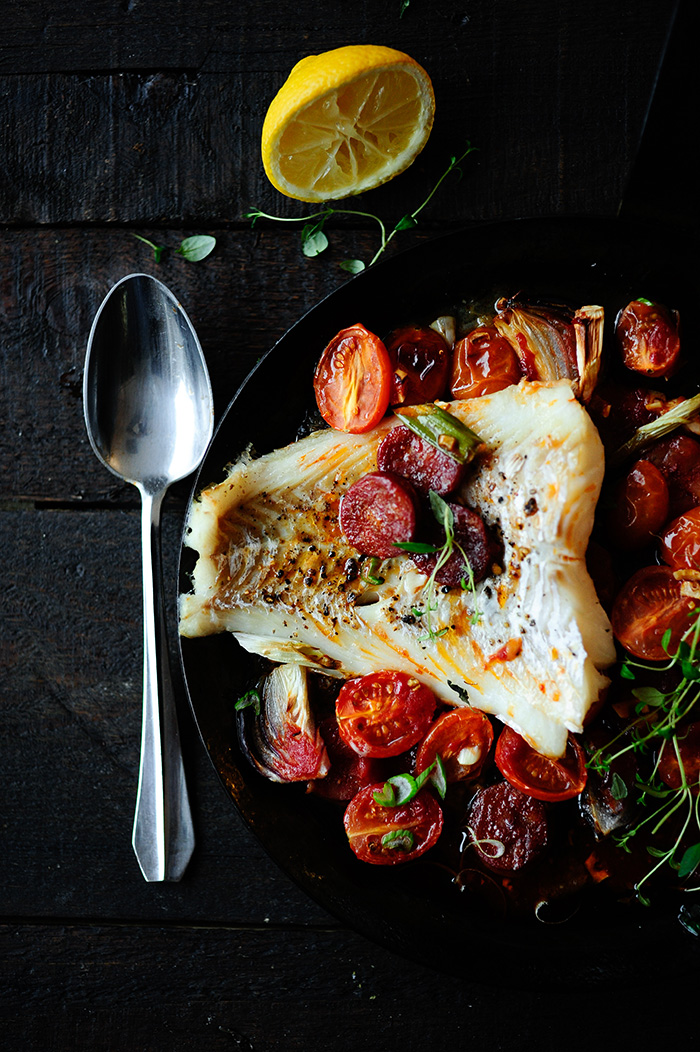 Cod and cherry tomatoes baked in a delicious tomato sauce with chorizo. The spicy sausage adds a rich taste to this meaty fish. It's a fast and easy one-pot skillet dish prepared in the oven. Served with baby potatoes or bread.
Ingredients
4 skinless cod fillets
100 g chorizo
1 red onion
500 g cherry tomatoes
salt and freshly ground black pepper
sauce
2 tablespoons honey
3 tablespoons tomato puree
2 tablespoons lemon juice
3 gloves garlic, finely chopped
6 tablespoons olive oil
salt and freshly ground black pepper
Instructions
Peel the onion and cut into slices. Cut the chorizo into rings. Cut the cherry tomatoes in half.
Combine all the ingredients for the sauce.
Place the tomatoes, onion and chorizo in a skillet. Put the cod fillets on top and garnish with salt and pepper. Pour the sauce and lemon juice. Bake in the oven for 20 minutes at 200°C.
Serve with fresh thyme, bread or baked potatoes. Enjoy!!