Polenta met champignonroomsaus, miso en look. Op smaak gebracht met zongedroogde tomaten en geserveerd met knapperige salieblaadjes. Een maaltijd voor het hele gezin, klaar in 20 minuten.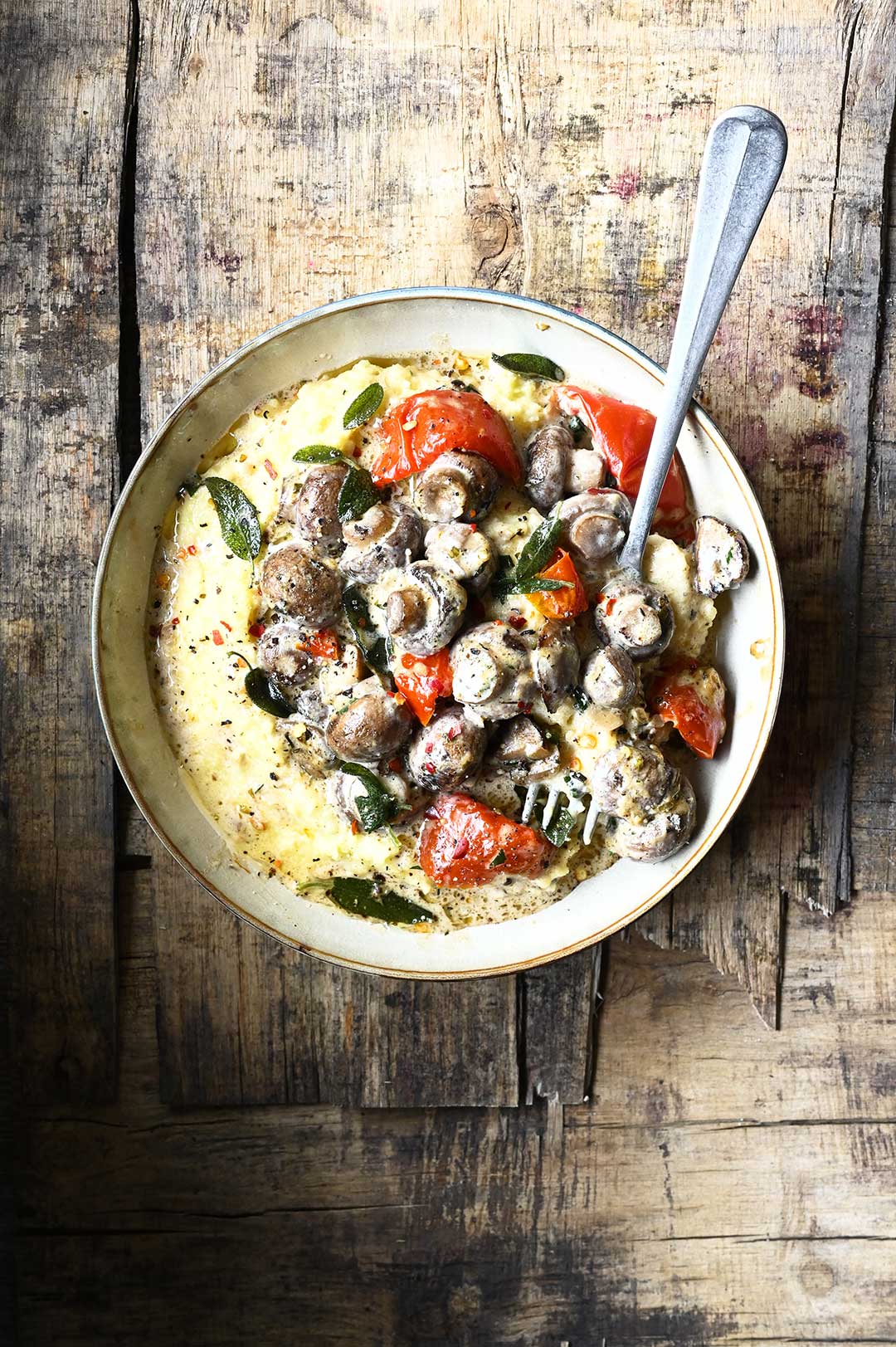 De polenta heeft slechts enkele minuten nodig om te koken en wordt daarna met Parmezaan gemengd. De saus krijgt zijn unieke karakter door zoetzure zongedroogde tomaten en enkele umami-bommen zoals knoflook en miso.
Het is serieus lekker en je kan deze champignonsaus zelfs met aardappelpuree of met biefstuk serveren. Een aanradertje!
Ga naar mijn Instagram Highlights om te zien hoe makkelijk je dit gerecht kan maken!

Nog meer heerlijke gerechtjes met champignons:
Romige polenta en paddenstoelen in een biersausje
Romige risotto met champignons in balsamicoazijn
Hartelijke champignon bolognese met courgetti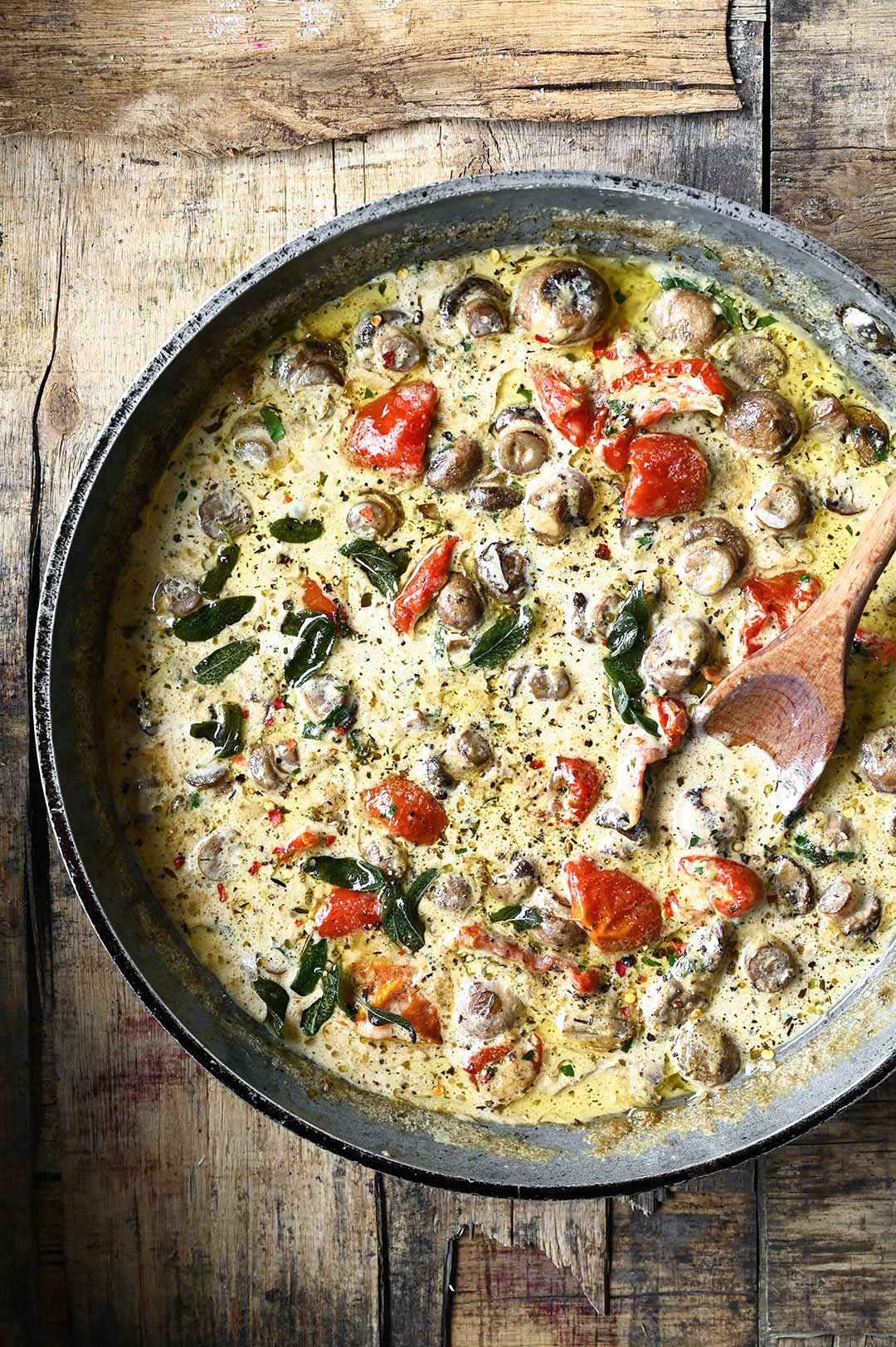 Wil je op de hoogte blijven van mijn nieuwe recepten? Abonneer je dan op mijn NIEUWSBRIEF. 
Dit heb je nodig
champignonsaus met miso
500 g bruine champignons, grotere stukken in helft doorgesneden
150 g zongedroogde tomaten, zonder olie
300 ml halfvolle room
3 el olijfolie
1 sjalot, fijngehakt
4 tenen knoflook, fijngehakt
1 tl elk: gedroogde tijm + salie
1 el gehakte verse peterselie
1 el witte miso
1 tl sojasaus
1 tl mirin
zwarte peper, naar smaak
gebakken saliebladeren + gedroogde rode chilipeper, voor de afwerking
polenta
250 g instant polenta
400 ml  melk
350 ml water
100 g  geraspte Parmezaan
2 el roomboter
zeezout + zwarte peper
Zo maak je het
We starten met het maken van de champignonsaus.
Verwarm een koekenpan op hoog vuur. Voeg de champignons toe en bak gedurende 5-7 minuten. De champignons gaan hun vocht afgeven, voeg daarna olijfolie, knoflook en sjalot toe. Verlaag het vuur en laat het geheel 1-2 minuten bakken, roer af en toe. Als de champignons beginnen te bruinen, voeg salie, tijm, sojasaus en mirin toe. Roer vervolgens de miso eronder. Kruid met peper en voeg zongedroogde tomaten toe. Roer alles door elkaar. Voeg de room en de gehakte peterselie toe. Breng aan de kook. Verlaag vervolgens het vuur tot een minimum en laat het sudderen terwijl je de polenta maakt.
Breng in een pan, water en melk aan de kook. Doe de polenta erbij en terwijl je blijft roeren, kook ongeveer 3 minuten op een laag vuurtje. Roer boter, parmezaanse kaas, zout en zwarte peper eronder. Zet het vuur uit, dek af en laat 2 minuten staan. Als de polenta te dik wordt, voeg wat extra melk toe.
Serveer met champignonroomsaus, gebakken salieblaadjes en gedroogde rode chilipeper. Smakelijk!
Ga naar mijn Instagram Highlights om te zien hoe makkelijk je dit gerecht kan maken!
Als je dit recept uitprobeert, laat dan hieronder een reactie achter of deel je foto's op Instagram en vergeet niet om mij te taggen @anna_s_table. Ik kijk ernaar uit!
AND… IF YOU LOVE THESE RECIPES … please consider supporting my work for just the cost of a cup of coffee.