Een romige risotto met champignons in balsamicoazijn en een look-botersausje.
Deze risotto maak je in ongeveer 40 minuten. Zo lekker, het zal moeilijk zijn om geen extra portie te nemen. Gemengd met parmezaanse kaas en mascarpone voor die extra romige touch. Afgewerkt met champignons gebakken met balsamicoazijn en knoflook.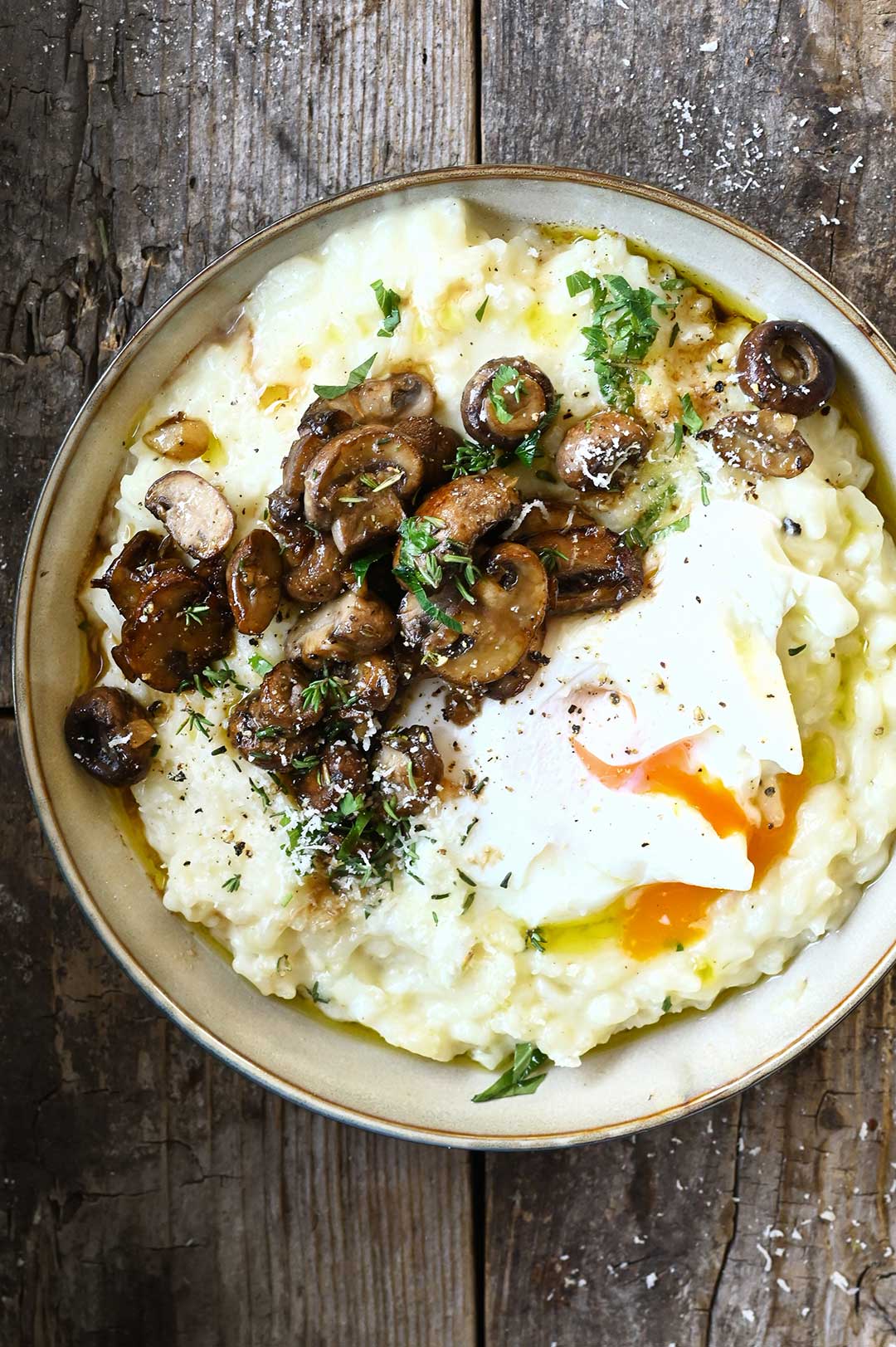 Risotto is heel makkelijk om te maken, regelmatig roeren en op een zacht vuurtje laten koken zijn de enige voorwaarden, zo komt het zetmeel vrij en creëer je die gladde, romige saus van een goede risotto. En door in de laatste stap een beetje mascarpone toe te voegen wordt de risotto nog romiger. 
De champignons, samen met een scheutje balsamico en knoflook, geven een extra diepe en rijke smaak aan dit gerecht. Eigenlijk hebben we niet veel meer nodig, behalve misschien een gepocheerd eitje.
Eenvoudig en toch hartelijk, doordrongen met lekkere herfstsmaken. Je kan elke soort paddenstoelen gebruiken, een mix van wilde paddenstoelen, gedroogde cantharellen of eekhoorntjesbrood.
Ga naar mijn WEB STORY om te zien hoe makkelijk je dit gerecht kan maken!

Nog 3 heerlijke recepten met kaas:
Eenpansgerecht met orzo, aubergine en courgette
Gegratineerde pasta bolognese
Romige polenta en paddenstoelen in een biersausje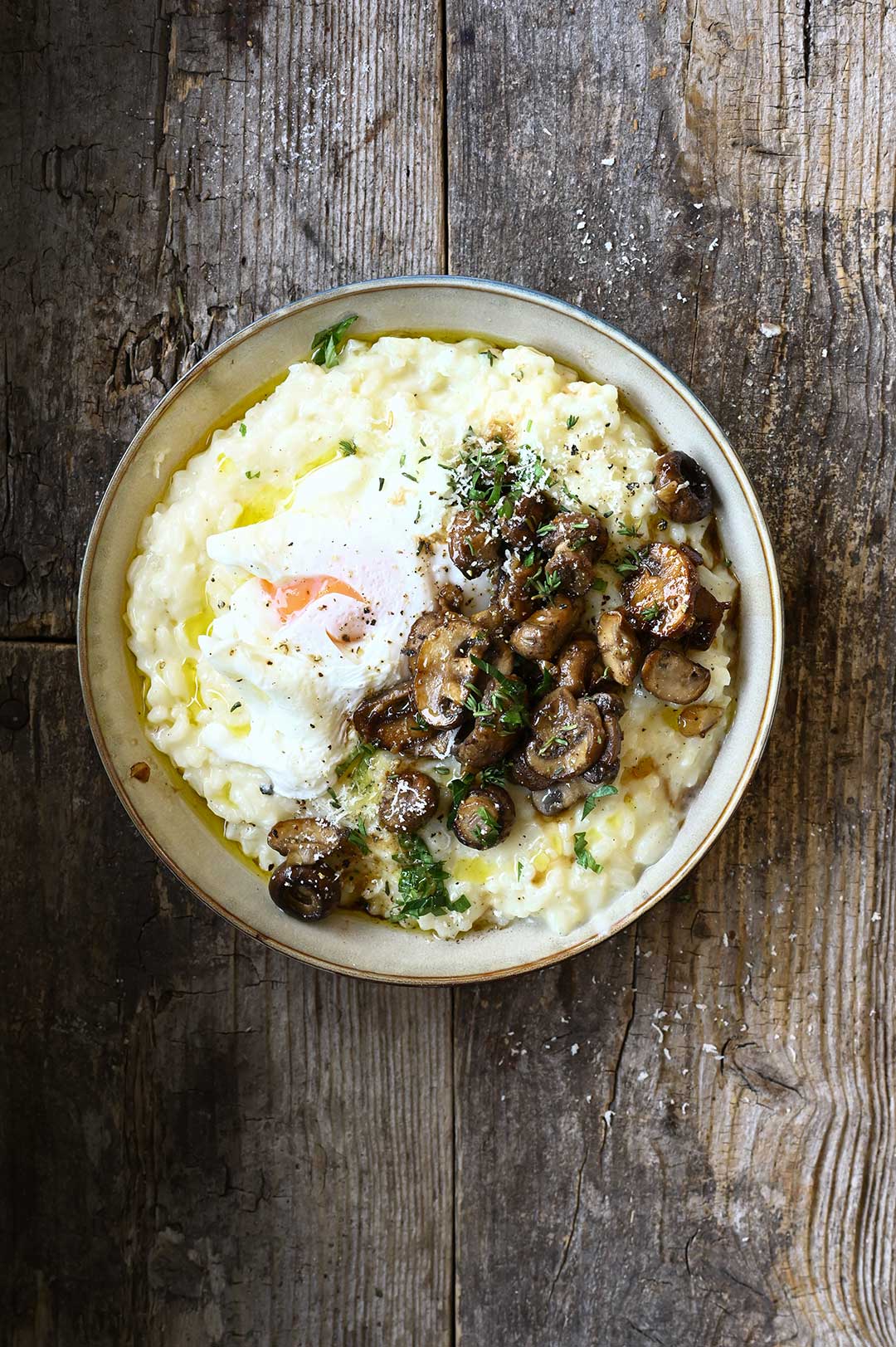 Wil je op de hoogte blijven van mijn nieuwe recepten? Abonneer je dan op mijn NIEUWSBRIEF.
Dit heb je nodig
400 g arborio rijst
5 el olijfolie
1 sjalot, fijngehakt
1 knoflookteen, gehakt
1,5 L – 2 L groentebouillon, warm
40 g roomboter
100 g geraspte parmezaan
100 g mascarpone
80 ml witte wijn
2 el citroensap
zout + zwarte peper
champignons met balsamicoazijn
500 g champignons
2 el olijfolie
30 g roomboter
4 tenen knoflook, fijngehakt
4 takjes tijm
3 el balsamicoazijn
+
4 eieren
1 el azijn
gehakte peterselie
parmezaan voor de afwerking
Zo maak je het
Verhit olijfolie in een pot met een dubbele bodem op laag vuur. Voeg sjalot en knoflook toe. Fruit ongeveer 3 minuten. Voeg rijst toe en bak even mee, al roerend tot de rijstkorrels doorzichtig worden, gedurende 2 minuten. Blus met witte wijn en kook, al roerend, tot het bijna volledig verdampt is. Voeg ongeveer 2 pollepels warme bouillon toe en kook al roerend tot het vocht is opgenomen. Herhaal het proces, voeg telkens bouillon toe nadat elke toevoeging is geabsorbeerd, totdat de rijst mals is maar wel al dente en het mengsel romig is.
Ik had ongeveer 20-25 minuten nodig met 1,5 L bouillon. Voeg indien nodig meer bouillon toe, kook tot de gewenste consistentie bereikt is.
De risotto moet romig zijn, dik genoeg om de bodem van de pot te kunnen zien bij het roeren, maar zeker niet droog.
Breng op smaak met zout en peper. Haal van het vuur en voeg citroensap, boter, mascarpone en parmezaan toe. Roer. Proef en voeg indien nodig zout en peper toe. Dek af en zet opzij.
Wanneer de rijst kookt, verhit de olijfolie in een koekenpan op hoog vuur. Voeg de helft van de champignons toe en bak ongeveer 2 minuten. Voeg de overige champignons toe en bak tot ze licht gebruind zijn. Zet het vuur lager, voeg de knoflook toe en laat het geheel ongeveer 3 minuten bakken. Roer vervolgens de balsamicoazijn, tijm en boter eronder. Breng op smaak met zout en peper. Zet opzij.
Pocheer de eieren. Vul een kookpot met 1/3 water, voeg azijn toe en breng aan de kook. Breek elk ei apart in een koffiekopje. Zet het vuur zachter, zodat het water net onder het kookpunt is en niet meer borrelt. Giet het eerste ei heel voorzichtig in het water, begin met gieten van zodra het kopje het water raakt. Kook op een heel zacht vuurtje gedurende 3 minuten. Vis het gepocheerde ei voorzichtig op met een schuimspaan, leg op een bord bekleed met keukenpapier. Snij eventueel losse flapjes eiwit weg. Herhaal dit met de overgebleven eieren.
Verdeel de risotto over de kommen, serveer met de gepocheerde eieren en champignons. Bestrooi met peterselie, parmezaan en zwarte peper.
Ga naar mijn WEB STORY om te zien hoe makkelijk je dit gerecht kan maken!
Als je dit recept uitprobeert, laat dan hieronder een reactie achter of deel je foto's op Instagram en vergeet niet om mij te taggen @anna_s_table. Ik kijk ernaar uit!
AND… IF YOU LOVE THESE RECIPES … please consider supporting my work for just the cost of a cup of coffee.