Easy summer tortellini salad. Get ready to make this vibrant pasta salad on repeat. Full of zingy flavors and incredibly easy to make. Just imagine juicy cherry tomatoes together with buttery olives, fresh basil and milky mozzarella, tossed with cheese tortellini, which can trap all that delicious Italian dressing. Combine, stir and enjoy!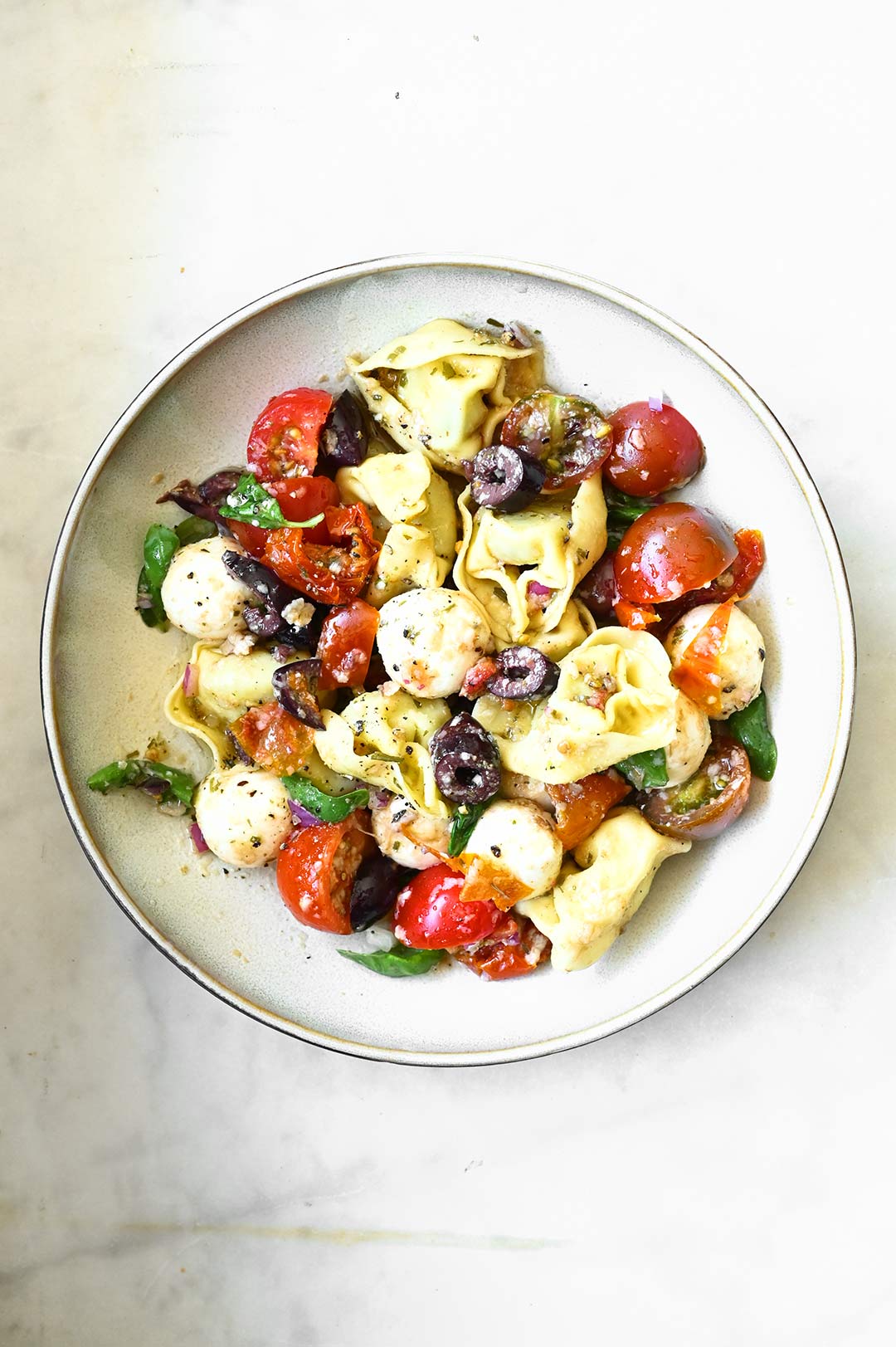 This tortellini salad is a true crowd-pleasing side dish. Since it's made with cherry tomatoes, which taste great year-round, you don't have to wait until peak tomato season to make it. Delicious for picnics, potlucks and barbecues. Leftovers last for days, which makes it also a great lunch idea.
This pasta salad is extra easy, relaxed and budget-friendly. It calls for fresh tortellini, a cheese filling is my personal favorite, but you could also use prosciutto-filling or spinach with ricotta. The pearl-sized mozzarella balls add a nice chewy bite. But even if you use a large, chopped mozzarella ball, you'll still end up with winning results.
This tortellini salad recipe is all about layering the flavors. We have the cherry tomatoes, sun-dried tomatoes, fresh basil, buttery olives and milky mozzarella, plus some grated Parmesan. The dressing is made with sun-dried tomato-oil, which is like a tiny umami bomb, along with balsamic vinegar, garlic, red onion and Italian seasoning… it hits all the right notes of salt, acidity and fat. This one will steal the show.
Let me guide you through the recipe with this step-by-step VIDEO.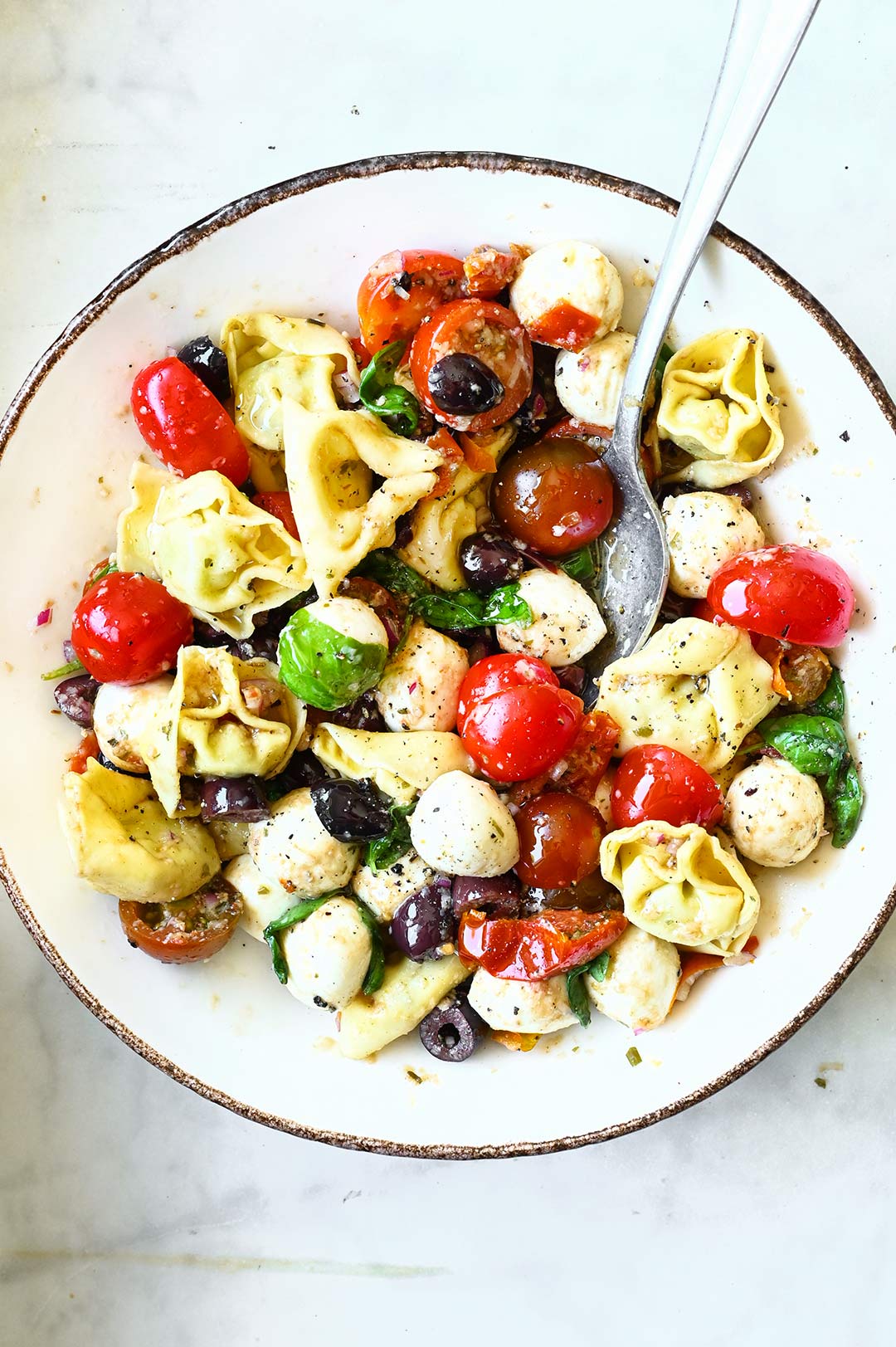 RECIPE NOTES
ultra versatile for picnics, barbecues, potlucks or an easy lunch idea
use any of your favorite tortellini
add-ins: spinach, artichokes, roasted pepper, crispy cooked bacon or salami
instead of black olives, use green olives or capers
give it a good toss and serve at room temperature
keep any leftovers refrigerated in an airtight container for up to 4 days
this tortellini salad can be made up to 1 day beforehand, but don't add the basil yet and refrigerate it overnight. Let the salad sit at room temperature for 20 minutes and toss in the basil just before serving
if you're bringing this salad to a potluck, double it. It's so good that you're guaranteed to run out quickly
Try These Next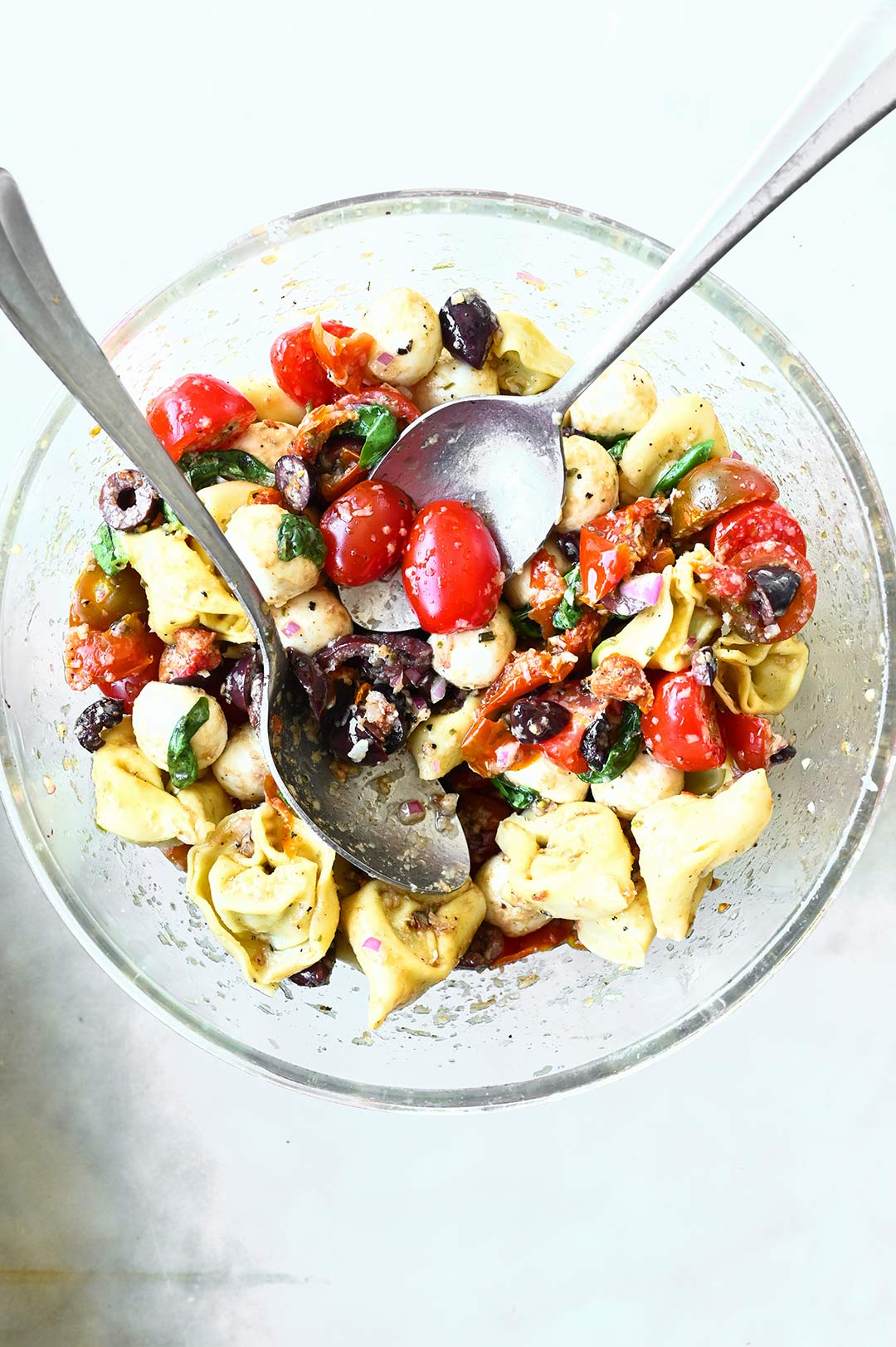 Cooking Video
Yield: serves 6
Summer Tortellini Salad
Prep Time 5 minutes

Cook Time 15 minutes

Total Time 20 minutes
Ingredients
Tortellini Salad
9 ounces/250 g fresh cheese tortellini
12 ounces/350 g cherry tomatoes, halved
3 ounces/85 g black olives, chopped, such as kalamata
10 sun-dried tomatoes, drained and chopped (oil reserved)
9 ounces/250 g mozzarella pearls, drained
¼ cup grated Parmesan
½ cup basil leaves
Italian Dressing
¼ cup oil from sun-dried tomatoes
2 tbsp balsamic vinegar
1 small red onion, finely chopped
3 small garlic cloves, mined or grated
1 tsp each: salt, black pepper, Italian seasoning
Instructions
Cook the tortellini in a large pot of boiling salted water for 2-3 minutes, or according to the package directions. Drain well and allow to cool at room temperature.
In the meantime, halve the cherry tomatoes, chop the olives and sun-dried tomatoes. Finely chop the red onion and mince the garlic.
Make the dressing, combine the oil with balsamic vinegar, garlic, red onion, salt, pepper and Italian seasoning.
Place the cherry tomatoes, olives, sun-dried tomatoes, mozzarella, basil leaves and Parmesan in a large bowl. Add tortellini and pour the dressing over the pasta. Toss well. Serve at room temperature. Just before serving, taste and adjust salt and pepper. Enjoy!
Notes
Calories Per Serving: 391 kcal
Nutritional information is only an estimate. The accuracy of the nutritional information for any recipe on this site is not guaranteed.


DOWNLOAD PRINTABLE RECIPE PDF