Pasta with mussels and clams in a butter-garlic sauce and stir fried samphire.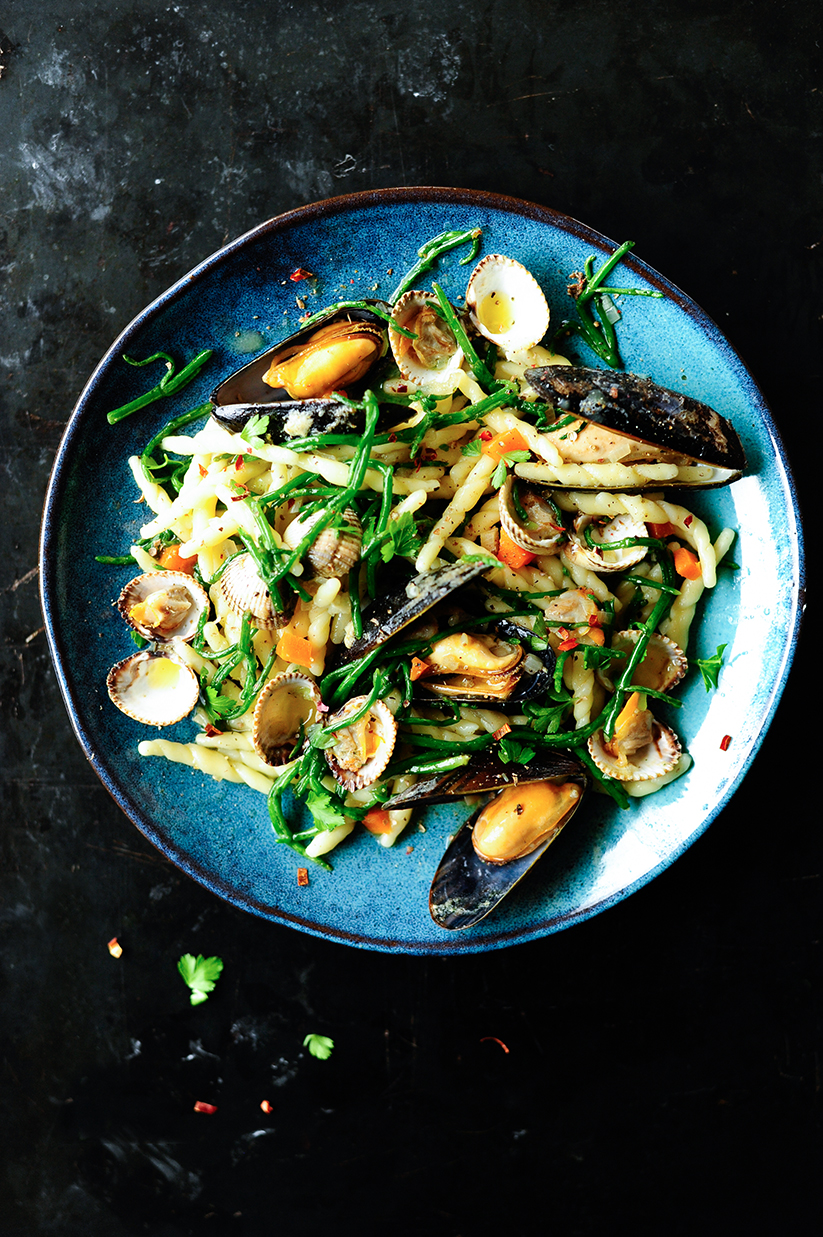 Have you ever tried samphire grass? It's a sea herb with a salty taste, that goes perfectly with fish or seafood, it highlights their taste really nicely. I've been eating samphire for the first time the other week and was delighted with the taste, it inspired me to make this dish.
And if you like mussels and clams, then this pasta is something for you, it's full of sea flavors, light, really good and original. The butter sauce with garlic is delicate and very aromatic, it goes fantastic with the clams and salty samphire.
It's a tasty dish, real comfort food on a Saturday evening, with a glass of white wine and a side of candles … perfect!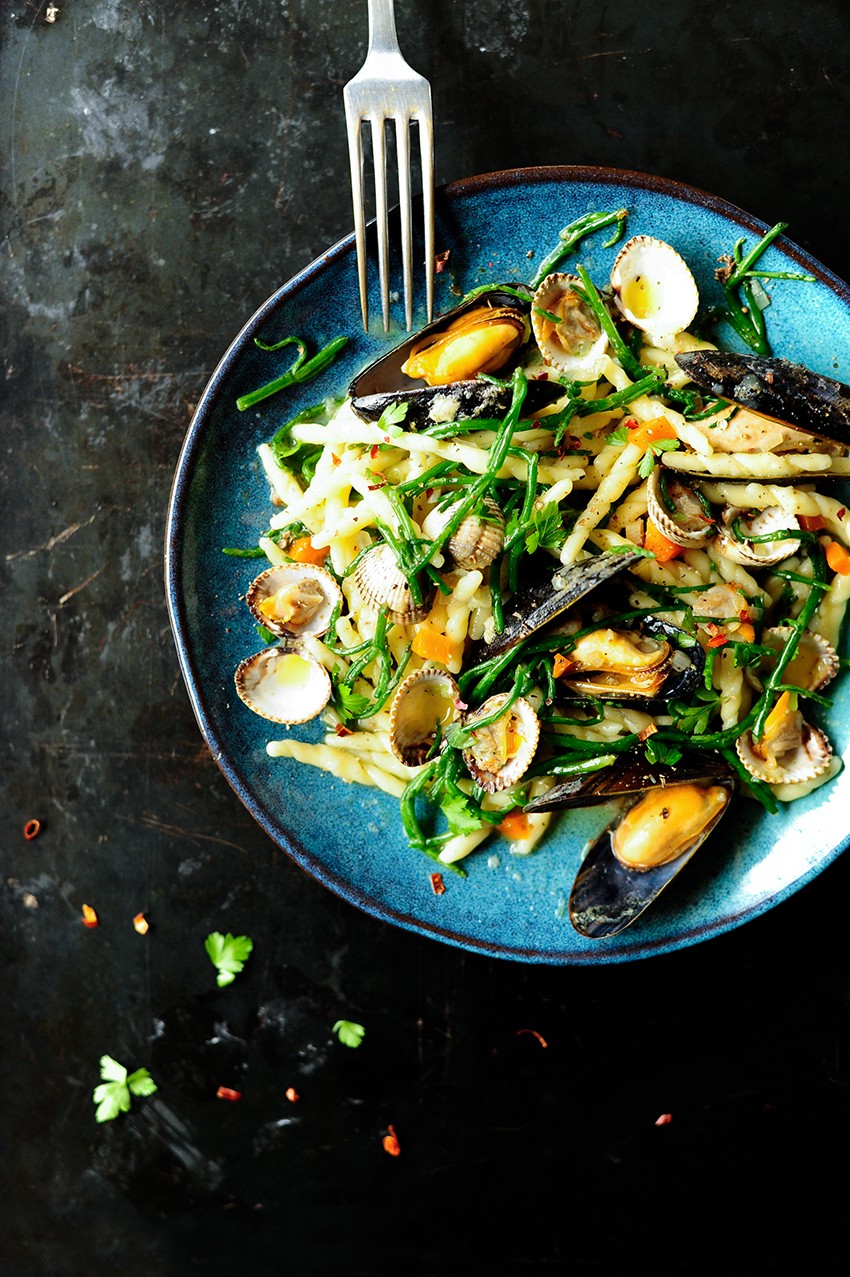 Ingredients
250 g of pasta
250 g clams
300 g mussels
75 g samphire grass
2 shallots, cut into thin strips
2 cloves garlic, finely chopped
2 stalks of celery, cut into thin strips
1 carrot, peeled and cut
olive oil
100 ml white wine
200 ml vegetable broth
50 g butter
3 tablespoons chopped parsley
1/4 teaspoon lemon zest
1 teaspoon red pepper flakes
black pepper
Instructions
Clean the mussels: discard cracked mussels or mussels that don't close. Scrub them well under cold water and pull out the beards.
Rinse the clams in cold water.
In a large pan with a thick bottom, heat the oil, sauté 1 shallot and 1 garlic, add celery and carrot. Add white wine, cook over a high heat for a few minutes. Add the broth, pepper and mussels. Cook for 3 minutes over a low heat. Add clams and simmer for 5 minutes more.
In a large pot, bring the salted water to a boil. Cook the pasta until al dente.
Transfer mussels and clams into a bowl, cover with aluminum foil. Strain the broth and pour back into the pan, add butter, lemon zest and parsley, cook for 3-5 minutes.
Rinse the samphire under cold water. In a skillet, heat the oil, sauté shallot and garlic, add samphire and black pepper, cook briefly over a high heat.
Combine mussels, clams, samphire, red pepper flakes and pasta with the butter sauce.
Serve immediately, enjoy!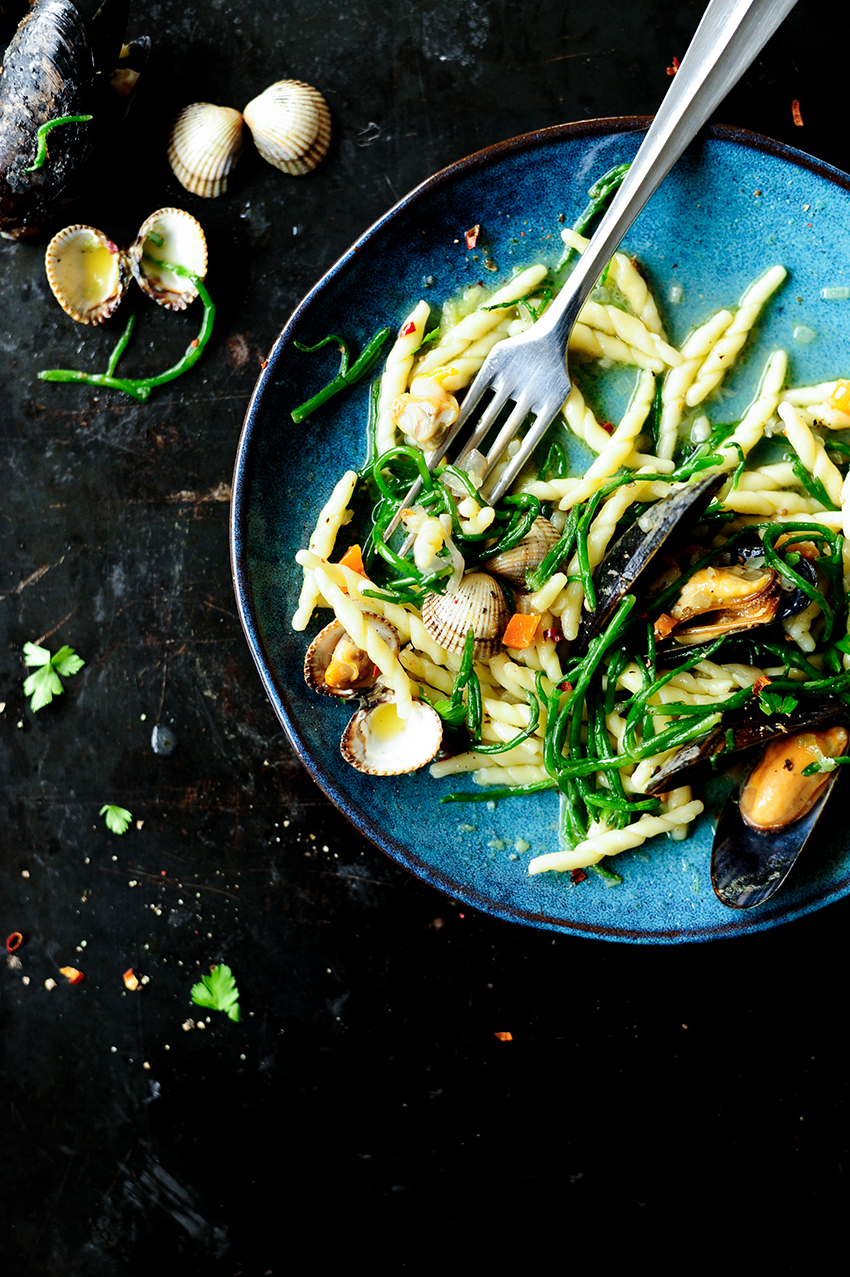 //= __('Print recipe (no photos)', 'servingdumplings' );?> //= __('Print recipe (with photos)', 'servingdumplings' );?>