One-skillet salmon all'Arrabbiata. The recipe combines the beloved arrabbiata sauce with pan-seared salmon. This version has all of the traditional essentials as well as some additions, including salty anchovies and plenty of wilted spinach for a feel-good hit of green. So delicious. Plus, it's ready in about 30 minutes.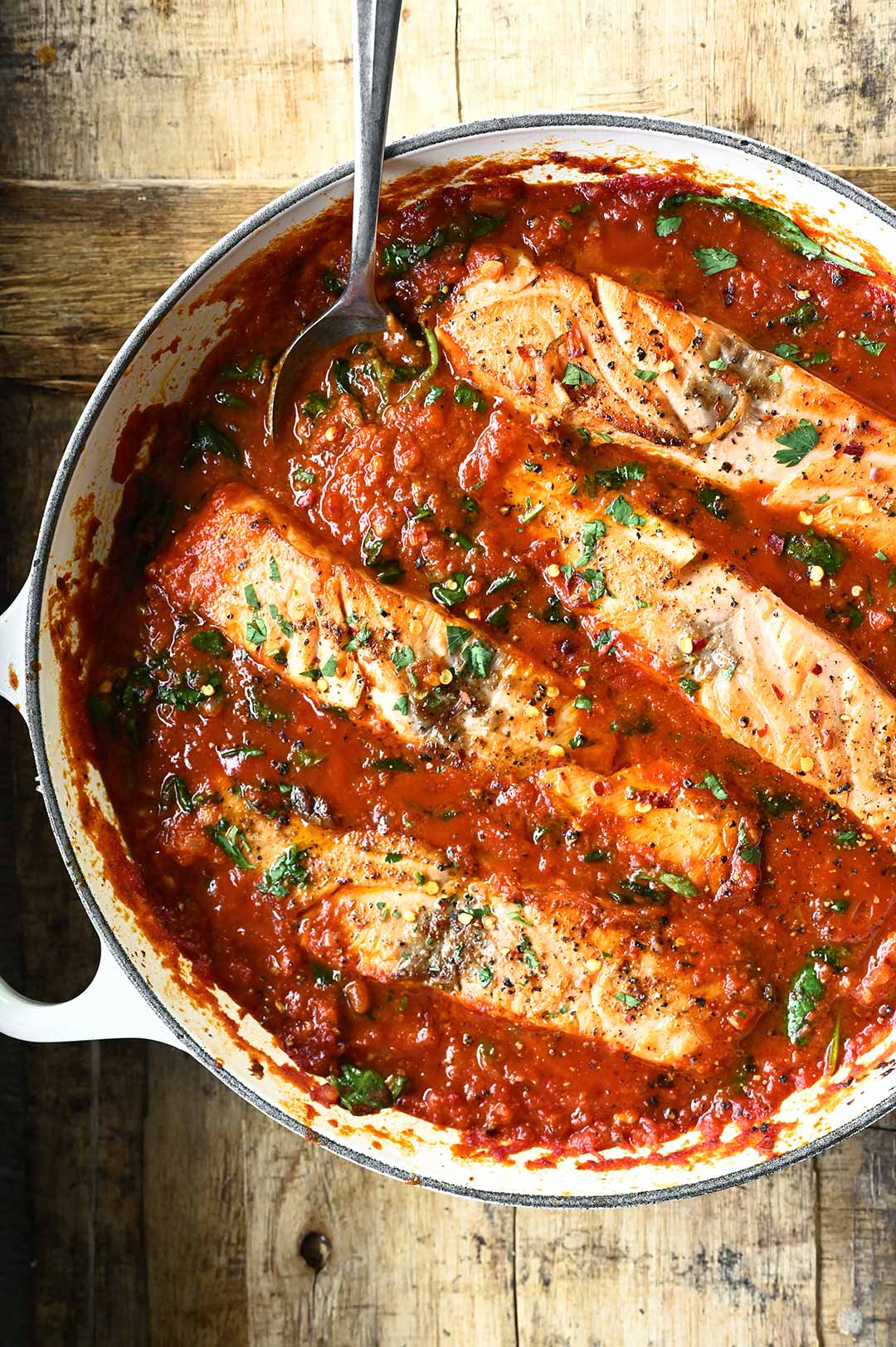 If you're that person who loves to sprinkle red pepper flakes on just about every single dish, this recipe is for you. The fiery arrabbiata sauce adds the perfect amount of depth and spice to the crispy seared salmon.
This sauce is made up of garlic, tomato paste and crushed tomatoes, anchovy and red chili simmered to perfection and topped with a garnish of parsley.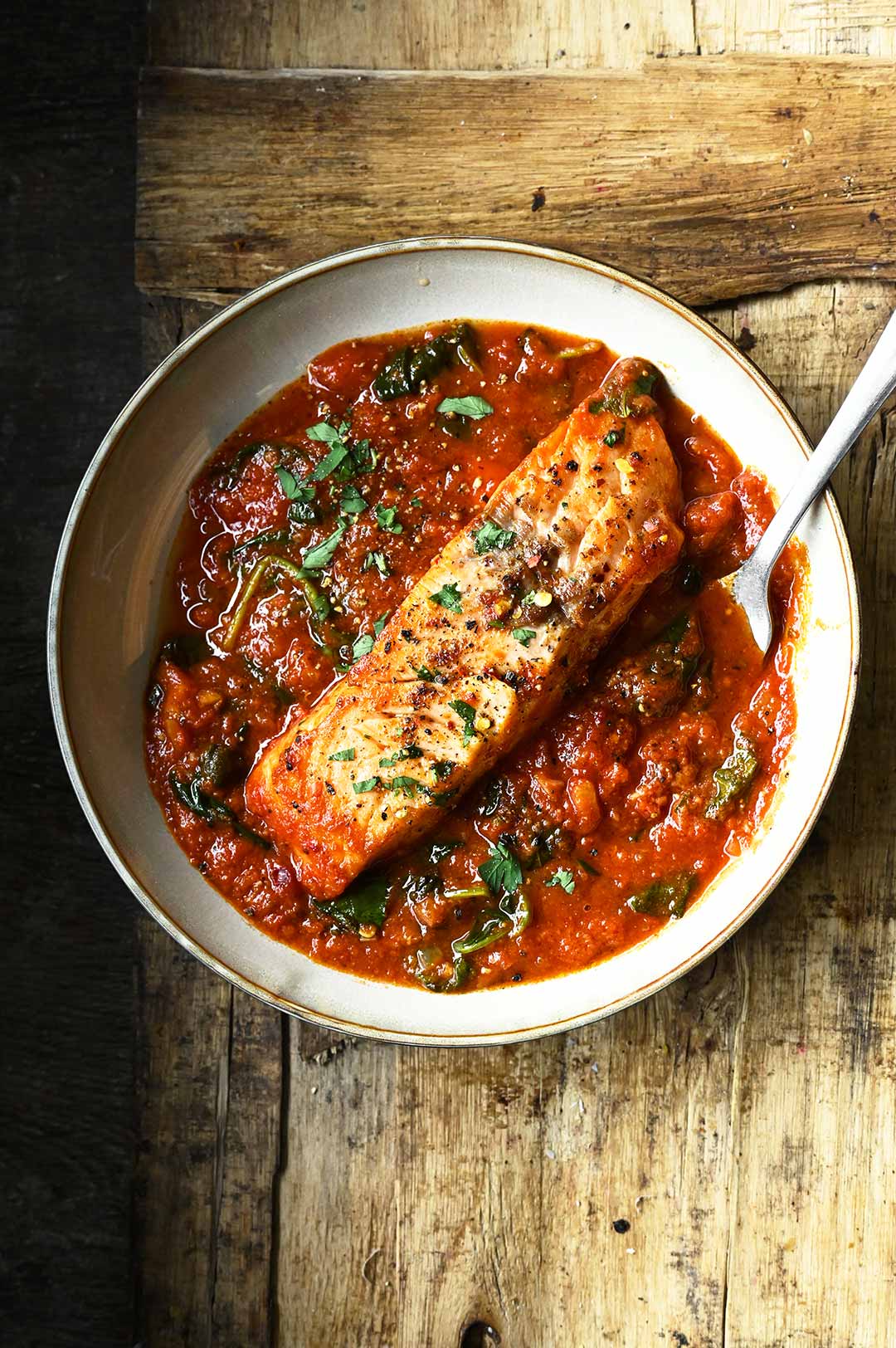 The anchovy cooks off, leaving an irresistible richness to the sauce. As it cooks, it melts into the oil alongside garlic and chili pepper, creating an unbelievably flavorful base for the sauce in a short amount of time.
Let me guide you through the recipe with this step-by-step VIDEO.
What to serve with salmon all'arrabbiata?
crusty bread
polenta
buttered orzo
any pasta shape
side salad drizzled with a honey-lemon dressing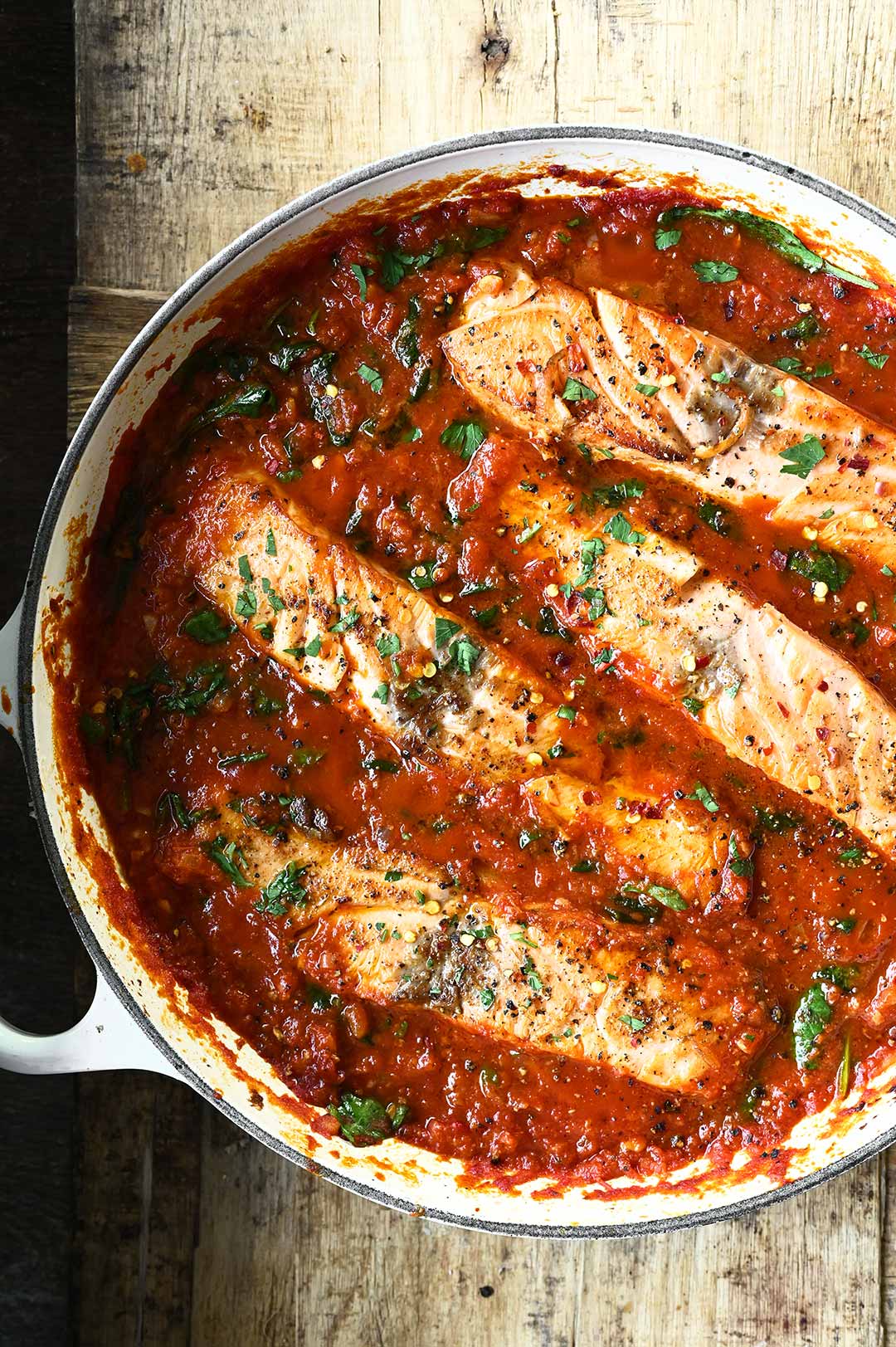 RECIPE NOTES
spinach substitutions: broccoli rabe, kale or arugula
you can easily double the recipe for the arrabbiata sauce, and freeze the sauce for meal prep, then just combine with pasta
instead of anchovy, you can add a splash of fish sauce
the amount of heat in this recipe gives a delicious kick without being overpowering spicy, if you prefer to have your socks knocked off, you can always add a little more
because I love its taste, I used sambal oelek to add some extra heat, but you can use chopped fresh chili pepper or red pepper flakes
Try These Next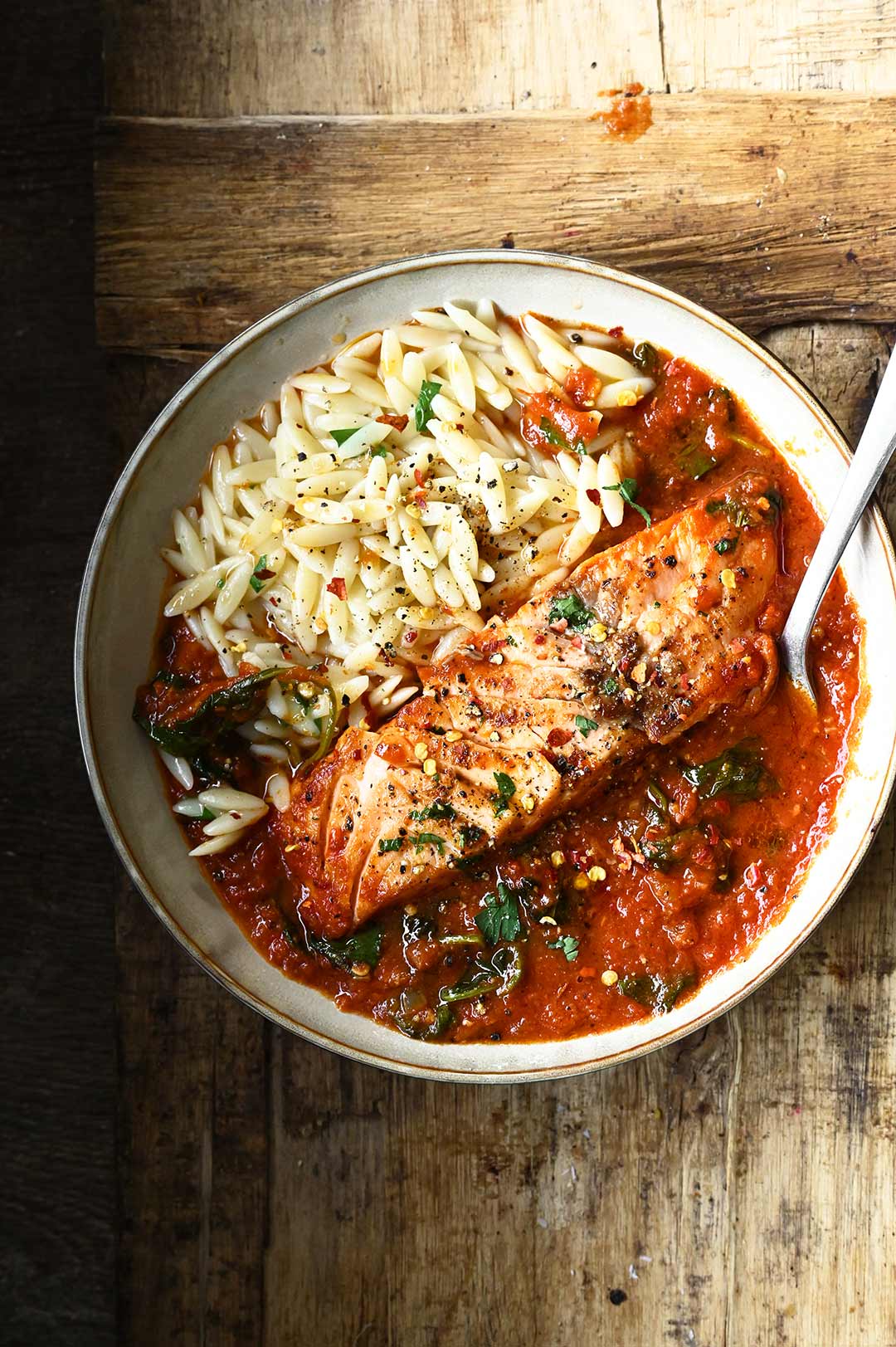 Cooking Video
Yield: serves 4
Salmon all'Arrabbiata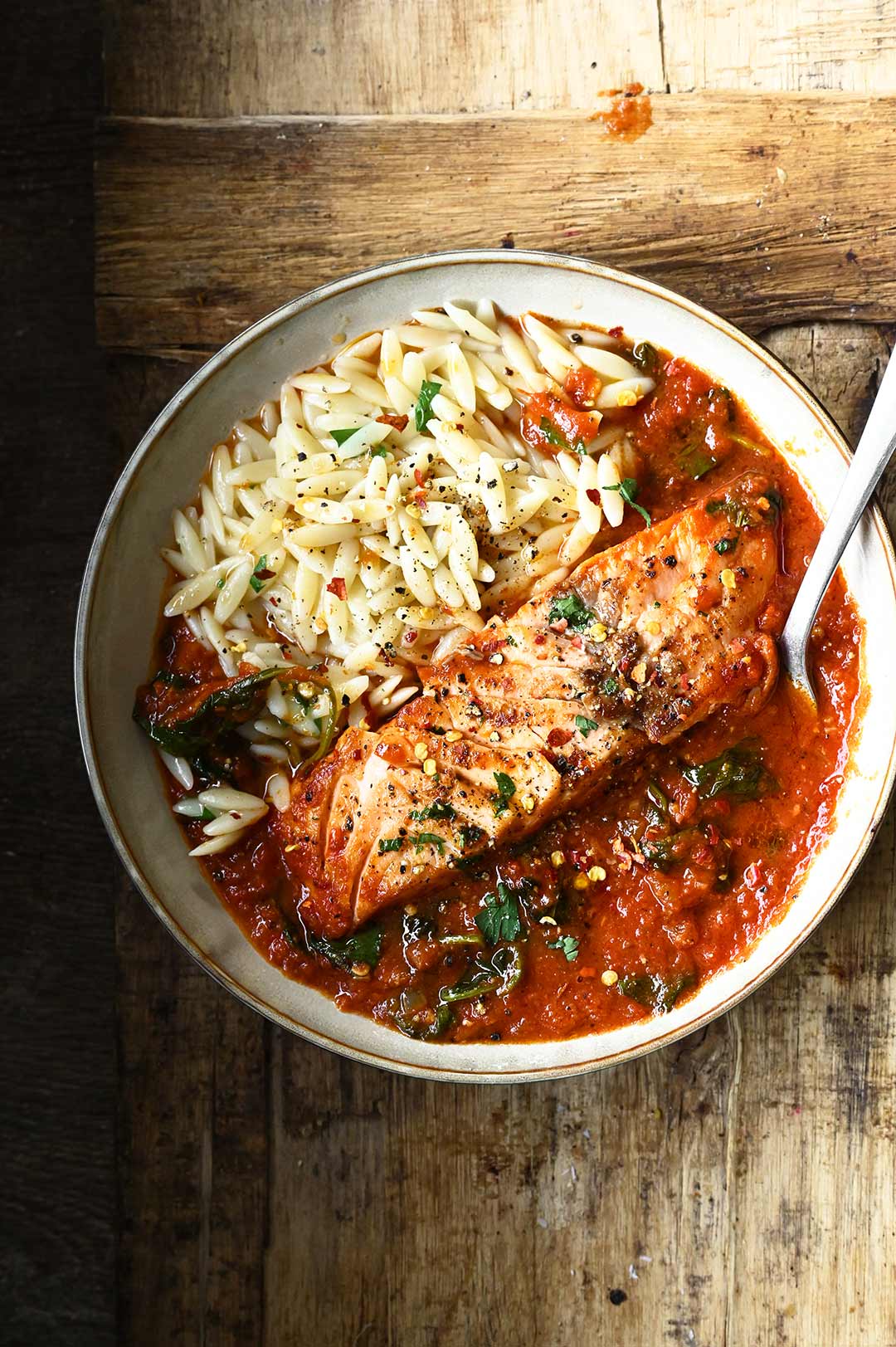 Prep Time 5 minutes

Cook Time 25 minutes

Total Time 30 minutes
Ingredients
1 tbsp olive oil
1 tbsp unsalted butter
4 salmon fillets, skin removed
4 garlic cloves, minced
1 small onion, finely chopped
2 tsp each: salt, black pepper
1 tsp each: dried oregano, dried sage, sweet paprika,
1 tsp chopped fresh chili, or sambal oelek, more to taste
1 anchovy, in oil
3 tbsp double-concentrate tomato paste
¼ cup/50 ml chicken broth
1 ⅔ cups/400 ml crushed tomatoes
100 g/3.5 oz spinach
40 g/1.5 oz grated Parmesan
2 tbsp chopped parsley
crushed red pepper flakes, for serving
Instructions
Get all the prep done before you start cooking: finely chop the onion and mince the garlic.
Pat the salmon fillets dry with a paper towel, season both sides with 1 tsp salt and black pepper.
Heat oil and butter in a large nonstick skillet over medium heat. Add salmon and sear, about 3-4 minutes on each side. Remove from the skillet and set aside.
Reduce heat to low. Add onion and garlic, cook for 2 minutes, or until soft and fragrant. Stir in anchovy, red chili, the remaining salt and pepper, oregano, sage and paprika. Add tomato paste, stir to incorporate, about 1 minute. Deglaze with chicken broth, simmer for 2 minutes, stirring with a wooden spoon while scraping up the brown bits on the bottom of the skillet. Pour in crushed tomatoes, simmer for 5 minutes.
Add spinach and simmer until slightly wilted, about 2 minutes. Stir in grated Parmesan and transfer salmon back to the skillet. Allow to cook for 3 more minutes or until the salmon is just cooked through. If needed, thin with additional broth.
Serve topped with red pepper flakes, freshly ground black pepper and chopped parsley. Enjoy!
Notes
Calories Per Serving: 667 kcal
Nutritional information is only an estimate. The accuracy of the nutritional information for any recipe on this site is not guaranteed.

DOWNLOAD PRINTABLE RECIPE PDF