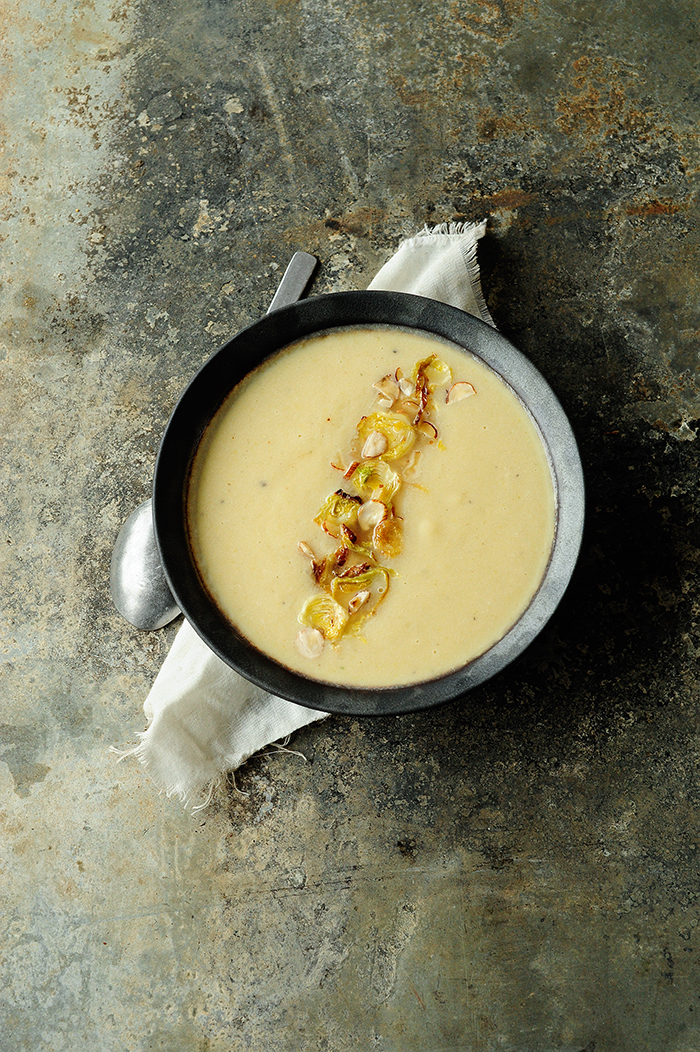 A creamy soup with roasted cauliflower, apples and celery. Decorated with slices of crispy Brussels sprouts and hazelnuts. The soup is super fragrant, velvety with a pinch of sweetness. It is a wonderful combination of flavors, perfect for chilly days.
Ingredients
1 small cauliflower
4 stalks celery
2 large sweet apples
1 shallot, finely chopped
1 clove garlic, finely chopped
1L vegetable stock
1 cup milk
4 stalks of thyme
vegetable oil
salt and black pepper
1 teaspoon grated nutmeg
also
8 Brussels sprouts
2 tablespoons coarsely chopped hazelnuts
Instructions
Clean the cauliflower and cut into slices. Place in a roasting pan, season with salt, pepper and nutmeg. Add 3 tablespoons oil and stir, put in the oven for 30 minutes at 180 degrees.
Core and chop the apples. Slice the celery. Heat 2 tablespoons oil in a saucepan and cook the shallots and garlic. Add the apples and celery, simmer for 10 minutes over medium heat. Add the roasted cauliflower and thyme leaves, pour broth and simmer for 10 minutes. Add the milk and purée the soup with a hand blender until smooth, season with salt and pepper.
Clean the brussels sprouts and cut into thin slices. Place in the same roasting pan where you roasted the cauliflower, add the chopped nuts and 1 tablespoon oil and season with salt and pepper. Stir and put in the oven, bake until golden brown for 10-15 minutes at 180 degrees.