Creamy risotto alla pizzaiola. A super delicious easy to make weeknight meal made with a garlicky tomato sauce. Loaded with mozzarella chunks, bright cherry tomatoes and hearty roasted peppers. Make sure to serve this flavor bomb with a big side salad or with some roasted chicken.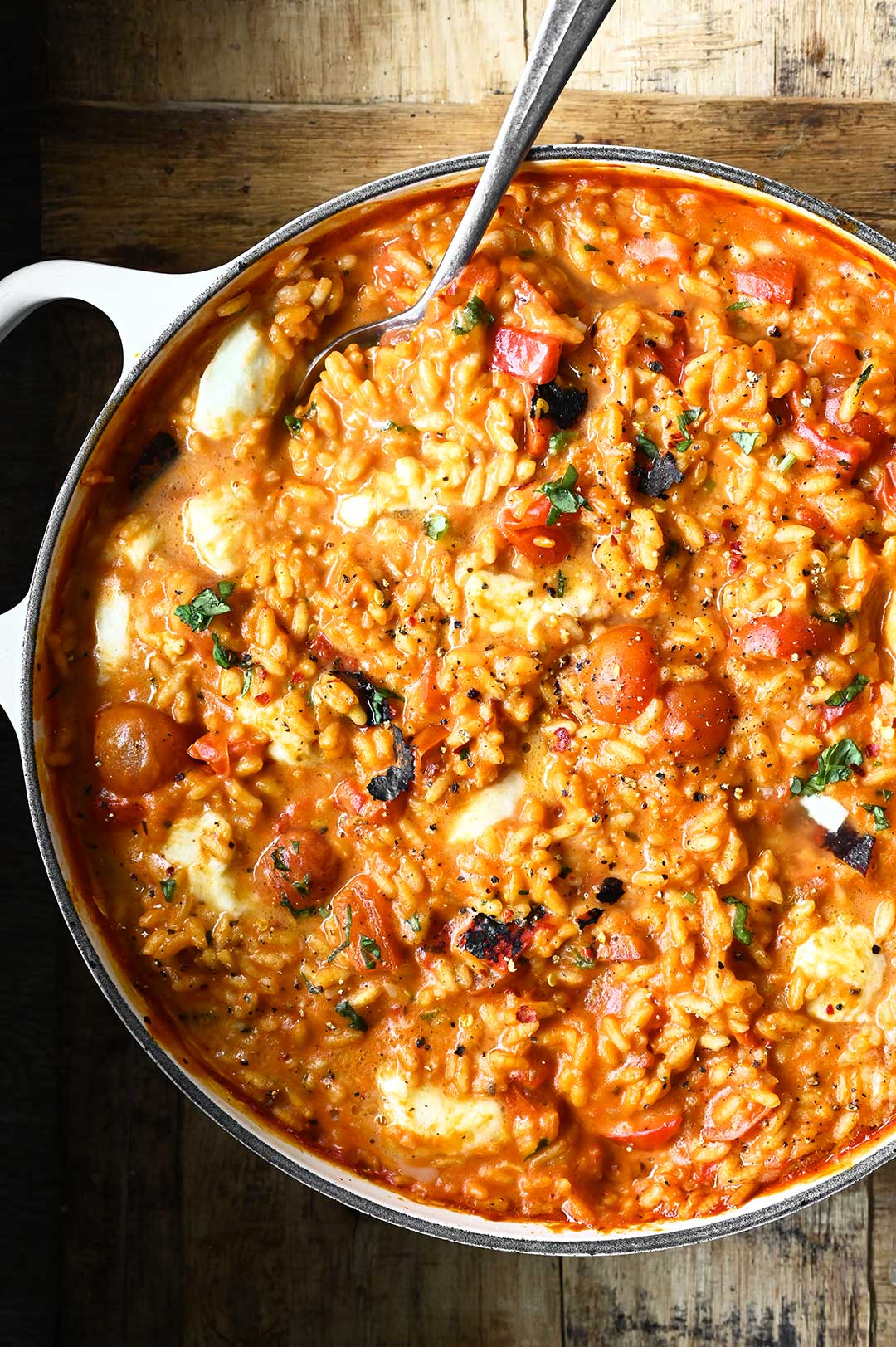 Traditionally, 'pizzaiola' is a sauce invented to use up leftover pizza sauce. In this recipe, we use it to bring our risotto to the next level. We follow the basic principles, and add puréed tomatoes, garlic, and oregano to the rice. We jazz it up with cherry tomatoes and roasted bell peppers, for that extra depth of flavor. And when finished, we top the risotto with mozzarella chunks (just like pizza) and let them slowly melt into our risotto.
The result is a delicious yet simple and effortless meal. Better yet, it's easy enough to serve up on weeknights and impressive enough to share at your next dinner party.
Let me guide you through the recipe with this step-by-step video.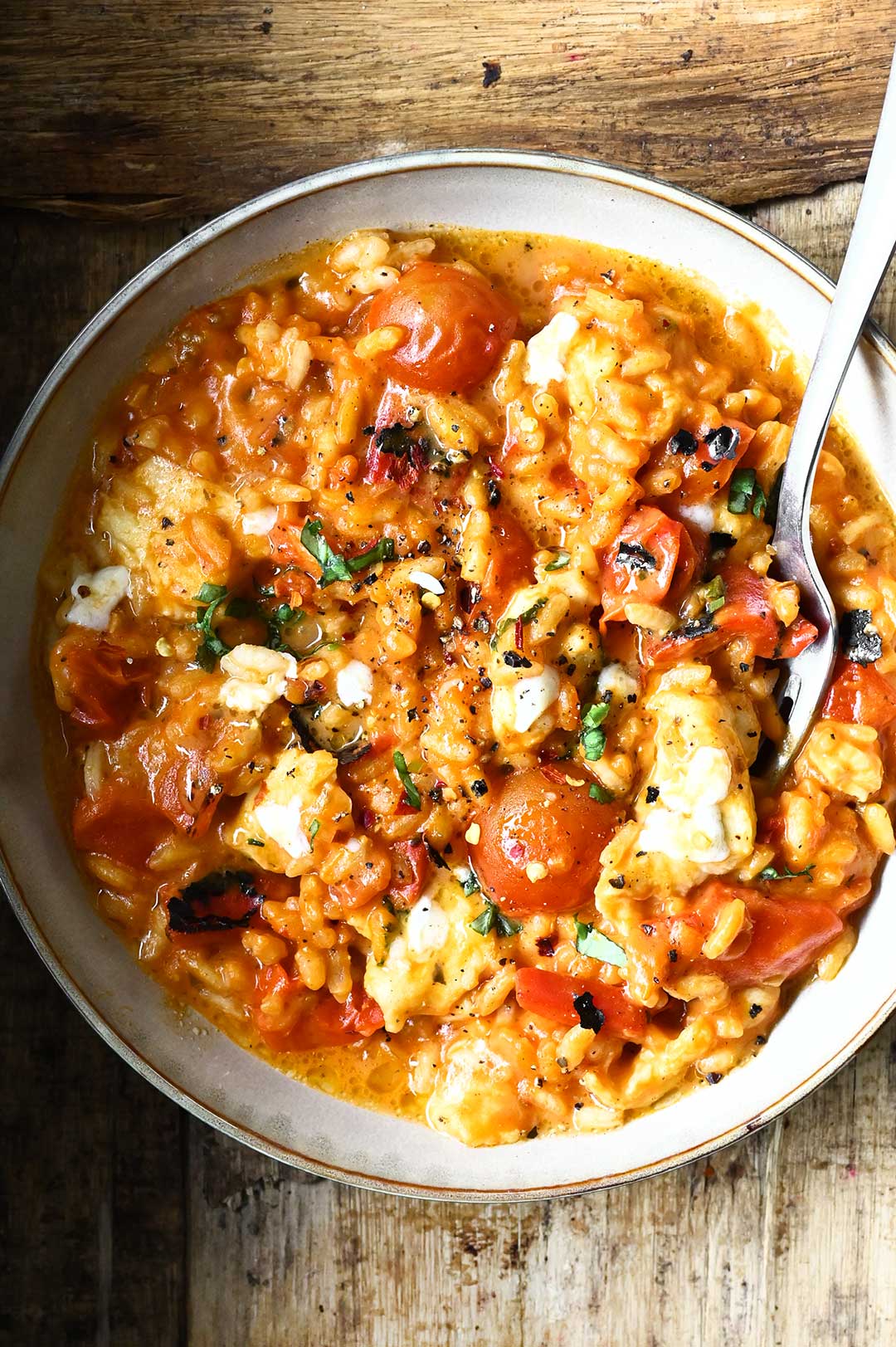 RECIPE NOTES
risotto is very easy to cook, just make sure to stir frequently, this way you break down the rice and create that smooth, creamy sauce of a good risotto. And by adding a little cream in the last step, the risotto will be even more creamy
serve this risotto with a simple lettuce salad on the side or add some roasted chicken
swap the cherry tomatoes for sun-dried tomatoes. Or leave out the roasted peppers
any leftover risotto can easily be reheated, but because of the absorbent nature of rice it takes on a different, more dense texture the next day. Just add a splash of water and give it a good stir
risotto is most commonly made with Arborio or Carnaroli rice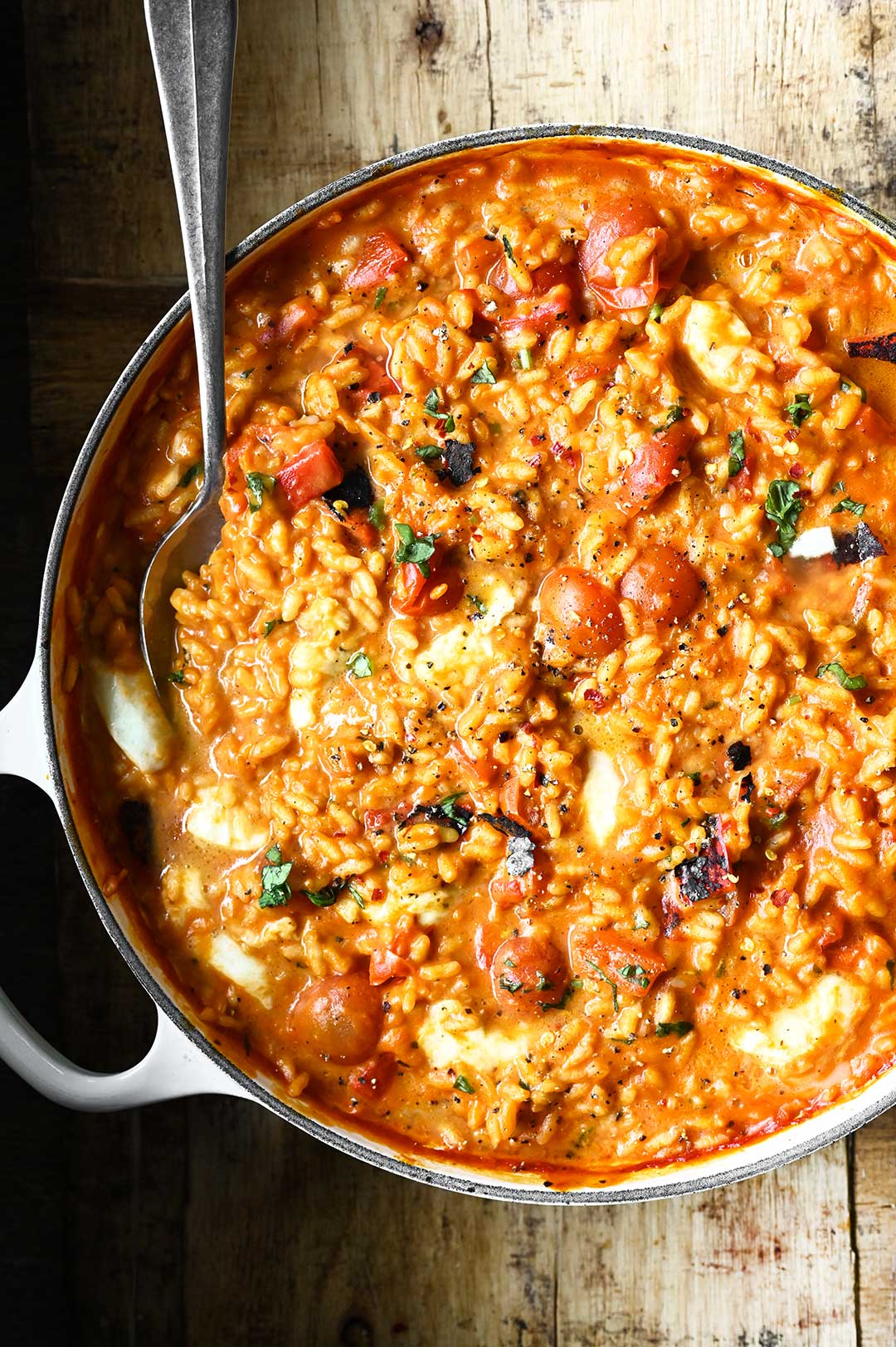 Try These Next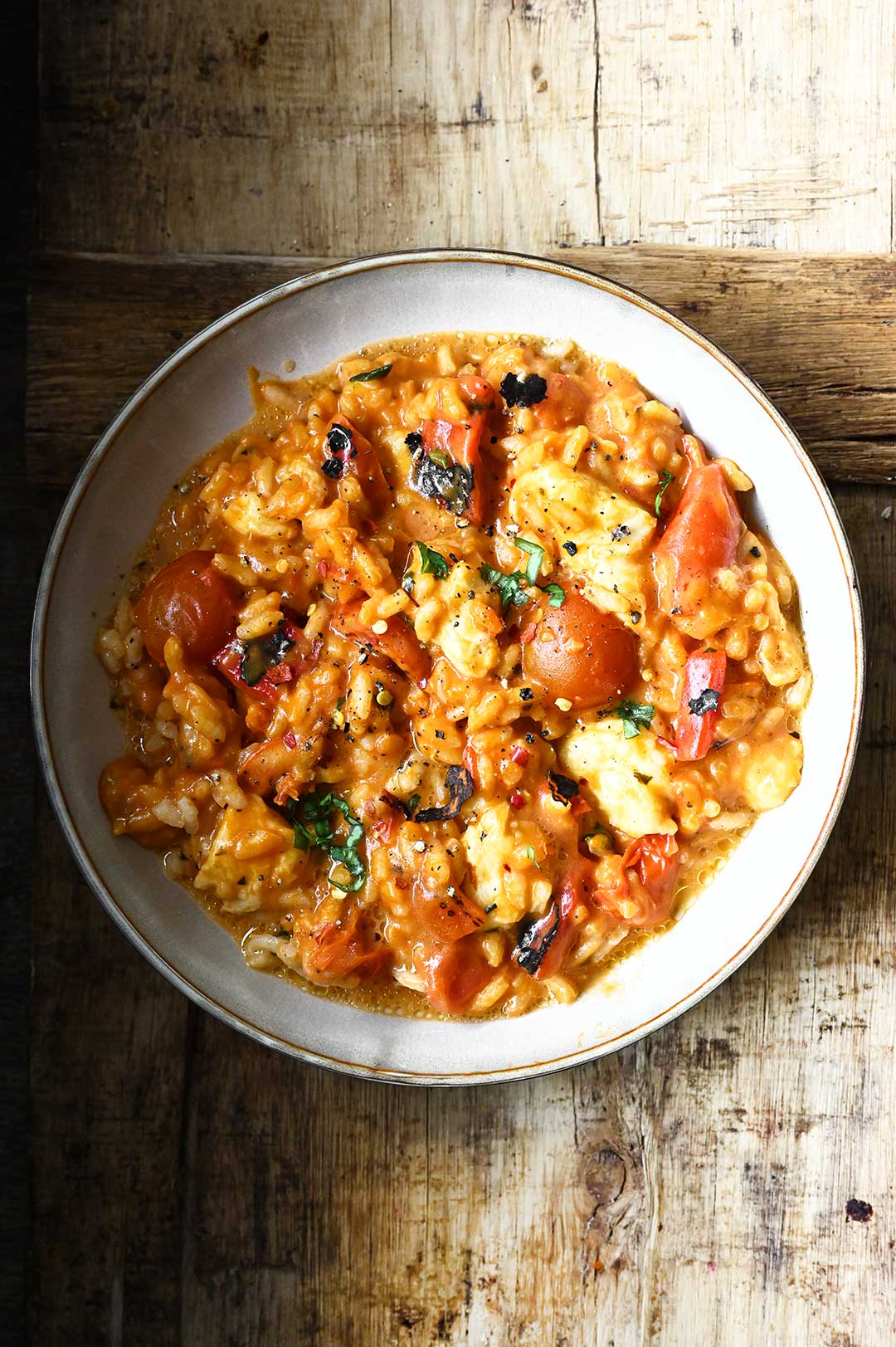 Recipe Video
This post contains affiliate links which means a portion of the proceeds go to me, at no extra cost to you. Thank you for supporting Serving Dumplings.
Yield: serves 4
Risotto alla Pizzaiola
Prep Time 10 minutes

Cook Time 30 minutes

Additional Time 5 minutes

Total Time 45 minutes
Ingredients
1 tbsp olive oil
2 tbsp unsalted butter, divided
1 shallot, finely chopped
2 large garlic cloves, minced
1 tsp salt, black pepper, dried basil, dried oregano
½ tsp crushed red pepper flakes
1 tbsp tomato paste
300 g/10.5 oz risotto rice, Carnaroli or Arborio
1 L/4 cups hot chicken broth, or vegetable
¾ cup/180 ml puréed tomatoes
250 g/9 oz cherry tomatoes, cut in half
150 g/5.5 oz roasted bell peppers
¼ cup/60 ml heavy cream
30 g/1 oz grated Parmesan
1 large mozzarella ball, chopped
2 tbsp chopped fresh basil leaves
Instructions
Get all the prep done before you start cooking: mince the garlic, finely chop the shallot, cut the cherry tomatoes in half and chop the roasted bell peppers.
Heat oil and 1 tablespoon butter in a a large high-sided skillet or a Dutch oven over medium. Add shallot and garlic, cook until fragrant, for 2 minutes. Stir in salt, black pepper, oregano, dried basil and red pepper flakes. Add tomato paste, stir until incorporated. Add rice, cook for 1 minute.
Pour in ½ cup chicken broth at a time, stirring frequently, until the broth has been almost completely absorbed before adding the next cup. Cook until the rice is almost al dente, about 15 minutes. It's possible that you don't need to use up all of the broth.
Add puréed tomatoes, cherry tomatoes and roasted peppers, simmer 5 minutes more, or until the risotto is ready. If needed, add more broth, risotto should flow slowly. If you can stand a spoon up in it, this means it needs more broth.
In the meantime, chop the basil and mozzarella.
When ready, stir in cream, parmesan and butter. Add basil and mozzarella. Season with black pepper and some extra red pepper flakes. Now taste and adjust salt.
Cover, let stand for 3-5 minutes. Serve immediately. Enjoy!

Notes
Calories Per Serving: 365 kcal
Nutritional information is only an estimate. The accuracy of the nutritional information for any recipe on this site is not guaranteed.

DOWNLOAD PRINTABLE RECIPE PDF

//= __('Print recipe (no photos)', 'servingdumplings' );?> //= __('Print recipe (with photos)', 'servingdumplings' );?>