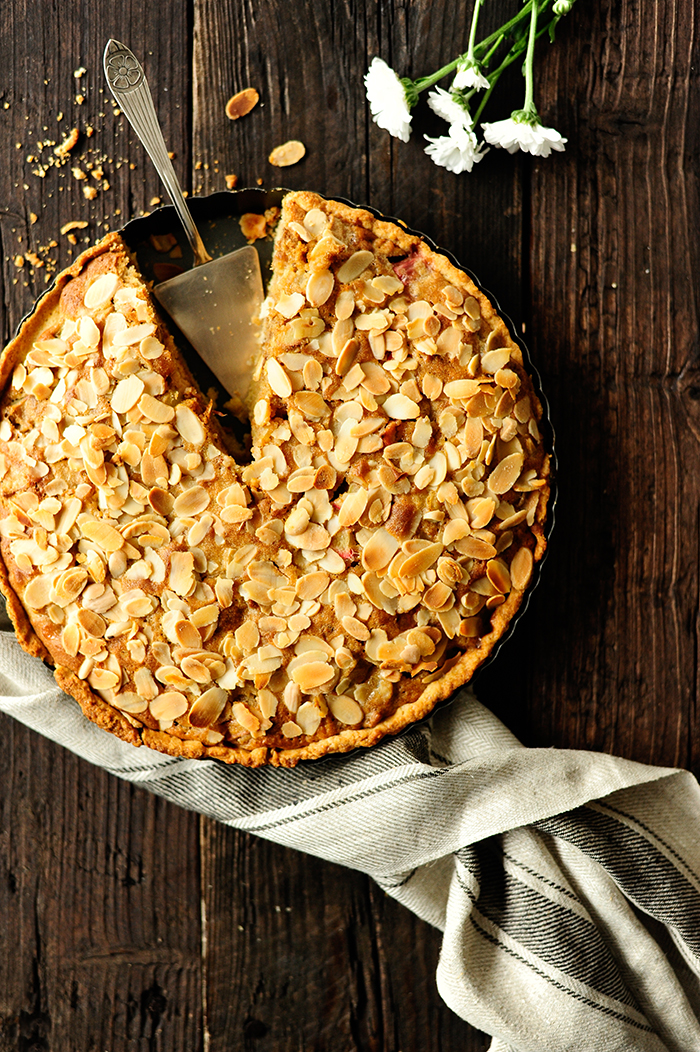 Filled with juicy pink rhubarb and sweet speculoos cookies, topped with crunchy almonds. This cake is delicate and moist, perfect for brunch, snack time or dessert.
Ingredients
crust
200 g flour
100 g cold butter
50 g sugar
1 egg
1 egg yolk
filling
100 g flour
1 teaspoon baking powder
150 g speculoos cookies
100 g sugar
100ml heavy cream
2 eggs
also
4 stalks rhubarb
2 tablespoons almond flakes
Instructions
In a large bowl, mix together the butter and sugar. Add the egg and egg yolk. Sift half of the flour into the bowl and start to knead. Add the remaining flour and knead the dough. Chill for 30 minutes.
Roll out the pastry and drape over a 28 cm greased and floured tart tin. Prick the base all over with a fork and line with baking paper, then fill with baking beans. Blind-bake the dough for 10 minutes at 200°C, then remove the paper and beans.
Wash the rhubarb, remove the ends and cut into cubes.
Crush the speculoos cookies and combine with flour, sugar, baking powder, eggs and cream.
Place the rhubarb at the bottom of the dough, pour the speculoos mixture and sprinkle with almonds. Bake for 35 minutes at 180°C. Enjoy!