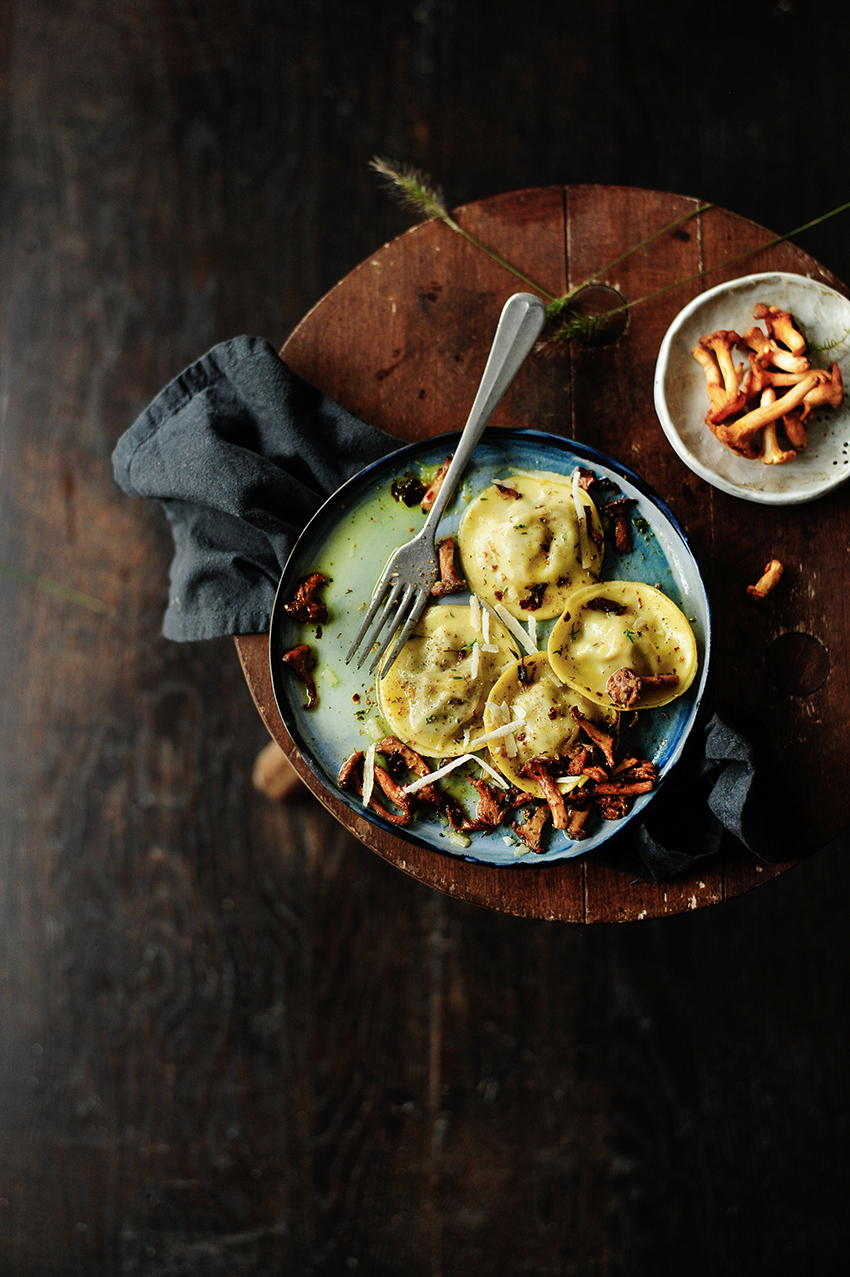 These ravioli are the perfect comfort food for autumn evenings, filled with pulled chicken and lots of mushrooms. The pulled chicken would probably be enough to make an incredibly tasty filling, but I added porcini which I found on a forest walk and they made the filling irresistible. For the sauce I sautéed the chanterelles and made them luscious with a full conviction of butter, thyme and plenty of garlic. A scrumptious dish at its best.
Can't find fresh porcini? Use brown mushrooms, dried porcini or just leave them out. 
Ingredients
dough
300 g flour type 500 or semola rimacinata
3 eggs
3 tablespoons olive oil
pinch of salt
pulled chicken
700 g chicken fillet
250 ml chicken broth
2 cloves garlic, minced
1 teaspoon cumin powder
1 teaspoon sweet paprika powder
1 teaspoon dried thyme
salt + pepper
filling
300 g porcini mushrooms, cleaned and cut into pieces
2 shallots, finely chopped
2 cloves garlic, finely chopped
50 g grated parmesan
salt + pepper
chanterelle sauce
200 g chanterelles
1 clove garlic, minced
2 tablespoons olive oil
50 g butter
1 teaspoon lemon juice
1 teaspoon dried thyme
salt + pepper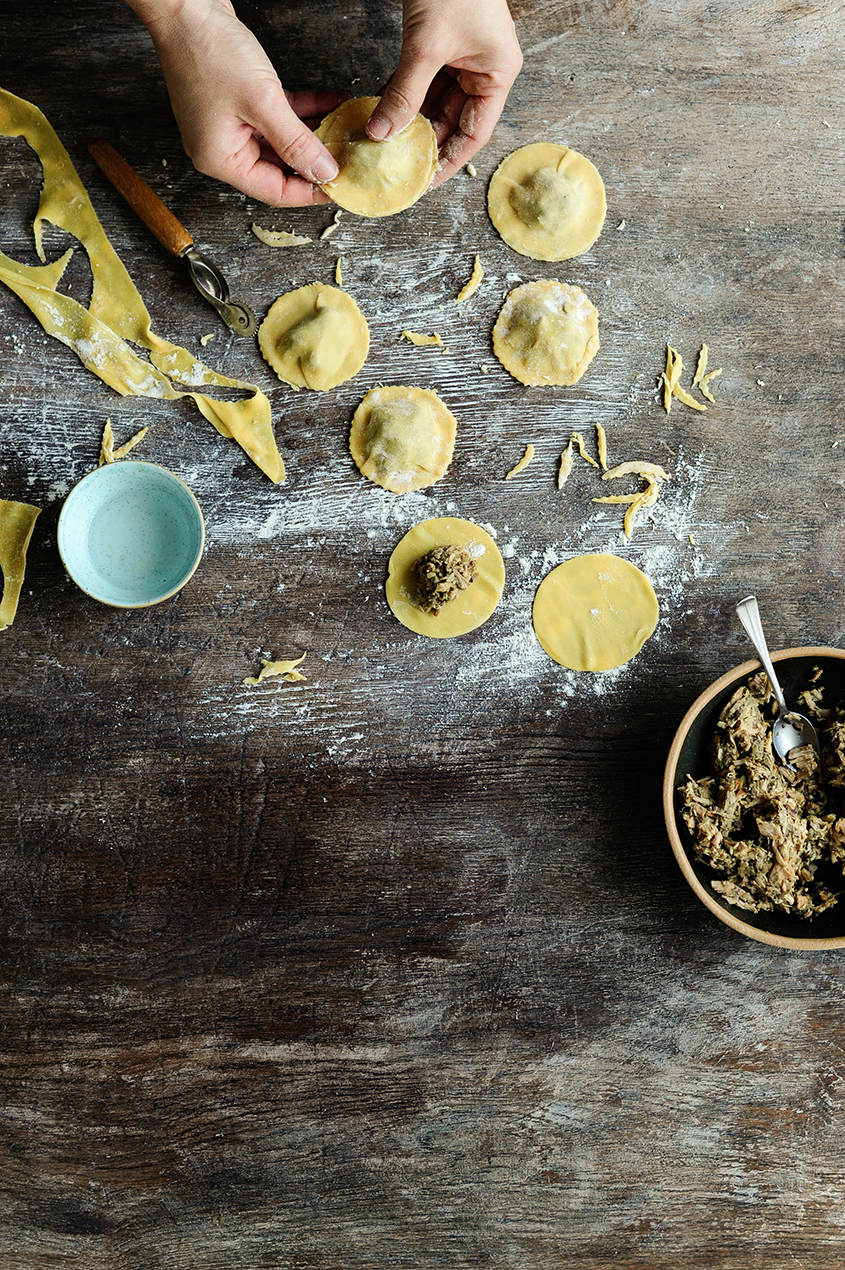 Instructions
In a dutch oven or a heavy pot add the chicken fillets with spices and garlic, pour the broth and cover with lid or aluminum foil. Bake for 90 minutes at 160°C. Remove from the oven, allow to cool (covered), then transfer the chicken to a large bowl. Use two forks to shred the chicken finely.
Put the flour, eggs, oil, and salt in the bowl of your food processor and turn 5 minutes at medium speed. Remove the dough and knead by hand for 2 minutes. Cover and set aside for 30 minutes.
Heat the oil in a skillet, cook the porcini, add shallots and garlic. Cook for 3 minutes, season with salt and pepper. Transfer into the bowl of your food processor, add parmesan and pulse. Combine with the pulled chicken.
Divide the dough into 4 pieces. Take one of the pieces and flatten it out, brushing some flour on both sides. Roll out into a thin sheet or feed it through the pasta roller. Repeat with the remaining dough.
Place scoops of filling onto a pasta dough sheet. Brush the dough with water around the scoops of filling. Place a second sheet on top, making sure that there is no air in the pockets. Use a glass to cut the ravioli out and stick the edges together.
Cook in salted water for about 3-5 minutes. Remove with a slotted spoon.
Heat the oil in a skillet, sear the chanterelles until browned, add garlic and cook for 2 minutes. Add butter and season with salt, pepper, lemon juice and thyme. Enjoy!