Cheesy polenta topped with a creamy garlic-loaded miso mushroom gravy. So savory, you might even forget that this dish is meatless. Swirled with sun-dried tomatoes and topped with crispy sage leaves. It's the ultimate dinner for vegetarians and omnivores alike. This is a 20 minute dish that will absolutely blow your mind.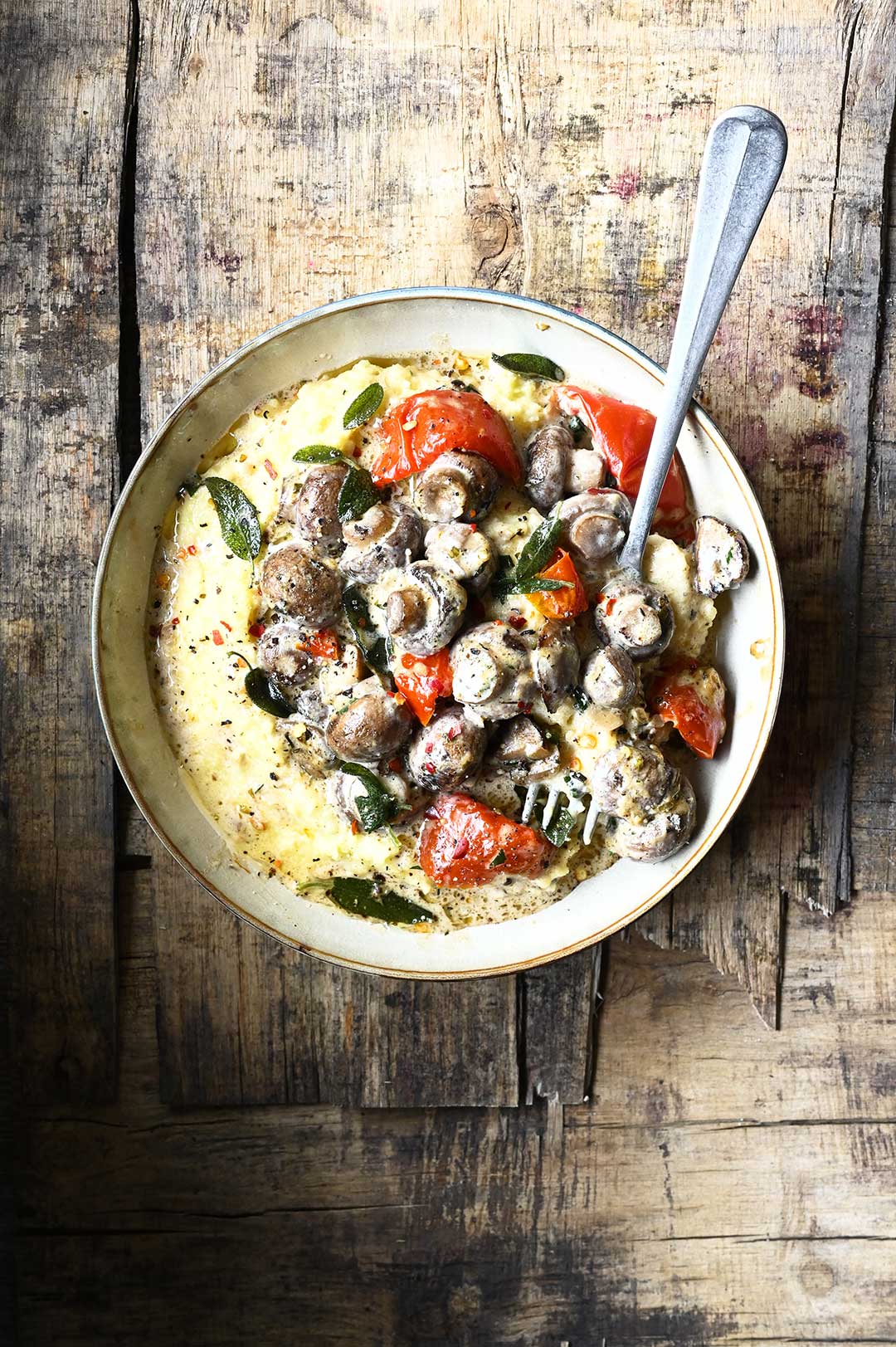 A smooth and comforting bowl of polenta that picks up its creaminess from the grated Parmesan and cooks up in just minutes. The sauce is loaded with herbs and those critical umami bombs like garlic and miso. It's full of bite-sized pieces of mushrooms, that soak up the sauce and create a satisfying texture. And yeah! There're also sun-dried tomatoes that we stir in at the very end of cooking. Their sweet & sour savory flavor rounds out the sauce and gives it an extraordinary depth of flavor.
Most importantly, this creamy mushroom sauce is suitable for making ahead, then you'll only need to make the polenta. Done! 
Not much more to say about this beautiful mess, other than the fact that it's seriously delicious and it embodies everything dreams are made of. You can even serve these mushrooms over buttery mashed potatoes or with steak. Imagine this!
Let me guide you through the recipe with this step-by-step VIDEO.
Other mushroom dishes you'll love:
Creamy Parmesan polenta with beer sautéed mushrooms
Creamy Risotto with Balsamic Mushrooms
Hearty mushroom bolognese with zoodles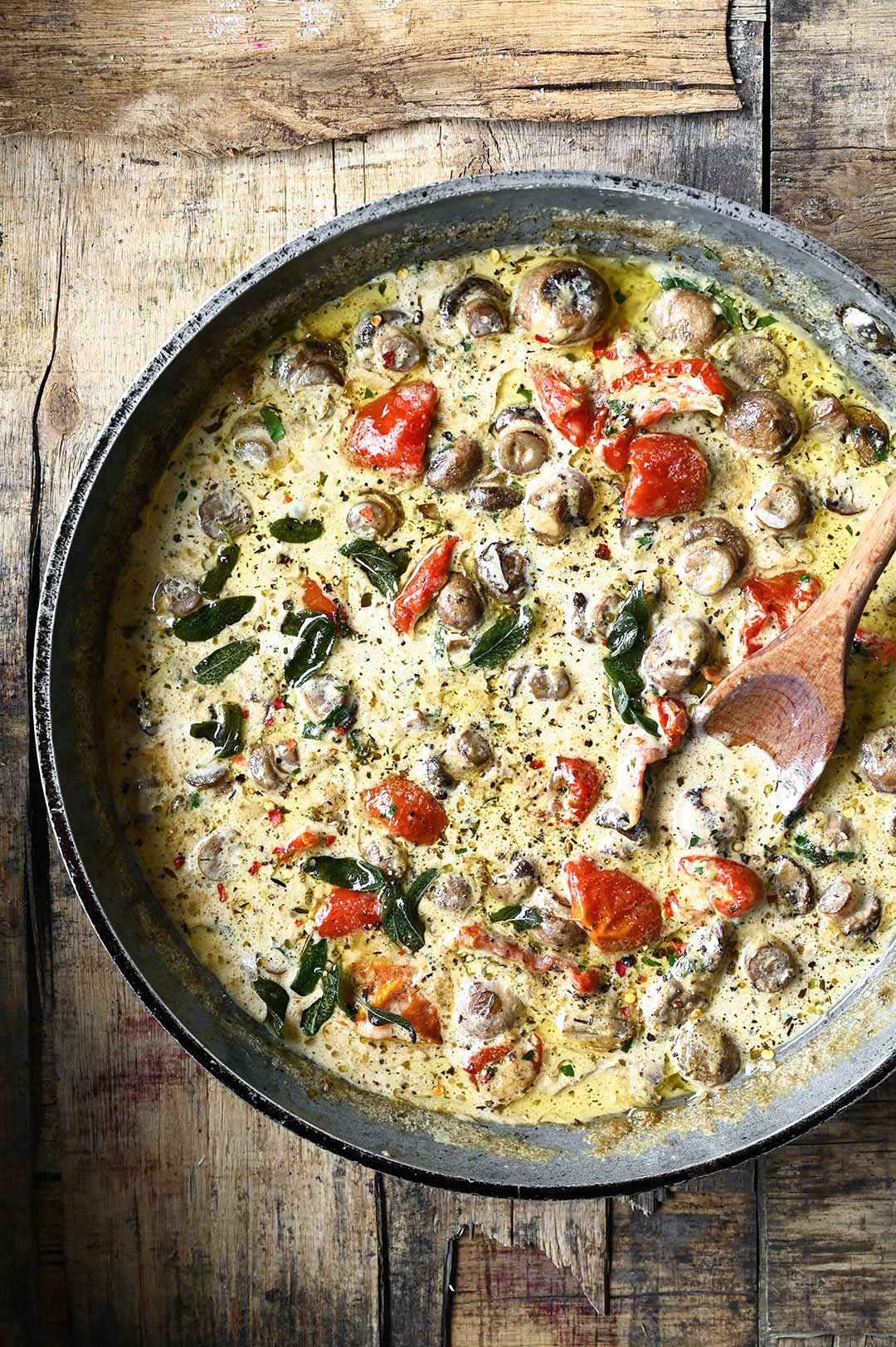 You need
creamy miso mushrooms
500 g (5 cups) brown mushrooms, bigger pieces cut in half
150 g (1 1/4 cup) sun-dried tomatoes, drained
300 ml (1 1/4 cup) cooking cream
3 tbsp olive oil
1 shallot, finely chopped
4 garlic cloves, minced
1 tsp each: dried thyme + sage
1 tbsp chopped fresh parsley leaves
1 tbsp white miso
1 tbsp soy sauce
1 tsp mirin
black pepper, to taste
fried sage leaves +  red chili flakes, for serving
polenta
250 g (1 1/2 cup) instant polenta
400 ml (1 3/4 cup) milk
350 ml (1 1/2 cup) water
100 g (1 cup) grated Parmesan
2 tbsp unsalted butter
sea salt + black pepper
How to
Let me guide you through the recipe with this step-by-step VIDEO.

Start with making the mushroom sauce.
Heat the skillet over high heat. Add the mushrooms and fry for 5-7 minutes. The mushrooms will start to release moisture, after this, add olive oil, garlic and shallot. Lower heat and cook for 1-2 minutes or until soft and fragrant, stirring occasionally. When mushrooms start to brown, add sage, thyme, soy sauce and mirin. Then stir in miso. Season with pepper and add sun-dried tomatoes. Stir everything and scrape up any brown bits at the bottom of the skillet. Add the cream and the chopped parsley, stir to combine. Bring the mushroom mixture up to a boil. Then lower the heat to the very minimum and simmer while you make the polenta.

In a saucepan, bring water and milk to a boil over medium heat. Slowly whisk in the polenta, stirring continuously, about 3 minutes. Stir in the butter, parmesan cheese, salt and black pepper. Turn off the heat, cover and let stand for 2 minutes. If the polenta thickens too much, thin with some additional milk.

Divide the polenta between bowls. Serve with the creamy miso mushrooms, top with fried sage leaves and chili flakes. Enjoy!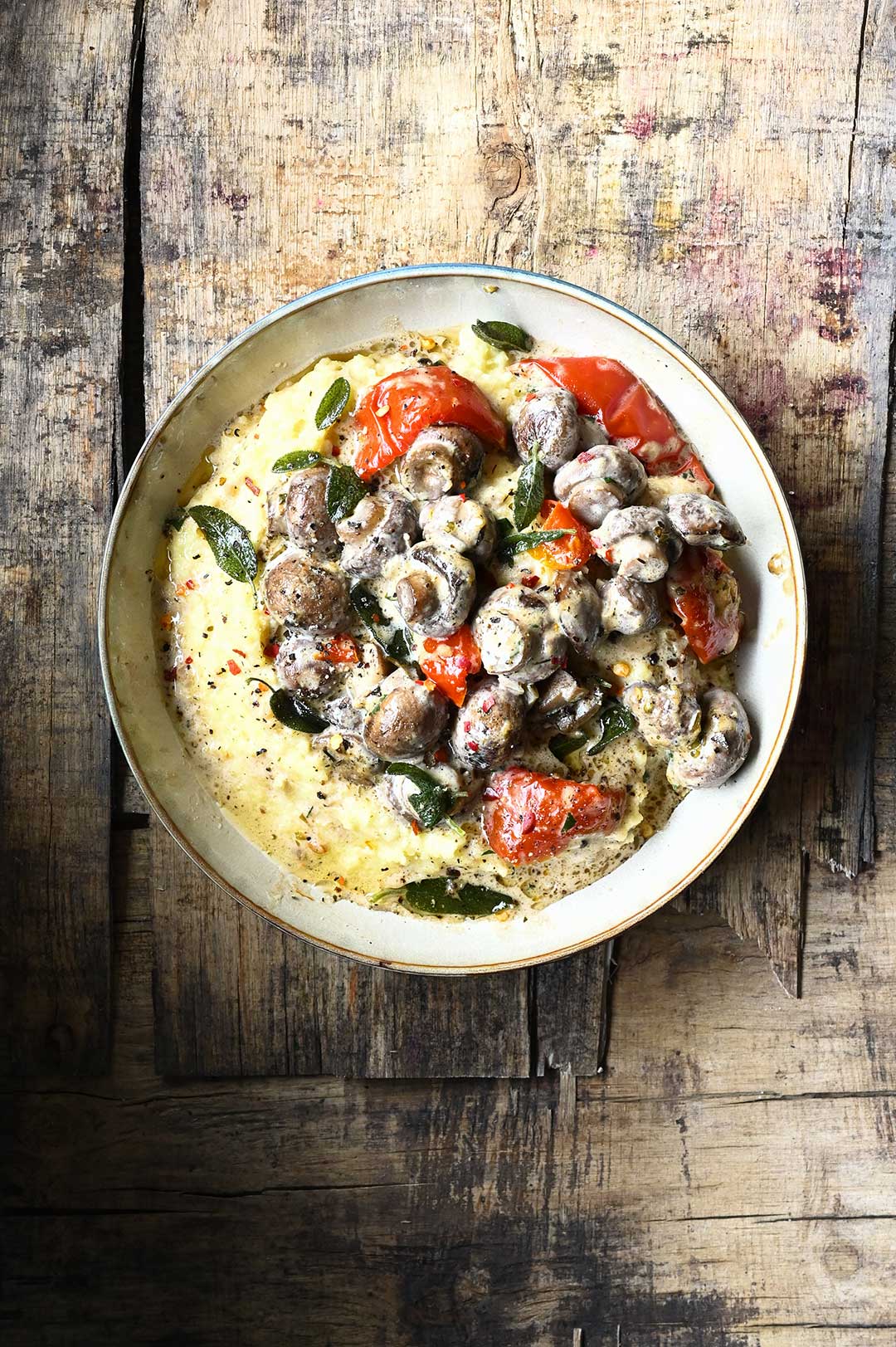 //= __('Print recipe (no photos)', 'servingdumplings' );?> //= __('Print recipe (with photos)', 'servingdumplings' );?>