Let's talk mushroom toast. We serve this version with pesto and fried eggs. 
Mushroom toast is a hearty savory dish suitable for any time of day. With just a few extra ingredients you can make an exceptional meal, ready in minutes. And it 's perfectly delightful in its simplicity.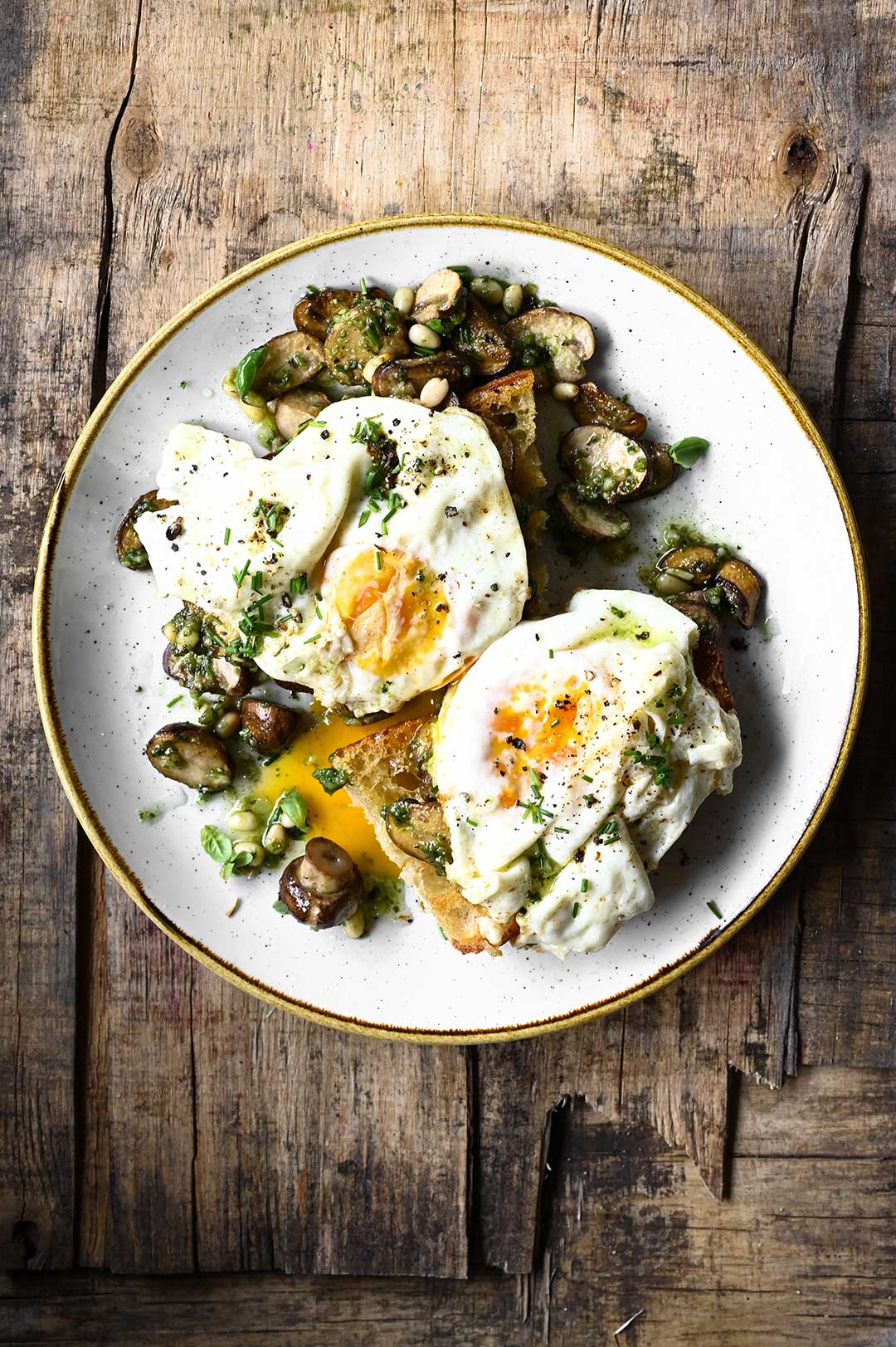 If you ever found yourself, despite a semi-stocked fridge, wondering what to eat, then this is an easy and delicious solution. A toast. But not just any toast, mind you. We're talking about sourdough bread baked until crisp in butter. Golden brown mushrooms tossed in pesto and a generous sprinkle of pine nuts, make the perfect topping. In terms of additional flavorings, garlic is key, we add it together with a squeeze of lemon to give the mushrooms some top-line zip. And finish it off with a fried egg for a slightly more indulgent take. Suddenly, in about 20 minutes, you've got a simple but a tasty meal the whole family will love.
Let me guide you through the recipe with this step-by-step VIDEO 
More meal-ideas in 30 minutes or less:
Polenta with Creamy Miso Mushrooms and Sun-Dried Tomatoes
Eggplant and sun dried tomato pasta with ricotta
Creamy mushrooms with egg and shredded chicken on toast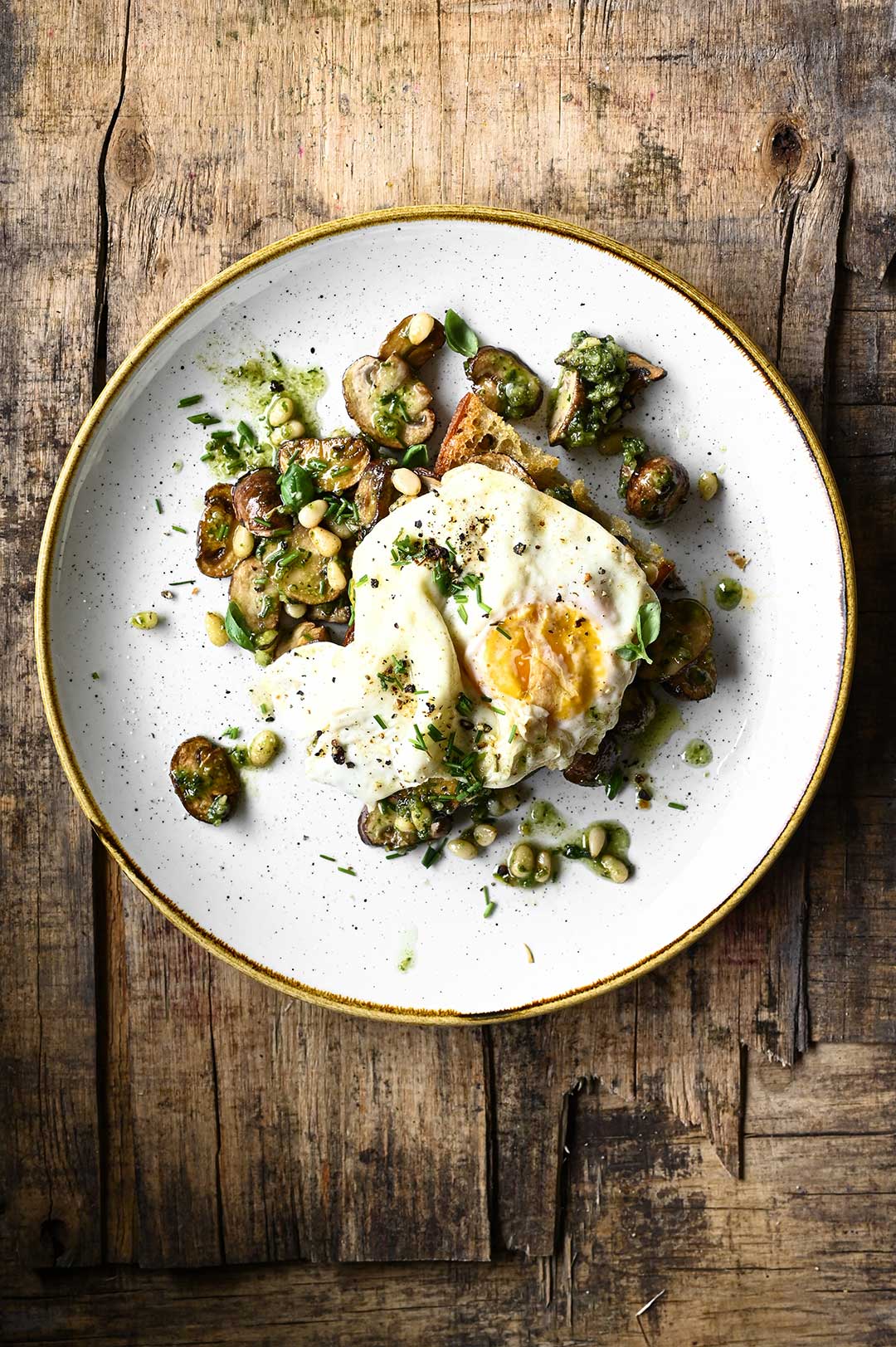 You need
2 thick slices (sourdough) bread
250 g (8 ounces) brown mushrooms, sliced into thick chunks
3 tbsp olive oil
2 garlic cloves, minced
1 tsp lemon juice
1 tbsp pine nuts
black pepper + salt
2 eggs
2 tbsp butter
chopped chives, for serving
pesto
(you can also use store-bought pesto)
20 g (1/2 cup) basil leaves
1 tbsp toasted pine nuts
30 g (1/4 cup) grated parmesan
3 tbsp olive oil
sea salt + black pepper
How to
Let me guide you through the recipe with this step-by-step VIDEO 
In a food processor, combine the ingredients for the pesto and blend. Season with salt and pepper. Set aside.
Heat the skillet over high heat. Add the mushrooms and fry for 5 minutes. The mushrooms will start to release moisture, after this, add olive oil, pine nuts and garlic. Lower the heat and cook for 1-2 minutes. When mushrooms start to brown, add lemon juice and season with salt and pepper. Stir in the pesto.
In a nonstick skillet, melt 1 tbsp butter over low heat. Crack the eggs one at a time into the skillet. Cook, sunny-side up, until the whites are firm and the yolks runny, about 5 minutes. Season with salt and pepper. Remove from skillet.
Melt the remaining butter in the same skillet, add slices of bread and toast until golden brown.
Spoon the pesto mushrooms onto the toasts and top with the fried eggs. Garnish with chopped chives, flaky salt and black pepper. Serve.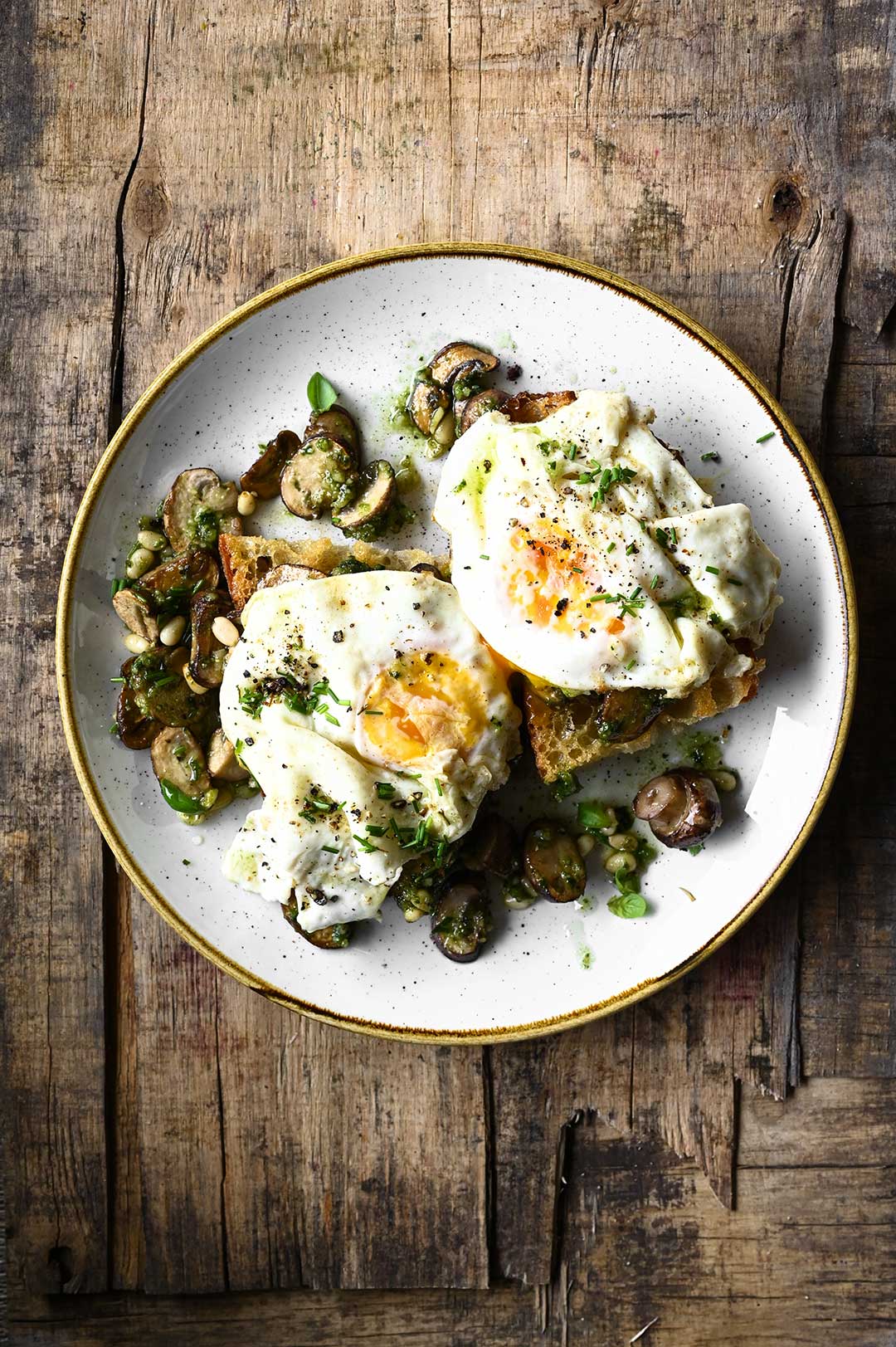 //= __('Print recipe (no photos)', 'servingdumplings' );?> //= __('Print recipe (with photos)', 'servingdumplings' );?>