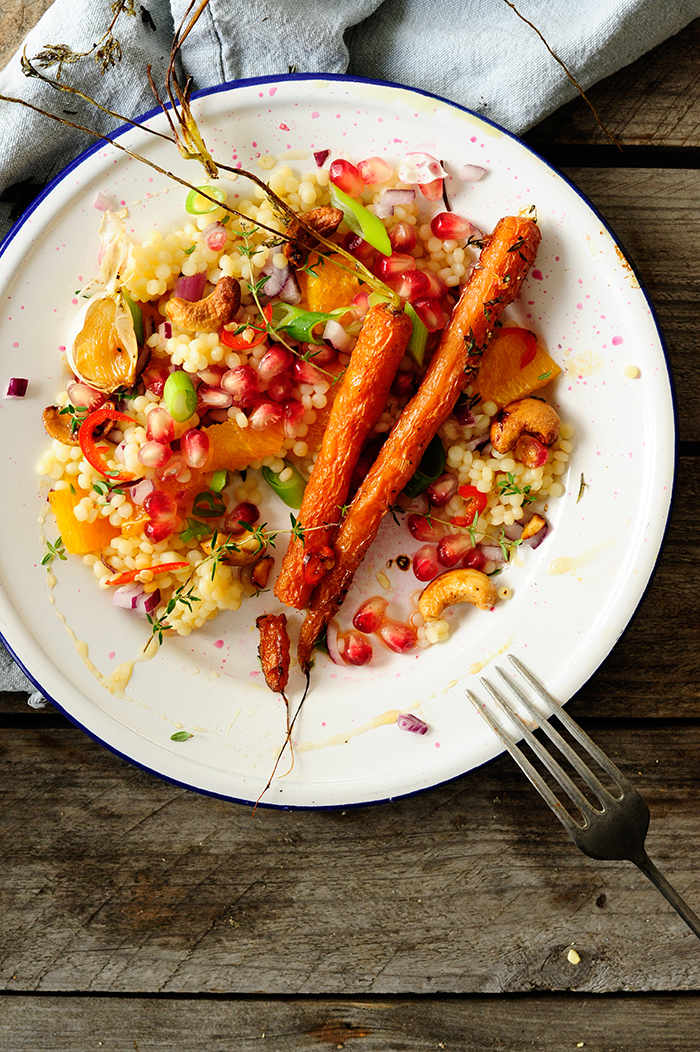 I came across this pearl couscous in the store and I had to buy it and make something! The result is this great salad with pomegranate and caramelized carrots in orange juice with chili and cashew nuts. I like these light and fresh flavors with a bit of crunch.
The taste of roasted carrots with orange and pomegranate is a great combo! I finished the salad with honey vinaigrette and a hint of fresh citrus.
This is really one of my favorite salads. Simple but full of the right amount of sweet and spicy flavors. Perfect for lunch, as a side dish or in your lunchbox at work!
Ingredients
120 g pearl couscous
6 small carrots
4 tablespoons cashew nuts
1 orange, peeled and cubed
juice of 1 orange
seeds of 1 pomegranate
1 red onion, finely chopped
4 spring onions, sliced into rings
4 garlic cloves
4 sprigs thyme
2 sprigs rosemary
2 tablespoons olive oil
1/2 chilli, finely chopped
salt and black pepper
vinaigrette
juice of 1/2 lemon
juice of 1/2 orange
3 tablespoons honey
1 tablespoon soy sauce
1/2 chilli, finely chopped
2 tablespoons sesame oil
4 tablespoons olive oil
Instructions
Peel the carrots, place on a baking sheet greased with olive oil and sprinkle with cashew nuts. Add the chopped chili pepper, the juice of one orange, thyme and rosemary. Add unpeeled garlic and sprinkle with salt and pepper. Cover with aluminium foil and bake for 25 minutes at 200°C. Remove the foil and bake for 20 minutes more. Then squeeze out the garlic on the vegetables.
Boil the pearl couscous in salted water until tender, drain.
Combine all the ingredients for the vinaigrette together.
In a large bowl, mix the couscous with red onion, scallions, cubed orange and pomegranate seeds. Add the roasted carrots with cashews  and pour the vinaigrette.
Enjoy!