Pasta puttanesca is a traditional Italian pasta that's super easy to make with just a few simple ingredients. My version is a vegetarian, garlicky tomato sauce made with sweet cherry tomatoes, brought to a high level of flavor by adding briny capers and buttery olives. It's an amazingly effective emergency back pocket meal that's ready in a flash, delicious and budget-friendly.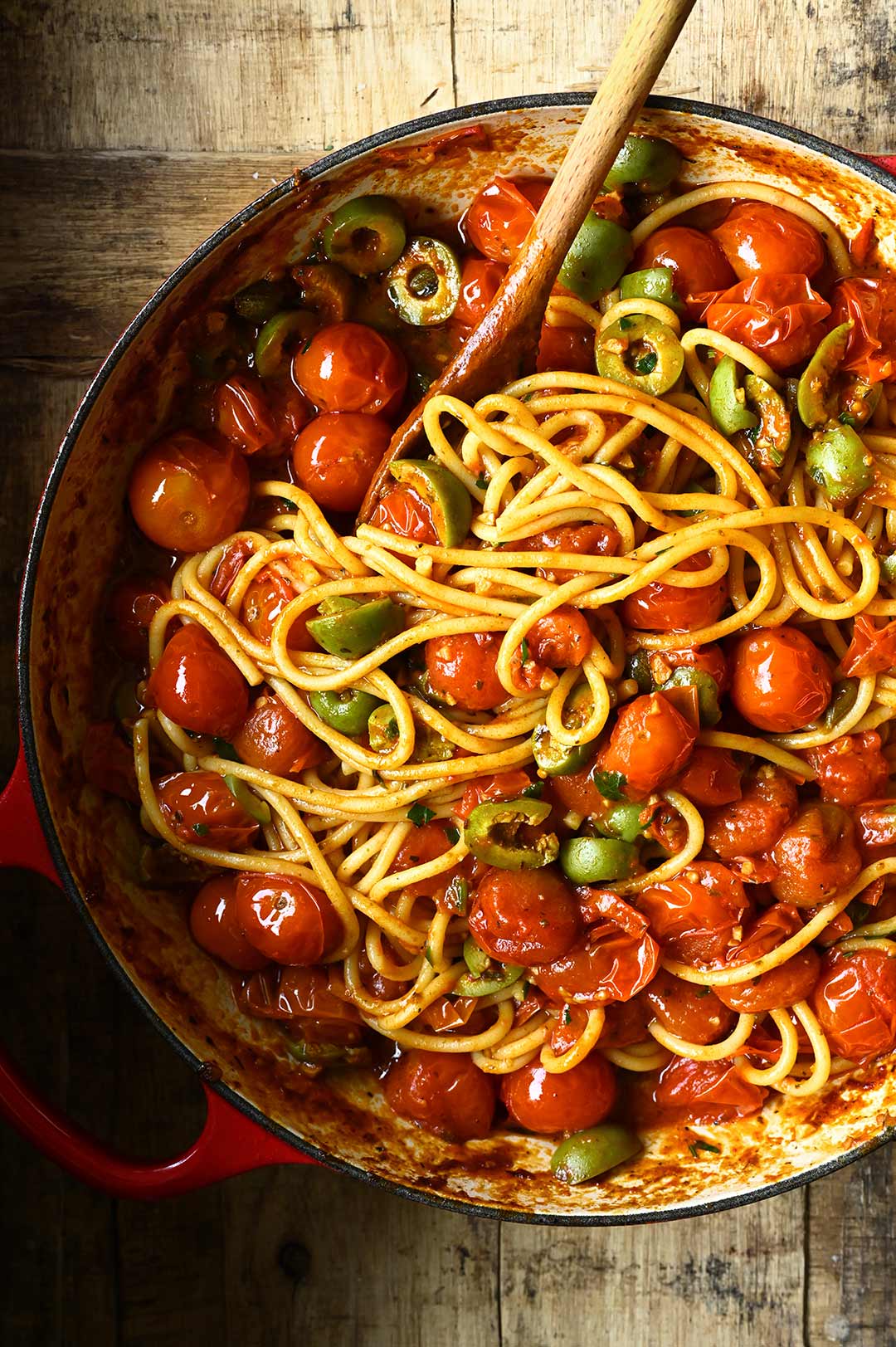 Spaghetti puttanesca is a delicious pasta that everyone should know, I love it, it's one of my favorites! In this recipe there's no jarred sauce required, just a few ingredients and it comes together in a blitz. Every last twist of pasta is absolutely crave worthy. It's saucy, herby, and bursting with flavor. As if this wasn't enough, almost all of the ingredients are from the pantry or your fridge's condiment section.
The tomato-based sauce gets big flavor punches from the salty, briny capers and buttery green olives. The result is a saucy pasta that's deeply satisfying. I skipped the traditional anchovies and added soy sauce instead, but feel free to use them. You can toss the anchovies together with garlic into the tomatoes.
This is a great weeknight dinner recipe, but it's also delicious enough to wow your guests on your next dinner party. Serve with a big leafy salad, with a side of grilled chicken or fish.
Let me guide you through the recipe with this step-by-step VIDEO.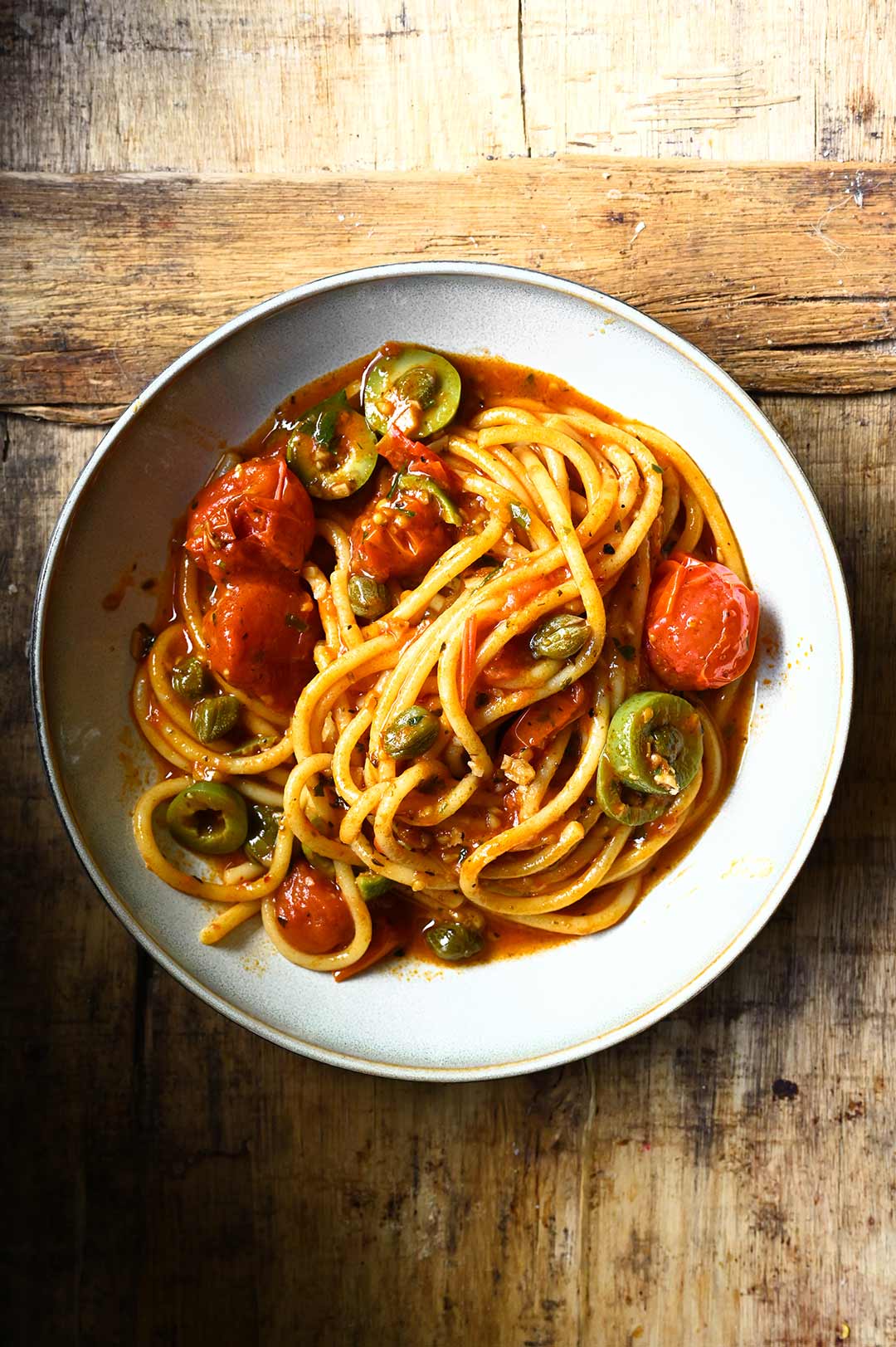 Let's get into the details first! It all starts with oil and butter, then we add the tomatoes. Cook them until they start to soften, next add garlic, the seasoning and stir in tomato paste. We simmer the tomatoes until they're cooked down, burst and release their juices. This is how we make the base for the sauce.
While the tomatoes are simmering, we boil-off the spaghetti. You can use any cut of pasta you love most. By the time the pasta is done cooking, the tomatoes should be ready. We add olives, capers and a generous splash of cooking water. Toss with spaghetti and parsley …and you're ready to eat.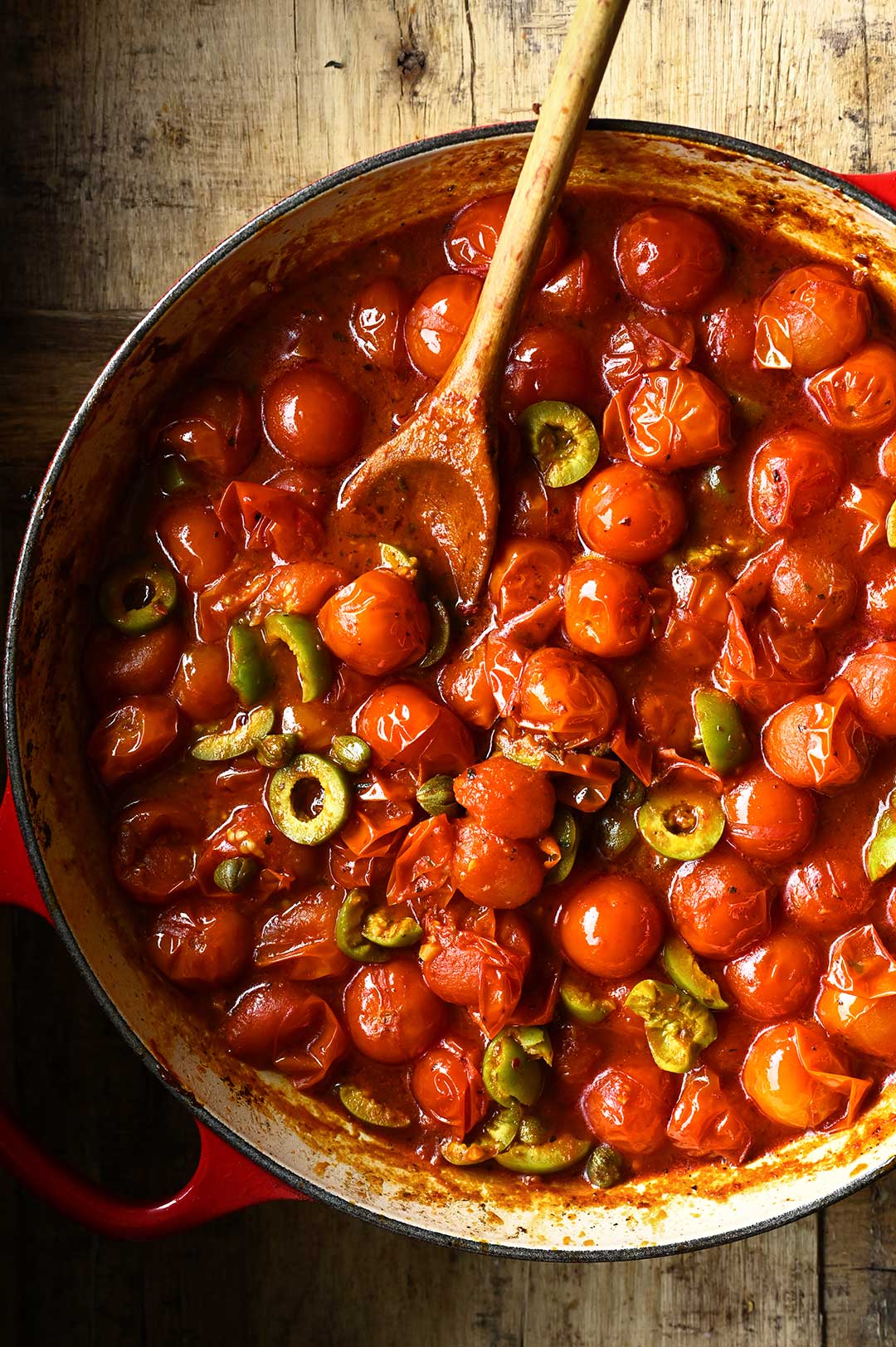 Pasta Puttanesca Ingredients
Let's talk ingredients!
Pasta: you can use any long or short pasta shape you like, like pappardelle, linguine or orecchiette
Cherry tomatoes: they break down while sautéing, creating a slightly sweet tomato sauce
Olives: use your favorite, green or black olives. In this recipe, the one ingredient I would recommend really worth seeking out is good quality olives in olive oil. Both, pitted and unpitted are great, but pitting your own is always better
Capers: add little pops of that unique briny flavor to the sauce
Soy sauce: this adds a savory flavor and saltiness to the sauce, if you want to add anchovies instead, don't be shy
Garlic: never disappoints
Seasoning: we'll be adding Italian seasoning, freshly ground black pepper, some extra salt and red pepper flakes, which makes things even better
Tomato paste: for an extra tomatoey punch
Olive oil and butter: for cooking and creating a glossier sauce. Alternatively, you can leave out the butter
Parsley: this herby finishing touch will add some freshness to the sauce. But if you have some fresh basil on hand, use it instead
Helpful Tips
Do it your way, make this recipe yours!
Use crushed tomatoes, canned whole San Marzano tomatoes or jarred puréed tomatoes instead of cherry tomatoes
Don't like olives? Leave them out
Prefer the traditional recipe with anchovies instead of soy sauce? Just toss them right in
This recipe works just fine with any long or short pasta
Serve with a big leafy side salad drizzled with a balsamic dressing, panzanella salad or arugula salad
Make ahead: The sauce can be made 2 days beforehand
Storage: Leftovers can be refrigerated in an airtight container for up to 3 days
Freeze: You can freeze the leftovers in airtight containers for up to 3 months. Taw overnight and reheat with a splash of water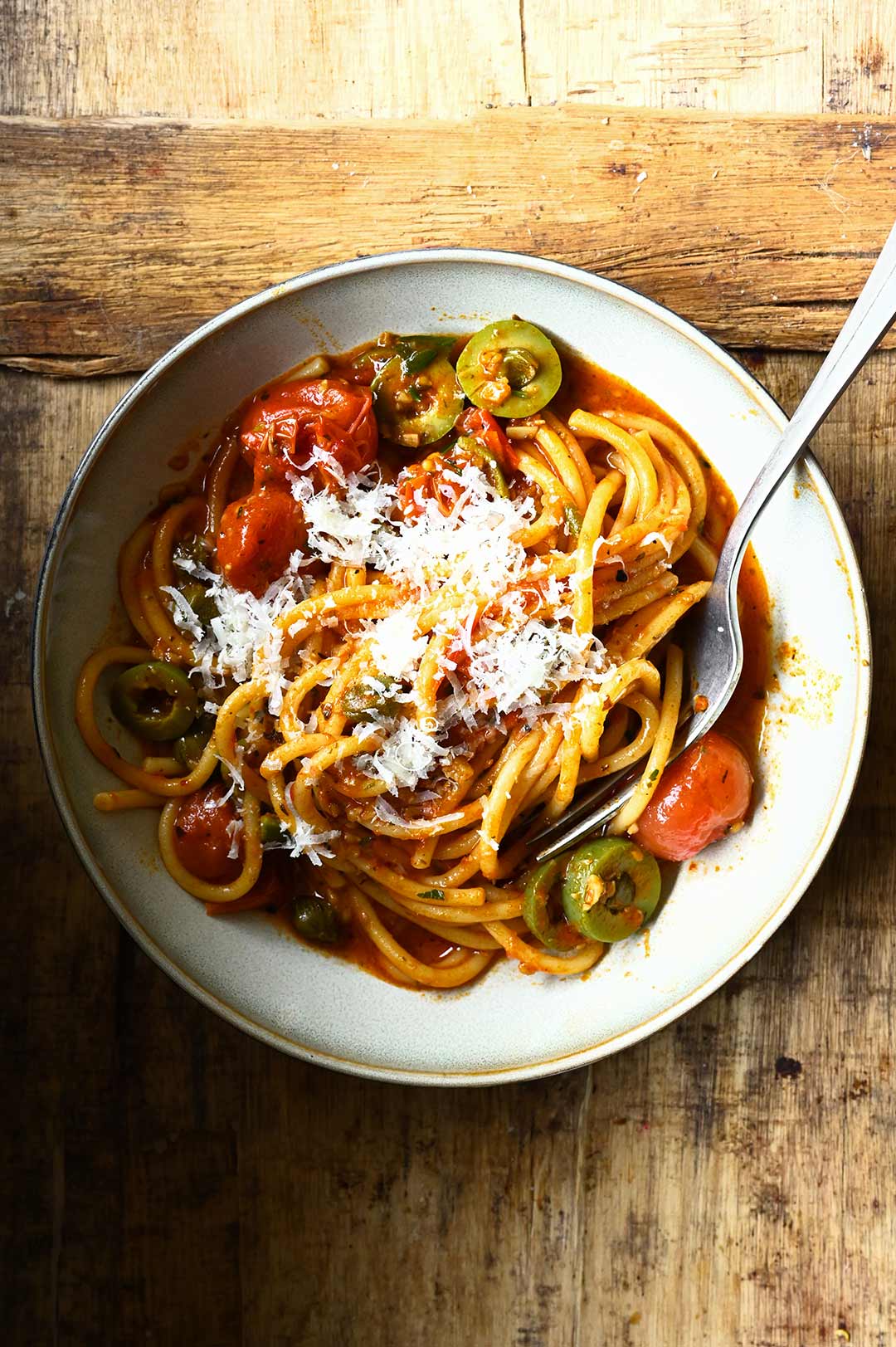 More Pasta Ideas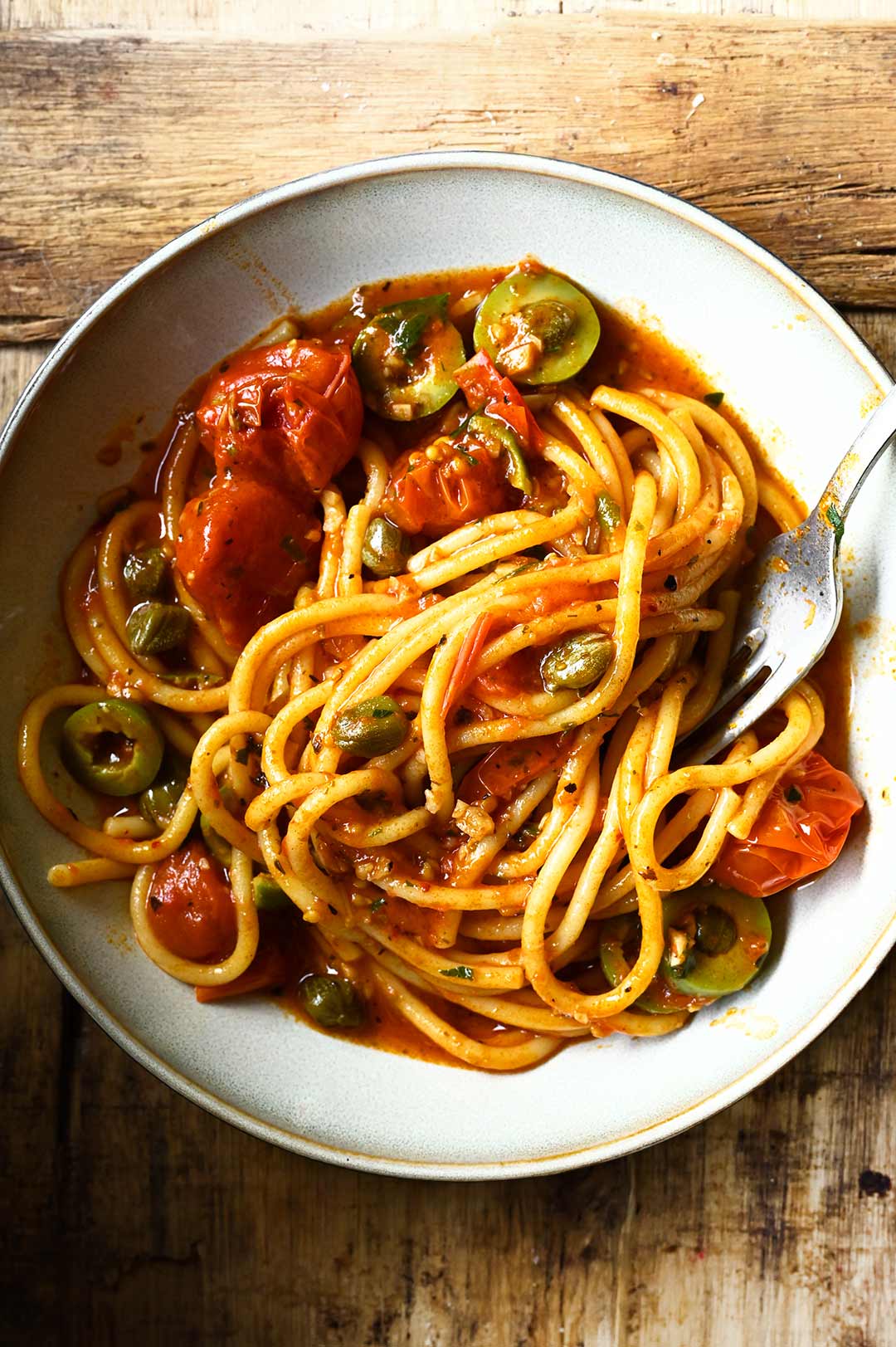 Cooking Video
Yield: serves 4
Pasta Puttanesca
Ingredients
12 ounces /340 g spaghetti
3 tbsp olive oil
1 tbsp unsalted butter
1.6 pounds/720 g cherry tomatoes
6 garlic cloves
2 tbsp low sodium soy sauce
1 tsp each: salt and black pepper
½ tsp red pepper flakes
1 tbsp Italian seasoning
3 tbsp tomato paste
½ cup green olives, pitted
2 tbsp capers
chopped parsley
grated parmesan, for serving
Instructions
Get your prep done before you start cooking. Mince the garlic, chop the parsley and roughly chop the olives.
Bring a large pot of generously salted water to a boil.
Heat oil and butter in a large skillet over medium high. Add cherry tomatoes, cook until they start to burst, about 3 minutes. Add garlic, salt, pepper, soy sauce, red pepper flakes and Italian seasoning. Stir to combine and cook for 1 minute. Add tomato paste and stir until dissolved. Cover the skillet, reduce heat to medium low and simmer for 15 minutes.
In the meantime, add spaghetti to the pot with boiling water. Cook until al dente. When ready, scoop up 1 cup cooking water, then drain the spaghetti.
Add ½ cup cooking water to the tomato sauce. Stir in capers and olives. Toss spaghetti with sauce, just until it clings to the pasta strands. If the pasta gets too dry, add more cooking water and toss. Finish off with parsley.
Serve immediately, sprinkle with Parmesan. Enjoy!
Notes
Calories Per Serving: 344 kcal
Nutritional information is only an estimate. The accuracy of the nutritional information for any recipe on this site is not guaranteed.